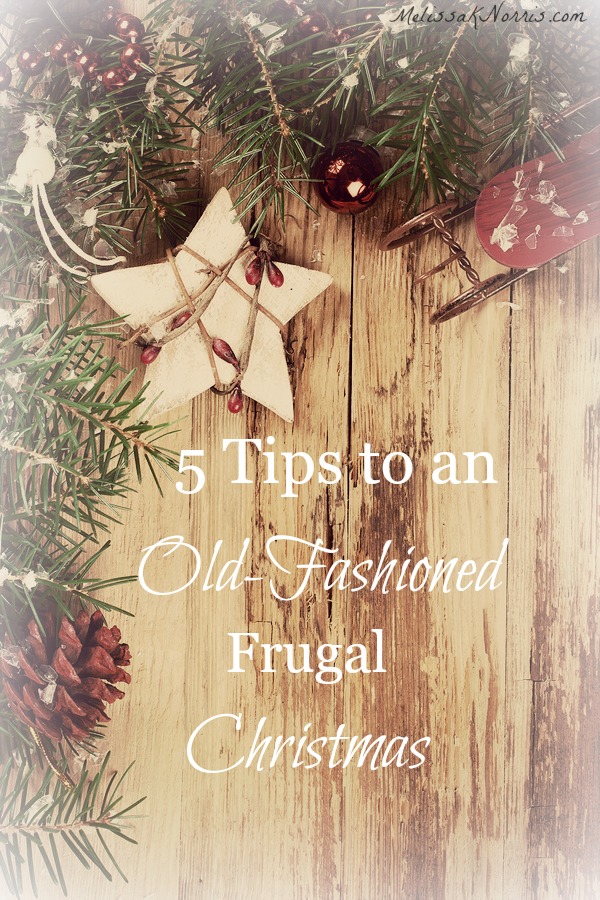 I love the holidays, that old saying like a kid at Christmas, I tend to hit the fountain of youth in my spirit this time of year.
But I've learned some tips over the years to help keep your Christmas old-fashioned, frugal, and homestead style, even if you don't live on a homestead. Because I'm here to tell you, homesteading is a frame of mind first and anyone can use this lifestyle and tips, no matter where you live.
You can subscribe via RSS and receive every episode for free.


Or subscribe via Itunes
Tip #1. Create a budget. I'm not just talking about money, though we will get to that in a minute. But I'm talking your time.
We're a super busy society and as much as I love the simple life, I still live in a modern world, have a day job, a functioning homestead, kids, husband, writing, blogging and my Pioneering Today Academy, which means if I don't want to go a little bit crazy, I've got to budget out how much time I have to actually make my homemade gifts. And so do you.
Be very realistic about how much extra time you'll have, including baking and shopping.
After you create your time budget, you need to create a money budget. If you don't have a monthly budget where every scent is accounted for, then you need to read/listen to this episode #37 10 Tips to Creating a Budget and you may also find episode #86 9 Money Mistakes Even Frugal People Make
Once your budget is in place, decide how much money you're going to spend on Christmas this year. My love language is giving gifts, so if I don't have a set amount, I can easily blow my budget. This includes purchasing supplies for making your homemade gifts.
Tip #2 Create your list. I'm not talking about your Christmas wish list, though go ahead and make that out to if you want, but I"m talking about who all you're going to give gifts to.
Don't forget neighbors, co-workers, or anyone else you exchange gifts with. Get them all down.
Now that you have your list and your budget, decide how much money is going to each person for their gifts. Obviously we normally spend more on our kids and spouse than we do a neighbor, but you need to divvy this all up.
In an ideal world, we'd have enough funds to buy for everyone on our list, but that's not always the case. Look at your list of people and decide where you can cut back or eliminate some of the gift exchanges if you don't have enough funds to cover it.
How to cut back on the number of gifts you're giving
Look at your list and if you're buying for every single person in your family, see about turning it into a name draw where you only purchase one gift. This can really cut back on both the time and money stress.
If you already do a name draw, talk about lowering the dollar amount spend or you can opt out of participating in it if need be for this year. The key here is to talk about this before hand.
Instead of purchasing gifts for co-workers or perhaps friends, have a night out together. My co-workers and I stopped giving each other gifts and instead go out for dinner in the month of November or December. We buy our own meal and spend the afternoon and evening together enriching our relationships.
We don't go anywhere very pricey so it really reduces the amount of gifts we were buying or making for one another and turns it into a relaxed and fun evening instead.
Tip #3 Write down what you're getting or making for each person and as you get it purchased or made, cross it off. But, if the gift isn't wrapped and you hide it, make sure you put a note on where the gift is stored.
I made this mistake of starting to buy gifts in June for my brothers. I hid the gifts in a great spot and then come Christmas could not find them for anything. I searched high and low and finely had to give up. I did find them, an entire year later! Here's the hidden gifts they ended up getting a year later.
Tip #4 Look at What You Already Have on Hand Especially my homesteaders and crafters, you probably have more supplies on hand than your realize. Do an inventory of your supplies, fabric, sewing, crafts, homemade body care ingredients.
While homemade gifts are wonderful, they still cost us time and ingredient costs. Many times it costs more to buy things because we don't realize we already have the ingredient or supply at hand.
If we first look at what we have and then determine what to make, we usually only have to purchase a few ingredients, instead of going the other way around. We may need to get a bit more creative this way, but it saves money and time shopping for ingredients.
Tip #5 When thinking about homemade gifts, try to make a large batch of something that can be given to multiple people. I like to do these 3 ingredient homemade lotion bars as they're a great gift on their own for both the ladies and the boys on your list or added to other items for a gift basket.
I take many of our favorite jams and jellies and create food baskets as gifts, including this apple pie jam, red pepper garlic jelly, and homemade mixes like the DIY No-Knead Bread Mix in a Jar.