Some of the links below are affiliate links, which means I will earn a commission at no additional cost to you, if you click through and make a purchase. Regardless, I only link to products we use on our homestead or believe in.
It's pretty hard to make real butter any better, but seriously, I may never look at butter the same after trying out these flavored butters. Perfect for a holiday treat, to make every day food a little more special, and making your foodie friends cheer. Plus, I get to use my Mason jars, which always makes me happy.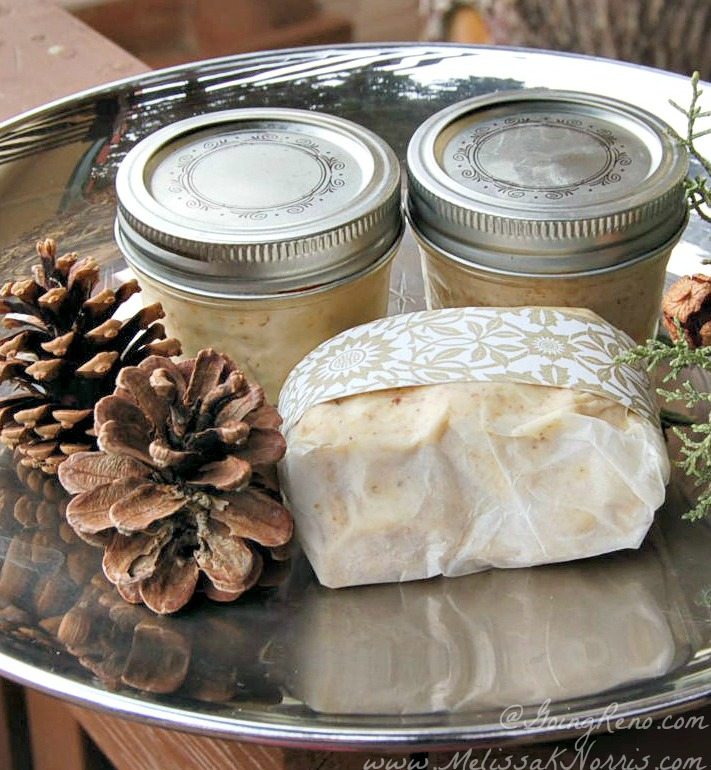 Here are 4 flavored butter recipes that whip up in literally a minute or less. I know, that's my kind of cooking when I'm busy.

If you missed any of the previous fun posts in our Homemade Christmas Series go here to get caught up and be sure to sign up to get the rest of the tutorials and early bird supply lists delivered straight to your inbox once a week.
Today's post is by Shaunta and I could tell we were going to be good friends, I mean, how can we not bond over aprons and butter?
Real butter is such a treat, isn't it? It's luxurious, without being too expensive. There's just something about it that makes ordinary food special. (Melissa here: Pass me the buttah! These were such a hit, I included them in my 2021 holiday craft party.)
Butter is also super simple to add flavor to and make even more special. Little 4 ounce mason jars full of the flavored butter you used to make a holiday meal for friends or family makes a great gift to send home with your guests.
Really, just about any flavor combination you can come up with can be worked into softened butter. I made Lime Chili Butter, Peach Cinnamon Brown Sugar Butter, and Maple Walnut Butter and they all turned out spectacular. (Melissa-I made the Gingerbread Butter and am in love)
What you'll need:
A hand mixer or stand mixer
A bowl
A food processor
Ingredients:
Real butter (each recipe is for one stick)4
For the Lime Chili Butter:
A lime
Chili powder
For the Peach Cinnamon Brown Sugar Butter:
Frozen peaches
Cinnamon
Brown sugar
For the Maple Walnut Butter:
Maple syrup (real is best, but pancake syrup works)
Chopped walnuts
For the Gingerbread Butter:
Molasses
Nutmeg
Cinnamon
Ginger
Basic Instructions
For any flavored butter you'd like to try, start with room temperature, softened butter.
Whip the butter on with a hand mixer on medium for about two minutes. You want it to be soft and light.
Blend in ingredients on low, or stir them in with a spoon.
You can either pack the butter into a 4 ounce jar or line a square container with wax paper and mold the butter. If you chose to mold the butter, wrap it in clean waxed paper and decorate with paper or a ribbon.
A stick of butter is four ounces, so if you add something more substantial than spices, you're going to have too much butter for a 4 ounce jar. Darn. You're going to have to eat the rest yourself!
Lime Chili Butter
Lime Chili Butter is really good on corn or any vegetable you're serving that you'd like to give a Latin flair to. It's also great on cornbread.
You taste the lime first and then the chili comes up with an awesome kick at the end. Yum.
Add the zest and juice of half a lime and a teaspoon of chili powder for each stick of butter. Use your mixer on low to distribute everything. Taste and adjust the chili powder. I wanted mine spicy, so I added about two teaspoons for a stick of butter.
Peach Cinnamon Brown Sugar Butter
I'm definitely making this again for Christmas morning. If you have overnight guests for the holidays, serve this with toast and they will be so impressed with you.
This butter is fantastic on a baked sweet potato, too.
For each stick of butter you're going to use 1/8 cup of frozen peaches, 1 teaspoon cinnamon, and 2 Tablespoons brown sugar.
Let your peaches defrost and pat them dry. Then whir them in your food processor until they're chopped up very fine. Mix the cinnamon and brown sugar into the whipped butter, then stir in the peaches.
This is one where you're going to have extra if you use a four ounce jar. Doubling this recipe would fill three jars.
Maple Walnut Butter
You have to make this one, just so you can see how good it smells. Like the holidays in a jar. This is good on just about everything—bread, potatoes, pancakes . . . Mmmm.
For each stick of butter, you'll use 1/8 of a cup of ground walnuts (you'll start with about 1/4 cup of chopped walnuts) and two Tablespoons of maple syrup. Obviously, real maple syrup is best (especially for a gift), but pancake syrup works, too.
Use your food processor to grind up walnuts until you have a quarter cup. Mix the syrup into your whipped butter with your hand mixer, then stir the nuts in with a spoon.
This is another one where you'll have left overs if you put it into a four ounce jar. Doubling this recipe would fill three jars.
Melissa here~ After salivating over all these flavored butter recipes, I had to make a butter using molasses.
Gingerbread Butter
This is the thing of Christmas dreams.
Place one stick of butter in a bowl (I used my stand mixer with whip attachment). Add 2 Tablespoons molasses, 1/4 teaspoon cinnamon, 1/4 teaspoon ginger, and 1/4 teaspoon nutmeg. Whip until well blended. Spread onto toast and stop after two pieces… if you can.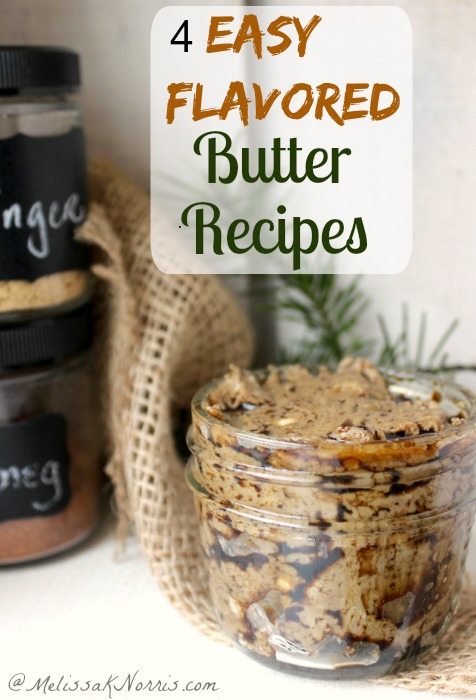 This would be delightful on pancakes or waffles. It also tastes pretty good eaten straight off the spoon. Yes, I totally did that.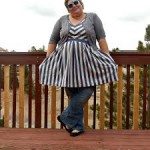 Shaunta is a writer and a managing editor for a small hybrid press. She lives in Reno with three amazing kids, one adorable husband, an old man cat, and a sweet rescue dog. She blogs at
www.goingreno.com
about personal finance, organization, and wellness for people like her: right-brained, creative, and easily confused by NASA-level plans for getting her life together.