Some of the links below are affiliate links, which means I will earn a commission at no additional cost to you, if you click through and make a purchase. Regardless, I only link to products we use on our homestead or believe in.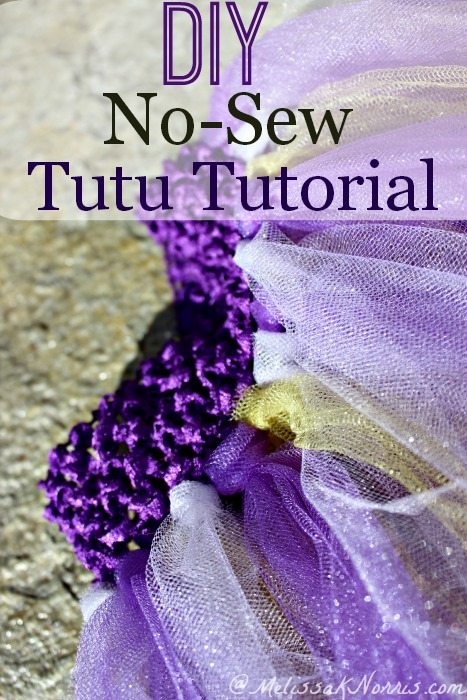 Are you almost finished with your Christmas gifts or in a mad scramble to get started? Either way, this is the perfect quick and easy gift for any little girl on your list. Or big girl. I love to dance with my daughter. 🙂
Supplies needed for DIY Homemade No-Sew Tutu Tutorial:
Stretch headbands
Tulle (I purchase mine by the yard, not on a roll, from our fabric store. Depending upon the size of tutu and fullness, I'd estimate between 2 and 5 yards)
Scissors
Pick your tulle color. I think it's fun to mix up the colors. My sister made this one for my daughter in our town's school colors for the homecoming game. If you're in my area, she also sells them if you don't have time and want to grab one pre-made.
You can also go with the wearer's favorite color or make holidays schemed ones.
Measure how long you'd like the tutu to be. My daughter is an average sized 3-year-old and her tutu is 12 inches long. (Which means our strips need to be about 30 inches long in total length for folding in half and the knot)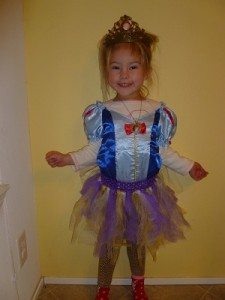 I saw this tutorial on Pinterest (anyone else hooked?) for easy tulle cutting. Simply cut a piece of cardboard the length you want your tulle to hang. Wrap tulle around cardboard, rubber band it in place and carefully cut along one end (I double the tulle for faster and easier tutu making, so don't follow her directions and cut both ends.) 🙂
Now take your strips of tulle and fold them in half.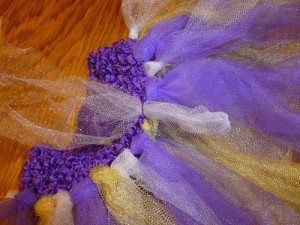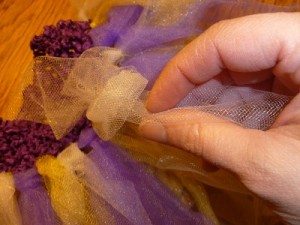 Put the folded end through the bottom loop of the headband. Pull through until you have enough space to push both ends of tulle through.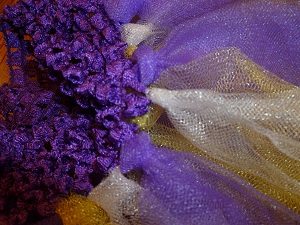 Continue to pull through and tighten. Make your way all the way around and ta-da! You have a no sew tutu! If you like it really full, you can add another row of tulle directly above the first row.
Do you have any favorite no sew projects you'd like to share? Feel free to add the link.