Some of the links below are affiliate links, which means I will earn a commission at no additional cost to you, if you click through and make a purchase. Regardless, I only link to products we use on our homestead or believe in.
Gifts in a jar recipes are some of my favorite and this DIY no-knead bread mix in a jar is the perfect gift for busy folks wanting super yummy homemade bread. Because honestly, who doesn't like homemade bread?
Maria is up today with a fun DIY No-Knead Bread Mix in a jar recipe. This no-knead bread mix would be perfectly paired with a jar of homemade jam and jelly (this low sugar no store-bought pectin strawberry jam is our favorite) or some flavored butter. (Hint: try these awesome knock your boots off flavored butter recipes !!)
How is it this close to Christmas already? It seems like just yesterday schools were letting out for summer break. Though it is nearing faster than I would like, I am very excited for Christmas this year. Most years I am constantly on the verge of pulling my hair out. With every advertisement saying if I really love my family I will get their product, and trying to find the funds for Christmas (not to mention the big family I have to prepare a feast for), I began to hate this time of year. I really did.
But this year, I am making everything. Yup, thats right, homemade food gifts to the rescue. I am excited too, because I love crafting and baking. It is going to be SO much fun for me, and the receiver.
The gift I am looking forward to making the most is this DIY no-knead bread mix in a jar recipe. Doesn't it just sound awesome? It's easy for the receiver to make, and the final product tastes fabulous! I don't know about you, but I would much rather be given a homemade mix than a necklace, or box of chocolates.
Need mason jar gift ideas for teachers? This one definitely fits the bill.
Let's dive into how this simple gift is made!
The things you will need are flour, salt, yeast, a quart sized mason jar, a canning funnel (or epic scooping and pouring talents), a bowl, a whisk, and some ribbon or twine to make it pretty. 🙂
Start by putting the flour, salt, and yeast in a bowl and whisk it together.
Using the canning funnel and a measuring cup, scoop the mix into the mason jar.
Tie it up with your ribbon, or twine for a more rustic look. You can label it with a sticker label or attach one with your ribbon. Either way the lucky person getting this gift is going to LOVE it!
This recipe is from my book Hand Made: the Modern Guide to Made-from-Scratch Living, where I share how to take this base dough and make it into cinnamon rolls, pretzels, pizza dough and more! Grab your copy and over 100+ from scratch recipes and tutorials here.
DIY No-Knead Bread Mix in a Jar
Equipment:
quart sized mason jar (complete with lid and ring)
canning funnel – this helps me get the contents in the jar and not all over the counter!
mixing bowl
whisk
measuring cup
Watch how to form the bread and make the dough here Easy No-Knead Artisan Bread
In a medium-sized bowl, whisk together all of the ingredients. Transfer the mixture to the mason jar using a measuring cup and a canning funnel. Seal the jar and tie up with ribbon or twine. Decorate as desired.
There you have the easiest no-knead bread recipe there is!
To Make No-Knead Bread Mix:
In a large bowl, empty the contents of the jar, and pour in 1 and 1/4 cups of warm water + 1 tablespoon of raw apple cider vinegar. Stir until no dry patches remain. Cover with a kitchen towel and let rise 1 and 1/2 hours.
Preheat oven and baking stone to 450 degrees. Punch dough down and remove it from the bowl. Using your hands, pull the sides of the dough down and to the bottom until you have a round loaf. Place on a piece of parchment. Let rest 40 minutes. Just before baking, dust the top with flour and slash three times.
Transfer the dough with the parchment onto the baking stone or cast-iron skillet. Bake for 24-30 minutes. Let cool before slicing and eating.
Update from Melissa: Several of you have asked what to do if you don't have a baking stone. You can also use a large cast-iron skillet. I bake all of my dinner rolls and cinnamon rolls in my cast iron skillet. If you don't have a large cast-iron skillet, you can also use a bread pan. If you prefer the shape of a bread pan, use that route, it looks more rustic when done on the stone or skillet, but all the methods will bake fine.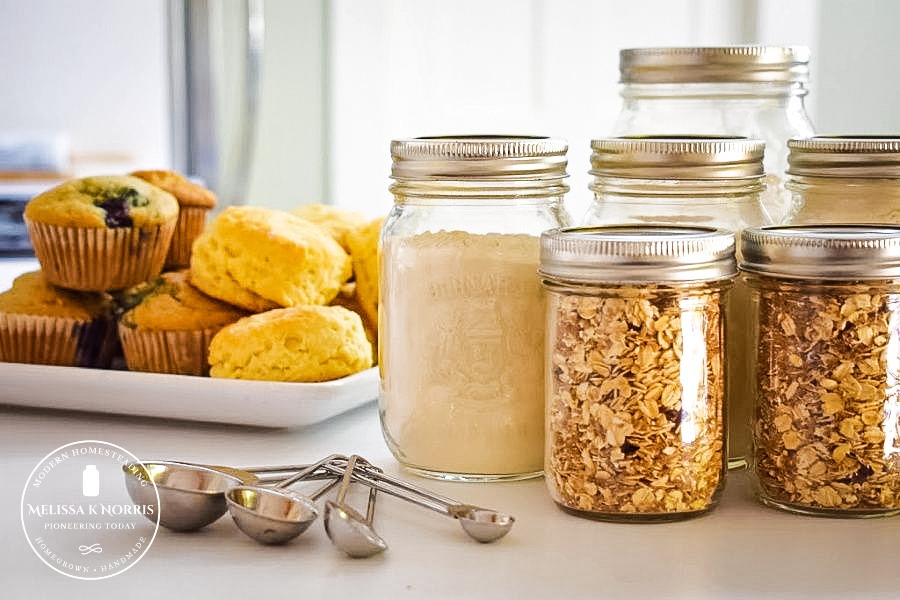 Other DIY Mixes in a Mason Jar Recipes
Maria Alison is family-focused Christian, who's finding new ways to feed her family quality home-cooked food on a budget. She understands how difficult it can be to prepare a meal from scratch with such a busy schedule. On Maria's blog Ten at the Table you will find time saving recipes that are friendly to your budget and your health.