Every old-fashioned soul needs to know how to make candles at home. Is there anything more cheery than the flickering light of a candle? Or romantic… which makes my kids go eww. Every homesteading soul wants to learn how to make homemade candles with beeswax and lard. Or, you will after reading Amy's post on how to make homemade beeswax and lard candles, come on, don't leave me hanging, you know you do.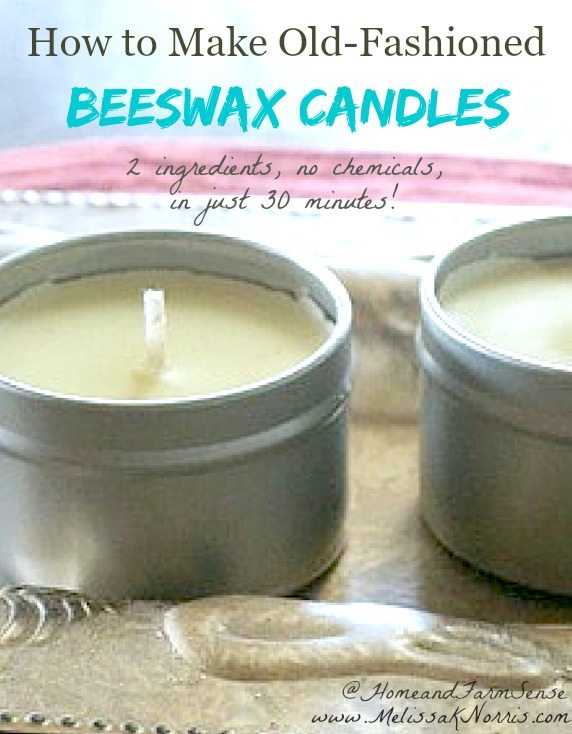 Putting to use all of the items on our homestead is being a good steward and using natural products in our home instead of chemicals is high on my list. Can I get a holler from the rest of ya?
I love Amy's tips on getting a perfect candle without wasting your time or ingredients. So read on my friends and then let's light our candles together. Because I always love that part at a concert when everyone holds up their lighters… yes, I"m that old, before they did the cell-phone light.
Amy ~ I began my candle making journey quite a few years ago. I loved burning candles in my home but wasn't thrilled with all the chemicals and lead in conventionally made candles. I also thought it might be fun to sell candles as a hobby.
After much research, I first decided to make palm wax candles. I loved the feathering effect of the palm wax. For my home business, I also bought paper core wicks, phthalate free fragrance oils and eco friendly candle dyes. After much trial and error I learned to make a "clean burn" candle (meaning the wax will melt completely, leaving no wax residue on the sides of the container) and had fun selling them at farmers markets and craft shows.
However, as I continued to learn about the dangers of chemicals I decided I wanted no chemical fragrances in my home, including my candles. I tried making essential oil candles but the scent went away so quickly it didn't seem worth the cost. I also began reading about the issues with palm wax and its lack of sustainability. In addition, the cost of shipping palm wax was prohibitive.
I decided to try to figure out how to make a candle with items that could be grown or harvested on a farm or homestead (especially useful in times of emergency). While I do not currently have bees ( I really want one of these next year), I have a dear friend who makes beautiful hand dipped taper candles with her beeswax. I, however, am partial to container candles.
Container candles are less messy and are easier to make. Unfortunately, beeswax does not make good container candles because its so hard. I had read about folks making candles with lard and tallow but both fats are pretty soft and don't smell all that great. Combing beeswax and lard (or tallow) gives me a wax that's not too hard for containers and smells sweet like honey so there is no need for fragrance oils.
Beeswax is pretty expensive, so combining it with lard also gives me the ability to stretch the beeswax into more candles. I buy my beeswax unfiltered from a local beekeeper but you can buy filtered beeswax from Amazon. One of the great qualities of beeswax candles is that they naturally purify the air, making them not only aesthetically pleasing, but good for you too! Someday I would love to create my own wicking (maybe from our fiber animals) but for now I purchase wicks and my other candle making supplies.
Supplies for making candles at home
Candle tins – these are a great size, won't break so can be put into back packs or hiking gear, have a lid to keep dry, and can be re-used many times over. And I think they're just super cute, that counts, right?
Paper wicks – we don't want any chemicals burning in our homes. No lead or metal in our wicks.
Beeswax – Good quality beeswax is important. If you have a local beekeeper near you, see if they have any wax for sale. I've also purchased beeswax from Mountain Rose Herbs, they're a tad pricier than Amazon, but I know the quality is good.
Lard – If you don't have access to any good pig fat, you can purchase it at most stores now. We raise our own pigs and here's how to render your own lard.
Small kitchen scale – optional but totally worth it! This is the model I have and it's 73% off at time of posting!
Dedicated pouring pot. You can use any old pot or measuring cup you have, but having a dedicated one will make life so much easier, and the pouring spout does make a difference… This one is an official candle making pour pot. But I won't tell if you use an unofficial one.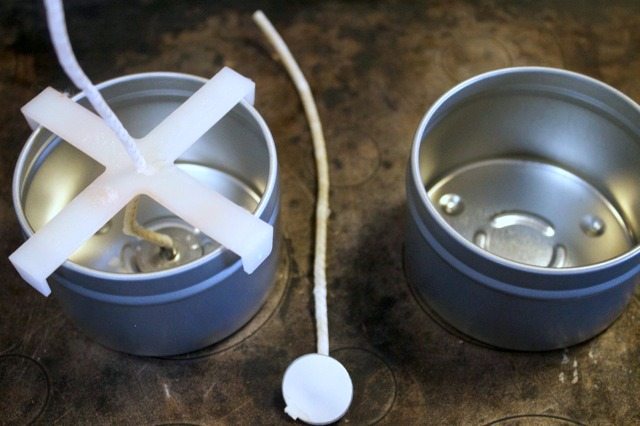 I tried making beeswax and beeswax/coconut oil candles in glass jars and every single time the wax split in the jar, leaving unsightly cracks. Then I happened to see some container beeswax candles at a whole foods co-op and they were all in metal candle tins. I figured if metal candle tins were what the pros used I should try it out – no more cracks…:). This is probably because the metal allows the wax to cool more slowly. Candle tins are pretty inexpensive and can be re-used. They also have centering marks so you know where to place the wicks.
How to Make Beeswax Candles
When making candles, I first prepare my tins and wicks. I place the candle tins on an old cookie sheet (or line a cookie sheet with parchment paper). My wicks are pre-tabbed which makes the process easier.
1.Prep your wicks. To pre-tab wicks place a sticky, two sided tab on the bottom of the wick tab (glue dots also work well) and stick it in the middle of the centering marks. Because of my candle making days I have specialty plastic centering devices for the top of the tin which are really handy but aren't necessary- the wick wrapped around a pencil will work. Wrap wick around a pencil and then lay the pencil across the top of the tin to hold the wick in place as you pour. If using pencil, see note on step 2.
2. Place tins on a cookie sheet and place cookie sheet in a 170 degree oven to warm the tins (NOTE: if you are using a pencil, don't wrap the pencil while the tins are heating – wait until you pour the wax).
As I said earlier, I use paper core wicks because they are lead free. There are a myriad of different eco friendly wicks available, both pre-measured and uncut. When choosing a wick you want to pick one that matches the diameter of the container you are using.
Wax type is also important because some waxes are harder and need a larger wick in order to burn properly (you want to achieve the "clean burn" I mentioned before). Experiment with different wick sizes to see which gives you a clean burn without burning too quickly.
One of the great things about candles is that if you estimate wrong and have lots of wax left on the sides after the candle has burned down, you can simply place the candle tin on a cookie sheet in the oven, melt the wax again at 170 degrees, pour it back into a pot, clean the tin, pick a different wick and start over.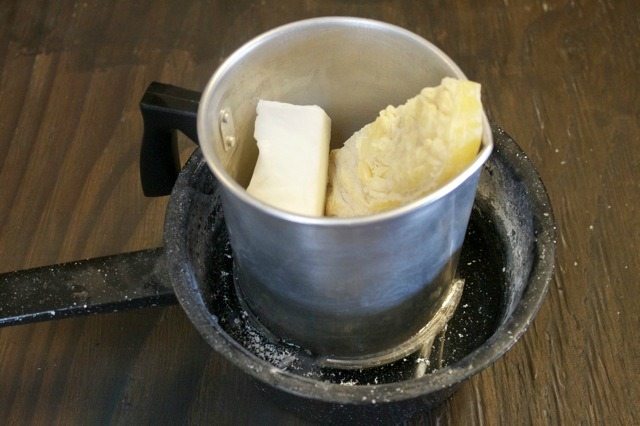 3. Measure the lard and beeswax. After I start the tins heating, I measure my lard and beeswax. Figuring out how much wax to use is challenging (you do not use 6 ounces of wax for a 6 ounce candle as the volume of wax increases as it melts and you also don't fill the container all the way up.) For my two 6 ounce (12 ounces total) candle tins I used 5 ounces of beeswax and 3 ounces of lard. Just a note about lard – when you render lard, add a teaspoon or so of baking soda. This will cut down on the lard smell and help to make it snow white.
Melissa~ When measuring weight, a small kitchen food scale is worth it's small price. I use mine for making our homemade lotion bars and other items. For less than $15 it is a must have!
4. Place wax into a pouring pot over a double burner on medium heat. I use a candle pouring pot to melt my wax but you can use a mason jar, just plan to designate it for this purpose as you won't be able to clean it out. I place the pot over a double burner ring in a pan filled with water. Wait for the waxes to melt.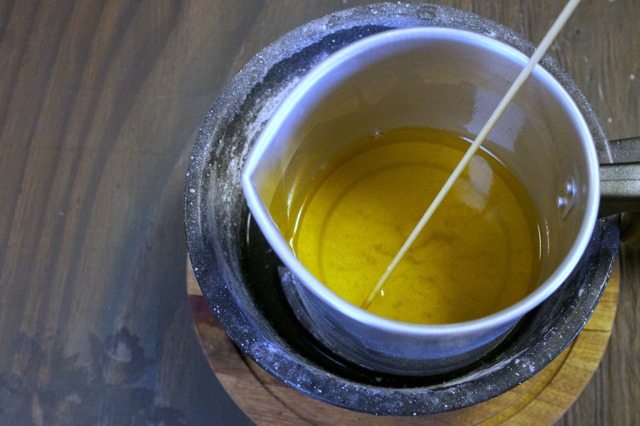 5. Sir waxes together. After the beeswax and lard are melted I stir with a bamboo skewer to make sure they are blended. There will most probably be some sediment but you won't really see it in the final product.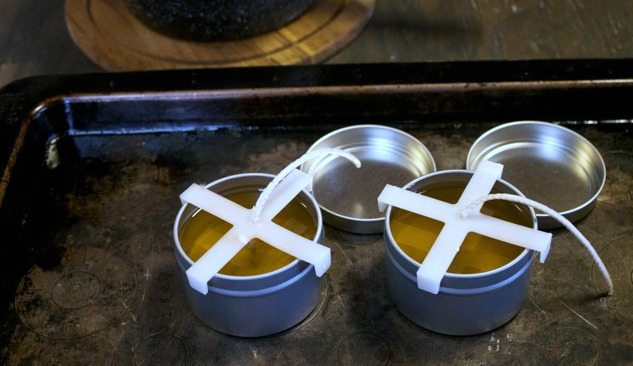 6. Pour into wick readied tins. When the wax is melted I pull out my warmed candle tins. Ideally the tins and the wax will be about the same temperature. This helps avoid cracks as the wax does not cool too quickly. I slowly pour the melted wax up to the fill line on the tins and leave them be (the smell is quite wonderful…).. There should be wax left over for the re-pour later on.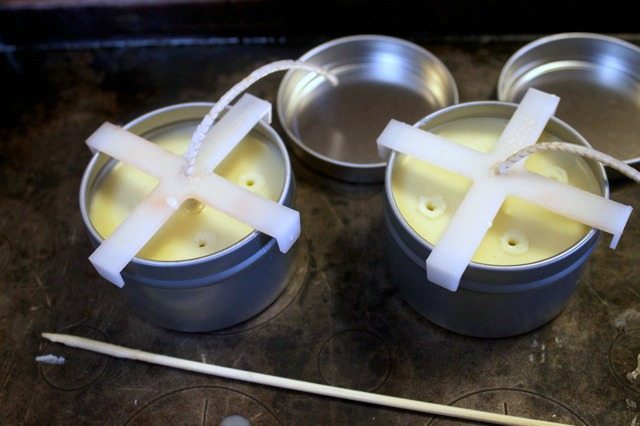 About 30 minutes after pouring, the candles will be almost solidified.
7. Place the left-over candle wax back on the burner (in the double boiler pot) and melt again.
8. Poke "relief holes" in the candles with bamboo skewer. After the wax in the pot is melted again, I pour it over the surface of the candle, not just the holes. Doing this helps create a smooth candle top and also helps eliminate cracks.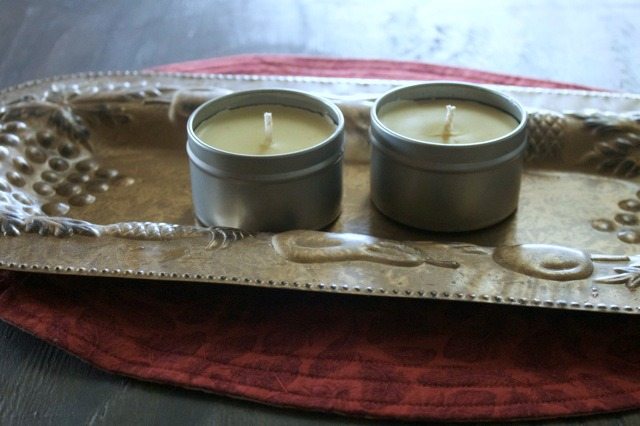 9. Let beeswax candles cool. Leave candles undisturbed for 24 hours to completely cool before lighting.
10. Trim the wicks. After they have cooled, trim the wicks to about 1/4 inch, light and enjoy the wonderful scent of honey and the joy of clean air with your homemade beeswax candles!
More Posts You May Enjoy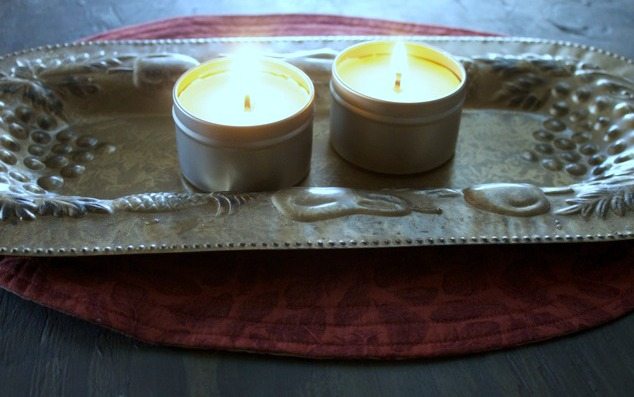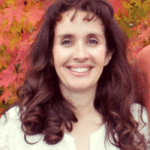 Amy is is a wife and mother of 18 children. In addition to parenting and homeschooling their mega family, they also run a small family farm, which we affectionately call "Autumn Creek Ranch." They love the work of Joel Salatin (me, too) and have patterned much of what they do by his example.