Learn how to make an old-fashioned evergreen wreath for your home this Christmas using natural elements in your yard with or without a wreath form. In true pioneer spirit, you can have beautiful, fresh Christmas decor all over your home for very little money (or even FREE!).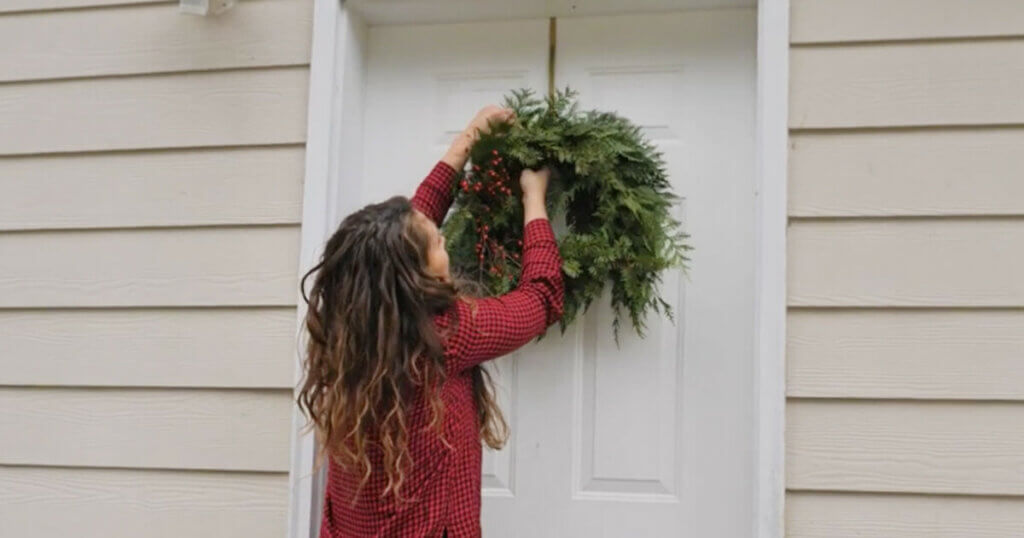 One of my favorite things about the pioneers is they knew how to use what they had on hand to create what they needed. Making an evergreen wreath, Christmas potpourri, or a homemade Christmas swag at home with the items you've got available is about as old-fashioned and frugal as you can get.
There are so many ways to enjoy a frugal old-fashioned homemade Christmas. Or even just to get into the Christmas spirit by heating up this stovetop Christmas potpourri. Maybe enjoying true historical Christmas foods from 100 years ago and getting your kiddos involved?
The options are endless. Even if you can't find evergreen boughs near you, you can always tie some rope up into a circle and decorate it and call it your homemade pioneer wreath. Use moss or tumbleweed on twisted branches with a bow. Get creative!
Best Branches for Wreaths
I recommend choosing cedar, pine, or fir branches.
Depending on the look you're going for in your wreath, or centerpiece arrangement, you'll want to choose the branches accordingly. But no matter which variety you're choosing, try finding branches that are soft and bendy enough to be formed into a tight enough circle for your wreath without snapping.
Hemlock looks beautiful, lacy, and intricate, but it drops its needles fast which doesn't make it a good choice for me. Especially if it's a wreath I'll be hanging by the door, I don't want the needles dropping and getting spread throughout my house!
Cedar drapes so prettily and smells like Christmas, so that's my preferred tree branch, especially if I have extra for a centerpiece. However, I usually choose a variety of pine and some holly sprigs to create a "nature's bow" on my wreath or a pop of color in my arrangement.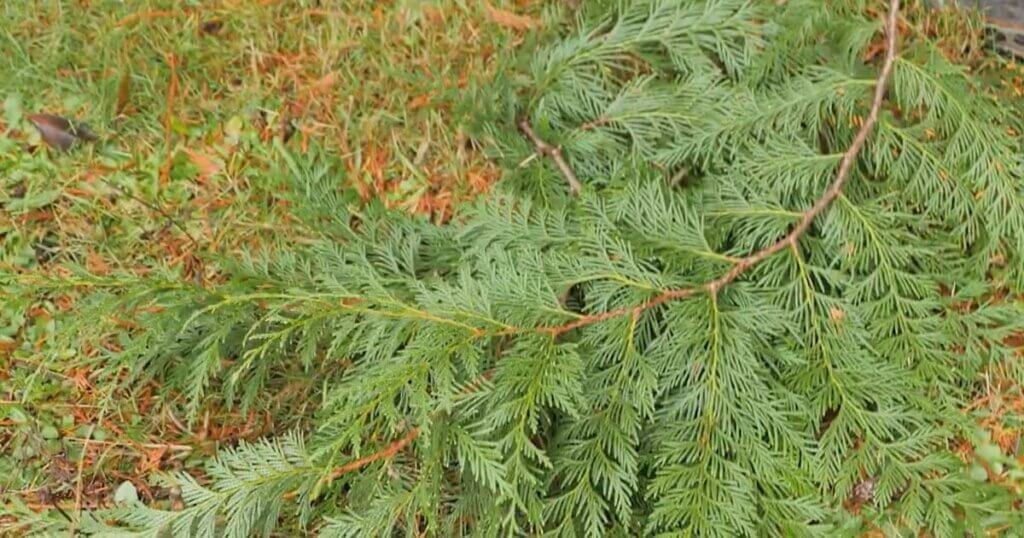 Where to Get Evergreen Boughs
If you don't have evergreens growing on your property, or somewhere you can gather them, check with local nurseries, Christmas tree farms, or Christmas tree lots. Many times they trim the trees and will have extra boughs for purchase or for free.
Ask a neighbor if you can trim some branches from one of their trees. You really only need about 6 to 8 boughs and smaller lower hanging limbs are best so you can still bend them into the wreath form.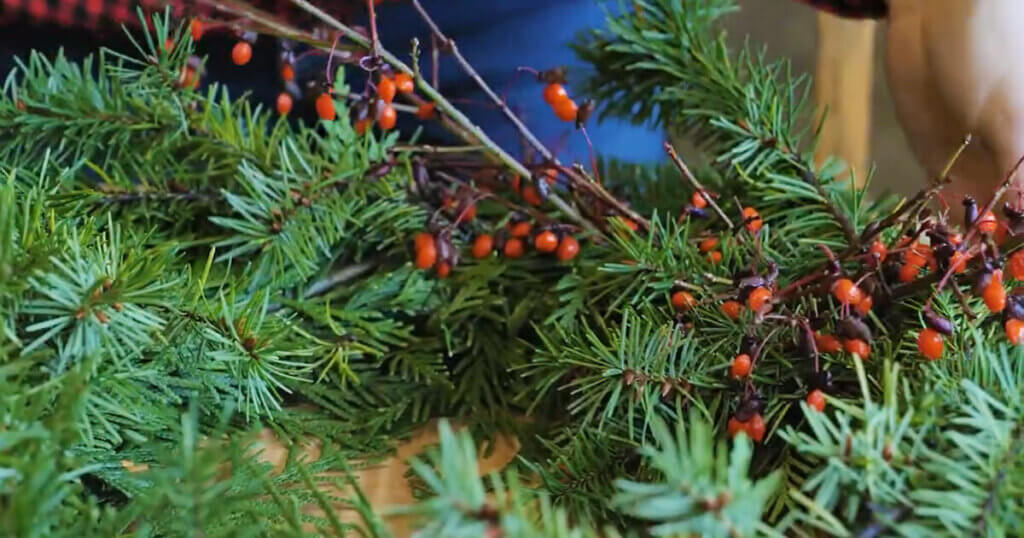 Tips for Keeping Wreaths Fresh
If you'll be displaying your wreath inside, you'll need to spritz the back with water every few days to keep them fresh.
If they're near a woodstove, or outside in warmer climates, they won't last as long. But spraying them with water, up to twice daily if needed, will help prolong their life and freshness (plus help keep the needles on the branches and off your floor!).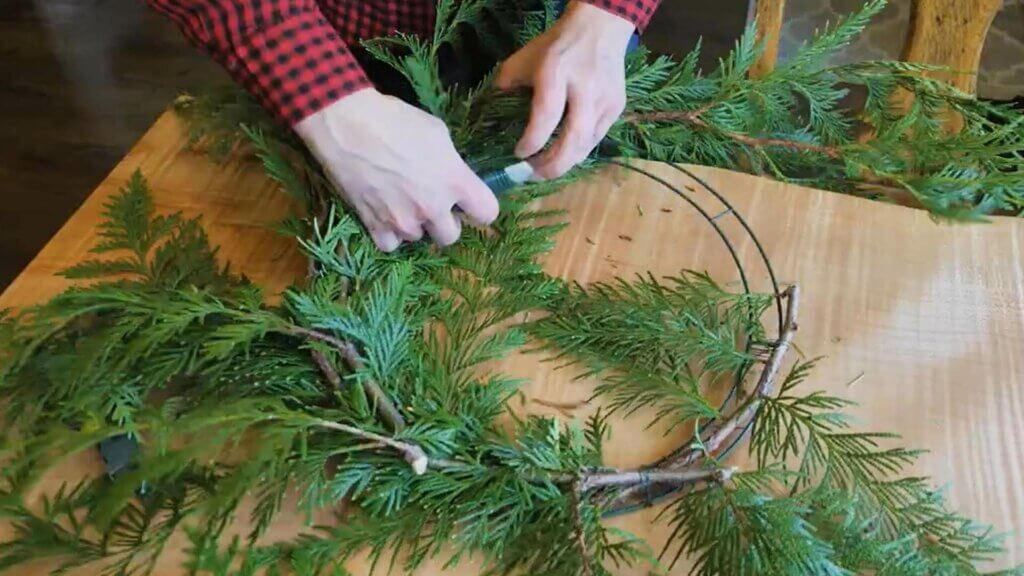 Supplies
Evergreen branches – The best choices are cedar, pine, and fir. See the note above on choosing the best branches for a wreath.
Wire wreath form – An essential is having a wire form as your base for the wreath. I re-used a wire form from a wreath I'd been given as a gift a few years back, but you can grab one for under $10 (at the time of this writing) here –> Wire Wreath Form.
Homemade wreath form – use an old form you already own, bend green branches of willow or grapevine into a circle, secure, and let dry, try bending a high gauge wire coat hanger or two into a circle and securing with twine.
Wire – You'll need some floral wire, preferably in green so it hides against the evergreen boughs. I've been reusing the same floral wire for 4 years now.
Other foliage or embellishments – Look for contrasting bushes or plants in your yard or forest. Lemon cypress and the branches of a burning bush without the leaves but the small berries are natural elements I use to decorate mine. Pine cones are another great natural item you can gather and attach.
Ribbon or Burlap (optional) – if you don't have colorful foliage to add to your wreath, a nice bright ribbon or natural burlap can make a beautiful addition.
Homemade ornaments (optional) – If you're feeling extra creative, you can make some homemade ornaments to decorate your wreath.
Fairy lights (optional) – Although not so frugal, if you'll be displaying your wreath outside, adding some battery operated fairy lights can draw attention to your beautiful creation once it's dark outside. These add a special touch if you'll be gifting your wreath as the fairy lights can be used once the wreath is done for the year.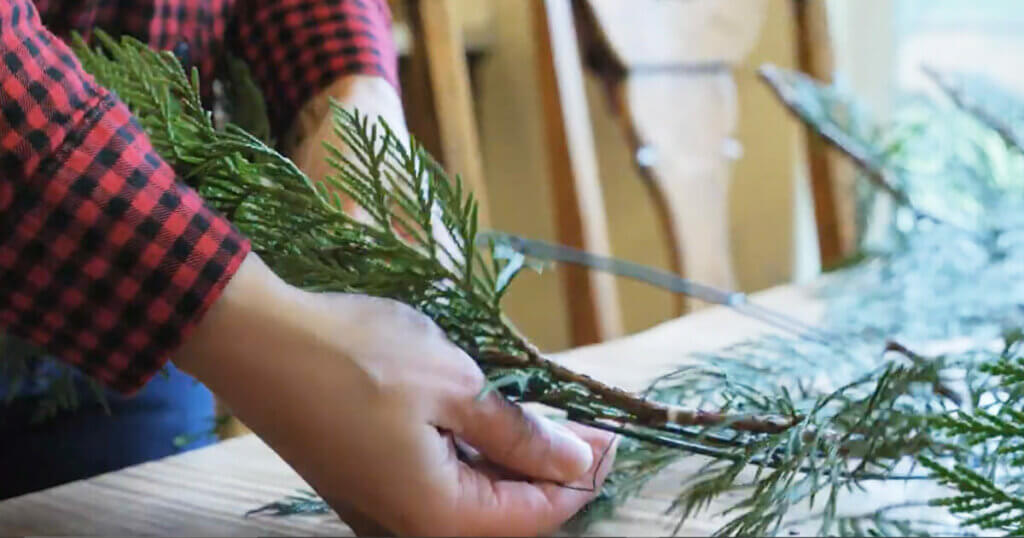 How to Assemble a Wreath
Using a wreath form, tie some wire twine around the wreath form to secure it. Then, tuck in one of your longest branches and secure it with the twine.
Gather up all your supplies and lay them out. If some of your boughs are naturally curving, match the curve to the circle of your wreath form. Secure your floral wire around the wreath form by wrapping it around a few times to form an anchor.
Lay down the first bough and secure it at the top of the wreath form by wrapping the wire around it, then go halfway down and wrap it again, snugging it tightly to the form. (Watch the video above for a demonstration.)
Choose your next bough and tuck the end of the branch underneath the first bough, so the foliage hides the end of the bough. Continue this, wrapping each branch to secure it to the form, all the way around.
Once you have a base of boughs covering the form, stick in smaller branches, as needed, to fill in any holes. The needles from the evergreen act as great anchors and I never glue any of my other pieces on, I just stick them in between the other branches.
Place your other embellishments in groupings of odd numbers. Our eye naturally looks for a place to rest, so using odd numbers makes a visually appealing decoration.
I put more embellishments around where I put my bow to frame it.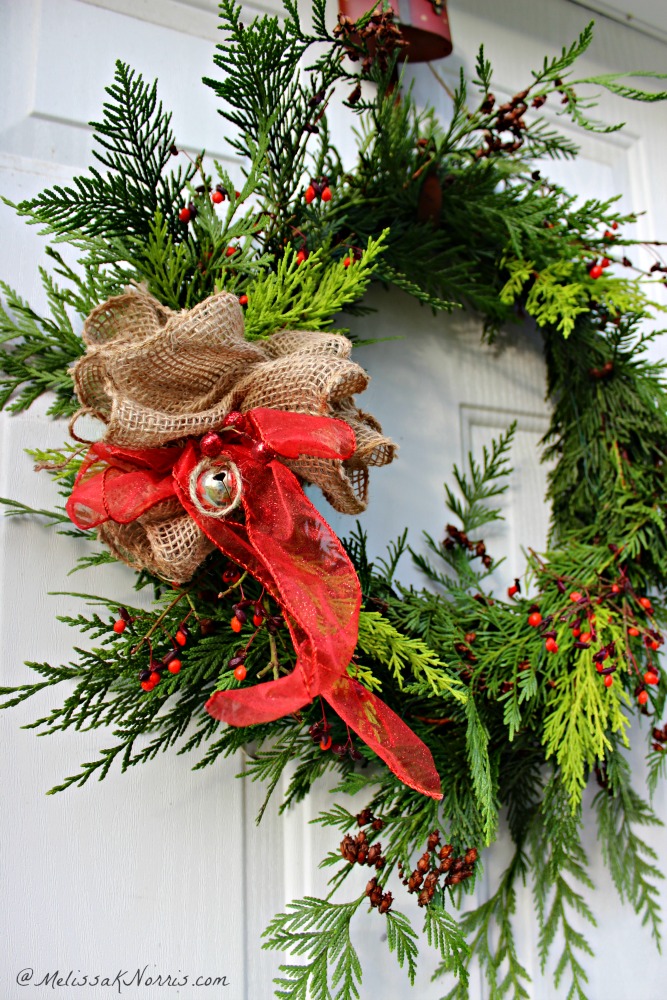 Hang outdoors and your wreath will last for months in cooler climates. Here in the Pacific Northwest mine lasts from November clear into February.
Want to learn how to make my burlap ribbon and jute twine ornaments, along with all of our favorite homemade from scratch family recipes, homemade gifts, and more? Did I mention it was free? It is!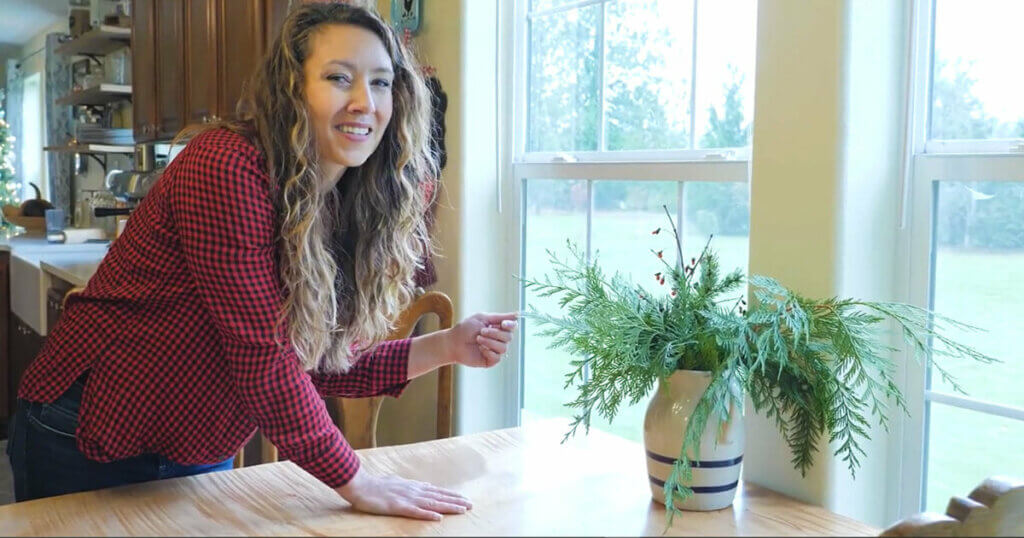 If you don't have a wreath form, or you cut a few too many branches than you needed for this wreath, you can make a beautiful Christmas centerpiece or a homemade Christmas evergreen swag.
More Posts You May Like