Some of the links below are affiliate links, which means I will earn a commission at no additional cost to you, if you click through and make a purchase. Regardless, I only link to products we use on our homestead or believe in.
Homemade cherry pie filling is delicious and easy, perfect in pies, cobblers, on top of cheesecakes, ice cream, swirled into yogurt or oatmeal. Make this with fresh or frozen cherries for a treat all-year-round!
While cherries can be hard to grow here in the Pacific Northwest, when rain tends to split the skin just as they're ripening, their so delicious one should do so anyway. For longer-lasting cherries, choose fruit that still have the stems attached. This keeps oxygen from entering the cherry and causing it to break down faster, giving you a few extra days to preserve your cherries with this delicious cherry pie filling recipe.
To store cherries in the fridge, place unwashed in the crisper drawer for 4 to 7 days.
Best cherries for pie filling
Bing and Lapin cherries are dark red sweet cherries, with firm flesh, perfect for pies or fresh eating. You can use sweet or sour cherries for pie filling.
Download this FREE e-book
Our best jam recipes.... without store bought pectin and low sugar
*our favorite jam recipes, including our 3 ingredient plum jam (one ingredient is water!)
*the troubleshooting guide- ever had jam not set? We've got you covered
*our fruit chart with ph (for canning safety) and pectin levels
Many people believe sour cherries (these are the smaller tart cherries) are best for pies. However, they're only available for a few short weeks of the year and require more sugar.
Ingredients for cherry pie filling
washed and pitted cherries (do yourself a favor and get a multi-cherry pitter, this one does 4 cherries at once)
sugar
ClearJel- make sure you purchase the cook-type for canning (optional, but the only safe thickener to use for canning)
bottled lemon juice
What makes cherry pie filling thick
Both flour or cornstarch are used when making cherry pie filling to bake immediately, but if you're wanting to can your cherry pie filling, you SHOULD NOT use cornstarch, flour, tapioca, or any other thickeners except for CearJel.
Newer testing shows that those starches can create uneven thick spots inside the jars, preventing the heat to get all the way through the product to evenly kill bacteria. Flour and cornstarch break down over time, making your lovely pie filling weepy and runny by mid-winter.
ClearJel is modified corn starch that doesn't break down with the heat of canning and doesn't create thick spots (this brand is Non-GMO)
To make your pie filling without Clearjel, simply can this cherry pie filling recipe without any thickener and then at the time of baking, take 1/3 cup of the liquid from the jar into a medium bowl and whisk together 3 Tablespoons cornstarch until smooth.
Dump remaining pie filling into the cornstarch slurry and mix until combined. Pour into prepared pie crust (you better be using this best-ever flaky pie crust recipe from my Great-Grandmother) and bake at 425 degrees Fahrenheit for 35 minutes, or until crust is golden.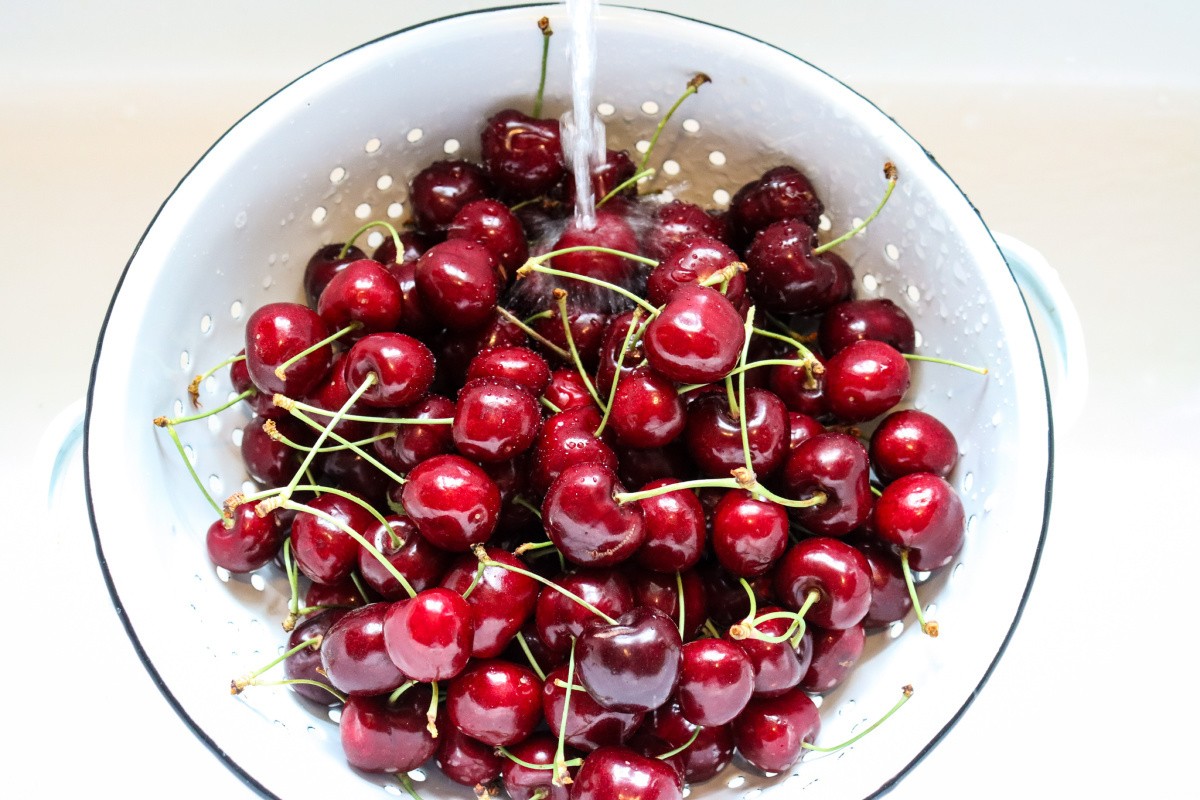 How to make cherry pie filling
Begin by washing and draining cherries. Pit cherries, I highly recommend getting a multi-cherry pitter, place pitted cherries in a large bowl.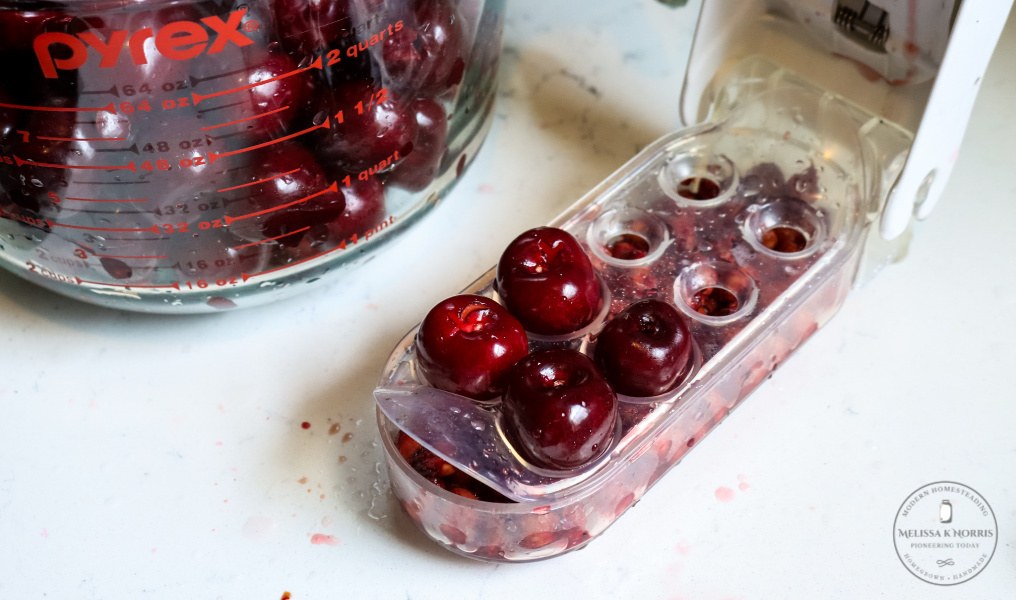 Note: You can use frozen pitted cherries, allow to thaw (save the juice as they thaw) and follow the recipe same as fresh.
Measure cherries, juice (or water if using fresh cherries), sugar, and Clearjel (if using) into a large saucepan, stir until combined and bring to a boil. Stir for 5 minutes, until mixture is thick and bubbly.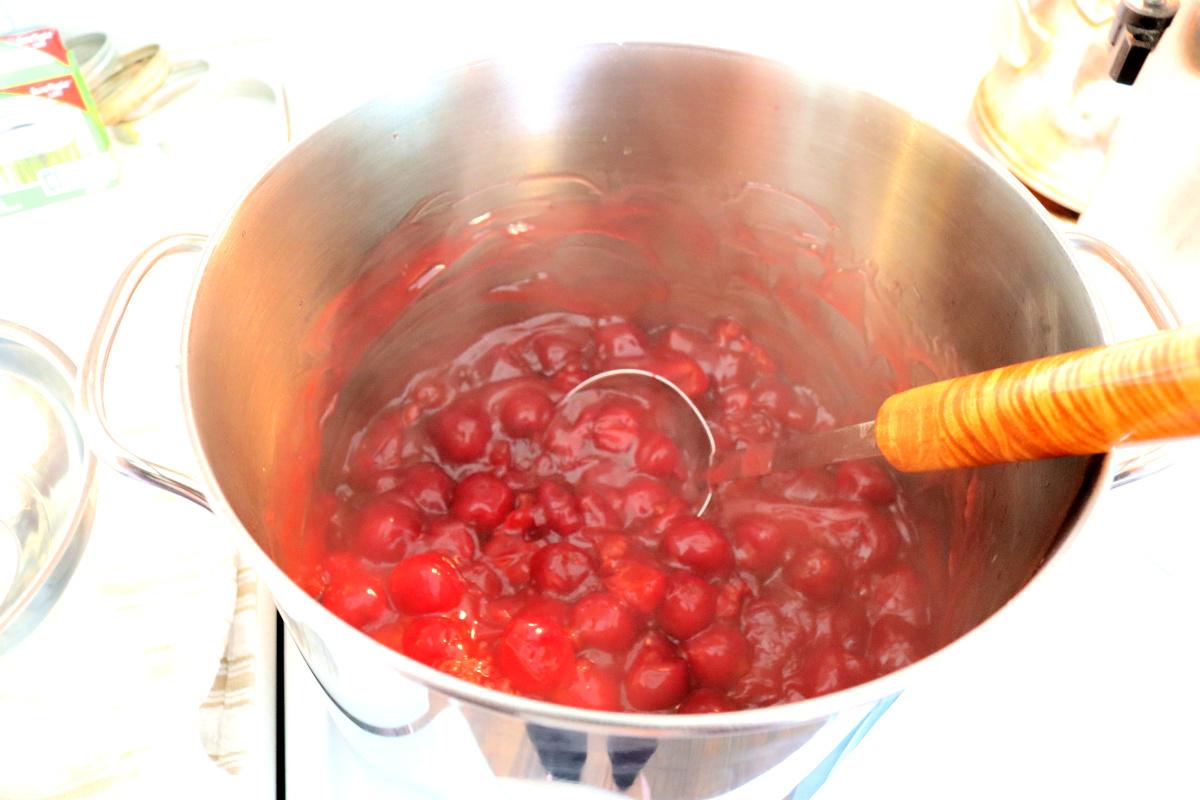 Stir in lemon juice and boil for 1 minute, stirring constantly. Add your cherries and fold in gently, don't stop stirring, until it reaches a boil. Remove from heat.
How to can cherry pie filling
Cherry pie filling may be water bath canned in either quarts or pints. One quart cherry pie filling is perfect for a 9-inch pie whereas the pints are perfect for topping a cheesecake. I do both!
Fill the canner with enough water to completely cover the top of the jars by at least 1 inch. Heat over medium-high heat so the water temperature is 180 degrees F.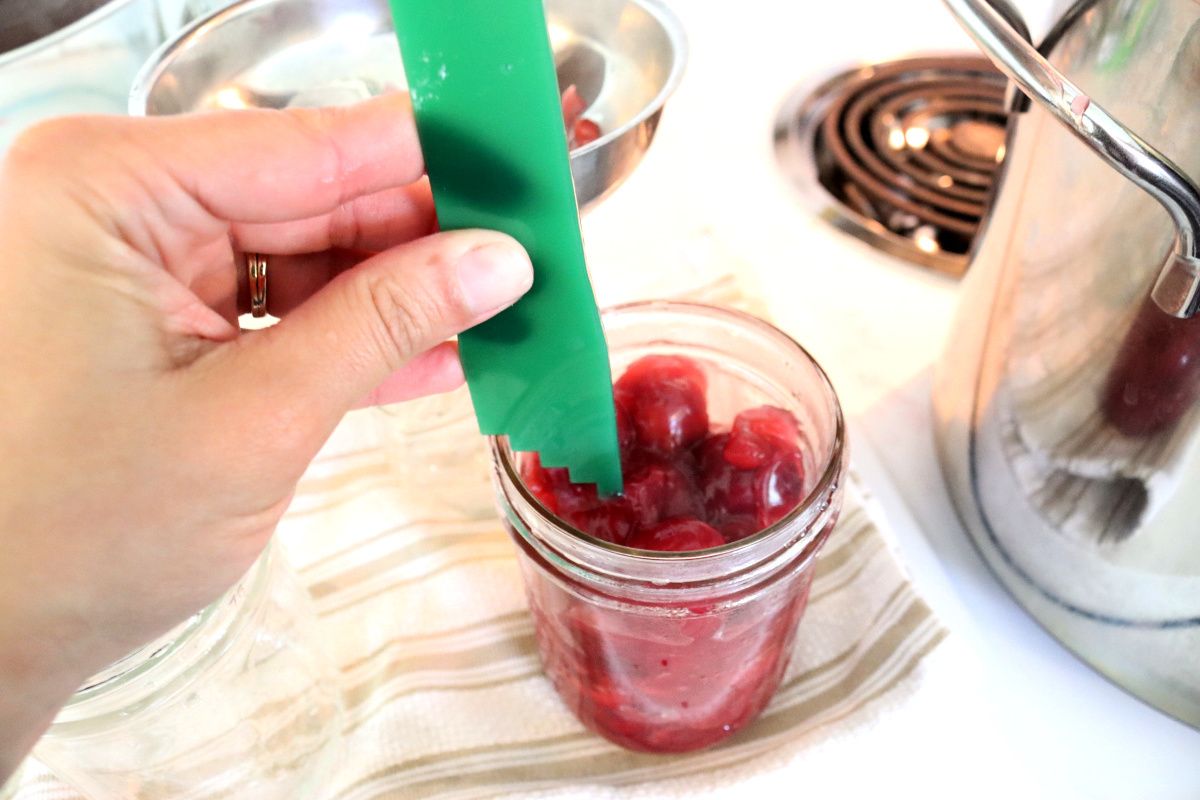 Place jars in hot soapy water (no need to sterilize as the processing time is over 10 minutes for this recipe, just hot and clean). Rinse jars in hot water and place on a folded towel next to your hot cherry pie filling.
Ladle hot pie filling into warm jars to a 1-inch headspace, remove air bubbles, and place into the prepared hot water bath.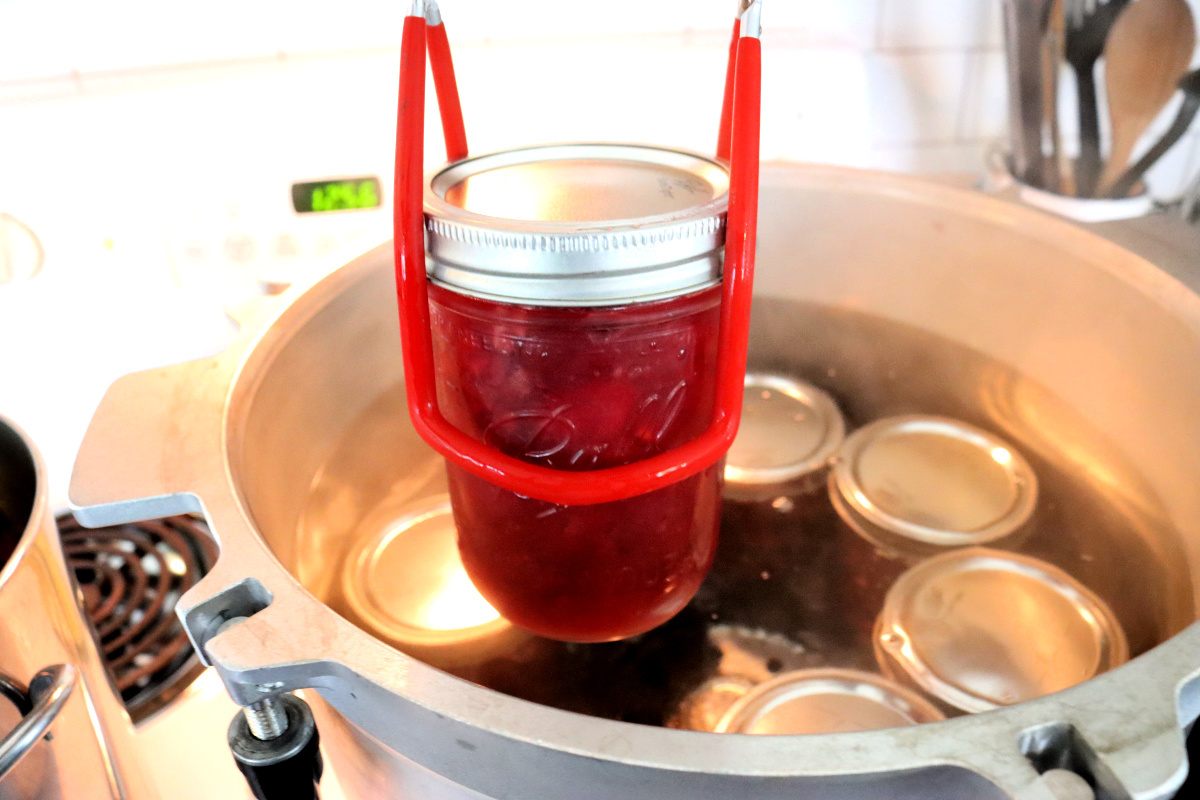 Process jars for 30 minutes (see notes in recipe card for adjusting based on your altitude).
Best recipes for cherry pie filling
Best Ever Flaky Pie Crust (if you made homemade cherry pie filling you definitely want to use a homemade from scratch pie crust, and this one is easy peasy to roll out!)
Homemade Pop-Tarts are delicious with this pie filling inside!
Best Cherry Preserving Recipes
Low Sugar No Pectin Cherry Jam
129+ Best Canning Recipes to Put Up this Year
Cherry pie filling recipe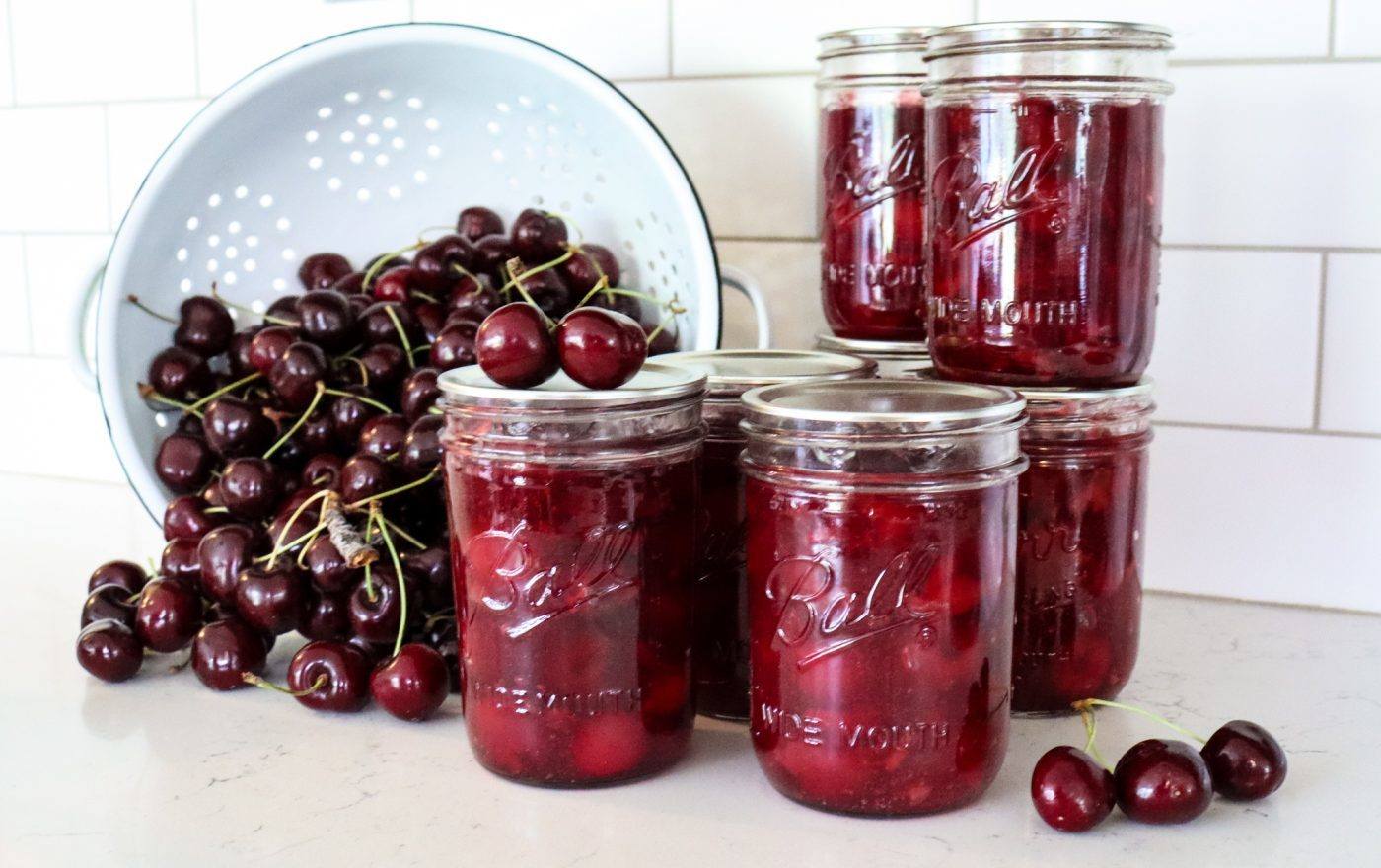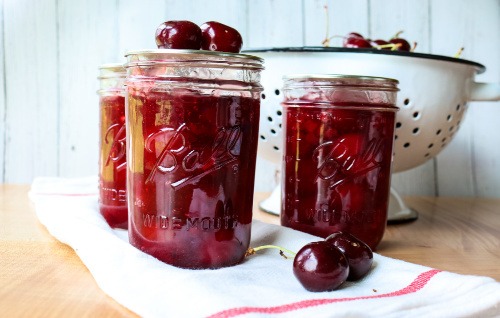 Cherry Pie Filling Recipe (Canning Instructions)
Homemade cherry pie filling is delicious and easy, perfect in pies, cobblers, on top of cheesecakes, ice cream, swirled into yogurt or oatmeal. Make this with fresh or frozen cherries for a treat all-year-round!
Equipment
Cherry pitter

Water bath canner

Quart or pint sized canning jars
Ingredients
12

cups

fresh or frozen then thawed cherries

4

cups

water or cherry juice from thawed cherries

2.5

cups

sugar

1

cup

ClearJel (optional)

1/3

cup

bottled lemon juice
Instructions
If using fresh cherries, put 6 cups at a time in 1 gallon boiling water and boil for 1 minute. Drain and process next batch of cherries. Keep boiled cherries in a bowl or pot with lid to keep warm.

Get your water bath canner ready with rack and water. Wash jars in hot soapy water and place in canner rack (in lifted position) to keep warm with canner on medium heat.

In a large stainless steel pot, whisk together 4 cups cherry juice, sugar, and ClearJel (and cinnamon if using). Bring to a boil over medium-high heat, stirring almost constantly until its thick and bubbling (about 5 minutes or less). Add lemon juice, stir, and boil for 1 minute, stirring constantly. Add your cherries and fold in gently, stirring constantly, until it reaches a boil. Remove from heat.

Place warm clean jars on a towel and using your canning funnel (highly recommended) ladle hot pie filling into jars to a 1 inch head space (if NOT using ClearJel Ball recipe states 1/2 inch headspace). Remove air bubbles and recheck headspace, add more filling if needed. Wipe rim of jar clean and put on lid and band. Tighten to finger tip tight and place into canner.

Make sure jars are fully covered with water and bring to a boil. Process jars (both pints and quarts) for 30 minutes. If above 1,000 feet see notes for adjusting processing times to altitude.
Notes
for altitudes 1001 to 3000 feet above sea level process for 35 minutes, if 3,001 to 6,000 feet above sea level process for 40 minutes and if above 6,001 feet process for 45 minutes.

you can add 1/2 teaspoon ground cinnamon (1/8 teaspoon per quart jar)

if NOT using ClearJel Ball recipe states 1/2 inch headspace

Recipe adapted from Ball Complete Book of Home Preserving