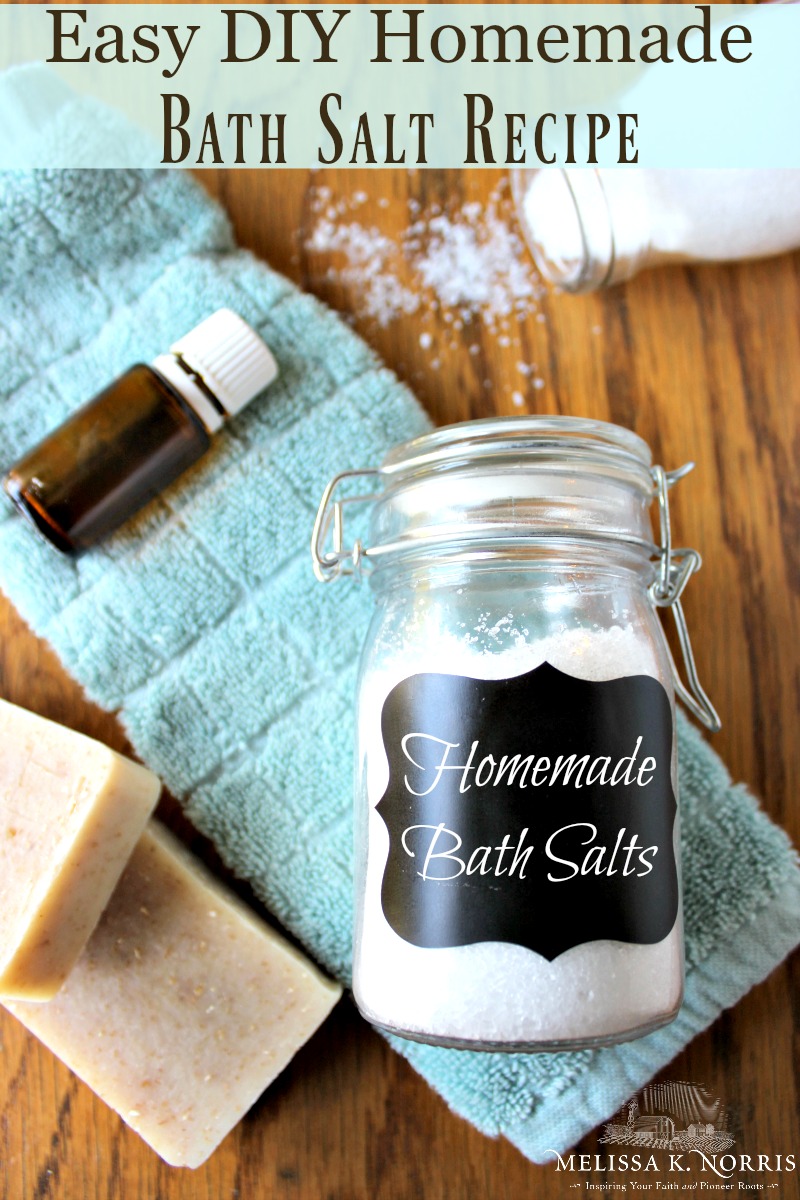 This homemade bath salt recipe is one of the easiest projects to whip up for gifts, either for yourself or lucky folks on your list. Not only is it frugal and easy, but this is one gift that has therapeutic benefits, score!
Benefits of Bath Salts
Bath salts aren't actually made with salt, but Epsom salts, which looks similar to salt but is large crystals of magnesium sulfate. This is where part of the therapeutic benefit parts comes in.
Our bodies need a proper level of magnesium to function properly. And some studies show magnesium may offer help with insomnia.
Magnesium is one of the most important minerals in our bodies and helps regulate hundreds of enzymes in our bodies. It helps the proper function of our cardiovascular and endocrine systems as well as our brain and neurotransmission. To sum it up, it's a pretty big deal in keeping us healthy on a whole lot of levels.
An Epsom salt bath can help increase your magnesium levels.
Making homemade bath salts with baking soda is a great way to help soothe irritated skin, a water conditioner, and helps leave skin feeling extra silky.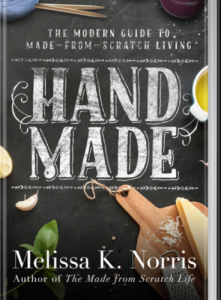 Learn how to nourish your body with a natural medicine cabinet with items already in your spice and herb cabinet.
Grow your own culinary and medicinal herbs and learn how to easily preserve them to stock your pantry and medicine chest.
Easy guides and recipes to use your herbs in your own:
homemade soaps
herbal tinctures
nourishing lotions and soothing salves
Want more easy homemade recipes all in one place? This recipe and 100+ more are found in my book–> click here Hand Made: the Modern Guide to Made-from-Scratch Living. <<–

Start at
DIY Bath Salt Recipe
2 cups Epsom salt
½ cup baking soda
Sea salt (optional)
3 to 4 Tablespoons herb of choice (optional)
Mix together the Epsom salt, baking soda, and salt (if using).
Add in herbs and combine until well mixed.
Mix all of this together and store in a clean Mason jar. Add 1 cup to bath water. To help dissolve the salts, pour them under the running water while the bath is drawing.
How to Make Bath Salts for Gifts
The above recipe makes enough for a pint sized jar (2 cup size) which is perfect for gift giving. If you want to make a large number of these up for gifts, simply double, triple or quadruple the recipe and pour into individual jars.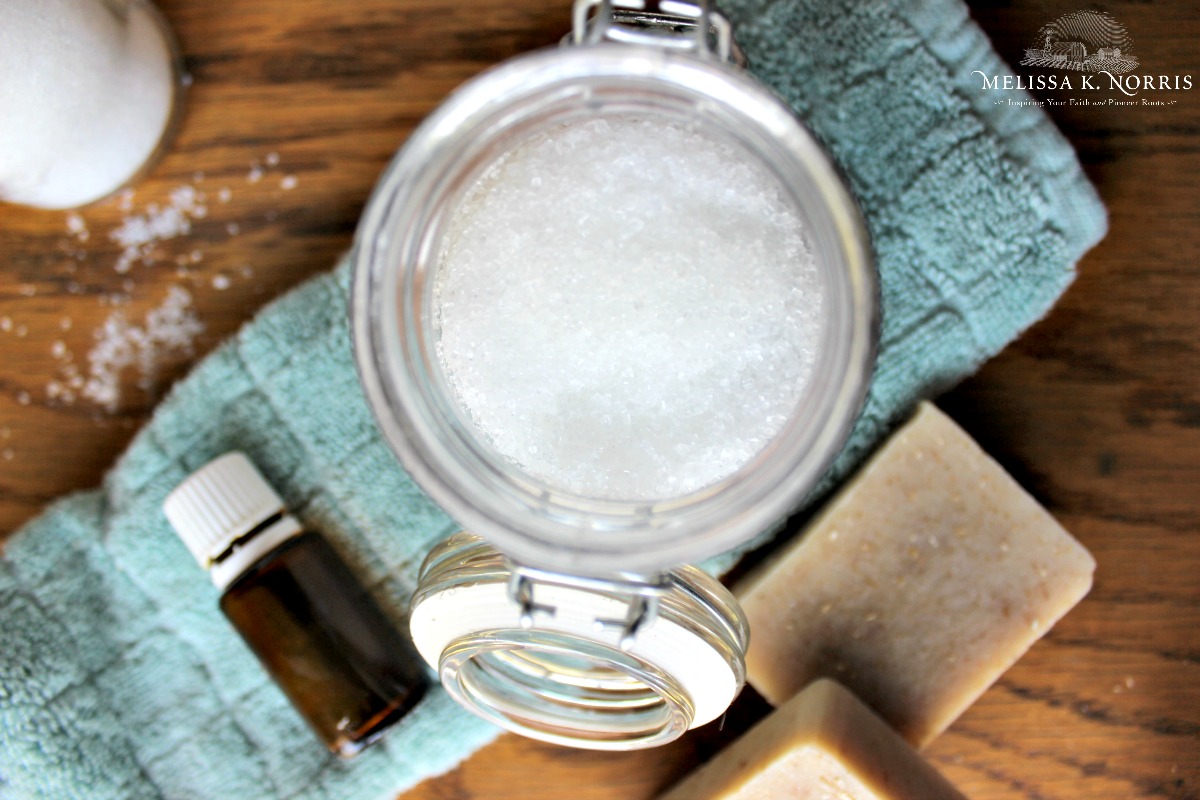 Consider the individual as you pick your herb or essential oil combinations. If someone is sensitive to scents, you can omit it and the baking soda and Epsom salts still make a wonderful homemade bath soak.
This is my favorite part. Personally, I love turning this into a lavender bath salts recipe because lavender essential oil is soothing after a long day, not just to the senses but also to tired muscles.
But I also like to add in the addition of peppermint essential oil for fun Christmas kick and if you've got any type of congestion, this addition is perfect!
Simply add between 10 to 20 drops per 2 cups of bath salts, stir until combined, and gift. You can use a single essential oil or mix and match for different scents or benefits.
Peppermint tends to be a strong oil, so I use less of it when combining it with lavender or vanilla so it doesn't over power the other scents.
I use Plant Therapy for my essential oils because I can get free shipping and order whenever I want, they have KidSafe labels for all essential oils that are safe for use with children (safety is a big deal to me), and they have certified aromatherapists I can ask any questions I may have. Sweet!
Note: Never add essential oils directly to bath water, as they won't disperse. By adding them to the Epsom salts first, they're able to dissolve into the water. Otherwise you'll create an oil slick on top of the water. Always use essential oils with caution, and less is more. Some oils like peppermint, cinnamon, and other warm oils can burn the skin if applied directly without dilution (and some should never be applied to the skin or used in the bath). It's best to use the homemade bath salt with essential oils recipe below following the carrier oil instructions and amounts.
Free Essential Oil Caution Guide– know which oils are photo-sensitive, which aren't safe for children, and if an oil interacts with certain medical conditions. Get your free copy here–> Essential Oil Safety Guide and Chart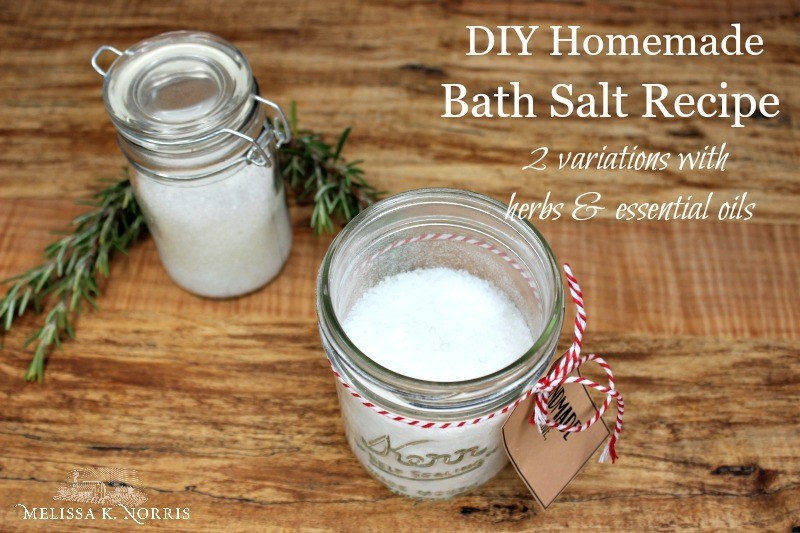 DIY Bath Salt Recipe with Essential Oils
1 cup Epsom salt
1 ounce pure castor oil soap
1 ounce oil- olive, jojoba, or avocado oil
10 drops essential oil (lavender or rosemary are two of my favorites)
Using a food scale, combine castor oil soap and oil in a glass container.
Add in essential oil. Stir until well mixed, it will turn creamy.
Stir into 1 cup Epsom salt and mix well.
Store in a glass jar and add 1 cup to bath water. Make sure to use hot water to dissolve in bath water.
Note: Do NOT add baking soda when using the essential oils and carrier oils, it will foam and create a mess!
Some people have reported when using the castor oil soap and oil for dilution that it doesn't dissolve all the way in the bathtub. It's likely the water isn't hot enough so an easy solution is to put some water in the tea kettle and bring it to a boil. When you first start to run the bath, pour in your bath salts and pour the hot water from the kettle directly over top, then continue to fill up the tub with water from the tap, adjusting the temperature so you don't burn yourself at the end. I always do this anyways to make sure my bath is hot enough as our poor little hot water tank can't fill up the large soaker tub to my liking anyways.
What are your favorite combinations to use in the homemade DIY bath salt recipe?
More Posts You May Like