Do you know what you're putting on skin? Learn how to make homemade lotion bars with just 3 ingredients so you don't have to worry about any weird chemicals or preservatives.
After undergoing an endoscope and biopsies on my esophagus and upper stomach six years ago (amen they came back cancer free) I took a good hard look at our home and food.
I researched GMO's, what was really in the processed foods at the store, and the use of pesticides on commercially grown crops.
We started raising our own food, making it from scratch to avoid pesticides and harmful processed ingredients, and using natural cleaners like the pioneers.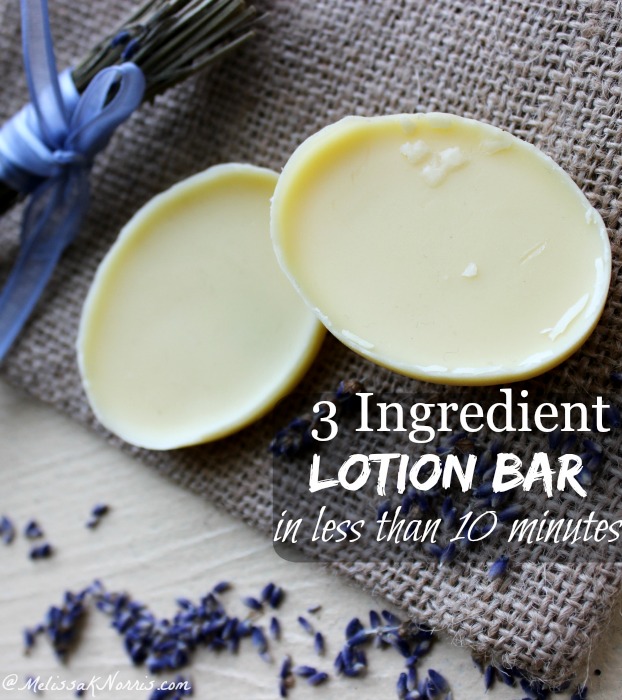 But, one area I didn't look into quite as deep or as soon was the products we put on our skin. Our skin can absorb toxins within seconds of exposure.
Have you looked at the ingredients in your tooth paste (we use an all natural brand, but you can even make your own), shampoo, laundry soap, deodorant, and lotions? There are some nasty things going on in most of the main stream products.
Lotion bars are a favorite of mine because they use simple natural ingredients and moisture my skin better than regular lotion. Score! Plus, the double as lip balm.
Resources for hard lotion bar recipe
This recipe is from The Made-From-Scratch Life: Simple Ways to Create a Natural Home. It's filled with simple old-fashioned tips and recipes like this from homemade beauty care to yummy eats in the kitchen.
Molds- these silicone muffin liners (there's also little rectangle ones) are great, but you may also line a small bread pan or box with parchment paper. Anything will work that is the right shape and you will be able to pop the hardened lotion bar from after it's cooled.
How to make homemade Lotion Bars
Coconut Oil (You can grab it here)
Shea Butter (this is a great price for organic shea butter and it will make tons of batches!)
Beeswax (pellets are easier for measuring)
Essential oil of lavender, lemongrass, or spearmint (optional)

Some of my favorite and most used essential oils are Lemon, Lavender, and Peppermint all combined for you in this special starter kit from Plant Therapy. Not only are their prices excellent but they show third party testing for purity on each oil along with their Kidsafe logo on all oils that known to be safe for use with kiddos.
Using a food scale, weigh out equal amounts of beeswax, coconut oil, and shea butter. You'll have an easier time using beeswax pellets for measuring. If purchasing your beeswax from a local beekeeper, you'll most likely get a bar or chunk of beeswax, which makes it a tad bit harder for measuring, but still very doable.
I use one and a quarter ounces of beeswax, coconut oil, and shea butter for a decent sized batch. Using a double boiler, or a small saucepan and a large glass measuring bowl, melt beeswax, coconut oil, and shea butter until it turns to a liquid. Remove from heat and add ten drops of essential oil. Note: make sure if you use essential oils in the recipe that the essential oils you use are of high quality and are safe for external use on the skin.
Pour into molds. You can use soap molds, silicone cupcake liners, or even fill a small parchment paper-lined box. I used a plastic lid from a box of oval candles. The size just fits the palm of your hand. Whatever mold you use, make sure it's something you can easily pop the hardened bars out of. Allow bars to harden overnight.
Wipeout your measuring bowl while it's still warm for easier cleaning and then wash with hot soapy water. I use the small amount of the lotion bars still clinging to the inside of the bowl to rub on my feet and elbows. Be sure to put socks on as the soles of your feet will be slippery until the lotion is all the way absorbed. Let's say I learned that one the hard way…
You can also use this same recipe for lip balm. Pour into smaller containers or empty twist up lip balm tubes. In a pinch, I simply rub the lotion bar over my lips.
To create a natural home from the kitchen to the garden, barnyard, cleaning cabinet, and beauty products grab your bonuses and the Made-From-Scratch Life here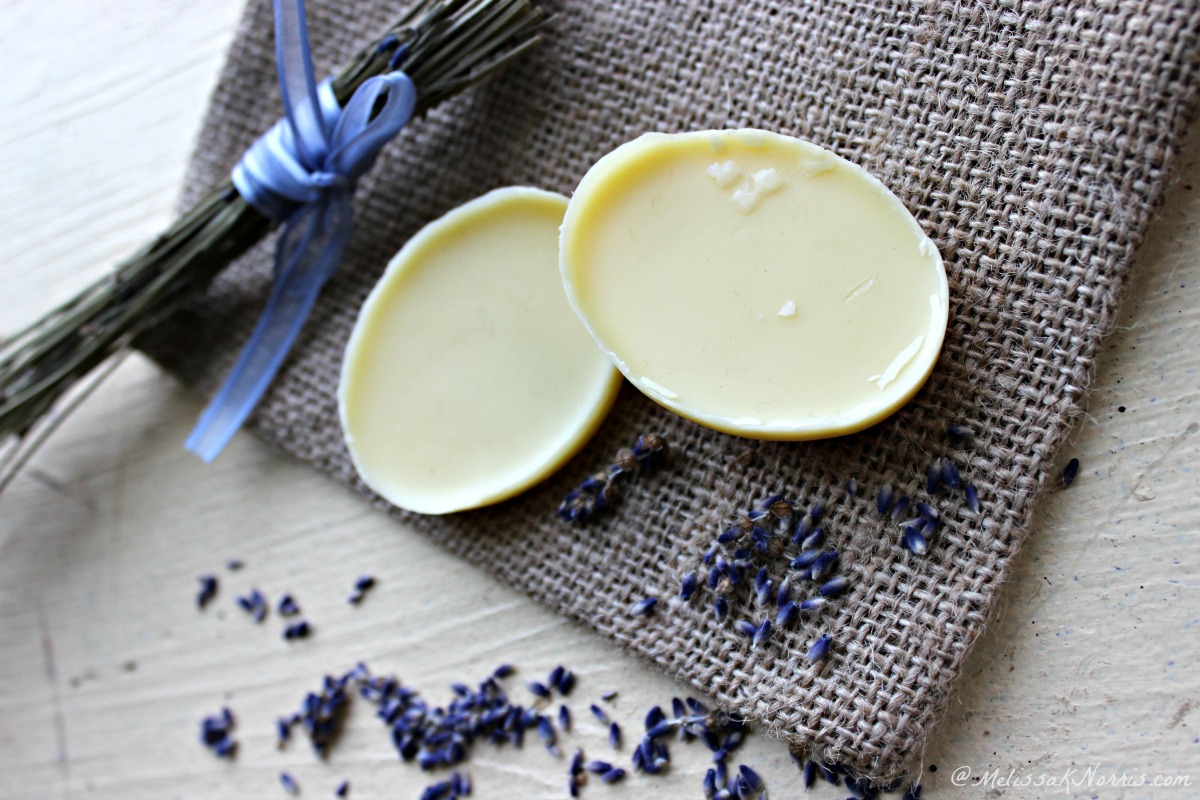 More Posts You May Like