Some of the links below are affiliate links, which means I will earn a commission at no additional cost to you, if you click through and make a purchase. Regardless, I only link to products we use on our homestead or believe in.
Crocheted beanie hats with flowers on the side are very fashionable right now. They're gracing the heads of infants on up to teens and adults. If you have the basic crochet stitches down and possess a pioneer spirit of I can make it myself, then you can make one of these darlings in an evening.
The color choices are endless. Here's a picture of the infant version. You can clip an artificial flower on. (I hot glue a flower to a metal alligator clip, then you can also use it as a barret or an a headband)
Or, you can crochet a flower and then sew it on.
Both are cute and depend upon your on hand supplies.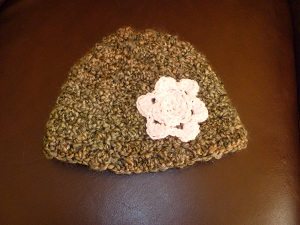 Here's a toddler hat I made for my daughter to match her new coat.
I have an obsession with pink and brown. I did use infant yarn on this hat, the others were regular.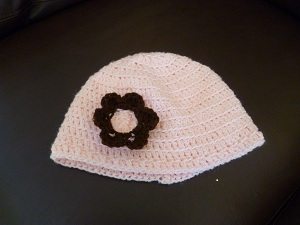 And here's an adult version. You can do stripes, I actually didn't have enough yarn to do all purple, so I used scraps. Buttons or jewels look cute in the center of the flower. You can change yarn to do an outer edge in a different color, or do two flowers and then layer them.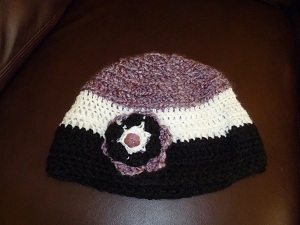 Here's the link to the pattern I used for the hat. I used it as a base pattern for the adult hat too, I just kept repeating round 4 until it was large enough to fit my head and then continued with the instructions for round 5 until it fit.
Here's the instructions for the flower embellishment. There is a hat pattern listed here also, but I preferred the above pattern myself. I just found a pattern for the layered flower here, it gives instructions for three different sizes you then sew together as one.
For a boy or man's hat, I like to do dark colors, though school colors would work for a teenager or the favorite sport team colors for your sport fanatic adult. (I'd leave off the flower though, hee, hee) Another fun option is camouflage yarn.
If you're pressed for time but would like to give other homemade gifts or baking, check out this post.
Please share any tips or links you have to fun crochet projects. If you have any questions on the pattern, I'll help as best as I can.