Making homemade mint extract was one of the very first extract recipes I ever attempted… and I've never gone back. Have you seen the price of extracts in the store? It can be rather spendy for the real stuff, but the imitation extracts often have caramel coloring and other not so lovely ingredients.
What's a pioneering today person to do? Make your own mint extract… or vanilla extract, stevia, lemon, almond, orange, chocolate mint-okay, you get the picture. If it can be bought in the store, it can be made at home, both cheaper and healthier (like homemade condensed soup).
Psst… swap out the vanilla extract for mint in these DIY Homemade Brownie Mix in Jar- Best Ever Fudge Brownies
Extracts are the perfect gift for any baker on your list, including yourself… what, I'm the only one who makes gifts myself?
How to Make Homemade Extracts
You'll need:
alcohol (Most vodkas are made from grains, including wheat or corn, and in the United States almost all corn is GMO unless certified GMO Free or Organic. To avoid grains & GMO crops use rum. Rum is made from molasses and sugar cane by-products. This is especially important for those with grain sensitivities or allergies.)
glass jar with lid
fresh mint leaves (for the other extracts you'll need vanilla beans, lemons, almonds, and stevia leaves) Because there are tons of different mint varieties out there, the flavor of your mint extract will vary based on which variety of mint you use. I personally grow chocolate mint, peppermint, and spearmint. A girl can't have too many mint plants!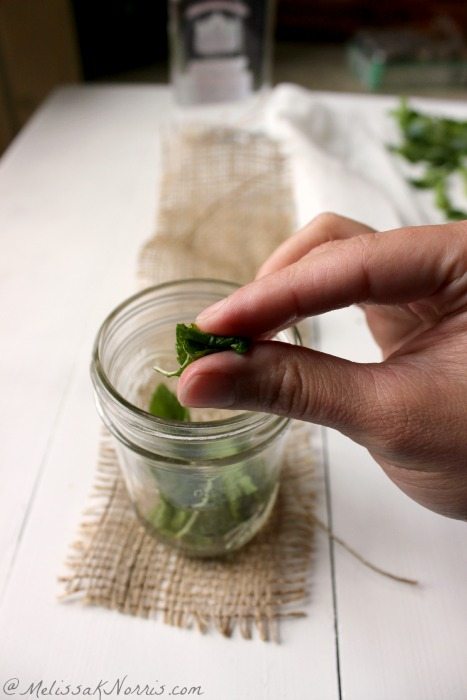 To Make Mint Extract for Baking
Pick your mint leaves in the morning when they have the highest concentration of oils in leaves. Rinse and pat dry.
Discard any burnt or damaged-looking leaves. Strip the leaves from the stem. Roll the leaves up between your fingers so they're good and bruised. Or you can roughly chop them.
Put leaves inside of your glass jar. Fill jar with vodka, completely submerge mint leaves. Place lid on jar and give it a good shake.
Place jar in a cupboard or out of direct light, but somewhere you'll remember to shake it every few days. Let mint leaves steep for at least 6 weeks. You can allow it to steep longer for a stronger flavored extract.
When mint extract has reached its desired strength, strain liquid through a sieve into a glass container.
I purchased these pretty and vintage-looking glass swing-top bottles to house my extract in and give it away as a gift. I adore these chalkboard labels and may have labeled every glass container in my house with them… may have. Store extract in a cool dark place.
How to Make Mint Extract Fast
If you don't have enough time to seep the extract before giving it as a gift, create a DIY homemade extract kit by giving one of these flip-top jars with the filled Mason jar of seeping extract and instructions on when to strain it.
This way you're actually teaching the person how to make their own by just doing the first part for them. Now they'll have the jars to make it again and only have to purchase the ingredients when they run out!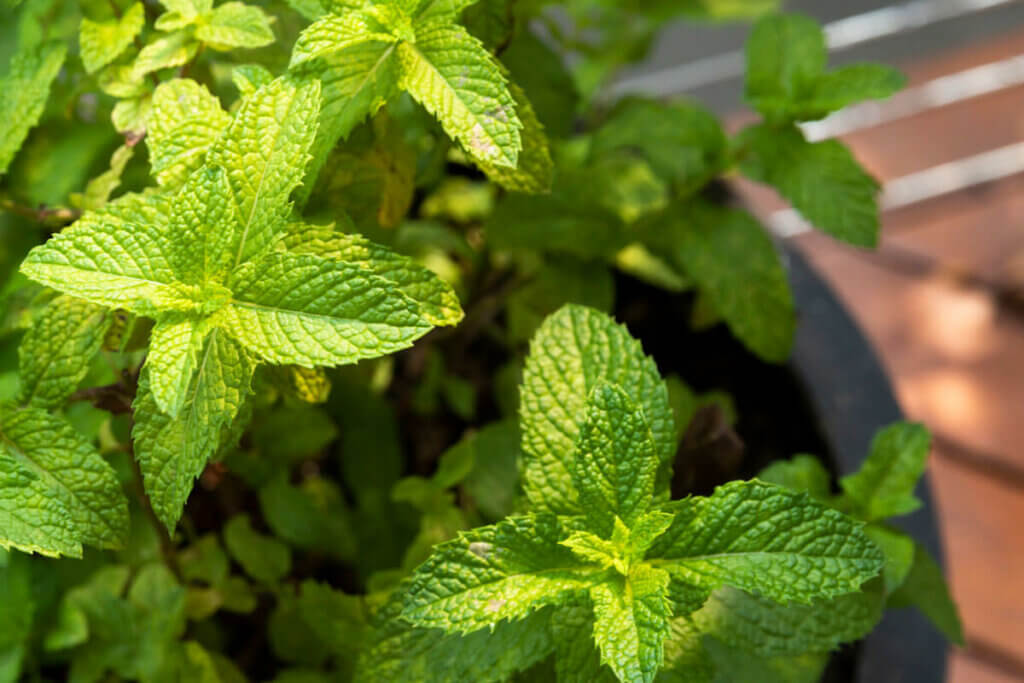 How to Make Mint Extract Without Vodka?
You can use 3 parts glycerin to 1 part distilled water in place of the alcohol. Make sure you use food-grade glycerin like this one.
How to Make Mint Extract With Dried Leaves
Use 1/3 to 1/2 the amount of fresh, 1/3 to 1/2 cup of dried leaves for this recipe. The dried leaves will swell and rehydrate with the alcohol, make sure you have plenty of room in the jar. Check the jar after 24 hours and add additional alcohol if leaves are above the liquid level.
Top off with more alcohol if this happens.
To Make Vanilla Extract
1 cup of Rum
5 Vanilla Beans (5 beans per 8 ounces of alcohol)–> This is where I get mine but Costco carries vanilla beans during the holidays, so check there.
Glass Jar with a lid
With a sharp knife, slit the bean lengthwise, then roughly chop into pieces.
Place chopped beans into a glass jar and fill with alcohol, I prefer rum for my vanilla extract but you can use vodka as well.
Put a lid on it and shake well.
Store in a dark cupboard away from heat and shake every few days.
Allow extract to seep for 8 weeks or longer for best flavor.
After seeping, strain out the vanilla extract and store in a glass bottle.
Many vanilla extracts in the store have added ingredients such as water, sugar, and corn syrup, making a homemade version a better alternative.
5 Other Homemade Extract Recipes
What homemade goodies are you making this year? Do you make any other flavors of the extract?
Recipes to Use Mint Extract in