Homemade peppermint salve to the rescue for dry skin. Anyone else have hands that feel like sand paper? Seriously, I've contemplated just sticking both hands into my bottle of olive oil if only the opening was large enough.
Thankfully, Sarah is sharing her awesome homemade salve recipes for dry skin for our poor dried out winter hands. I can't wait to try this out!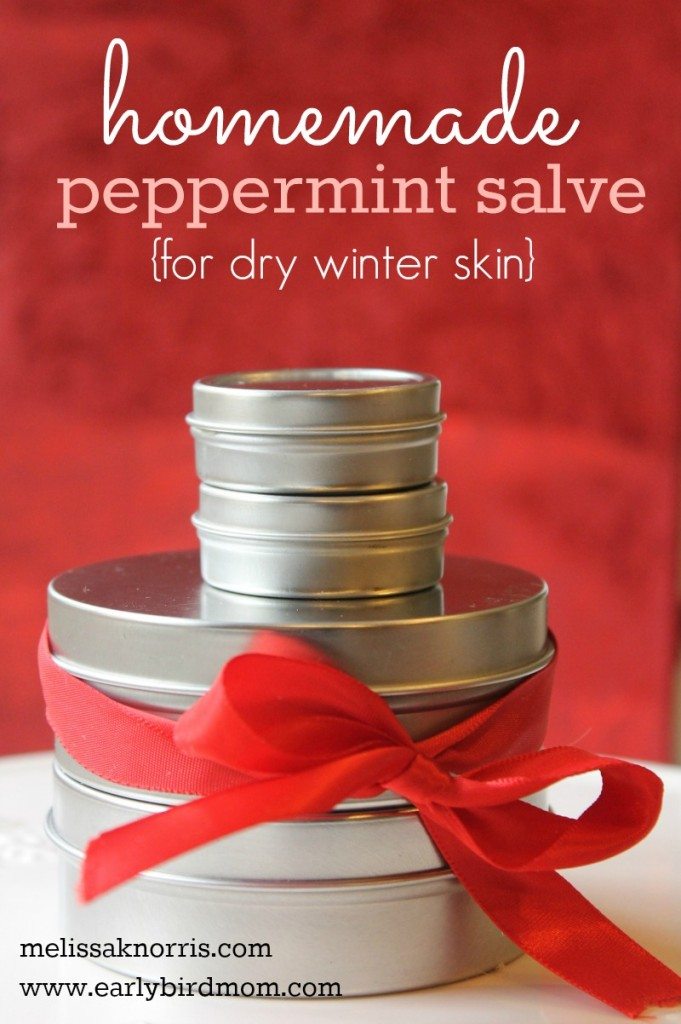 Make sure you don't miss any of our homemade Christmas series this year and get them straight to your inbox.
Homemade Peppermint Salve for Dry Winter Skin
Do you know someone who suffers from extremely dry skin in the winter? This homemade peppermint salve for dry skin is the perfect antidote.
Back when I was trying to figure out my son's food allergies, I tried all kinds of creams and lotions to soothe his eczema. I knew I wanted to have something free of artificial and chemical ingredients. I tried out a recipe by Elizabeth Foss and was in heaven! I made an extra large batch and gave it out as presents to friends. Some of them even asked if they could buy more!
This salve is my version with a few tweaks for simplicity. It's so easy to make and creates a special homemade gift your friends will love.
Peppermint not only smells great, but it also helps support the bodies response to inflammation, which is perfect for irritated skin. The other 3 herbs in this recipe (calendula, plantain and chamomile) are also prized for their ability to support the bodies response to irritated skin.
*This statement has not been evaluated by the Food & Drug Administration. This product is not intended to diagnose, treat, cure, or prevent any disease.
Never wonder about the ingredients in your body care products again. Learn how to make your own soap, candles, salves, balms and more in Hand Made the Masterclass
If you want to learn how to make your own nourishing items with herbs and spices for a natural medicine cabinet with products created by you, then you will love the easy to follow recipes and step-by-step tutorials using time honored skill sets to fill your home with products you don't have to worry about causing more harm than good. Learn more here–> Hand Made the Masterclass
Table of Contents

[Hide]

[Show]
DIY Peppermint Hand Salve for Dry Winter Skin
Makes approximately 14 oz.
Equipment
Small crockpot or small pot
Strainer
Ingredients
16 oz. olive oil
1.8 oz. beeswax granules (organic and safe for cosmetic use)
Dried herbs
½ c Peppermint
¼ c Calendula
¼ c Plantain
¼ c Chamomile
Optional- 30 to 40 drops peppermint essential oil-note: peppermint essential oil is considered a warm oil and can tingle on the skin. The oil in this recipe is diluted, but use with care on broken skin. You can also use lavender essential oil, too.
The only place I get essential oils (no membership or becoming a seller and third party testing for quality) is here, including a kid safe seal for essential oils safe to use with children. Click here for my favorite organic peppermint essential oil
3 Vitamin E capsules
Small containers (these metal jars are adorable but anything leak-proof will do). I recycled a few tiny eye shadow tubs into a great portable size that I can keep in my purse. I love these wide-mouthed small Mason jars as they make dipping in easier and can be used to can up goodies later.
Instructions
Add your herbs and olive oil to your crockpot or pot and turn on low. If using a pot on the stove or if your crockpot runs hot, be very careful that your herbs don't burn. Burned herbs = stinky salve! Ick! Let the herbs simmer on very low heat all day.
At the end of the day, strain out the herbs. Put the oil back into the crockpot or pot. Toss the spent herbs in your compost pail (this is my favorite compost pail, it's copper so it looks cute on the farmhouse countertop but doesn't have any smell or fruit flies getting into it!)
Add beeswax granules and peppermint oil. Pierce the capsules of vitamin E and add the contents as well. Stir until the beeswax melts.
Pour into containers and let cool. If you wait too long to pour the salve and it has hardened, you can always gently warm it again and then pour.
The salve is a dark green when hot but it will lighten as it cools to a yellow-green.
Once your salve is done you can turn your attention back to the dishes that may have piled up in your sink! Even the most efficient kitchen turns into a mess now and then 🙂
Tips for making homemade salve
For easy cleaning, wipe out your pot while it's still warm and before the drips that are left behind have firmed up.
This mint salve recipe comes out with a fairly soft consistency. If you'd like a firmer salve, you can use a full 2 oz. of beeswax.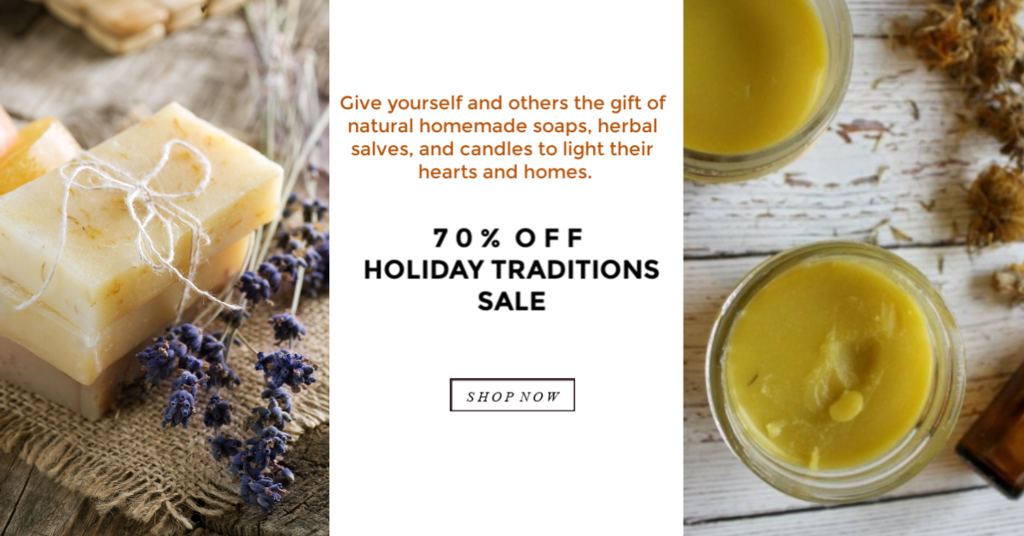 Where to buy these supplies
You can get these herbs and oils at your local health food store. If you have the time to wait on shipping, it's much more affordable to order your supplies online.
Pretty packaging
A pretty container takes this salve from everyday to something special. You can get creative – pint mason jars topped with a colorful fabric square, vintage metal tins and simple round tins tied with a pretty ribbon are all great options.
This salve won't cure food allergies, but it does soothe eczema and parched winter skin. It's so easy to make and it makes a thoughtful handmade Christmas gift.
Have you ever made homemade salve for dry skin? What's your favorite blend of herbs?
Sarah Mueller is a blessed wife to an amazing man and busy mother to 4 boys. She writes at Early Bird Mom about keeping your family intentional and organized. Make sure to download her latest subscriber printable, 10 Easy Ways to Start Organizing (even when you don't feel like it).
Enjoy your homemade peppermint salve making!
More Posts You May Like