Some of the links below are affiliate links, which means I will earn a commission at no additional cost to you, if you click through and make a purchase. Regardless, I only link to products we use on our homestead or believe in.
These 7 time saving tips when cooking from scratch are what I use to keep our kitchen free from as much processed food as possible, without being chained to the stove or feeling like all I do is cook. If you need help getting real food on the table without a ton of extra time, then this my friend is the episode for you.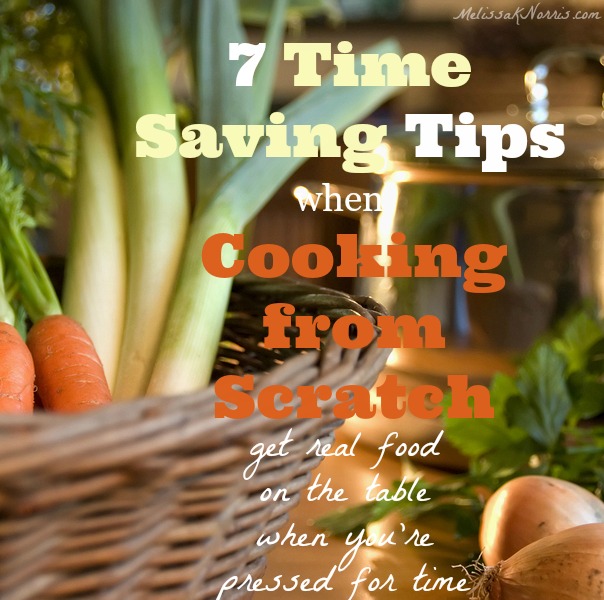 I post new episodes on Friday mornings. You can subscribe via RSS and receive every episode for free.
or subscribe via Itunes
Reader Question: How do you make everything from scratch? I just don't have the time.
I hear ya. I don't have a ton of time either, I work 25+ hours a week as a pharmacy tech eighteen miles from our home, I have two elementary aged kids, a full on homestead with beef cattle, pigs, and chickens, plus, I my writing and blog are usually around 30 hours a week. Plus, there needs to be some hours in there for living right?
Thing is, everyone is busy. I'm not anymore busy than the rest of you, some of you are probably a whole lot busier than me.
Let's be honest, cooking from scratch and using traditional methods does take more time than purchasing processed boxed meals or fast food. There's no way around it, it's going to take a little bit more time. However, it doesn't take a lot more time. But, I've found some tips and tricks over the years to help make it a bit quicker.
7 Time Saving Tips when Cooking from Scratch
1. Have a well stocked pantry with the basics. You can't make things from scratch if you don't have the ingredients. Knowing how to substitute helps, but you need basic ingredients to begin with. A good place to start is with these 8 basic food storage items. The closest store is 10 miles one way from us and I'm not going to drop everything to go get one ingredient. You can substitute out a lot of things if you have the basics on hand.
For example, most recipes call for some kind of fat. I know I can substitute melted coconut oil, butter, avocado oil, olive oil, or even applesauce or pureed pumpkin. Coconut oil I use in cakes and muffins, but for things that are free form like cookies, the coconut oil makes them spread out too much, so I stick with butter in my cookies. If the oil or fat ratio calls for 1 cup, I use 3/4 cup of coconut oil due to it's lower melting point. I don't like olive oil in baked goods, but I like it for salad dressings or grilling.
Avocado oil is my new favorite. I started using it a year ago. It holds up well to high heat, no breaking down, and it doesn't have any flavor, which is perfect for more delicate or baked goods. I purchase mine at Costco for the best deal I've found.
2. Have a basic set of meals you know your family likes. I don't do traditional menu planning. I decide at the beginning of the week what I'll be making for the week based on what I have in stock. I plan to do the majority of our cooking on the days I'm home. Generally, this means I prepare a large meal on Sunday and Tuesday. Thursday is generally a slow cooker meal for supper. Two of our favorites are these slow cooker cabbage rolls and ham and bean soup. Gluten and dairy free!
I have a couple of meals I know I can pull together pretty quickly with in stock ingredients like tacos and spaghetti. I love this set of 25+ one dish cast iron skillet or Dutch oven meals when I'm stuck.
Don't wait to restock until you're out. I keep a minimum on my regular stock items. Once I reach my minimum threshold I put it down to purchase the next time I go to town or to order online. I keep two tubs of coconut oil in the pantry and an open one in the kitchen. So I know that when I'm down to one tub in the pantry, it's time to re-stock.
3. Make a double batch. Sunday morning I usually make sourdough pancakes or waffles. I make a double batch and I toss the waffles on a cookie sheet in the freeze for an hour or so and then transfer them to a freezer container. In the morning I take them in their frozen state and put them in the toaster on the lowest setting.
I don't freeze our pancakes but put them in the fridge and toast them on the lowest setting. Think ahead. Bread products freeze great. In the same amount of time to mix up one batch of biscuits as it does two if you do it at the same time. With biscuits I roll them out and cut them out and then flash freeze the rest in their raw state on the cookie sheet.
When I need biscuits for casseroles, as a side, or breakfast, I pull them out frozen and bake them frozen at the regular temperature and time. Maybe add one minute when cooking frozen.
4. Freeze it. I freeze my pie crust, pizza crusts, and biscuit dough uncooked. My bread I bake and then freeze it in half loaves to pull out when we need it. Tortillas are another great one to make a double batch, fry, and freeze.
Make your own convenience you'd purchase in the store, but make them at home to use when you're busy.
5. Make enough for leftovers. I love leftovers because that means I don't have to cook again! I try to make the recipe large enough for the next day. If there's not enough for dinner the next day, then my husband and I take them to work for our lunch.
6. Make your own convenience meals. There are some nights when I know I can't make it from scratch, but if I have things already made at home, then I don't need to buy it from the store.
This is my new love. I just purchased 80 pounds of chicken. It took us about 2 and 1/2 days to process it all. We canned the chicken and having canned chicken has been awesome. I vacuum packed and froze some of it, but now I'm going to thaw it and can it.
Tutorial on how to can chicken coming soon!
I canned it in quart and pint sized jars. What's great is as it cans, it creates it's own chicken broth inside the jar. I made chicken gravy last night. I got home late, used a pint sized jar and made chicken gravy over quinoa we had left over from the previous night. It came together in about 10 minutes!
Because I'd done the work prior, it was quick and convenient, but still wholesome and from scratch goodness.
Homemade pizza is quick and easy as well. For sourdough crust you mix it up in the morning, like 2 or 3 minutes, let it sit and roll it out when you get home and dinner's ready in like 20 minutes.
If you're not doing sourdough you can make up your regular recipe and freeze them. I'll thaw it out in the fridge in the morning.
I try to do things as traditionally as possible for the health benefits. Sourdough is a soaked flour method and helps break down the phytic acid to make digestion easier. I don't have time to sprout my flour and then dehydrate it for grinding. I use sourdough so I don't have to do that or purchase sprouted flour.
Sourdough does all the work for me. I love things that does the work for me and doesn't require any maintenance on my part. All I have to do is feed it once a day. My daughter likes to feed the starter. Wanna start your own sourdough starter! Yes, you do, go here–> Free Sourdough Starter Video + recipes
7. Cook a large piece of meat, such as a whole turkey or chicken or roast on your day off. That night eat it fresh and then you have cooked meat to make fast meals throughout the week. Save the bones and make your own bone broth! I love using kitchen scraps to make things that are good and useful for my family, instead of throwing it out.
Verse of the Week:
Those of you who are on my newsletter list will recognize this, and if you're not, get yourself signed up and your freebies now, right now!
The stories and feedback you sent me from last week was amazing. I was in tears to see and to be able to share how God is moving in your lives and your families was beautiful and thank you for allowing me to be part of your lives.
A lot of times it feels like we're praying and praying and we're not seeing God's answer or His response to us. I've felt like that and I'm sure you have to. I want you to know He hears you and He's moving, even when we can't see it, He is working and moving.
Then he said to me, "Do not be afraid, Daniel, for from the first day that you set your heart on understanding this and on humbling yourself before your God, your words were heard, and I have come in response to your words. 13″But the prince of the kingdom of Persia was withstanding me for twenty-one days; then behold, Michael, one of the chief princes, came to help me, for I had been left there with the kings of Persia. 14″Now I have come to give you an understanding of what will happen to your people in the latter days, for the vision pertains to the days yet future. Daniel 10:12-14
God hear Daniel's words. Daniel's words a prayer. God sent the angel immediately, but the enemy withheld Him. God is sending the answer, it might not have made it to us yet. So don't stop praying!
What I'm Reading this Week:
This book goes hand in hand with this verse and this mindset. I'm reading a book by Joyce Meyers, many of you are probably familiar with Joyce. It's the Battlefield of the Mind. It's been incredible and very biblical based and sound. It's been amazing, I've experience breakthroughs and if you're struggling with thoughts or anxieties I highly recommend this book.
More Tips on Cooking and Baking from Scratch: