Some of the links below are affiliate links, which means I will earn a commission at no additional cost to you, if you click through and make a purchase. Regardless, I only link to products we use on our homestead or believe in.

Welcome to our second week of a Homemade Christmas series!! I've been really excited for this post from our guest and my personal good friend Tammy of TrayerWilderness.com Tammy is a sister in Christ, real true homesteader, and has the heart of a giver. I asked her for this post because I've never made homemade soap before and I wanted a non-scary way to ease into full on soap making. She even made us a video you guys! Introducing my girl, Tammy, and her easy to make homemade melt and pour goat's milk soap tutorial.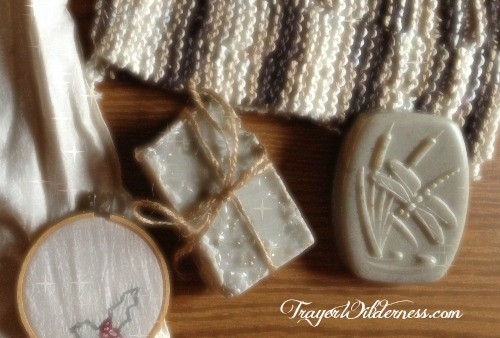 I absolutely LOVE Christmas! I first LOVE what it represents to me as a Christian and celebrating the birth of Jesus and additionally, I am intrigued and swept up in the traditions of Christmas.
As a child, the family traditions that were in place meant a lot to me. Going as a family to cut down a Christmas tree, decorating the tree as a family, making gifts for each other, the special foods that go along with the holiday, making Christmas cookies as a family and just the LOVE that wells in your hearts and touches so deeply this time of year. We enjoy carrying these traditions and feelings into our entire year.
Embracing our off-grid lifestyle allowed us to create our very own traditions because we were now 2,500 miles from our families. My husband despises the commercial side of Christmas and I am right there with him. Gifts were not a necessity in our home, however, since we arrived in Idaho we each have embraced SO many new skills and with those skills have come the desire to make each other unique things we have learned to do with our hands. Gifts that come from the heart if you will!
As I mentioned in the video, this all started with my wonderful girlfriend giving me those pretty little soaps, you know, the soaps that you too are probably afraid to use!
We lived in an 8′ x 14′ canvas wall tent for 8 1/2 months on raw land while we built our home back in 2010 and all we had was a small tote with our clothing and personal items. During this time, we could not have stepped back into simpler times. They were truly the best times of my life to date and I yearn to go back to the extreme simplicity. During this time I woke to an amazing pine scent and I also ended my day drifting off to the same scent. During this time, I finally broke down and used one of those pretty bars of soap and decided that when our house was built, one of the first things I was going to learn how to make was my own soaps and I was going to match that wonderful scent I loved so dearly in those soaps.
So my friends, that is how the Trayer Wilderness scent and soaps were born which started a passion for me and is also something that has turned into a very lucrative business as well because everyone that was gifted my soaps wanted more!
Another part of our off-grid lifestyle is making a living in a unique way – with our skills and talents. Our entire family contributes to our online store with not only my handcrafted goats milk soaps and soy candles, but my Mountain Man contributes his hand forged metal work and tools, paracord items and the three survival tools that he has invented and fabricated. Our Mountain Boy also brings his skills to the table with his handcrafted elk hide moccasins and survival paracord items such as his bracelets, belts and gun slings. I am SO proud to announce as well that both of my men will be featured in the next issue of American Frontiersman magazine which is supposed to reach the shelves on December 24th!
Today, I have decided to share my knowledge with you on making handcrafted, homemade soaps so you too can enjoy gifting them as much as I do.
If you would rather watch the process versus reading the process, you can watch my video here.
Here is the Supplies List you will need:
Pyrex Heat Safe 2-quart measuring cup or a 4 lb pouring pot.
Whisk
Silicon spatula
15 ml Essential Oil (optional)
Molds (optional):
The above ingredients list will make 8 – 4 oz bars or 16 – 1 oz bars.
You will need a large pot – one big enough to put the Pyrex measuring cup or the pouring pot inside. If you do not have one, I would suggest going to a local thrift store or Goodwill to see what you can find very cheaply and honestly you may be able to find the other items there as well such as your scale, thermometer, spatula, whisk, measuring cup or pouring pot. Please let me know if you have any questions on the supplies.
Being Creative with your Soaps
Now, let's talk a little bit about adding things to your soaps. This is the part I LOVE! This is where your creativity can kick in and you can experiment. Melt and pour soaps are a very easy process without any dangers other than using the hot stove, unlike the cold processed soaps and the hot processed soaps which require you to work with lye which can be very dangerous if not used properly. I will be teaching how to make cold processed soaps upcoming on our website and you can subscribe to my
newsletter
where the dates for such events will be announced.
Adding Essential Oils and Fragrance Oils
When adding oils, scents and extras to your soaps, the sky is the limit really. As I mentioned in the video, I do not care for very over powering scents so I am cautions as to how much scents and oils I use. It is suggested that you use 1 oz of fragrance oil to 1 lb of soap, but when I am using a fragrance oil I typically use half an ounce. It is recommended to use 5 drops of essential oil to each ounce of soap, but I truly feel this is too much so I use roughly 20 drops to 1 lb.
Note: Be certain if you decide to use a fragrance oil that it is definitely safe for your skin. I typically stick with essential oils for my soaps.
Adding Clay, Dried Herbs and Teas, Zests, etc.
I like to add either Bentonite clay or Kaolin clay to my melt and pour soaps because it makes it harder and more of the consistency of a traditional soap and also adds wonderful benefits for your skin. You can add up to 1 ounce of clay to 1 lb of soap. I also like adding things like oatmeal, dried tea, dried lavender flowers, etc. I have found a 1/2 an ounce to an ounce works well with 1 lb of soap.
This is where you should be experimenting and having fun by using your favorite oils and dried goodies.
Here are some examples of some of the combinations I use:
Peppermint essential oil with peppermint tea leaves
Orange zest with Wild Orange essential oil
Lemon zest with Lemon essential oil
Oatmeal and Lavender chopped very fine with Lavender essential oil * (this is what I made and am displaying in my photos)
Molds
You can be extremely frugal and choose to use something as simple as a box for molding your soaps versus a soap mold. My grandmother used shoe boxes and in this demonstration I used a small box lined with parchment paper. You can also use silicon molds such as the silicone cupcake molds that are available for baking. It is best to use something pliable for easy removal of your soaps. If your soaps giving you trouble coming out of the molds you can stick the mold in the freezer for a short while and then try to remove them. They typically will come out much easier once chilled.
This is my favorite soap mold
Instructions:
Measuring your soap is the first step. I suggest putting your container you will use to melt the soap base on the scale and then add your soap to the container. You will want your measurement to be 1 lb or 16 oz. You can place the big chunk of soap in the container as is or you can cut it up into smaller pieces. With smaller pieces it will melt faster, but honestly it melts pretty fast as it is.
At this time, you will want to have all your additives ready and waiting so when the soap is fully melted you can just add everything very easily.
Next you will place your container in another pot with roughly 2 inches of water in the bottom. This will create a double boiler for you and will keep your soap away from the direct heat, but allow it to melt nicely for you.
Turn your burner on medium heat and you will want to stir and keep an eye on your soap base. Once your soap base is nearly melted you will want to take your thermometer and place it in the soap (be careful not to touch the bottom of the container). You do not want your soap to go above 130 degrees. Typically for me, as soon as the last piece of base is melted I turn off my burner. After making as much soap as I have, I have found the temperature to be just right and I can eliminate this step.
You will now want to remove your soap from the stove and place the container on a hot pad on your table, counter or work space.
Add your essential oils or fragrance oils, clay and any dried materials now. Mix well with the whisk.
Once you have mixed things well you can pour your soap into your molds.
You will want to leave your soaps in the mold for at least 24 hours and if you use a box like I did and the thickness of your soap is great than that of a normal bar of soap, you may want to let it set just a little longer. Then you can either pop your soaps out of the mold or use a knife or square slicer to cut your soap into the size bars you desire.
Clean Up
Cleaning up is super simple. There is nothing toxic involved here so you can place all the tools that you used in your container and I would suggest putting your dish rag in the container too. Dump the remaining hot water from in your other pot into your container and leave set for just a bit. This will mainly allow those wonderful scents to work their way into your dish rag so during the rest of the week while you are wiping your counter or tables you will smell your wonderful soap. Then all you need to do is just wash your dishes like normal and your finished with your project.
Presentation
The only other thing to consider at this point is how you will present your homemade soaps. The soaps that I make and sell in stores and on our website are packaged in plastic bags that I purchase on eBay and I make special tent tags with our logo, business name, scent and contact information.
The soaps that I made for this demonstration I wrapped with twine and I will also gift in an old sugar sack that I embroidered on. I will also be adding a handcrafted knitted dish rag that I made. Be creative! I always add something to my gifts that clearly represents the person I am gifting such as their favorite color, another treasure that I may have found that screamed their name such as a pewter pin I found for a friend of mine to which I used as the closure on the sugar sack with soap that I gifted her.
I really appreciate you joining me and I hope that you will enjoy making soaps as much as I do. Feel free to email me at anytime if you have questions at [email protected]. I would also love to have you visit me at http://trayerwilderness.com and for updates on my future lessons on knitting and cold processed soaps again you can subscribe to my newsletter for those updates.
May you and yours have a blessed Christmas!
God bless!
Tammy Trayer