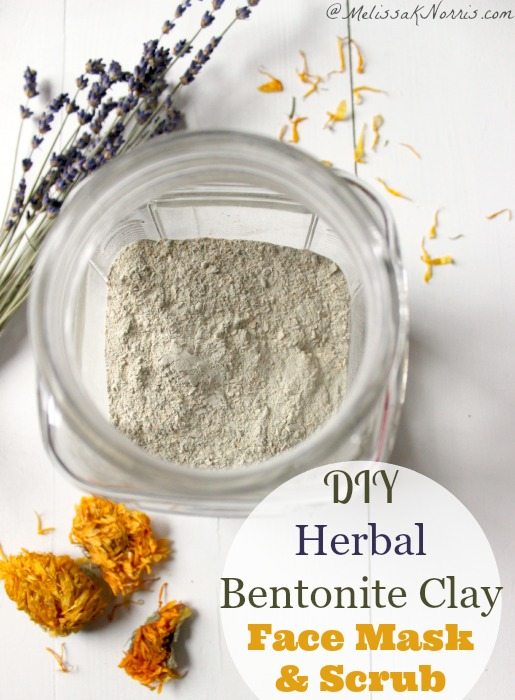 DIY Herbal Bentonite Clay Face Mask and Scrub
Am I the only one who probably has more skin issues now than I did as a teenager? I thought that was supposed to go away once I graduated high school…
I have the lovely combination of both oily and acne prone, but also dry splotches, a little of both worlds you could say. Like so many things on our homestead, I've really started looking at the ingredients in my skin care and make-up. Because as much of a pioneer woman as I am, I like my lip gloss and mascara. Yes, I bring a little bit of sparkle to the barnyard. When I've got break outs kicking, I especially like my cover-up.
I've been ditching a lot of my products after I went over the ingredient list with a fine tooth comb. Or a magnifying glass, they put a lot of stuff into things. I used to use over the counter acne medicine, but as we're going more and more holistic, I wasn't comfortable with it. But my skin did not react well to using nothing.
I started investigating natural options. Two items kept coming up for acne, bentonite clay and apple cider vinegar. I love me some apple cider vinegar. I use it for cooking and a lot of my cleaning… but I hadn't used it for my skin.
After ordering some bentonite clay and making a mask, I was immediately in love. My skin was really smooth and soft after using it, and the redness from current breakouts and older scars definitely subsided after a treatment. Score!
Then I went to a little Christmas bazaar at our church. One of the ladies there, Lisa, makes all kinds of homemade goodies. I've purchased soap and lip balm for her for years. But she also makes face masks, creams, and other homeopathic rubs. We chatted, aka I picked her brain, for a good long while. She graciously agreed to let me share her recipe for her herbal face scrub/mask with you guys!
Items you'll need to make DIY herbal bentonite face mask/scrub:
Old-fashioned oatmeal
Lavender buds Both Mountain Rose Herbs or this organic brand
Calendula flowers
Flaxseed
Bentonite Clay
Food Processor or Spice Grinder
Glass Jar
Measuring Cups and Spoons
Place oatmeal, lavender, calendula, and flax seed into food processor. Process until it's ground into a fairly fine powder or flour. About a minute did the trick.
Pour into your glass container and add bentonite clay. Stir until well combined using a plastic or wooden spoon/spatula. Note: Do not try adding the bentonite clay to the food processor and combining. You'll end up with a fine dust clouding the air and your lungs… trust me.
The original recipe also called for powdered milk and baking soda, but I plan on mixing my mask with apple cider vinegar and didn't want the foaming action. I also didn't have powdered milk and this frugal Mamma doesn't run to the store for one ingredient.If you have powdered milk and want to add it, add 1/2 cup to the above mixture.
Let's talk ingredients.
First off we have oatmeal. Oatmeal does a body good, inside and out. Topically it helps cleanse, soothe, and moisturize, for more reference on how oatmeal benefits the skin go here.
Lavender buds. Lavender is known to be a great herb in skin care products. Many people find it soothing, especially when applied topically. Some studies show it has many medicinal properties as well, here's a good article with references to several studies and more info.
Calendula (I completely mispronounced it for months) is an amazing herb. It can be used for skin irritations, which is perfect in this mask. In fact, it has so many uses I think every household should have some on hand. Here is an excellent article with several more recipes for using calendula.
Flaxseed is popular in a lot of health foods, which is why I had it on hand. However, I didn't realize people with blood clotting disorders, such as my daughter, shouldn't use it internally. This isn't an internal use, but I thought it an important point. It does have some great properties that I use it for. Here's a link on its many uses and side effects.
The benefits of Bentonite Clay for the skin is pretty amazing. My best friend is a licensed esthetician and had high praises for using a bentonite clay mask. It helps draw toxins out of the skin, exfoliates, softens, and seemed to lessen the appearance of current breakouts by taking away some of the redness.
Each of these items on their own is great, but put them together and you've got… an awesome recipe for your skin. Seriously, I'd been using just the bentonite by itself and was thrilled when Lisa shared this recipe with me.
Important things to know
Don't let the bentonite clay come into contact with metal. It will start to pull toxins from the metal and won't be as effective on your skin.
Take care when washing it off in the sink. It is after all made with mud (aka clay). Make sure you run hot water to flush out your drains after washing it off to avoid a clog.
It's reported that calcium bentonite clay is the best choice for the skin mask. This is the bentonite clay I use.
Using as a DIY herbal bentonite clay face scrub
Mix 1 and 1/2 teaspoons of dry scrub with 1 teaspoonful of warm water to make a paste for combination to oily/acne prone skin. For normal to dry skin, Lisa recommends mixing with 1 teaspoonful of jojoba, avocado, or olive oil in place of the water. With finger tips, lightly scrub face for approximately one minute. Rinse with warm water. Use once or twice or weekly or more often for oily skin.
Applying your DIY herbal bentonite clay face mask
Using plastic, wood, or glass, mix 1 teaspoon of the dry mask with 3/4 teaspoon of apple cider vinegar and 3/4 teaspoon of water. The apple cider vinegar will help the bentonite clay mix better. Using your fingers or a small rubber spatula, spread the max evenly over your face, avoiding the eye area and lips. This will be enough to do your whole face.
Leave on for 5 to 20 minutes. As it dries your skin will begin to feel sort of tingly and it might feel tight, especially when you smile. Rinse off with warm water. Don't be alarmed if your skin is red after washing it off. It will fade after a few minutes.
The first few times I made the mask I left it on for about 10 minutes, gradually increasing to twenty minutes. I started applying it once a week, but now use it three times a week.
The mask is my favorite. My kids especially giggle and laugh when I come walking out of the bathroom with the lovely mask smeared all over my face.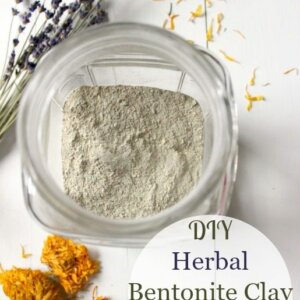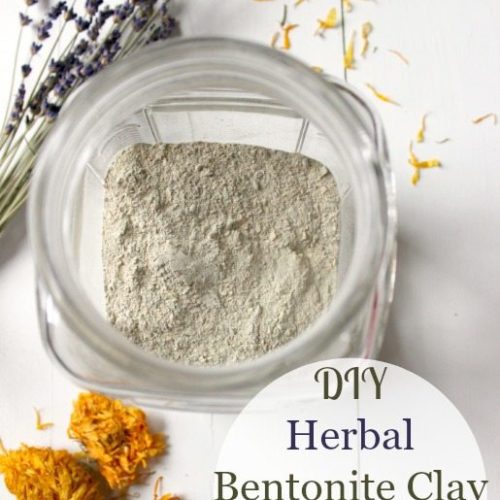 DIY Herbal Bentonite Clay Face Srub or Mask
Ingredients
3/4

cup

old-fashioned oatmeal ground fine

1/4

cup

dried lavender buds ground fine

1/2

cup

dried calendula ground fine

1

Tablespoon

ground flaxseed

1/2

cup

bentonite clay
Instructions
In a grinder or food processor, grind oatmeal, lavender buds, calendula, and flaxseed. In a glass container mix well with bentonite clay. Don't use metal with the bentonite clay.

May use as a scrub or a mask.

For a scrub, mix 1 and teaspoons scrub with 1 teaspoon water to make a paste for combination to oily/acne prone skin. With finger tips, lightly scrub face. Lisa recommends using 1 teaspoon jojoba, avocado, or olive oil for dry to normal skin. Rinse with warm water.

To use as a mask, mix one teaspoon of the mask with 3/4 teaspoon of apple cider vinegar and 3/4 teaspoon water to make a paste. Apply to face and allow to dry for 5 to 20 minutes. Wash with warm water.
What DIY homemade products do you make or use?
More Posts You May Like