Some of the links below are affiliate links, which means I will earn a commission at no additional cost to you, if you click through and make a purchase. Regardless, I only link to products we use on our homestead or believe in.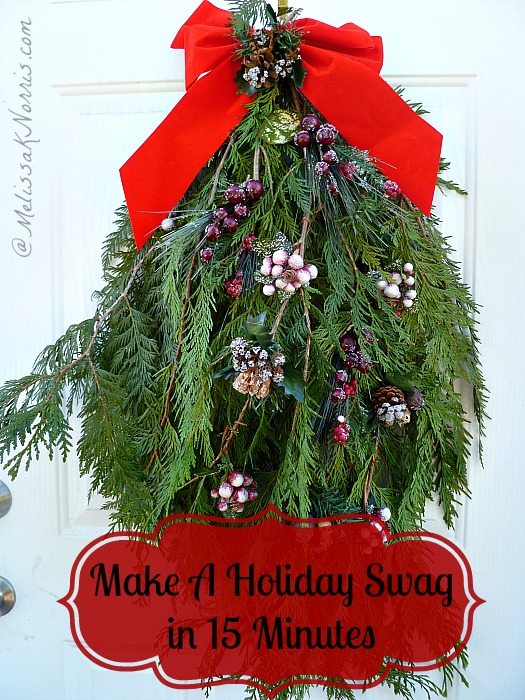 Our pioneer forefather's didn't decorate as lavishly as we do. Depending on the region they lived and items on hand, there would be popcorn chains, cranberry chains, cedar boughs, paper chains, or small hand crafted ornaments.
In ode to that, I went traipsing outdoors to cut my own evergreen boughs for a swag. I actually intended to make a wreath, but I know how to improvise when in doubt. So, I made a swag.
We have an abundance of trees on our acreage, but if you don't, it only takes about four small branches, so I'm sure if you asked a neighbor, they wouldn't mind a bit. I actually trimmed one branch that was beginning to stick too far out in the driveway.
Project supplies needed:
Evergreen branches *see note on the best choice
Twine
Ribbon (optional)
Picks or ornaments (optional)
*I recommend choosing cedar or pine. Hemlock looks lacy and intricate, but it drops its needles fast. Cedar drapes so prettily and smells like Christmas, so that was my choice, but if you wanted different textures you could combine pine and some holly sprigs.
Gather your branches, I cut part of the branches, varying in length. Then lay them out.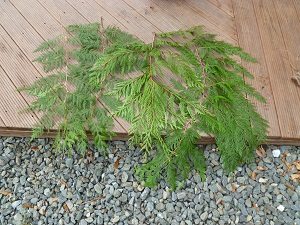 Lay your largest branch down first then layer the others on top until it looks good to you. Next, using twine or wire, (I had twine on hand from tying up the raspberries), tie the tops of the branches together, making sure to leave a loop for hanging your swag.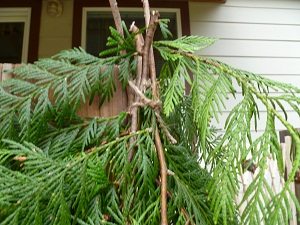 Now, attach a bow to the top, hiding your twine or wire. You can hot glue pinecones or ornaments to your swag for added glitz. I used a few red berries picks and just twisted the end of the pick onto the branch. For larger picks or if you'd like ornaments, use your hot glue gun. Note: Glass ornaments may not stand up to freezing temps and frequent door openings. Put your wreath hangar on your door and hang up your masterpiece.
Now you have a beautiful piece to greet guests. The boughs will last for at least a month or two outside in the cooler temps.
Use any leftover evergreen branches to make Christmas potpourri so your house will smell amazing. Merry Christmas!
More Posts You May Like