Some of the links below are affiliate links, which means I will earn a commission at no additional cost to you, if you click through and make a purchase. Regardless, I only link to products we use on our homestead or believe in.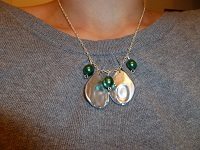 After viewing this post on Sarah Ortega's blog, I had to try this fingerprint pendant for myself. In fact, it inspired this post Seeing God's Fingerprints In Your Life.
Her directions are great, but I wanted to use both my children's fingerprints for the same necklace.
Use oven-bake clay, I bought Sculpey brand at Michaels in white. Make small balls of the clay by rolling it between your palms. I made some longer for an oval pendant.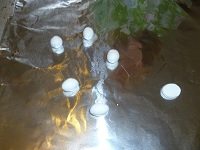 Next, take a pen or anything smooth, and roll them out flat. I had to make mine smaller after flattening them the first time because they were too thick for the jump clasp I bought to hook them to the chain. Be sure to use a needle or toothpick to make holes for the clasp. Then, have your child press their fingerprint into the center.
Next, bake according to package directions. It says 275 for 15 minutes.
The fingerprints faded on mine, but when you paint them with the metallic paint, they come back. I felt they were still hard to see on the one my two-year-old did, so while the paint was still tacky, I had her press again.
Next, paint with a clear indoor varathane paint. Then, attach. I added some beads for color and I felt it made the pendant pop more. I think pearls would look pretty and am going to try that for my mom's. Shhh, it's her Christmas present. 🙂