Some of the links below are affiliate links, which means I will earn a commission at no additional cost to you, if you click through and make a purchase. Regardless, I only link to products we use on our homestead or believe in.
Christmas stovetop potpourri will have your house smelling amazing without any harmful or synthetic fragrances. Best part, you can mix and match items you likely already have in your pantry and homestead to customize and make it frugal.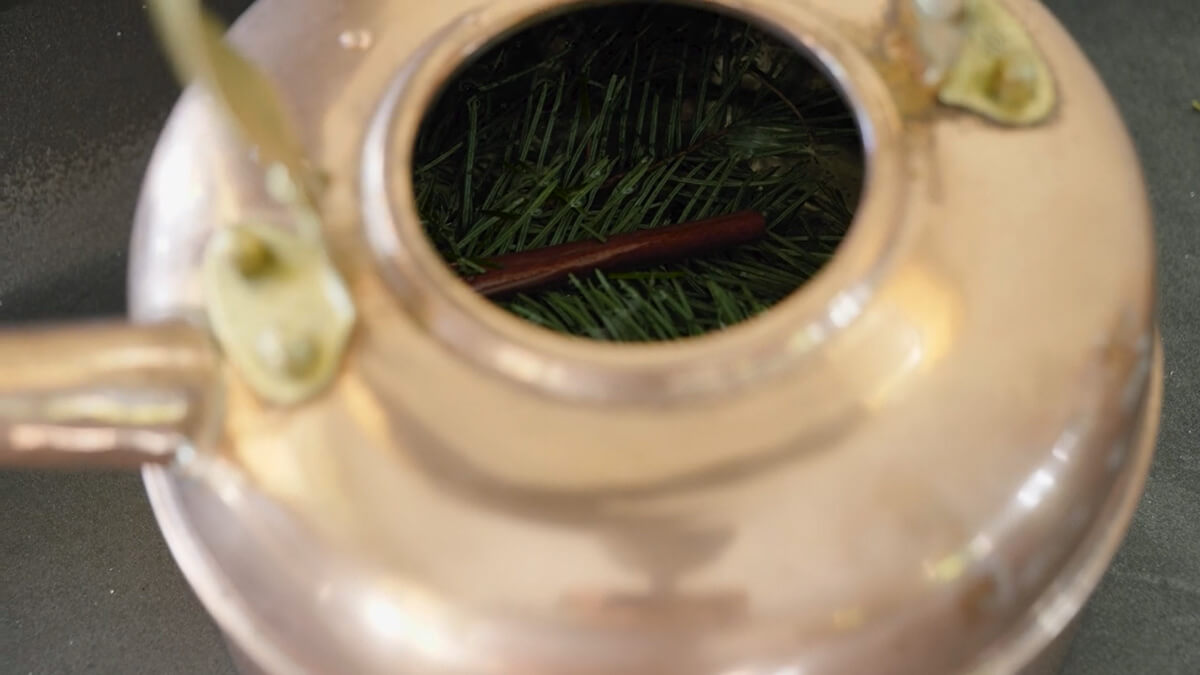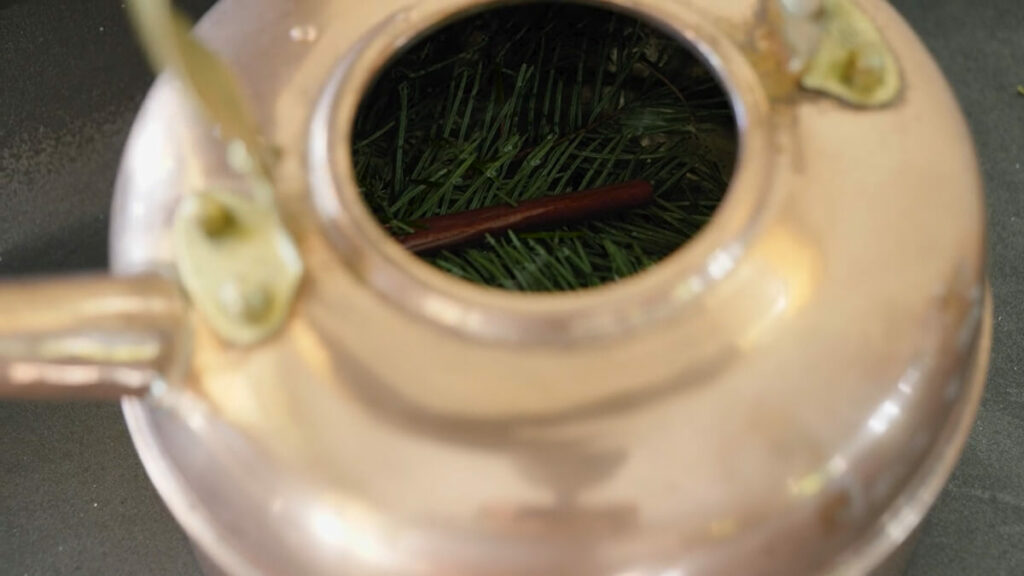 Why I Love This Recipe
I love Christmas, in no small part because I love how warm and cozy it is. I love the candles and wood fires and twinkly lights. I love the comfort food and cuddling up under a blanket. I love making homemade Christmas wreaths, winter bouquets, and old-fashioned evergreen swags.
And I love the warm, delicious scents of the season wafting from the kitchen throughout the holidays. Especially when baking various Christmas cookies or this traditional Christmas pudding.
This simmer pot recipe is one more way to bring in the scents of the season! For this recipe, you can keep it simple with just one ingredient, or feel free to include any of the extra add-ins listed below.
I also love that it is a way to fill your home with fragrances without using synthetic ones. And I can use the amazing scents that nature already has to offer.
Stovetop potpourri has the added benefit of adding moisture to your home. Using a wood stove or traditional stove top can dry out the already dry air during these cold months. So this is a great solution.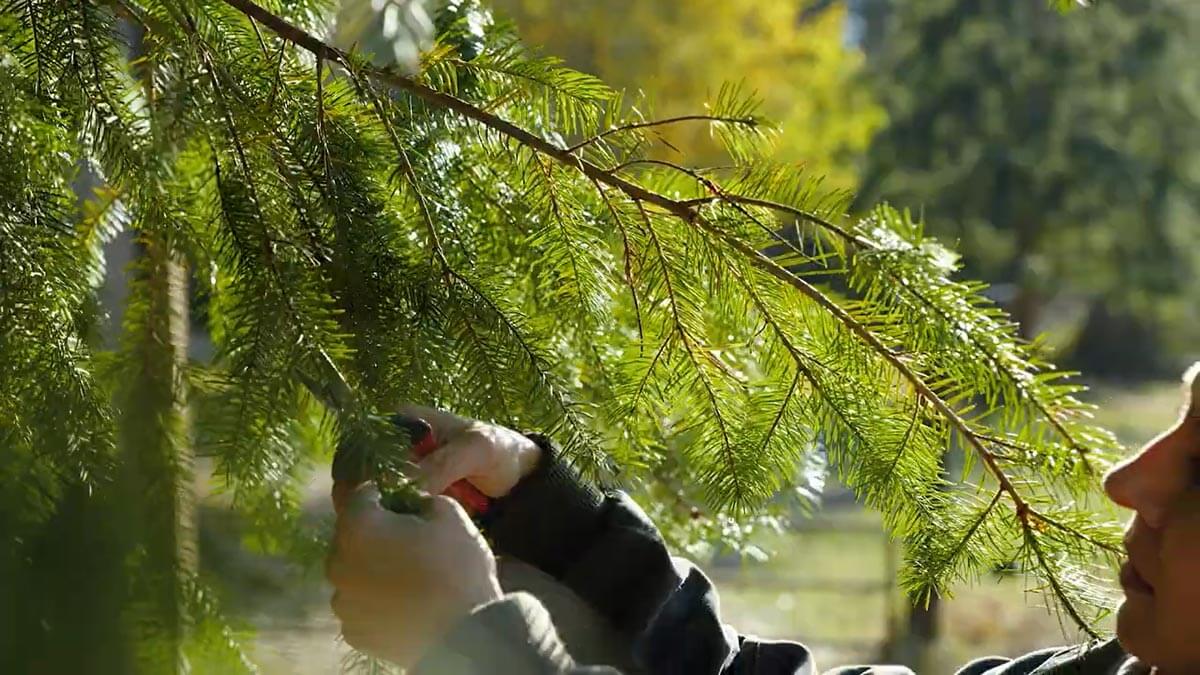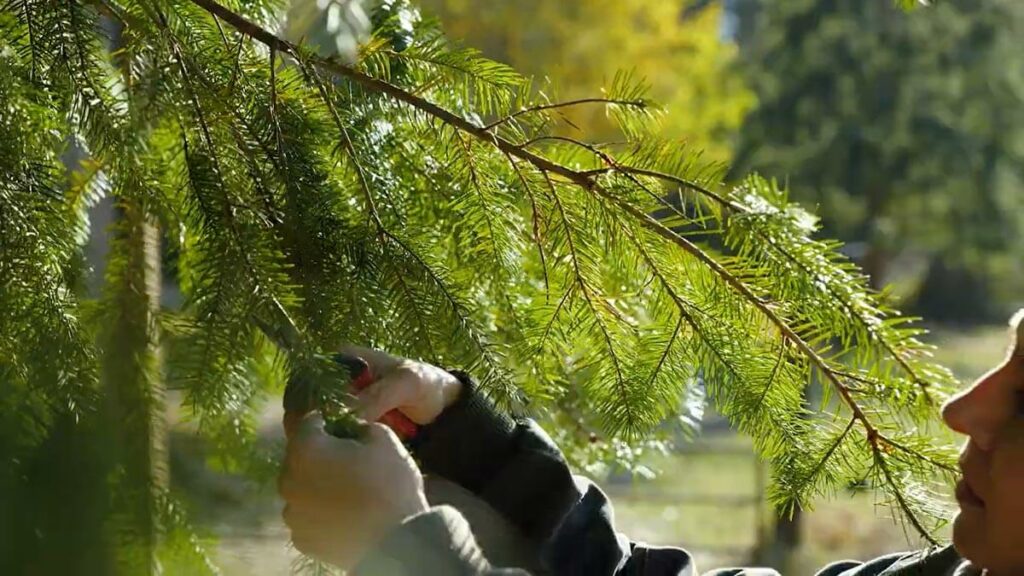 What Can I Use for Stovetop Potpourri?
You only need a kettle or saucepan, water, and tree branches. You can use either your wood stove or your traditional stove.
You can also add some extra goodies I will talk about more. These simple tools will take this homemade air freshener and make your house smell amazing!
Mix it up by using different types of winter branches for your stovetop potpourri to see which evergreen scent you like the most.
Types of Branches To Use
You can use evergreen branches from fir, cedar and pine. Snip the smaller fir branches so you can easily crush them in your hands before putting them into your kettle or saucepan.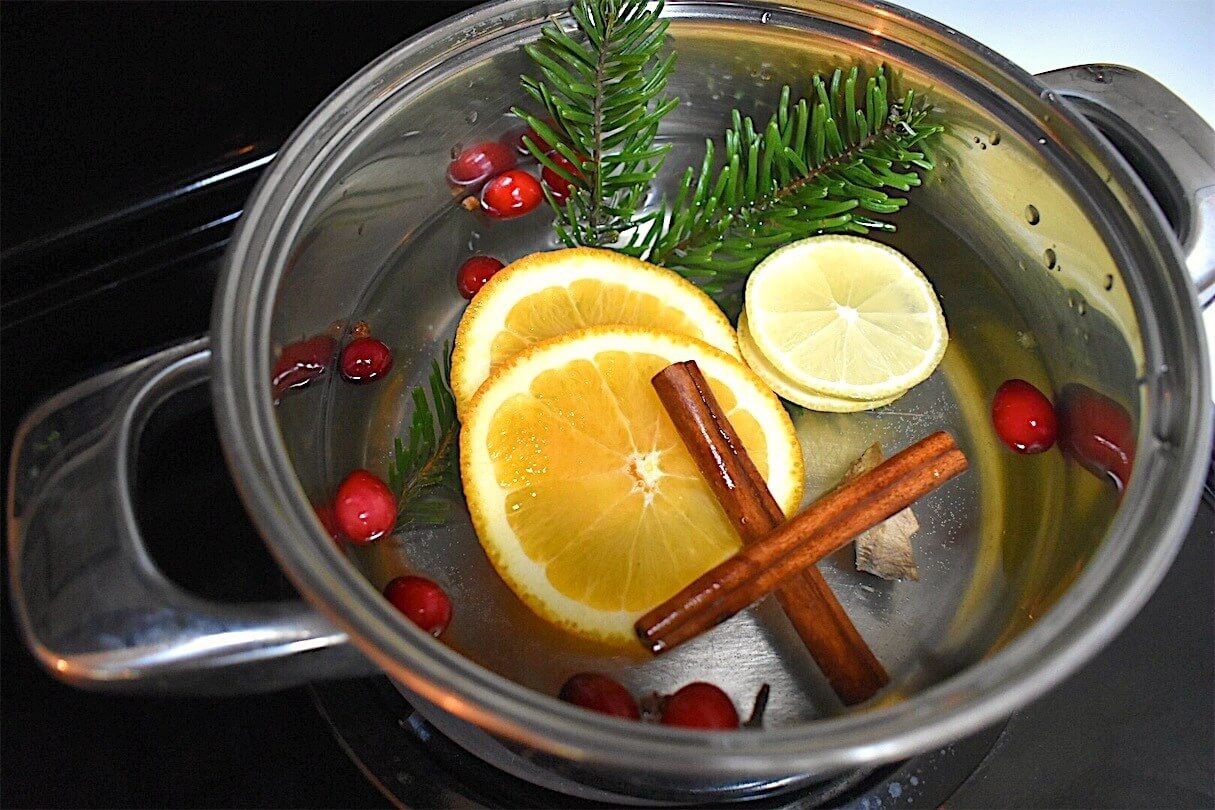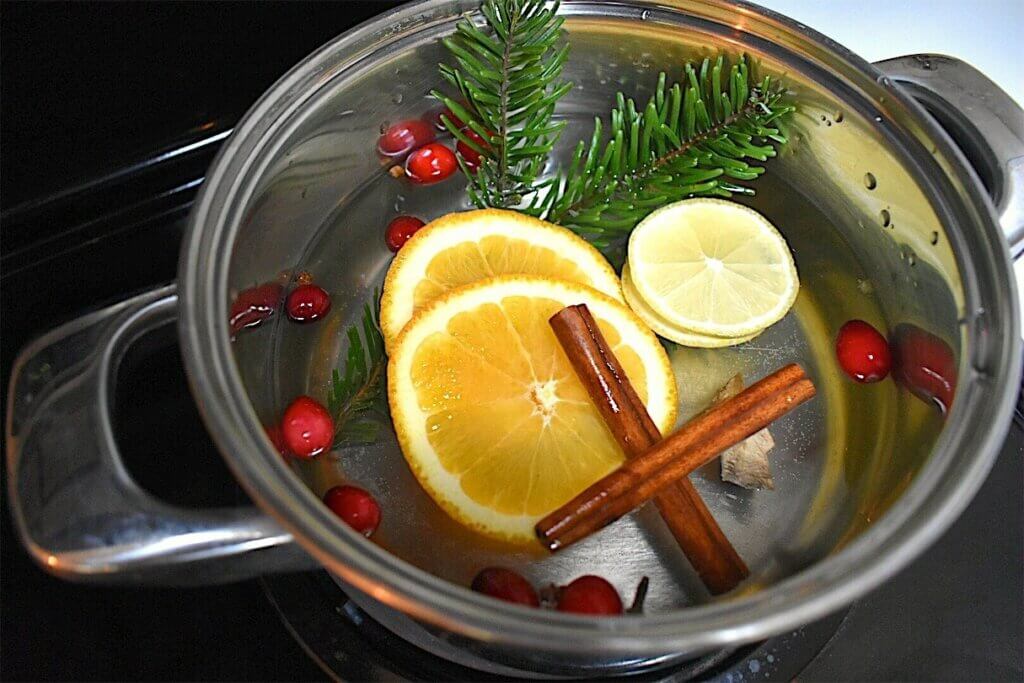 Additional Add-Ins
You can add many festive scents to your stovetop potpourri, including dried herbs, spices, or even fruits. Using some of these, you can make your house smell like Christmas. My favorite is a cinnamon stick. (I like to buy mine in bulk from Azure Standard because I know I'm getting the highest quality at the best prices.)
Azure has very high standards when it comes to the products they sell. They use their own farms to grow many items or partner with other small farms using trusted growing practices.
They also have a huge variety of items to buy in bulk.
If you're a first-time customer, enter the coupon code "Pioneering10" at checkout for extra savings on your first order of $50 or more.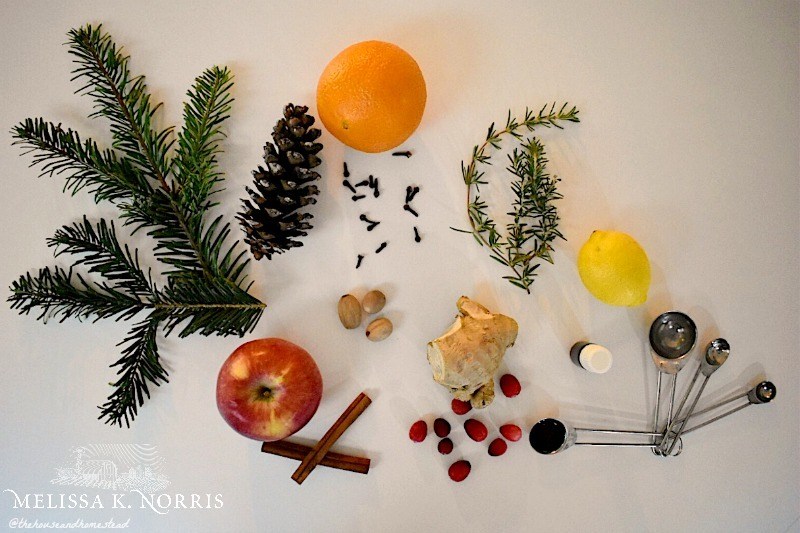 Below is a list of several extra goodies you can use for potpourri add-ins:
Two to three Cinnamon sticks broken in half or thrown in whole- this is a great scent for this time of the year.
Star of anise – this is very popular in European and Asian dishes, so it can also give your home a very international smell.
Orange or lemon slices – whichever you prefer since they both smell amazing!
Mulling spices – the next time you pour some for drinking, add some to your simmering pot to allow this aroma to linger much longer than just in your cup.
Fresh cranberries – these are so festive and affordable this time of year, so take advantage of their great smells.
Apple slices – these are a simple ingredient but will add unique finishing touches to your stovetop potpourri. If you don't want to use an entire apple, you can also peel the skin off and just add the skins.
Is It Safe to Boil Potpourri?
You don't need to boil the potpourri, you just want it to simmer on the stovetop.
How Long Does Stovetop Potpourri Last?
Your stovetop potpourri will last as long as the fragrances are still coming from your kettle or saucepan. It really depends on how large your pot, how much water, the amount of ingredients and how hot your pot is simmering.
You can always refill the kettle or pan with fresh ingredients or add more water if the current ingredients are still potent.
You'll want to ensure you keep an eye on the pot of water and remember to check the water level frequently. Don't leave it sitting overnight. Those ingredients will burn if the water runs dry and that's a smell that won't be pleasant!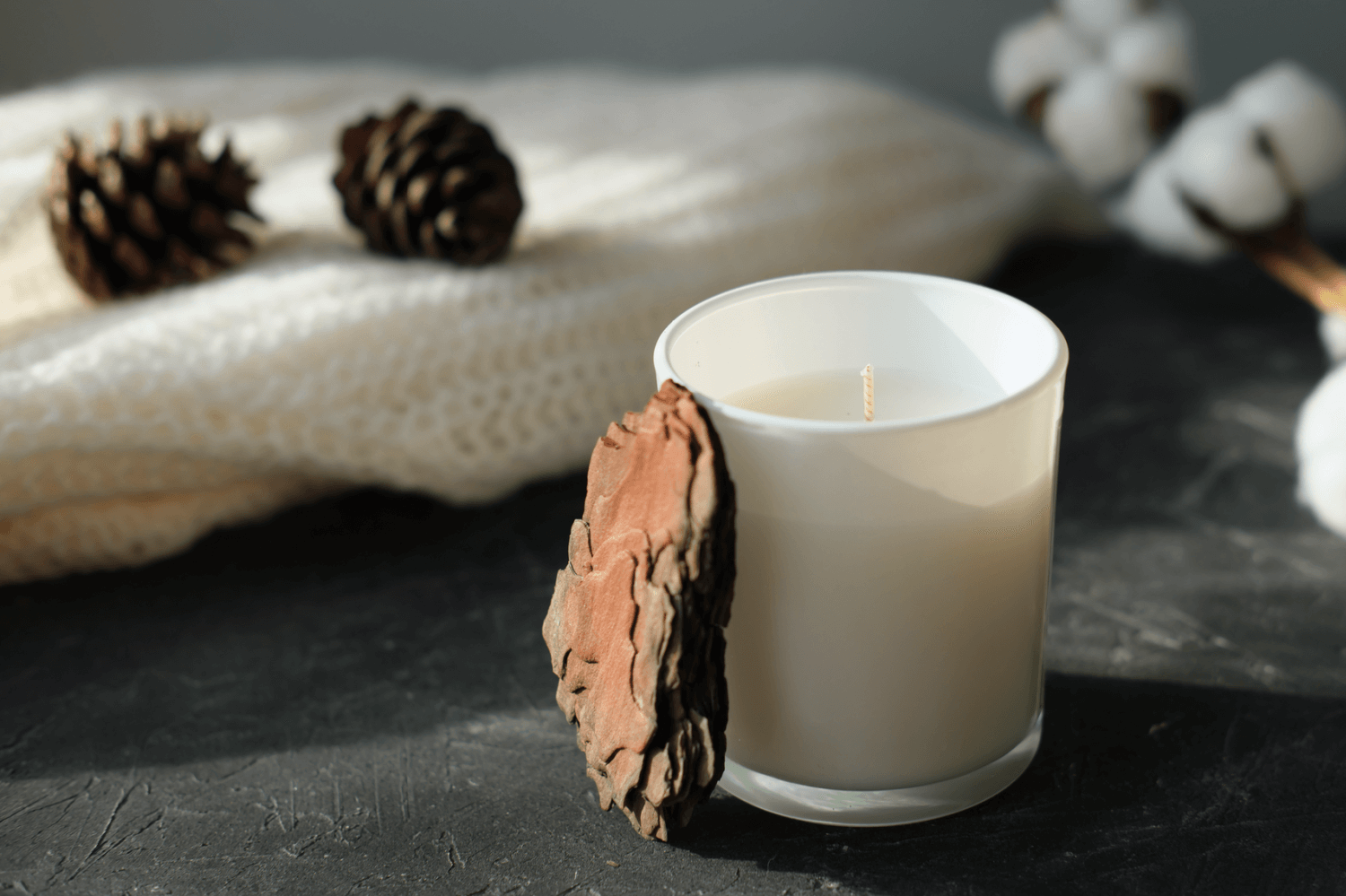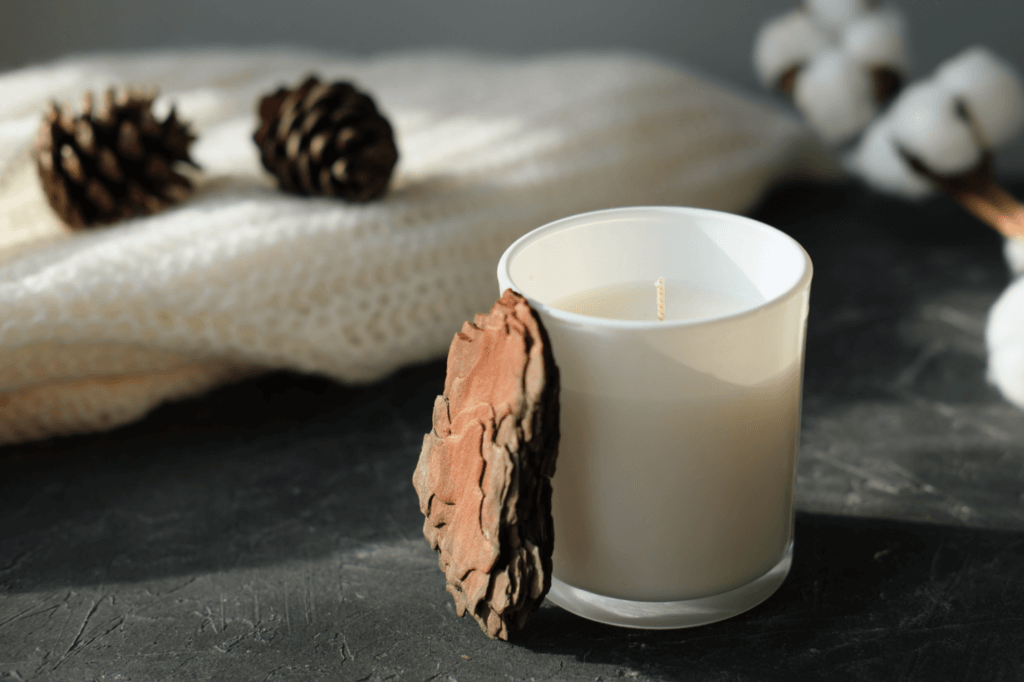 Aromatherapy Benefits of Potpourri
Potpourri also has great aromatherapy benefits. They can:
Uplift your mood
Help you relax
Energize
Reduce anxiety
Improve concentration
Imagine coming home and inhaling the most beautiful smell in your home. You just need to decide which scent is right for your particular need.
Adding lavender oil can help relax you. Adding eucalyptus oil can have a calming effect and goes fantastic with the pine tree scents. Peppermint oil is the perfect oil for this holiday season and can be very refreshing and energizing!
Then there are rosemary and lemon oils which can have a very cleansing and energetic effect.
Whichever you choose, the great thing is that you can use different ones at different times and enjoy experimenting since this recipe is so easy to use.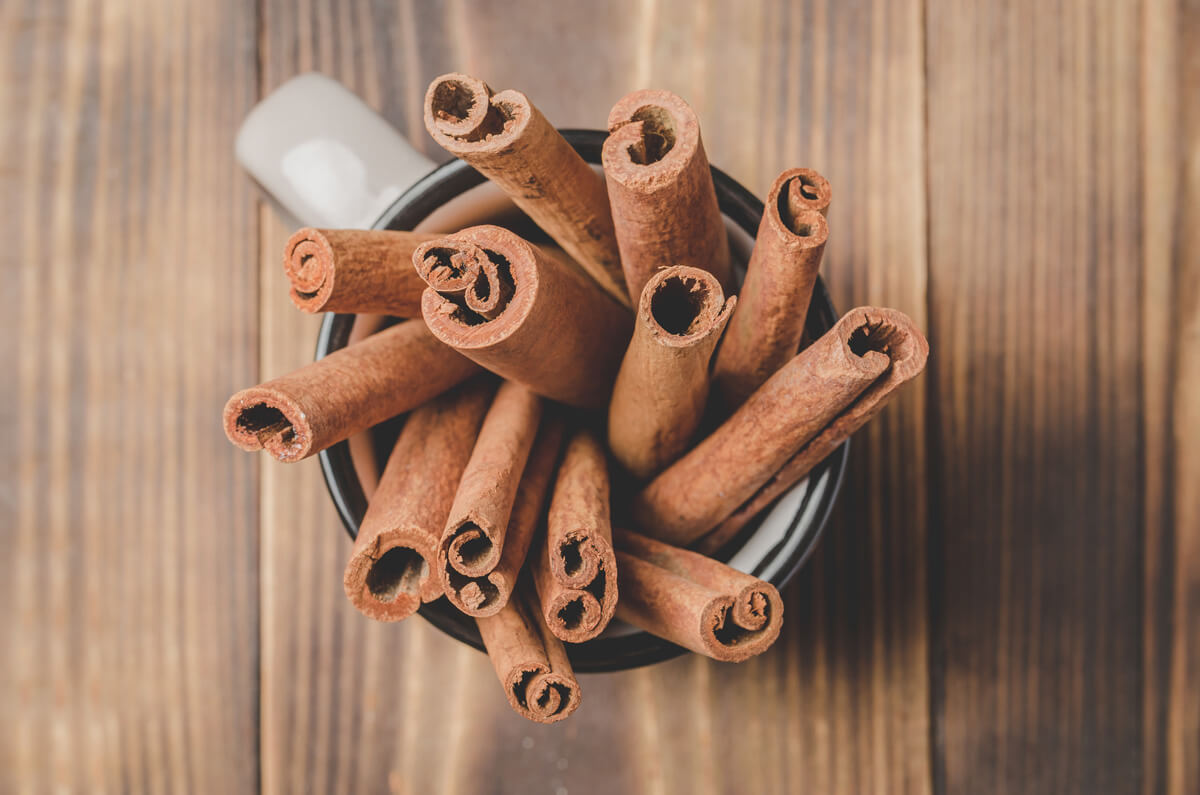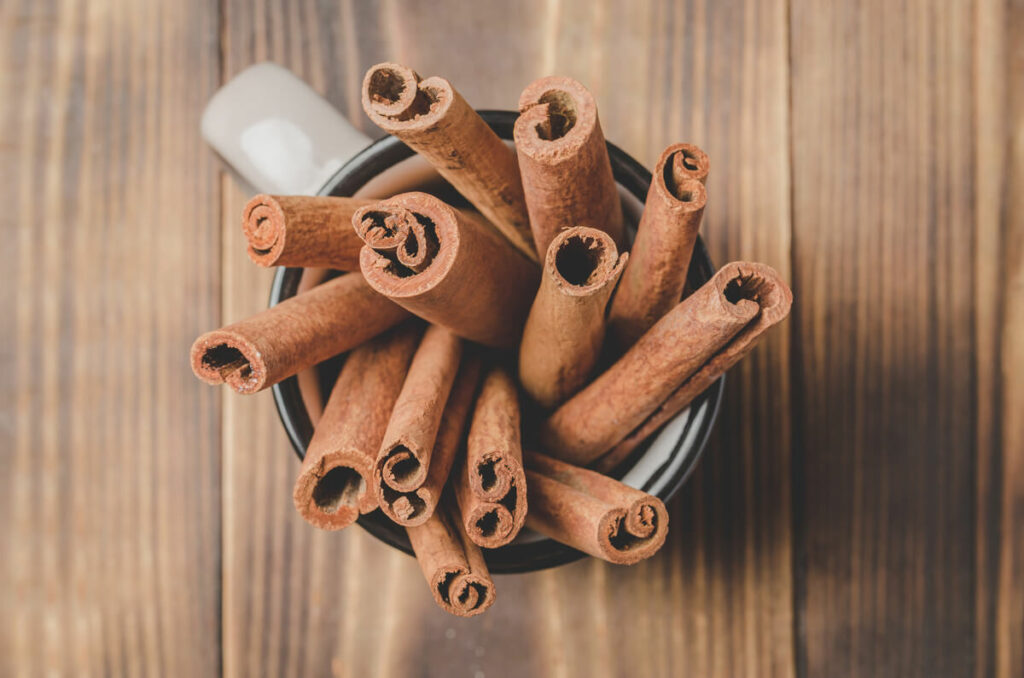 Interesting Facts About Cinnamon
Cinnamon is a must this time of year. Most of us know about all of its great cooking uses. But we also find it in candles.
But by using fresh cinnamon in this recipe, we are not polluting our homes with synthetic aromas, such as when burning candles (there are all-natural candles, but not very many).
Cinnamon is one of the oldest spices ever. It has been mentioned even in biblical times. There are two types of cinnamon, Ceylon and Cassia.
Cassia has much more coumarin than Ceylon. It is considered to be spicier and may be more pungent.
Ceylon is the one we consume because it is sweeter and has a much lighter flavor. It has no coumarin in it.
So this holiday season, go outside, and find some amazing nature smells in your trees. Find what extra goodies make you smile, and even what oils may help your current mood, make your stovetop potpourri recipe and enjoy.
The holidays are here and this recipe makes the home even more enjoyable and relaxing.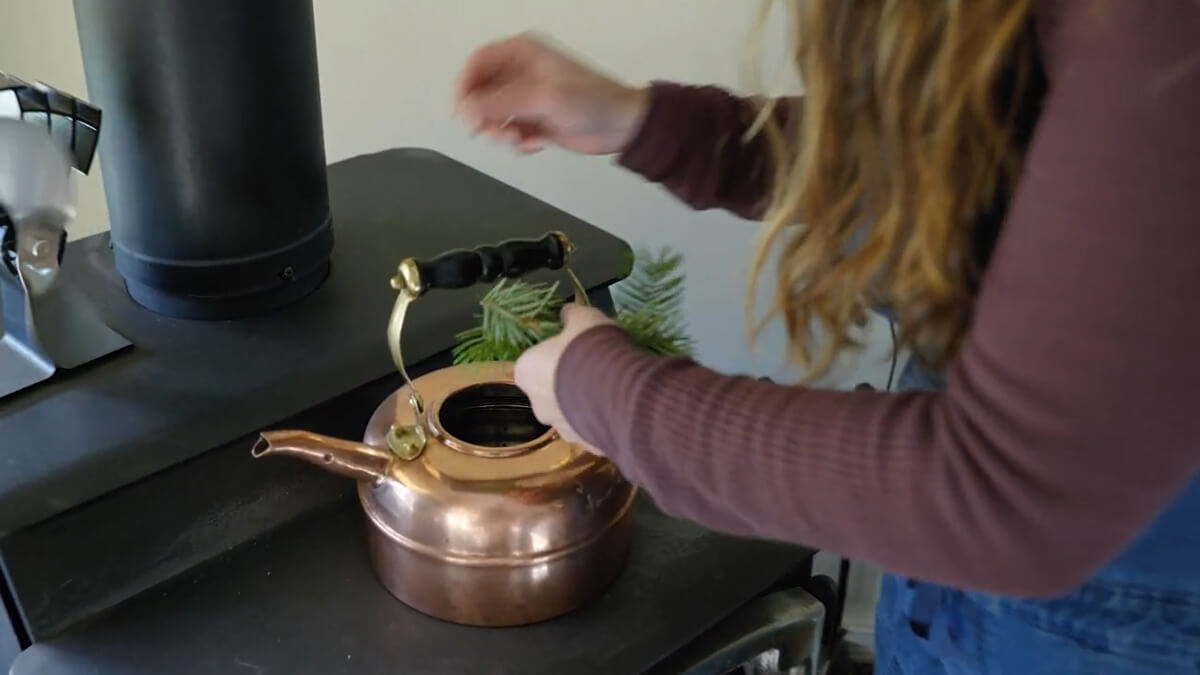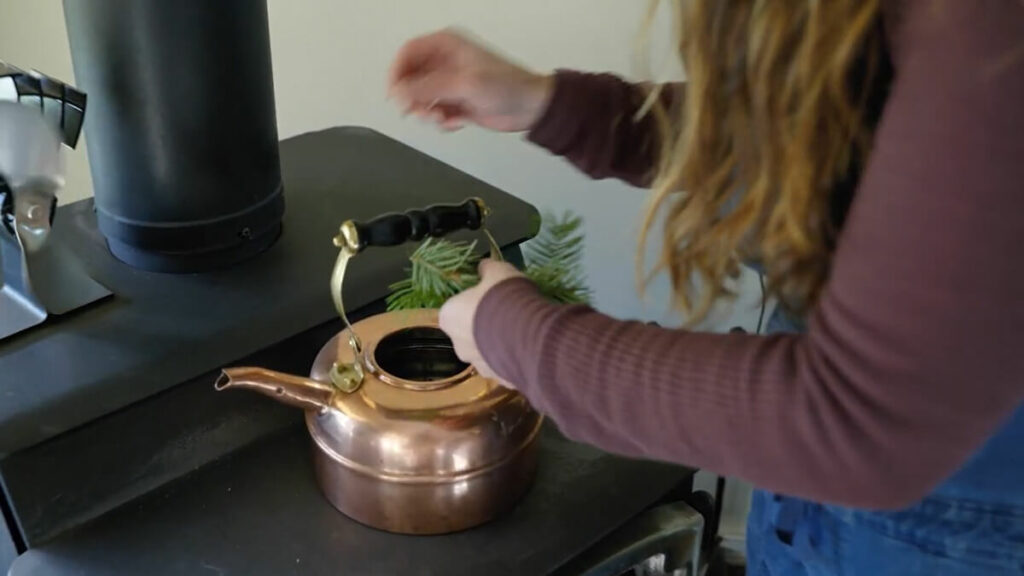 How to Make A Simmering Pot (Stovetop Potpourri)
Here are my simple step-by-step directions to make this potpourri.
During the day, simply place the kettle on your wood stove or your kettle or pot on your traditional stove.
Fill the pot or kettle with water.
Slightly crush up the branches to release some oils and put them in the pot.
Add your extra goodies to the pot.
Let it simmer, and enjoy.
Did you make this recipe? If so, please leave a star rating in the recipe card below, and then snap a photo of your stovetop potpourri and tag me on social media @melissaknorris so I can see.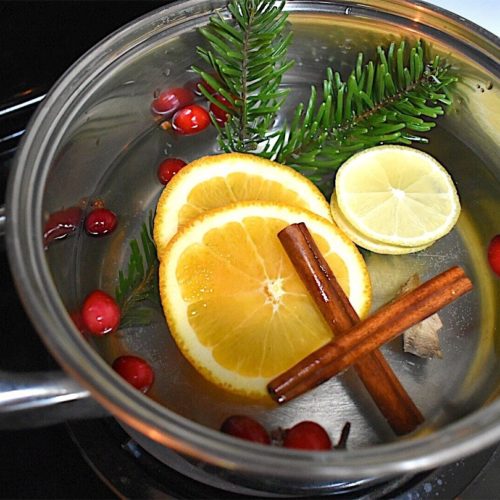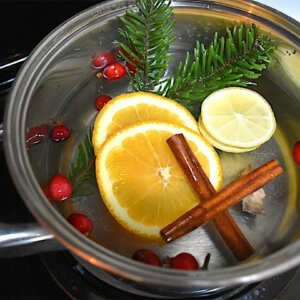 Christmas Stovetop Potpourri
Ingredients
2

cinnamon sticks

1/2

cup

fresh cranberries

1/2

sliced orange

1/2

sliced lemon

1

pine branch tip

1

inch

chunk of ginger
Instructions
Place all of the items in a saucepan, cover with water, and bring to a light simmer.

This also works great on top of a wood stove!
Notes
To make your stovetop potpourri, start by deciding what ingredients you want to use, then go collect them. Some nice combos include:
Pine/fir needle, orange and cinnamon
Apple, cinnamon, ginger and clove
Lemon, rosemary, cranberries and nutmeg
Orange, cinnamon, clove and vanilla
A combination of any or all of the above
More Posts You May Enjoy