Homemade lip balm is easy to make at home, and DIY tinted lip balm makes it even more fun. Not only is it easy, but it's much more frugal and allows you to control the ingredients.
Seriously, have you ever looked at the ingredients in colored cosmetics? There's some icky stuff floating around in there and then we put it on our lips. How often do you lick your lips? You just shuddered with me, right?
While one doesn't necessarily need color in their lip balm, this homesteader certainly wants it. Because spending time out doors, chasing chickens, working in the garden, enjoying the blossoms just opening up on the fruit trees, and hunting up wild edibles can leave a girl's lips in serious need of moisture and some TLC.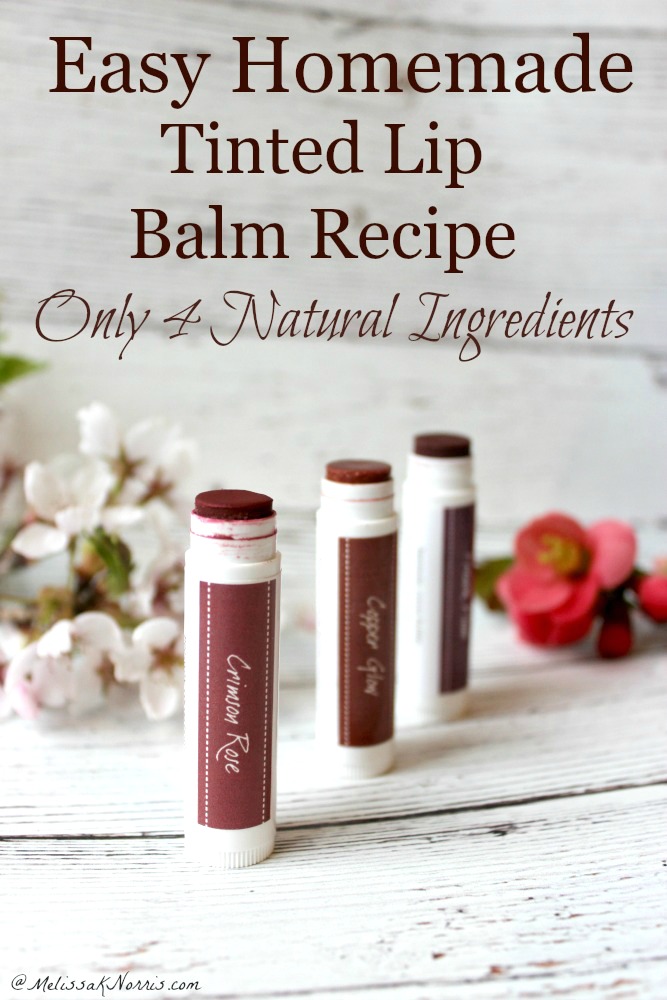 Plus, I just plain like to have a little bit of color in my life and on my lips, and that's reason enough, am I right?
Resources for Homemade Lip Balm
Organic cocoa butter
Organic beeswax pellets -pellets are much easier to measure out when doing small amounts like lip balm
Just want to try a natural homemade tinted lip balm first? Gotcha covered.
You can pick one or all three of these tinted lip balms.
Learn how to make all your homemade natural beauty products with herbal infused oils and natural colorants and get a FREE copy of my book Hand Made: the Modern Guide to Made-from-Scratch Life click here for the deals
Supply list for Homemade Lip Balm
Coconut Oil
Cocoa Butter
Iron oxide (natural colorant) Make sure you always choose a lip safe colorant for the skin, my friend Renee trusts this company and picked some out for you!
Small sauce pan
Pyrex measuring bowl
Stir stick
Medicine Dropper
Lip balm containers or lip balm tubes for tinted lip balm I like the tubes, that way you don't get your fingers all colored too.
Food scale– I've had this one for over 2 years and use it all the time for making homemade soap, lotions, salves, and lip balm
How to Make Lip Balm
Combine 2 ounces each of cocoa butter, coconut oil, and beeswax in a double boiler. I use a Pryex measuring cup over a small sauce pan.
Melt over medium heat, stirring well until all 3 ingredients are combined.
Stir in 1 and 1/2 teaspoons of iron oxide and stir well, you want it to be thoroughly mixed together. Use a throwaway stick or I keep a few dedicated spoons for lotion and balm making.
Keep a small plate in the freezer and drop a few drops of the lip balm on the plate to cool quickly. Once cooled, test the tinted lip balm on your lips to see if you want to add more colorant until it's the perfect shade.
Use a medicine dropper (comes in the DIY kit), fill your lip balm tube halfway to three quarters full. Wait until the balm just begins to set or change color, then fill to the very top.
Allow to cool and use your homemade tinted lip balm to feel fabulous. And give as gifts, so your friends and loved ones only have the natural goodness too!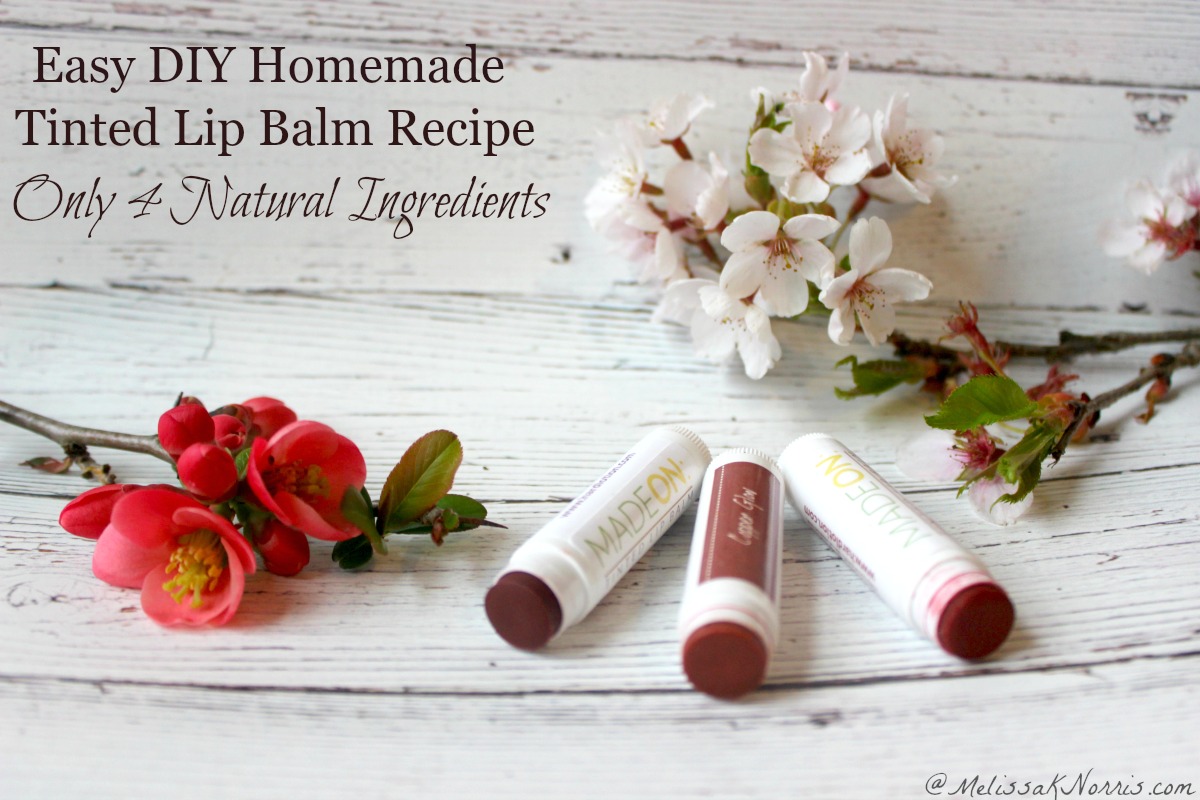 Want to learn how to make your own herbal infused oil salves, balms, my natural lipstick recipes and guides, beeswax candles and soaps?
Check out the —> Hand Made Masterclass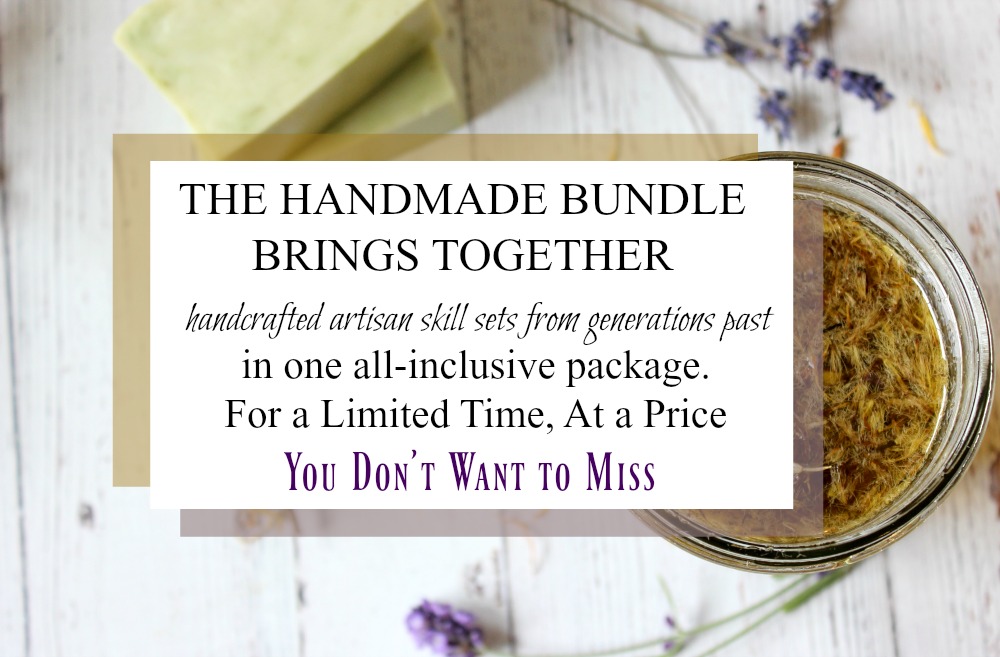 P.S. to make regular lip balm, just follow the above lip balm recipe and omit the colorant. I want to know, which homemade lip balm shade are you going to make first!
More Posts You May Like