Anything with the word canning or Mason jar in it get's my homesteading pulse up a notch. Add in re-using the lids your'd normally throw away and I've officially entered my happy place.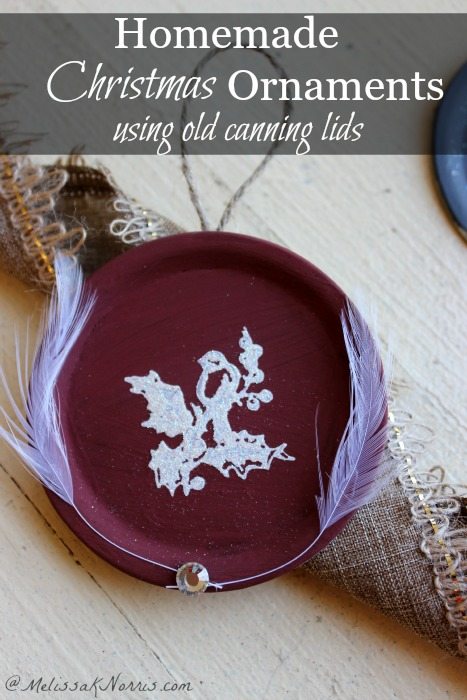 I recently discovered the amazingness of chalk or clay based paint. All of the tables in my living room are a testament to this. It requires no prep work, aka no sanding or primer, and has zero VOC for zero emissions, which is code for you can paint with it indoors and no nasty chemicals are floating about in the air from it. Pretty cool, huh?
For those of you who are canning addicts like myself, you've always thrown out the used canning lids (because they're not safe to re-can with). It always feels like such a waste…. until now!!
I've been saving my wide-mouthed canning lids since the beginning of fall when this idea was born.
Homemade Christmas Ornament using Canning Lids
Paint your lids with two to three coats of the paint, allowing them to dry in between coats. Your options are limitless and you can get as creative as you want.
I used hot glue to adhere the jute twine and ribbon to the top of the back of the lid to hang them by. Make sure your loop is large enough for your tree branches.
Rubber stamps are awesome when you're not that great of an artist or free hand painter. Hand raised!
A true homesteader, I headed back out to the yard and gathered up some of the chicken's feathers from this year's molting. Those girls are good for more than just eggs my friend!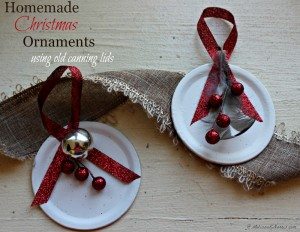 I think a button snow man with some gingham ribbon would be really cute, but couldn't find my button box. Yes, some more organizing needs to happen in the craft area.
Resources for Homemade Christmas Canning Lid Ornament
Renaissance Clay Paint I used Venetian Red in this brand and had Cottage paint in the other colors from a local store. You don't use a lot, so the small 4 ounce is plenty for this project, actually, it would probably be enough to paint a small end table.
Jute twine- check out this red and white version!
Because I like rhinestones with my feathers (even farm girls can love a little bit of sparkle). The flat back ones like these work best.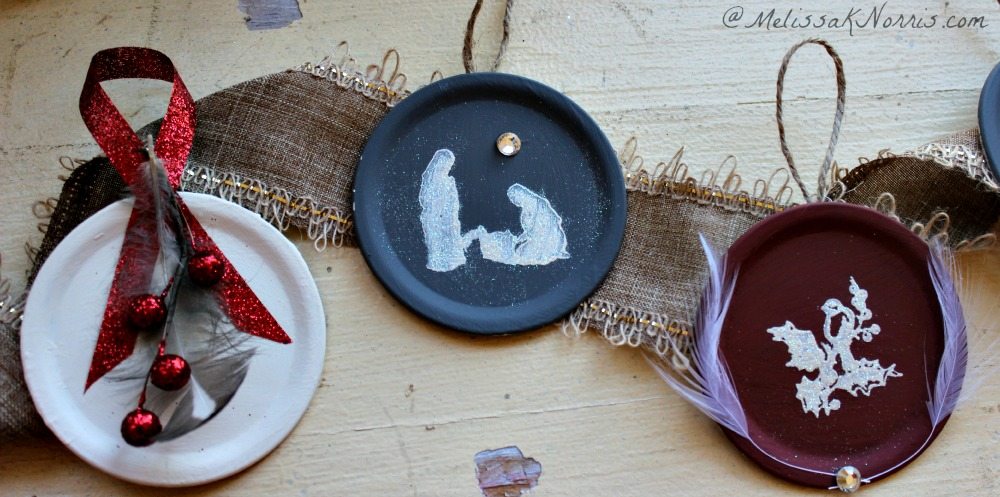 I hot glued all of my embellishments on. Rickrack would be cute.
I made all of these with supplies I had on hand, but if you hit the craft store, oh my… I can imagine an entire tree of these!!
Did I mention to you I love sparkle? I added a shake of glitter onto the wet paint, too.
If you love canning stuff (canning peeps unite!!) then you'll love this DIY Canning Ring Wreath… it involves a bit of chicken feathers, too.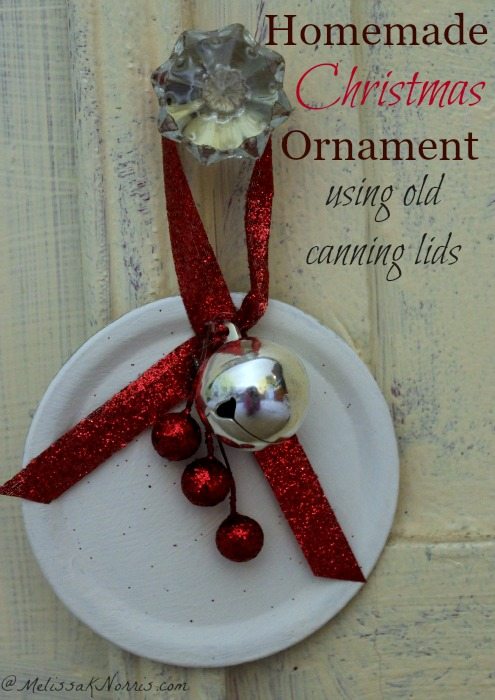 Whatta ya think? What are you going to put on yours? P.S. I'm giving away my e-book, Pioneering Today-A Homemade Christmas, for FREE right now! Grab your copy.