Everyone needs an easy DIY from-scratch homemade brownie mix in a jar. One that tastes better than the store-bought processed version, whips up super quick and doesn't use any special ingredients.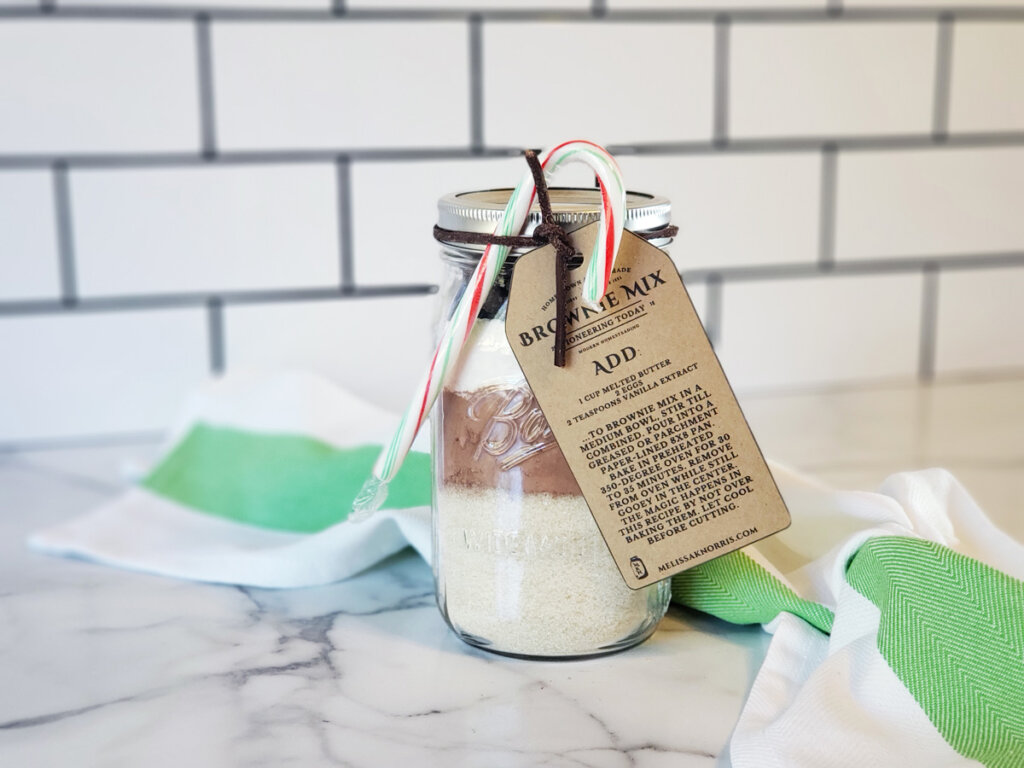 I've long been looking for the perfect brownie recipe and have tried out numerous different recipes (oh, darn, mom, we have to try another brownie recipe tonight, said no child ever). Yeah, it was really tough taste testing let me tell you.
Table of Contents

[Hide]

[Show]
Why I Love This Recipe
I did need to find the perfect brownie recipe. And there was some criteria this recipe needed to meet:
Use ingredients I always have on hand
Use ingredients that are healthy and I approve of (in short, all ingredients I can read and pronounce!)
Whip up in 5 minutes or less
No melting chocolate over a double broiler (now, I do love a good ganache, but when I'm in a hurry or want to give the mix as a gift, ain't no one got time for that in their brownies)
Be gift-able! Whether it's a dessert I bake up and take to a friend, I add the mix to a jar and gift it, or it's a featured recipe in my annual holiday craft party, it has to be delicious, memorable, and cute!
I much prefer to give gifts I can make, that people will enjoy, and they will consume and use. And those are the ones I like to receive, anyone else?
[adthrive-in-post-video-player video-id="mhii9i6i" upload-date="2020-11-22T07:06:08.000Z" name="DIY Homemade Brownie Mix in a Jar" description="Make this easy homemade brownie mix from scratch with easy staple ingredients from the pantry. " player-type="default" override-embed="default"]
If you're here for the DIY Brownie Mix in a Jar, you may also want to check out my DIY Artisan Bread in a Jar, and my DIY Cake Mix in a Jar. All are delicious and all meet the criteria listed above!
Thankfully these brownies are good all year round (and can be gifted for birthdays, Valentine's Day, Easter… or just a thank you hostess gift!), but they're hard to beat for a Homemade Christmas gift. Plus, it means we get to pretty up the jar.
Be forewarned, these are addicting. Like ooey-gooey fudgy can't eat just one unless it's one whole pan!
When doing mixes in jars, wide mouth is your friend. Actually, wide mouth is also your friend when eating said brownies…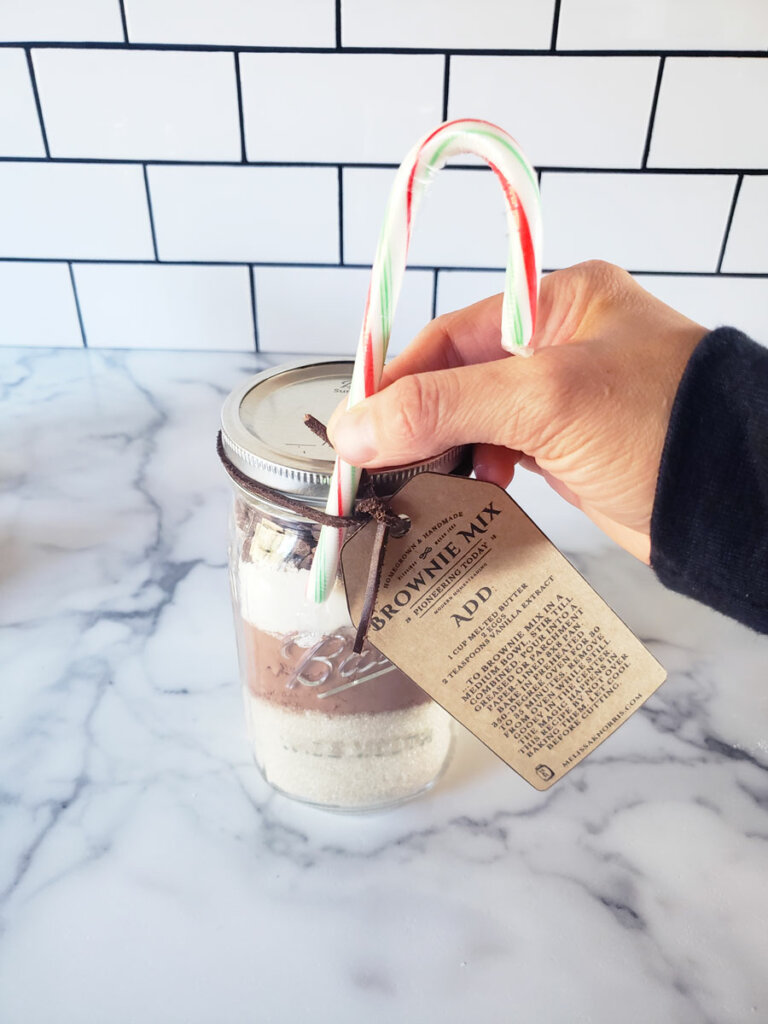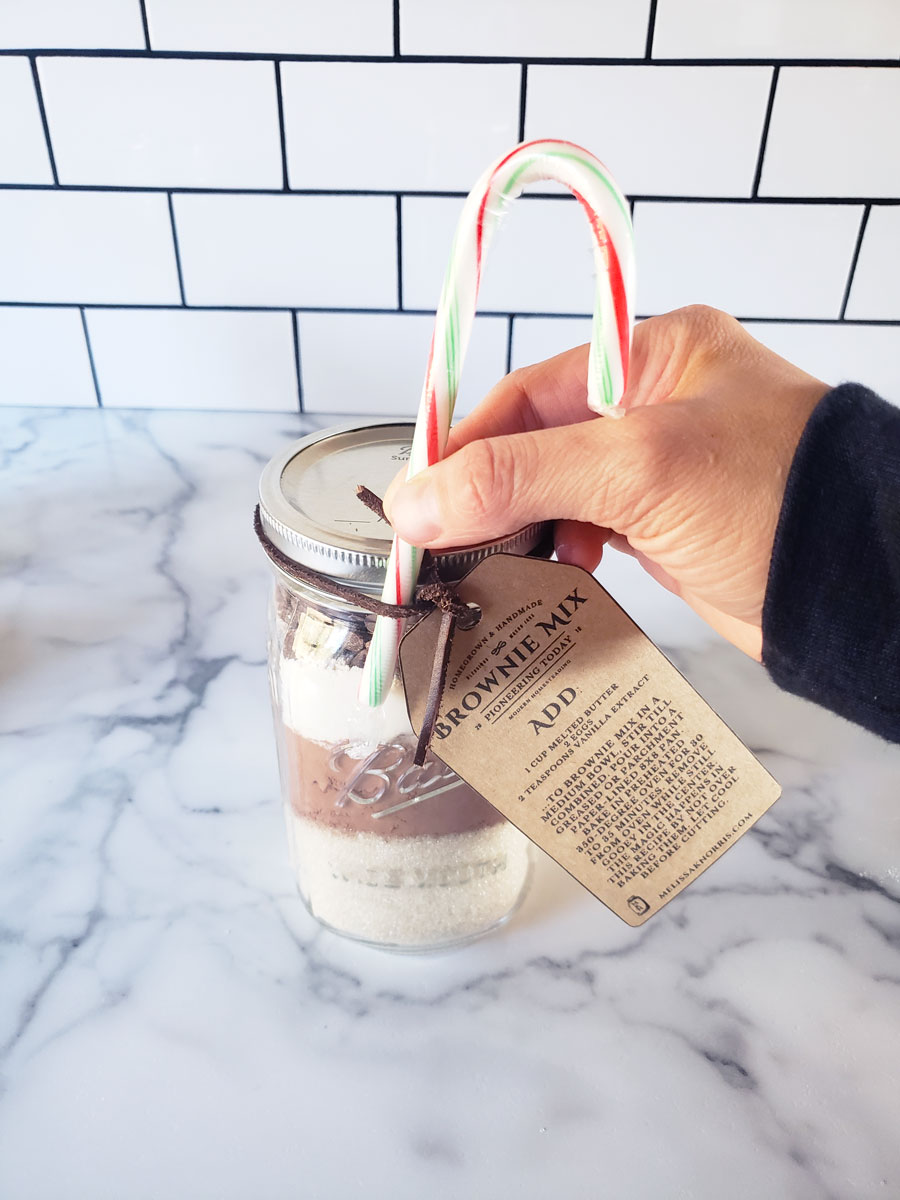 Supplies
Mason Jar – As mentioned before, a wide mouth Mason jar works best. Really, can you ever have too many of these wonderful things?
Funnel – If you don't want flour and sugar glitter on your kitchen counter, you'll also want to use a funnel. A canning funnel works great. I've got this stainless steel one, because the less plastic the better (I tend to break plastic), but whatever you have will work.
Tags – If you'd like to add decorative tags that include the instructions for baking the brownies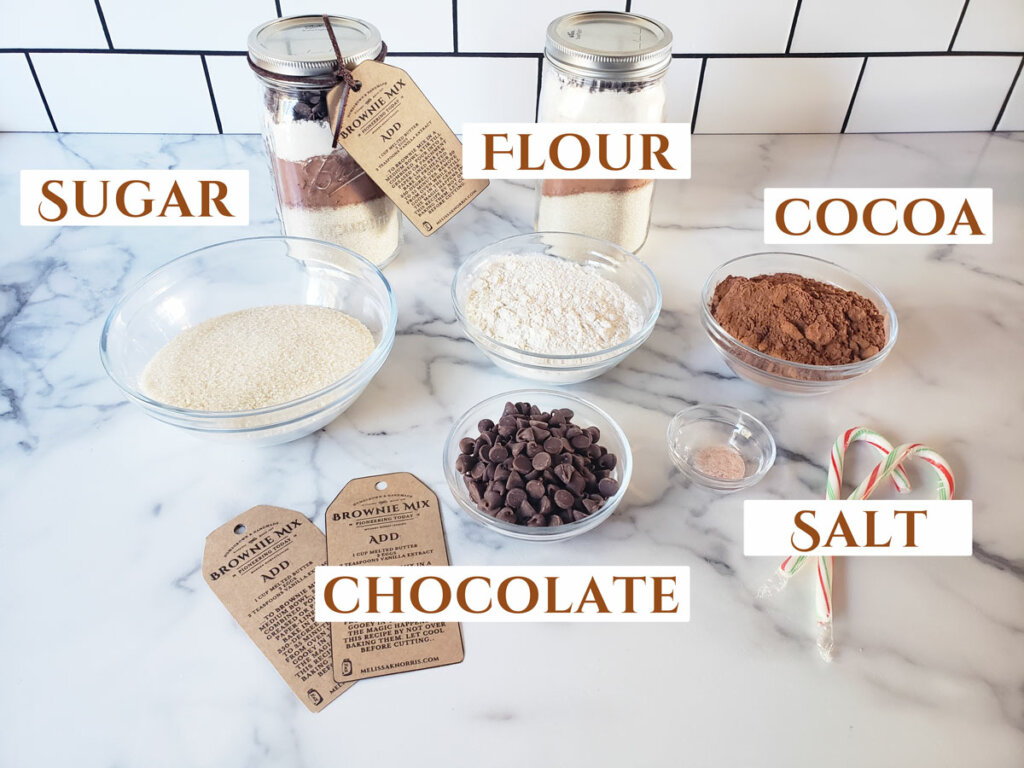 Ingredients
Cocoa powder – Organic and fair-trade are recommended. But you can choose your favorite cocoa powder, whether Dutch-processed, regular, raw, or dark cocoa powder. I haven't personally tried dark cocoa. If you do, you may want to test a batch and adjust the cocoa and sugar levels as needed. (The best deal I've found on organic cocoa is this 2 pound raw cocoa powder.)
Sugar – Any granulated sugar will do. I like to use evaporated cane juice. But maple sugar, coconut sugar, sucanat, rapadura, plain old white sugar, they'll all work!
Flour – I typically reach for my all-purpose organic white flour. However, pastry flour or even a gluten-free flour blend will work great.
Sea salt – Don't skip the salt! A brownie without salt is just sad (and lacking that deep chocolate flavor we all crave in a brownie).
Semi-sweet chocolate chips – I like semi-sweet so they're not overpoweringly sweet. But if milk chocolate is all you have, by all means, use it! You could also go decadent and grab the dark chocolate chips. If you do this, I'd recommend using the full amount of sugar.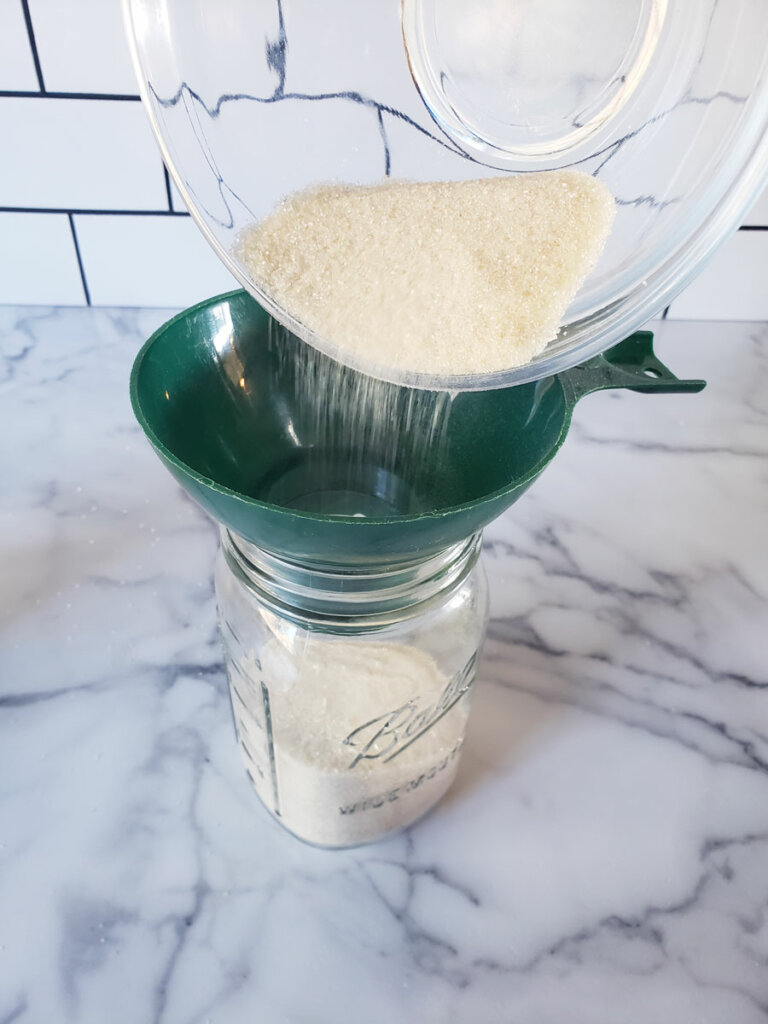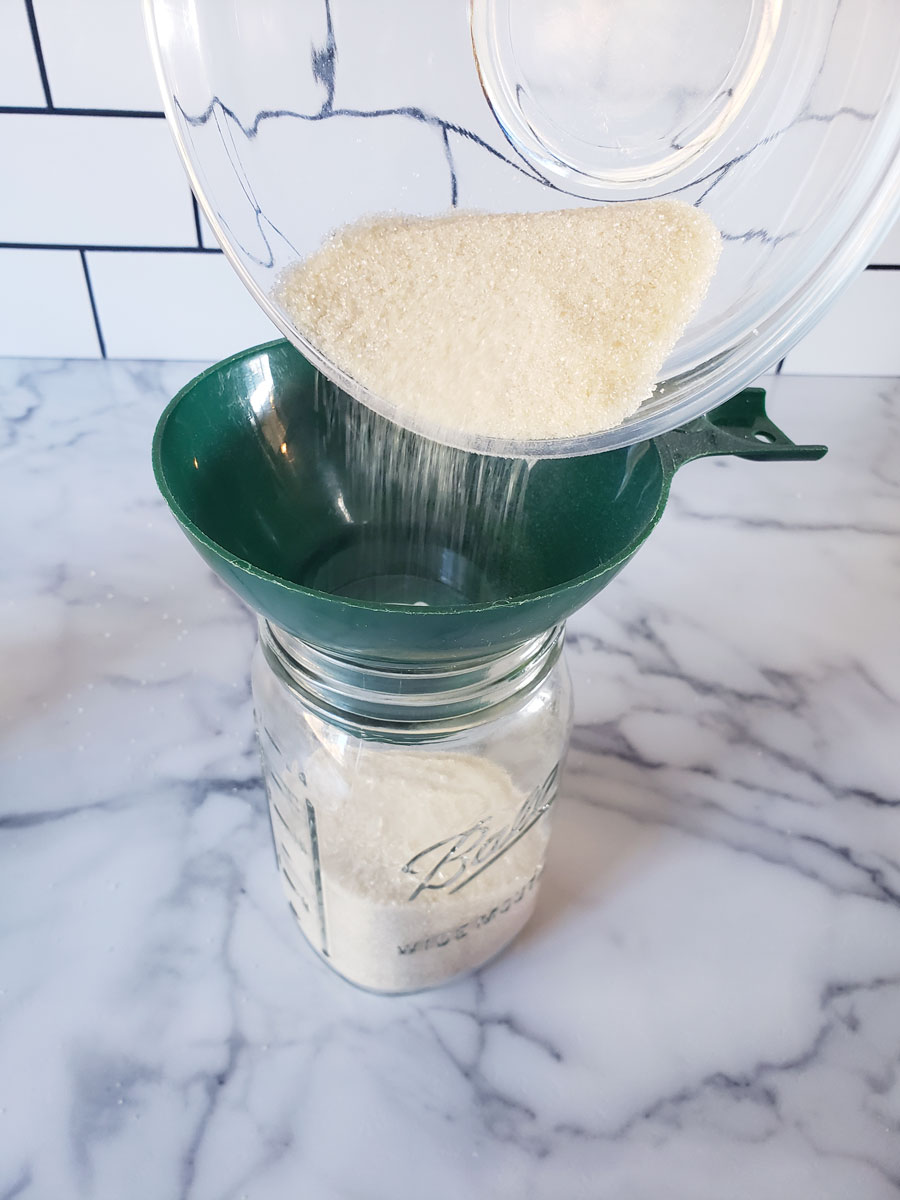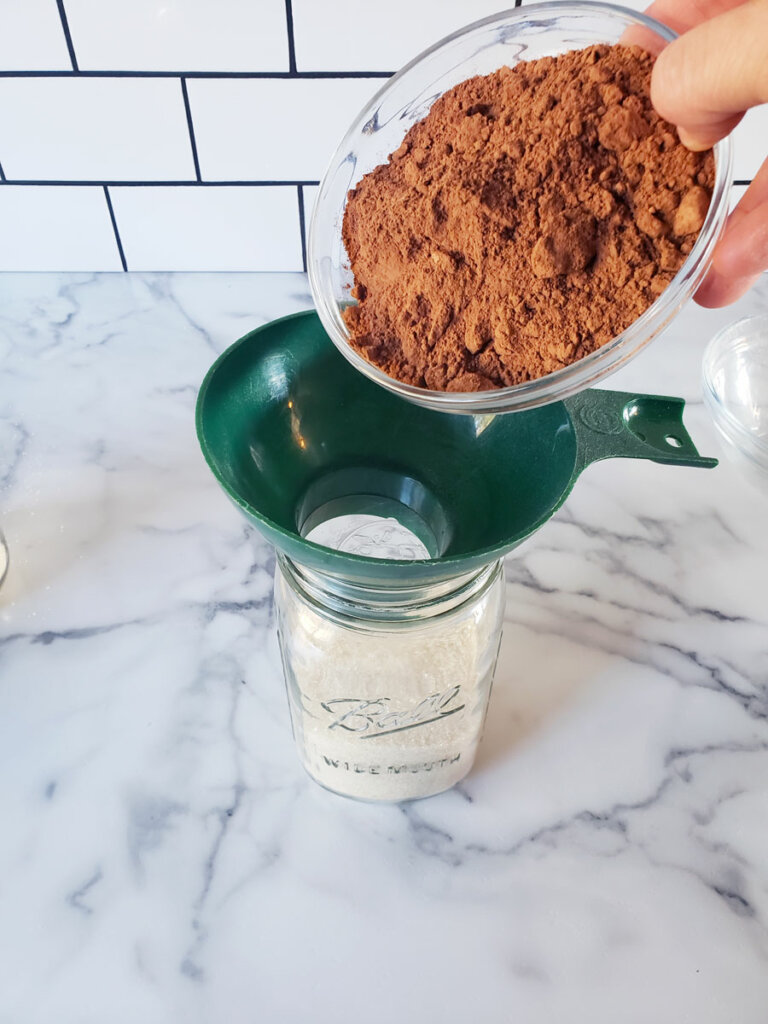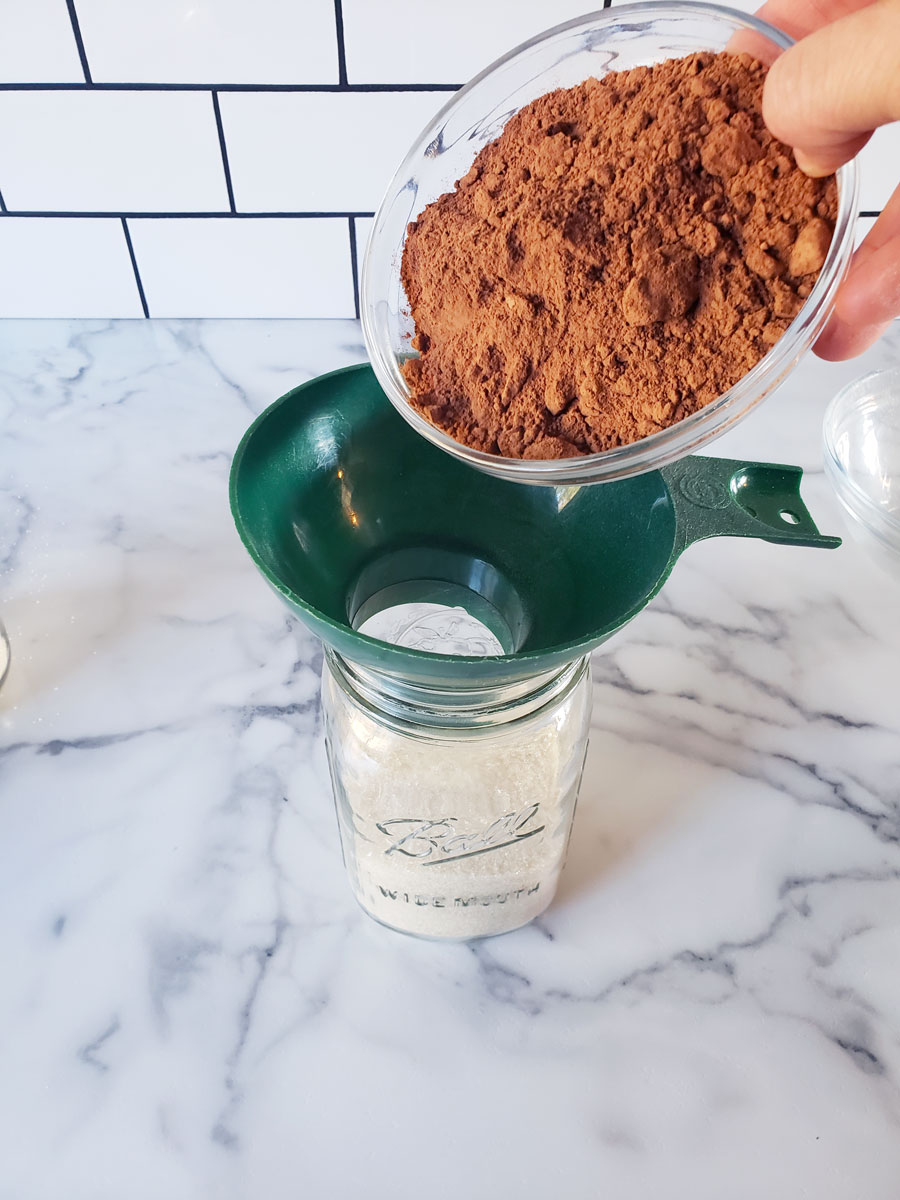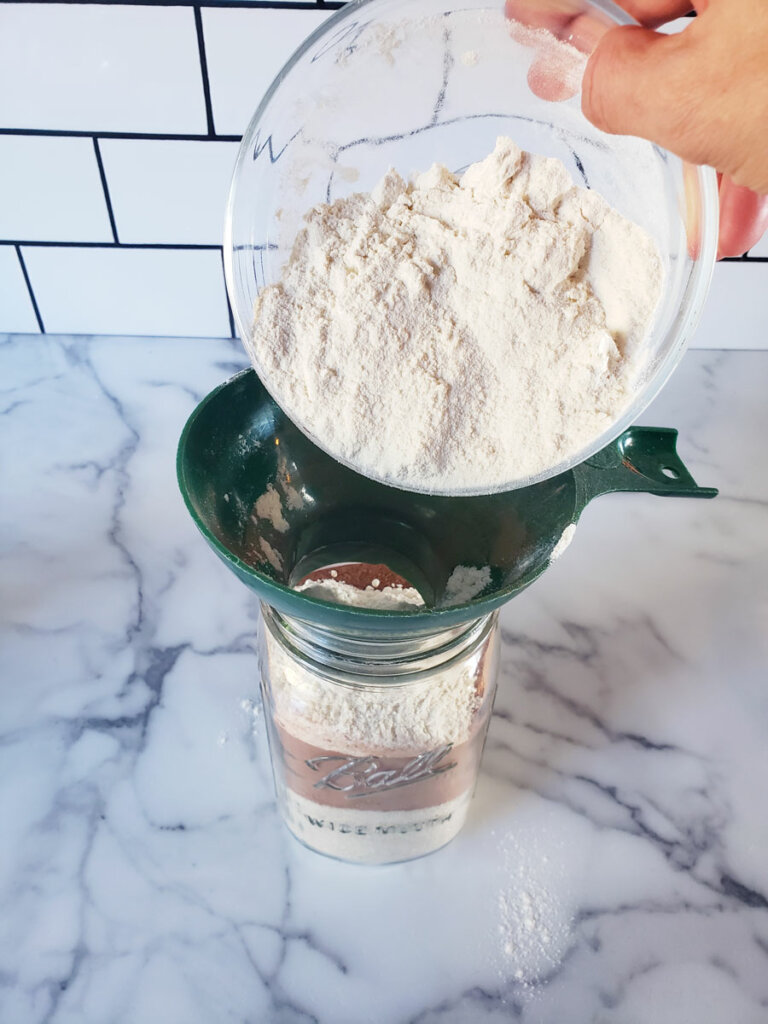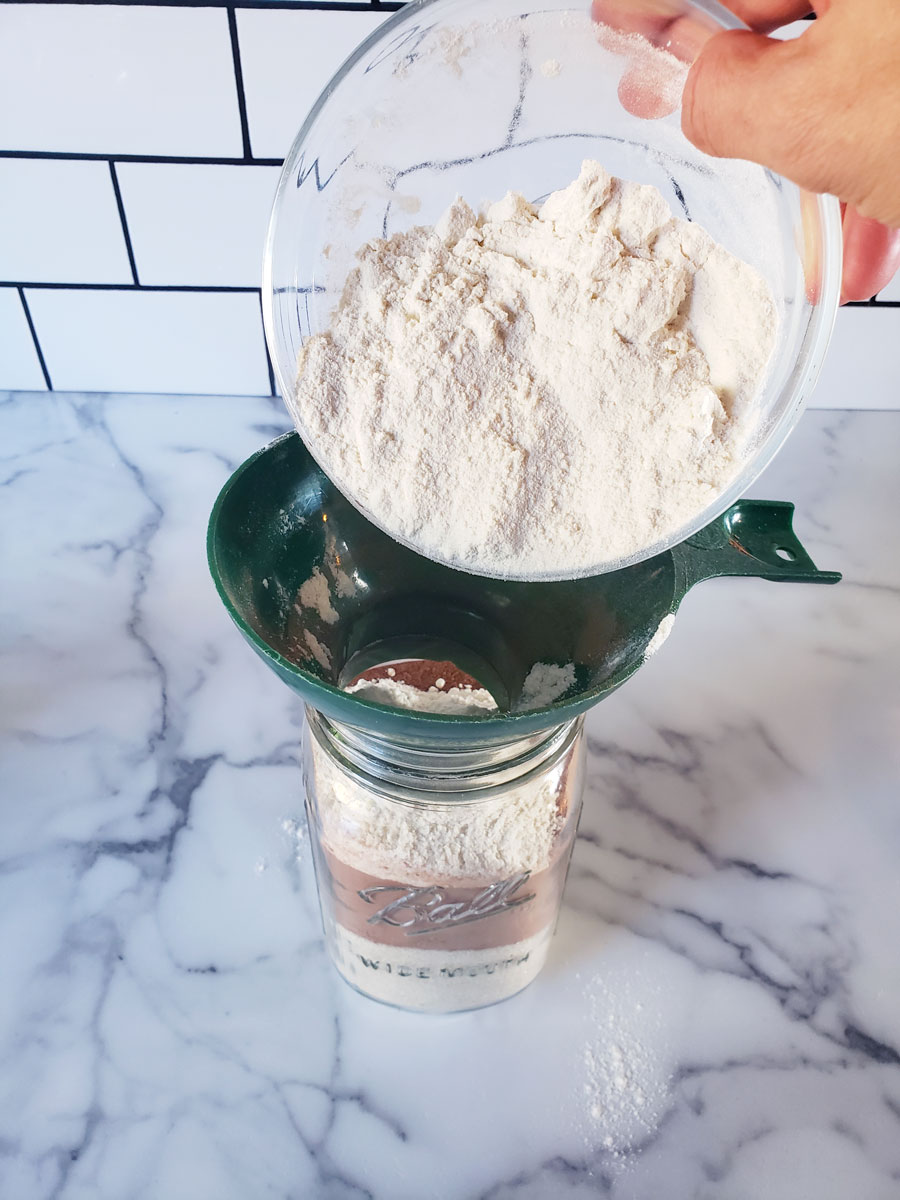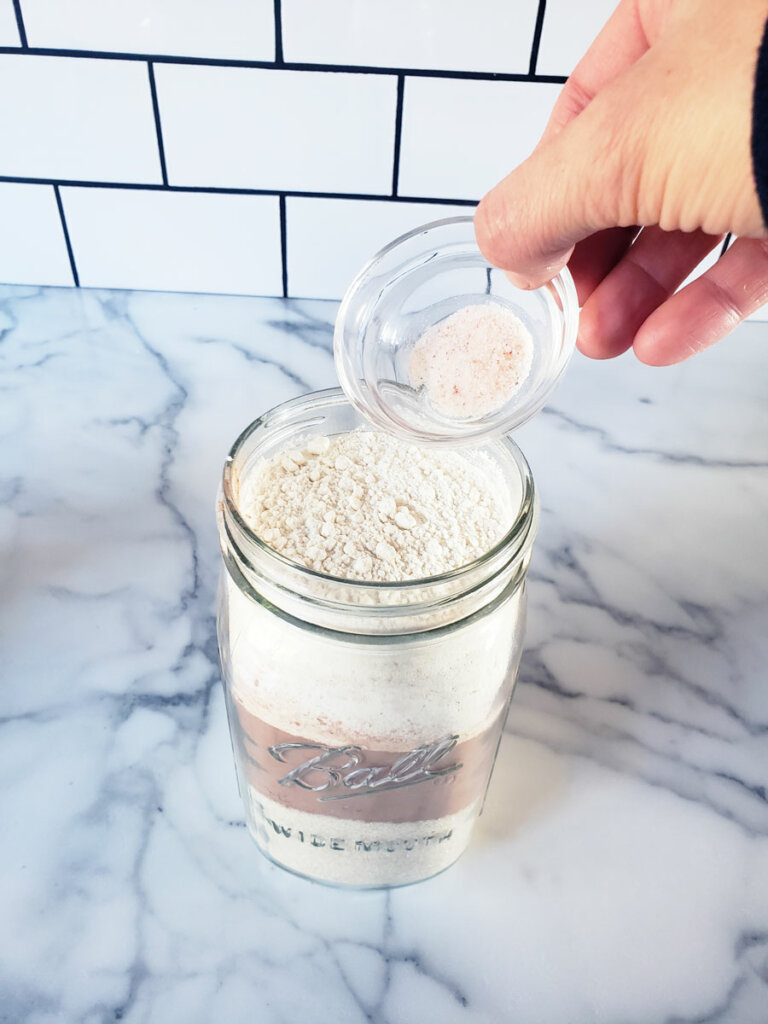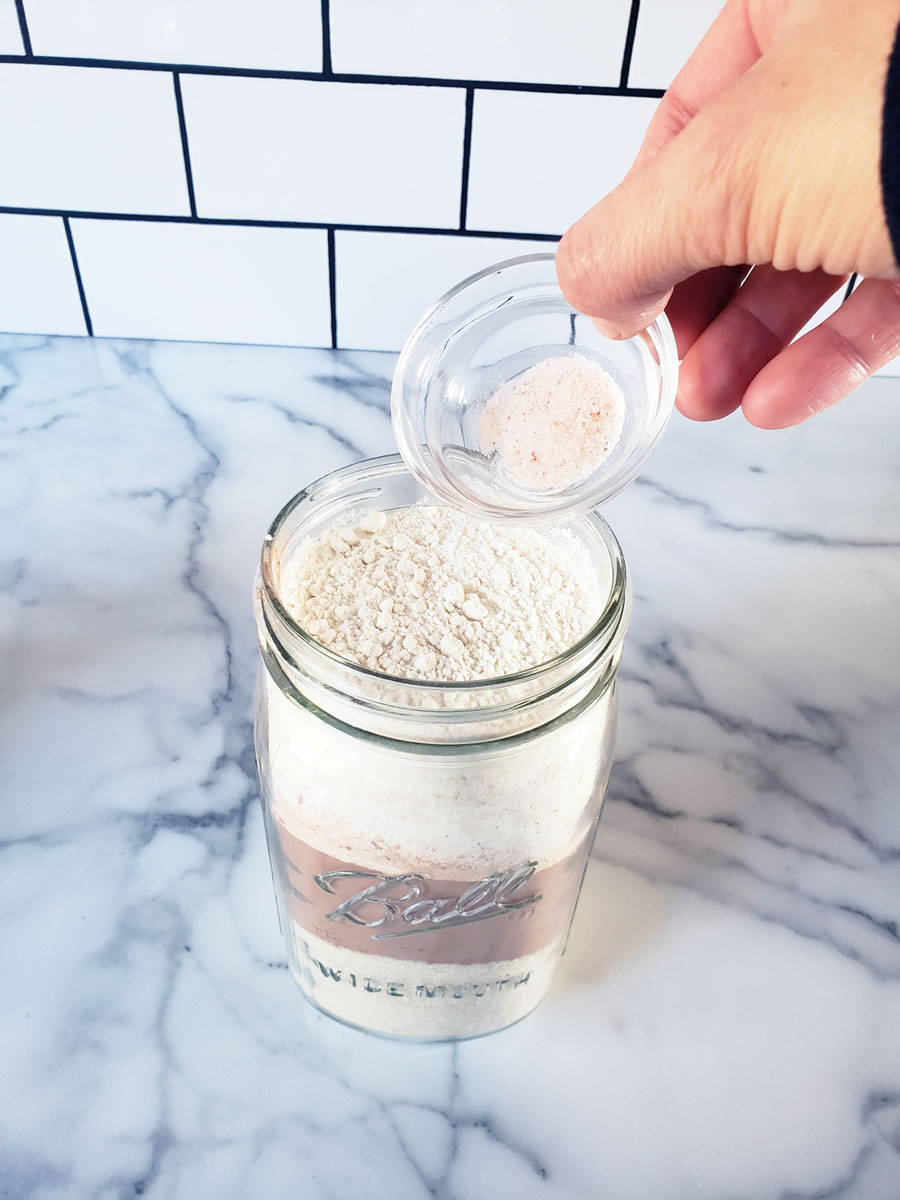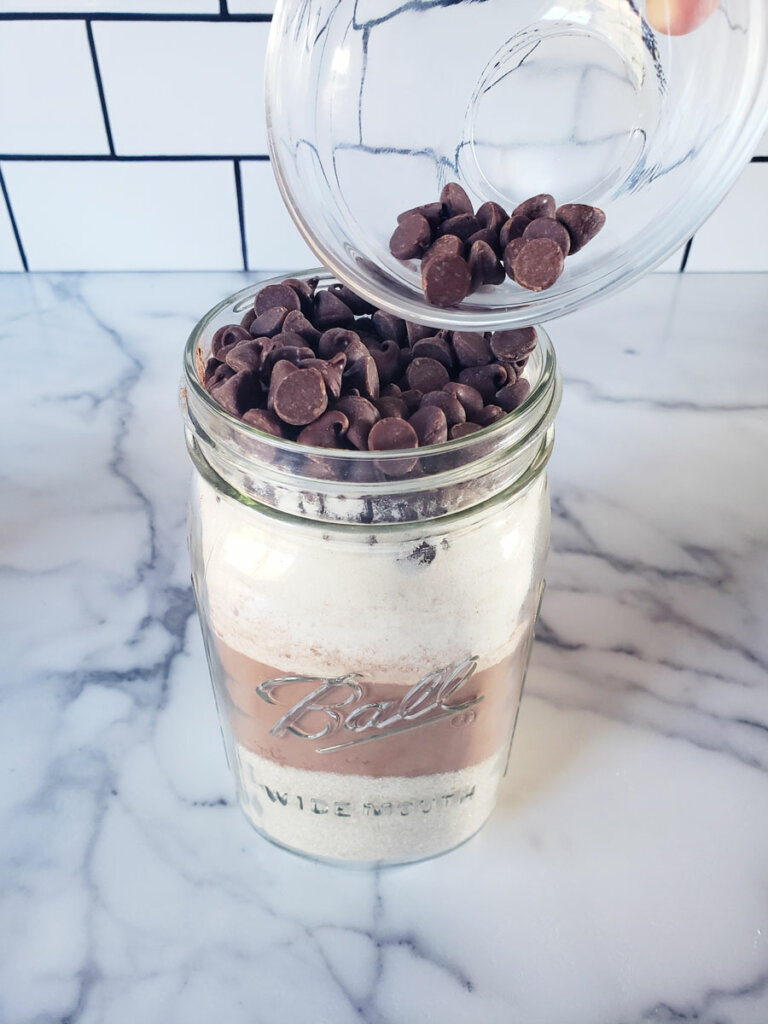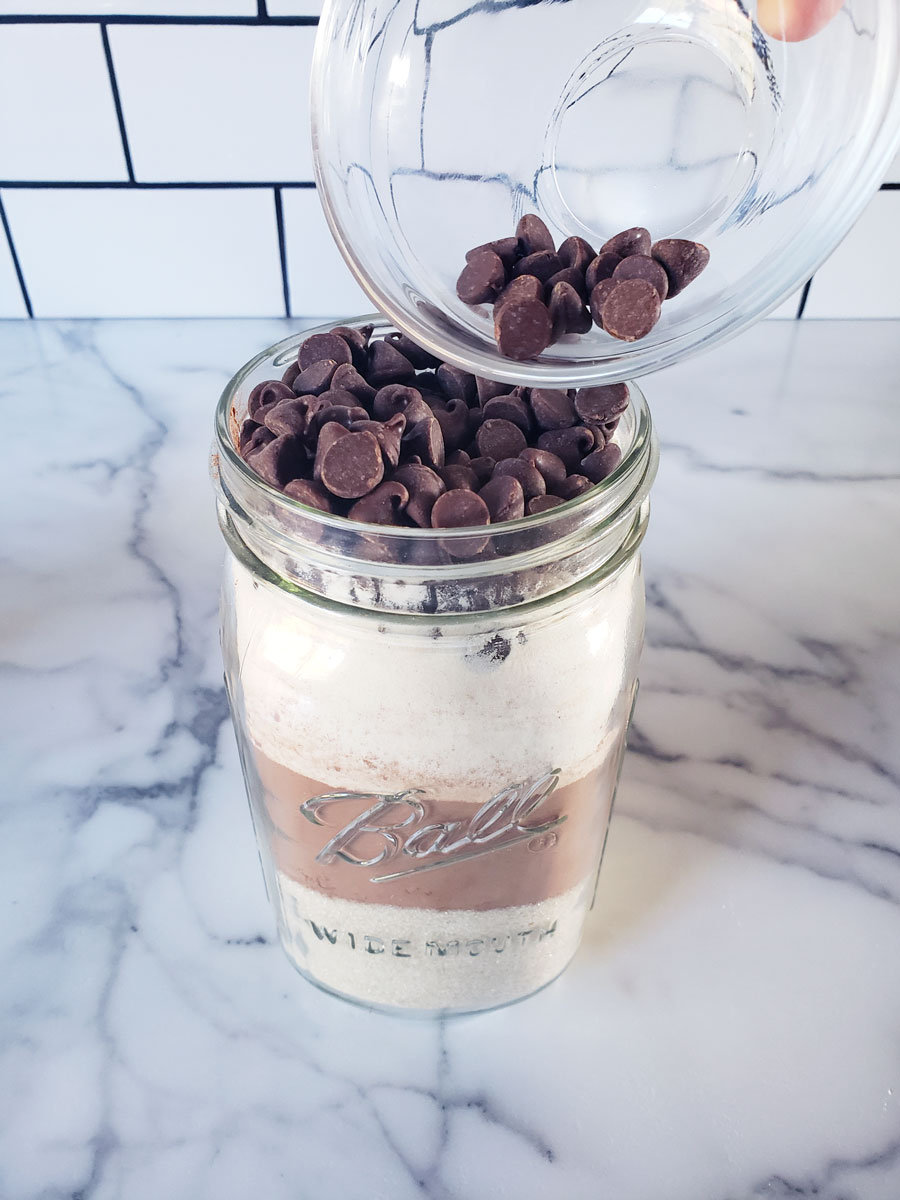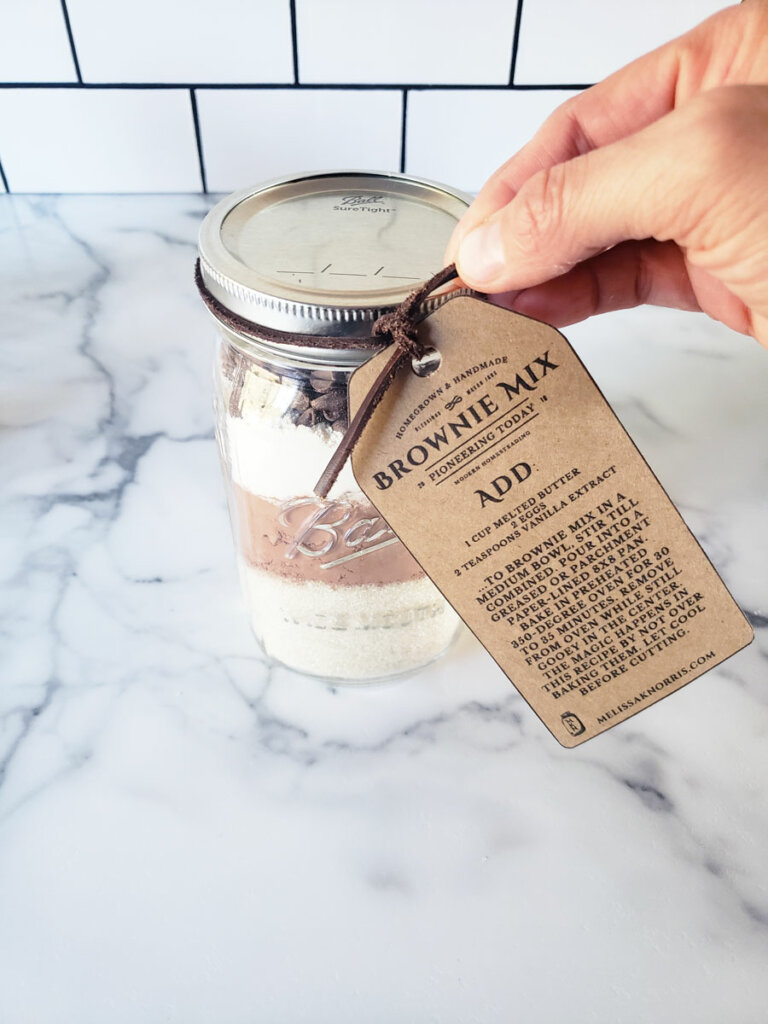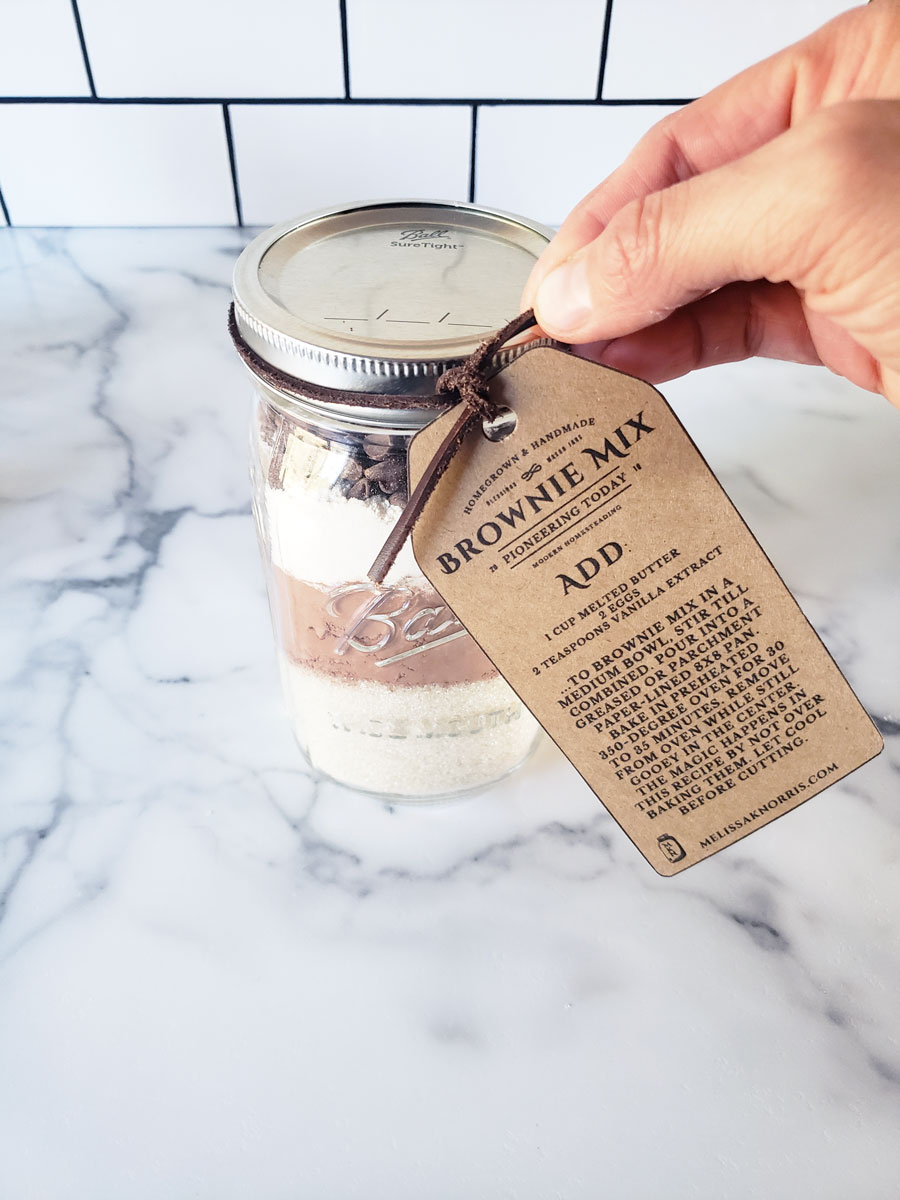 Assemble the Jars
When assembling the jars, you can choose to layer these ingredients one by one, or just dump them all in a bowl, whisk them around, then add to the jar that way. Personally, I think layering is a prettier way to go.
I also think when making multiple jars at a time, layering is the way to go because you just do each ingredient at a time in all the jars, then move on to the next.
Once all ingredients are in the jar, add a two-piece lid, some twine and my printable tags with baking instructions.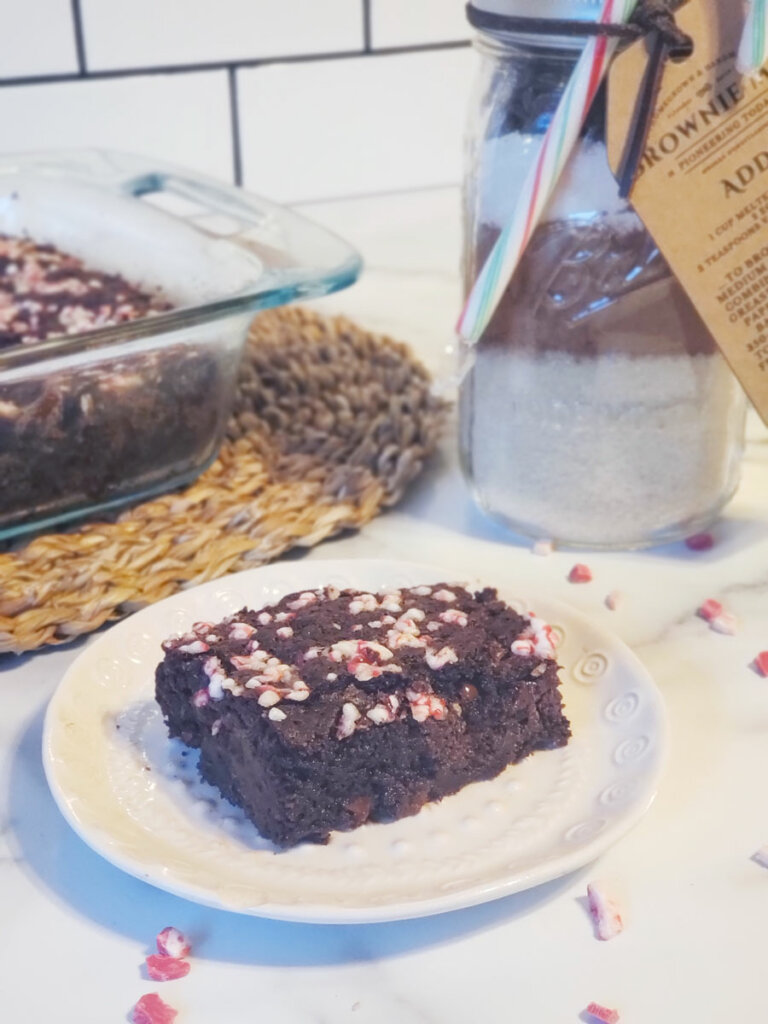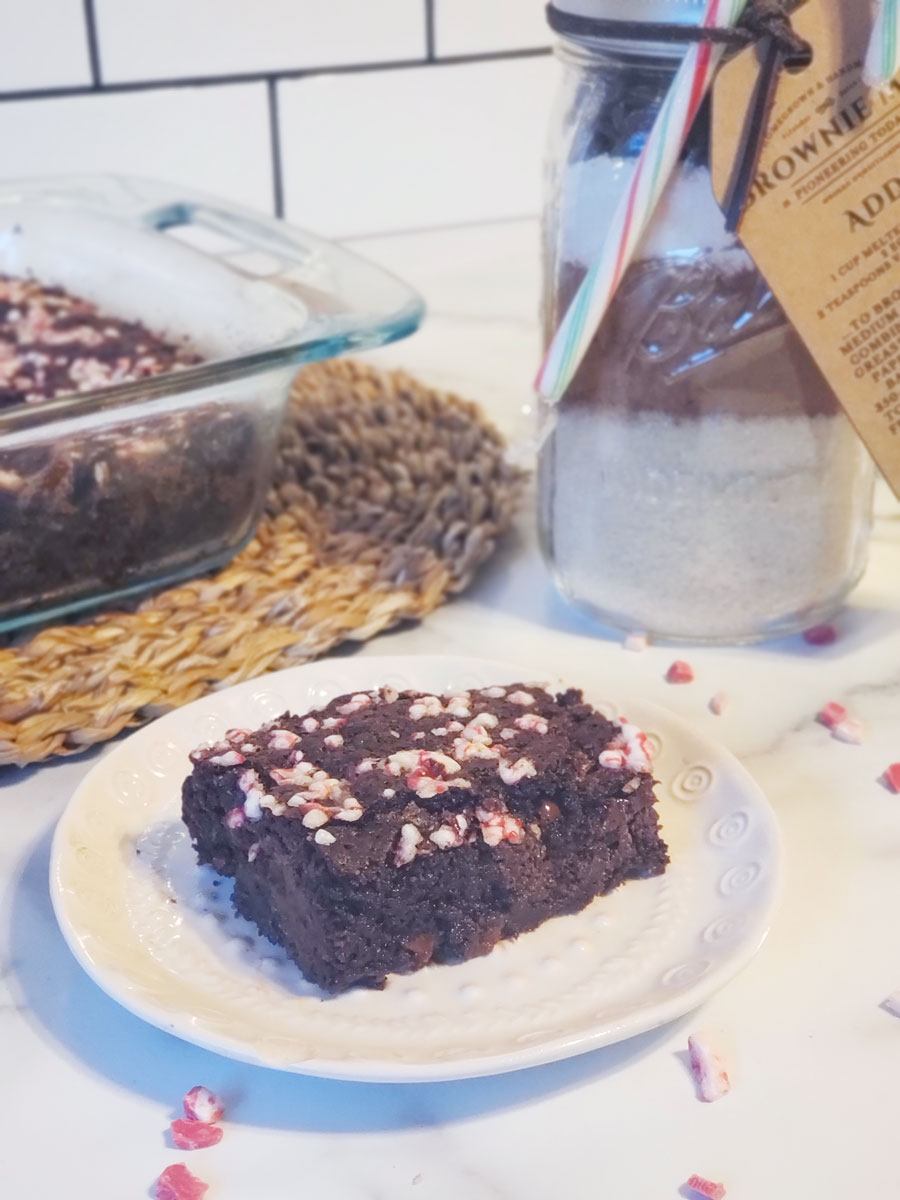 Baking Instructions:
Don't forget to include those baking instructions on the jars so the gift receiver knows what to do!
Combine the dry ingredients in your mason jar with melted butter, eggs, and vanilla extract (we make our own homemade vanilla extract around here.)
Preheat oven to 350 degrees F. Add the above liquid ingredients to dry ingredients and mix it all up until just combined. Don't overmix or brownies will be tough.
Pour into an ungreased 8×8 pan (parchment paper is your friend and is what I line my pans with).
Bake for 30 to 35 minutes. Take it out while it still seems kind of almost gooey in the center. The magic happens in this recipe by not over baking them. Let cool before cutting.
Feel free to double the recipe for 9×13 pan, but remember, I warned you, it'll be hard not to eat it all at once.
How Long Will This Recipe Last?
This brownie gift jar will last on the shelf for up to a year (maybe even longer depending on the age of your ingredients when assembled and if stored in a cool, dark, dry area).
To be honest, I'm not sure I could have a jar of this brownie mix in my pantry and NOT eat it within a few months!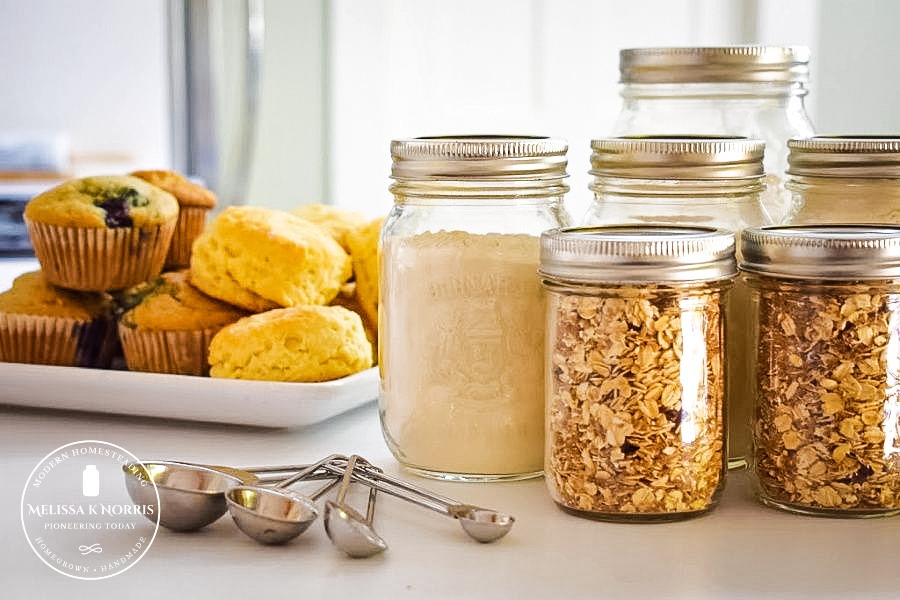 Other Homemade Mix Recipes:
Did you make this recipe? Snap a photo and tag me on social media, I'd LOVE to see your cute gifts! Then be sure to rate this recipe by clicking the stars in the recipe card below!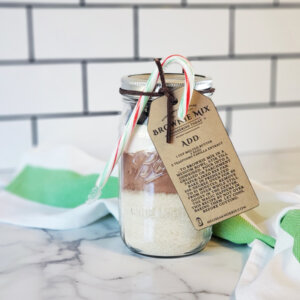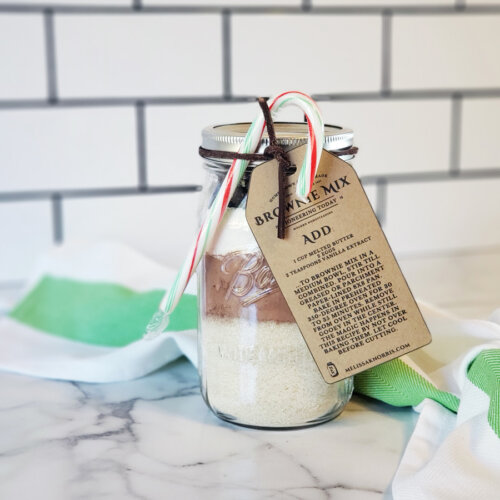 Homemade Brownie Mix in Jar
This brownie mix turns out the most delicious, fudgy, ooey-gooey brownies every single time. In other words? This DIY brownie mix in a mason jar is the best gift ever!
Ingredients
3/4

cup

cocoa powder

1.25

cups

sugar (or evaporated cane juice/sugar in the raw)

can increase sugar to 1 1/2 cups is preferred

1

cup

flour

1/8

teaspoon

sea salt

1/2

cup

semi-sweet chocolate chips

or more if you're a die hard chocolate fan

1

cup

butter, melted

for dairy-free folks, 2/3 cup melted coconut oil

2

eggs

2

teaspoons

vanilla extract
Instructions
To make the brownie mix in a Mason jar:
To make the mix in the jar for gift giving, layer sugar, cocoa powder, flour, salt, and chocolate chips in a 1 quart wide-mouth Mason jar.
To bake the brownies:
Preheat oven to 350 degrees F.

Add melted butter, eggs, and vanilla extract to dry ingredients and mix it all up until just combined. Don't overmix or you'll end up with tough brownies.

Pour into an ungreased 8×8 pan (parchment paper is your friend and is what I line my pans with) OR a 10 inch cast iron skillet. You can also double the recipe and use a 9×13 pan.

Bake for 30 to 35 minutes. Take it out of oven while it still seems kind of gooey in the center, but not raw. The magic happens in this recipe by not over baking them.

Let cool COMPLETELY before cutting. This step is important. If you want amazing gooey brownies, you cannot cut them when they're still warm or they'll crumble!
Video
Notes
When making up the mix in the jar you can either stir all the dry ingredients together or pour them in one at a time to create a layered look. Either is fine.
This brownie mix is good for up to 1 year on the shelf depending on the age of the ingredients when making.
To make this gluten-free, use a gluten-free flour blend.
For dairy-free, use coconut oil instead of butter.
Be sure to take the brownies out of the oven when they're slightly under-baked, still gooey in the center.
Let cool COMPLETELY before cutting or you'll end up with a mess! Trust me, it's worth the wait!
Nutrition
Calories:
415
kcal
Carbohydrates:
48
g
Protein:
5
g
Fat:
26
g
Saturated Fat:
16
g
Cholesterol:
91
mg
Sodium:
229
mg
Potassium:
209
mg
Fiber:
4
g
Sugar:
32
g
Vitamin A:
683
IU
Calcium:
29
mg
Iron:
2
mg