In the dead of winter, there aren't a lot of options for making a colorful flower bouquet here in the Pacific Northwest. That's why I was thrilled to learn how to take evergreen cuttings along with other bushes to create a beautiful and festive winter bouquet, perfect for adding that special touch to the home during the holidays (perfect for the Thanksgiving or Christmas table).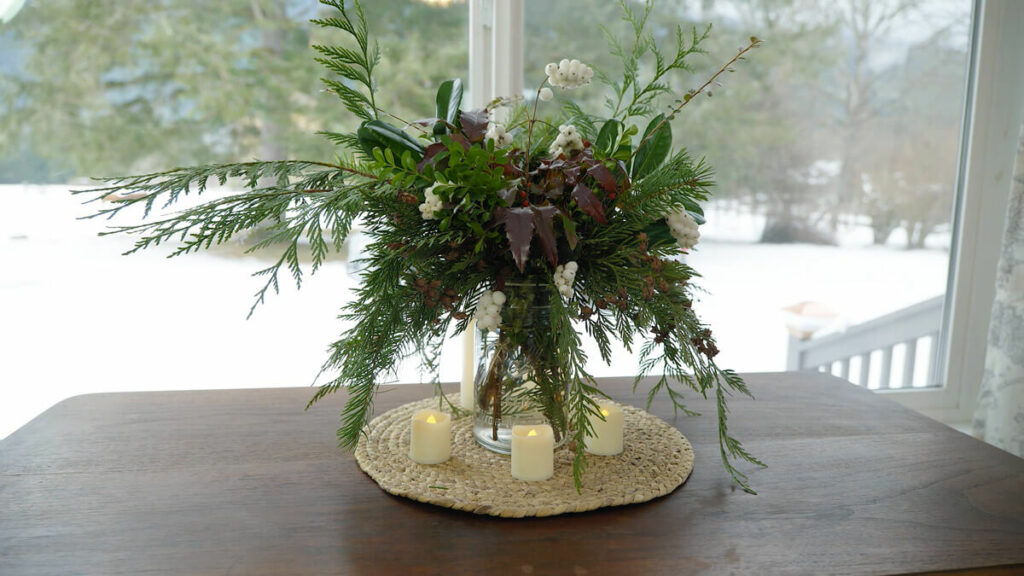 I've shared before how to make a beautiful old-fashioned Christmas wreath, an easy holiday stovetop potpourri that will scent your home of evergreen, and even an evergreen Christmas swag.
But I haven't shared yet how to make a lovely winter bouquet. It's perfect for the holidays and even makes a sweet gift.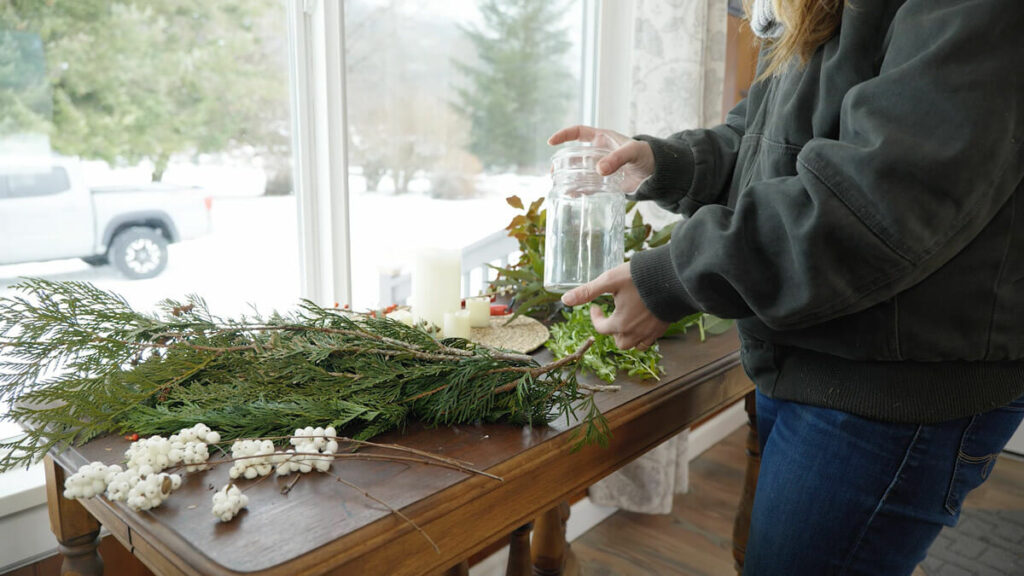 Why I Love Winter Bouquets
When there aren't a lot of colors coming in from the summer flower gardens, it can be a dreary time of year. But knowing how to collect and create beautiful winter or holiday bouquets brings that fresh-cut flower feel into your homes, along with the wonderful smell of evergreen branches.
A few years ago, my husband and I finally caved and bought an artificial Christmas tree (I'll never live that one down after giving my mom a hard time for so many years!). But I miss having that Christmas tree smell in the house during the holidays.
Knowing how to make winter bouquets brings the outdoor beauty indoors and that Christmas tree smell I've been missing all these years.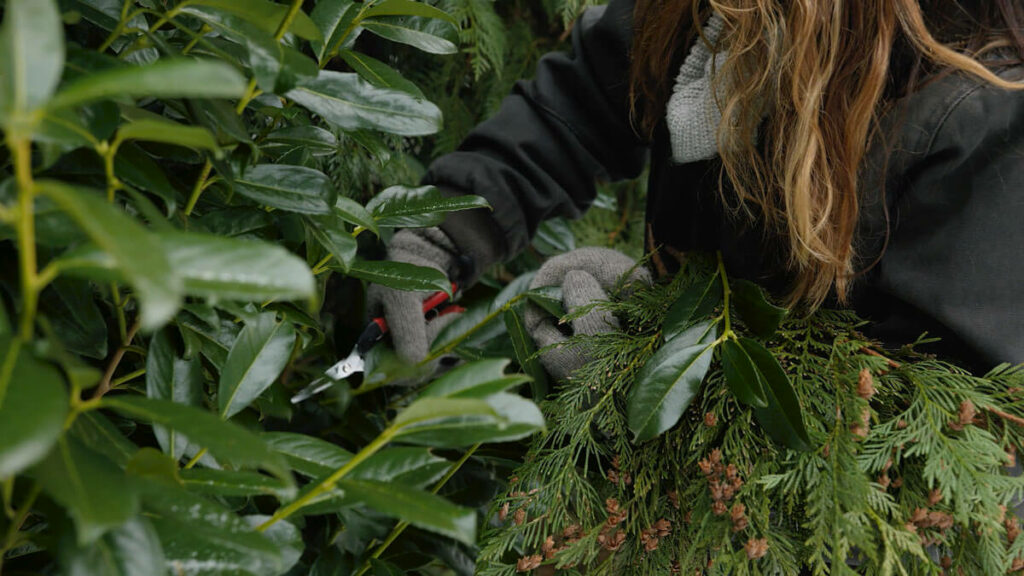 How to Assemble a Winter Bouquet
Making an evergreen or holiday bouquet couldn't be easier. And one of the best parts is it's usually free! That is if you have evergreen branches at your disposal.
Because I live in the Pacific Northwest, I realize I have ample materials at my fingertips, especially because I don't even need to leave my property. If you're in the same boat, simply walk around your property (or take a quick drive to the neighbor's house and ask for permission to grab some of their foliage) and snip some evergreen branches, berries, and other plants to build your bouquet.
If you don't live in an area where evergreens are prevalent, you may be able to visit a florist or flower farm to see if you can simply purchase the materials to assemble your own.
What is Winter Greenery?
It's pretty easy to spot winter greenery, just look out the window and see what's green during the winter months! They'll be things like cedar, fir, blue spruce, and other evergreen trees.
Other items such as pinecones, branches, stems, and bare trees can also work in a winter bouquet.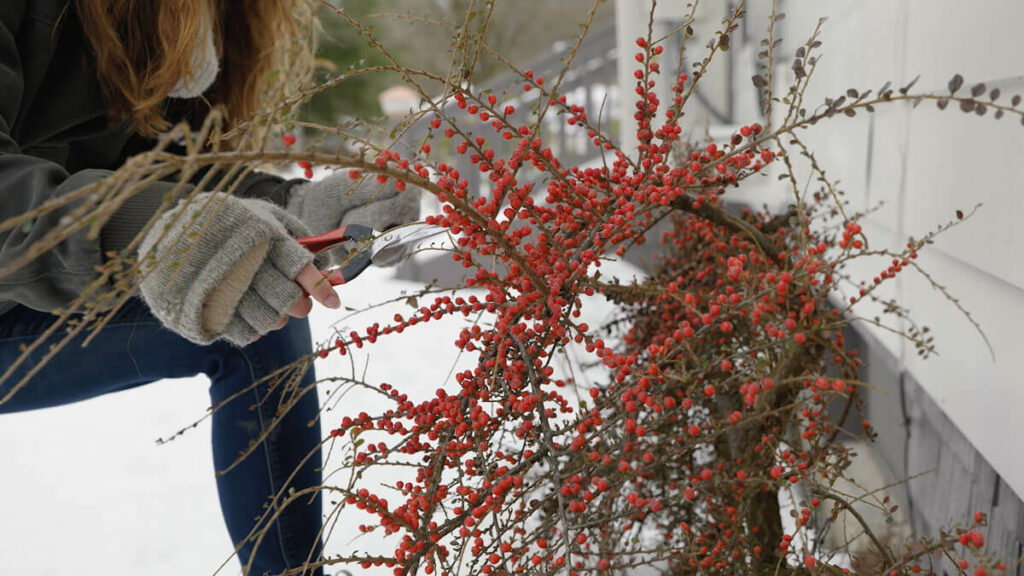 Supplies Needed
Everything you need to build a beautiful holiday bouquet is as follows:
Snips – I love my Felco pruning snips that I purchased this year. They really have helped save my hands from soreness. But any snips will do. Scissors may not be strong enough depending on how large of branches you're trying to harvest.
Vase or Mason Jar – You know my love of Mason jars, so I simply use a wide-mouth Mason jar for my vase. I do recommend choosing something with a wider opening so you can have a nice full bouquet at the end. Pro Tip: I recommend filling your vase with water before assembling your bouquet!
Evergreen Cuttings – I like a combination of cedar and other greenery. Cedar tends to hold onto its needles longer and brings that lovely Christmas tree scent. But use whatever you have access to. I also cut some laurel branches, sprigs from boxwood, and even some branches from an Oregon grape.
Colorful Add-Ins – This is where your winter bouquet becomes unique to what's around you. I was able to harvest some Oregon grape for color (it has green and red leaves), what we call snowberries (I don't think that's actually what they're called), as well as some red berries, which I was unable to identify. Berries will add great pops of color, but if you can't find any, a few sprigs of artificial berries would also work. And think outside the box; harvest some winter grasses for a nice tan accent color, maybe some pretty birch tree branches for a pop of white. The options are as endless as your imagination.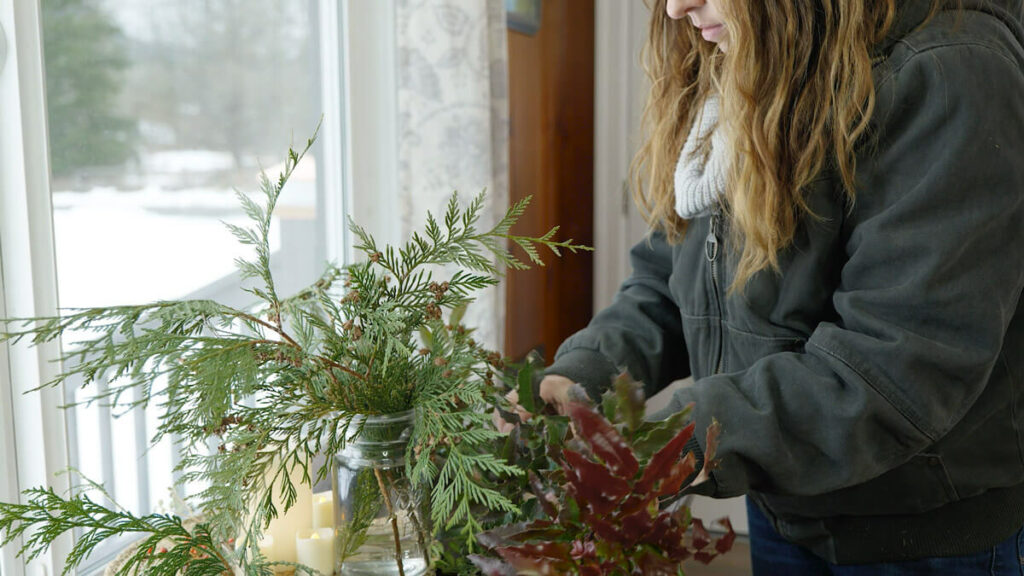 Step-by-Step Winter Bouquet Assembly
There are no strict rules when it comes to assembling a bouquet. If you listened to my podcast interview with Beth from Crowley house on growing flowers for business or pleasure, she's actually the one who inspired me to take what I have access to and create something beautiful for my business.
Now, anyone who comes to stay at the Norris Farmstead will have a beautiful bouquet to welcome them, no matter what time of year it is.
The first step is to go out and cut all your winter branches, berries, and other materials.
Arrange by type, this will just help the assembling process go faster.
Start with your base (for me this was my cedar cuttings), generally your larger cuttings. Add them in and distribute them evenly to create a nice base that's very full.
Then start adding in some of the different greenery accent pieces for varied textures.
At this point, your vase should be quite full. The last step is to add in your pops of color.
And finally, once your winter bouquet is complete, you can add any decorative items you'd like. A bow on the vase, maybe a Christmas ornament tucked inside, whatever you have laying around!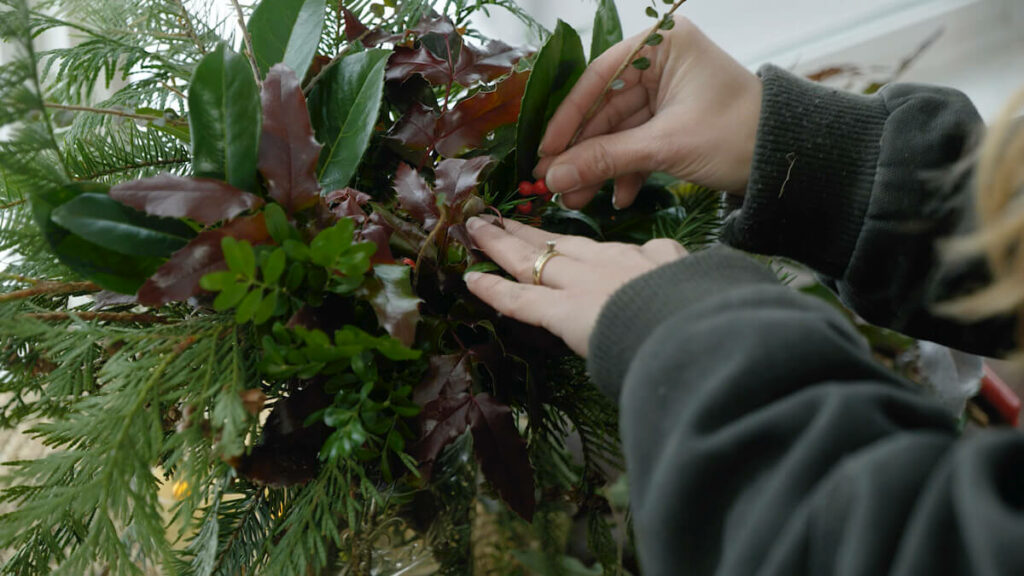 And that's it! Now that you know just how simple it is to make a winter bouquet, try making all kinds of different arrangements like this winter garland arrangement for the hearth at the Norris Farmstead.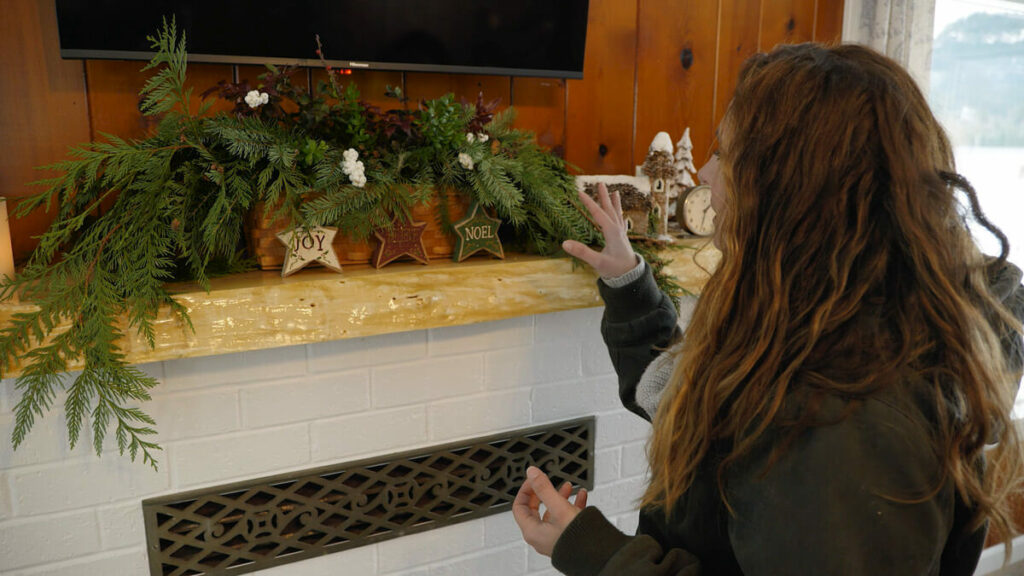 For the winter garland, I did three separate bouquets and grouped them together in the basket. Check the water level every few days and top off as needed.
More Posts You May Enjoy