This DIY canning ring wreath is my new favorite homestead decor ever! You guys know I have a canning addiction.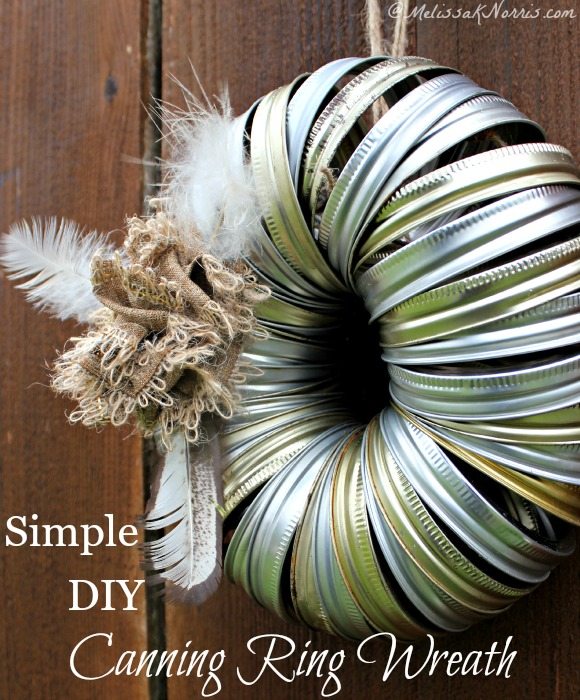 Being able to take something that's just lying around, and then turn into something oh so cute, well, this little homesteading heart just kept pace with a fast fiddle stomping tune. (Did I ever tell you I know how to do the Tarheel stomp and love bluegrass? Too much info….)
Anyone else love free? Because free is about as frugal as you can get. Plus, I happen to think this captures simple and rustic together in a beautiful way…. that doesn't make me conceited because I made it, does it? (Let's just be good friends and say it doesn't, okay?)
This is part of our homemade Christmas series. One of the best ways to save money is to use things you already have on hand. To get my FREE Pioneering Today-A Homemade Christmas e-book, sign up here for our 8 Week Homemade Christmas Series and get the book as a bonus!
This canning ring wreath just keeps getting better and better, because you can swap out the decoration on the side to fit any season. Right now, it's a rustic fall look for Thanksgiving.
Other holiday embellishment ideas
Christmas– red ribbon, pinecone, bell, snippets of evergreen boughs, any tree ornament
Valentines- red and pink ribbon, felt heart ornament
Easter- eggs, bunny ornament
Spring bird nests, hydrangea, spring flowers, moss, twigs with buds
Summer sunflowers, bright flowers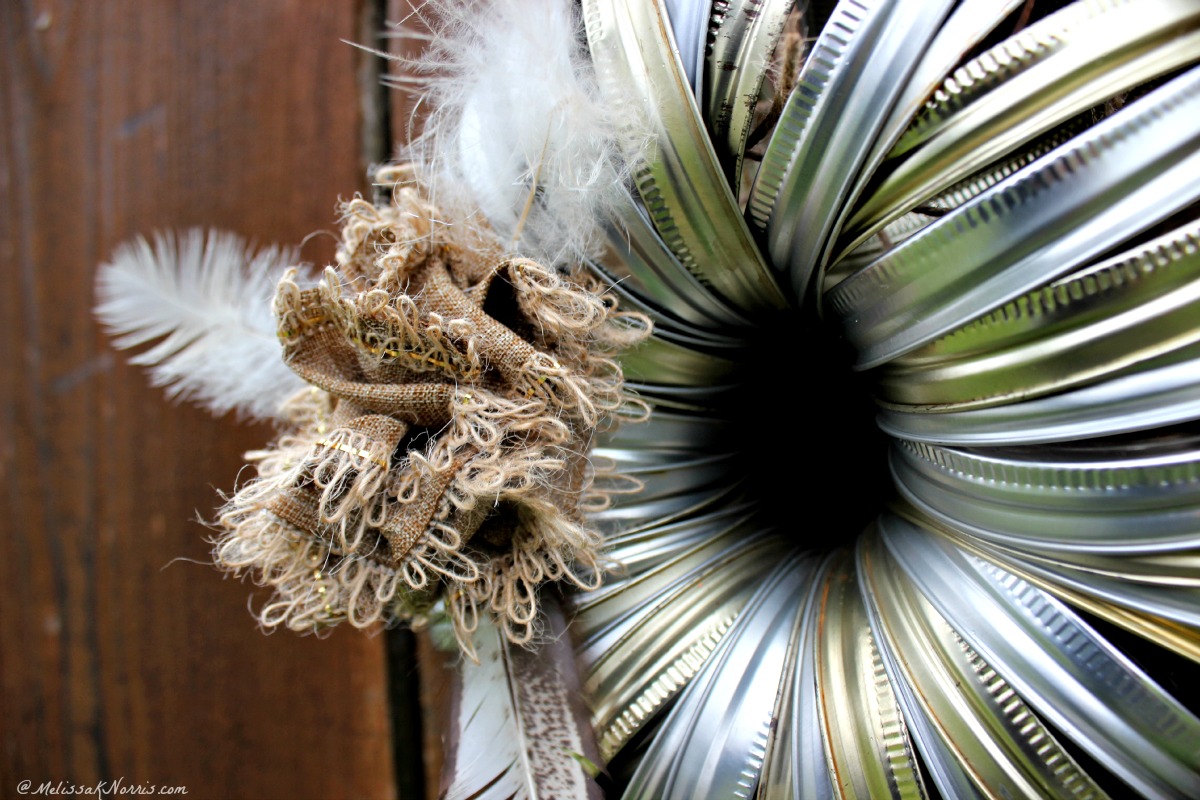 Fall feathers, dried flowers, seed pods, leaves, cinnamon sticks, star of anise
Resources for Canning Ring Wreath
34 Wide mouth canning rings
Jute twine (seriously, jute twine might be one of the most used items on our homestead, from the garden, to kitchen, and now decorating!)
Burlap ribbon or this snowflake burlap ribbon
Thread and needle to gather ribbon into embellishment flower
Tip: if you want a really rustic wreath, use rusted canning rings. Typically, you don't can with the rusted rings anymore because they're harder to screw on and don't get as tight. You shouldn't store your home canned goods with the rings on either, so this puts them to good use.
How to Make Canning Ring Christmas Wreath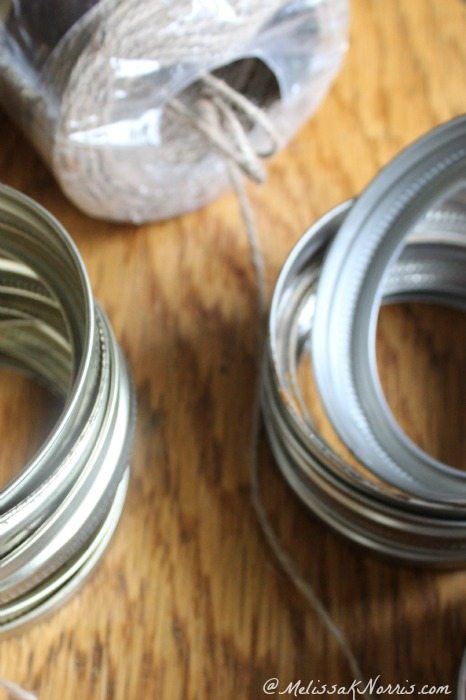 Gather your canning rings. I used wide mouth to make a larger wreath, but have used smaller rings to make a table top canning ring pumpkin (check out the video on it here). If you have two colors of rings, I had silver and gold, separate the canning rings out into two piles by color.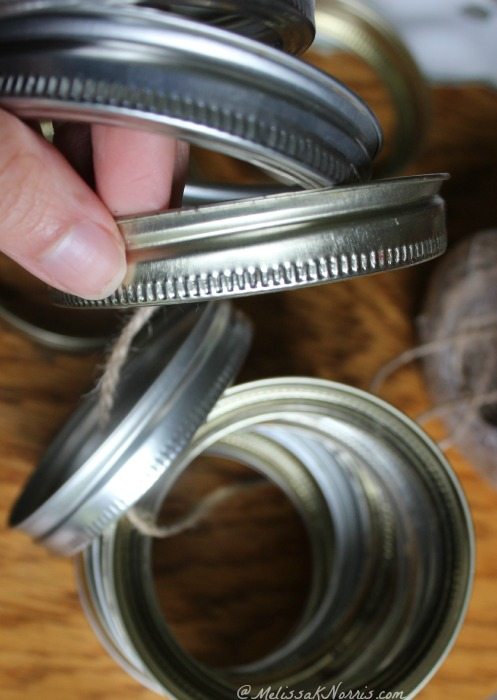 If you have more of one color than another, decide if you'll make a pattern by doing two of one color to the other or any other combination you wish.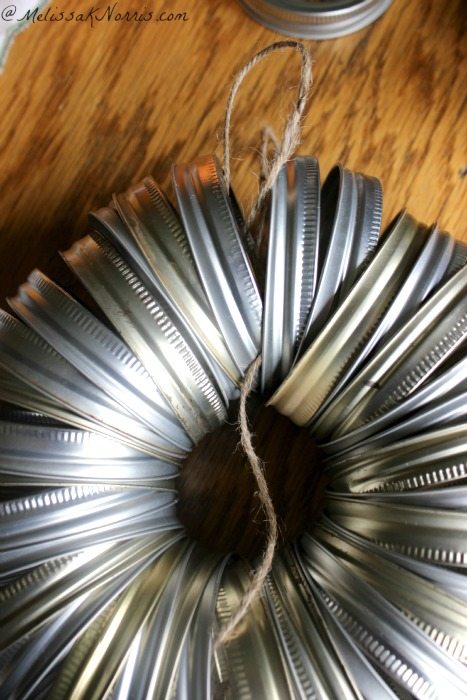 Take a length of jute twine and begin sliding the canning rings onto it. Make sure they're all turned the same direction.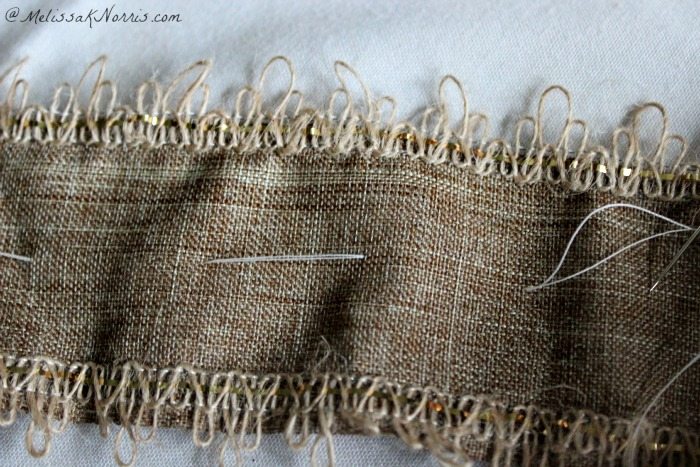 When all of the the canning rings are threaded onto the thread, join the two ends of jute twine together and tie tightly into a bow. Use the two loops of the bow to hang your wreath.
Next, lay your burlap ribbon out flat. Using about 1 inch stitches, go up the center of the ribbon with thread. Pull taunt and gather the ribbon, making a burlap ribbon embellishment (aka rustic flower).
Our chickens just got done molting, so I used three of their feathers to give my rustic flower a bit more flare. Hot glue the feathers on the back of your rustic feather and then hot glue it to your wreath.
Frugal tip: Look for things around your home, yard, or barnyard you can add for a bit of charm without buying anything.
Challenge: Make your wreath and share it in our Homemade Christmas Facebook group. You'll get an invite when you sign up for our free 8 Week Homemade Christmas Series.
More Posts You May Like