Spring is here, and that means it's just about time for spring cleaning. Here are 5 homemade natural cleaner recipes to help you make every area of your house shine, without any harsh chemicals! Who doesn't love DIY cleaners that work, right?
Years ago, I began learning about some of the toxic chemicals in many store-bought homemade cleaners. Ingredients like phthalates, ammonia and volatile organic compounds (VOCs) lurk in many standard cleaning products and pose a significant risk to our health, not to mention to the environment. So I began purchasing all-natural cleaning products, which were much healthier, but much more expensive too.
Let's be real, the homesteaders and pioneers of old were able to clean their homes, kitchens, and barnyards with homemade cleaners without all the nasty ingredients and so can we.
I continued to spend money on natural cleaners for a couple years, until I finally learned that a little bit of white vinegar and baking soda could do the same job as most high-priced, toxin-filled cleaning products available at the store.
I first started with a simple homemade bathroom cleaner made of baking soda and some lemon essential oil. Then I began making my own all-purpose vinegar cleaner. Today, I make just about all of our cleaning products from scratch at home and have eliminated most toxic chemicals from our home, and I'm on a mission to help others do the same!
So, in light of my mission, here are 5 homemade natural cleaner recipes that you can make from scratch with a few simple ingredients you probably already have on hand anyway:)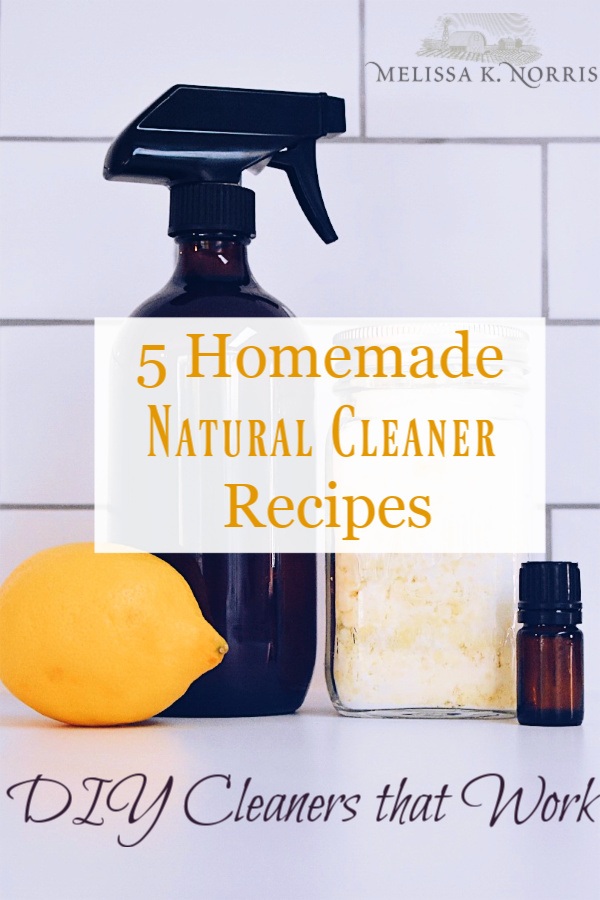 5 Homemade Natural Cleaner Recipes
1. Homemade All-Purpose Cleaner
1 part citrus-infused white vinegar
2 parts water
Mix in a spray bottle and use on just about every surface in your house!
To infuse your vinegar, add citrus peels to a Mason jar and cover with white vinegar. Allow infusion to sit for about 6 weeks, then strain out the peels and use infused vinegar to make this homemade cleaner. I always have a jar of vinegar going that I add my lemon peels to after I'm done with them, which makes this recipe extra frugal because I'm using something I would normally just be throwing out anyway.
You can also use plain white vinegar in place instead of the infused vinegar, which I recommend doing if you'd like to primarily use this as a window cleaner. The added citrus gives this a nice lemon scent and takes some of the "bite" out of using plain white vinegar.
This all-purpose cleaner works great on all surfaces (for a printable version of Natural Vinegar Citrus Cleaner Recipe click here). Just don't use it on marble as vinegar will stain marble.
Next we have homemade cleaning products with essential oils to up the cleaning and grease fighting power naturally.
2. Bathroom Cleaner/Foaming Drain Cleaner
Baking soda
Lemon essential oil and/or lemon zest
+ White vinegar (keep separate and use when cleaning)
To make, add a few drops of lemon essential oil and/or a couple tablespoons of lemon zest to a Mason jar full of baking soda and mix well.
Sprinkle some of this homemade bathroom cleaner in your sink, bathtub or toilet and spray with vinegar. Let it sit for about a minute, then scrub clean.
To use as a drain cleaner, sprinkle some down the drain and then pour a little vinegar down the drain to make the baking soda foam up. Rinse with water
3. Orange Oil Wood Polish
Mix ingredients together and use a rag to rub the oil on wood floors, furniture and other wood surfaces.
The vinegar helps to clean surfaces and the olive oil and orange oil helps make your wood shine!
You can also infuse olive oil with dried orange peels in place of or in addition to orange essential oil. The compounds in orange peel (and subsequently orange essential oil) help to keep wood from drying out and makes the grain in wood stand out, not to mention it smells great too!
If you choose to infuse your oil, make sure peels are dry first as fresh peels can cause old to form in oil. Place peels in a jar, cover with olive oil and let sit for about 6 weeks. Then strain peels out and use infused oil in place of regular olive oil in this recipe.
4. Kitchen Degreaser
Mix all ingredients together in a spray bottle (shake well to mix) and spray on kitchen countertops, stovetops, ovens or anywhere else you need some serious degreasing action.
The Castile soap and lemon essential oil helps to remove grease and loosen up any stuck-on bits while the vinegar helps to clean and disinfect.
5. Homemade Room Spray with Essential Oils
Add roughly 50 drops of essential oils to a 4oz spray bottle (if using a larger bottle then add more drops of essential oil). Then fill halfway with witch hazel and top off with distilled water. Shake well and use as a room spray or spray on fabric to refresh.
You can combine multiple oils to create a signature scent (lemon and lavender and orange and cinnamon are a couple of my personal favourites) or stick with a single scent. Use distilled water instead of regular tap water to prevent mold.
While this isn't technically a "cleaning" product, it is a great way to freshen up your home without spraying toxic chemicals into the air in your home.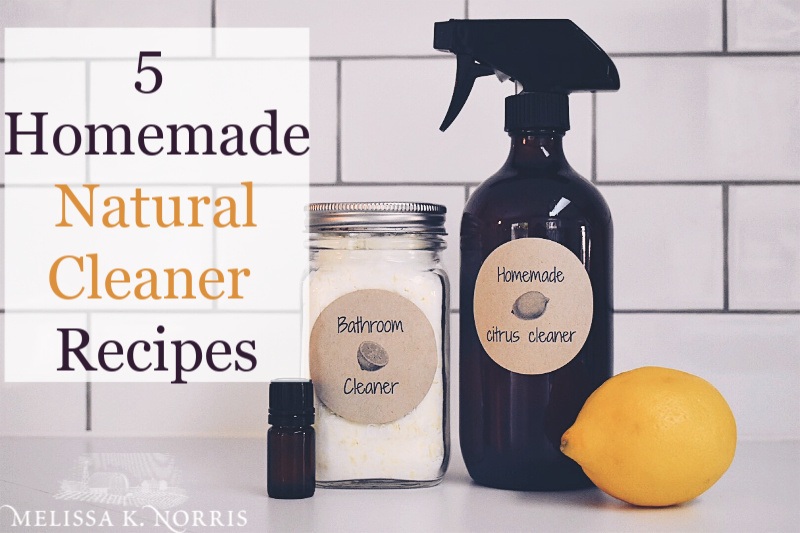 Ditch the toxic chemicals and make your own diy natural cleaning products
It's incredible how many toxic products we use to "clean" our homes, and it's even more outrageous that there is hardly any regulation when it comes to what chemicals are allowed to be added to home cleaning products. In the end, there's only one way to be sure that the products you use in your home are all-natural and toxin-free, and that's to make them yourself.
Luckily these recipes for homemade cleaners are easy to whip up and cost next to nothing to make. And most importantly, they're 100% safe for your family and the environment.
So this spring, ditch the toxic cleaning products and make your own. I guarantee you'll never go back to store-bought again.
Oh, and don't forget to grab download some printable labels for your homemade cleaners. You can find them under the "Labels" section of my Free Resource Library.
There you have it, 5 homemade natural cleaner recipes to use on and around your homestead.
Do you already make your own home cleaning products? Be sure to share any recipes we may have missed in the comments section below!
More Household Cleaning and Organization Tips