Some of the links below are affiliate links, which means I will earn a commission at no additional cost to you, if you click through and make a purchase. Regardless, I only link to products we use on our homestead or believe in.
Homemade spice mixes and herb blends – Four DIY Recipes- are much cheaper than store-bought versions. Plus, you know exactly what's in them and what isn't, and did I mention they make a fabulous gift too!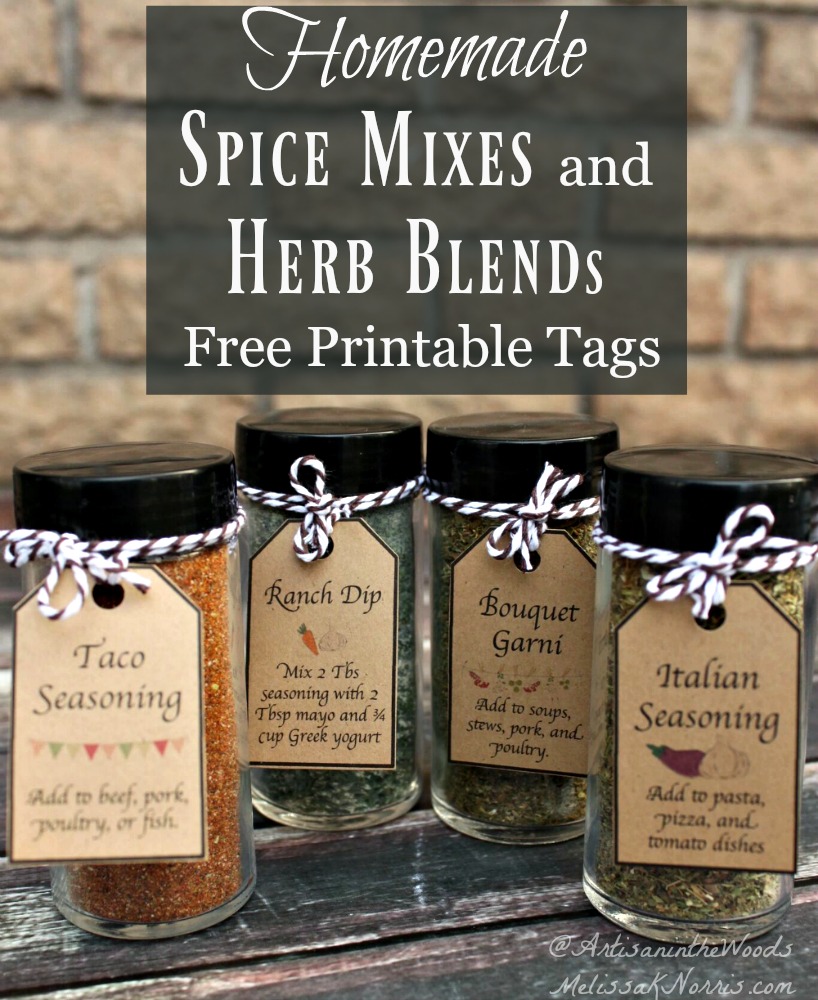 Looking for an easy, budget-friendly gift idea that you can make yourself?
Making your own herb and spice blends only takes a few minutes and you likely have most of the ingredients on hand. Many store-bought seasonings use anti-caking agents, some have GMO-derived ingredients, and many contain maltodextrin. Maltodextrin is used as a thickener but studies show it can have a negative impact on blood sugars and gut health*source, so these homemade spice mixes in a jar contain only the good stuff and none of the bad!
Presented in a spice jar with a printed label and tied with a bow, they are as pretty as they are useful!
Resources for Homemade Spice Mixes and Herb Blends
Glass herb and spice storage jars with lids and shakers.
Kraft card stock paper for labels
Red and white Baker's twine for tying on the labels
Where to get your spices and herbs
We grow and dry some of our own herbs here on our homestead. While it's too late right now if you haven't done this already, I highly recommend you plan on putting in some herbs this year. They require little growing space and are an excellent way to begin growing your own food. Medicinal Kitchen Herbs (6 Herbs You Should Grow)
Purchasing in bulk has always proved to be cheaper for us. You can check the bulk food section at your local co-ops and even Fred Meyer's Health Food Section has a bulk spice and herb area.
However, they don't carry all the spices or herbs.
Ordering directly from Starwest Botanicals is a great option for both culinary and medicinal herbs.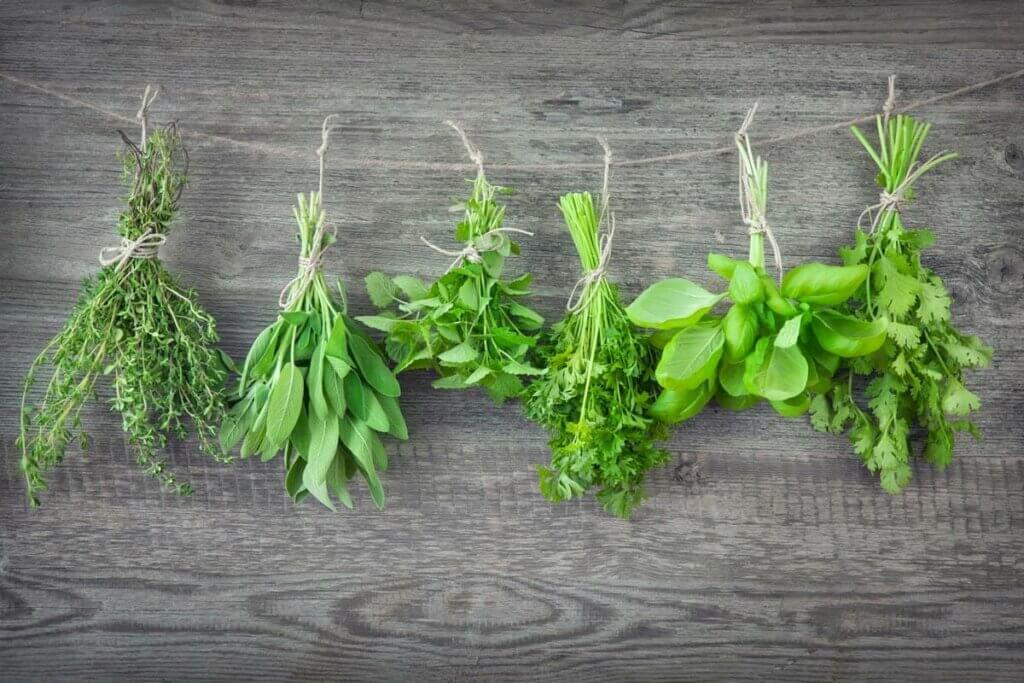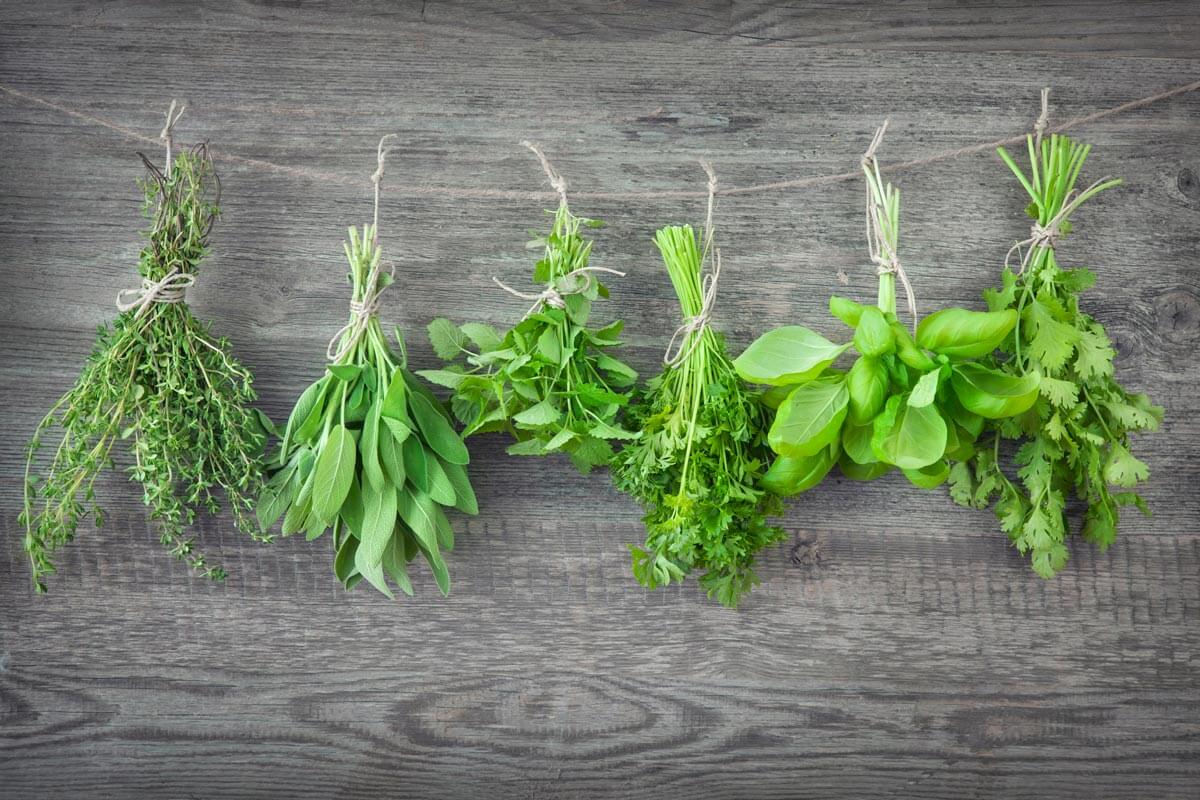 If you're an Azure Standard customer, they are an online co-op where you can get a lot of items in bulk, they have some great prices for spices and herbs. Simply pop in your zip code to see where they deliver in your area if you're new to them!
If ordering on Amazon I prefer the Frontier brand, the bulk herb, and spice section if you can't find it locally or want to price check (always smart!)
In fact, I have 5 spice mix recipes in the over 100 recipes in my new book Hand Made: the Modern Guide to Made-from-Scratch Living, plus custom spice and herb labels, including culinary and medicinal use.
Psst, did I mention the 3 bonus teaching videos you get with it on how to make homemade doughnuts, sourdough starters, and more, check it out here.
How to make Homemade Christmas Spice Gifts
Here are four of my favorite blends for gift-giving, with printable labels so you can whip them up and wrap them up in no time.
I printed the labels on craft paper for a more rustic look, but they would be just as pretty printed on white card stock and tied with red or green ribbon.
To make things easy on the budget, purchase your herbs and spices in bulk, and look for spice jars at thrift stores.
Each mix makes enough for about 2- 3 spice jars, depending on their size. The recipes are easily doubled if you want to make a larger batch. For the herbs, you will want to use the leaves, not the powdered varieties.
Best Homemade Seasoning Blends
Directions for all mixes:
Combine all of the herbs and/or spices in a bowl
Transfer the mix into a jar. A funnel can be helpful!
Close the jar, tie on a tag, and it's ready to go!
How to Use Homemade Spice Mixes
Grab the free printable labels with instructions for ranch dip (make your own yogurt here for the dip base.)

Ranch mix – on popcorn, on pot roast (seriously it's soo good!), roasted chicken
Italian mix – add a few teaspoons to tomato sauce for a homemade pizza sauce, add this to your pot roast with the ranch mix, mix in stews like this old-fashioned beef stew
Bouquet Garni – add to soups, pork, chicken, turkey, or stews
Taco Seasoning- make nacho popcorn, ground beef, and homemade chili
What are some of your go-to handmade gifts for the holidays? Have you ever made spice mixes for gift-giving?
P.S. Today was a guest post by Andrea and if you're looking for some new crochet patterns, check out her Etsy shop.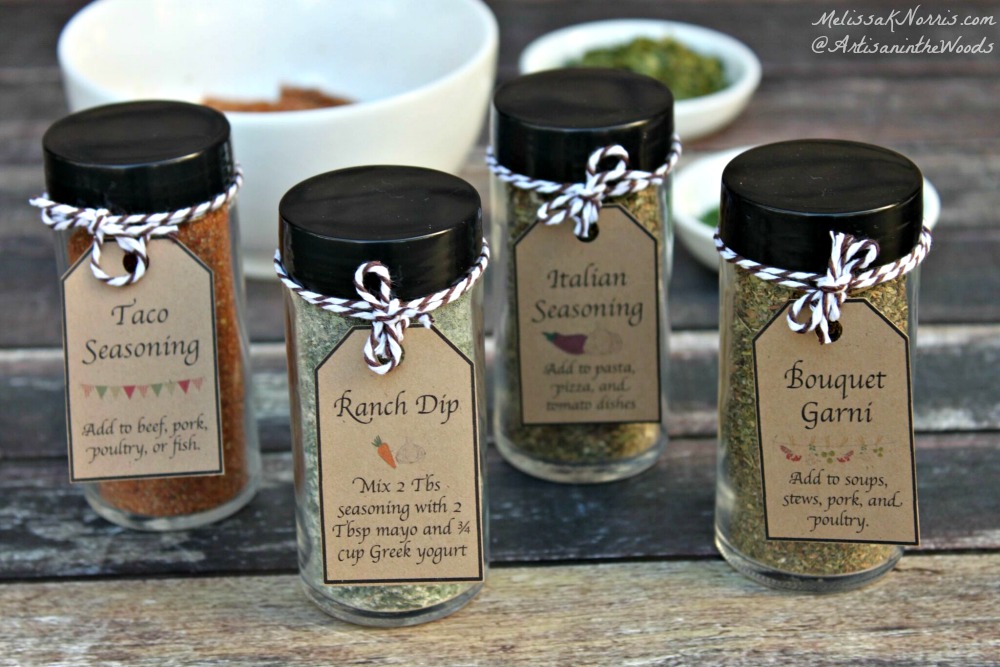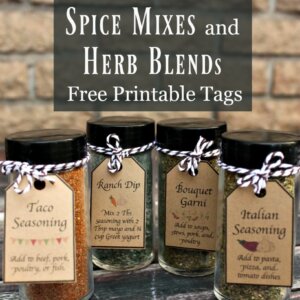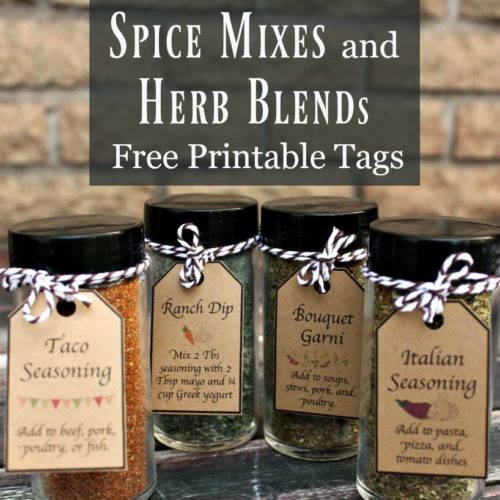 Homemade Spice Mixes and Herb Blends for Gift Giving + Free Printable Tags
Easy and delicious homemade herb & spice mixes, perfect for your kitchen and gift giving.
Ingredients
Italian Seasoning
1/4

cup

basil

2

Tbsp

thyme

2

Tbsp

marjoram

2

Tbsp

rosemary

2

Tbsp

oregano
Ranch Dip Mix
1/3

cup

parsley

6

tsp

dill

4

tsp

chives

4

tsp

onion powder

4

tsp

granulated garlic

1

tsp

salt
Taco Seasoning
1/4

cup

chilli powder

8

tsp

cumin

3

tsp

paprika

2

tsp

granulated garlic

2

tsp

onion powder

2

tsp

oregano

1/2

tsp

cayenne pepper

1

tsp

salt
Bouquet Garni
2

Tbsp

summer savory

2

Tbsp

basil

2

Tbsp

sage

1

Tbsp

oregano

1

Tbsp

marjoram

1

Tbsp

rosemary

1

Tbsp

thyme

1

Tbsp

dill
Instructions
Directions for all mixes:
Combine all of the herbs and/or spices in a bowl

Transfer the mix into a jar.  A funnel can be helpful!

Close the jar, tie on a tag, and it's ready to go!
More Gifts in Jars Ideas
Do you make any homemade spice mixes or seasoning blends? Did you try these, which is your favorite?