We are all looking for tips to beat holiday stress in the kitchen. Fast and easy Christmas gifts made with items you already have in your pantry are one way to beat this stress.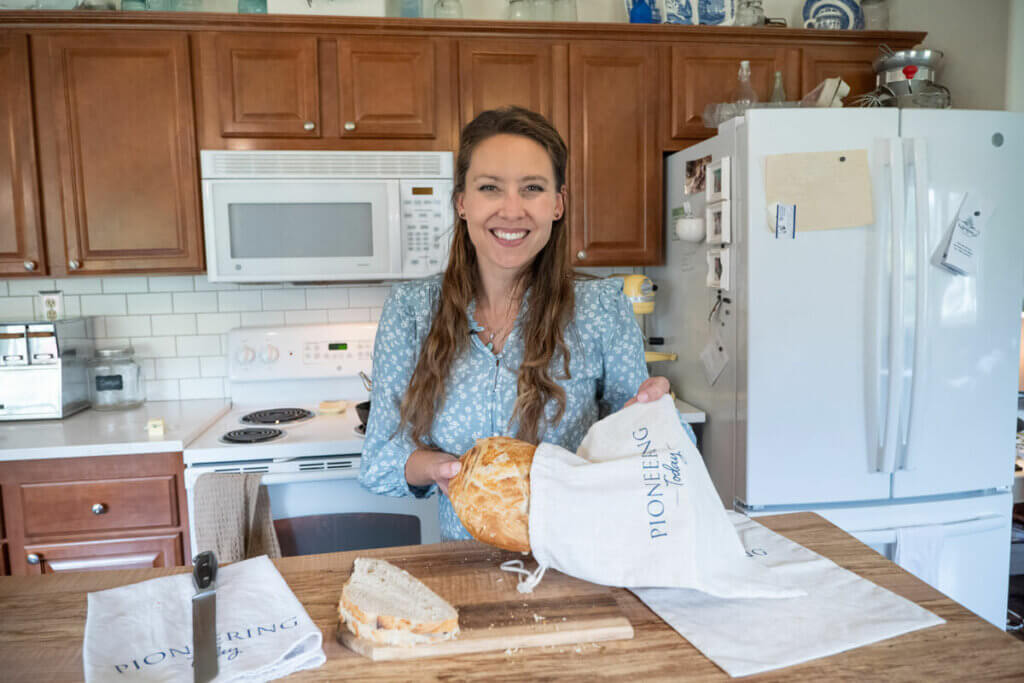 Whether it's brownies, bread, chocolate cupcakes, or hot cocoa mix, DIY mixes in jar make a great gift. This guide is full of great ideas and may surprise you with how little you need to spend to assemble. Get started today for your friends and family Christmas list.
Listen to this podcast and all our episodes of the Pioneering Today Podcast while you're on the go, scrubbing the house, cooking dinner (can I get an invite?), or mucking out stalls. I post new episodes on Friday mornings.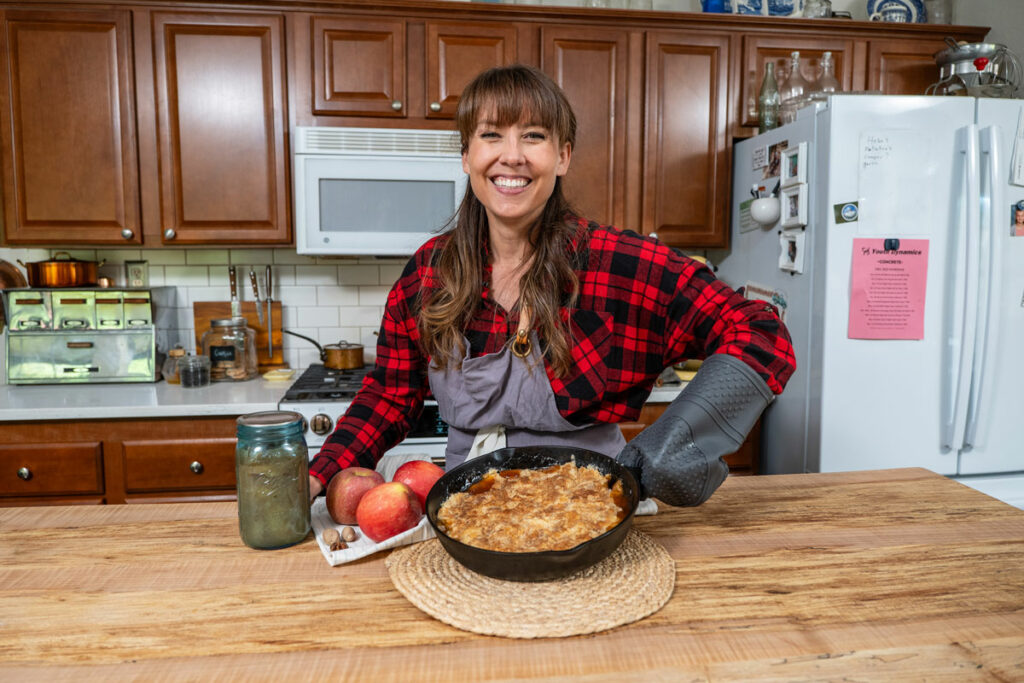 Why I Love DIY Gifts in a Jar
My favorite gifts to give and receive are consumable gifts, such as food, books, and learning courses or educational DVDs. However, I realize those categories don't fit everyone on your list. These homestead gifts or herbal bath and body gifts might be a better solution.
Several years ago, my mother gave me the great gift of a mix in a jar. A week later, I returned from work and had one hour to bake something and leave for a party.
I didn't have anything prepared in advance, so I pulled the mix out of the cupboard, whipped it up, and had it ready to go on time. That's when I realized how convenient these homemade gifts were.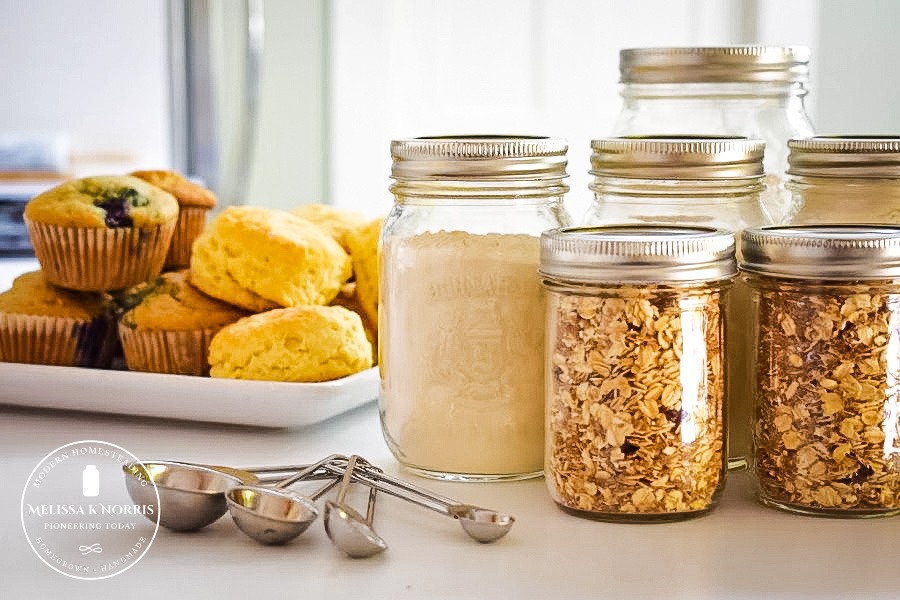 Why You Should Gift Mixes
If you are like me, you want to make sure that the gift you are giving will be loved and appreciated.
We have all received items that make you wonder how much thought was put into them, but rest assured, everyone will enjoy these food gifts. These Mason jar gift ideas will create ideas for subsequent years much more effortless.
Frugal to Make
If you practice keeping a well-stocked pantry, the cost to assemble these mixes is minimal. But even if you need to go to the local grocery store to buy the ingredients, it's not very expensive.
Though they may no longer cost less than a dollar, as they did when I first published this podcast, they're still extremely affordable and heartfelt.
Healthier Ingredients
For many years, people have been unaware of the health consequences of consuming certain foods. Thankfully, many of us have made the connections and are changing our food habits and living healthier lives.
When we make DIY mixes in a jar, we can swap out healthier ingredients we use for the recipes. Buying natural, non-GMO and preservative-free foods for your health and your family's health is super beneficial.
Time Savings
There are countless times these mixes have come to the rescue in my active life. There's nothing like having someone start cooking for you when you're extra busy.
Improved Taste
People only share their best recipes. Finding the perfect recipe for something I want to cook has taken me weeks. If I'm going to give a food gift, I know I want to provide the best-tasting recipe I have.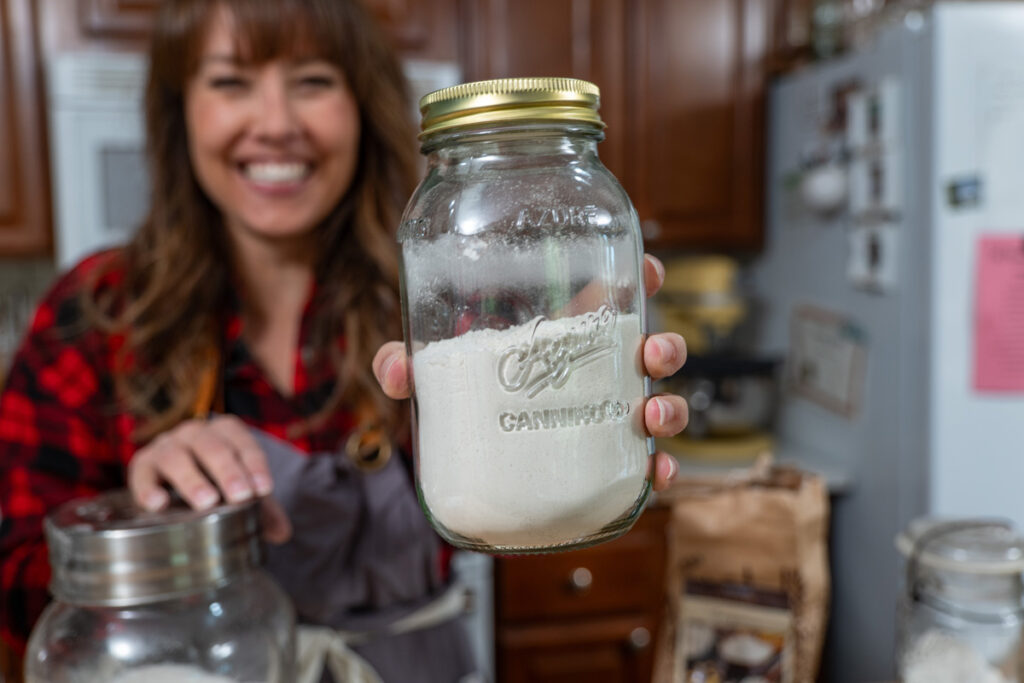 Mason Jars
Mason jars are my everything containers. You can find them at yard sales and thrift stores or ask on Facebook if anyone has Mason jars they aren't using.
A long while back, my husband's grandmother wasn't canning very much and gifted her collection to me. In return, I canned food from my garden and gave her home-canned goodies for Christmas.
Pro-Tip: If you're purchasing Mason jars used instead of new, run your finger over the rim of the jar and make sure there's no chip, nick, or crack. This isn't your canning jar, but the nicked one will work great for other projects and you may be able to get it discounted (or free!).
Storage – Mason jars work excellent for storing leftovers such as soup in the refrigerator. They make great salad containers for work or school. A great way to use nicked canning jars is as dried food storage in your pantry.
Canning – The typical use for Mason jars is canning, and you know we do a lot of that around here! If you have difficulty finding lids for your jars, try Denali Canning Supplies (use code "SPENDNSAVE" for 15% off orders of $75 or more) or For Jars (use code "Modern10" for 10% off your order).
Bake – You can bake in Mason jars at a low temperature. I would recommend only using it as a way to reheat foods.
Freeze – Leave head space if you freeze food in Mason jars. The food will expand as it freezes, and you risk breakage.
Vase – A glass jar makes a perfect vase to display flowers or decorate your house.
Toothbrush Holder – Yes, I use a Mason jar for my kid's toothbrushes!
Gifts – Mason jars are an excellent item to put gifts into because they become a reuseable gift in and of themselves.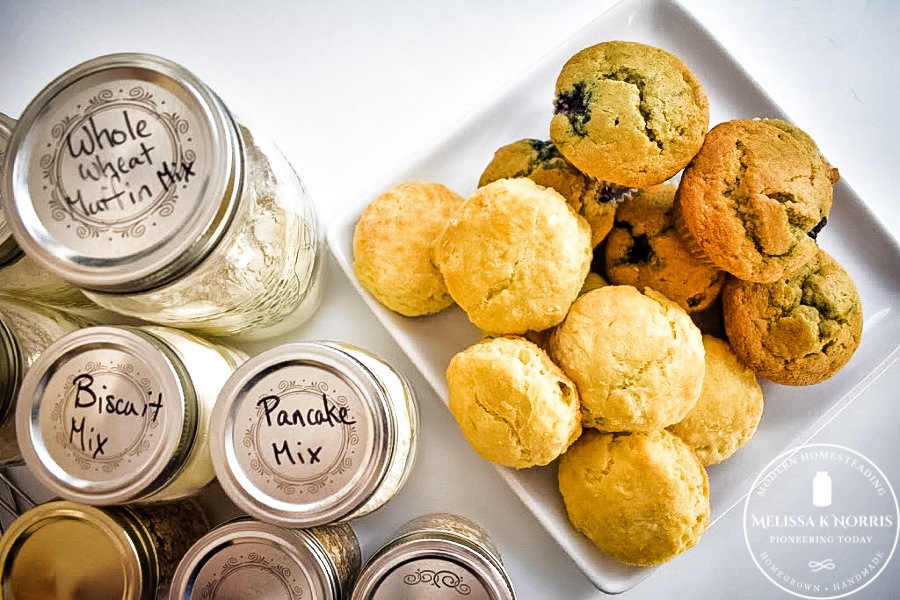 Favorite DIY Mixes in a Jar
All of the easy Mason jar recipes below contain ingredient lists and instructions when you click through the links. Only combine the dry ingredients in the jar. If you are giving the mixes as gifts, include the entire recipe on a card or gift tag so that they can make it again themselves later.
One of the best gifts we can give people is the ability to make things at home from scratch. Plus, it's frugal and one of the first steps to living more self-sufficient.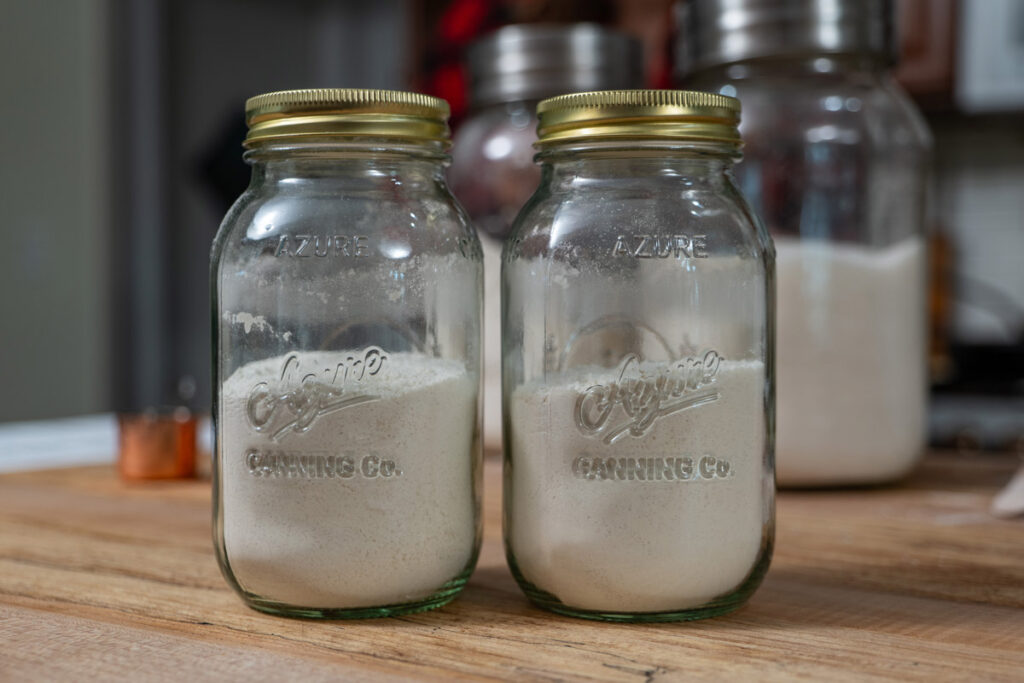 No Knead Bread Mix
No knead bread is the recipe that revolutionized my kitchen. Six years ago, I had a health scare, and we redid the things we ate. To avoid the ingredients that were wrecking my health, I had to make most things from scratch at home.
Read about how I changed the way we were eating and cooking in my book, Made-From-Scratch Life. The book has tips, recipes, and easy, frugal ways to transform your kitchen, home, and barnyard.
This white, mildly sweet, homemade, no-knead bread mix is the easiest way to make homemade artisan bread. You can add different herbs and spices to give flavor variation to the basic bread recipe.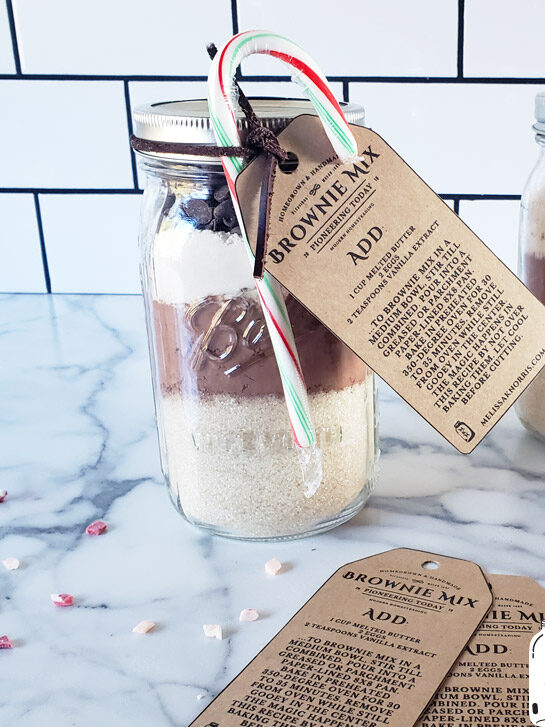 Homemade Brownie Mix
When searching for a brownie mix, I had specific criteria the recipe needed to fill. Basic pantry staples, healthy ingredients, and easy-to-make were important to me. Of course, it needed to taste good, too. This homemade brownie mix is a keeper.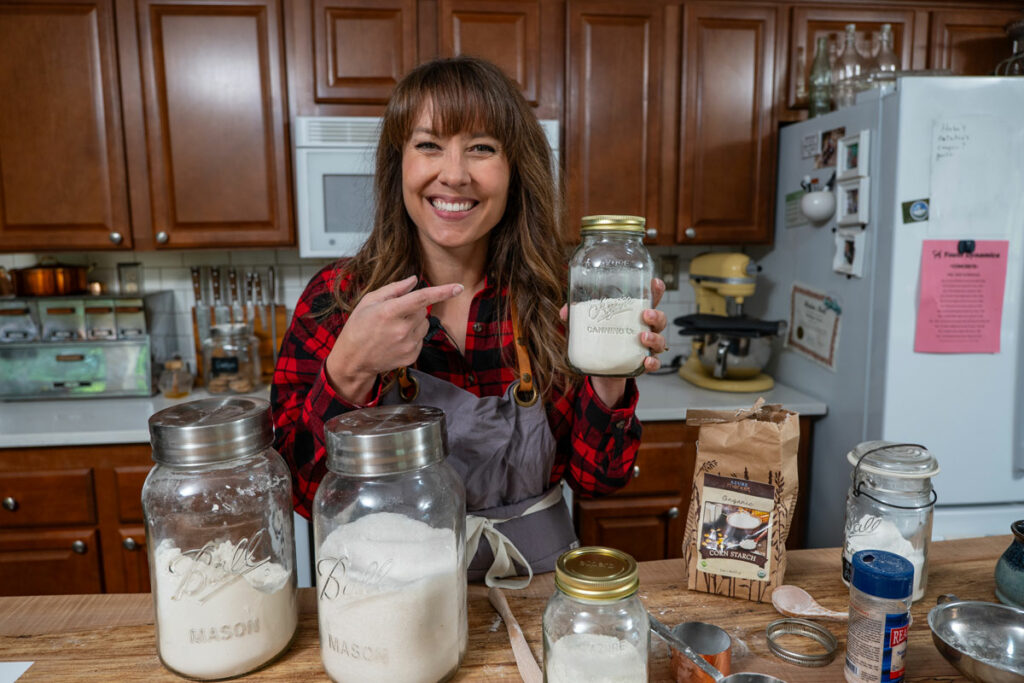 Homemade Cake Mix
This homemade cake mix (vanilla, chocolate or spice cake) is incredible and convenient. Not to mention, the chocolate version was passed down from my great-grandma. No one will continue passing down a recipe that isn't good! This cake is a favorite and an easy gift to dress up in a Mason jar to look festive and pretty. The instructions include baking directions for cupcakes, and gift tags are available to print.
Pro-Tip: Layering white chocolate or peanut butter chips into the jar takes the look and the taste to the next level. Please do a sample baking before giving it as a gift if you add anything not listed in the recipe.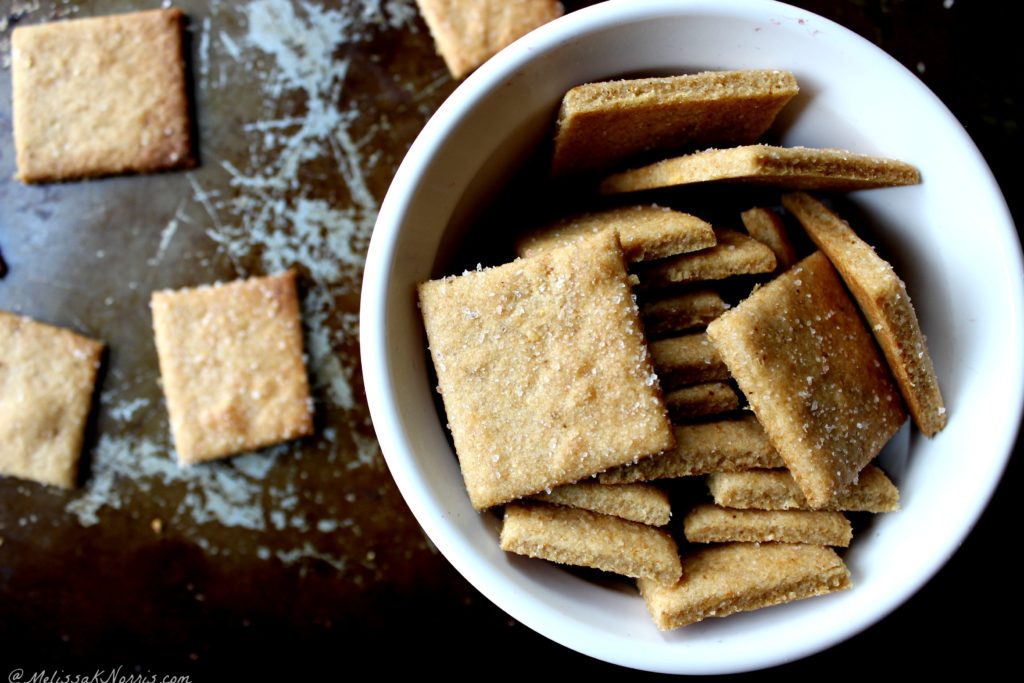 Easy Homemade Crackers in 5 Minutes
These easy homemade crackers mix up in five minutes, bake for ten, and taste better than any store-bought cracker. Any leftover crackers can go right back into the clean Mason jar. Cover with an air-tight lid and store for up to five days.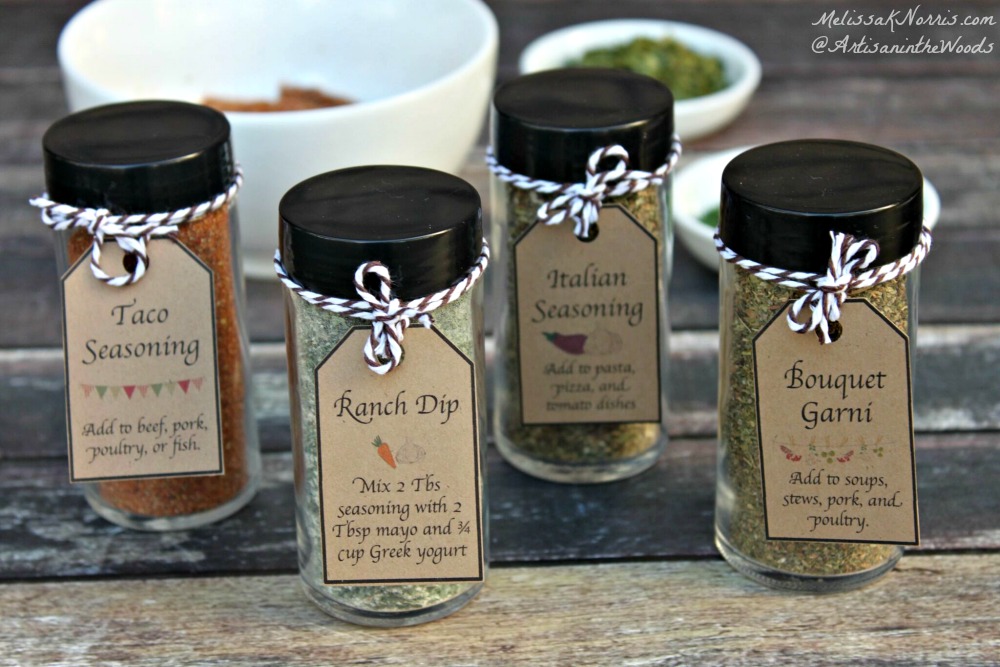 Herb and Spice Blends
I enjoy growing medicinal herbs and culinary herbs. Making these homemade herb and spice blends (including free printable tags) with ingredients from my herb garden is so satisfactory, and I know there aren't any preservatives in them.
These glass herb and spice jars come with lids and shakers, making them more suitable for storage than Mason jars.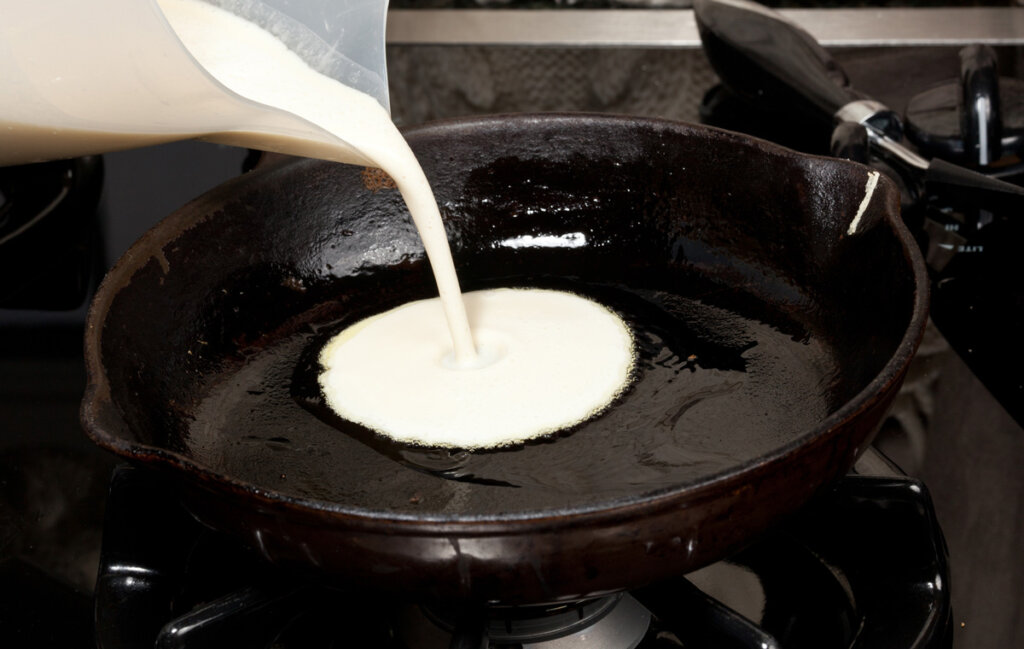 Homemade Pancake Mix
What is better than homemade pancakes for breakfast? While buying boxed mixes at the grocery store is quick, we know it will contain preservatives.
Homemade pancake mix makes it easy to whip up a batch of pancakes at home. While you are doing it for your pantry, go ahead and put some in jars as gifts for your neighbors.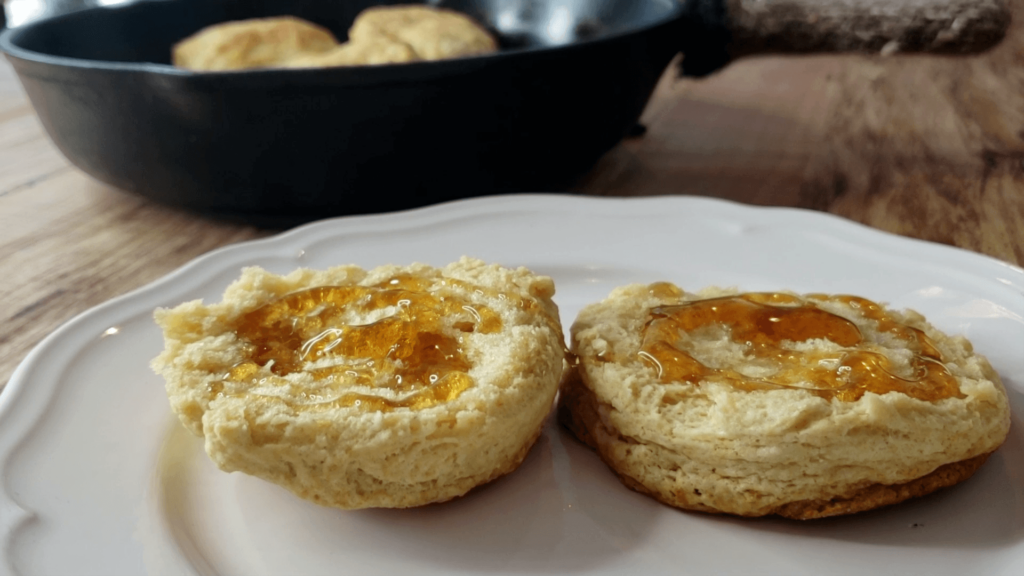 Homemade Biscuit Mix
This homemade biscuit mix puts that yellow box to shame. These biscuits are great slathered with butter and honey or strawberry jam, served with eggs and bacon, or as an addition to any meal.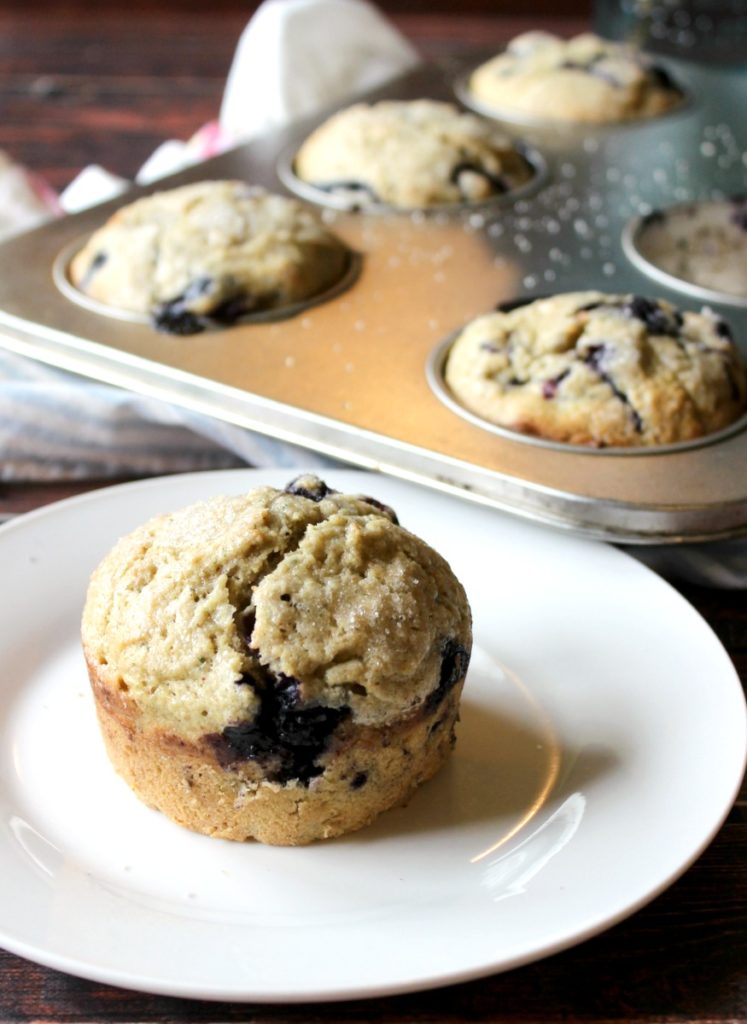 Homemade Muffin Mix
When I think of muffins, I associate them with breakfast. However, this homemade muffin mix can be modified to complement any meal. Adding blueberries or orange zest is delicious, but try adding bacon or sausage for a savory spin.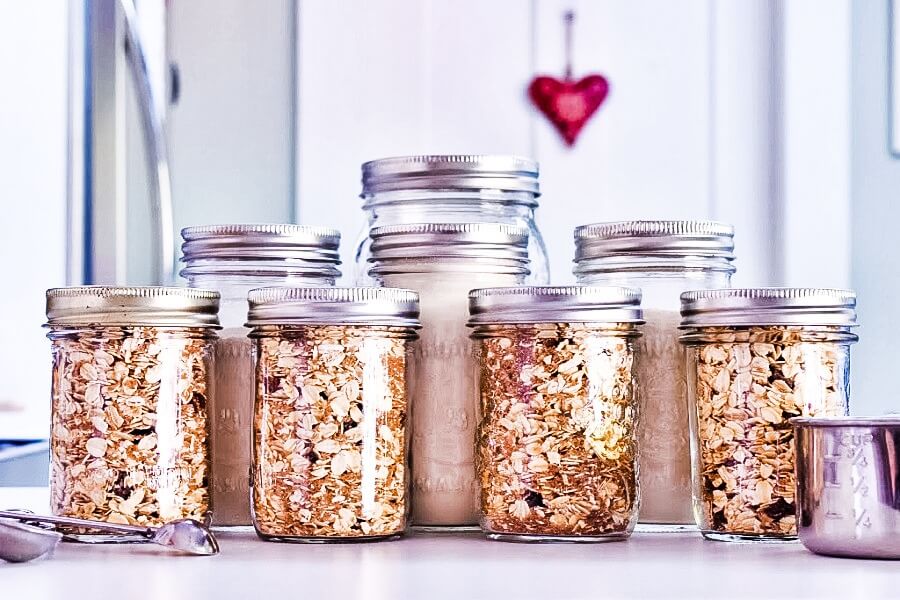 Homemade Oatmeal Mix
Oatmeal is a satisfying food that fills you up and sticks with you for the day. Adding enough fiber to our diets can be difficult, and oatmeal is an easy way to do it. Oats are rich in fats, protein, and healthy carbs.
There are many other recipes to try to get the nutritional value of oats. Try my Grandma's macaroon recipe or these gluten-free oatmeal chocolate chip bars.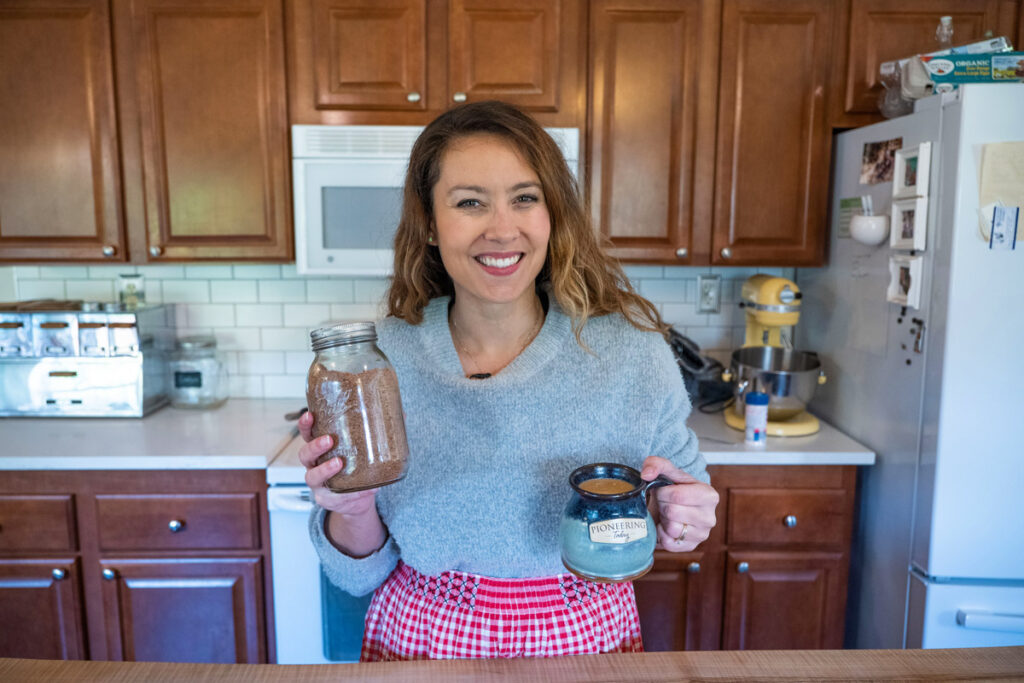 Hot Cocoa Mix
As the temperature drops outside, comforting drinks such as a chai tea latte or herbal tea beckon. Hot cocoa is a favorite in our family. This hot cocoa mix recipe is the solution to my feeling of dread when my kids would reach for those store-bought packets.
This easy recipe tastes much better without all of those preservatives.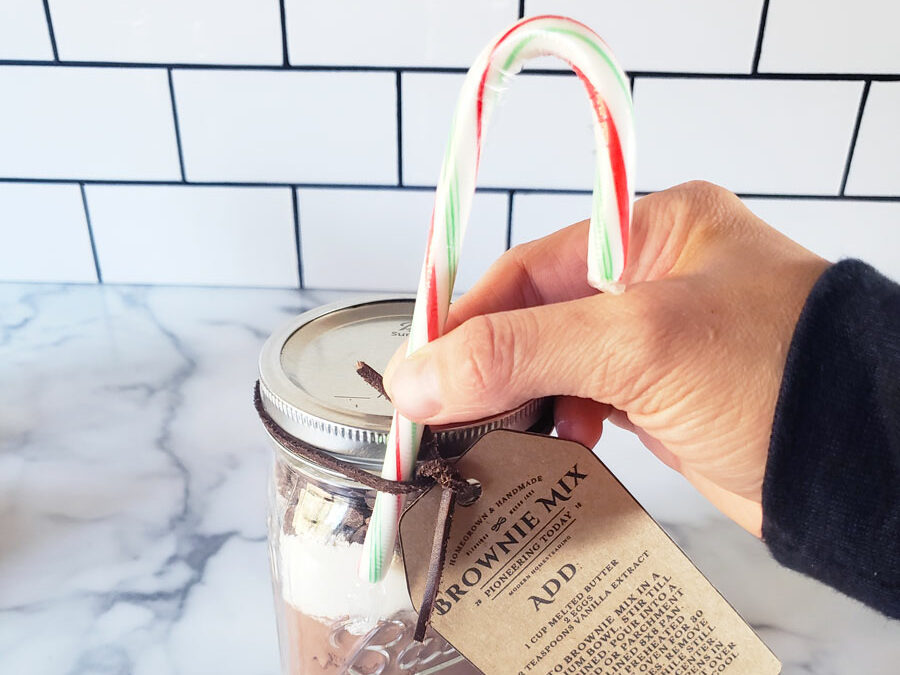 Decorating Ideas for Gift Jars
Complete the gift by attaching the recipe to the jar and decorating with one of the below ideas.
Twine – This colorful jute twine adds a festive touch to the jar.
Ribbon – Colorful Christmas ribbon gets used for many things at my house.
Chalkboard Tags – These tags are great for personalizing the gift.
Burlap Ribbon – Burlap ribbon comes in many colors to fit your holiday decorating style.
Cupcake Liners – Buy some Christmas-themed cupcake liners. Place them over the top of the lid and screw them down with the band.
Fabric – Use fabric scraps to decorate over the top of the jar.
Candy – Who doesn't love a festive piece of candy tucked into the twine? I love that there are so many healthier options for our favorite candies available now, too.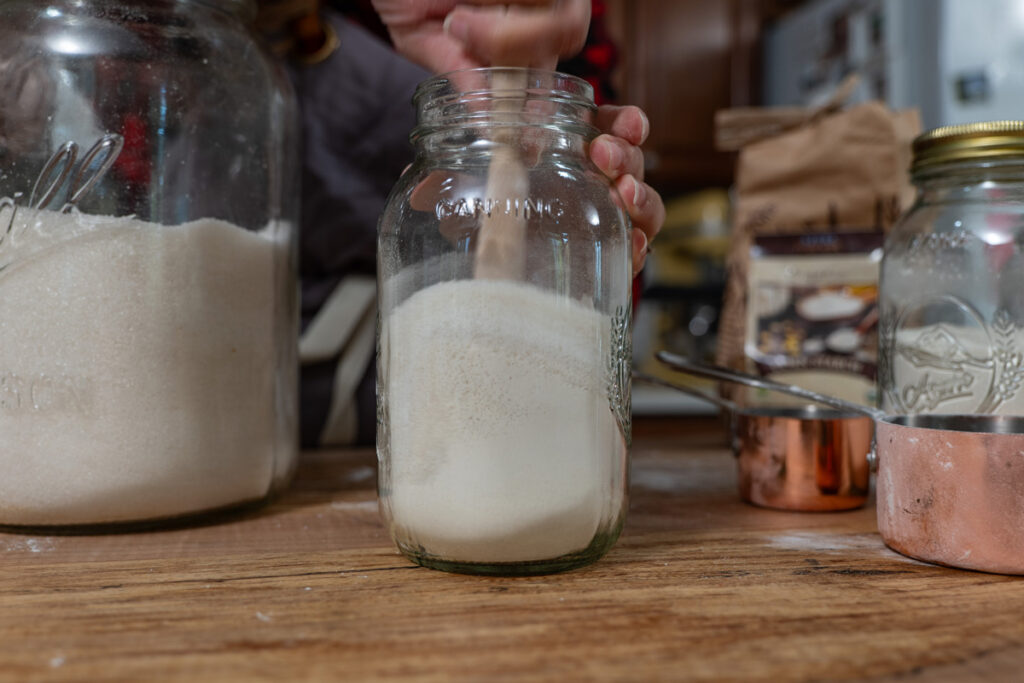 More Posts You May Enjoy