Some of the links below are affiliate links, which means I will earn a commission at no additional cost to you, if you click through and make a purchase. Regardless, I only link to products we use on our homestead or believe in.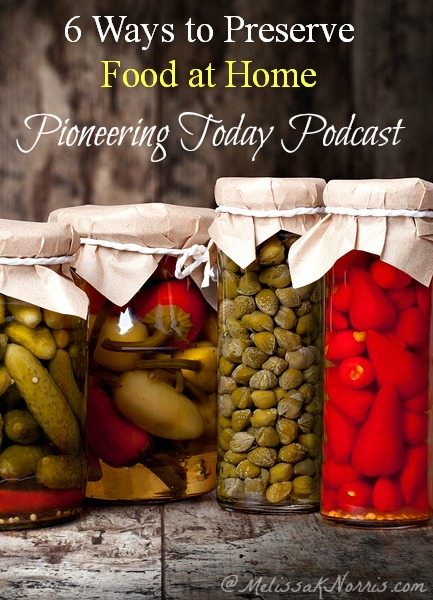 Learning how to preserver your own food at home is a skill anyone can and should learn. Knowing how to use all 6 skills ensures a well stocked pantry.
I post new episodes every other Friday morning. You can subscribe via RSS and receive every episode for free.


Or subscribe via Itunes
In today's episode we'll talk about:
How to get fresh vegetables if you can't grow them
Tips on water bath and pressure canning
Which foods are safe for water bath and which must be pressured canned
Time saving tips
Why you have to blanch certain foods before freezing (and how I learned the hard way)
How to blanch foods
How to cut time off freezing your berries
Which foods you can freeze for canning later and which you can't
How to store your preserved food
Ways to dehydrate, including off-grid options
Why I love root cellar and cold storage and so will you
Tips for storing vegetables and fruits in a root cellar or cold storage
Which vegetables you should store in bags with a root cellar and which need to be on open shelves (ask me how I know….)
Salt curing and fermenting foods
How salt curing preserves food
How to brine and smoke salmon
Immersing food in alcohol, oil, and vinegar for preservation
Resources:
The Ultimate Home Food Preservation Guide, snag your free copy now!
This post is featured on The Homestead Barn Hop