Some of the links below are affiliate links, which means I will earn a commission at no additional cost to you, if you click through and make a purchase. Regardless, I only link to products we use on our homestead or believe in.
A cherry jam recipe is a must in every kitchen and my low sugar no pectin cherry jam recipe is the way jam should be. High on flavor instead of bucket fulls of sugar. This jam comes together easily so you can enjoy the bright taste of cherries all year long
What type of cherries are best for jam
I prefer a sweet cherry jam recipe and my favorite sweet cherry is Bing. They provide that deep red color naturally.
But you can use any sweet cherry, I've used Rainier cherries too. Rainier cherries are a cross between a Van and a Bing cherry.
Can you use frozen cherries for jam
Yes, cherries freeze quite well and can be used to make both jam, jelly, and cherry pie filling. Make sure you thaw frozen cherries fully before proceeding with the recipe. I will often freeze cherries and berries to make jam later in the fall when I have more time (and a cooler kitchen).
Harvest Note: Whenever you pick cherries, be sure to leave the stem on, until just ready to use. Once you remove the stem, you allow oxygen into the cherry and it will turn brown and break down faster.
Supplies for making cherry jam
Classic Zester– this little beauty makes getting that pectin luscious lemon zest into your strawberry jam without the bitter pith so easy.
Stainless Steel Canner– (Safe for glass top stoves) this water bath canner won't rust like the granite wear runs and will be your trusty sidekick in the kitchen for years to come.
Candy thermometer – most accurate way to ensure jam has reached the gelling point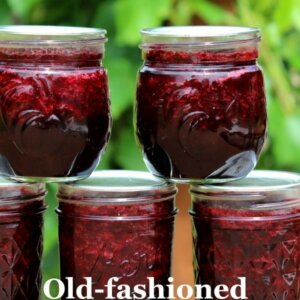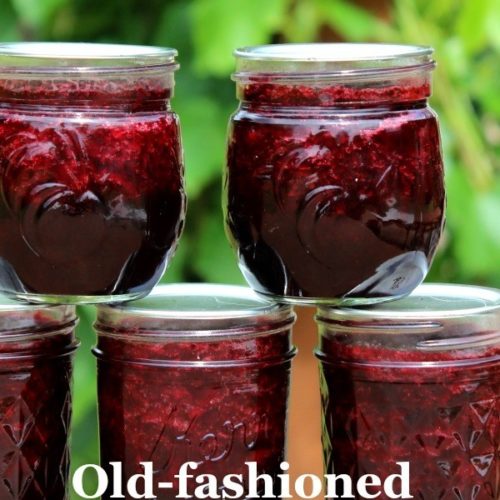 Cherry Jam Recipe Without Pectin and Low Sugar
Old-fashioned cherry jam recipe high on taste but low on sugar!
Ingredients
5

cups

sweet cherries

pitted and chopped

2

& 1/2 to 3 cups sugar

depending on how sweet your cherries are and your preference

5

tablespoons

lemon juice
Instructions
Wash, remove stems, and pit cherries. A cherry pitter is highly advised

Roughly chop up cherries. Place chopped cherries in a large stock pot. Add 1/2 cup water to cherries. Bring to a boil and allow to simmer for 15 minutes, stirring occasionally. You'll see the cherries begin to break down and thicken.

Stir in sugar and lemon juice, mixing well. Bring to a full rolling boil, stirring constantly. Sugar will scorch quickly if not kept moving. Boil, uncovered, till thick, about 25 minutes. Remove from heat and pour into hot sterilized jars.

Note: It's set when it sticks to the back of a metal spoon. This is called sheeting. Look at the jam dripping off the edge of the spoon. It should look like a "sheet" of jam, not a bunch of individual drops. Cherry jam is not meant to be extremely thick. It's a thinner jam, excellent on pancakes, waffles, toast, etc.

Wipe rims with a damp towel, put on lids and bands. Submerge in hot water bath and process for 15 minutes *increase processing time for high altitude (see note section).

Take off of heat and let sit for 5 minutes before moving to a folded towel. Let sit for at least 12 hours before checking seals on jars. Then store in a cool dark place for up to a year. If any jars didn't set, store in fridge.

Make 3 pints or 6 jelly jars.
Notes
*If you're 1,001 feet above sea level you need to increase your processing times when water bath canning. If your altitude is 1001-3000 increase processing time by 5 minutes if altitude is 3001-6000 increase processing time by 10 minutes if your altitude is over 6000 feet above sea level then increase processing time by 15 minutes.