I'm definitely not a prepper, but there are certain things that I always keep stocked in my pantry. The following list is food items that I'll never be without because they help me get home-cooked meals on the table every night. I'm also sharing where I like to buy them for the best price and what meals we typically make throughout the week.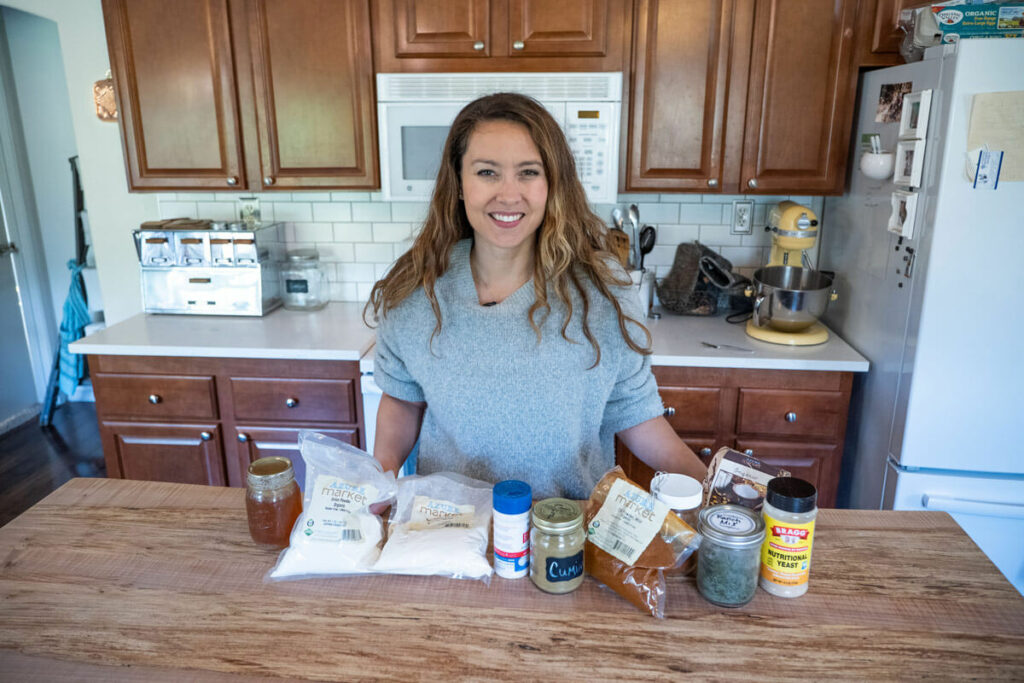 I'm extremely passionate about this topic. I grow my own veggies for a year, and raise enough meat for my family for a year here on the homestead for a reason! I don't want to just buy pre-made items from the grocery store, especially after having a cancer scare and getting off of prescription medication by changing my diet and lifestyle.
A true pioneer learns how to meal plan to make meals from scratch (click that link for a fun interview with Jill, The Prairie Homesteader on from-scratch cooking tips), knows how to substitute basic pantry items if they're unavailable, and makes even the most basic of menus something to be desired.
I will say that the supply shortages and supply-chain issues we've experienced over the past year have definitely deepened my resolve to always be prepared. Not in a "prepper" sense where I have 20 years worth of food stored away, but in the sense that if my grocery store runs out of a staple item, I'll be just fine for a few months (maybe even a year) without needing to replenish my own supply.
Keeping a well-stocked pantry is nothing new to me. In fact, growing up my mom did nearly all of our cooking and baking from scratch and, believe it or not, I never even tried an Oreo until I was a teenager in high school!
What I learned from my mom all those years ago is that by keeping a well-stocked pantry with certain basics, you can always whip up a home-cooked meal. It's the same reason why these are my must-have homestead kitchen items because they make cooking from scratch so much easier and faster!
Table of Contents

[Hide]

[Show]
Basic Kitchen Supplies
Herbs & Spices – Keep common spices on hand such as chili powder, cumin, pepper, garlic and onion powder, etc. They can make a bland dish incredible! Azure Standard is my go-to for bulk spices.
Salt – Yes, salt is also considered a spice, but it deserves its own category here. I love buying salt in bulk (a 25 lb bucket to be exact) from Redmond Real Salt (use code "Pioneering" for 15% off at checkout!).
Spice Mixes – There's no need to buy individual packets of taco seasoning or ranch dressing mix at the grocery store, or even tiny bottles of Italian seasoning or Boquet Garni. Not only will you end up with unhealthy ingredients and anti-caking agents, but you'll also pay way more than if you bought each herb individually in bulk and mixed up your own seasonings with these recipes.
Thickeners & Flours – Items like cornstarch, all-purpose flour, masa flour, etc. are great to have on hand for those items we never buy at the grocery store like thickening gravy and cream of soups (read more on these below), making breads, tortillas and other pastries. There are so many things you can make with just flour, water and a little salt!
Sweetener – sweeteners allow for much more creativity. Leftover rice? Add some cinnamon, sugar and a little milk for a quick breakfast porridge. Want to make a sweet treat? Use my 5-minute bread dough and whip up a quick batch of homemade cinnamon rolls. A little sweetener can change a pantry staple into something extra special.
Broth – Having some home-canned bone broth on the patry shelf is a huge time-saver and can fill in for many different ingredients in a pinch. Even simply cooking rice in broth makes a fantasic side dish that's full of healthy protein.
Beans – Always a great way to strech a meal. If you're short on protein, adding beans to a soup, taco or casserole really helps stretch a meal in a very filling way.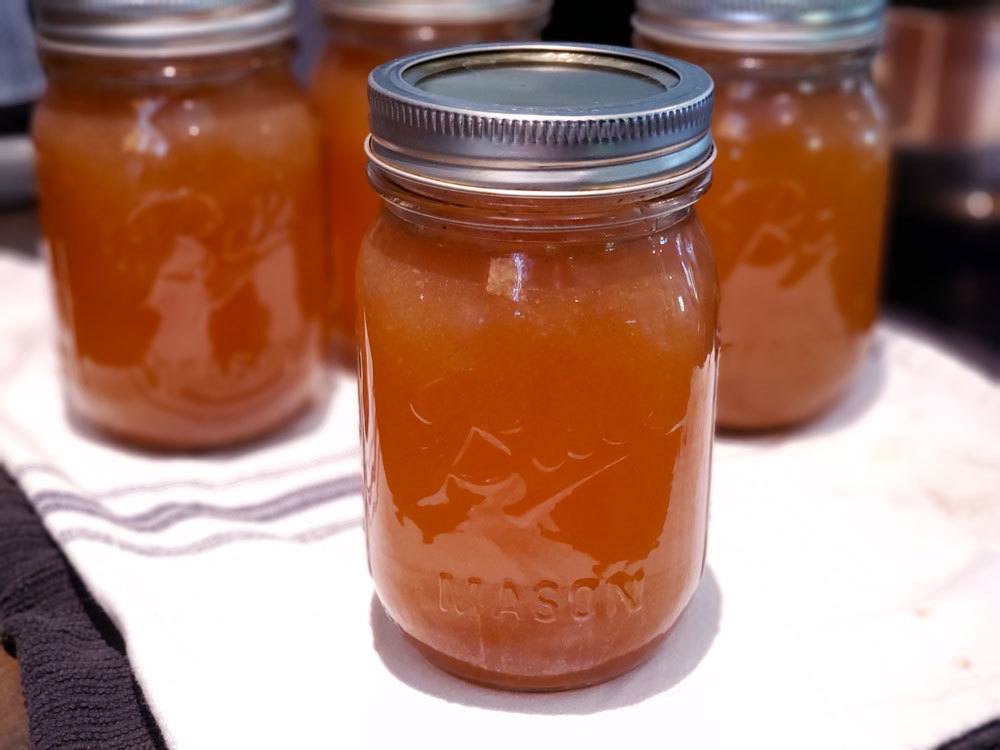 Items to Never Buy at the Store
Certain grocery store items seem convenient until you know just how simple they are to make from scratch at home. Items like gravy, cream of condensed soup mixes, bone broth, etc can all be whipped up in very little time with a few basic pantry staple ingredients.
If you've roasted a whole chicken, have some homemade bone broth, and a little bit of flour or cornstarch then you can have homemade gravy or cream of condensed soup in less than four minutes (yes, I've timed it!).
It's also amazing when you stop to consider just how easy it is to cook up beans from scratch (no more store-bought canned beans or refried beans), grind grain into various different flours (corn into masa flour, wheat into whole-wheat or all-purpose flour, etc.),
I never buy the following items at the grocery store:
Broth
Gravy (or gravy packets)
Seasoning packets (taco, chili, fajita, etc.)
Herb mixes (ranch, boquet garni, italian seasoning, etc.)
Bread
Canned beans and refried beans
Masa flour
All-purpose flour
Having a home freeze-dryer has also opened up a lot more items I never need to worry about. Things like freeze-dried milk powder, freeze-dried eggs, even homemade hot cocoa mix can all be made and freeze-dried to be shelf-stable.
I always thought freeze-driers were overpriced and out of reach for a lot of people, but knowing just how much food I can preserve with a lot less hands-on time, my machine has proven its worth in just one harvest season.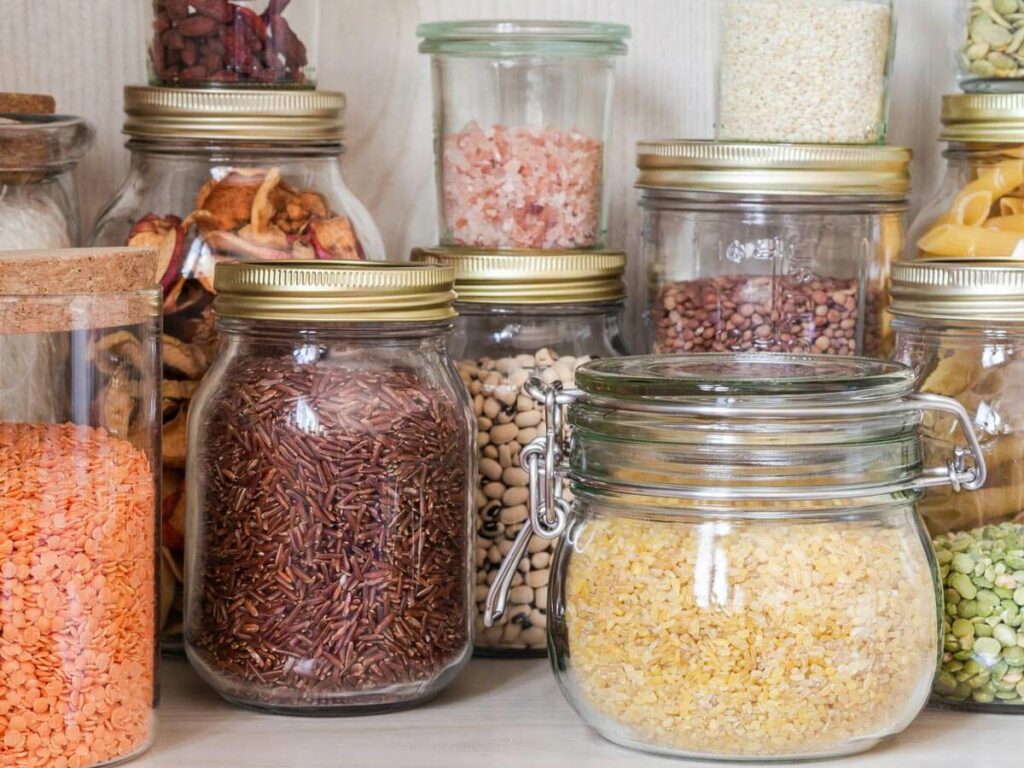 Easy Meals with Kitchen Staples
The best way I've found to get homemade meals on the table every single day is to do some prep cooking on Sundays.
Typically speaking, we go to church on Sunday morning and then we try not to schedule much on Sunday afternoons. Sunday afternoons are when I will do some prep cooking for the week ahead.
I'll cook up a whole chicken (super simple and fast to cook a chicken in the Instant Pot) or a pork roast or beef roast for dinner Sunday night alongside some vegetables. Then throughout the week I'll take some of the leftovers and turn them into different meals.
By adding a small amount of protein and some leftover (or canned) vegetables I can create so many different meals.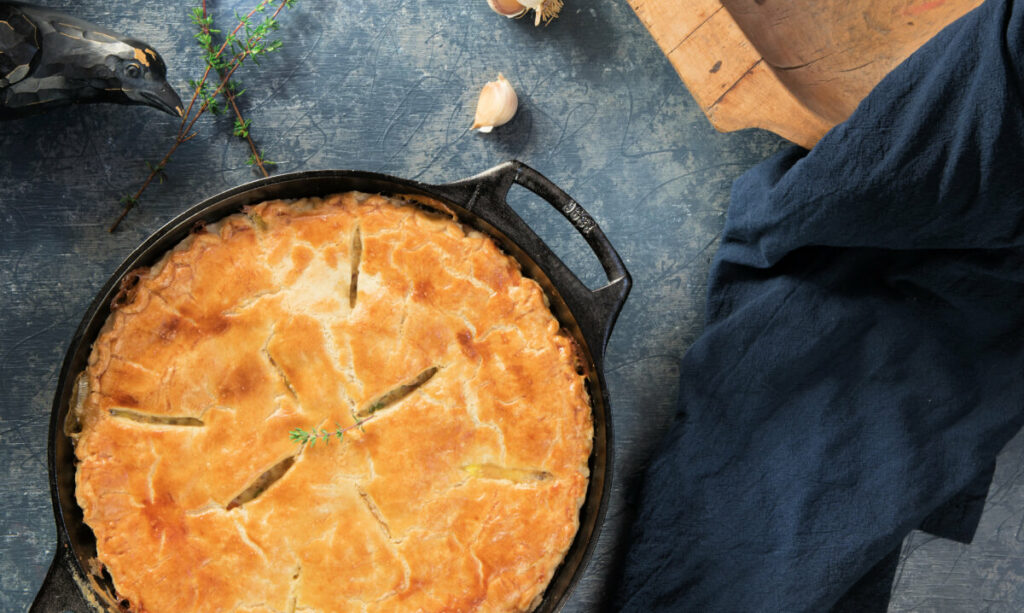 Some of my favorite meals to make with leftovers are:
If you can get creative with the leftovers, then your family won't feel like you're eating the same meal over and over.
I'll also take a few minutes on Sunday to mix up a batch of no-knead artisan bread dough and pop it in the refrigerator for easy fresh bread in 5-minutes of hands-on time!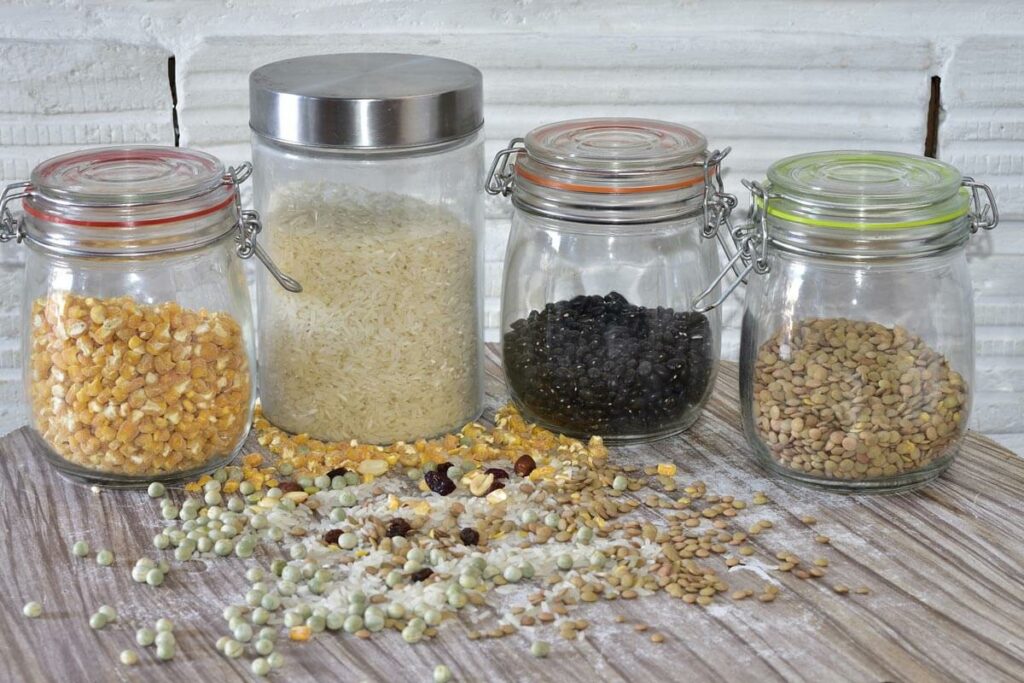 How to Stretch Meals
Depending on the size of your family, you may need to double up the meat and veggies that you cook on Sunday in order to have enough leftovers for at least four or five whole dinners throughout the week.
With a little forethought, I'm able to cook once on Sunday, then repurpose the leftovers four to five times with the recipe ideas above.
Easy ways to stretch meals are to:
Add a side dish (rice, pasta, baked potato, roasted veggies)
Use less meat – think of meat as the "side" and get creative with ways to stretch it.
Add a large salad and eat the salad first! By filling up with a lot of veggies first, once you finish the main dish your body will already start feeling full.
Other Posts You May Enjoy