Some of the links below are affiliate links, which means I will earn a commission at no additional cost to you, if you click through and make a purchase. Regardless, I only link to products we use on our homestead or believe in.
This homesteading lifestyle means we are ever learning, and that's part of the excitement and joy we find in it. Learning new homestead skills or how to utilize old skills in a more modern, efficient way is one of my favorite things about this life.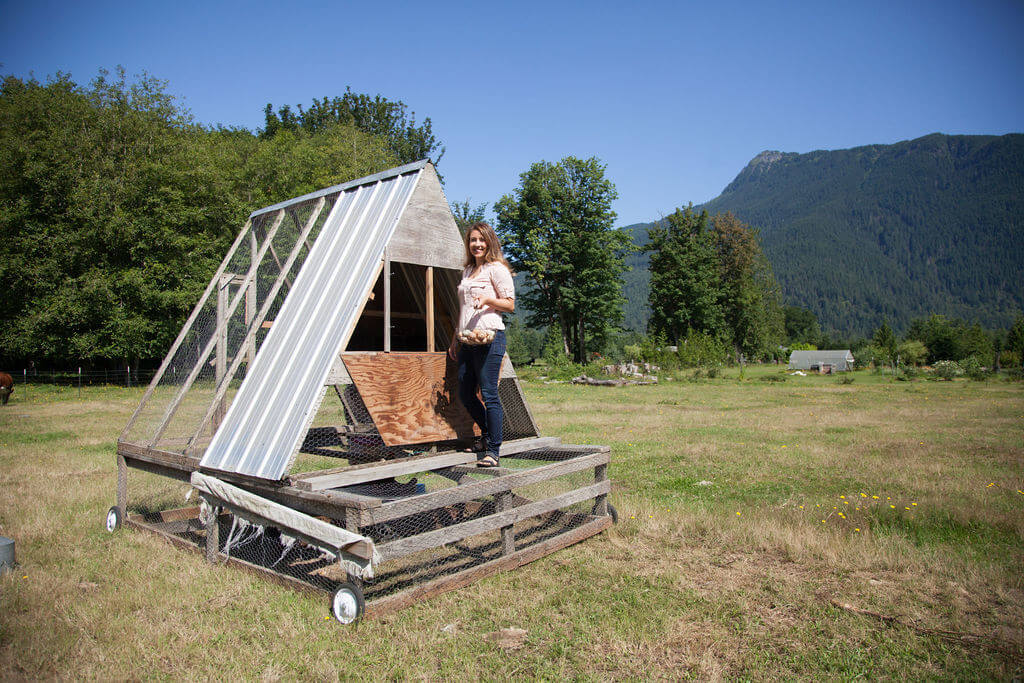 How Can I Be a Better Homesteader?
We've all asked ourselves this question a time or two. If you're new to this homestead lifestyle, you may ask it often. But I'm here to tell you, even being a fifth-generation homesteader, I still ask myself this question.
Life is a continual classroom where lessons are learned, and skills developed. There are some essential basics I think are important for any homesteader, whether living on 40 acres or a small lot in the city. Even living in an apartment, you can begin to develop homesteading skills that you'll use for the rest of your life.
If you're just beginning your homesteading journey, you can quickly become overwhelmed with all there is to know and learn. I want to put your mind and heart at ease by telling you it's ok. Take small steps. Choose the skills you want to learn, set the goals you want for your homestead, and just start. Dread of a thing is half the battle.
I am a serious list maker. I always suggest to new and experienced homesteaders looking to be more productive to list homesteading skills they want to learn and just get started.
But no matter where you are on your journey, I hope you find some encouragement from this podcast. This is episode #355 and episode #358 of the Pioneering Today Podcast. All show notes and related links can be found throughout this post.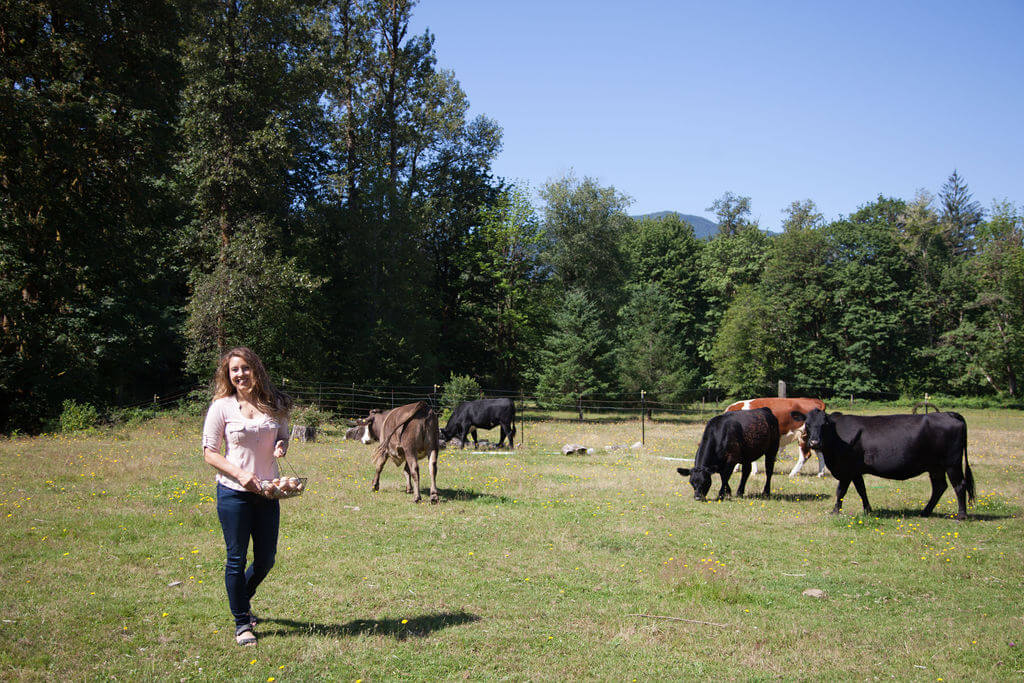 What is a Homestead Lifestyle?
Homesteading is essentially a lifestyle of self-sufficiency. However, I like to call it community sufficiency as very few of us can truly be self-reliant. Homesteading includes raising animals, preserving food at home, and cooking food from scratch. Sometimes this is done on a scale to sell or barter with others, other times, people are simply raising enough food for their family for a year.
Many of you haven't grown up on a homestead like myself. It's easy for me to forget that the term "homesteader" is foreign to so many. One of the reasons I call this podcast and my academy "Pioneering Today" is because I think many of us are pioneering our way through traditional skillsets of generations past.
As homesteaders, we're a frugal, do-it-yourself kinda bunch. If there's something we don't know how to do, we're likely to figure it out. Thank goodness for the internet and YouTube, am I right?
American Blossom Linens
This podcast is sponsored by American Blossom Linens – our sheets and our bedding (and getting a good night's sleep) are so important! If we don't get good rest, it affects our entire lives.
I've definitely struggled to find sheets that are both soft and durable over the years (even though I line dry my sheets almost all year long) until I came across American Blossom Linens.
Their sheets are 100% organic cotton, made in the USA, they have no formaldehyde, and I don't have to worry about them being shipped from overseas.
American Blossom Linens offers a two-year risk-free trial on their products. So go and snag yours and get an additional 22% off with coupon code "PIONEERINGTODAY22" at checkout.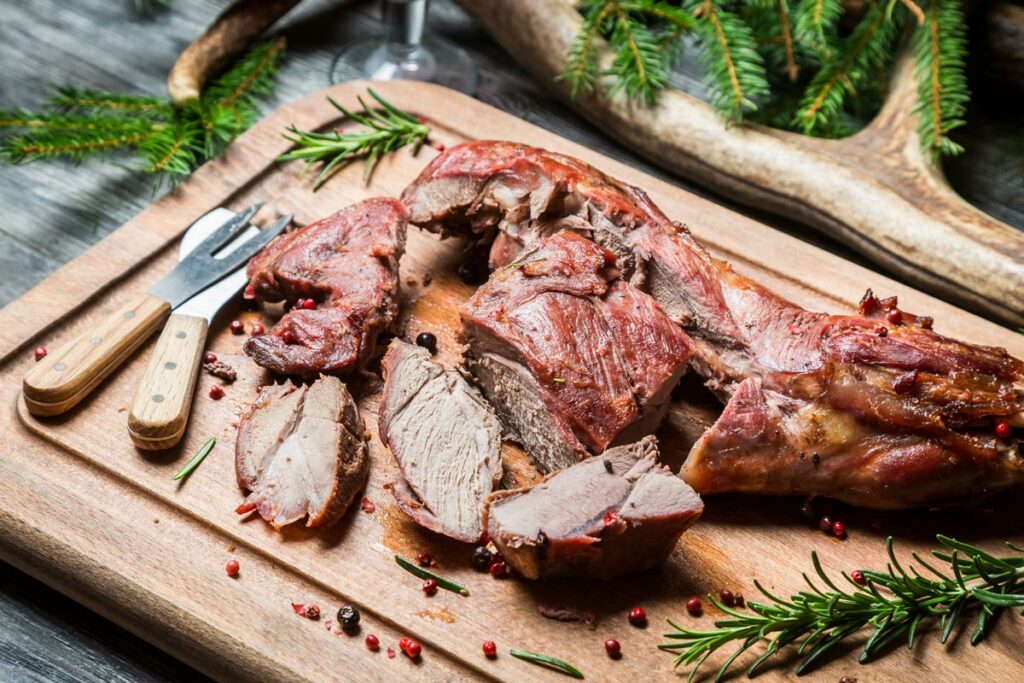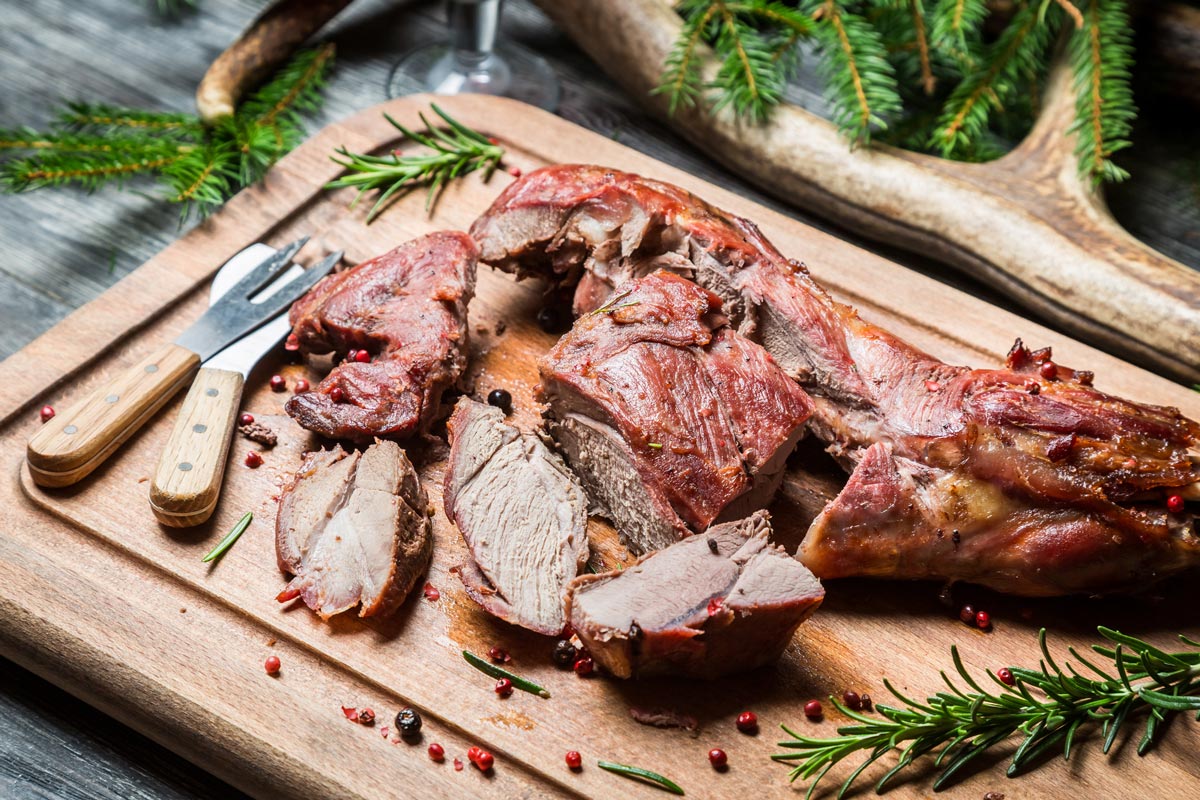 Essential Homestead Skills
Cooking From Scratch
I believe that skillsets should always start in the kitchen! No matter where you live, whether on a large homestead or an apartment in the city, we all have a kitchen, and we all have to eat.
Learn how to cook from scratch with different ingredients. Learn how to tenderize less expensive cuts of meat so they taste better. Learn how to use a slow cooker or a pressure cooker.
Master the skill of utilizing every last bit of each ingredient. This is why I always make homemade bone broth from meat bones and why I love making fruit vinegar from cherry pits that would otherwise be tossed into the trashcan. Furthermore, once those cherry pits have infused the vinegar, you can then turn them into a homemade hot pack!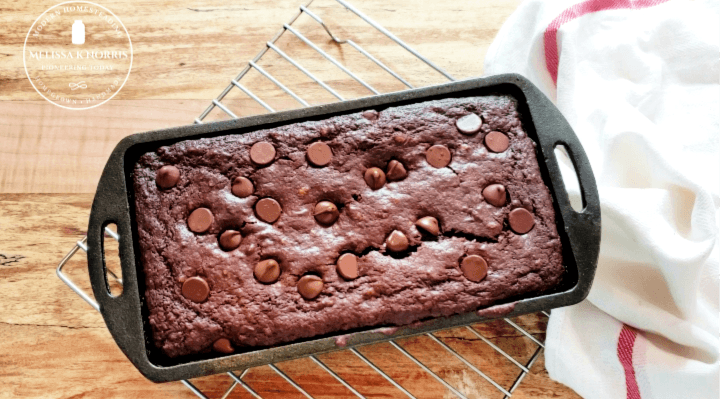 Baking
Cooking from scratch will always save you money. This doesn't mean my loaf of homemade sourdough bread or even my quick five-minute no-knead Artisan bread will be cheaper than a loaf of Wonderbread from the store, but it will certainly be less expensive than their equivalent counterparts.
After you've mastered how to cook meats and how to utilize every bit of an ingredient. The next natural step is to start doing your baking at home. Bake your cupcakes, muffins, and quickbreads from scratch. Skip the boxed mixes and learn to make your own pantry mixes at home.
Check out this post on easy store-bought ingredients you can swap out at home to improve your health.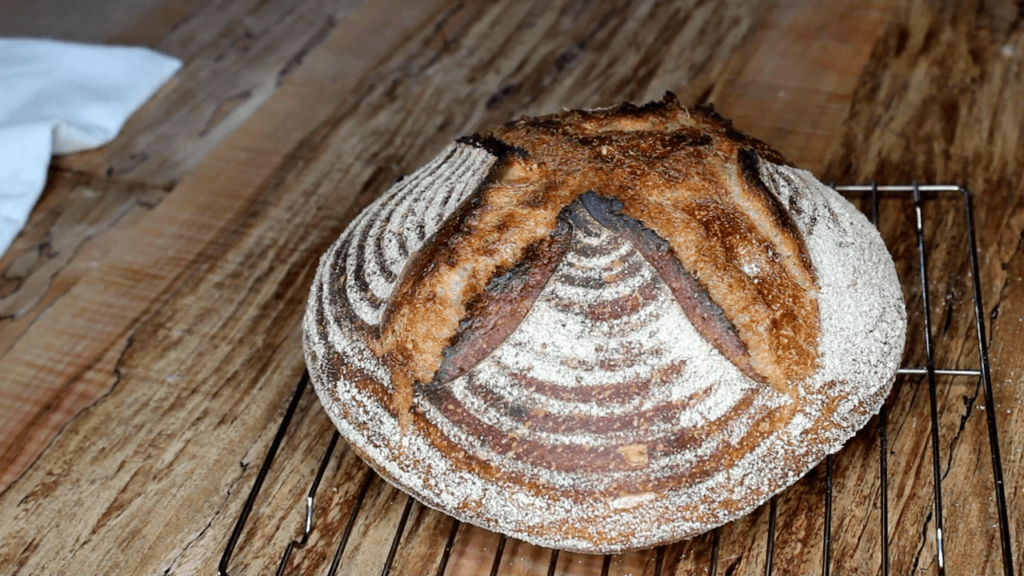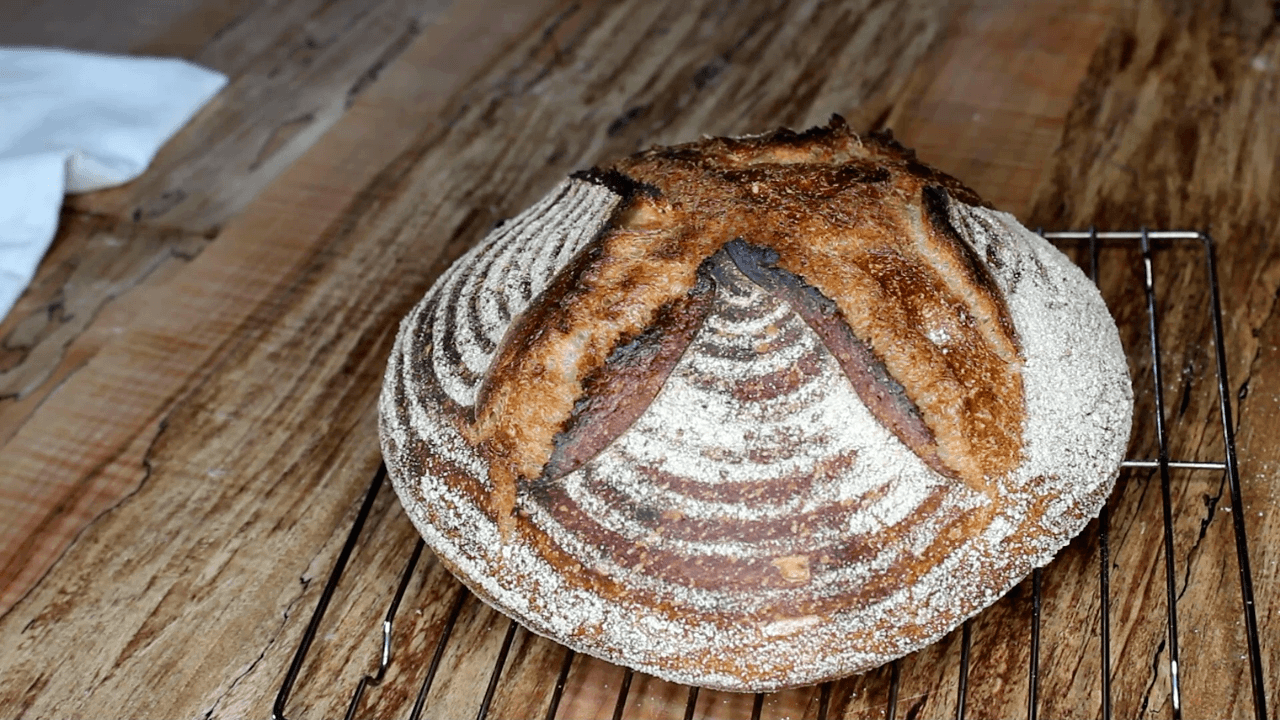 Sourdough & Fresh Ground Flour
After gaining confidence with baking, start grinding your own flour from home and learning the art of sourdough bread making.
When you buy whole grain, you save money and end up with a much fresher and healthier product. Learn more about grinding your own grain here.
Basic sourdough bread requires only three ingredients, salt, flour, and water. No yeast is required! Learn how to make a sourdough starter here, and once you have it going, you can make all kinds of delicious goodies like sourdough pancakes and my favorite sourdough chocolate quickbread.
Check out my FREE sourdough training if you'd like to take your sourdough game to the next level.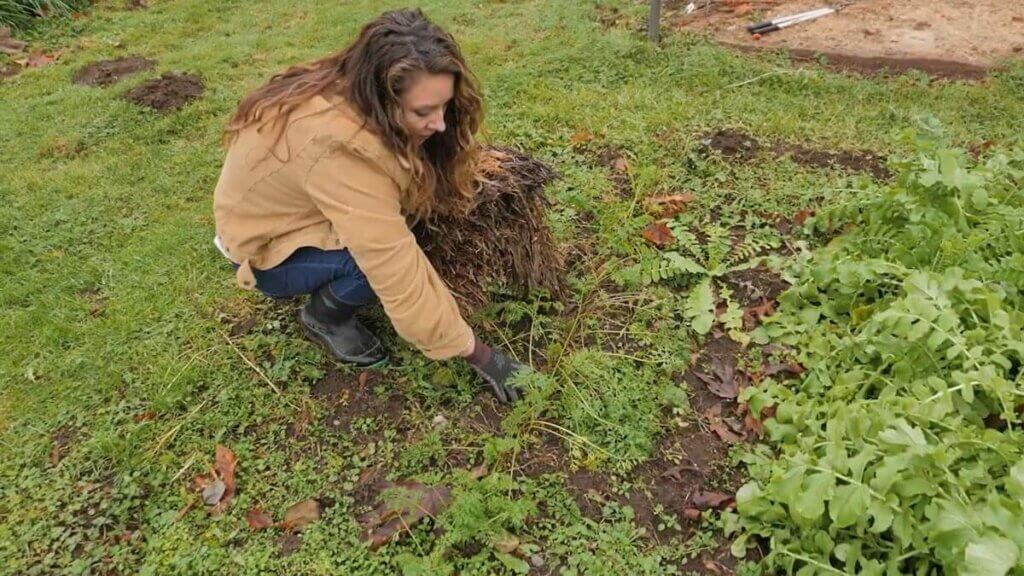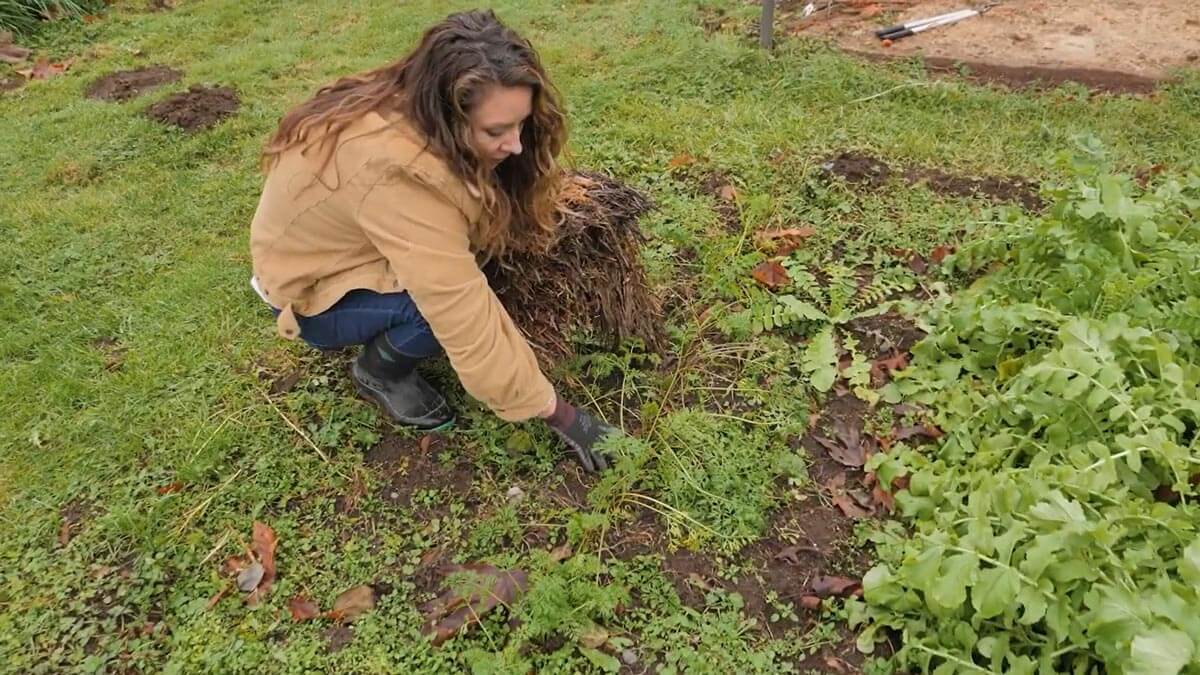 Items to Grow or Make Yourself
The next step in the homesteading journey is to look at the foods you eat on a regular basis and decide if some of them can be grown or raised on your property.
Foods like eggs, chicken, lettuce and carrots can all be raised or grown simply without much space. But these things do take some know-how and training to be proficient.
If you're not sure where to start, grab my FREE charts on how much food to plant per person for a year's worth of food.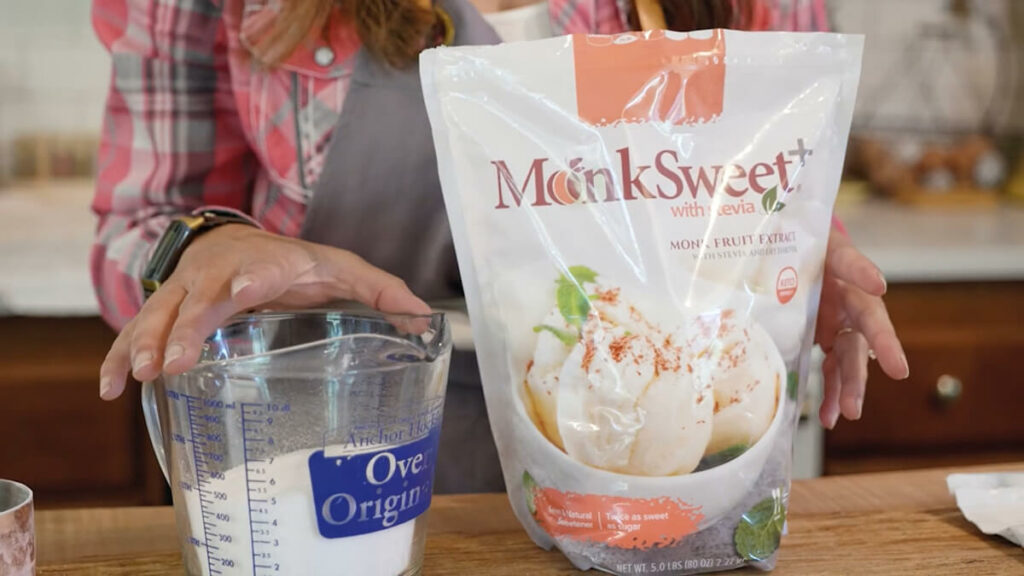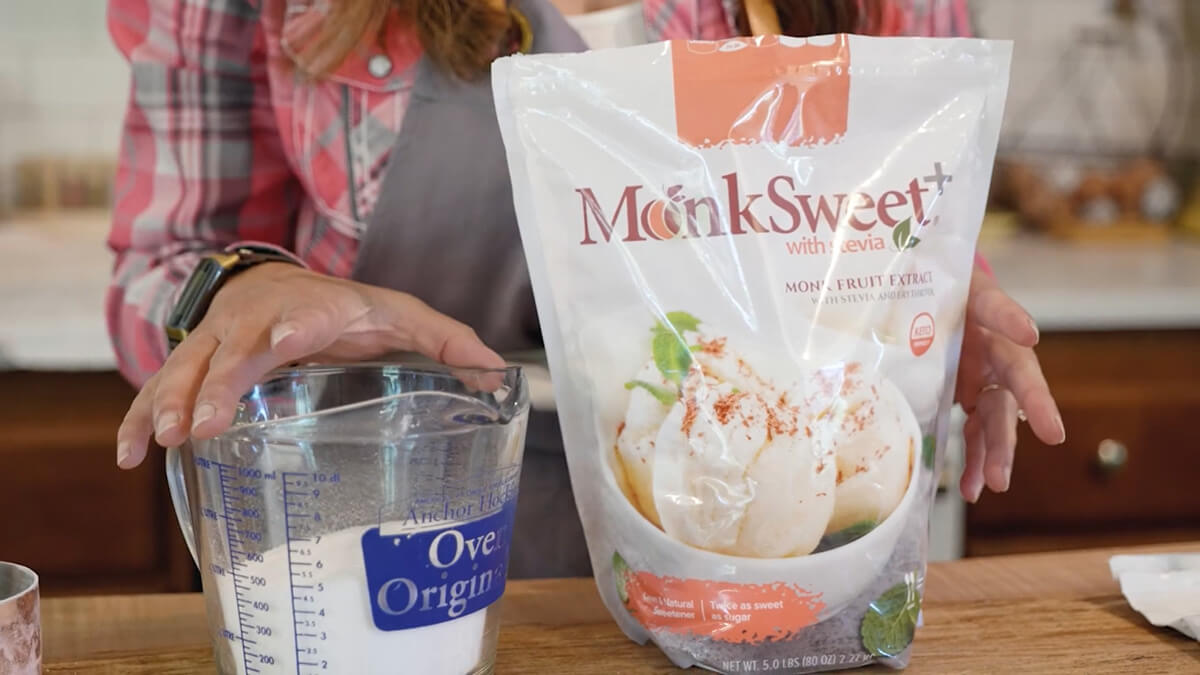 Source Locally (When Possible)
Not everyone has enough acreage to raise their own beef cattle or keep a dairy cow, so when you can't raise or grow the food yourself, start looking locally or sourcing your food from a place you trust.
This is why I love Azure Standard. I have been buying from them for nearly ten years, and I love that many of their products are fairly local to me.
For those items we can't source locally, such as vanilla beans, sugar and wheat berries, I love that I can purchase these items from Azure, which helps me build up my long-term food storage supply.
Azure Standard is a sponsor of this podcast, and they've been so generous to offer all of my listeners 10% off your first Azure Standard order (minimum of a $50 purchase) using coupon code "MKN10" (must be a first-time customer).
Beyond being able to find products at the grocery store or growing it yourself comes the concept of "community sufficiency". This is where you work alongside your neighbors and community to provide for each other that which the other is producing.
This may look like one person raising enough meat chickens for two families while the other raises a dairy cow and has a milk-share. Or perhaps you grow a beautiful medicinal herb garden that produces enough herbs for the neighborhood.
Get creative with what your skillsets are and find ways to build community.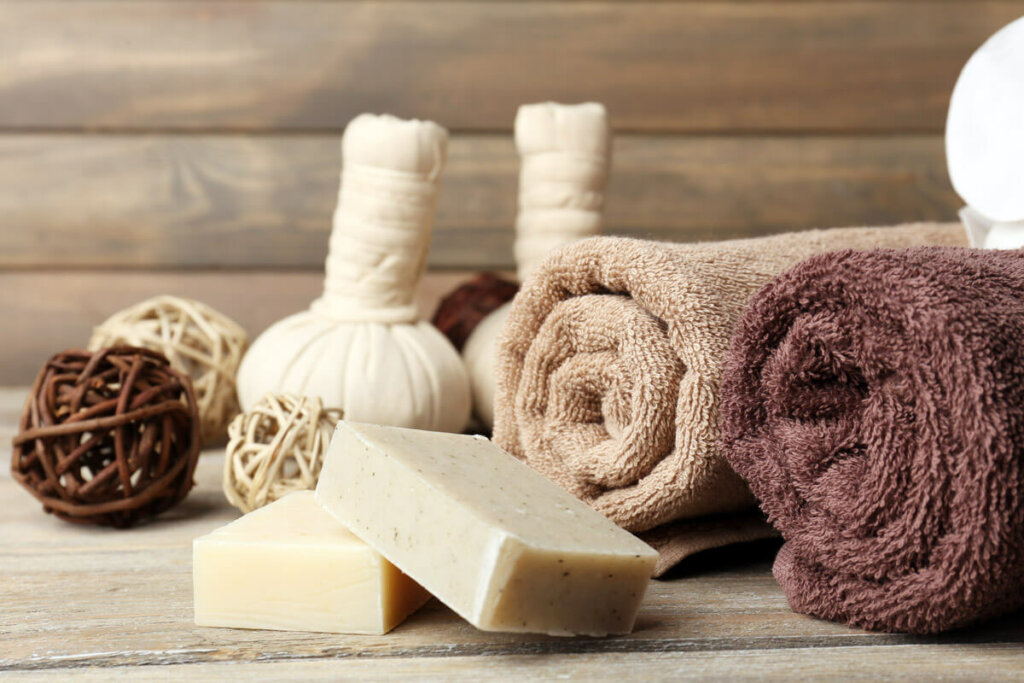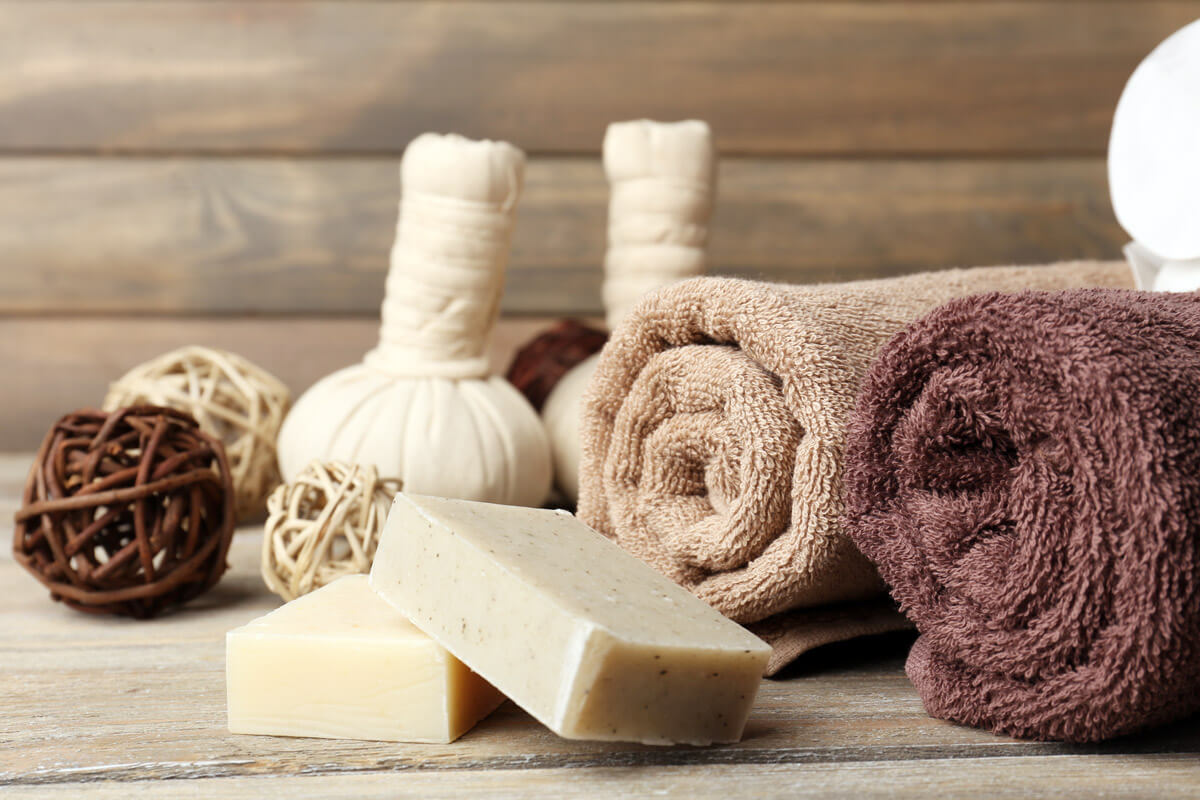 Medicine, Cosmetics & Cleaning Products
When I started having health issues, it was natural to just look at the food I was eating as the culprit.
But once I cleaned up my family's diet, I realized that if I'm so concerned about what I put in my body regarding food, I should be equally as concerned about what goes on my body.
Specifically the medicine I'm taking and the products I'm putting on my skin, both in my cosmetics and the cleaning supplies I use daily.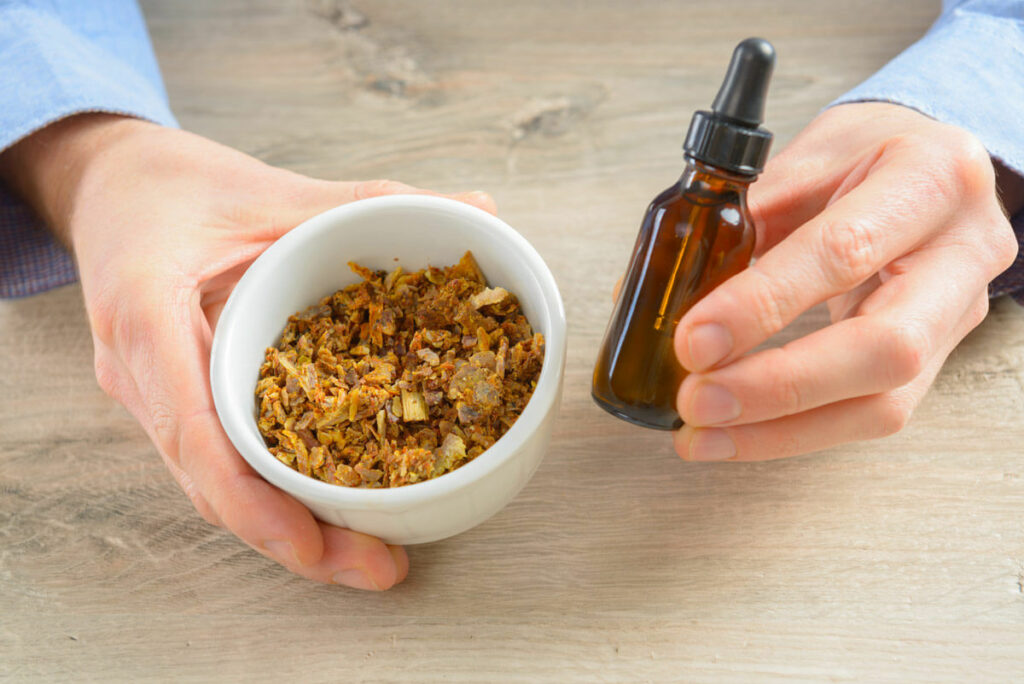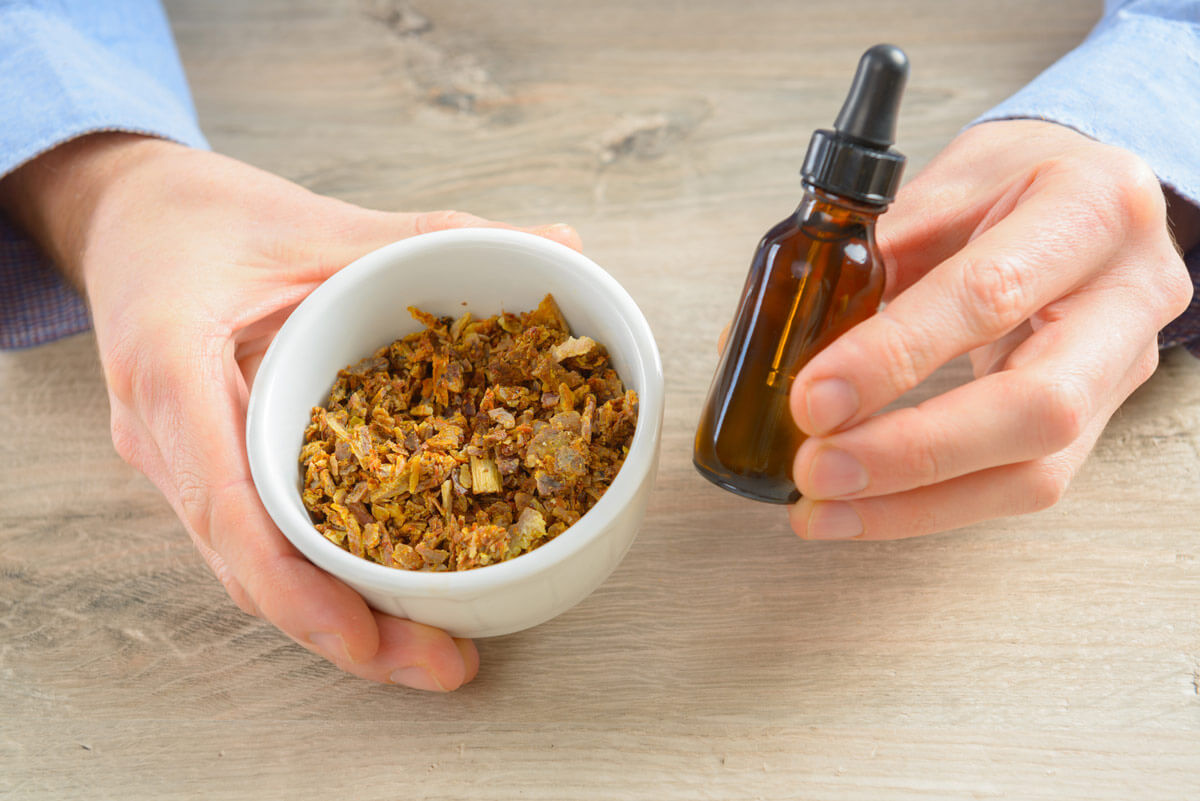 Medicine Cabinet
I was a pharmacy technician for eighteen years, but with what I know now as a home herbalist, I would never return to a modern medicine career.
So many herbs work with our bodies and do more good than harm. Often times with diet and lifestyle changes, we're able to get off prescription medications rather than being reliant on them for the rest of our lives.
Don't simply get rid of your prescription medication because you've changed your lifestyle. Always work with your doctor.
There are many herbal alternatives when it comes to over-the-counter (OTC) medications such as acetaminophen or cough medicine.
If you haven't taken the plunge into herbal medicine, I highly encourage you to do so. In fact, I'll be hosting an herbal medicine class in the fall of 2022, so sign up to my email list to be notified!
If you don't have access to high-quality herbs, be sure to check out Farmhouse Teas. I know CeAnne and her family personally and love supporting another small family-owned and operated business.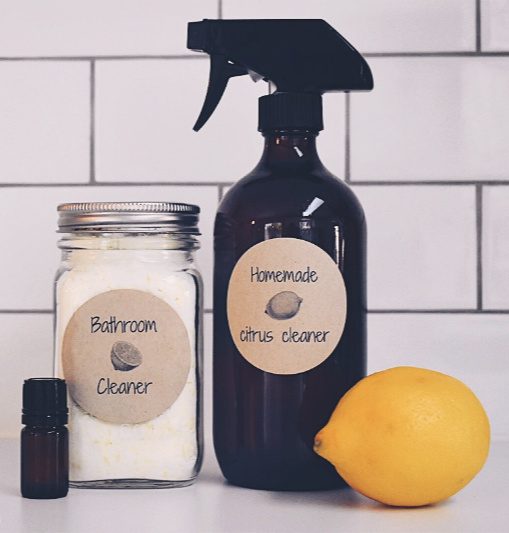 Cleaning Products
It can often be a shock when people start looking at the ingredients in their cleaning products.
Some of the first products we got rid of in our home were commercial oven cleaners and candles with fragrance.
From there, we looked at our laundry soap (we've been using TrulyFree laundry detergent for many years now and love it. That link will get you 100 FREE loads of laundry detergent!), our shampoo and body soap, even the soap we use in the kitchen. Seeing "fragrance" in any product is now a no-no in our home.
For the majority of our cleaning throughout the home, we simply use baking soda and vinegar or water and soap. (Make your own homemade vinegar.)
If you want to get into making all your own homemade products, check out my book Handmade where I share recipes for homemade laundry detergent, cleaning supplies, and even bar soap.
Cosmetics
As for cosmetics, this can be tricky to know for sure you're getting a quality product that not only works but is healthy. Read this post on why makeup and skincare ingredients matter and to find out the products I use.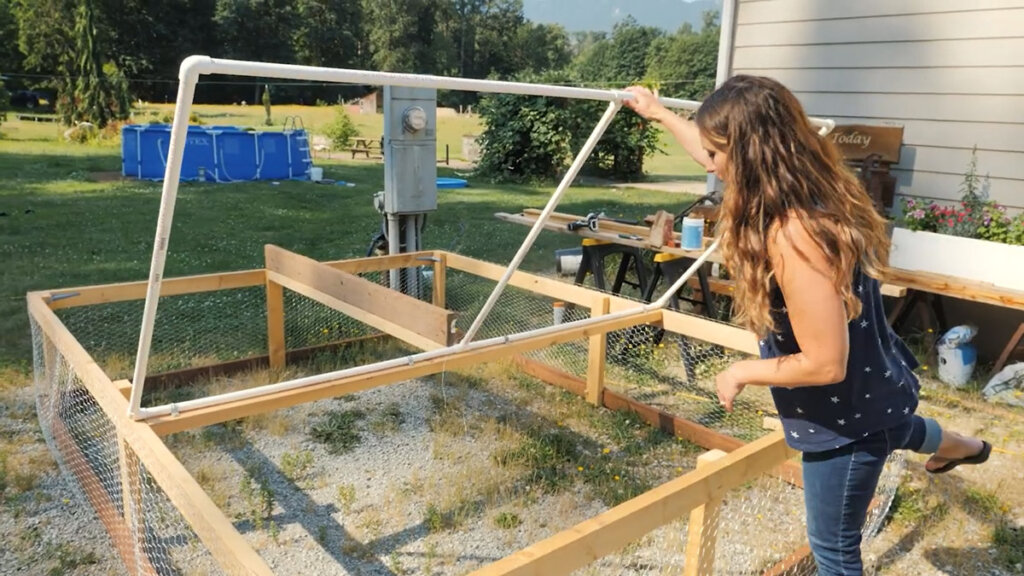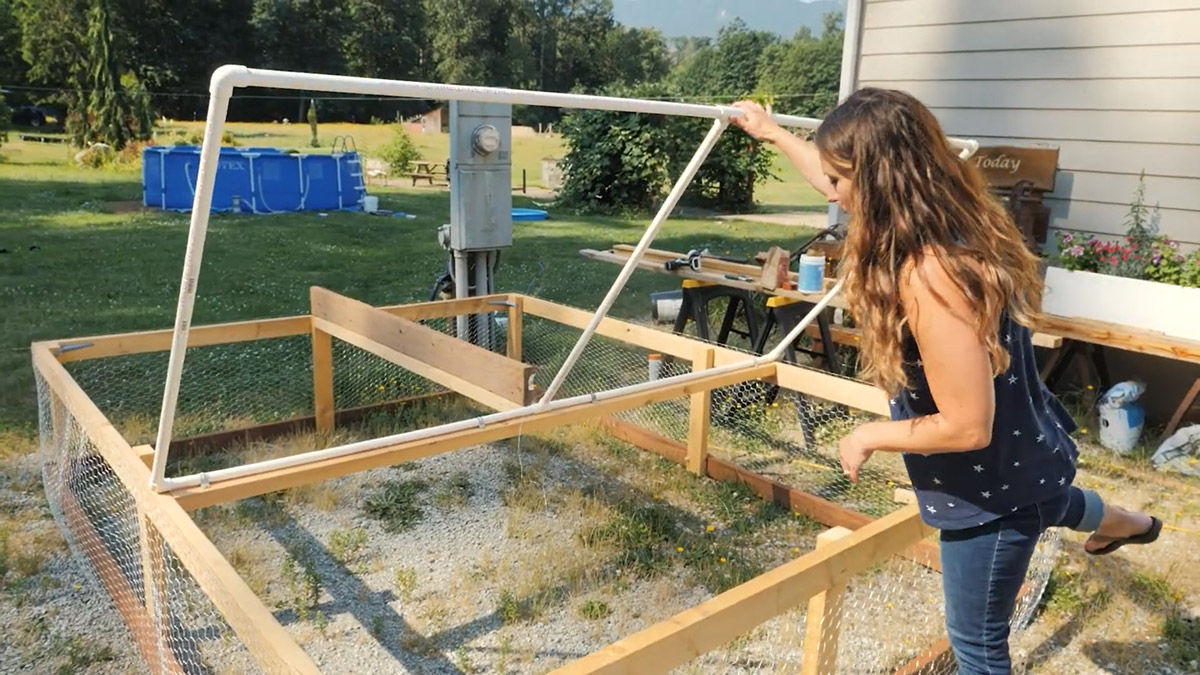 Basic Building Skills
If you're going to live on a homestead, chances are you'll need to make repairs at some point in time.
Having basic building skills means you'll be able to set a fence post, repair a chicken coop, or help around the house with basic repairs as they come up.
Gathering these skill sets now so you have them when you need them later, will always end up saving you time and money.
Sewing & Mending
Today, it's not always cheaper to make and sew your clothing. However, knowing some basic sewing and mending skills to repair a torn garment, sew on a button, or mend a hem will save you money from tossing the garment and buying new.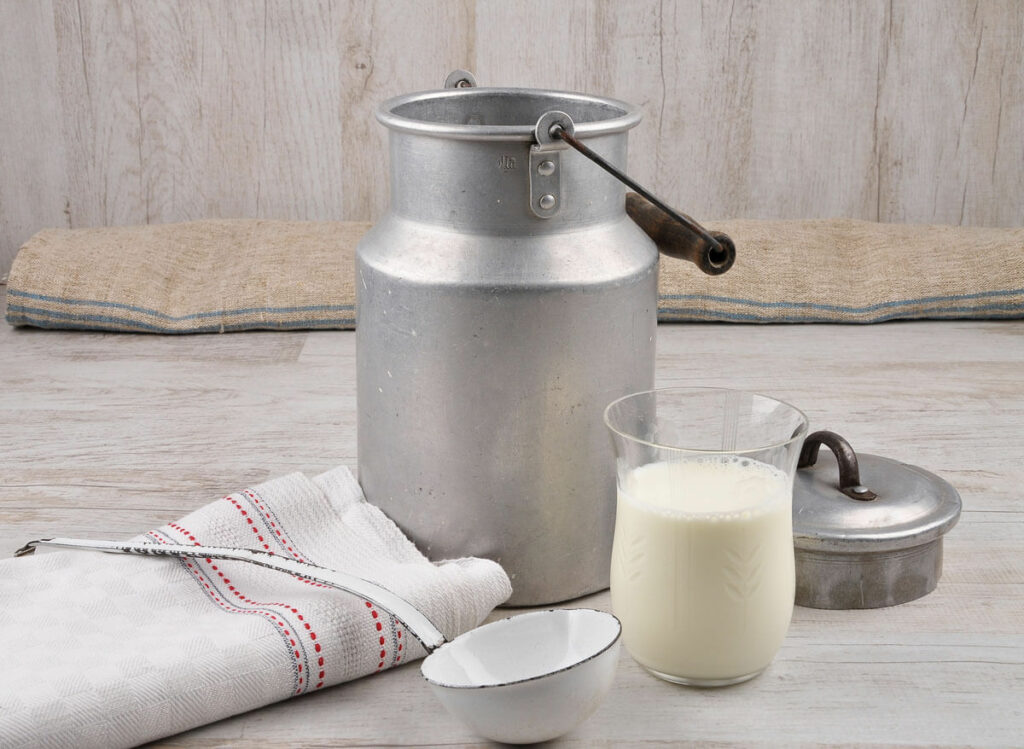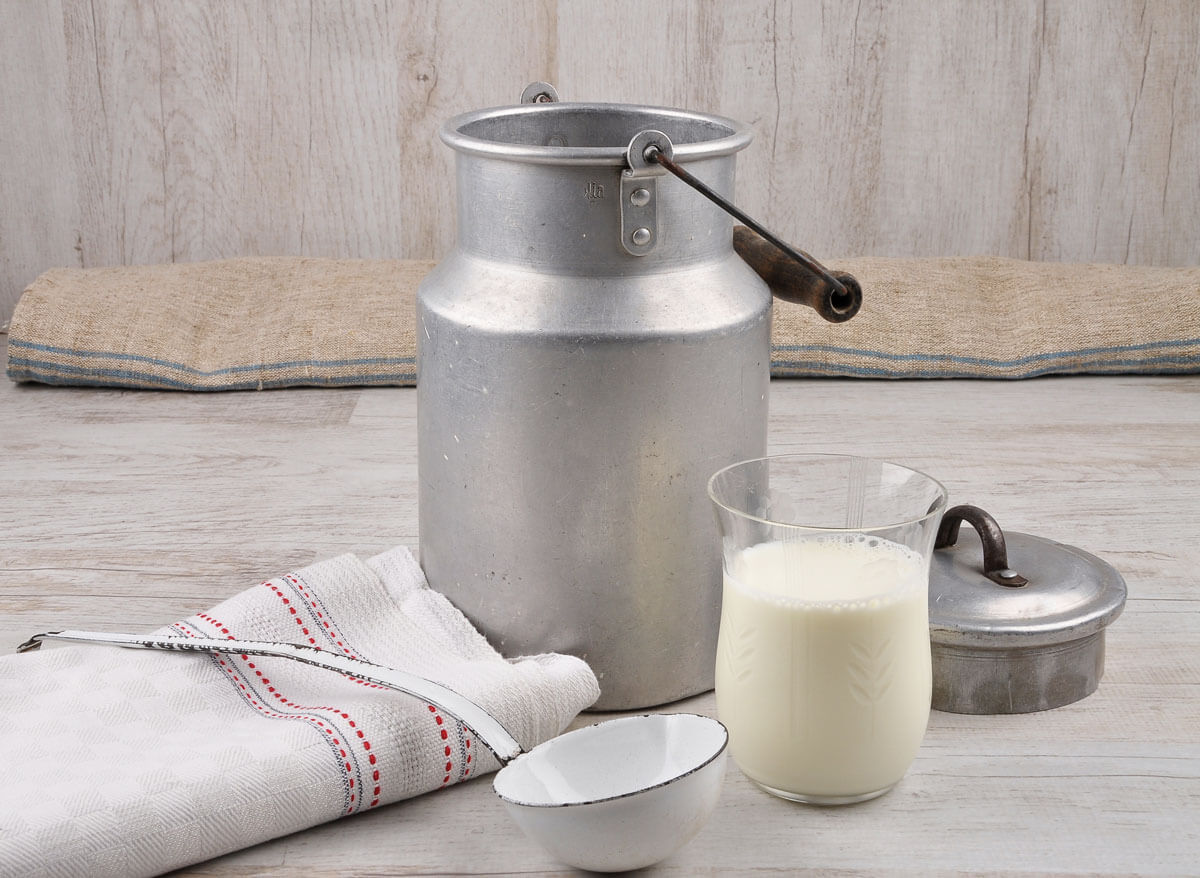 Learn How to Use Milk
Whether you own a dairy cow or goat, purchase raw milk from a farm, or simply buy milk at the grocery store, learn all the amazing ways you can utilize milk and turn it into various products.
Learn how to make homemade butter, cheese, buttermilk, soap, and lotions. In other words, utilize the milk to its fullest potential.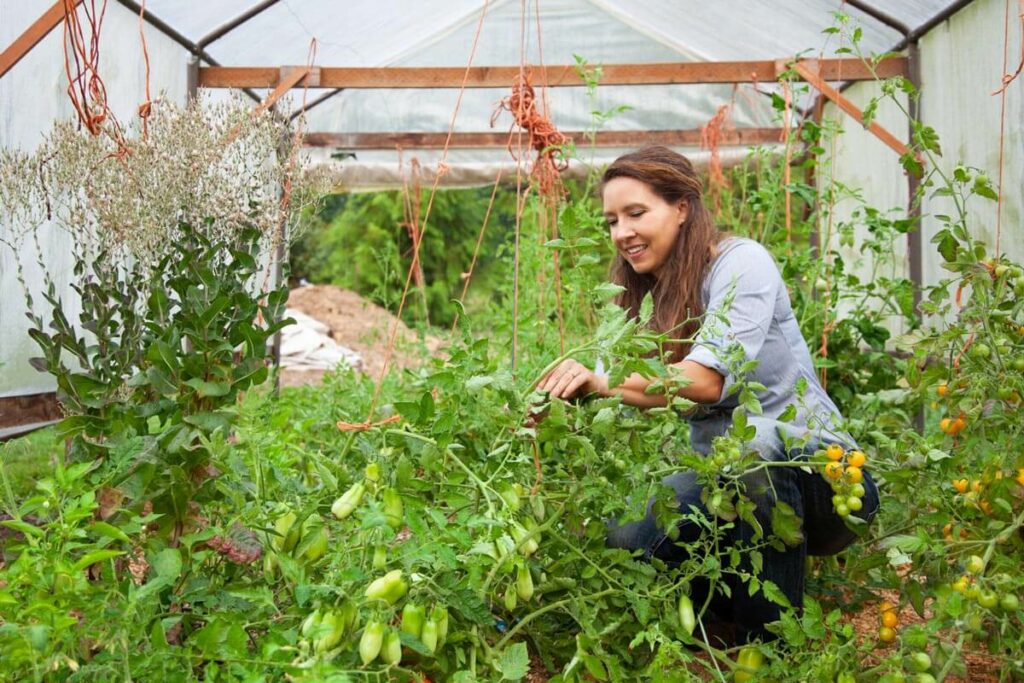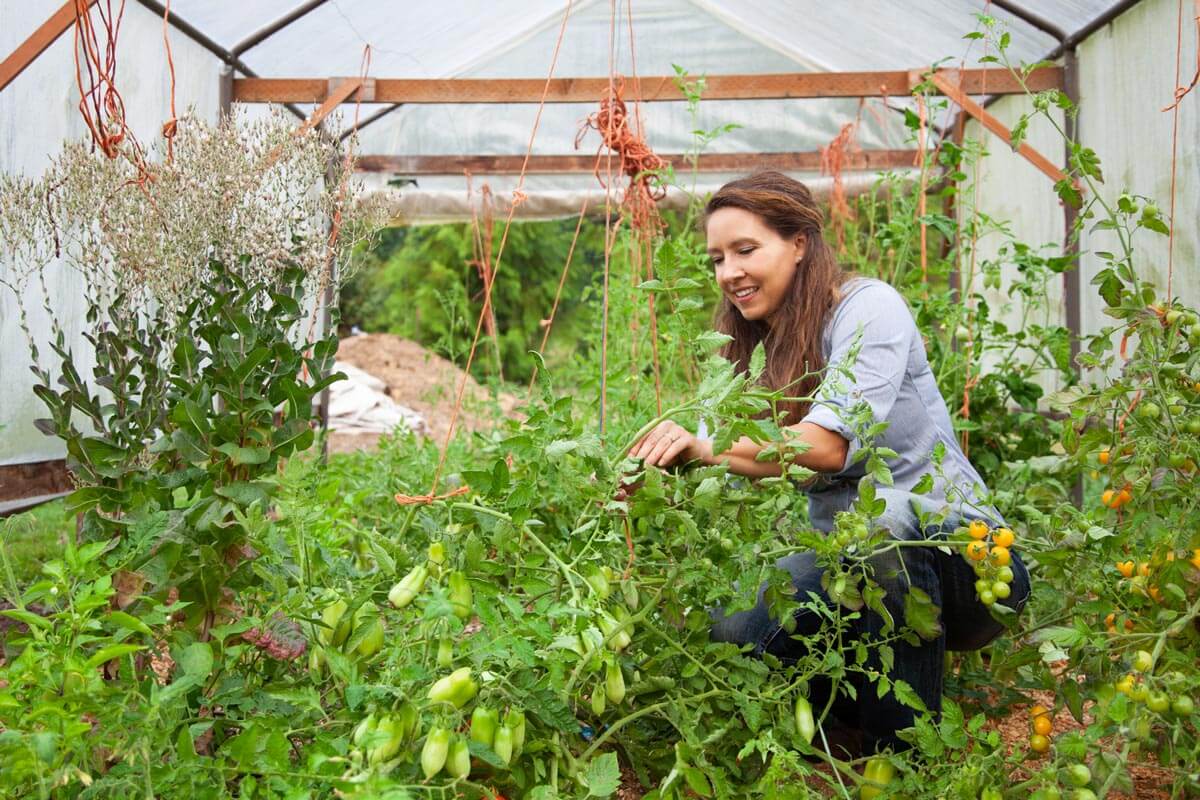 Learn to Garden
The best way to start growing your own food is with a jar of sprouts on the windowsill of your kitchen.
From there, you can get a small box and grow some herbs on a windowsill.
If you have a back deck or a patio, you can grow a good amount of food in a container. This won't be enough space if you want to grow all your food, but you can certainly grow a year's worth of herbs in a few containers.
I really like Greenstalk Vertical Planters because, with just one square foot of patio space, I can grow a lot of food! (Use code "PIONEERING" at checkout for $10 off your order!) Here are more vertical growing techniques for gardening.
Even if you don't have the yard space to grow a garden, perhaps you can find a strip of land in the community and turn it into a community garden. This will help you start learning the skills needed to grow a garden.
If you want to learn more, be sure to check out my book The Family Garden Plan and The Family Garden Planner.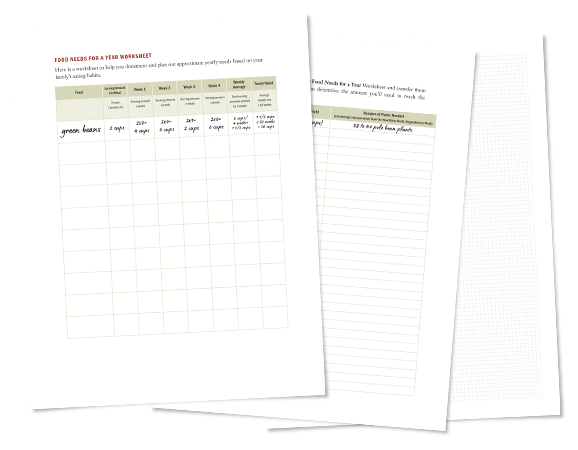 Growing in the Shoulder Seasons
For most climates, other than those that are extremely hot (100+ degree days throughout the summer) than the summer months will be your primary growing season.
But there are many ways to extend the season earlier in the spring and later in the fall with some cold weather growing techniques. With a simple frost cover (or shade cloth for hot climates), you can dramatically extend your growing season and grow food nearly year-round.
Plant Perennials
The next gardening stage is planting perennial plants that will come back year after year. These are fruit trees, raspberries, strawberries, asparagus, elderberries, and medicinal herbs and flowers.
Keep Accurate Records
I cannot express how far-reaching this skill can be. Keeping accurate records can save you time, energy, money, and even the life of your livestock.
Birthing records can help you accurately remember how each animal did in childbirth and the specifics of it. This will help you know whether to breed that animal again or cull it from the herd or flock and whether you want to continue the line.
A garden journal (the Family Garden Planner has charts, worksheets, and more to help track everything in your garden) will help with accurate crop rotation.
It will give you information on what grew well and what didn't, what you liked and didn't. Keeping track of your soil maintenance and insect problems will save you heartache.
Get these free printables for your harvest and crop planning record keeping.
If you want to make a profit from your homestead, an accurate record of productivity, expense, and income will guide you. There are all kinds of records which will be helpful to you. You have to decide what you want from your homestead and choose your record keeping from there.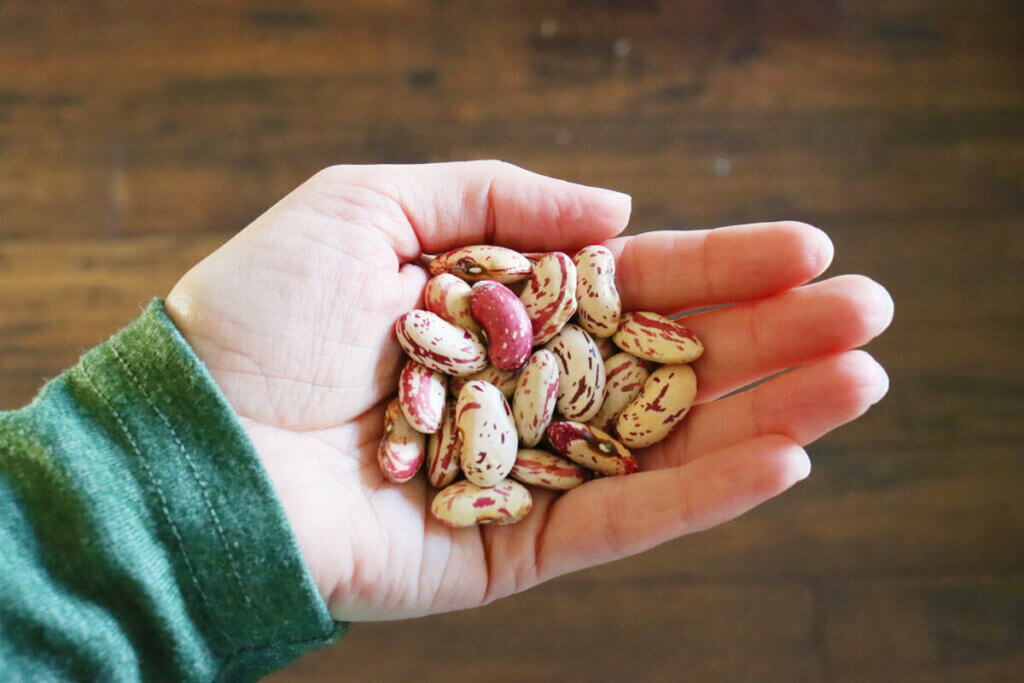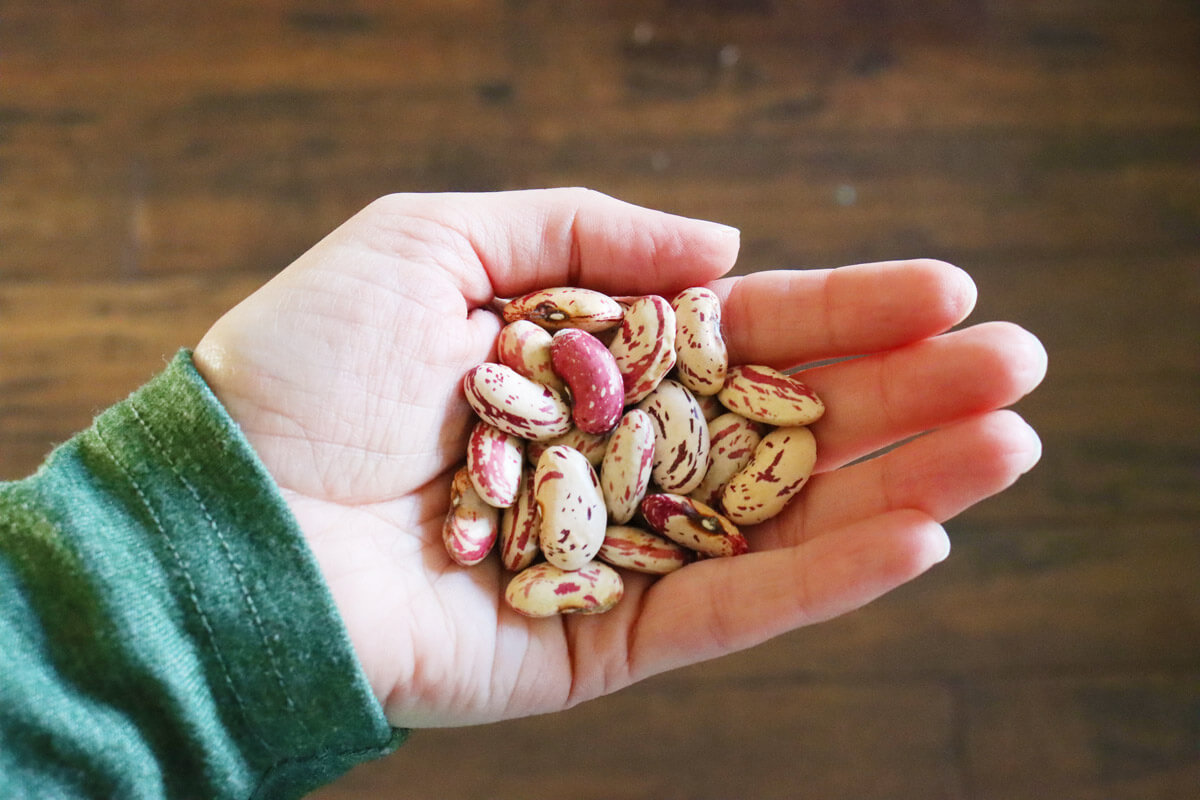 Seed Save
Save your seeds. Not only will this skill save you time and money, but it will also ensure you have what you need for growing next year's crops.
The first step is to choose your healthiest plants and allow the fruit to mature its seeds in the garden. When you properly harvest and preserve healthy seeds, they will be viable for years.
Read this post for a few tips that will help when saving seeds from the garden.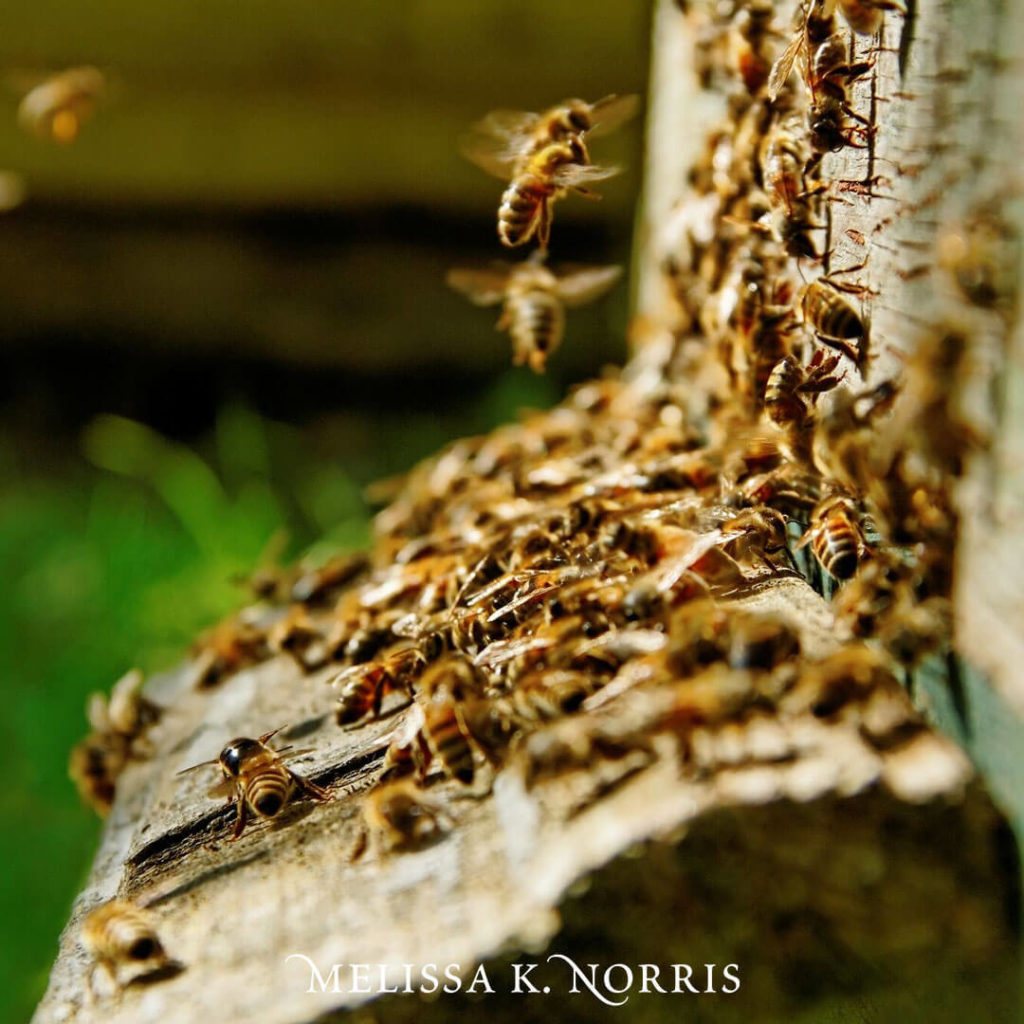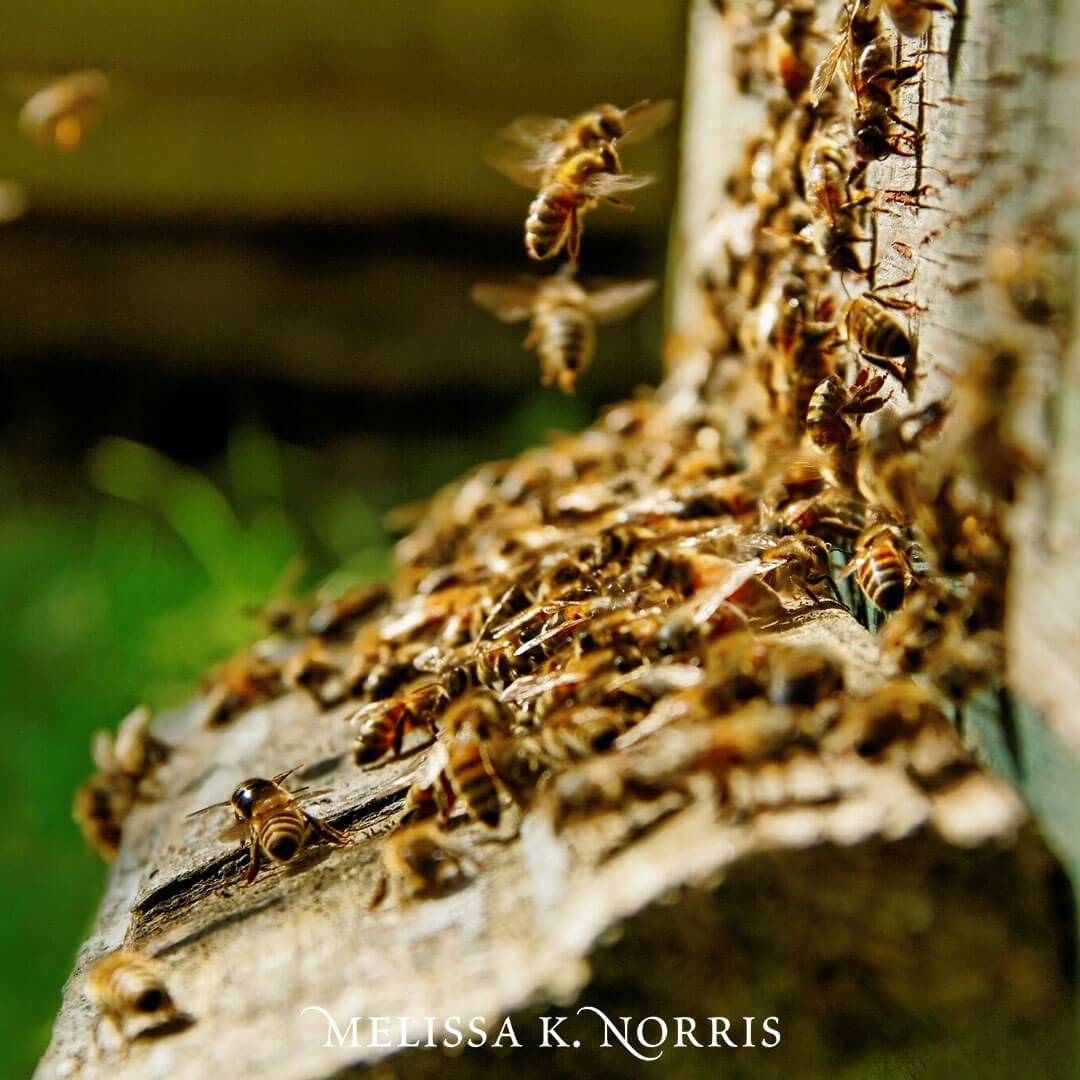 Beekeeping
Having bees is a benefit to any homestead, no matter the size. Their honey and its many health benefits, not to mention its deliciousness, are reason enough to want them.
Their pollination work, however, is vital. We can support them by planting fruits, veggies, and flowers for them to eat, and they reward us with honey and pollinated plants. Win-Win!
Learn how to start beekeeping and the link between honey bees and plant medicine here.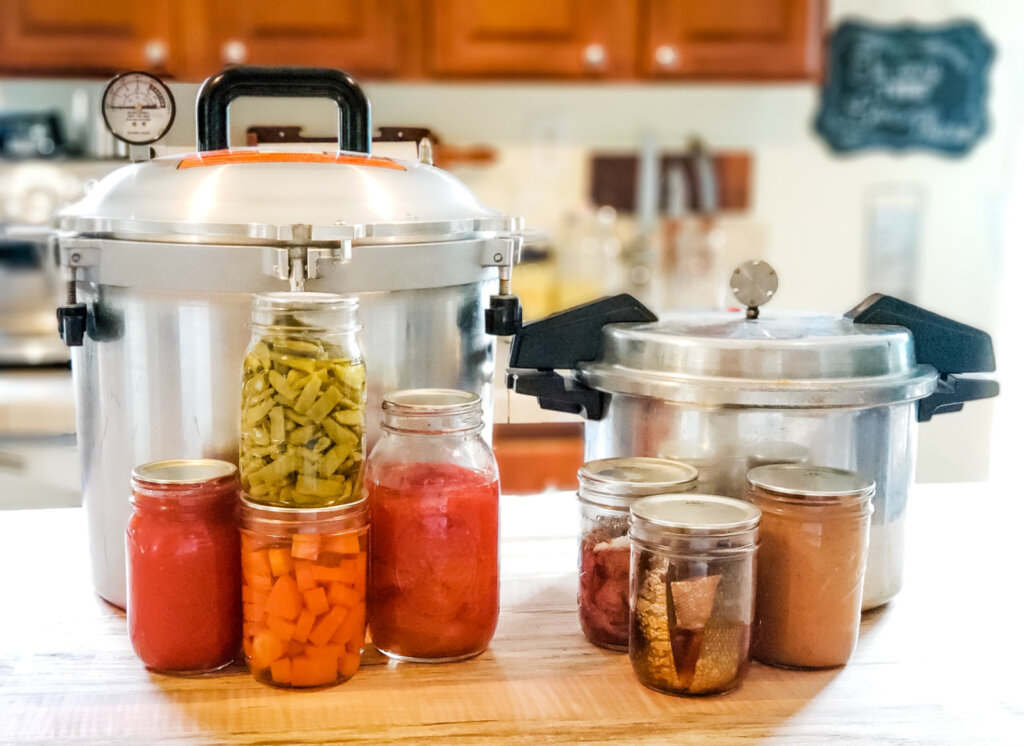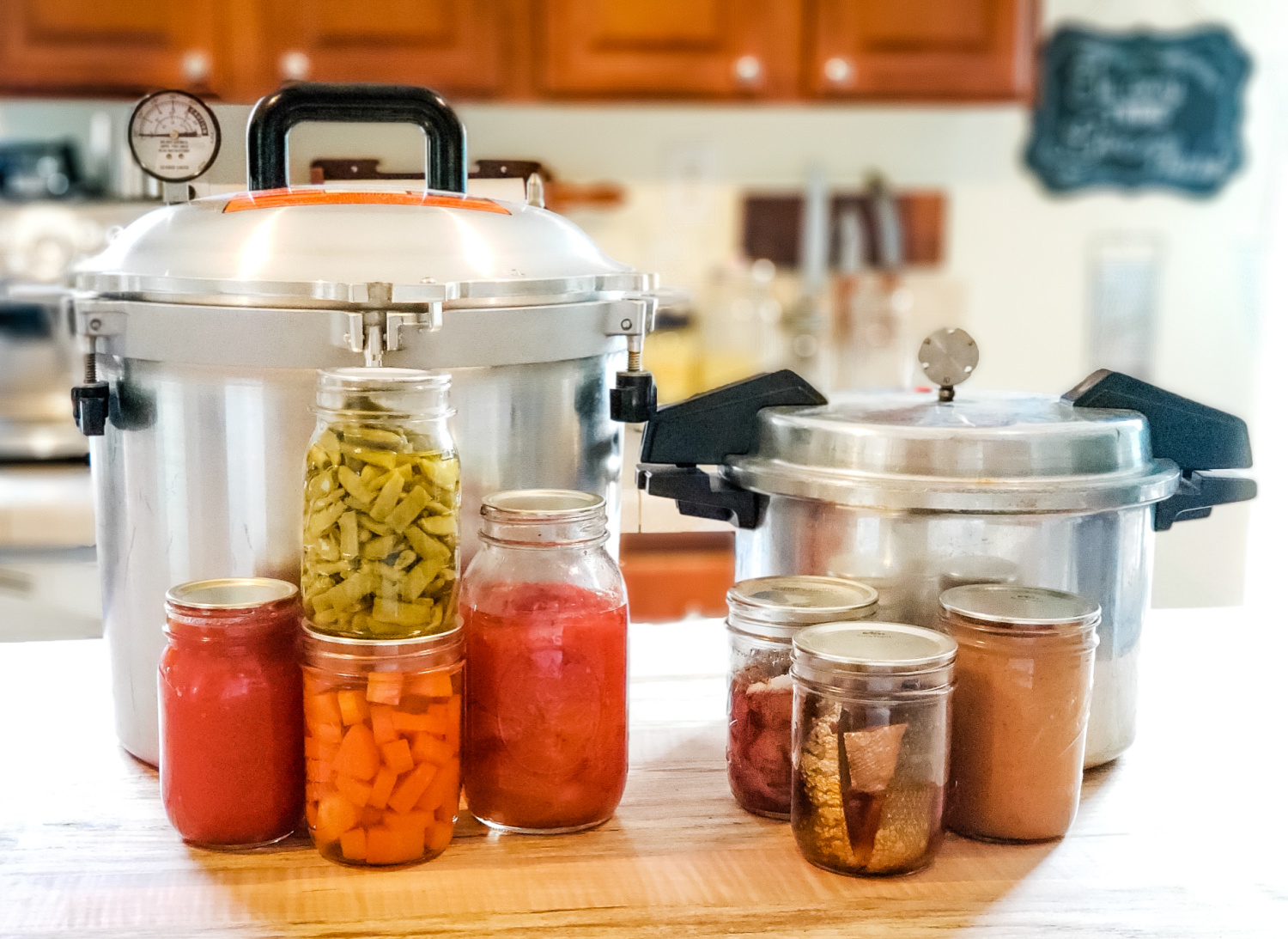 Food Preservation Methods
Preserving the harvest is one of the most basic homesteading skills. You've put time, energy, and money into your crops, so you don't want to waste them. This skill will ensure your food supply for years to come.
I highly recommend you grab my book, Everything Worth Preserving, where you'll discover the nine home food preservation methods to safely store delicious food for year-round eating with my step-by-step tutorials, recipes, and easy-to-use charts.
Get ready to learn everything you need about cold storage (aka freezer), water bath/steam canning, pressure canning, dehydrating, fermenting, freeze-drying, root cellar, infusion, and salt/curing!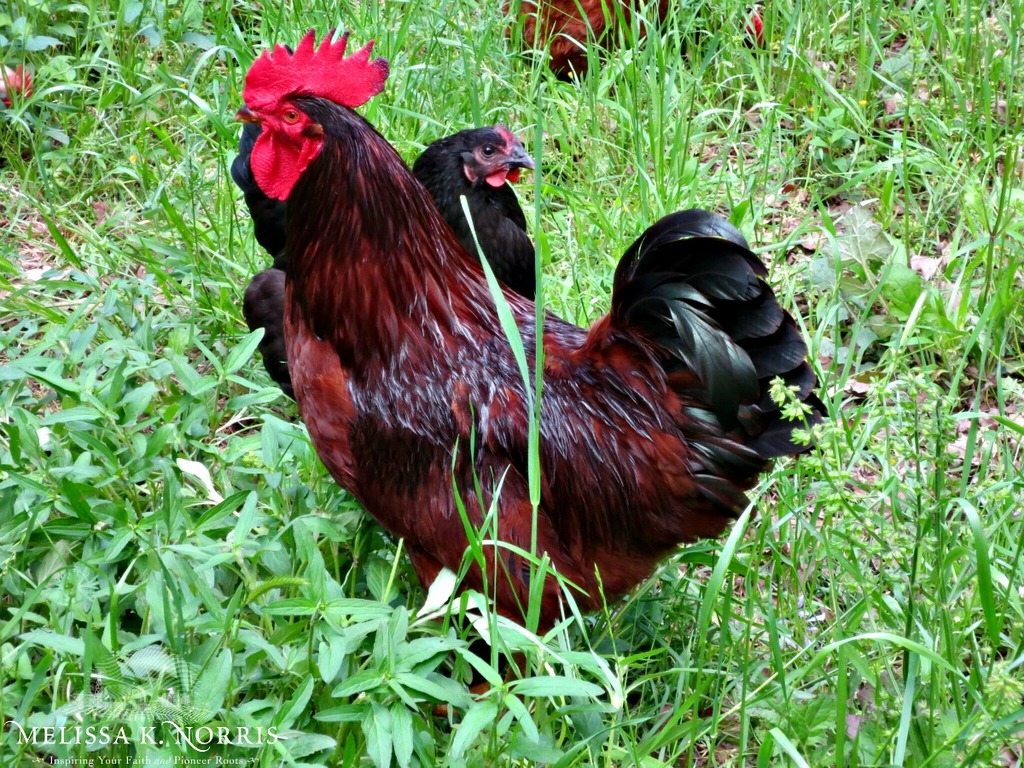 Learn to Raise Poultry
Raising chickens for meat and eggs is oftentimes the "gateway" into homesteading. We raise and butcher our own meat chickens, as well as cattle and pork for meat.
Many people start with backyard egg-laying chickens. Some homesteaders have a wide variety of fowl, from quail to geese (read here on raising ducks for eggs). You will have to decide for yourself what you want for your homestead.
You will also have to choose the right breeds for your goals and climate. Besides eggs and meat, you'll have a source of entertainment and endless pleasure.
Check out these articles for more on raising chickens.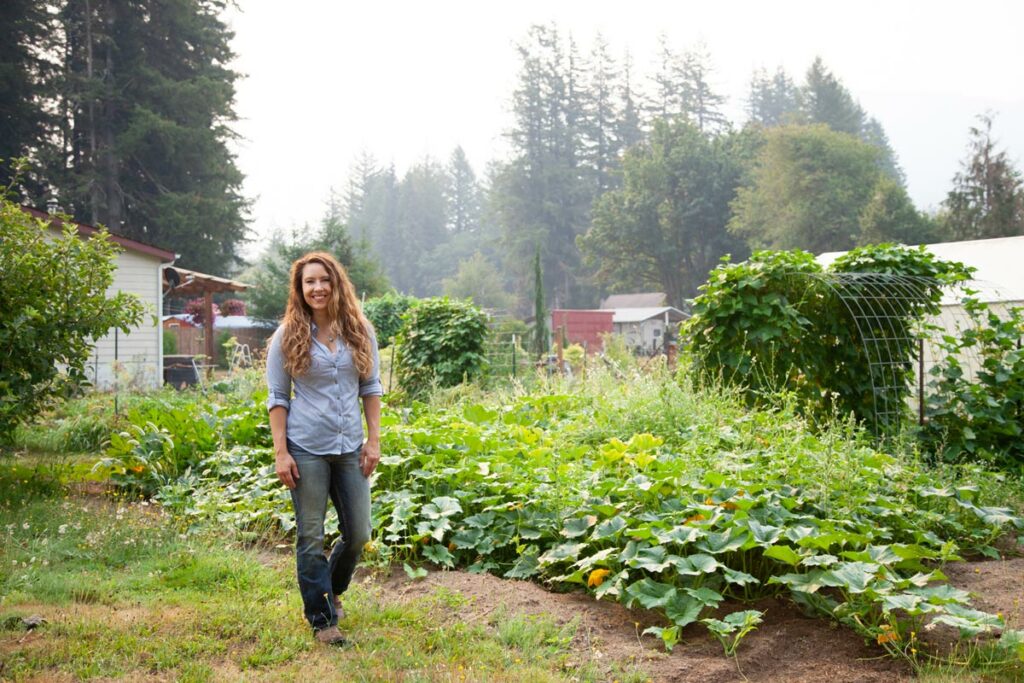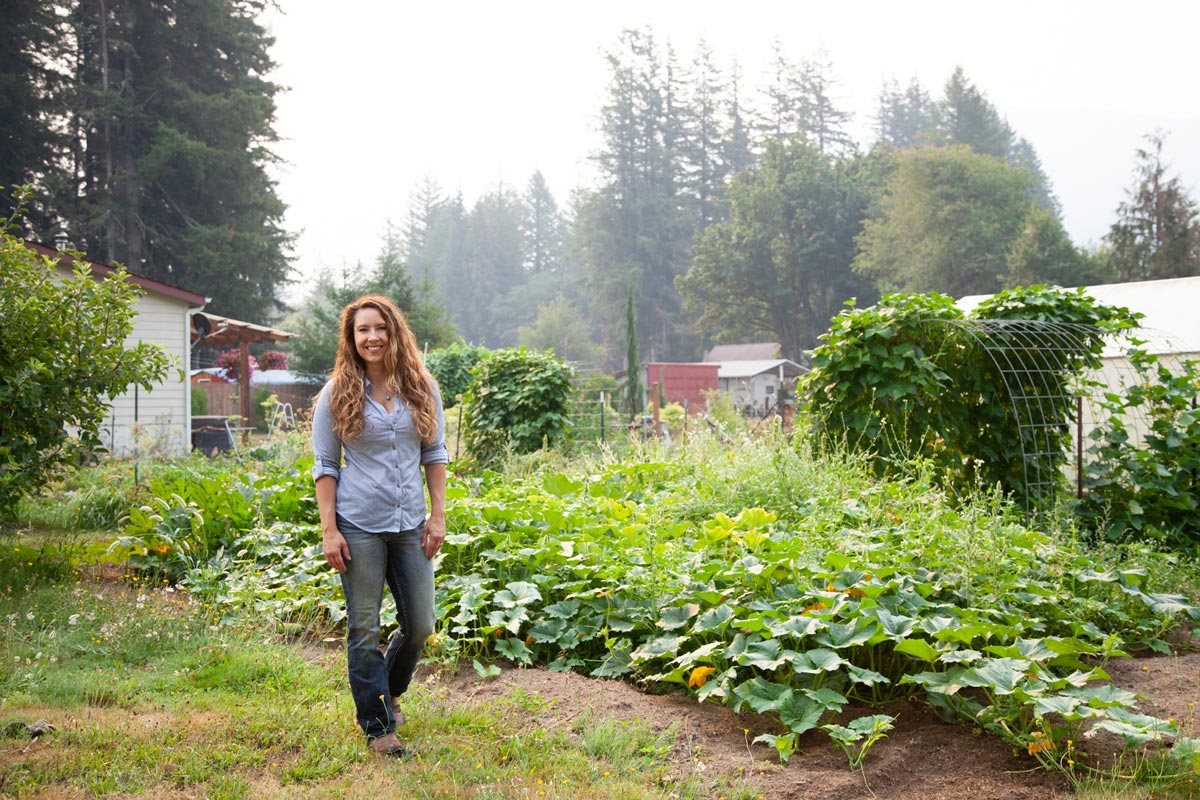 Perseverance + a Can-Do Attitude
Regardless of circumstances, we can all have a "can-do" attitude regarding what we can do right now. We'll never get there if we constantly look at the circumstances keeping us from living our dreams.
But if you look at your circumstances and are constantly asking yourself what you can do, you'll be prepared when the opportunities for more arise.
I'm not suggesting this list is comprehensive. It's only meant to be a list of basic skills for the modern homesteader. We could go on for hours on each of these skills and add endlessly to the list.
If you're looking for even more inspiration and want to take your homesteading skills to the next level in a matter of days, get your tickets to the Modern Homesteading Conference. This in-person event is hosted in the Pacific Northwest in beautiful Couer d'Alene, Idaho, and will be held on June 30-July 1, 2023. I hope to see you there!
Verse of the Week: Romans 5:3-5
Verse of the Week: Galatians 6:2-4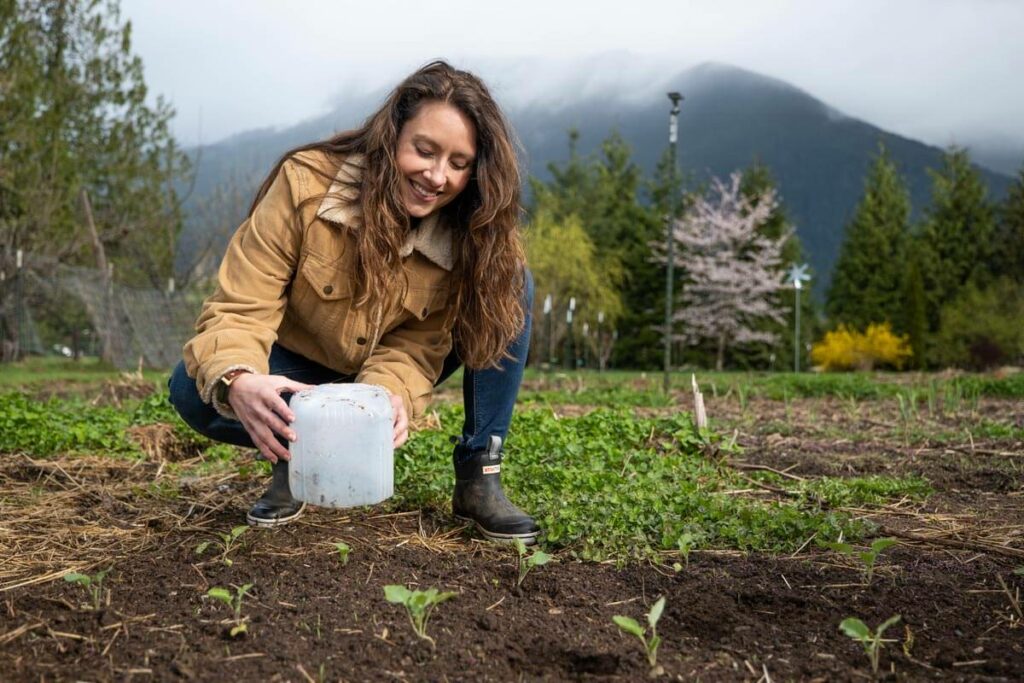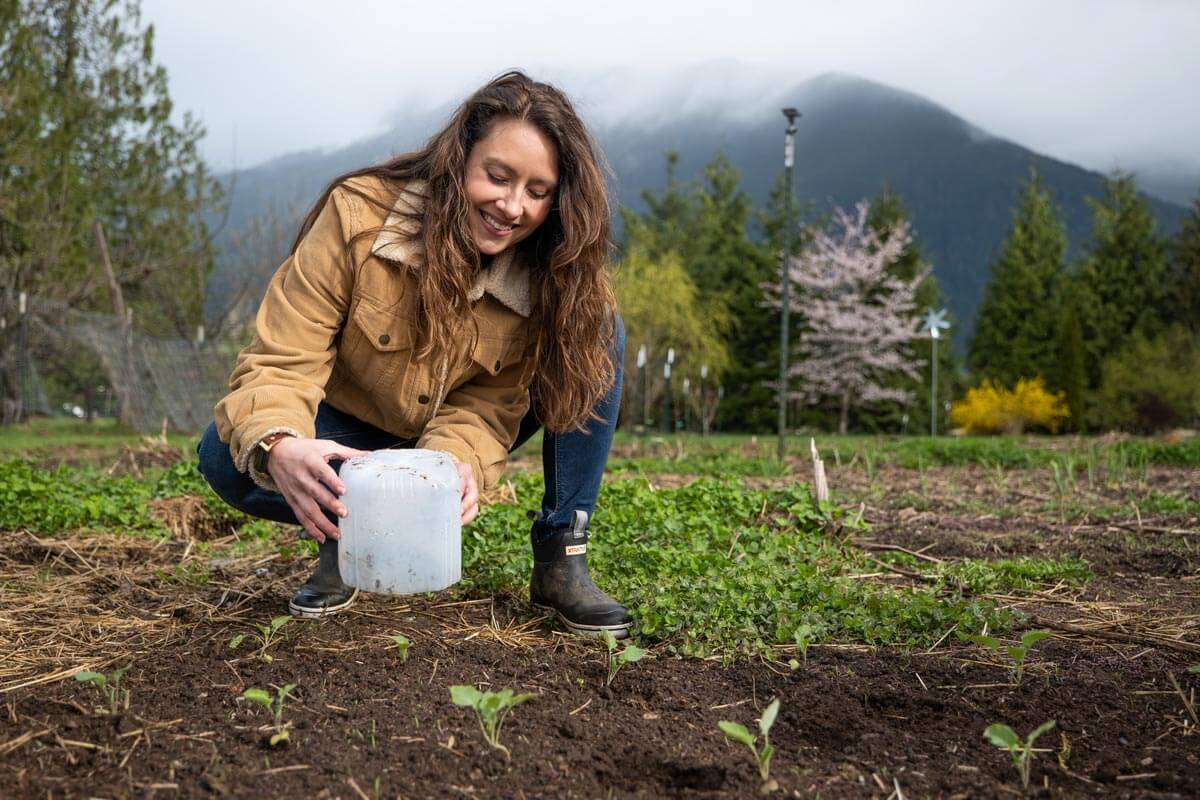 More Posts You May Enjoy
Hey, pioneers. Welcome to episode number 358. Today we are going to be picking back up where we left off on essential skillsets that homesteaders need. Now, this is part two. If you did not listen to part one, I highly recommend that you go back and listen to part one so that you're up to speed where this one picks up. So, that part one is episode number 355. We'll have it linked in the show notes, and you can find that on the website at melissaknorris.com/355 for part one. Now, hopefully, you are a listener of the podcast already, and you have already listened to that episode and have been waiting for part two. A lot of you messaged me, emailed me, left reviews and said you definitely wanted a part two and for this series to continue. Now, we'll see how far we're able to get today in the allotted time. This may end up being a continual part three series. I'm not sure how many parts of this that we will end up having to cover everything, but today it is part two.
So, I and looking at where we left off in that part one episode is continuing that on. So, today, a lot of what we covered was having your basic skillsets in a lot of your different areas of the home, so it was almost like a homemaker or what we would consider a home economics, is really those beginning skillsets, and now we want to build upon those. So, for part two, I always start with the kitchen because we're all going to be eating food, usually at least a few times a day. If you're doing intermittent fasting, my hat off to you. It may only be once a day, depending on where you're at with that. But the kitchen is really the foundation, I feel like, of both the home and the homestead, so it's kind of the place that I always like to start.
Now, we talked about specific skillsets within learning how to bake, how to cook, et cetera, but today, continuing on that kitchen theme, I think it's important that now, once you've gotten some of those skillsets down, you are preparing those foods at home and from scratch, is we now start to look at the ingredients, and I don't just mean the health aspects of said ingredients because we kind of covered that a little bit in the part one, and I've got lots of other episodes where we have dived into that deeper that you can find if you go to those show notes, but looking at what it is you are making and/or cooking, and is that an item that you could be growing and producing yourself? Now, again, there's such a large plethora of things that we could be growing. In fact, I'm just going to say I don't think there's anybody that is raising 100% of their own food. If they are, it is a very, very limited diet, and that is honestly not my goal.
Now, we produce almost 100% of our own protein needs, so beef cattle, meat birds, hens for eggs, pork, fish, venison. I mean, we really produce a lot of our own protein needs, and about 60% to 70% of our fruits and vegetables on a given year. So, we really do produce a lot of our own food, but the reason I say that, it's never been my goal to produce 100% of our own food because there are certain things that do not grow in my climate, and unless we were in a situation where we absolutely could not buy them or catastrophic events that they're not available at the stores, whatever, et cetera, we like to joke and say the zombie apocalypse happens, along those lines is where I'm going with that, then there are things that I will be purchasing from someone else that is producing that food, be it the grocery store or Azure Standard, who is a sponsor of the podcast sponsoring this episode, where I am able to get things from small farms that have the same ethics as far as growing standards that I do, I can get those things from them.
So, for example, vanilla beans, I am not going to be able to grow vanilla beans here, and yes, I can bake without vanilla extract, but I tell you what. I like the flavor of vanilla in parts to certain things. So, as long as I am able to get things like vanilla beans and citrus fruit that we can't grow here, baking powder, baking soda, those types of things, salt, those are not things that we're producing here, and even if we could, I don't know that I would. Example, wheat berries. That is something that technically grows in my climate, but I at this point in time am not interested in growing wheat to meet our needs. I am happy to buy that from another source.
So, that almost sounds like a backwards way of coming into this episode and talking about that, but my goal with this series is to have very realistic expectations of homesteading and what that means, and I don't honestly think it's realistic to ever think that you will be 100% self-sufficient, that you will never buy outside food, food from an outside source, that you will provide every single thing that your family needs on your homestead. I mean, even the homesteaders of old, if we look back during the actual homestead act, for example, they didn't produce absolutely everything. They still did trading and bartering, and did buy things, yes, a lot less than what we do today, absolutely, but they did still buy certain things from the general store or trade certain crops with other farmers, neighbors, et cetera.
So, now that we have got that fully covered, we'll move on into this a little bit more. So, looking at the dishes and the foods that you're preparing most often for your family or on a very consistent basis, and seeing of the items that is being used, what is it that I could grow here and/or produce on my homestead, and then going forth and implementing that? So, with the foods that you are cooking, the space that you have available, et cetera, this is going to vary for people, which is why I think it's really hard to put down a complete roadmap for a homesteading journey because it encompasses so many different areas, and we all are at a little bit different starting points, different points in our journey, I should say, and it's going to look different for everyone.
So, for some people, you might be looking at it and you're like, "Oh, my goodness." We actually use a lot of different tomato products in our cooking, from ketchup, tomato sauce, stewed tomatoes, salsa, all the wonderful things that we can do with tomatoes, and sun-dried tomatoes. So, you might think, "Gosh, that is something that I want to work on producing, all of our tomatoes in the garden next year, so that I can make all of our tomato products for all of our foods from what we've grown ourselves." So, you will probably still have a fresh eating vegetable garden, and I make this distinction because what you plant to eat fresh from a garden and what you plant if you plan on that garden providing food for your family for an entire year via preserving, while it may be some of the same plants, it usually looks somewhat different than just planting to eat fresh.
So, ideally, that is how you will start to approach a garden and crops, is what are the crops that I want to have enough of that we've grown that will take us through an entire year, and I've got many, many episodes. I have a full book on that. I've got blog posts on that, et cetera. We can link to them in the show notes. If you have my book, The Family Garden Plan, that is the literal roadmap for helping you figure that out for you and your family, and then teaching you how to grow said things, do the garden and all of that. So, if you don't have that resource, highly recommend you check it out. When you go to the book page on my website for The Family Garden Plan, which we'll link to, you'll actually see where you can grab the charts for free without getting the book on at least getting a number on an average amount per person, and it walks you through how to figure out what those foods should be for your family and how to grow them, or how many you should grow, excuse me, I should say.
So, that is really where I would start, is looking at how can I grow some of these items that I'm using to cook with that I'm not already, and that's the next jumping off point, which brings us to food production, growing our own food and raising it, and that's really going to be the majority of the topic for this episode. So, of course, baby, baby steps, if you have not grown anything ever before, is to start with growing a small pot of herbs and/or doing something really like sprouts. You can sprout with seeds in a mason jar on your countertop, no matter what time of year. You don't need dirt. You don't need a grow light. All you need is some water, a mason jar, and seeds, and that's it. So, that's really a great place to start to produce something, no matter where you are, what your space looks like.
Then growing a few fresh herbs on the windowsill is a really great option if you live in an apartment or you don't have space. At least that is something that you can produce. Then, of course, we move up into containers. So, if you've got patio or a back deck, something like that, you can grow some food in containers. Now, will it be a year's worth of herbs? Yes, very likely. You can grow a year's worth of herbs because typically, we're not using huge amounts of herbs. You're using a relatively small amount to flavor a dish, so you can grow a year's worth of herbs in a container. Now, in a container or a couple of containers to grow a year's worth of tomatoes, potatoes, et cetera, depending on the size of your family, of course, that's going to be a little bit more difficult. You likely are going to need some type of garden space or a lot of large containers or some raised beds in order to grow a year's worth.
But if it's just a singular crop of a year's worth, really, if you can do some vertical gardening, and then growing a year's worth of green beans does not require nearly as much space as you anticipate. Again, there's a ton of blog posts that I've got on this, on vertical growing and how much and what it looks like, et cetera, so we'll link you back to my website because there's just a ton of information on these, but that is just looking at and seeing what can I start producing of our food, and each year it will increase. So, once you've gotten past an annual vegetable garden, then it's... Usually, people start with a summer vegetable garden because that's what most folks are familiar with. You plant a garden in the summer. It's your warm weather crops. You do your harvest during that time, and then you're really not growing a garden for the rest of the year.
But the next phase is to learn how to grow cool weather crops, and that's going to be, for most climates, is going to be for spring crops and fall crops, overwintering some, even without a greenhouse, with the exception of you live in a really hot climate. You're almost the opposite. So, if you live where I'm talking, where it is scorching, 100-plus close degree days all throughout the summer, then likely, you're almost the opposite. You're not growing a whole lot during especially July, August, and September, but then come the other months, you'll be able to grow the crops that it's just too hot, everything gets fried and cooked during the summer months. So, again, this is always adaptable, really, to any... You'll find a way, and if you listen to part one, you'll know at the end of that what I'm talking about. You will find a way to do this, really no matter what your climate and circumstances are.
Then after we look at annual vegetable gardening and then increasing that into doing all of the seasons, or at least as many of the seasons as possible to grow our food, then the next skillset beyond that is going to be adding in, and I could be in tandem, but for a lot of folks it's adding in your perennials, so looking at doing perennials with fruits, berry bushes. Some perennial vegetables, some of our vegetables like asparagus and rhubarb are actually perennials, meaning they come back every year without us replanting them. So, there would be some of that that you usually will move into, and then incorporating permaculture, and we've got a ton of episodes on that as well. So, as far as the gardening production part of growing your own food, that's kind of the path of progression there of your skillsets.
Now, talking livestock, that is a whole 'nother set of skillsets, and I think we probably should just go ahead and plan on doing that as its own singular episode because to really dive into that, I feel like we'll need enough time, and we're already almost 15 minutes into this bad boy. So, we will save that. I guess I just figured out we will be having a part three, and that one, my friend, will be on livestock. So, we've talked about our food production here in a more overarching, just kind of briefly going into that because I've got so much detail on each one of these aspects of gardening, from raised bed, permaculture, fruits, container gardening, et cetera. We've got lots of individual episodes on that. So, again, the show notes for today's episode and the blog post, we will link to all of that. To find that, you can go to melissaknorris.com/358. That's the number 358, because this is our episode 358.
So, you'll be able to find that, but after or alongside, looking at producing our own food and really incorporating that into our kitchen and our cooking, is looking at our medicine cabinets and also our cleaning products, because I feel like after you've tackled food, that really, that's the next step, or at least it was for me, and I know for a lot of you, is I started realizing if changing my food, and I'm this concerned about what I'm eating, then what about the stuff that I'm putting on my skin, that I'm in contact when I'm cleaning? All of those things, aren't those just or almost as is most importance, and then looking at our medicine that we were using, which for me, as a... I was a pharmacy technician for over 18 years. I actually just let my license go last year. It was the year I knew, and I kind of knew it, but it's harder to let go back once you let your... Forgive me as I go on this little tangent.
In the state that I live in, Washington state, once you let your pharmacy license go, then to get it back, you have to go through two years of school. It's a two-year program in order to get it back. So, to keep it, you have to do continuing education. I had to do 10 credits of continuing education in the healthcare field, in the pharmacy field, every single year, and then pay my licensing fee. Now, I have not worked as a practicing pharmacy technician. I was doing fill-in up until two years ago, and then I quit my pharmacy tech job four years ago at the time of this recording, so it had been four years. But prior to that, I worked for 18 years as a pharmacy tech, and it was just last year that I was like, "Why am I still doing my continuing education?" Because if I needed to find employment or source of income other than what I'm doing now, I had to really have this honest conversation with myself. Could you ever go back to pharmacy?
I had no. I would do probably almost any other job. I would not go back to pharmacy. I do not think that I could make myself do it, to be honest. So, I let it go. So, I share that with you because, one, I realized what I know now within being a home herbalist, which my pharmacy background and everything has no bearing on using herbs, and if you've went through any of my herbal training, you know that because it's not taught. It's not something that we are taught in the pharmacy world. In fact, the only time that we did come into herbs if we had patients who were coming in and asking, and/or there were certain prescription medications that would interact with specific herbs, and sit would be upon patient consult that we would have to talk about that. But other than that, herbs is not taught in pharmacy tech at all, very, very rare.
However, I did approach my herbal practice, and as I said, if you went through any of my herbal trainings, which I will be doing one in September of 2022, I will be doing another live herbal training, so if you're on my email list, keep an eye out for that because I only do those a couple times a year. But I did know that prescription drugs and herbs can interact with one another, and we need to know, how do they actually work in the body, because if you have certain diagnoses or certain health conditions, we need to know how these herbs are working, and if they are something that we need to be aware of. So, I approached my herbalism practices from that lens in order to make sure that I knew it was safe, effective, what I needed to watch out for, et cetera.
So, when I say I approached, that my pharmacy training didn't give me any herbal background, that is actually very, very true, but it did make me approach it, being very aware of how affected our bodies can be by foods that we eat and with medications and with herbs. So, that was a long side story of getting into the next skillset that I recommend, is looking at what you are using in your home beyond food, for your cleaning products, your laundry detergent, and your medicine cabinet. So, for cleaning products, one of the first things that we kicked to the curb and I kicked out was using commercial oven cleaners, using and burning synthetic candles that had a lot of fake fragrances in them. Those were things... Fragrances, oh, my goodness. Again, this could be a whole 'nother podcast episode. In fact, we've talked about fragrances and different things like that in your beauty and your healthcare, and in a lot of different places on the podcast, and we'll link to some of those.
The episode that I did with Toups Organics was one of them, where we were really talking about the skin-deep aspects and what we're putting on our skin, and how that works, and things to look out for and avoid, but those were things that I eliminated first. Anything that had synthetic fragrances in it was something that was out the door, or really harsh chemicals. If it had a warning on it like, "Wear gloves. Open the windows when using this," that type of stuff, no, we're not using that any longer. So, looking at what you're using to clean, and I will say that you can do a ton of cleaning in your home with vinegar and baking soda, and of course, water and soap, you can really clean a lot of things with those items, and then adding in hydrogen peroxide.
So, I don't really use any chlorine-based bleach at all in our house. For laundry, I will use things like oxy booster, which is hydrogen peroxide-based. I use a hydrogen peroxide-based liquid bleach, which is not, as I said, chlorine-based. It's actually hydrogen peroxide. Same thing with oxy boost. I get a brand actually from Azure Standard, who is a sponsor of this episode. In fact, to learn more about them and get a coupon code off your first order as an Azure Standard new customer, you can go to melissaknorris.com/azure, and to get 10% off your first order of $50 or more, use code MKN10. So, that's just my initials, MKN10 for 10% off, at checkout. So, in order of skillsets is first just eliminating all of those harmful things, so things with phthalates in them, all of that type of stuff.
So, for a lot of people, it's replacing that obviously with some store-bought items, as I mentioned, using baking soda, using the hydrogen peroxide-based things. Most of us are not making our own hydrogen peroxide. That's not something I've actually even looked into to see if it's possible. Vinegar, we do know how to make our own homemade vinegar. That we'll share with you in the show notes, and then buying laundry detergent that doesn't have a lot of the dye in it and the phthalates, and all of those different things, the fragrances, et cetera, that can be hormone and endocrine disruptors, et cetera. Those are things that are really important to me, and then after getting those replaced with better... I'm trying to find the right word there. Healthier options, then the next level would be do I want to make this, or should I make this myself, so making your own homemade soap, making your own homemade laundry detergent.
I will say that there are times when I do make my own homemade laundry detergent. If you have my book, The Made-from-Scratch Life, that recipe is in there, and then there's times that I look at what all I have to get done, where we're at with our finances, and I instead will buy a good brand that meets all of my specifications of laundry detergent, or liquid laundry wash. That might be even a place that you find yourself. Sometimes these skillsets are awesome to have. I know I can make my own laundry detergent and do so, but sometimes I choose not to use that skillset because I feel like a different area is a higher priority for me to focus on, and then making your own homemade actual body soap, learning how to make soap-soap, not cleaning your clothing soap, though my homemade laundry detergent, you can grate up a hard bar of soap, and you're creating that, and it could be a homemade bar that you have made. But that is another level.
So, instead of buying a good bar of soap, you would learn how to do soap making, and I've got that in my book, Hand Made. I've got a whole homemade bath and beauty course. So, you can check out that. I've got some soap making things on website. We've even done some podcasts on some soap making. So, there's lots of areas that you can go into where you decide, "I am going to make this and not just buy the better version." So, we definitely look at... My criteria for everything is first replacing those items that you use on a daily or almost daily basis, that you're using a lot, because if you swap out something that you're in contact with either in your home, on your skin, or you're eating, that makes the biggest difference in our health.
If it's something you only use every now and then or you only come in contact every now and then, of course, in an ideal world we would be doing it. All the things would be at that highest level, but I feel it's more important to put our focus on the daily or the almost daily rather than just the sometimes things, and that can also give you, hopefully, a little bit of a sigh of relief because it gives you a place to focus. Otherwise, it can feel extremely overwhelming, like, "I want to do it all, but I can't do it all," so that just helps you narrow down where at in your journey. So, of course, we have been talking about cleaning products as well, and then looking at that natural medicine cabinet, well, what I hope becomes your natural medicine cabinet, I should say, if it's not.
So, kind of following this same criteria is looking at the things that you use often for your family, or the things that you always have stocked in your medicine cabinet. So, for a lot of homes that would be Tylenol or the generic name, acetaminophen. That's something that a lot of people would keep on hand. For others, you may have... I'm kind of talking about the OTC stuff because when it comes to prescriptions, that, sometimes by altering your lifestyle and a lot of different things, you absolutely can get off prescription medications, but that is not something that I can really dive into here because there's so many variables, and you have to be really careful with how you're coming off of them, and a lot of times it should be monitored by, not a lot of times, almost always, you need to monitor as you're getting off of those things. You need to monitor things with your pharmacist, with your doctor.
A lot of times, depending on the prescription medication and what you're on it for, it might even... You may need to do lab draws in order to make sure things are where they are. So, it's not something I just say, "Oh, you just change your diet and you can get off all your prescription medications," because that's actually false, though in a lot of instances, that does happen. So, we'll leave that one there. So, really focusing on the OTC aspects or over-the-counter aspects in your home medicine cabinet, antiinflammatories, fever reducers, pain relievers, cough and cold, those types of things. So, look at those, and then that would be an area where I would dive into, and that's what I'll be doing my training on in September. Again, make sure that you're on my email newsletter list because I will be sending out invites to that for that training so you can get registered for that.
But I'll really be focusing on the things that you would use for cough and cold season, cough, cold, flu seasons, et cetera, and using herbs and natural remedies in that realm. But looking at that, diving in and doing adequate, applicable research, and getting some of those items replaced or at least having an alternative of a natural herbal option, and then once you've went in that aspect, so this is the next level of this skillset, is there items that you could be growing yourself of herbs that you have been purchasing to make these? Is that something that you could start producing yourself? So, for me, that's elderberries. Now, I do live in Washington state, but we actually, in our area where I'm at, we don't have, or at least I've never found elderberries just out in the wild, just growing wildly here.
Now, I do if I go up really high, but the pass, I'm not always going to drive two hours to get over our pass, and on the east side of the mountains from where I live, they grow very prevalently. But where we're actually at in our little location, they don't. So, that's something with elderberries that I always have on hand. Elderberry syrup is great for a lot of reasons, but I've bought my elderberries because it wasn't something that we had growing, and then I put in elderberry plants three, four years ago. I'm trying to remember how old my plants are now. This is the first year that I have gotten a really large, any harvest at all to speak of. The berries are still ripening. We had a really late summer, really, really cool summer and spring at the beginning of it, so they're a little bit behind, but they are just starting to ripen, and I am so excited because this will be the first year that I will have elderberries, and I think it'll be an entire year's worth of elderberries to take us all the way through.
So, that's a component now of herbs that I am growing and producing at our homestead that I did use to purchase from someone else, and I should say within the purchasing aspect, ideally, I guess the ideal for everything, even though we've said you can't produce everything at your home in most instances, you'll still be purchasing from outside sources, is to find small farms or people in your community, if possible, and if not, then another small farm, et cetera, to get those items from. I think that's really an important and often an underspoken aspect of homesteading, because we are a lot about self-sufficiency, but it's that community sufficiency. I have a whole episode on that. I know you're probably shocked to hear that, but with 358 episodes, we've covered a lot of stuff on the podcast.
So, if you can find... If you're not producing it yourself or able to produce it yourself, and it's something that you are purchasing, is if you can find a local source for that, or semi-local. So, I have been getting all of my herbal supplies, especially my elderberry syrup mix, et cetera, and a lot of other stuff for our cough, cold, and flu medicine cabinet from Farmhouse Teas. So, they're a small family farm out of Oregon. I know CeAnne actually extremely well, and what their practices are, and I'm supporting another small family, which I really love that whenever possible. So, looking at that through your own things, again, deciding what is it that needs to be replaced to a better version, where can I purchase that better version, and then looking at seeing, okay, what of these items can I actually produce myself, and then starting to do that. So, that's that overall arching view when it comes to cleaning products and herbal medication.
Now, within each of those things that we went over, there's actually a lot of skillsets particular to each one of them to actually learn, and as I said, I've got a lot of that on the website. Almost every single one of those aspects is covered inside the Pioneering Today Academy, which is my membership where you get access to all of my courses, but you can also often find people in your area that are doing some of these that you may be able to learn from, and there is really nothing like learning in person, which is one of the reasons that I have founded the Modern Homesteading Conference that will be taking place in Idaho next June 30th and July 1st of 2022. So, we'll have links to that. You can go and grab the early-bird tickets for that as well. So, just like your path with learning your skillsets, there's lots of ways that you can learn said skillsets as well.
Now, for our verse of the week, this was actually a portion that my pastor was preaching on this past Sunday, and as I was sitting there and we were reading and he was going over them, it really grabbed me. I don't know if you've... I find it interesting that so often, exactly what I need to hear, even if it's Bible verses that I've heard before in the past, whenever you're going through certain things in life or at a certain situation, those verses, you'll hear them, and it hits you in a new way. I know that, obviously, as a believer in God, that he knows when I need to hear something. He knows what I'm going through, and he will bring that into my path. So, this may be something that you need to hear as well.
So, we're reading from Galatians Chapter Six, and this is the Amplified Translation of the Bible. So, Chapter Six, verse two through four, so it's a little bit of a long one. Bear, endure, and carry one another's burdens and troublesome moral faults, and in this way, fulfill and observe perfectly the law of Christ, the Messiah, and complete what is lacking in your obedience to it, for if any person thinks themself to be somebody too important to condescend to shoulder another's load when he is a nobody of superiority, except in his own estimation, he deceives and deludes and cheats himself. But let every person carefully scrutinize and examine and test his own conduct and his own work. He can then have the personal satisfaction and joy of doing something commendable in itself alone without resorting to boastful comparison with his neighbor.
I love this because it's really very plainspoken. There's not much room for error in interpretation here, and that is keep your eyes on your own path, keep your eyes on your own race, and help one another. I really like this because I know it can be so easy when we talk about homesteading, this was something we talked about in our previous episode, part one, to compare where you're at with someone else, especially with the online virtual world that a lot of live in and can see things. We're only seeing such a small snippet, and so it's so important to not look at someone else's middle and possibly end to your beginning, or where you're at in your journey, but only to compare your own conduct and your own work against yourself, not against someone else, and always be willing to help somebody else and to truly be a community.
So, as I was reading this, it just really hit me on keeping your eyes focused on your own race, which is another Bible verse. I don't remember the chapter at the moment, but that one comes back to mind, but just staying really focused on you and what you are doing, and that what someone else is doing, and I don't think most of us, when we're doing the comparison... Sometimes it's not even conscious. In fact, a lot of times I don't think it's conscious, and I don't think that we're doing it thinking that the other person is trying to make us feel bad, because I don't think that that's actually true either.
I actually do believe overall in the good, that humanity overall is good, but I think that we naturally will compare ourselves to someone else who's further along, and then we feel bad about ourselves, and that, of course, can cause a whole 'nother slew of problems. It stops you from moving forward, or you don't take as much joy in it anymore, or you spend a lot of time wishing that you were X, Y, Z, et cetera, and that takes away from today and the things that you're doing. So, I needed that reminder, and hopefully it helped you too. So, I will be back here with you next week. We'll probably start diving into part three very soon in this series. So, for now, blessings in mason jars, my friends.
Sign up to receive email updates
Enter your name and email address below and I'll send you periodic updates about the podcast.