Some of the links below are affiliate links, which means I will earn a commission at no additional cost to you, if you click through and make a purchase. Regardless, I only link to products we use on our homestead or believe in.
How to dry your own herbs at home so you don't ever cringe at the price of spices in the grocery store again. Some brands are as much as ten dollars for a small jar. I decided I was no longer going to pay those kind of prices and determined to start growing some of my own herbs.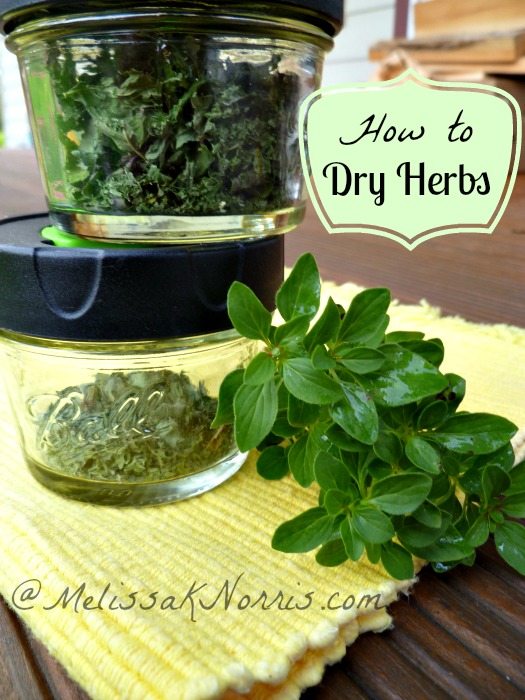 Cooking with fresh herbs is amazing. The depth of flavor is so much more than the dried version, but if you live in a climate that has cooler (or down right frigid at times) winters, then not all of your garden herbs are available year round. So like any true pioneer, we're preserving our herbs for use during the winter.
When to harvest herbs for drying
Harvesting and drying herbs is best done in the morning. They have the highest concentration of oils in their leaves at this time of day, you want to harvest right after the dew has dried but before the sun begins to heat up the air and plant. Basil is the exception and can be picked a bit later in the morning.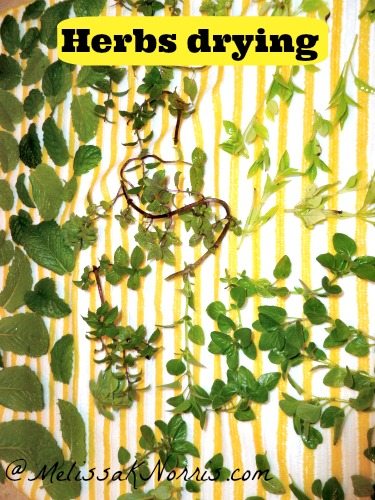 Lightly rinse your herbs to remove any dust or other unseen debris. I'm sure you practice organic gardening at home, so we don't have to worry about any icky chemicals or pesticides. Place herbs on an absorbent towel to suck up the rinse water.
There are two ways to dry herbs, one is using a dehydrator and the other is the old fashioned hanging method. Because we're so damp in the Pacific Northwest this time of year, I use the dehydrator.
How to dry herbs without a dehydrator
Old fashioned method. Tie the ends of no more than four to five stalks of herbs together. Hang the bunches upside down in a warm dry area, out of direct sunlight. Allow to dry until leaves crumble at your touch. Depending upon the moisture content in your leaves and the climate, this can take anywhere from a week to a month.
Best temperature to dehydrate herbs
Herbs are best dried at 95 degrees Fahrenheit, especially if you want to use them for medicinal purposes later. If you live in an area with high humidity, you may need to increase the temperature slightly, but try to stay as low as possible.
After a ton of research, I purchased my Nesco Square Dehydrator due to it's design to hold more food per tray than the circle varieties and the price point. I've had my Nesco for 5+ years and love it. We've done fruit leather, jerky, candied apples, and herbs so far. I've ran it for two days straight without any problem and it's extremely quite.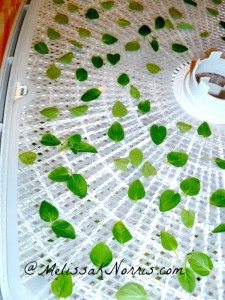 Dehydrator method. Place your herbs in a single layer on your dehydrator tray, making sure they're not touching. Because the herbs will shrink dramatically when dried, I use my fruit leather screens Nesco SQM-2-6 Clean-a-Screen for FD-80 and FD-80A Series Square Dehydrators You want to make sure there's enough between the herbs for the air to circulate.
Because herbs don't transfer flavors when drying, you can dry them together. I had four trays going at once with chocolate mint, spearmint, oregano, basil, and thyme.
How to tell when herbs are dehydrated
Dehydrating times for herbs will vary depending on the size of the leaves and the moisture content. Some will be done in 12 to 24 hours and others may take several days.
To test, take a leaf between your thumb and pointer finger. It should crunch and crumble when pressed. Leave the leaf in the largest form for storage and grind up right before use. The smaller the item the faster it will degrade and lose it's flavor and medicinal quantities.
Store herbs in a tight container. I prefer glass jars as plastic containers seem to affect the flavor of the herbs over time. I purchases these jars from my affiliate partner Amazon for this years herb harvest 4PK 4OZ Dry Herb JarsYou can also use any glass jar with a tight fitting lid you have on hand.
It's best to store dried herbs out of the light in a cool, dry place to retain the most flavor and the longest shelf life.
When cooking with dried herbs,I put the herbs in at the end of the cooking time to maximize flavor.
What herbs do you grow in your garden? How do you use herbs throughout the year?