Some of the links below are affiliate links, which means I will earn a commission at no additional cost to you, if you click through and make a purchase. Regardless, I only link to products we use on our homestead or believe in.
Anyone can harvest flowers, but when you're wanting to use those herbal flowers for medicinal purposes, there are a few things you need to know. I love planting flowers that are not only visually beautiful but that I can use for medicinal purposes and the ones highlighted below are some of my favorites!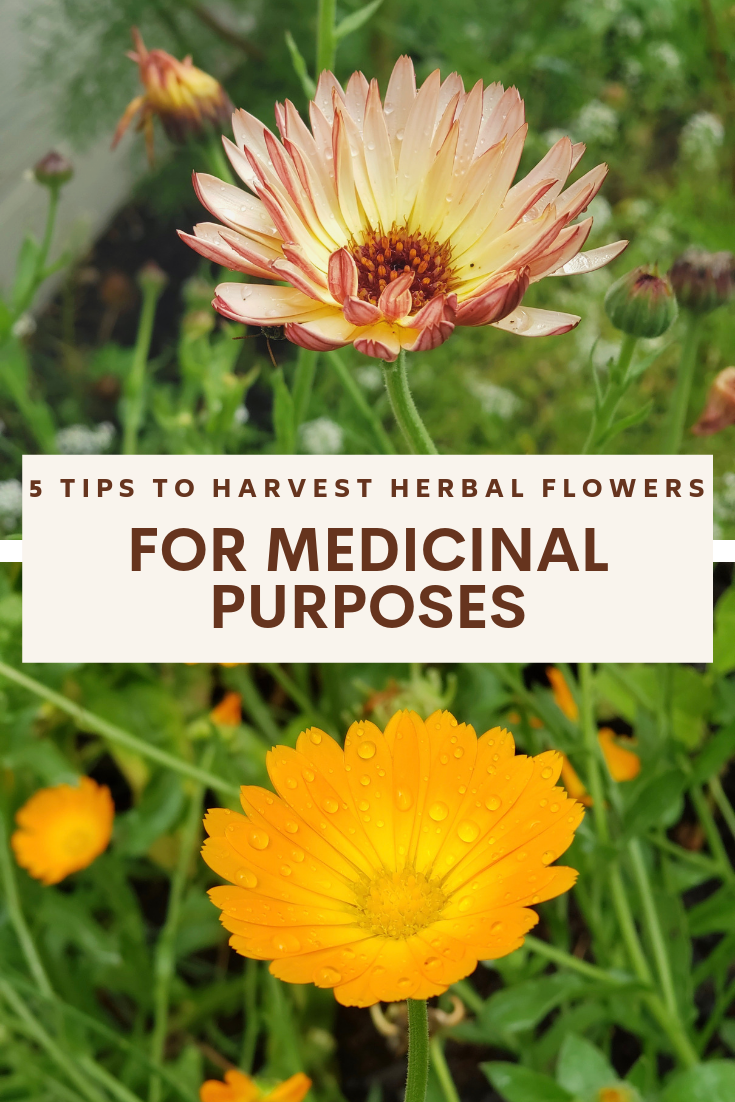 Listen in below to the full podcast, Episode #197 5 Tips to Harvest Herbal Flowers for Medicinal Purposes, of the Pioneering Today Podcast, where we don't just inspire you, but give you the clear steps to create the homegrown garden, pantry, kitchen and life you want for your family and homestead.
You may also want to read my post on planning and growing a medicinal herb garden.
5 Tips to Harvest Herbal Flowers for Medicinal Purposes
Here are the most frequently asked questions in regard to flower harvest.
When do I harvest the blossoms?
The ideal time to harvest blossoms is when the buds first begin to appear, and they begin to open up. This is unlike leafy herbs where you do not want them to flower when harvesting because they can taste bitter. The only exception to this is lavender.
Is there a time of day that I should harvest the blossoms?
Yes, you want to harvest the blossoms in the early morning when the dew begins to dissipate. This time of day is best because the oils in the blossom and leaves are the highest concentration. As the day progresses and the sun is in full force is when the majority of the oils leave the blossom and leaves and retreat to the root and stem.
Is there a point where I shouldn't harvest my blossoms?
Yes, as you begin to harvest, pay close attention to only harvest blossoms that are at their peak to use for medicinal purposes. You do not want to gather any blossoms that show signs of:
Brown spots

Age spots

Wilting

Decay

Droopy pedals
Does harvesting the blossoms hurt my chances of having future use from the flower?
Absolutely not! It actually encourages them to create more blossoms! Who doesn't want more of the good stuff?! In fact, you can encourage even more of that good stuff by learning how to prune herbs and tend to the soil for maximum growth each year.
What are your favorite blossoms to harvest?

1. Echinacea
One of the most unique things about this plant is that you can use all parts for medicinal purposes – petals, leaves, and roots. We harvest the root after it's the first frost where the flower and plant matter die back. Learn more about echinacea in Echinacea Tincture – How To Make It & Use It.
2. Lavender
This is a flower that is traditionally a favorite for so many! Keep in mind that lavender is the only blossom that you harvest differently from the others, before it's bloomed when it's still in bud form. To learn more about how to harvest lavender see this video –> How to Harvest Lavender (the old-fashioned PIONEER method)

3. Chamomile
I love drying chamomile and use for tea. Because these are so small, you can pop the head off with your fingers, but I prefer to do a clean cut as not to damage the flower petals.
4. Calendula
This is a powerhouse herb! It is one of the most versatile when it comes to topical application on the skin. It also self-seeds so if you don't want them to take over be sure to cut the spent blossoms. Lastly, there are different color variations of calendulas that are just stunning, from traditional orange, to white, and even pink.
I hope that this post answered all your questions in regards to flower harvesting. If you want to use these flowers as companion flowers with companion planting in your vegetable garden, be sure to sign up for my Organic Gardening Workshop! This is a workshop where I'm giving tons of tips, and you do not want to miss it!
Related videos:
How to Harvest Lavender (the old-fashioned PIONEER method)
https://youtu.be/grozA4saX1E
Other Herbal Posts You May Like