Some of the links below are affiliate links, which means I will earn a commission at no additional cost to you, if you click through and make a purchase. Regardless, I only link to products we use on our homestead or believe in.
Purple dead nettle is easily foraged, when springtime rolls around, you are sure to find dead nettle all over the place. Not only is it easy to find, but it's a great addition to your natural medicine cabinet as well as culinary, making it a top pick on the homesteading bucket list.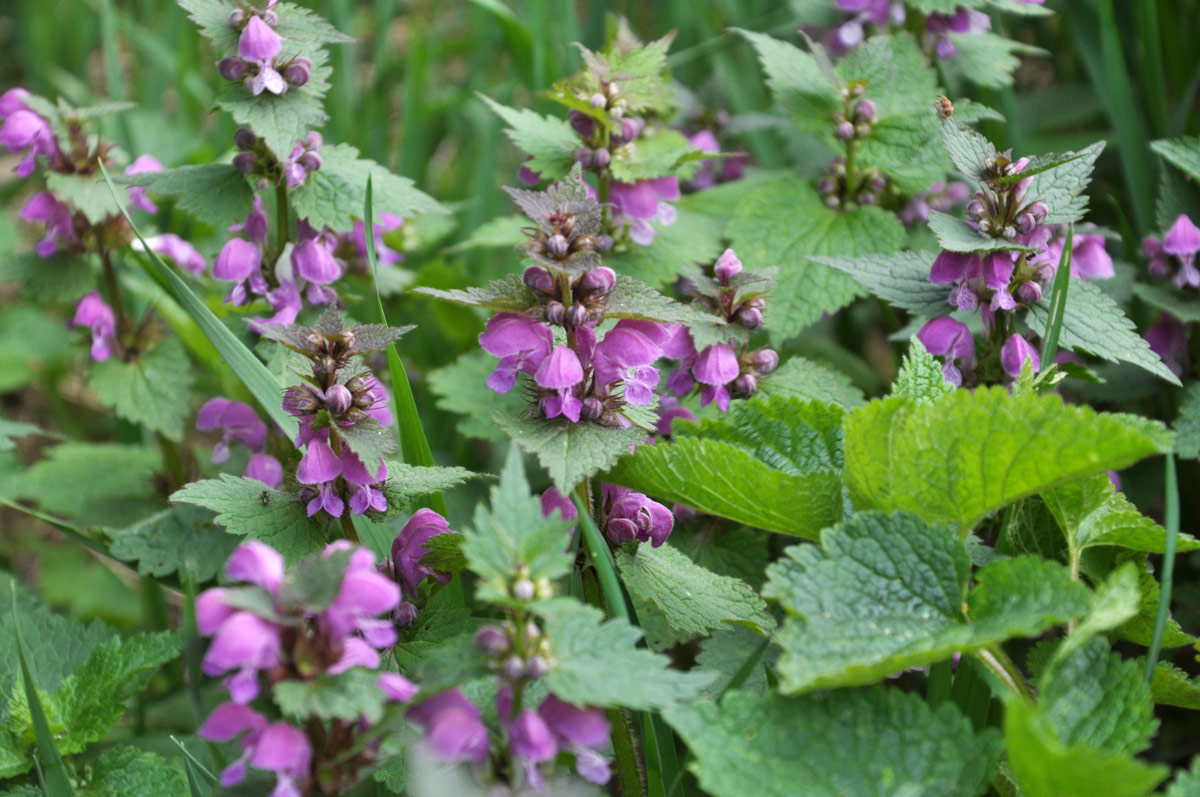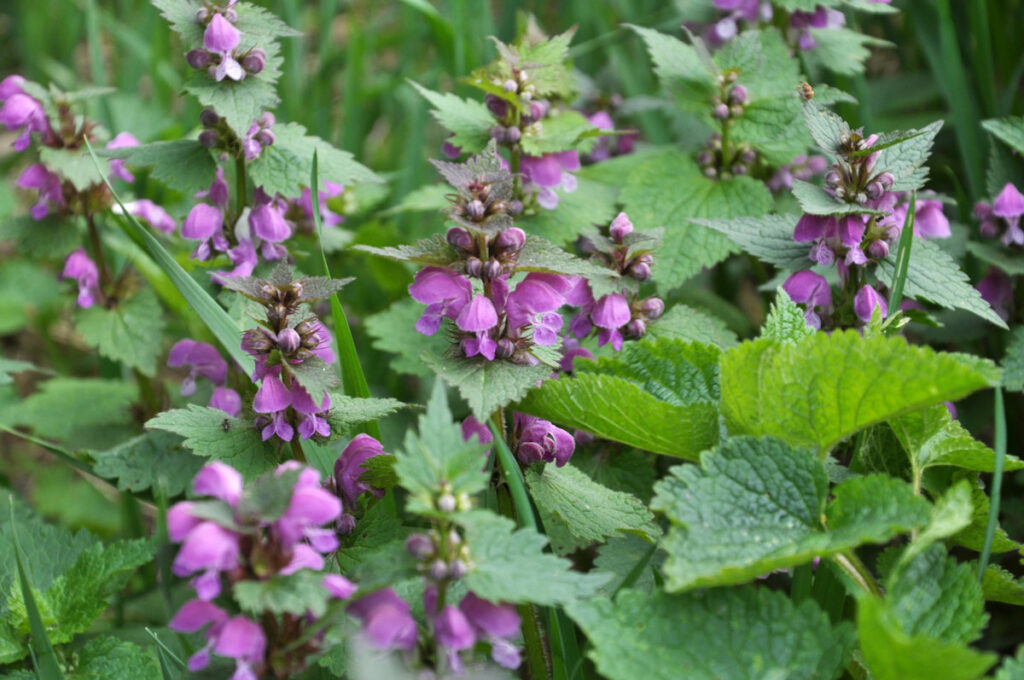 Let's be honest, it doesn't get much better than a plant you can go pick that works for both food and your natural medicine cabinet that you also don't have to plant or tend to, hello!
Most people don't even realize this plant is edible and medicinal. It was commonly thought of as a terrible weed that needed to be eradicated at all costs.
When you learn how to recognize it, you'll discover an entire pantry waiting for you in your backyard, or along roadsides, and in parks.
Disclaimer: I am not a medical professional and this is for informational purposes only, this is not diagnosis or treatment and always check with your medical professional of choice before using anything medicinally.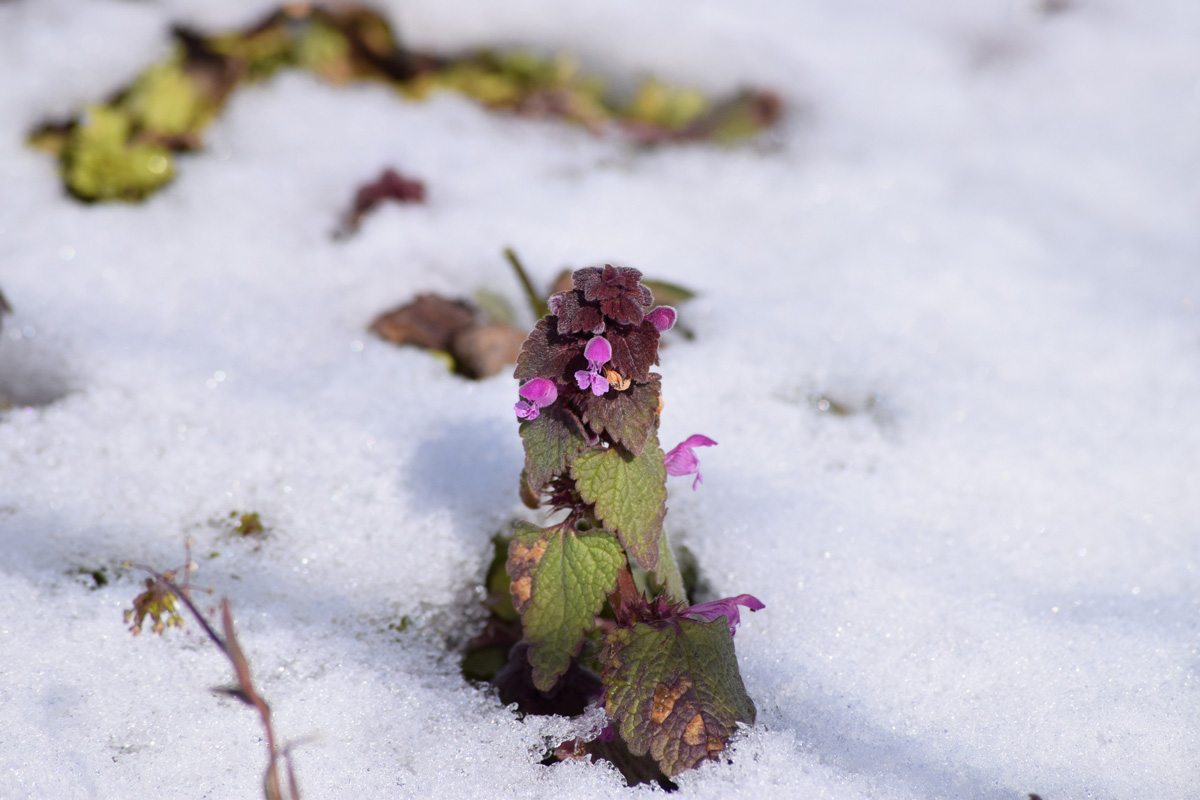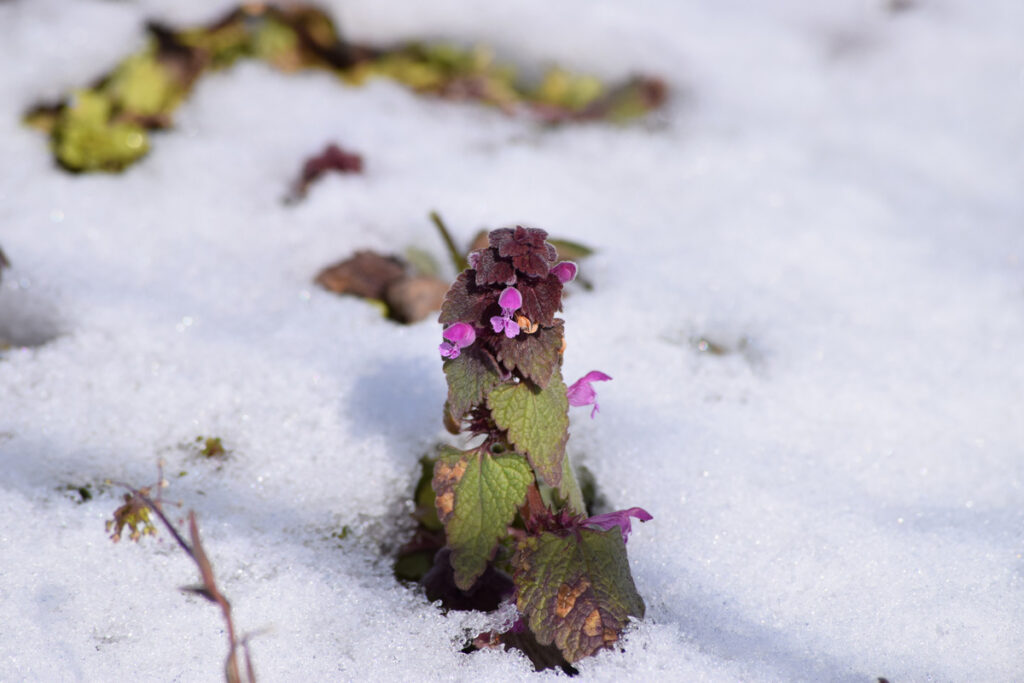 Where & When to Forage for Purple Dead Nettle
Purple dead nettle, Lamium purpureum, is a small plant with reddish-purple leaves. The leaves appear in an oval, jagged shape and grow off of long, squarish stems (similar to mint, as it's in the mint family).
Purple dead nettle (or dead purple nettle) blooms in the spring and can sometimes be found growing up through the melting spring snow. The plant will grow throughout the spring and summer months.
Look for purple dead nettle along previously tilled ground with well-draining soil. It can often appear as a ground cover, too. It loves moist soil and sunny spots.
They're often short squatty plants but can grow to be 3-8 inches in length and 2-5 inches in width.
Because they're in the mint family, they can spread like wildfire, even in your garden. You may not mind it being in your garden as harvesting is much easier, but it can be invasive. If you want to grow purple dead nettle, I recommend growing in a container.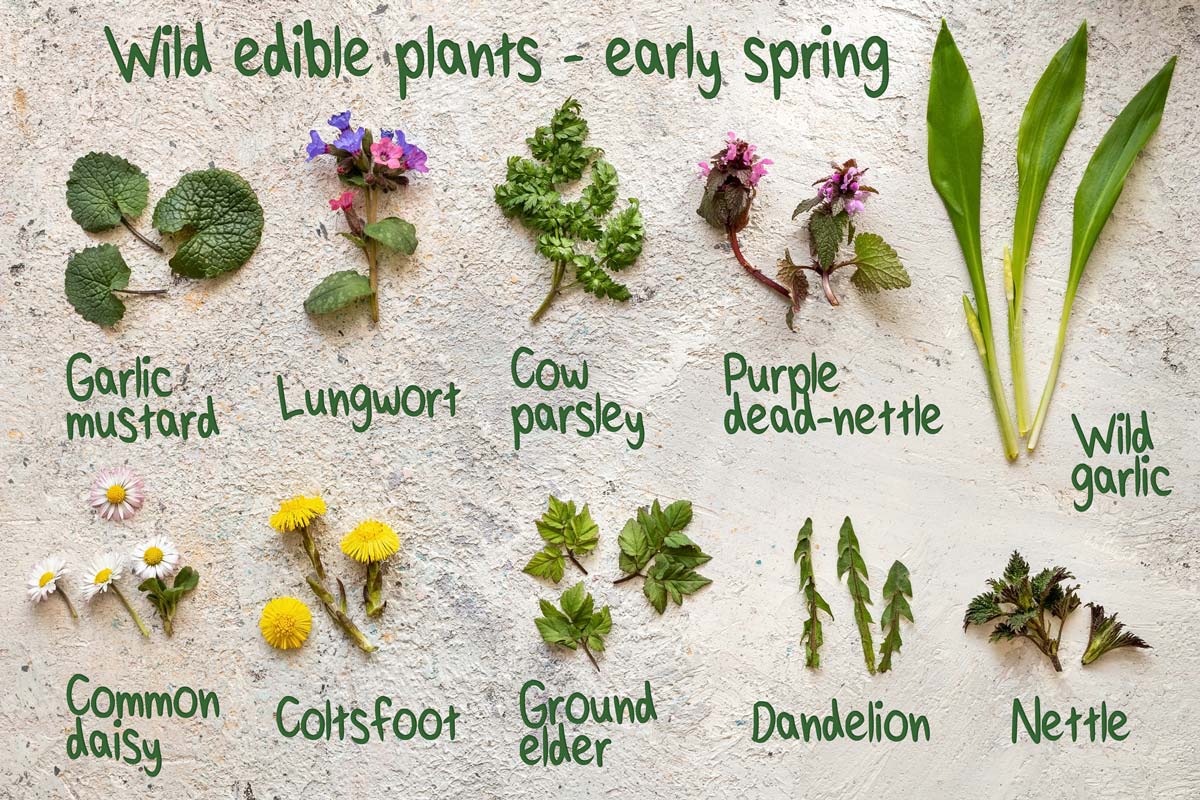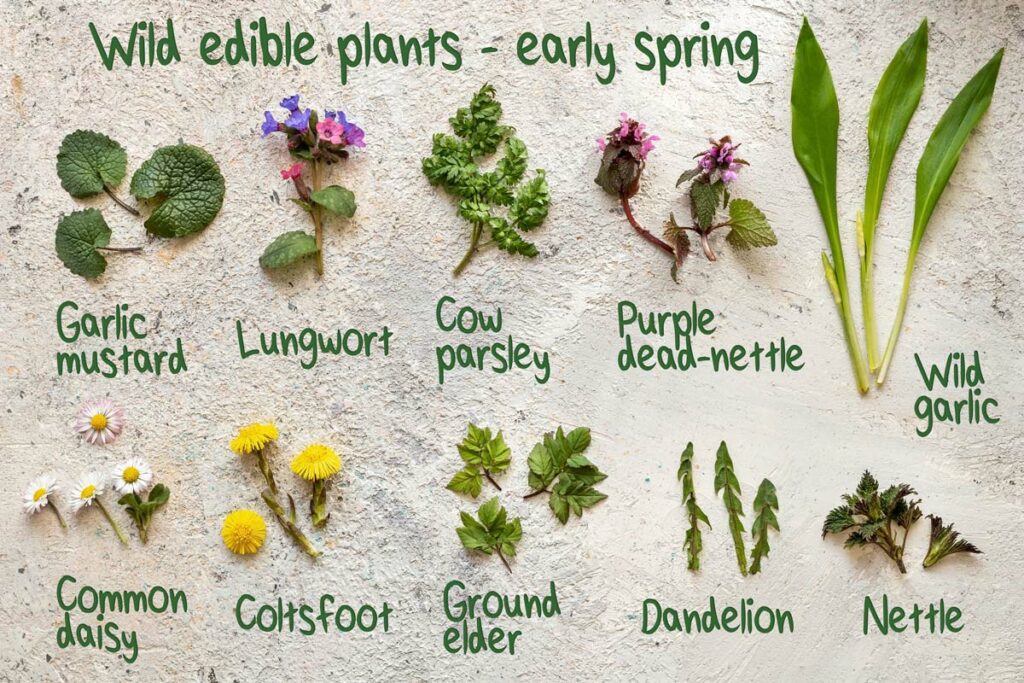 There are many wild edibles that can be foraged throughout the spring and summer months. Many of which have phenomenal medicinal uses.
If you're interested in learning more about medicinal herbs and how to use them safely and effectively in your own home, you should check out my course, "Practical Home Herbalism".
Through this course, you'll gain the confidence of knowing exactly what remedy to make and having a cabinet stocked full of natural medicine for your family to use at a moment's notice.
How to Harvest Purple Dead Nettle
Collecting dead nettle is fairly simple. Snip the stems about ½" from the ground, and gently shake to remove any dirt or bugs.
You can use any collection container you wish, as there is no need to worry about spreading spores as you would foraging mushrooms. Like all mint, they reproduce from their roots.
They can be rinsed with cool water just before using or drying. You don't want to soak them too long in the water, as they will turn to mush and not have a good flavor when you use them later.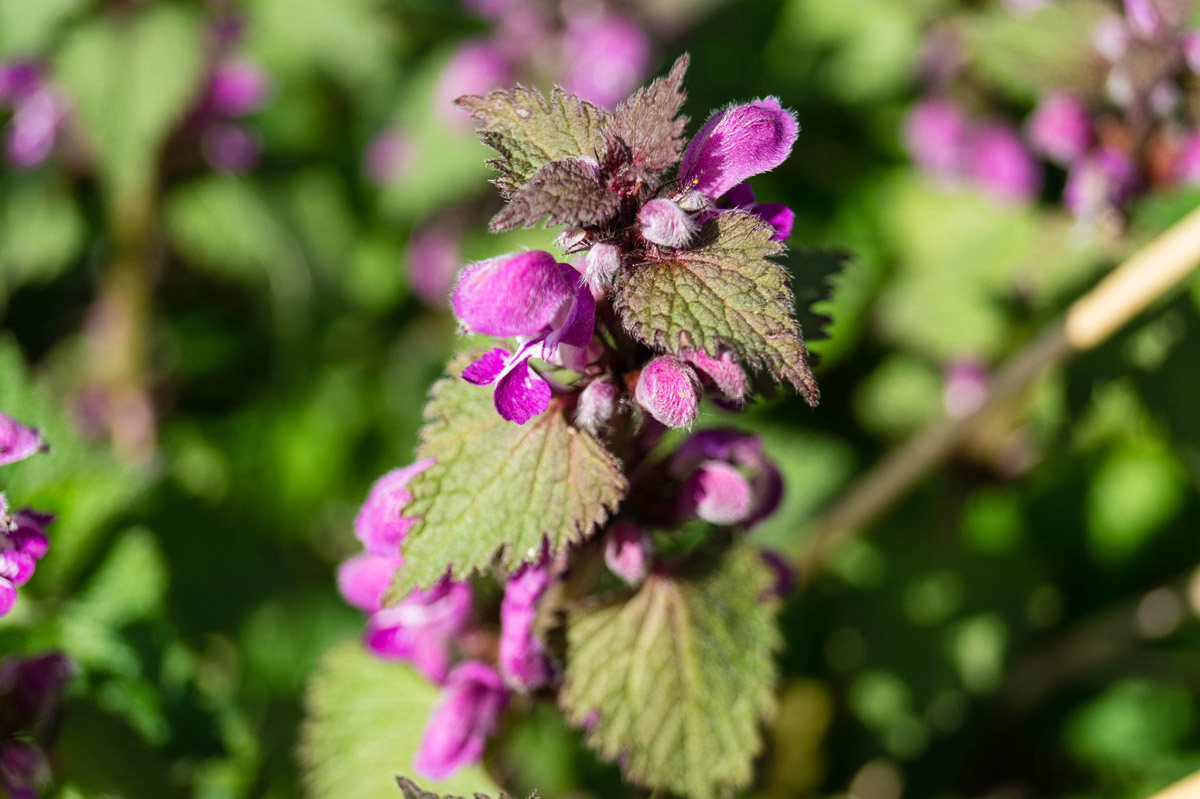 Purple Dead Nettle Look Alike
The only lookalike that this plant has is henbit. The difference is henbit has mostly green leaves with purple flowers. Nettle leaves are almost all purple, with a slightly green edge.
Both are completely edible, so you don't have to worry if you mix the two up.
Not to be confused with stinging nettle, purple nettle doesn't have any parts of the plant that will sting. Purple nettle is counted among the true nettles, even without the stinging properties.
For more info on foraging and using stinging nettle, including how to make nettle tea click here.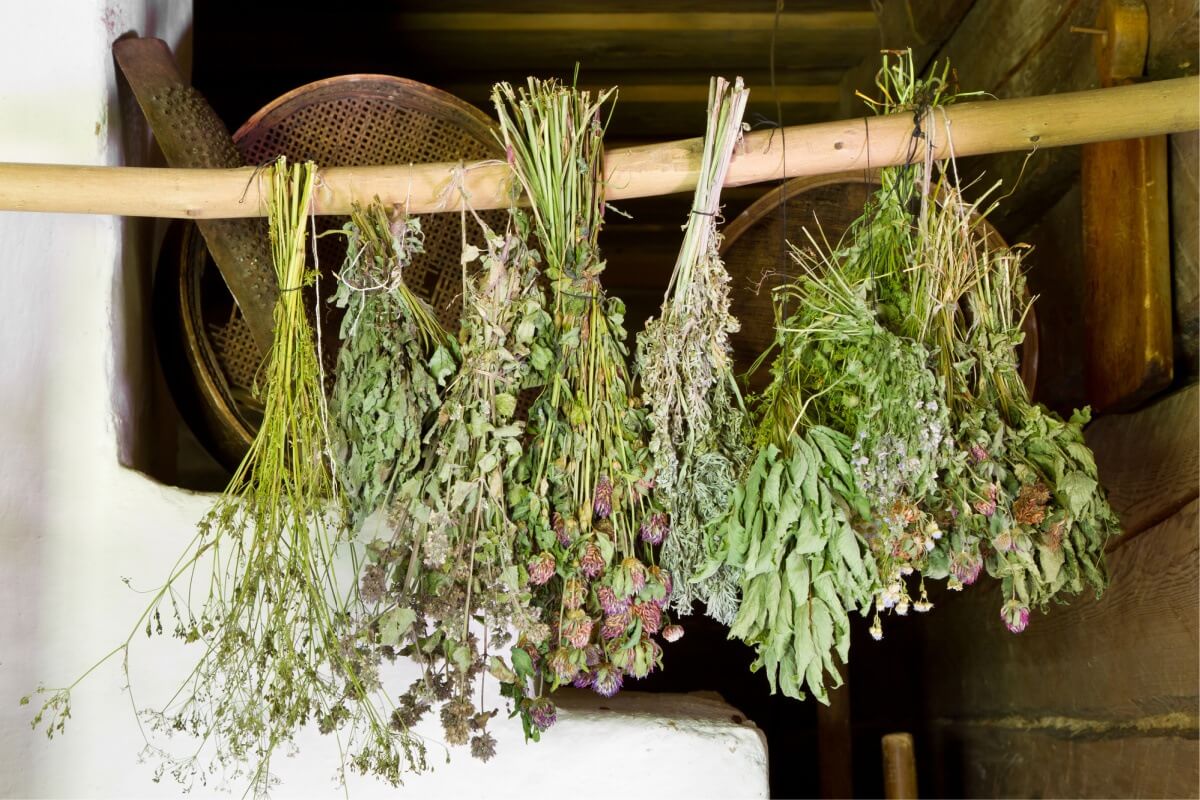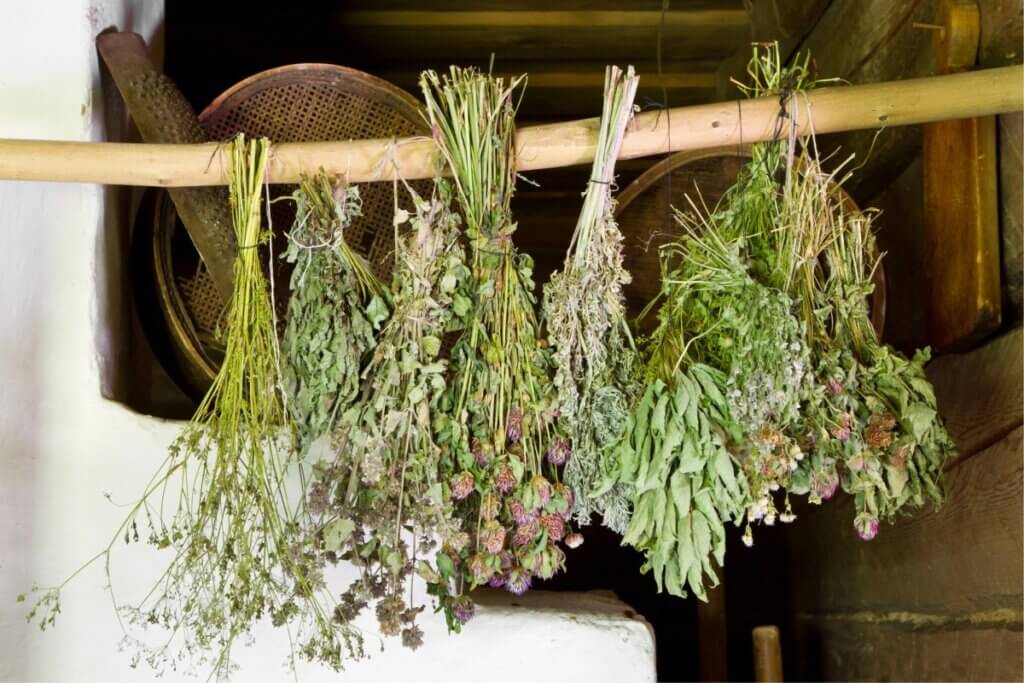 Medicinal Uses
As a medicinal, the leaves can be used both dried and fresh in herbal teas. They are a natural diuretic and have astringent, and styptic properties. The herbal infusion can be used for helping to stop minor cuts as well as assist the body in healing bruises.
How to Dry Nettle Leaves:
Snip off the plant ½" from the ground.
Remove the leaves by either hand plucking them, or running a sharp knife down the stem.
Lay the leaves as flat as possible on a dehydrator sheet and dehydrate for 6-8 hours on low.
You can also dry them on an ungreased baking sheet in a low oven, 175 degrees F (or less) for 8-10 hours.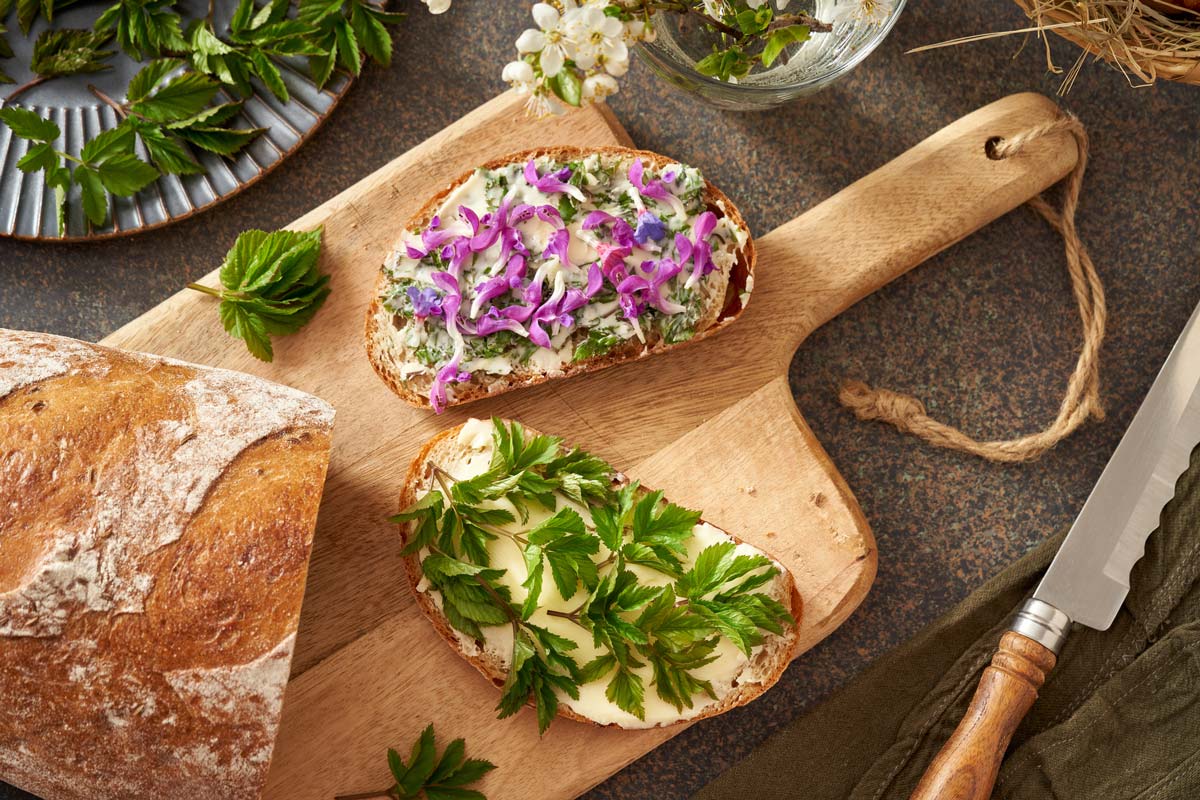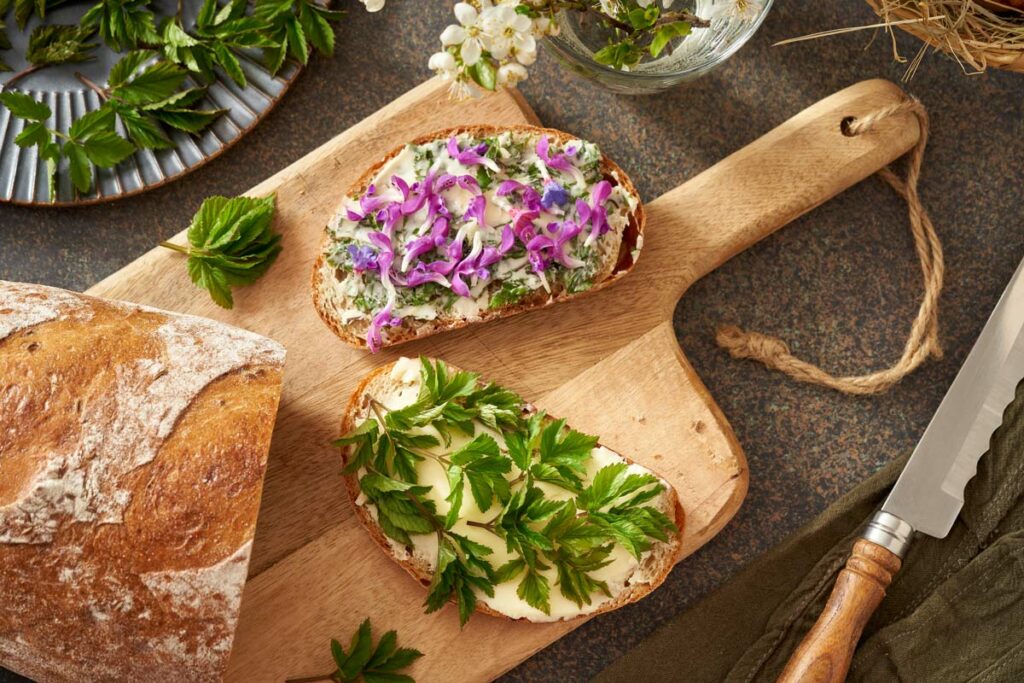 Recipes
As a wild edible, purple dead nettles are naturally full of vitamins A and C, as well as being a good source of iron. The flavor is rich and earthy and is easily used in any recipe as you would use spinach.
Try them in:
Smoothies
Soups
Stir frys
Casseroles
Salads (they pair well with dandelion greens too)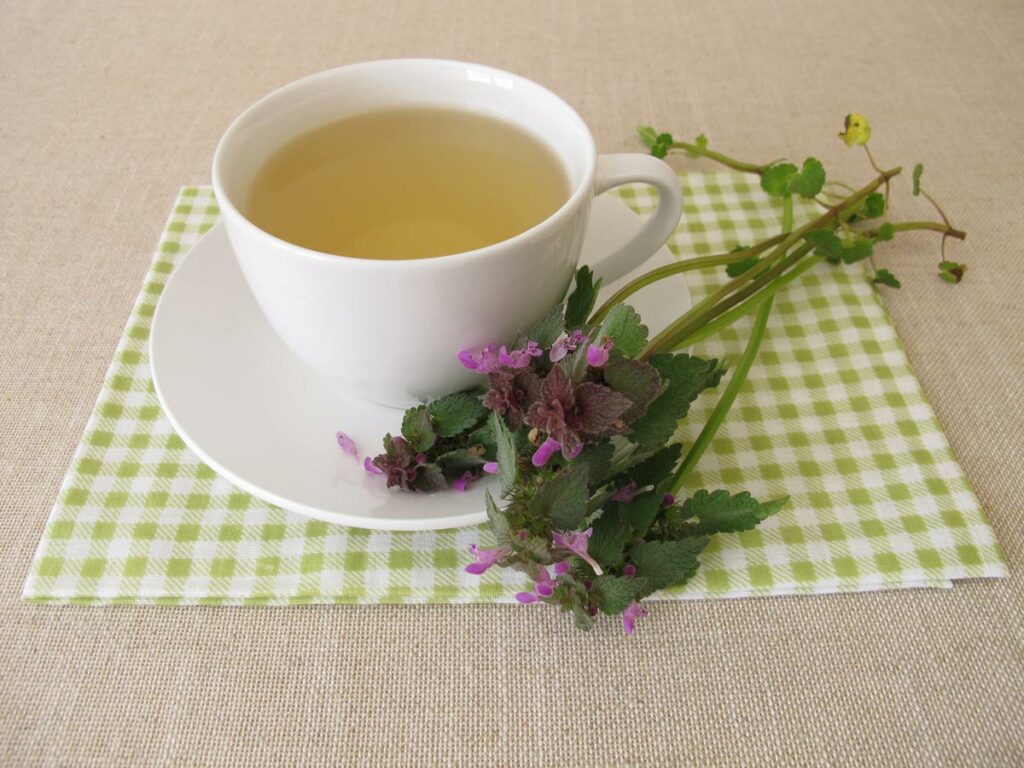 Tea
Add 3 Tablespoons dried leaves for every 8 ounces (1 cup) of not quite boiling water.
Allow to steep for 5-8 minutes, then strain and sweeten to taste.
Blend with other herbs such as burdock, dandelion root, and milk thistle to make a tea that will naturally support your liver and kidney functions.
Salve
In an oven safe bowl, add ½ cup dried nettle leaves to 1 cup of coconut oil (measured in liquid state) or olive oil.
Place in 200 degree F oven for 2 hours to infuse. Remove from oven and allow to cool.
Strain the plant matter, and save the oil. Add 3 Tablespoons beeswax and return to oven to allow oil and wax to melt together.
Pour infused oil into a pint jar and cover tightly. You may add up to 30 drops total essential oils of choice. Try helichrysum, lavender or tea tree oil or a blend of all 3.
To Use: Rub a quarter-sized amount all over bruises and minor cuts and scrapes to aid in healing.
FAQs
What is purple dead nettle good for?
As discussed above, it's high in vitamins and minerals, delicious in recipes and works wonderfully in a homemade salve.
In survival situations it could sustain you as a wild edible and is delicious in tea.
Is purple dead nettle invasive?
Yes, purple dead nettle is extremely invasive as it spreads through a root system and can easily take over a garden bed. To keep it from spreading into unwanted areas, it's best to plant in containers.
What does purple dead nettle tea taste like?
Because it's in the mint family, the leaves have a slightly minty taste, but compared to peppermint it tastes more grassy than minty.
Is purple dead nettle the same as creeping Charlie?
No, dead nettle is a winter annual that blooms in early spring and dies back in late spring. Creeping Charlie is a perennial that blooms in late spring and will stick around into the summer months.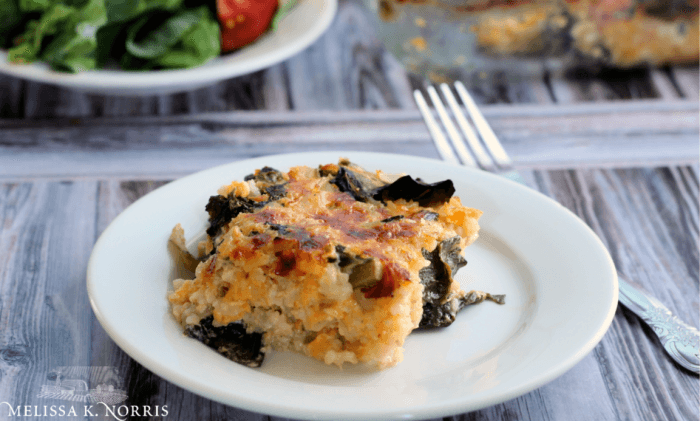 Get creative with this wild herb and see how many ways you can incorporate it into your diet!
This dead nettle rice bake is a great way to get to know the flavor of this wild food! You can also use fresh stinging nettles or spinach in this dish too.
Foraging for wild food can be fun and rewarding, especially purple dead nettle. What plants do you have in your backyard?
Other Posts You May Enjoy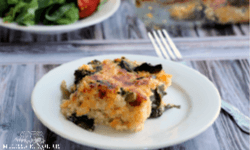 Purple Dead Nettle Rice Bake
This purple dead nettle rice bake is easy to assemble and you can sub in any nettle or green (such as spinach) that you have on hand, making it a versatile supper recipe.
Ingredients
1

Tablespoon

olive oil

1

small onion

chopped

1

clove

garlic

minced

1

cup

washed and dried nettle leaves

1

cup

cooked rice

measured after cooked and cooled

1

teaspoon

salt

1

teaspoon

pepper

1

egg

¼

cup

shredded cheddar cheese

1

cup

milk

1

Tablespoon

soy sauce or coconut aminos
Instructions
Heat the oil in a heavy bottomed skillet on medium.

Add onions, garlic, and nettle leaves, and sauté together for 2 minutes.

Add to mixing bowl with remaining ingredients.

Mix well.

Pour into an 8×8 greased baking dish.

Bake at 350 for 30 minutes. Serve immediately.
Notes
Be sure you're using cooked then cooled rice for this recipe (which makes it a great option for using leftover rice!).
If you don't have dead purple nettle, stinging nettle, dandelion, or even spinach will work great in this recipe.
Nutrition
Calories:
189
kcal
Carbohydrates:
19
g
Protein:
8
g
Fat:
9
g
Saturated Fat:
3
g
Polyunsaturated Fat:
1
g
Monounsaturated Fat:
4
g
Trans Fat:
1
g
Cholesterol:
55
mg
Sodium:
920
mg
Potassium:
260
mg
Fiber:
2
g
Sugar:
4
g
Vitamin A:
680
IU
Vitamin C:
2
mg
Calcium:
253
mg
Iron:
1
mg