Learn how to make homemade fruit vinegar with one simple ingredient, fruit juice! Read on for my easy step-by-step tutorial (with video). In just a few week's time, you can watch the wonder of fermentation as your fruit juice converts to delicious homemade fruit vinegar.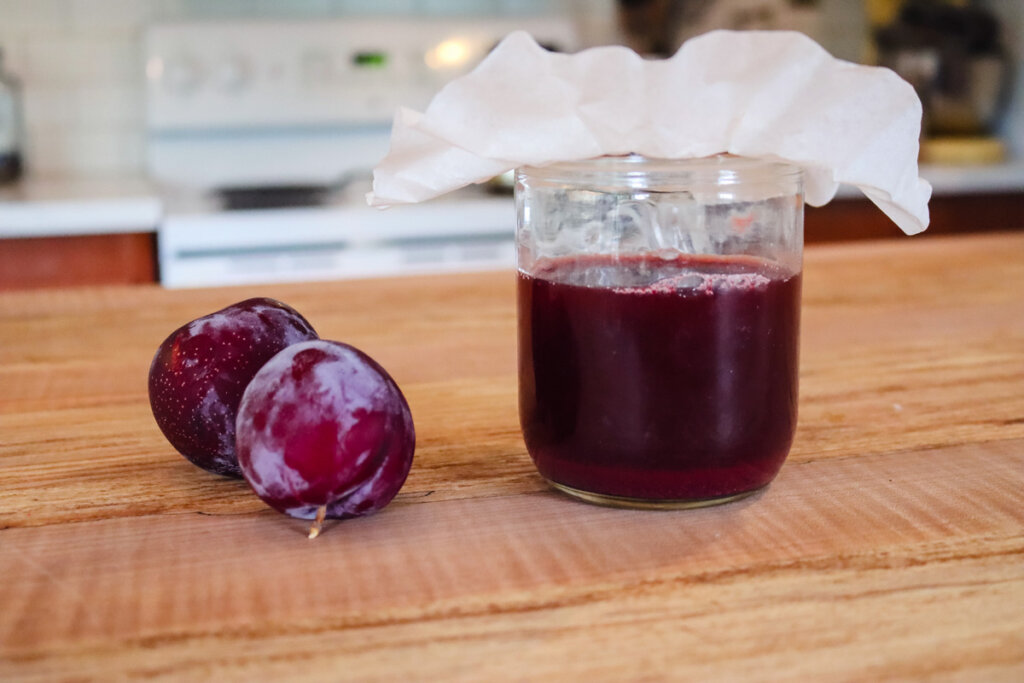 To listen to the original podcast interview with Autumn Rose (episode #262 How to Make Fruit Vinegar at Home), you can listen above. Or, to watch me make homemade fruit vinegar, watch the video below.
Why I Love This Recipe
Even though it's been more than a decade of learning and implementing so many homesteading and old-fashioned pioneering skills, I sometimes feel like I'm just at the beginning of the rabbit hole. The more I learn, the more I realize there is to learn!
That's how I felt when I learned how to make fruit vinegar. The first kind I made was homemade apple cider vinegar, but I didn't realize you could make any fruit vinegar with just the juice from the fruit!
Even further, if you don't have fruit juice, but you have fruit from trees or bushes, you can extract the juice in a variety of ways in order to make vinegar (I'll show you how below).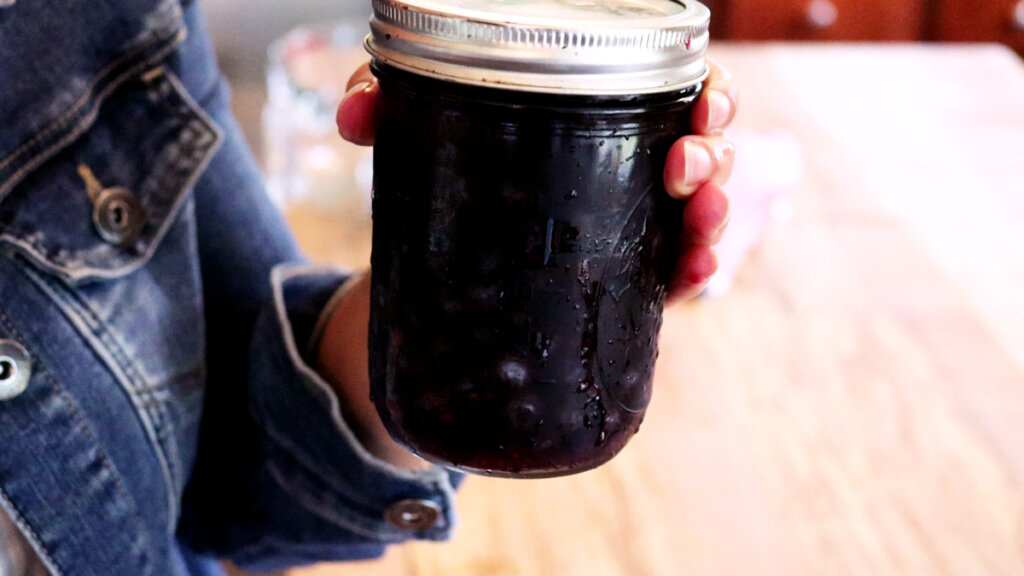 What is Fruit Vinegar?
Traditionally, housewives and Pioneers for centuries have taken fruit juice and let it ferment in their kitchen on the back of their counter. When it's done you have a fermented vinegar product with antioxidants and minerals, acetic acid, and good bacteria.
It's a really healthy product and if you're keeping a natural home it's a great thing to keep around. The process is really, really simple. It's essentially fermented fruit juice. It can be used in recipes, salad dressings, even cleaning!
Many people have apple cider vinegar in their home and don't even consider the fact that yes, apple cider vinegar is a fruit vinegar!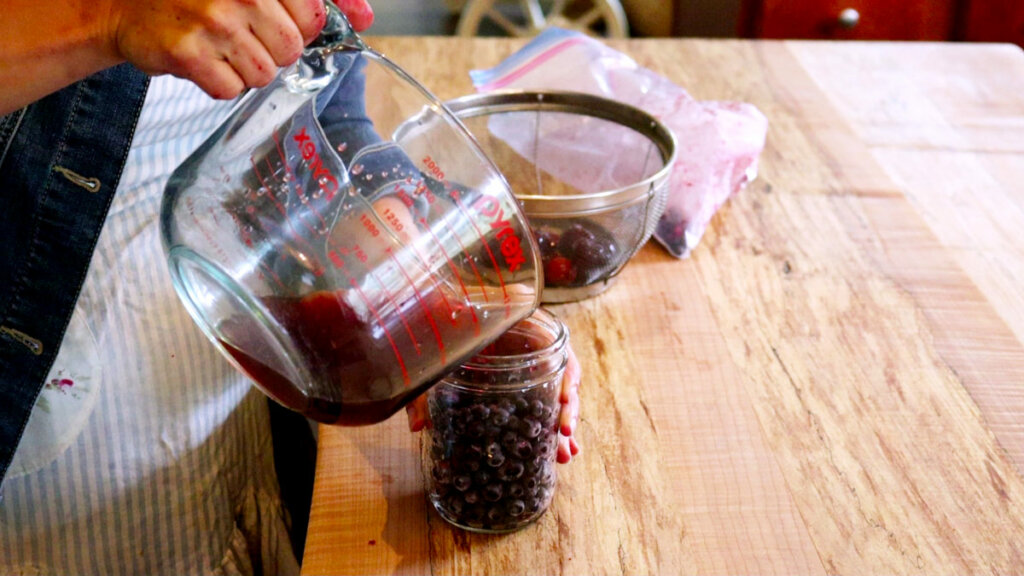 Benefits of Fruit Vinegar
White vinegar and apple cider vinegar (unless you get the kind with the mother) are not in a live culture state by the time we get them. So this is a true ferment with the live cultures intact, which we know can be really good for us.
If you look on the grocery store shelves in the vinegar aisle, you may see different kinds of fruit vinegar available. The most widely known is apple cider vinegar (aka ACV).
When buying fruit vinegar, my recommendation would be to only purchase those that say "raw" and that contain the beneficial bacteria. For apple cider vinegar, it will say "with the Mother".
Many people love apple cider vinegar for its many uses and health benefits. But other flavors of naturally fermented homemade fruit vinegar will boast similar uses and health benefits.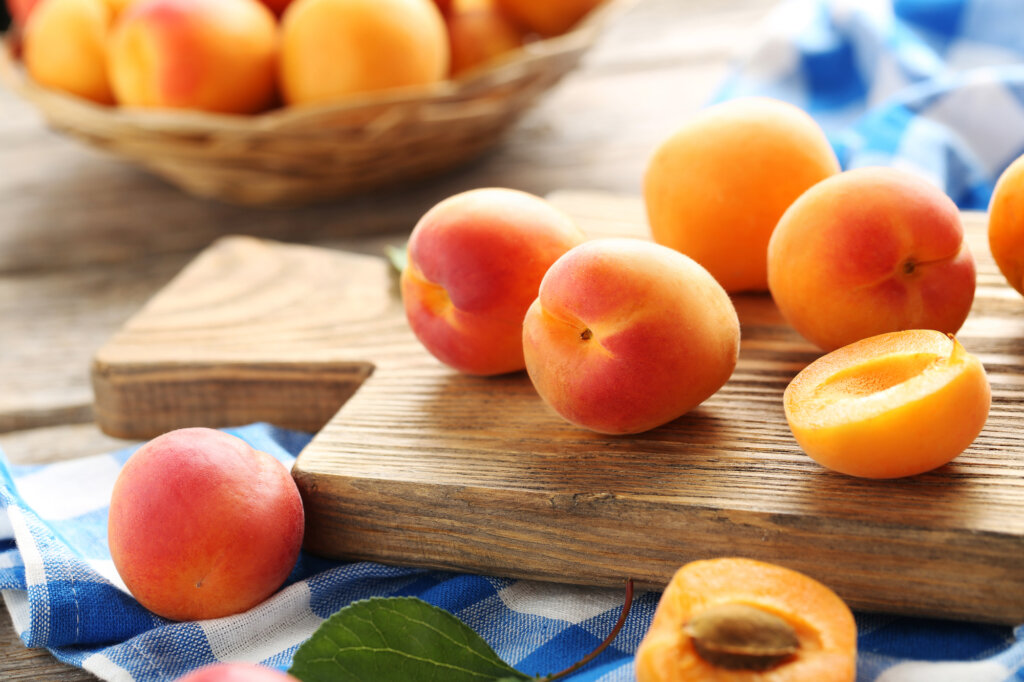 What Fruit Makes the Best Vinegar?
Ideally, fruit vinegar is best made from a juicy fruit. You can use whole pieces of fruit or even just the fruit juice.
Apples, plums, peaches, even certain berries or grapes are fantastic for fruit vinegar. You can also make vinegar from drier fruit like pears or apricots, but it's best to cold press the juice first.
Continue reading for more information on using different fruit extraction methods for making homemade fruit vinegar.
Do I Need a Starter?
What I love about fruit vinegar is you don't actually need a starter like when doing kombucha you start with a SCOBY. The beneficial bacteria is already within the fruit juice and is naturally occurring within the air in your home.
Your fruit juice is going to capture natural yeasts as well as bacteria. There are two fermenting phases… it just happens naturally on its own. You don't have to introduce anything to it. Pure juice will do its magic. You just let it sit there and do its thing.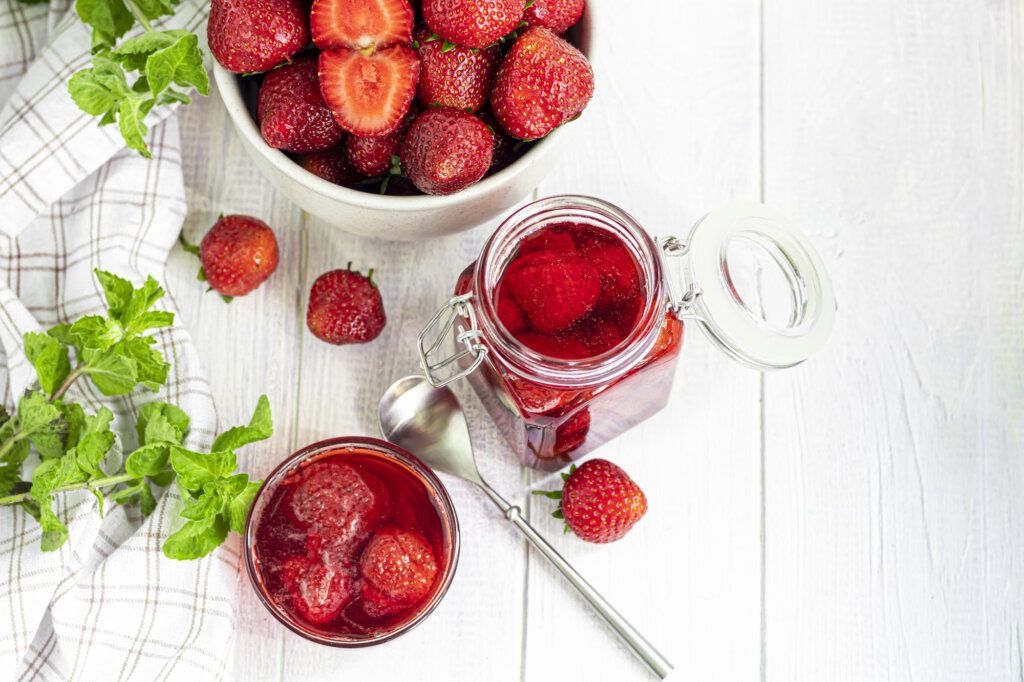 Extracting Juice from Fruit
In order to make fruit vinegar, we first need fruit juice. If you don't want to go through the step of extracting the juice, I'll share my favorite technique (which is also the technique I demonstrate in the video above) for getting the fruit juice.
Cold Press
Cold pressing juice is a method most people are familiar with. In the fall, I'm sure you've seen the apple cider presses where you can go toss your apples into the press and leave with fresh apple juice.
Cold press is great for keeping your juice in a completely raw form with all of the antioxidants and vitamins. It's a great way to make really rich vinegar, as well, and one of the methods I would recommend.
This method works well with fruit that's harder to get the juices out of, so fruit like apples, pears, certain berries, etc.
Steam Juicer
A steam juicer is similar to the way women traditionally make homemade jellies. You place whole or chopped fruit in a pot and add a little bit of water, then cook it for a bit and strain the juice through a jelly bag.
This is also a great method for drier fruits like currants, apricots, plums, etc.
Water Extraction
Water extraction is the last method. It's one of my favorite methods because it's the least hands-on and you can let your ferment do its thing without much effort or hands-on time.
How to water extract fruit juice:
Fill a jar about two-thirds full with fruit, and then cover it with chlorine-free water. (Chlorine can inhibit the strength of your ferment.)
Place a coffee filter secured with rubber band and let sit to infuse for about three to seven days.
Strain out the infused liquid.
Fill another jar with more fruit, and then use the infused liquid to cover that fruit. This will strengthen your ferment since you're diluting it with water initially.
You can do a couple of infusions until you reach the desired strength of juice. The more infusions you do, the more flavorful your vinegar and end result.
Can Store-Bought Juice be used for Fruit Vinegar?
For those who might not have their own fruit sources, store-bought fruit juice that's pure juice, with no preservatives or stabilizers, can be used.
Even if it's been pasteurized you can use it, but you want to be careful to avoid additives.
It may be a surprise to you that you can use pasteurized juice, but traditionally housewives would make their own white vinegar from just sugar and water. To introduce natural yeast they would throw a handful of raisins in and that's how they made their household vinegar.
So you just need the liquid and sugar and the rest will happen.
Phases of Fruit Vinegar
There are two phases your fruit vinegar needs to go through, the fermentation phase, and the alcohol phase.
Fermentation Phase
The fermentation phase is where the natural yeast, which is found on the skin of your fruit as well as airborne in your home, will come in and start consuming the natural sugars. They start converting the sugars to alcohol.
Alcohol Phase
Acetobacter bacteria are natural airborne bacteria that take the alcohol and transform that into acetic acid, which is your vinegar product.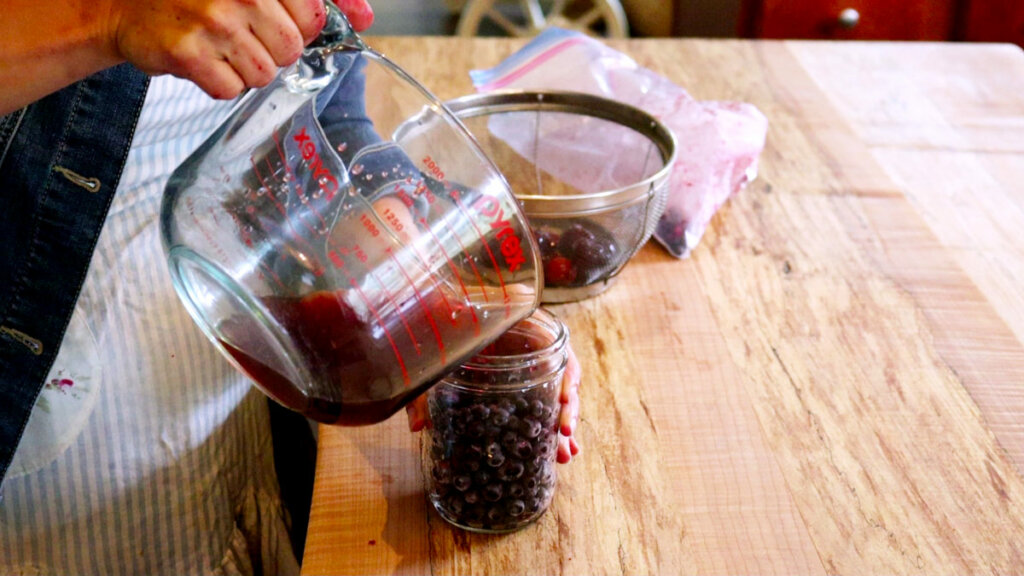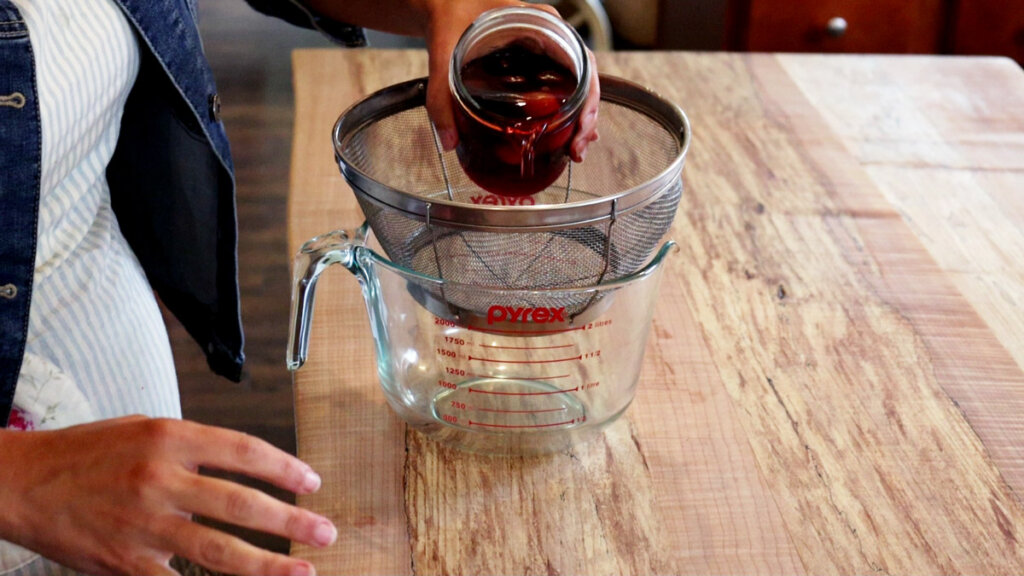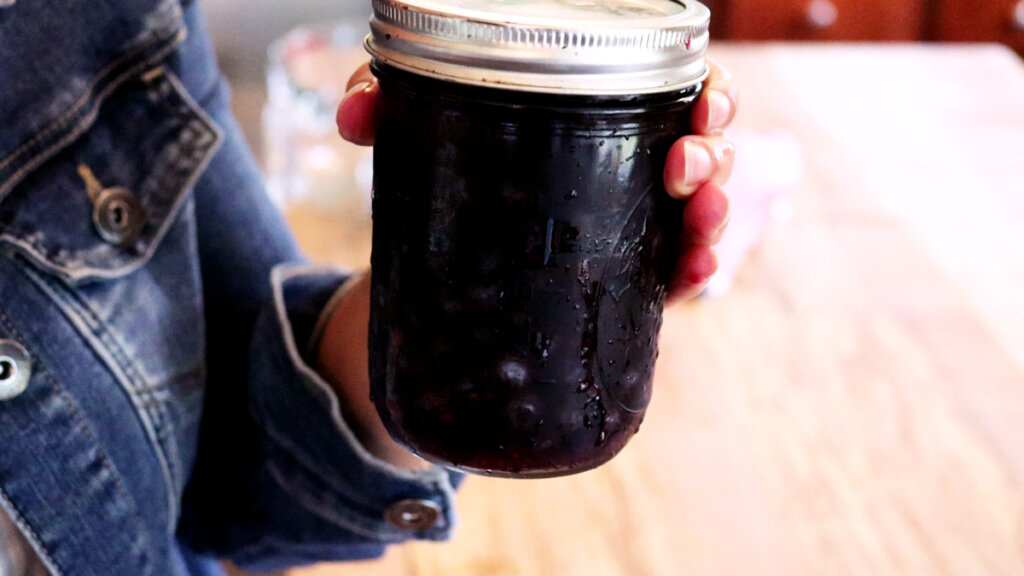 Homemade Fruit Vinegar
Stage One
Once you have your juice, by following one of the extraction methods above, pour it into a food-grade container (I prefer using my glass canning jars) anywhere from a quart to a gallon. I even have a five-gallon crock that I make our apple cider vinegar.
Cover the container with a breathable cloth. We do this for two reasons: First, as your juice ferments, it's going to release carbon dioxide. If it were sealed pressure would build up and explode your container. The other reason is to keep out the fruit flies, you want to make sure to seal them up well so that they can't get in.
Temperature is really important for fermenting. You need to keep your juice at temperatures ranging from 60 to 80 degrees Fahrenheit (16 to 27 degrees Celsius). As long as you keep it within those temperatures, the natural yeast, which is found on the skin of your fruit (and in your extracted fruit juice) as well as airborne in your home, will come in and start consuming the natural sugars. They start converting the sugars to alcohol.
It takes anywhere from three to six weeks for a half-gallon jar of juice, depending on the sugar content. You're going to see bubbles on the sides of your container during this time. It's similar to the first stage of brewing kombucha. If you can do kombucha you can do fruit vinegar.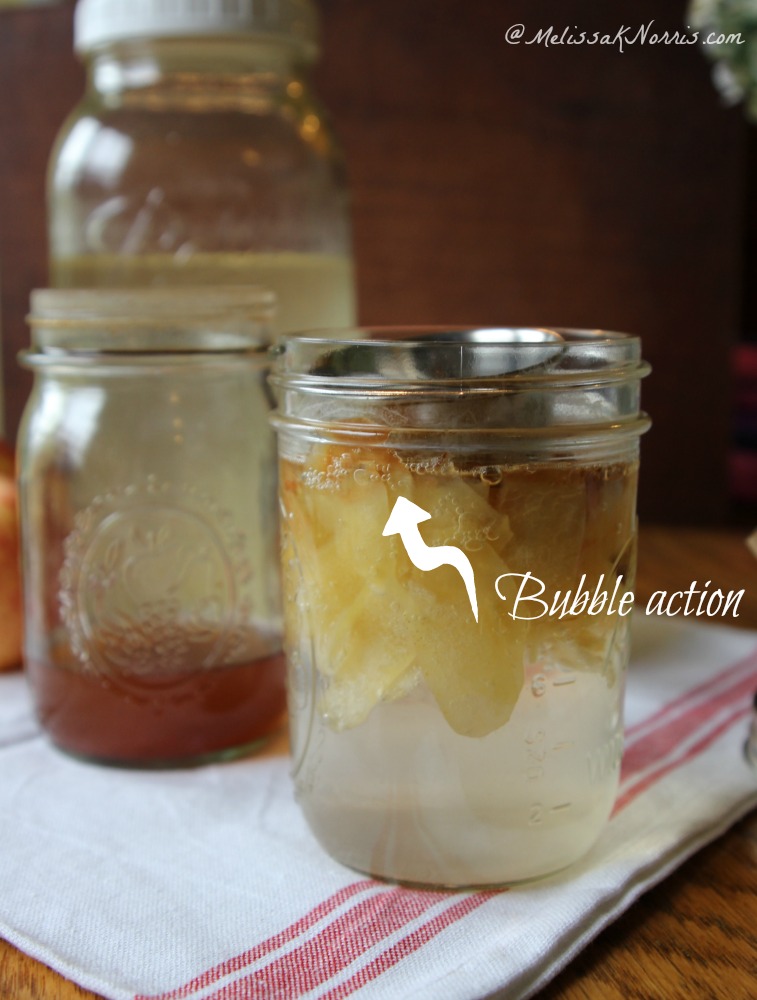 Stage Two
After fermentation, your fruit juice will go through the alcohol phase. Once the alcohol content dies back, there is a group of bacteria that are going to come in and take over.
Acetobacter bacteria are natural airborne bacteria that take the alcohol and transform that into acetic acid, which is your vinegar product.
It will take about three to six times longer than the first phase of fermentation for you to fully finish working and transforming all the alcohol into acetic acid. But when it's done, you're done and your fruit vinegar is ready to use.
It's really as simple as that.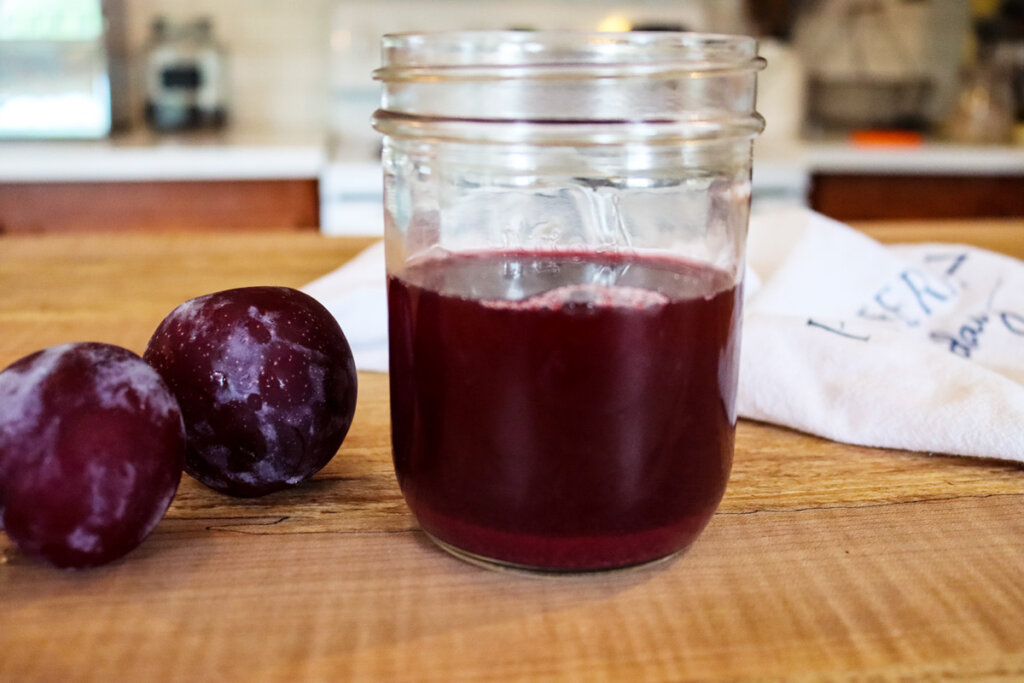 Troubleshooting Homemade Vinegar & FAQs
How Long Does Fruit Vinegar Take?
I've had batches of apple cider vinegar that have taken almost six months before I felt it was a good, strong vinegar. Generally speaking, the more sugar there is in the fruit the longer it takes to turn to vinegar.
The more sugar there is to consume, the more alcohol for the acetic acid bacteria to work with.
My Vinegar is Taking Forever! What's Wrong?
If your vinegar is taking a really long time (like 3+ months) to turn to vinegar, you need to ask a few questions.
Was my juice strong enough before I started the fermentation process?
Did I put an airtight or nearly airtight lid on? (The airflow is what's bring your acetic acid bacteria in. So if you're limiting that you're really diminishing how many can be in there and actively working. By putting the lid on it slows things way down.)
Is your house getting too warm or too cold?
All of these could be factors. But if you're following them all correctly, my suggestion is to simply give it more time. If it doesn't smell foul, or off-putting, then your home and or your fruit may have just had fewer bacteria to get the job done.
My Fruit Vinegar is Moldy
There are a lot of variables with mold, so if you're experiencing what you think is mold, check the following things:
Is there anything floating on the surface of your liquid? That's a perfect landing pad for mold spores.
Did you strain your fruit out at the proper time? Keeping the fruit in the jar longer isn't always better and can cause a breeding ground for bad bacteria.
Often if people have a lot of mold issues in their home, it will show up on the surface of the ferment. Keep your fermenting vinegar in an area with really good airflow. Don't stuff it in the back of your pantry, or the back of a cupboard. Leave it out on the kitchen counter where it has good airflow coming past it because it's way less likely to mold.
Why is my Fruit Vinegar Foamy or White?
Sometimes the combination of fruit juice that has a higher sugar content and warmer temperatures you can get a layer of bubbly scum on the surface of your vinegar.
If this happens, just skim that off. It's similar to getting kahm yeast on a ferment. It's harmless, but it can affect the flavor, so you'll want to remove it as soon as it appears (which means you should be checking on your ferment daily).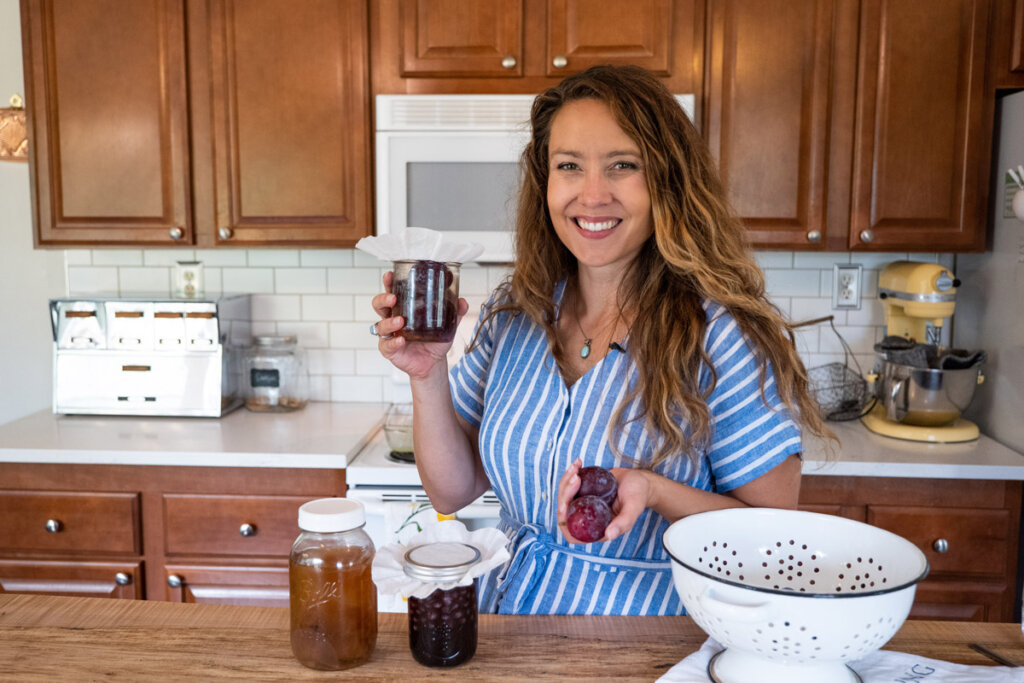 How to Store Fruit Vinegar
Once your fruit vinegar has gone through both phases and is now true vinegar, store it in a food-grade container, out of direct sunlight, at cool temperatures. I prefer storing my vinegar in glass containers, especially since vinegar is acidic.
It can be really fun to find glass flip-top bottles, old whiskey jugs, even old wine bottles and repurpose them for your vinegar. They can even double as kitchen decor!
Test Before Storing
To test your vinegar to make sure it's completed the phases, take about a cup of the vinegar seal it up in an airtight bottle (I like to use a flip-top bottle that I'd do a second ferment of kombucha in).
Put the bottle on the back of your kitchen counter for a day. The next day, break the seal (or pop the top). If there was a release of carbon dioxide (or you audibly hear a "pop") then it's not ready to be sealed up yet and should remain on the counter for another week or so.
Do this test again in another week, once there is no pressure in your container you can bottle it up and stash it away. Then it's ready to be used how, when, and wherever you wish.
Best Temperature to Store Vinegar
Ideally, vinegar can be in a warm environment, but the warmer it is the faster the acetic acid is going to mellow out. I like to keep mine in my cold room (or root cellar) and it keeps well for a very long time.
How Long will Fruit Vinegar Last?
When I did a massive batch of apple cider vinegar I've had it last for two years and still be of great quality.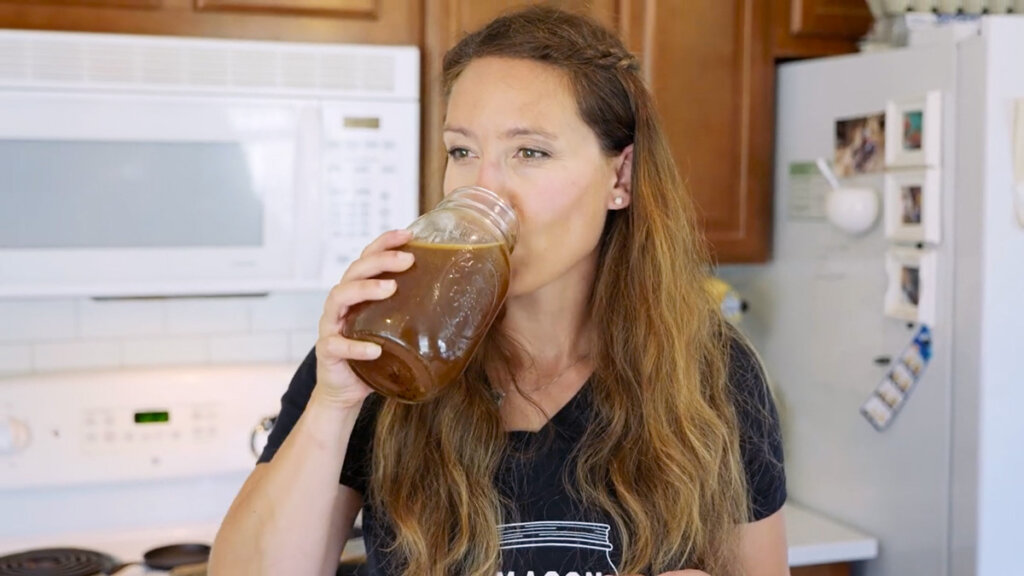 Uses for fruit vinegar
There are so many ways to use fruit vinegar. When I first started making it, I really just wanted to make more of our products than buying them from the grocery store and homemade apple cider vinegar seemed like a good option.
Vinegar is also a great substitute for lemon juice, and since many homemade condiments use lemon juice, fruit vinegar is a great substitution that adds fantastic flavor.
Dressings
Dips
Condiments
Meat tenderizer
Marinade
Baking
Soaking grain for better digestion
Home remedies (fire cider, infused herbs, hair rinse, astringent)
Autumn's Favorite Fruit Vinegar
When I did this podcast with Autumn Rose, I asked which fruit vinegar was her favorite. Her answer?
"That is a hard question… I would probably say plum is one of my favorites. I love deep, rich, bold flavors and plum vinegar is just incredible. One of my favorite salad dressings is made with plum vinegar with basil and it is so good. I think the blue elderberry vinegar would be my other favorite just because it's such good immune support."
This recipe was featured in 29 of the Best Elderberry Recipes.
Did you make this recipe? I want to see it! If you made this recipe I'd love for you to leave a star rating on the recipe card below, then snap a photo and tag me on social media @melissaknorris.
Other Posts You Might Like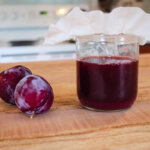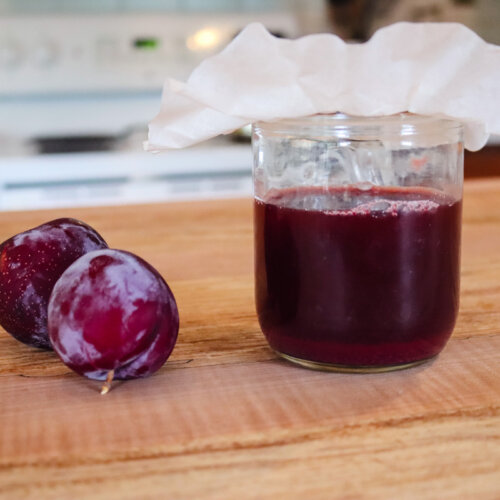 Print
How to Make Fruit Vinegar
Turn any fruit juice into homemade fruit vinegar with these easy steps!
Materials
4

cups

fruit juice of choice
Instructions
Stage One

Pour fruit juice into a glass container (quart sized Mason jar up to a gallon).

Cover the container with a breathable cloth.

Keep your juice at temperatures ranging from 60 to 80 degrees Fahrenheit, 16 to 27 Celsius for three to six weeks You should see bubbles on the side of the jar during this time.

Stage Two

Your juice is close to going through the alcohol phase. Once that's dying back, there is a group of bacteria that come in called Acetobactor bacteria. They take the alcohol and transform that into acetic acid, which is your vinegar product.

It will take about three to six times longer than the first phase of fermentation for you to fully finish working and transforming all the alcohol to acetic acid and to have fully formed homemade vinegar.
Video
Where to find Autumn
References