Some of the links below are affiliate links, which means I will earn a commission at no additional cost to you, if you click through and make a purchase. Regardless, I only link to products we use on our homestead or believe in.
Learn how to preserve farm-fresh eggs during the summer months to enjoy all year long with my new favorite egg preservation method, freeze-dried eggs. They'll last on the shelf for over 20 years and still taste as fresh as the day they were laid and I'll teach you how to easily reconstitute freeze-dried eggs.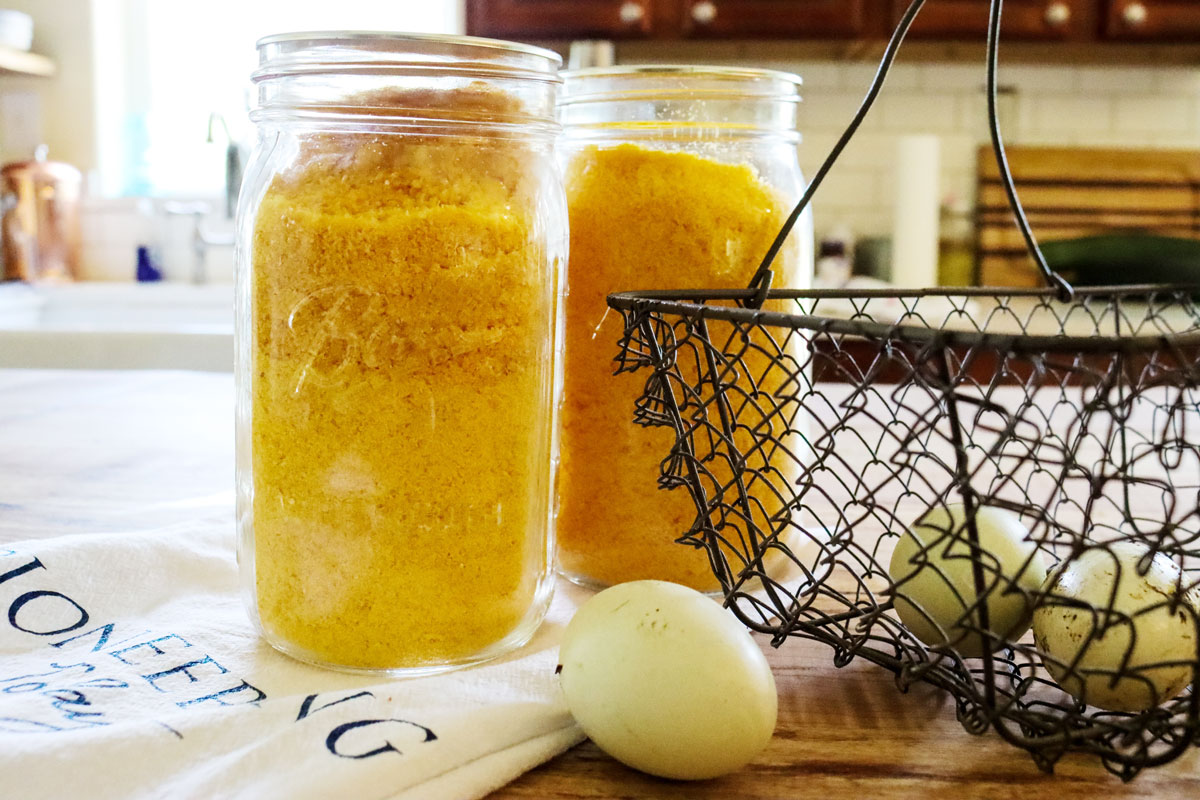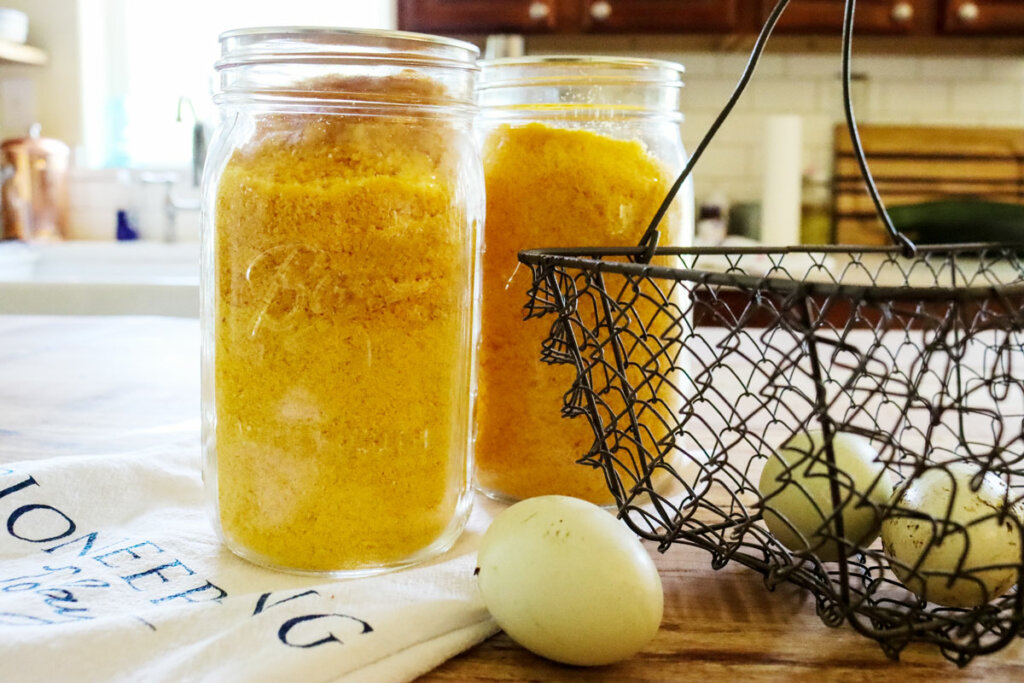 One of the things we're doing throughout the summer is putting up the eggs we collect for long-term storage. Because we don't like to use artificial lighting to force our hens to lay throughout the winter months, we need to preserve the extra eggs we're getting now to last us through the winter.
The struggle with preserving eggs is that up until now I haven't found a method that I actually enjoy the eggs when cooked up fresh.
As I've said before in the many different methods of egg preservation, and in this post on preservation methods for meat, dairy, and eggs, I'm fine freezing eggs that I'll use in the future for baking, but as you can tell in the video below, the frozen then dehydrated eggs when cooked up to eat as scrambled eggs are a bit rubbery in texture.
Why I Love This Method
Not only do freeze-dried eggs taste just like freshly cracked eggs when reconstituted and scrambled, but they take up very little space, I don't have to use up valuable freezer real-estate, and they're also shelf-stable for up to 20+ years!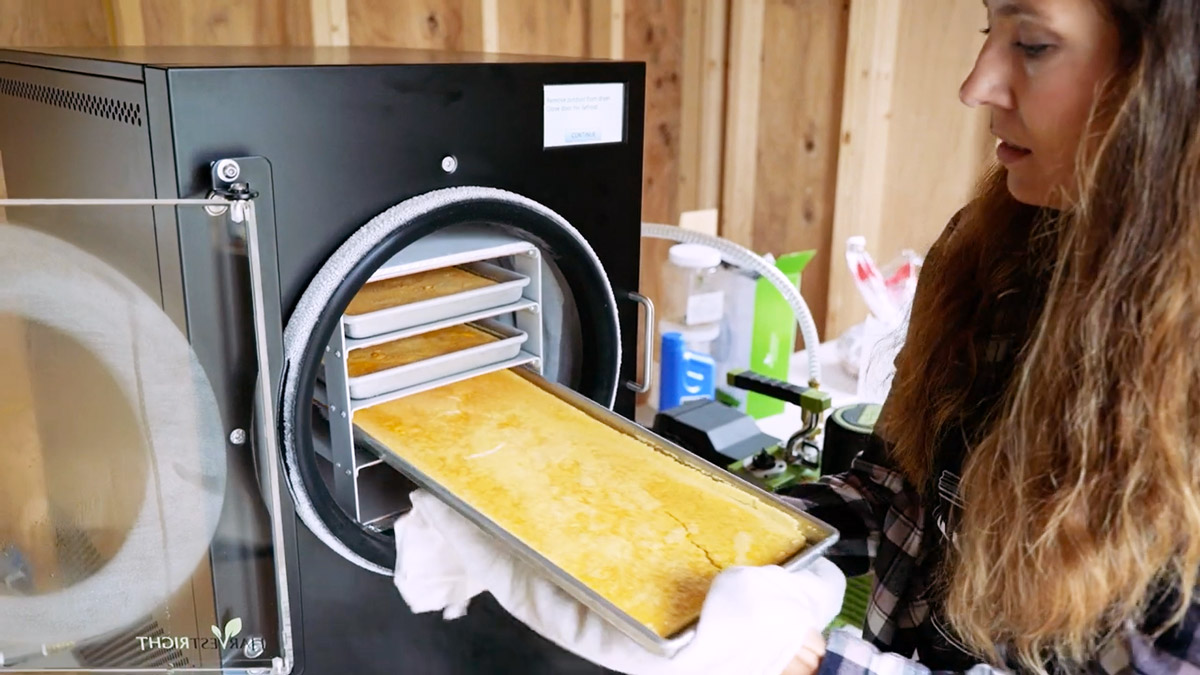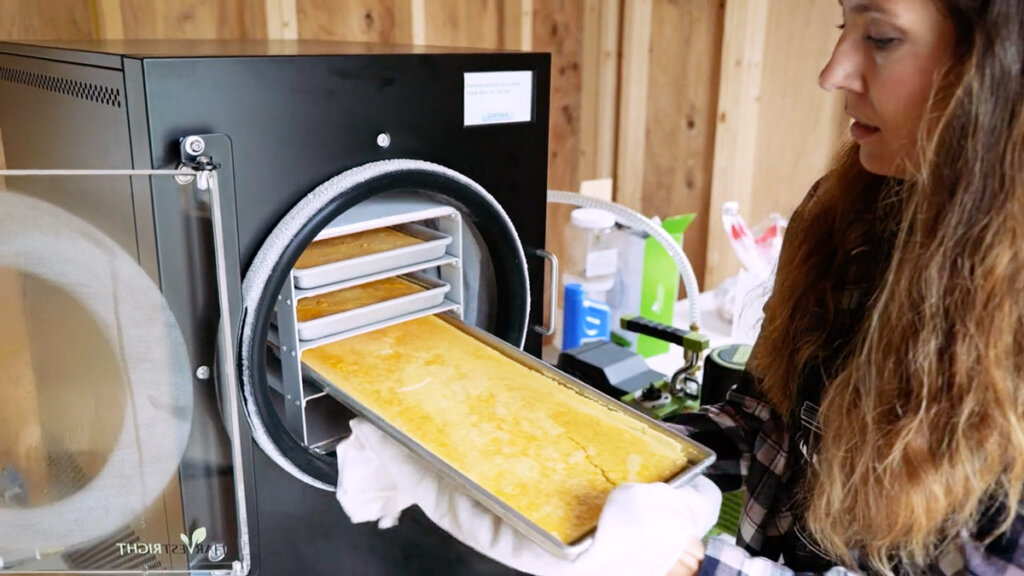 Why Freeze Dried Eggs?
You may be asking yourself, "If eggs are fine in the refrigerator for 3 months or more, why would I need to worry about preserving them?"
Well, I don't know about you, but I don't have enough extra refrigerator space to store 3+ months' worth of fresh eggs. If I did that, I'd have no room left for any other food.
Think about it, if your family eats two dozen eggs per week, that's 24 dozen eggs for just three months of fresh eating! Who has enough refrigerator space to house all those eggs? Certainly not me!
I also don't want to rely on the freezer to store food long-term because if (or when) the power goes out, we have to rely on generators to keep them running and I don't want to risk losing all that food.
Freeze-dried eggs don't require refrigeration or freezing (other than the initial preserving) and will last for years on my pantry shelf where I have much more storage space than in my freezer. Plus, 48 eggs will fit into two quart-sized mason jars.
To be fully transparent, Harvest Right did sponsor this post and they sent me my freeze dryer as compensation, but all opinions are mine and, now that I've used it for about a month, I truly would buy my own freeze dryer had they not sent one to me first.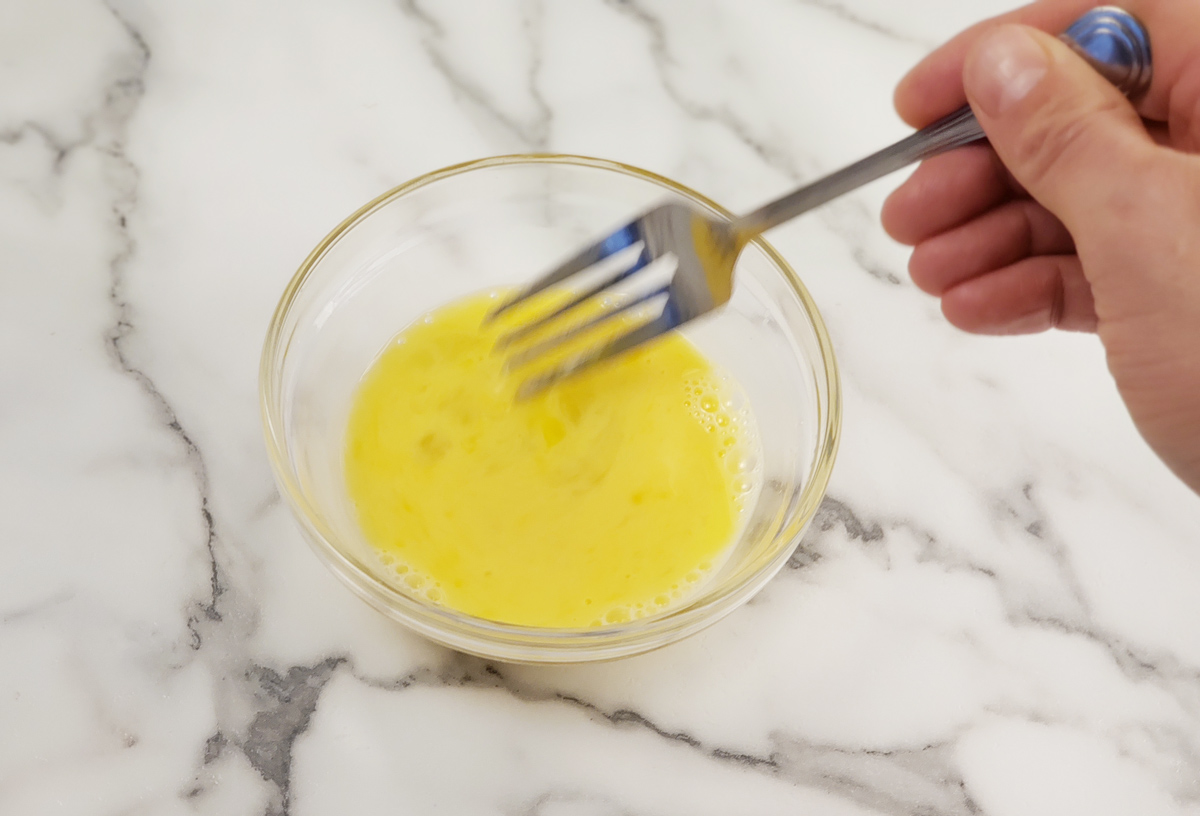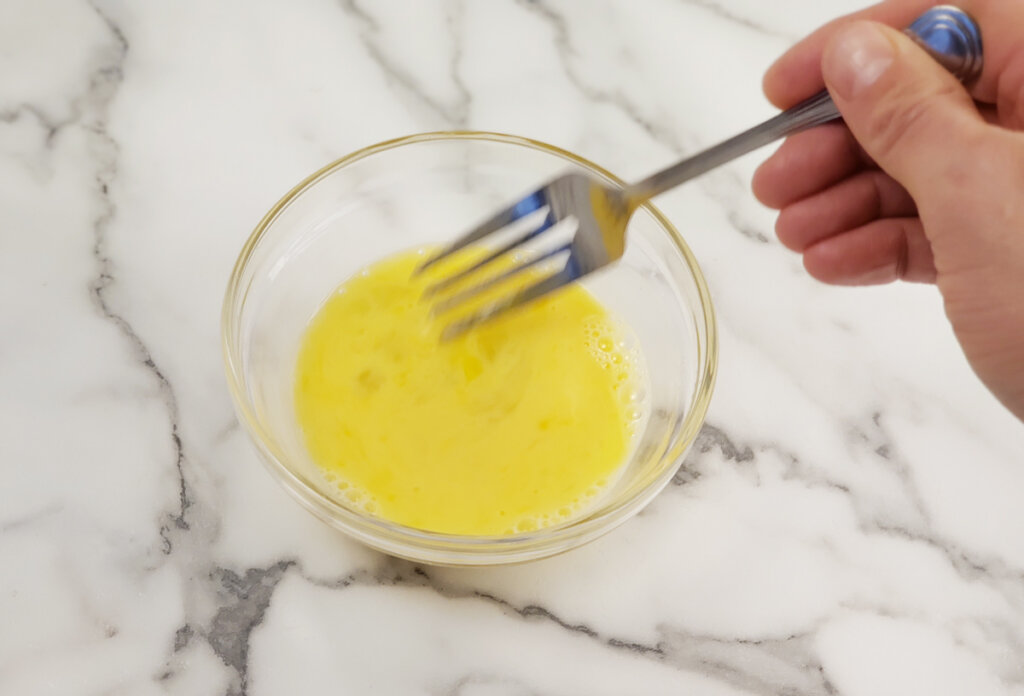 How to Make Freeze Dried Eggs
Freeze-dried eggs couldn't be easier to make. You do need to have a freeze dryer, and I'm absolutely in love with my Harvest Right Freeze Dryer. I have the medium-sized unit and have been so pleased with the amount of food I'm able to preserve in one batch.
Pre-Freeze the Trays
When freeze-drying eggs, or anything liquid for that matter, I like to pre-freeze my trays because this will speed up the freeze-drying process. It can actually knock off up 8-10 hours of time in the machine!
I freeze-dry 12 eggs per tray on each of my four trays for a total of 48 eggs per batch.
Crack your eggs into a blender and blend them up (or whisk well until the yolks and whites are completely combined).
Pour them onto your freeze dryer trays.
Repeat until all four trays are filled.
Carefully place the trays into the freezer and freeze overnight.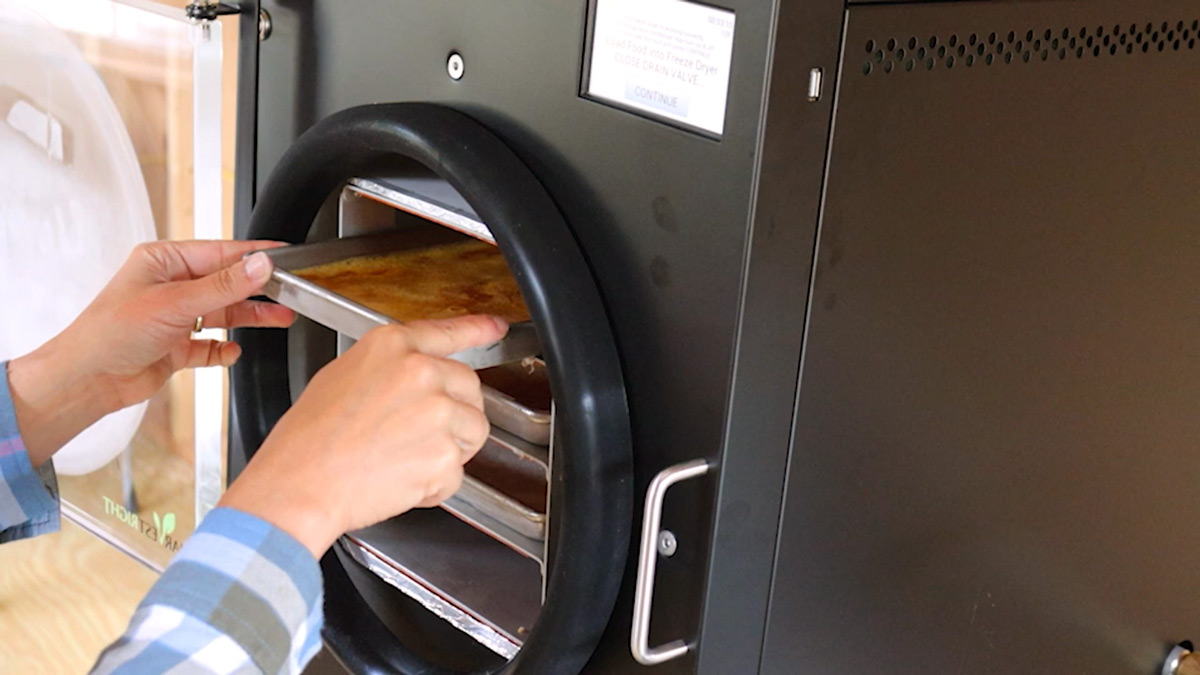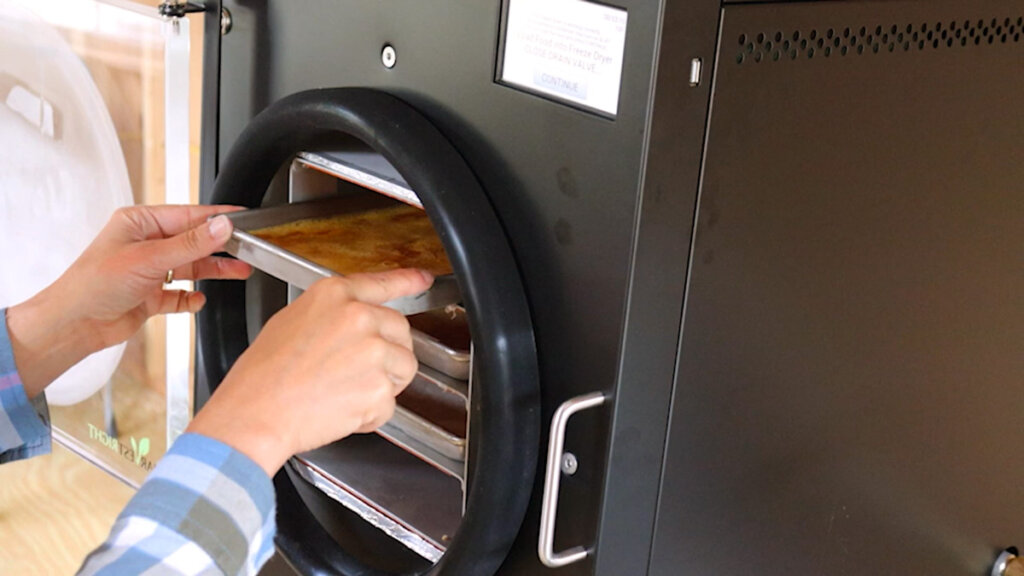 Freeze Dry
5. Once the trays are completely frozen (this step can be done in the freeze dryer itself, but will use up more electricity and time than pre-freezing yourself), place them into the freeze dryer.
6. Add the insulating sleeve, securely close the door, and start the machine.
7. My eggs took approximately 22 hours to be fully dry. When checking your eggs, they shouldn't feel cold to the touch at all, although the trays will feel cold (use a towel or pot holder when handling trays) or use the warm tray function button, and the eggs should crumble with ease when broken up.
8. If your eggs are not fully dried, place them back into the freeze dryer until completely dried through.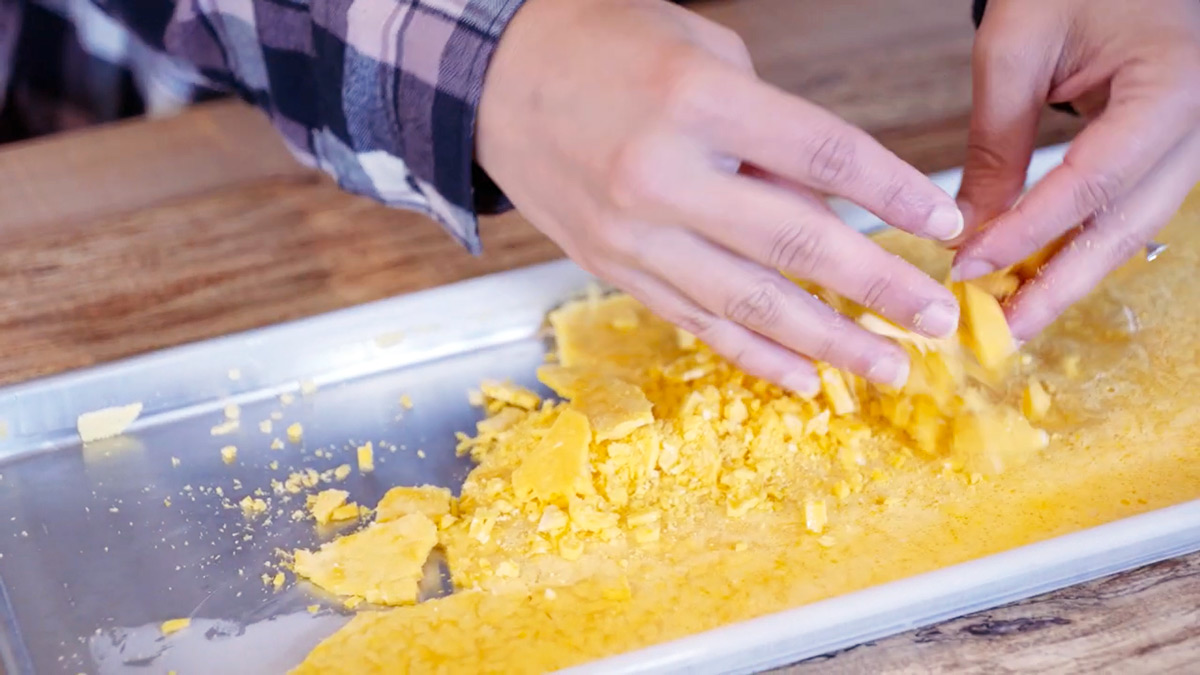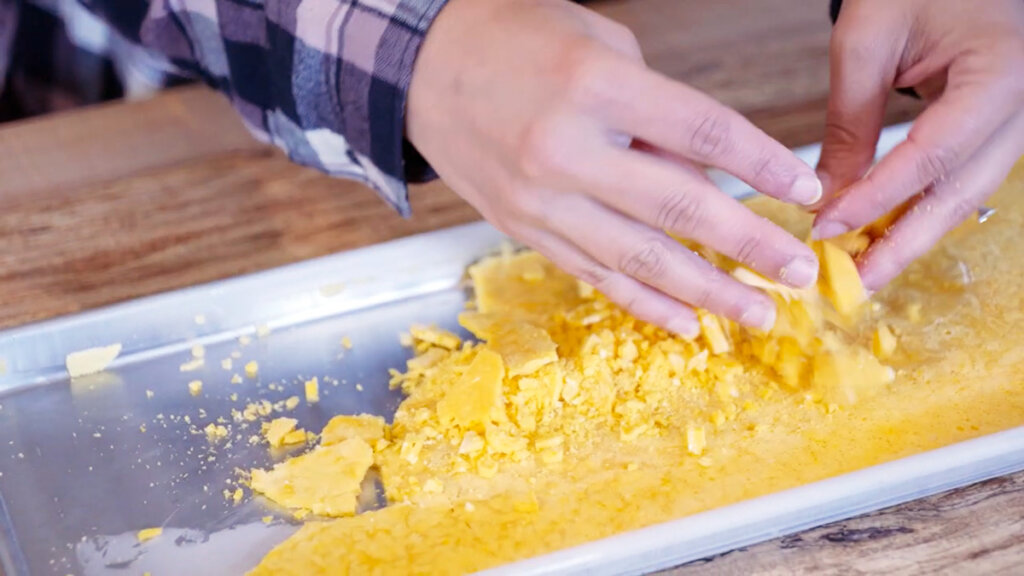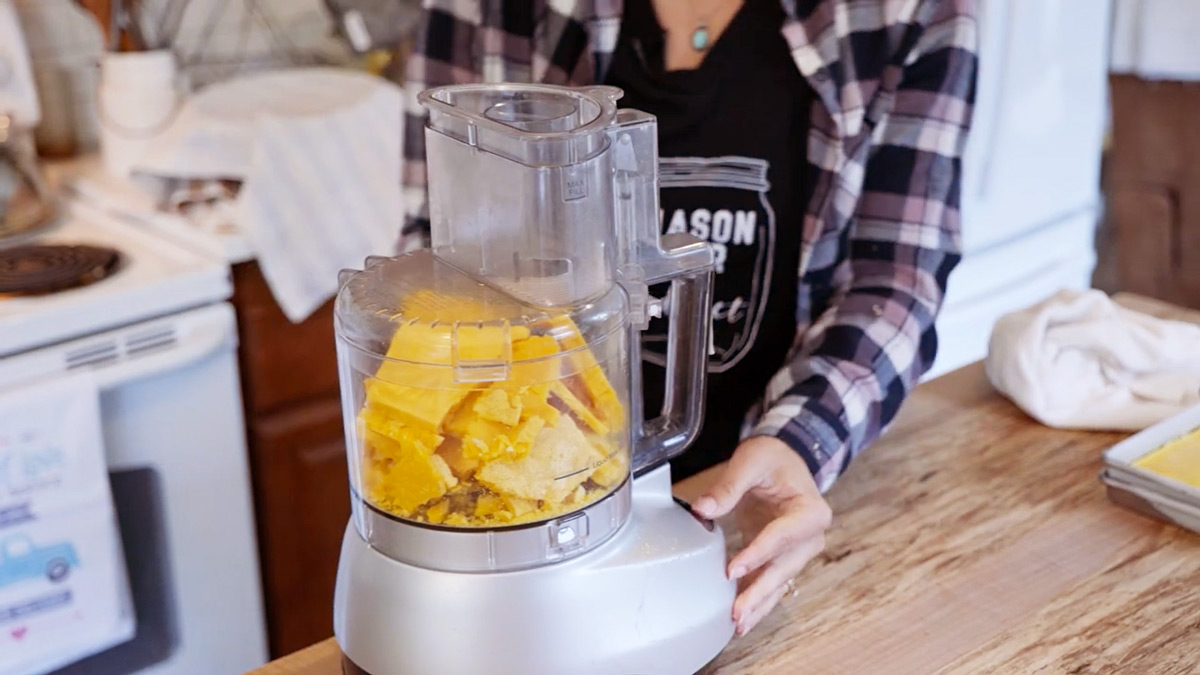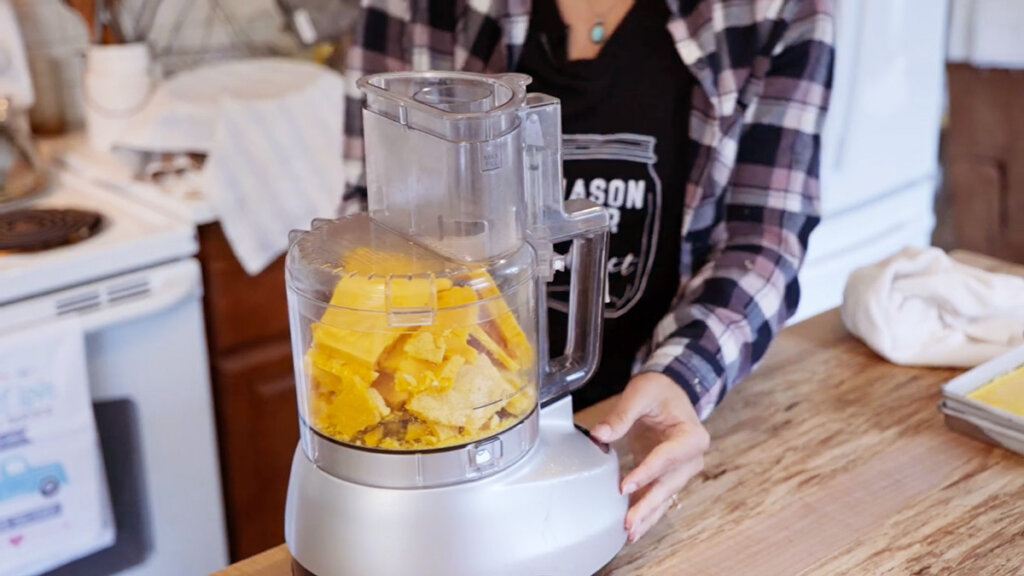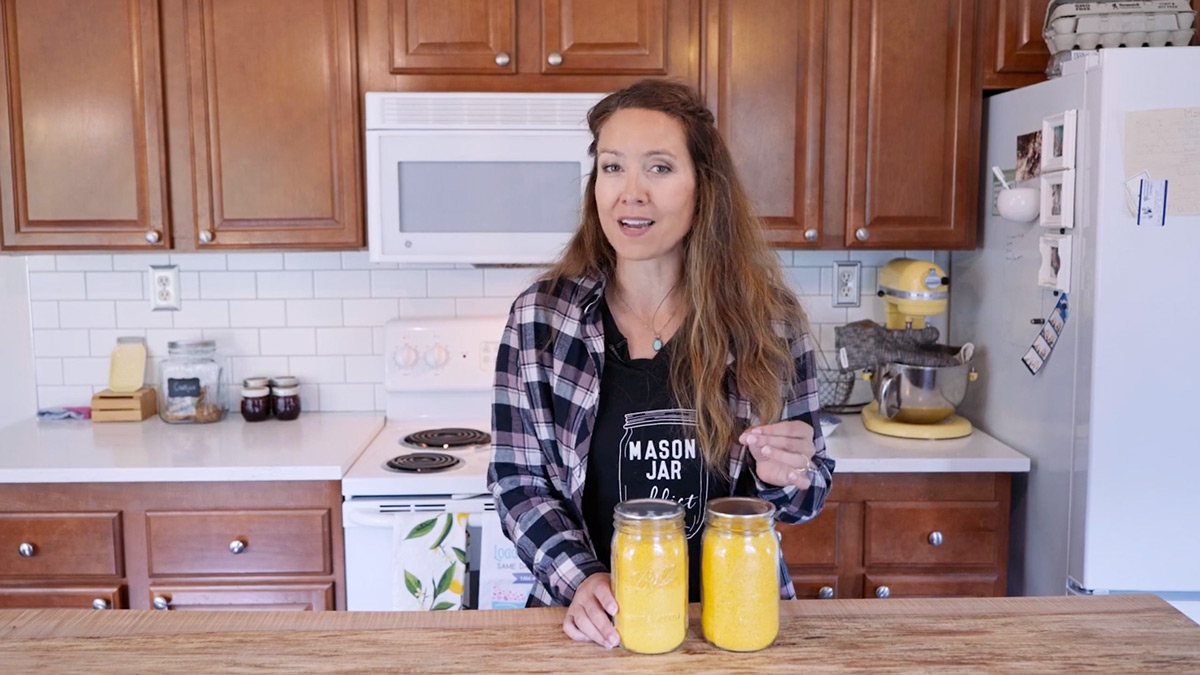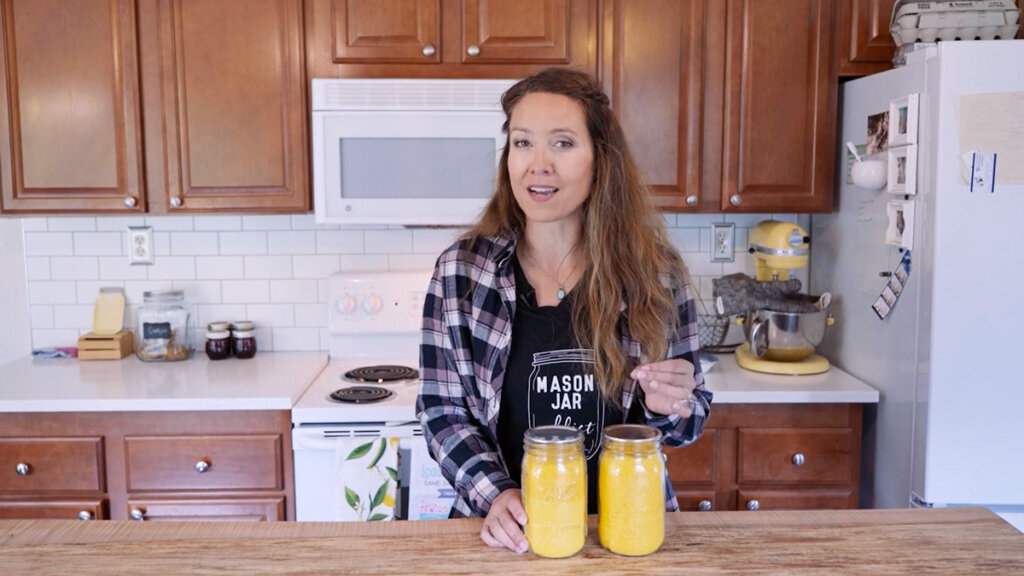 Storing Freeze-Dried Eggs
You can easily crumble the eggs by hand and store them in a mason jar. However, to make measuring your eggs easier when you're ready to use them, I like to run my eggs through the food processor for a few pulses so everything is powdered very finely.
For short-term use, you can simply store your freeze-dried eggs in a jar. If you want to store them for the long term, say more than a few months, drop an oxygen absorber into the jar before sealing. You can then seal your jars airtight using this vacuum sealer with the jar attachment.
Alternatively, you can store eggs in a mylar bag with an oxygen absorber tossed in and all the air removed.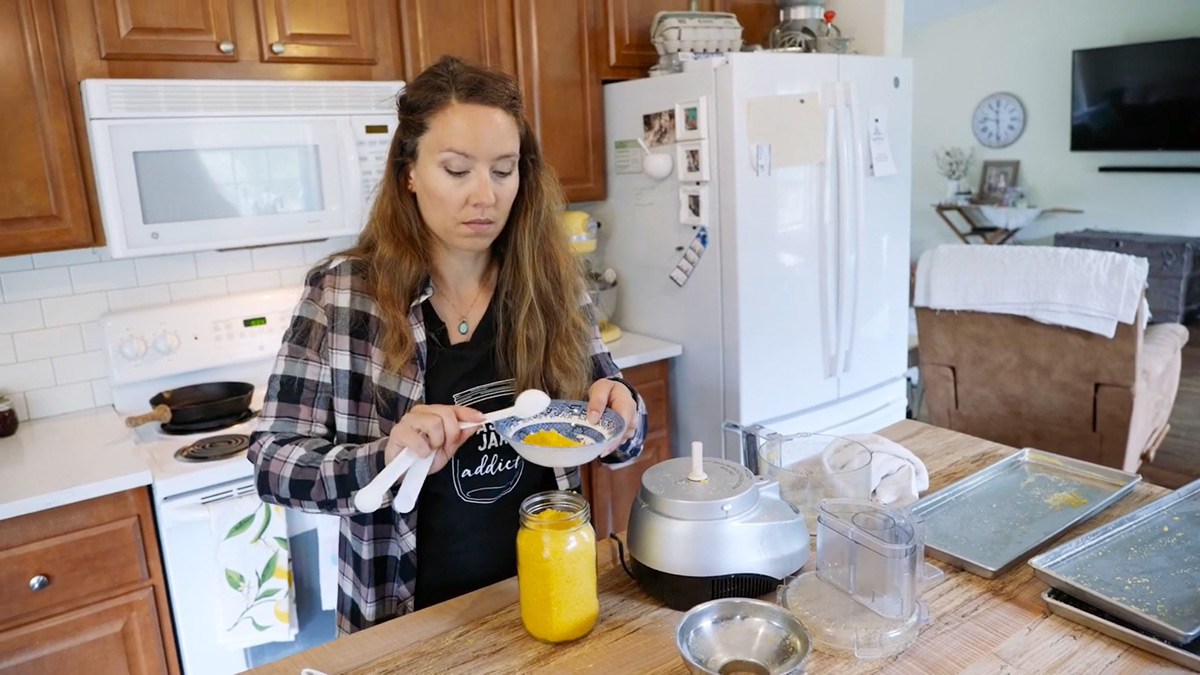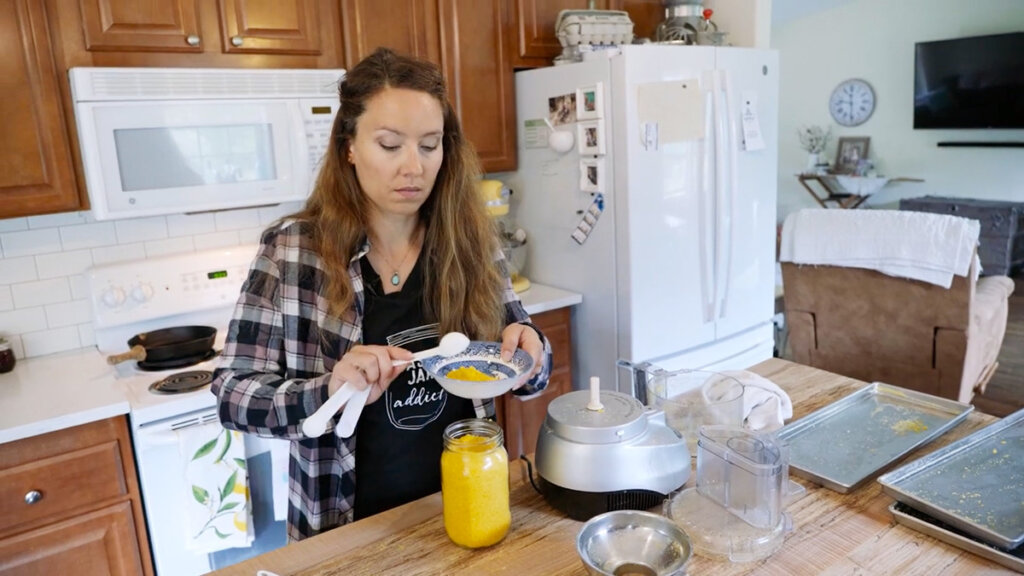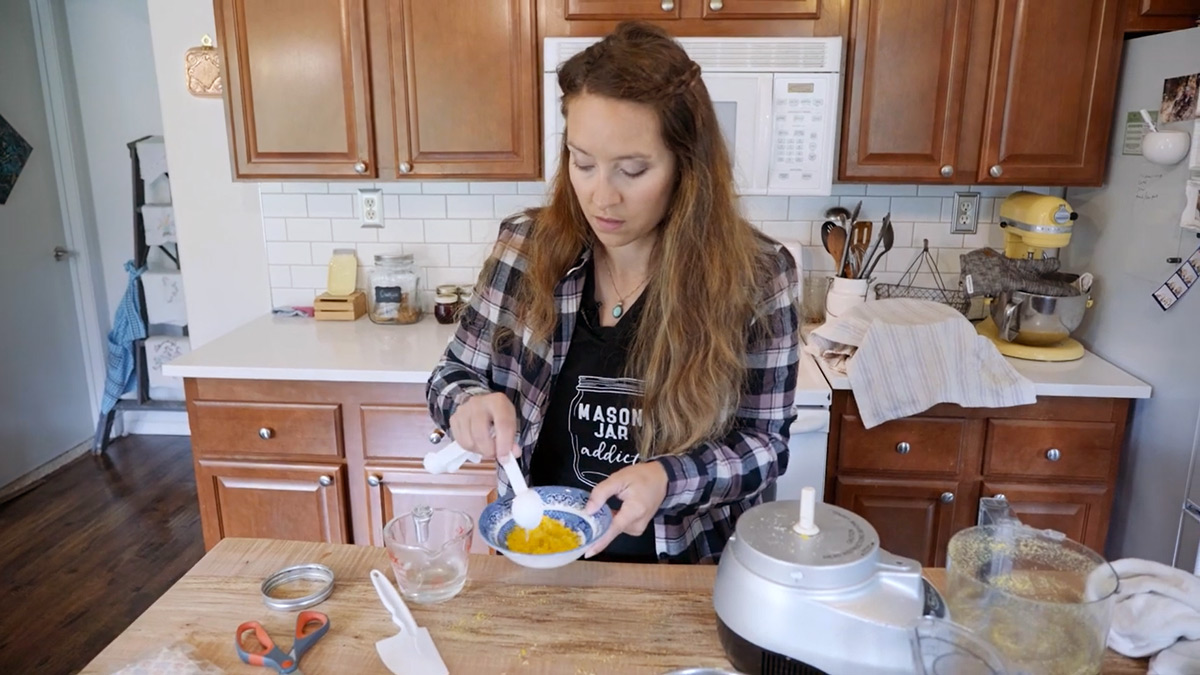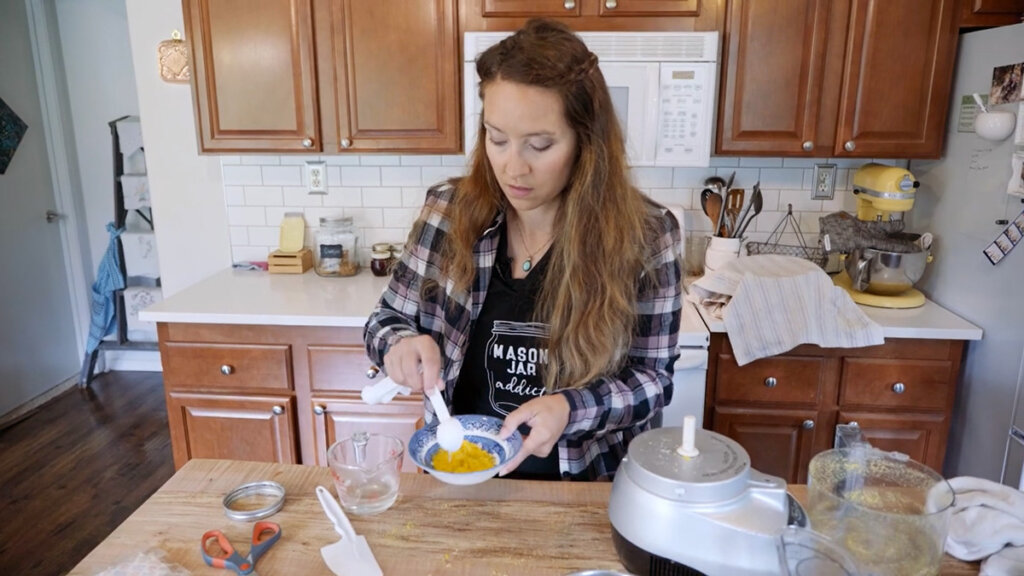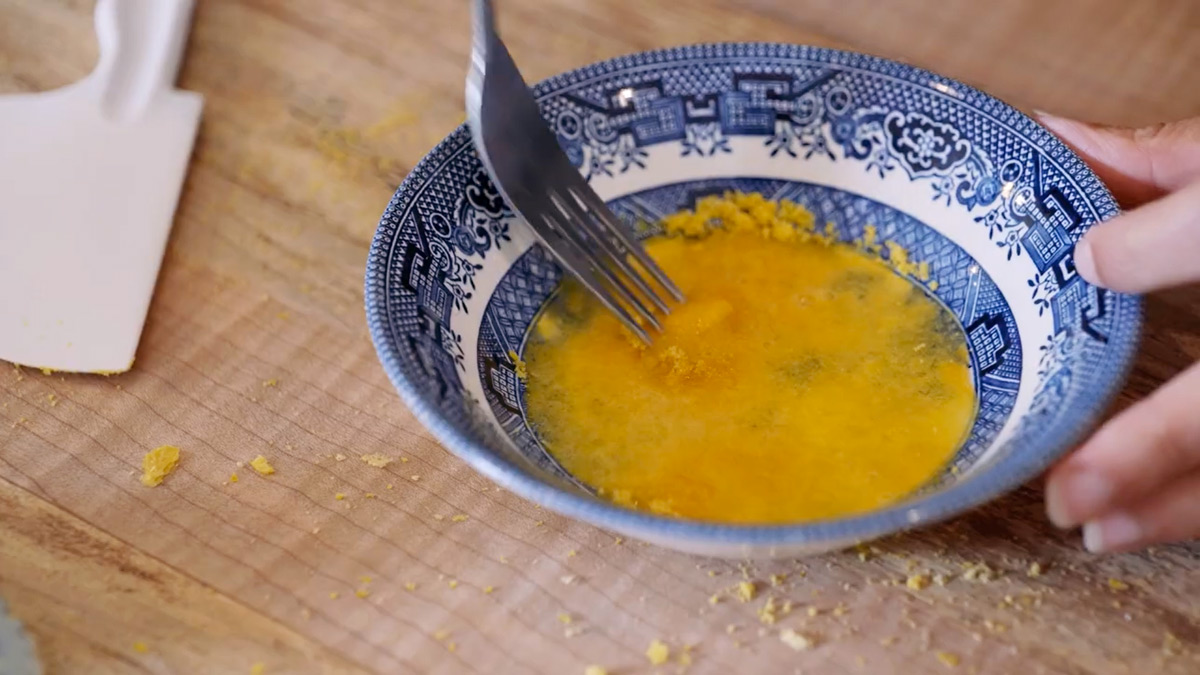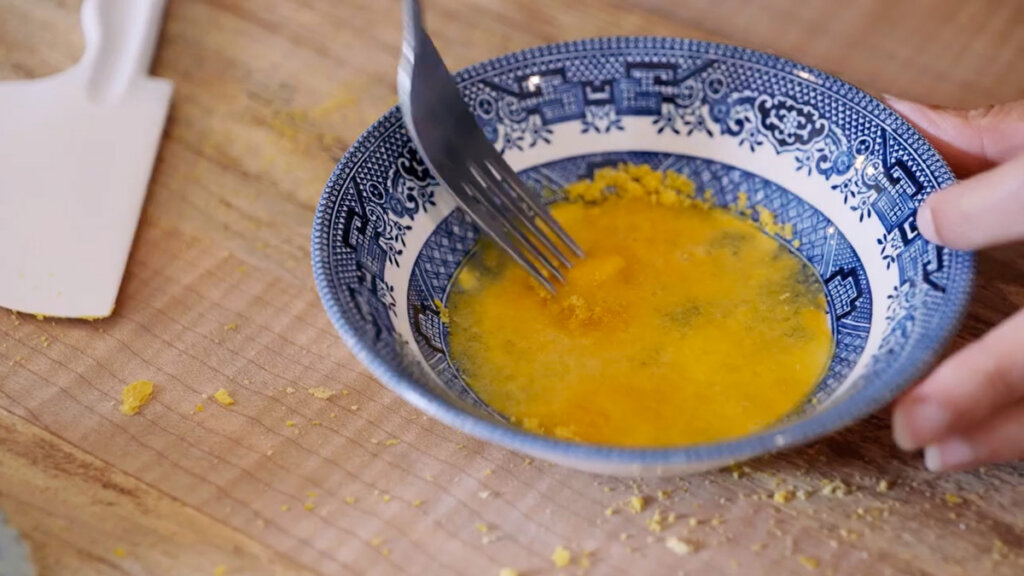 Reconstituting Freeze Dried Eggs
Reconstituting eggs to use for scrambled eggs and baking couldn't be easier:
Take 2 Tablespoons of freeze-dried egg powder and add it to a small bowl.
Add 2 Tablespoons water to the eggs and whisk well with a fork or tiny whisk.
Scale-up if more eggs are needed, then use as you would any freshly cracked and whisked egg!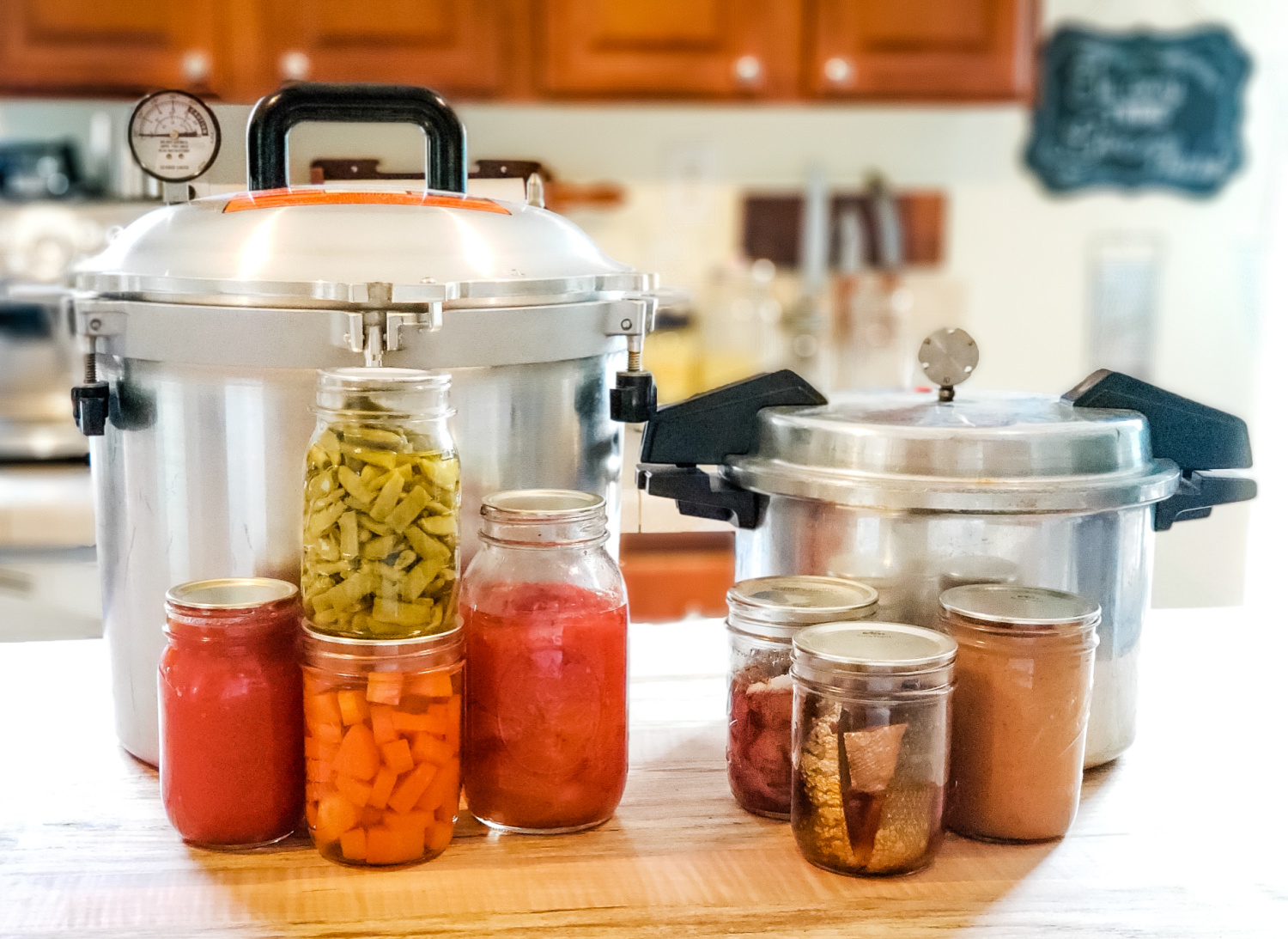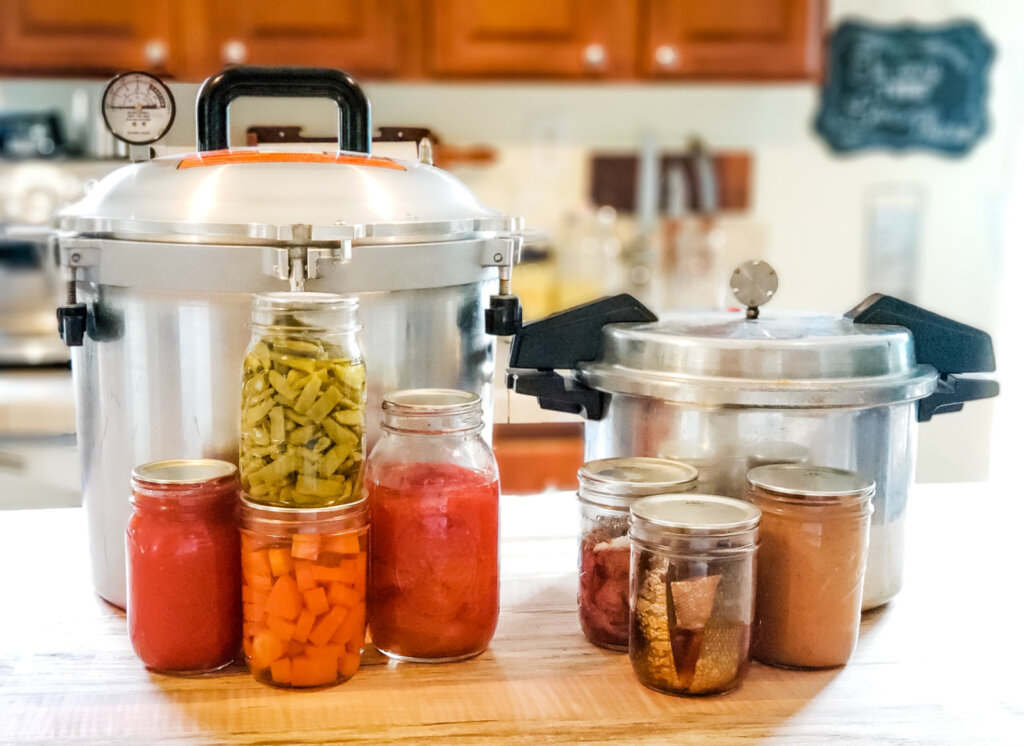 More Articles on Home Food Preservation