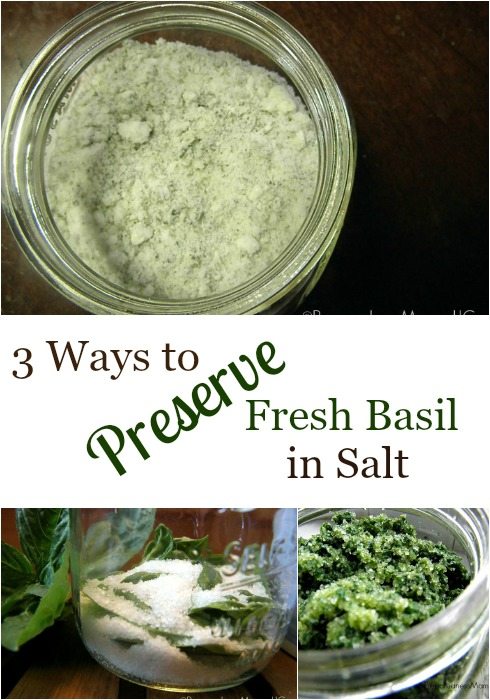 Learning how to preserve basil in salt isn't something I knew I needed to know how to do until now. Seriously, where has this been all my life? Fresh basil and savory tinted salt, all in one jar, all ready to marry up with my meats and sauces.
I had no idea you could preserve basil in salt, bacon and ham, yes, fresh herbs, never thought about it. My culinary side met my homesteading side and I knew this was a match made in heaven. In heaven ya'll. Because my southern roots come out when I'm really excited.
Shelle graciously agreed to write us up a post on how to preserve fresh herbs in salt, not one way, but 3!! Yes, triple time coolest thing ever.
Resources for How to Preserve Basil
Wide-mouth Mason Jar
Fresh Basil
How to Preserve Fresh Basil in Salt
Salt has been used for centuries to dry and preserve foods. It pulls out the moisture from herb leaves and preserves the original flavor. Salt also inhibits the growth of microorganisms by drawing water out of microbial cells through osmosis. Concentrations of salt up to 20% are required to kill most species of unwanted bacteria.
This preservation method works best on certain moist and tender herbs that are hard to dry. Herbs like basil and cilantro, that either mold before they are dry, or that dry to a flavorless leaf that does not resemble the freshness you are looking for.
In all cases, start this project with freshly picked herbs that have been cleaned and thoroughly dried. Store your finished herbal mixture in a clean glass container with a tight fitting lid. When using, always use a fresh, clean spoon to reduce introducing contaminates into your herbed salt.
What kind of salt?
I recommend either sea salt or kosher salt, but canning & pickling salt will work too. These are considered food grade and are courser than regular table salt. Using table salt is acceptable, but it should not contain iodine, which will darken the herb leaves.
Here's the best answer I could find from the Penn State Extension office:
"Table salt is used for baking, cooking and normal table use. However, it is not recommended for canning recipes because the calcium silicate may cause clouding or settle to the bottom of jar. Furthermore, the iodide may discolor some foods. Neither of these effects makes the food harmful to eat. However, the visual quality of the product is adversely affected.
Canning and pickling salts do not contain potassium iodide, dextrose or calcium silicate and thus can be used for cooking, baking, canning, pickling as well as for the table. Because anti-caking agents are not added, it may form lumps in humid weather or if exposed to moisture and should be stored in an air-tight container or re-sealable plastic bag. Kosher salt is usually pure salt and thus is also appropriate for pickling and canning. However, check the label to make sure it does not contain additives."
3 Ways to Preserve Fresh Herbs in Salt
These three methods are so east you will never need to buy herbed salt again!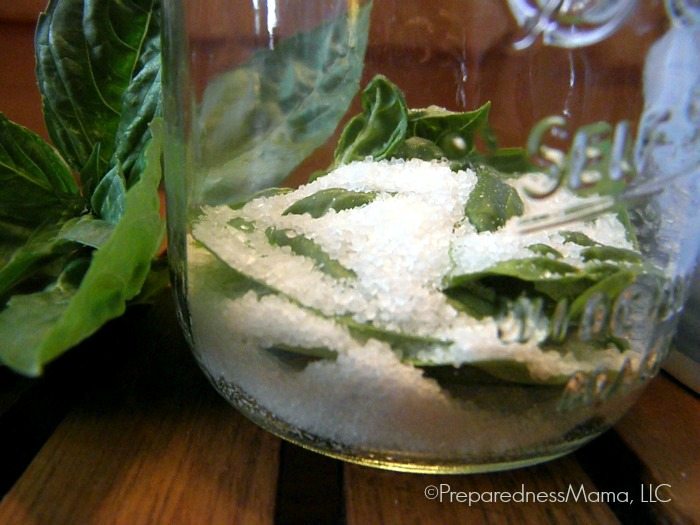 1. Alternating layers of fresh herb leaves and salt
This is by far the easiest method. In a clean glass jar add a layer of salt to cover the bottom. Add herb leaves in layers, alternating with the salt, until the container is full. Refrigerate.
The leaves will stay surprisingly fresh and flavorful for months. To use, just remove a leaf and brush off the salt. As an added bonus, the salt will become flavored over time and can be used in cooking too.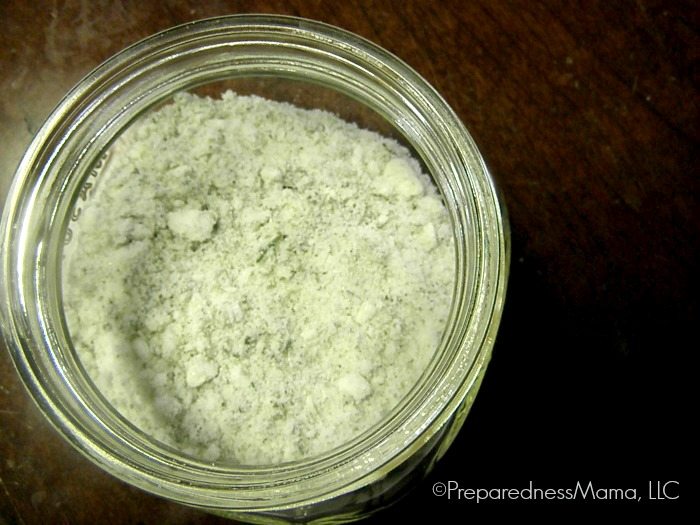 2. Grind & Dry Method
Use a ratio of 1 part herbs to 4 parts salt for the grind and dry method. Clean and dry fresh herbs and chop them into small pieces until you have 1/4th of a cup. Place them in a blender or food processor and add 1 cup of salt. Process until they are completely incorporated.
Lay the mixture out on a baking sheet and cover with a cloth, keeping it out of direct sunlight. After a day, place the mixture into a clean glass jar and cap tightly. Keep in the refrigerator until needed. It will last for one year.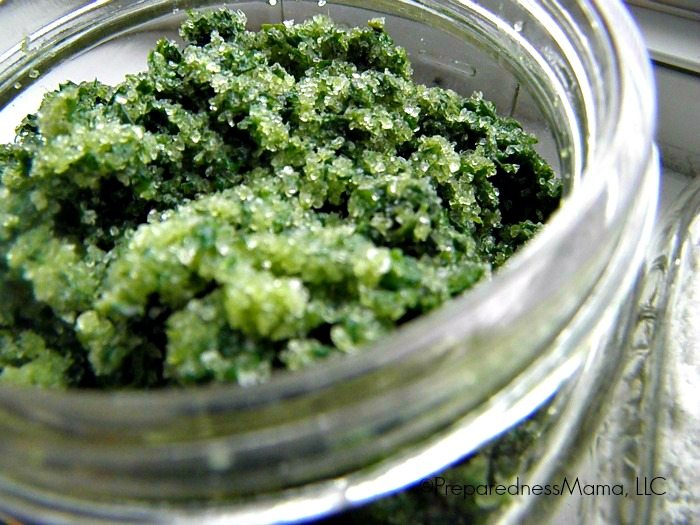 3. Chop & Stir Method
Use a ratio of 4 parts herbs to 1 part salt for the chop and stir method. Clean and dry fresh herbs and chop them into small pieces. You can add them to a food processor, coffee grinder, or glass bowl.
Add one part salt to the herbs, pulsing in the food processor for about 30 seconds. This will create a distinctly herb smelling salt that will take on the color of your herb. It is the most fragrant of the herbed salts we are making today.
Store your mix in the refrigerator and remove as needed. It will last for at least 6 months.
Which herbs work well for this method?
You can use it anywhere you would use herbs and salt, just replace the amount of salt required in the recipe. Consider using it in spaghetti sauce, stuffed fish, soup, savory baking, bread or rubs. Luckily, there are no hard and fast rules so experiment with your own herbal salt blends and enjoy!
PreparednessMama is Shelle Wells – busy mom, wife, preparedness enthusiast and blogger. She gave up her (boring) bookkeeping job for something better. She likes family history (when she has the time), action movies (which she should give up for family history), canning, preserving food, and gardening- she dreams about growing things!
Shelle recently traded her garden in the Pacific Northwest for one in Central Texas, where she's learning a whole new way of gardening. Find her gardening and canning adventures over at www.PreparednessMama.com