Learning how to cook leather britches is just as important as knowing how to preserve leather britches. Cooking this old-fashioned preservation method for green beans is different than fresh or dried beans, but can be just as delicious once cooked if done correctly.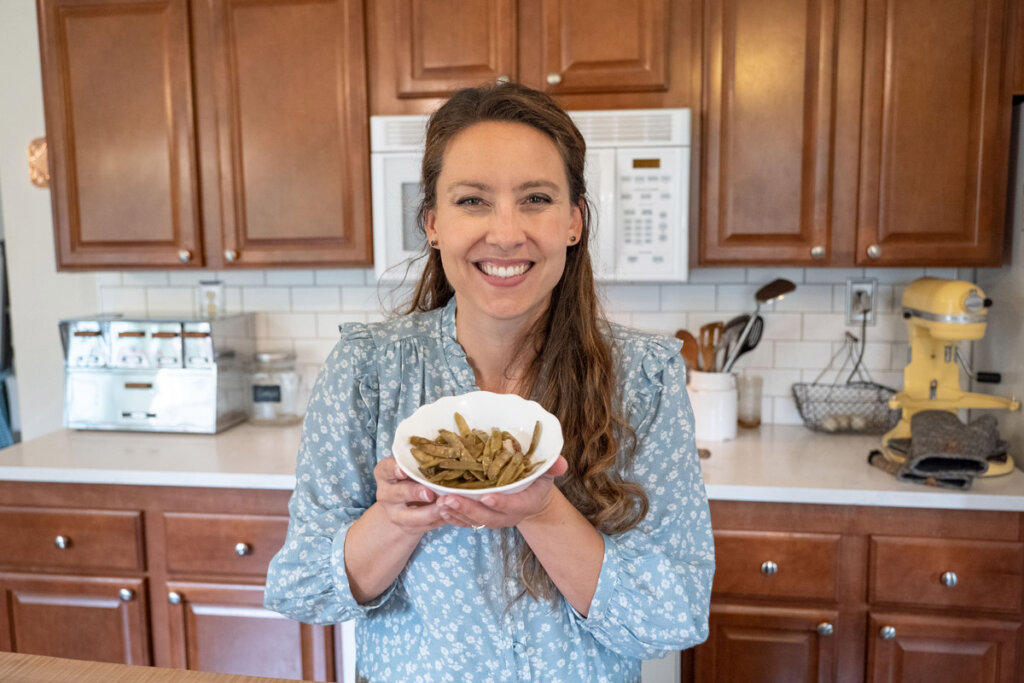 My grandmother was born in 1914, and making "leather britches" was the way they preserved their beans, especially when there weren't enough jars for all the canning that needed to be done.
She raised the first of her children during the Great Depression (even afterwards funds were still tight at times), and money wasn't always there for buying more jars when they ran out, so stringing their beans and making what they referred to as leather britches was an easy way to preserve their beans for long-term storage without any additional supplies (other than some string).
Back in the day my grandparents would string their beans and use the heat from around the woodstove to help dry the beans, which they would then hang as garlands up in the attic.
Learn how to preserve leather britches beans the old-fashioned way here.
How to Prepare Leather Britches
Preparing leather britches isn't the same as cooking fresh green beans. There is a two-step process in order to rehydrate them before cooking.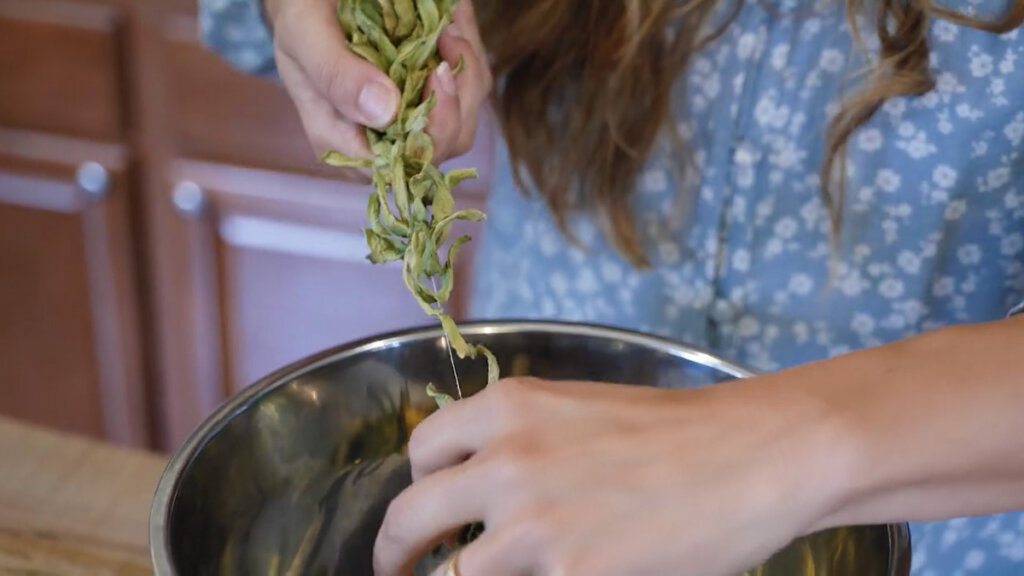 Wash/Soak the Beans
Since these beans have been hanging out for months (or sometimes even longer), they'll definitely need to be cleaned as well as have a good long soak to rehydrate before cooking.
To do this, simply snip the knot holding the beans in place then slide them off the string into a heat-proof bowl.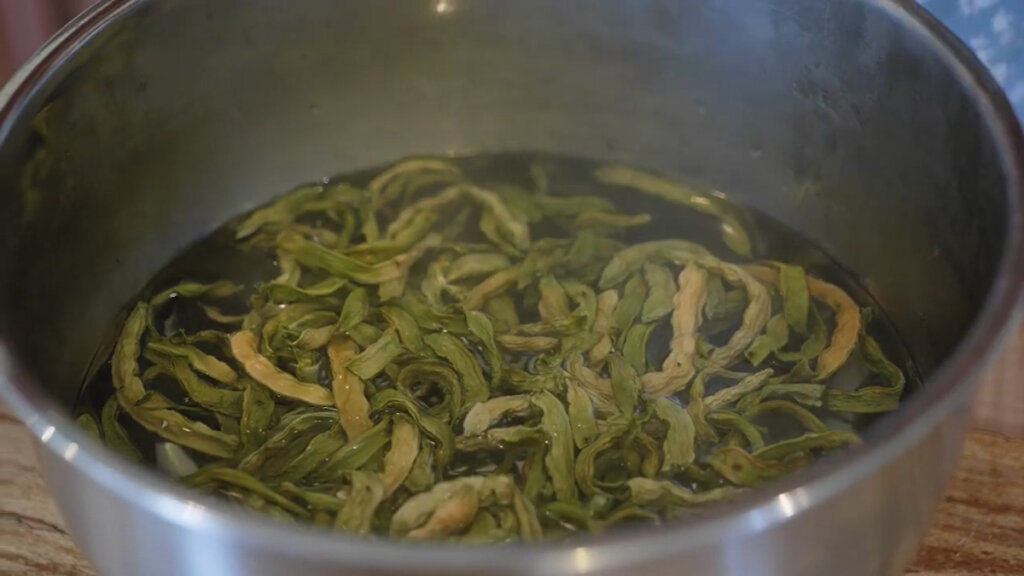 Add just boiling water to cover the beans by at least a few inches.
Let them soak for two hours until the beans soften and become pliable.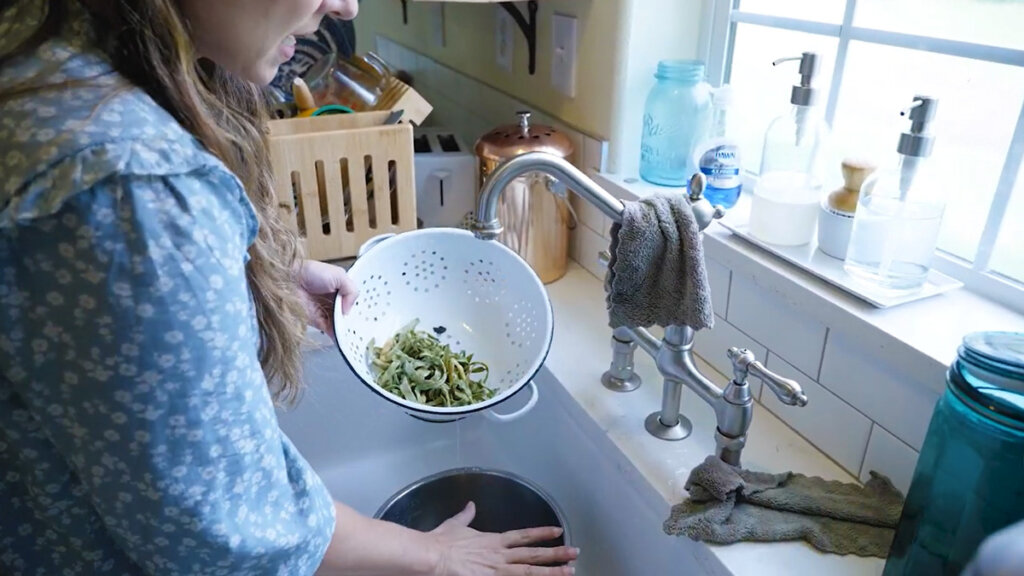 Strain the beans and give them a good rinse with cool water to wash away any remaining dust.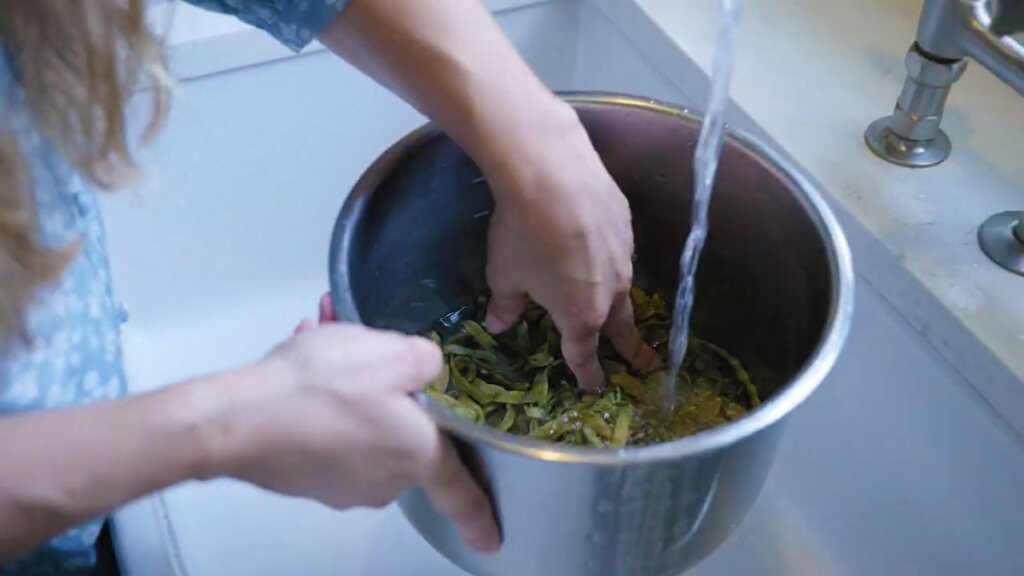 Cook the Beans
Traditionally, my grandmother would place a pot on top of her woodstove, cover the beans with water and just let them simmer for 3-6 hours, or until soft and cooked through, but because I haven't fired up my woodstove yet, and I'm more of a modern Pioneer kinda gal, I'm using my pressure cooker (aka the Instant Pot)!
To cook the beans add your beans into the pot of your pressure cooker and cover them with water.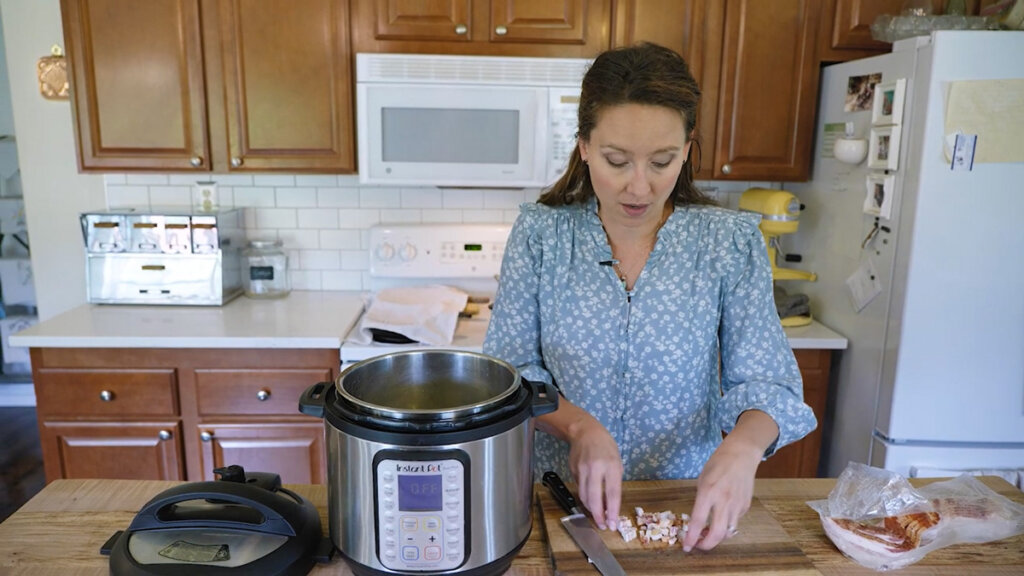 You can add in a piece of bacon, chopped into pieces for flavor (traditionally, my grandmother would add in a piece of salt pork into the pot, but because I'm not curing my own meat, bacon will fill in here!). When salt pork was used, there wasn't any need to add additional salt.
A note on bacon, if you missed my podcast on my recap of raising American Guinea Hogs and discussing if they were worth it, you'll want to go take a listen because those pigs gave us the most bacon of any pigs we've ever raised before!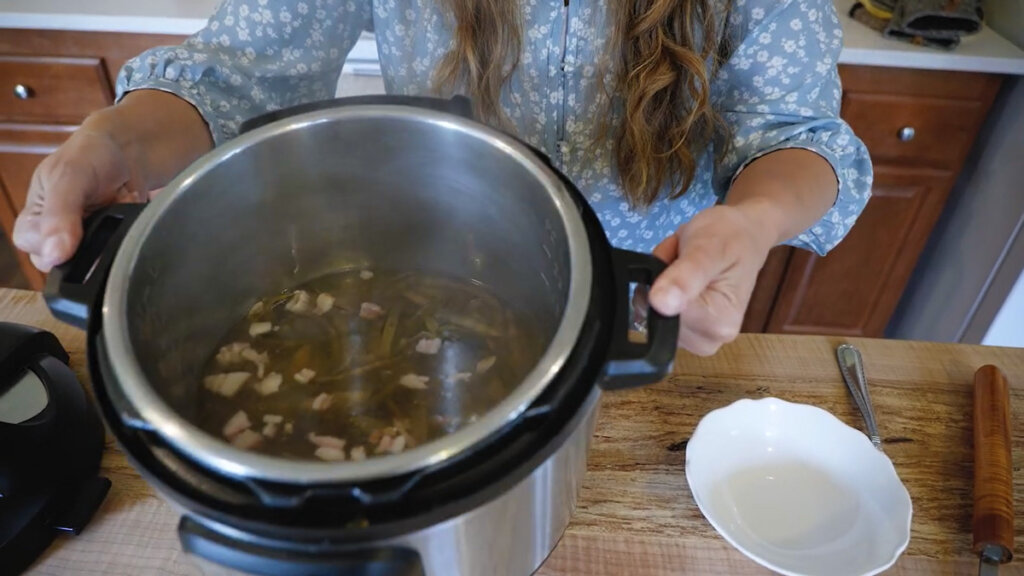 Since leather britches are closer in nature to a dried bean, you'll need to cook them much longer than fresh beans. Cook them on high pressure for 20 minutes, then do a 15-minute natural release of the pressure, followed by a manual release of any remaining pressure in the pot.
Ladle out your beans into a bowl, taste, and add salt as needed.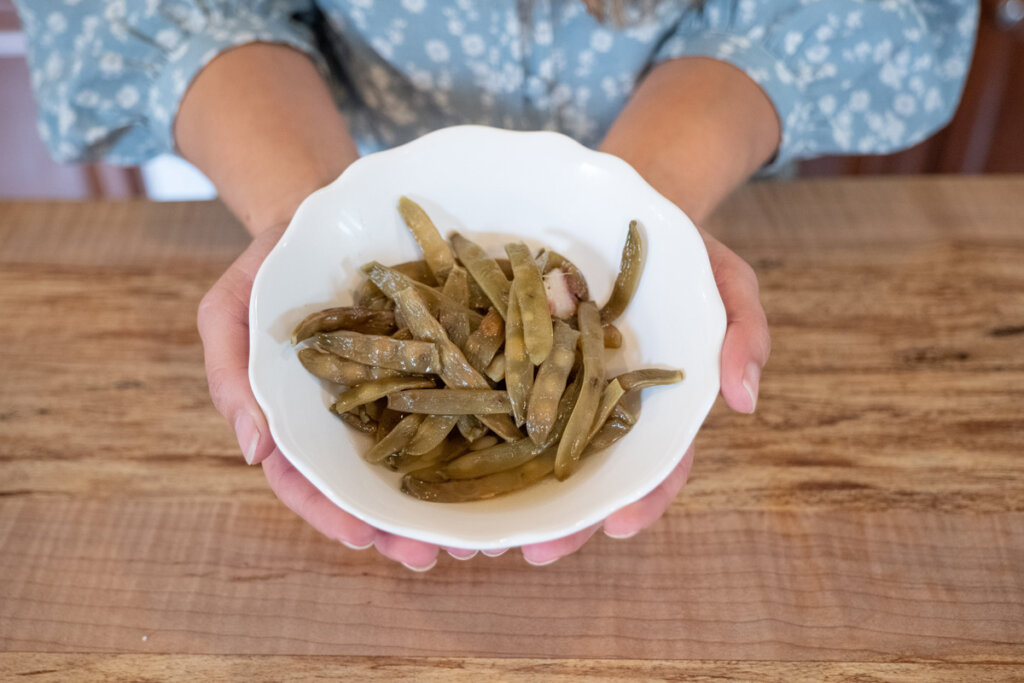 More Preservation Recipes and Resources
Did you make this recipe? I'd love for you to let me know how you liked them by leaving a comment below, then leave a star rating in the recipe card! Snap a photo and tag me on social media so I can see @melissaknorris. I love seeing what all you Pioneers are up to!
Be sure to also follow me on Pinterest, Instagram, Facebook, and my YouTube channel where I share many more modern Pioneer-lifestyle tips, gardening tips and tutorials, as well as other homesteading knowledge I've gleaned in my 20+ years as a homestead gal.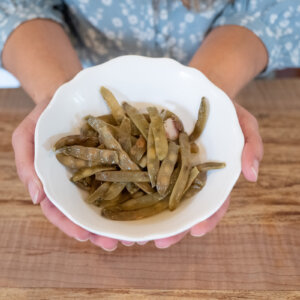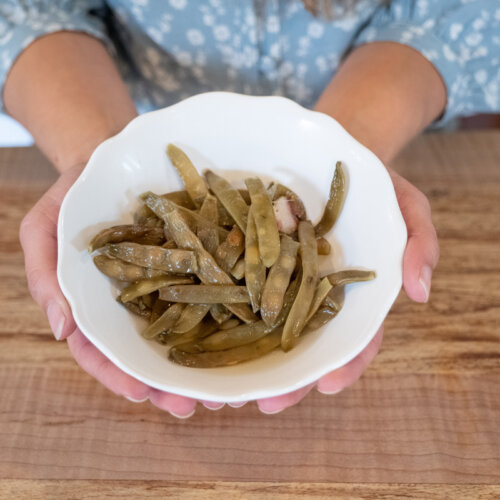 Leather Britches Green Bean Recipe
Learn how to cook up this old-fashioned preservation method for green beans. The addition of bacon, garlic, and sea salt makes this dish hearty and delicoius.
Ingredients
4

cups

leather britches

6

cups

hot water

1

slice

bacon

or salt pork

1

teaspoon

sea salt

optional

1

clove

garlic

minced (or more to taste), optional
Instructions
Remove leather britches beans from string into a heat-proof stainless steel bowl.

Cover beans with hot water (enough to cover by a couple inches) and let soak for 2 hours, or until beans are soft and pliable.

Rinse beans well under running water.

Place beans into the insert pot of your pressure cooker and add water (enough to cover beans by 2 inches).

Chop bacon and mince garlic and add to the pot along with sea salt.

Set pressure cooker to high and cook for 20 minutes on high pressure, natural release for 15 minutes, followed by a manual release of any remaining pressure.

Remove beans to a bowl, taste and adjust seasonings. Enjoy!
Nutrition
Calories:
58
kcal
Carbohydrates:
8
g
Protein:
3
g
Fat:
2
g
Saturated Fat:
1
g
Polyunsaturated Fat:
1
g
Monounsaturated Fat:
1
g
Trans Fat:
1
g
Cholesterol:
4
mg
Sodium:
625
mg
Potassium:
246
mg
Fiber:
3
g
Sugar:
4
g
Vitamin A:
761
IU
Vitamin C:
14
mg
Calcium:
43
mg
Iron:
1
mg