Some of the links below are affiliate links, which means I will earn a commission at no additional cost to you, if you click through and make a purchase. Regardless, I only link to products we use on our homestead or believe in.
Learning how to can apricots means delicious jars of fruit at your finger tips year round… if you don't devor them all.
Best part is, you can control how much sugar you use, if any, with my easy fruit syrup canning chart.
Click here for my FREE fruit syrup canning chart that allows you to control the sugar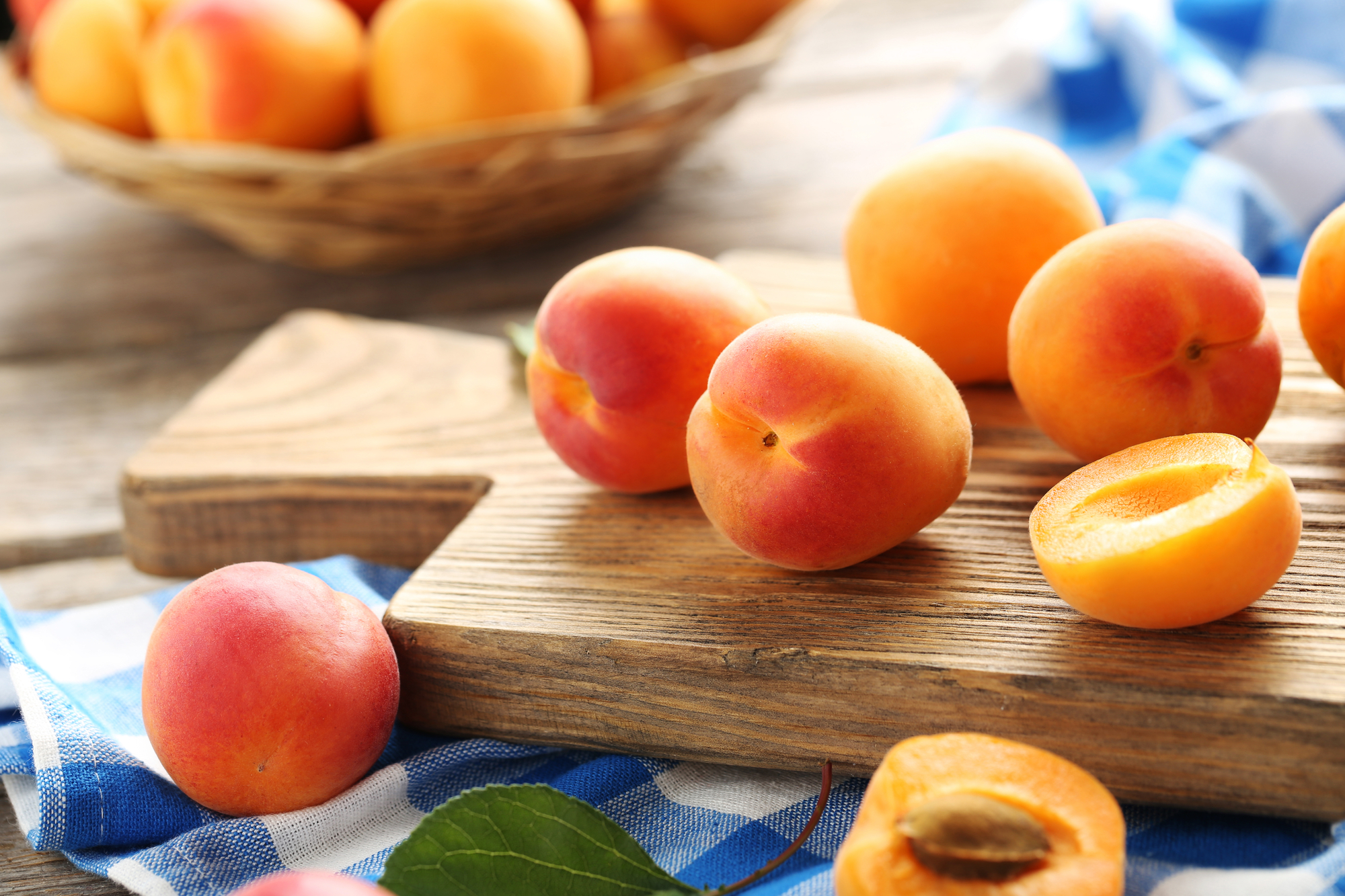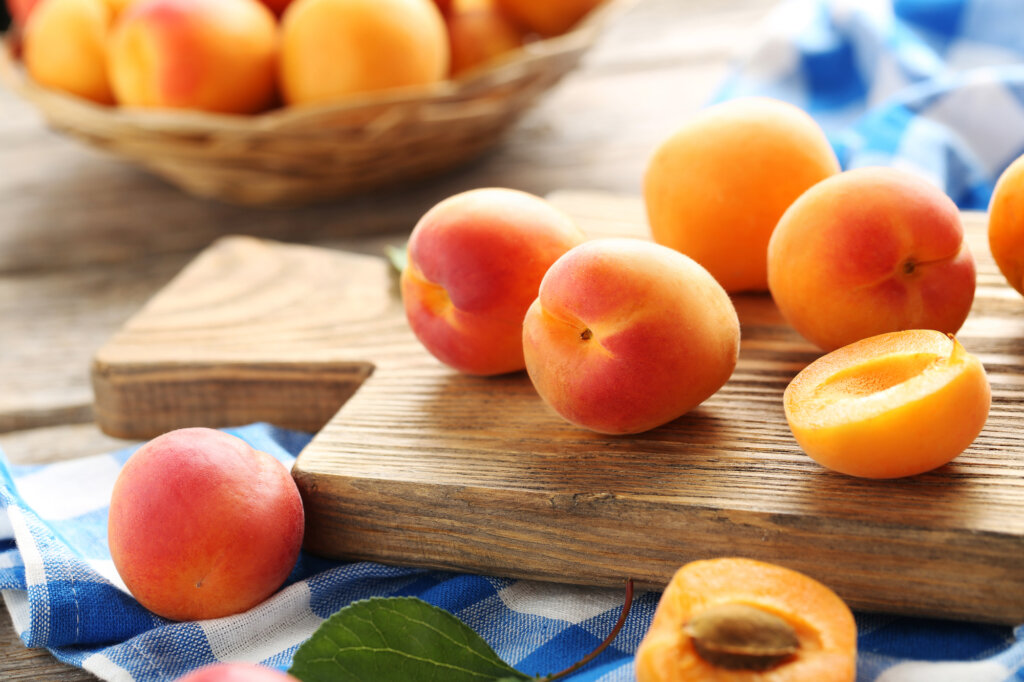 Not to mention it yielded great results and a huge smile from my husband. That was all it took; I've been canning ever since. Basic fruit canning is very simple and a great jumping off point into water bath canning. Plus, the jars look beautiful lining the pantry shelf.
Plus, there's something incredibly soul-satisfying about filling up your pantry with home-canned foods, a satisfaction you can't get from store-bought items.
Gather up your apricots, your water bath canning gear and let's get at it!
Resources to Hot Water Bath Apricots :
Canning jars

Deep kettle with jar rack (Water Bath Canner)

or steam canner

Canning jar lids and rings

Lots of old kitchen/ hand towels & hot pads

Canning Jar Lifter & Chop Stick or Wooden Spoon

(or this handy canning kit)
There are two ways to can fruit, using either the raw pack or the hot pack method. The raw pack method is my choice (aka way less work), though some sources say a raw pack makes poor quality apricots, I find it tends to yield a firmer end result, and what this recipe uses.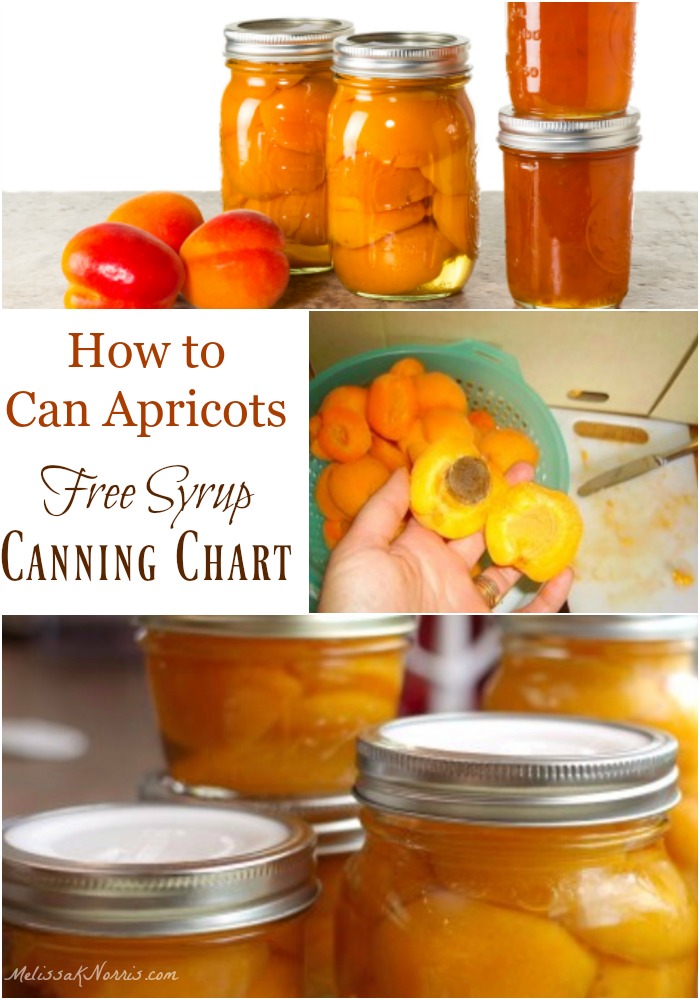 The hot pack method means you bring the apricots to a boil with the syrup, and also decreases the processing time by 5 minutes. The choice is up to you, but I find it easier to pack the jars, and less hands on work on my end, using the raw pack method but many feel that hot pack creates a better end product. Up to you!

How to Can Apricots
Rinse apricots well and peel if desired (peeling is optional but this method featured in my how to can pears tutorial is fast and easy and works for pears, peaches, and apricots). Cut in half and remove the pit.
Place apricots cut side down into jars. Apricots (as well as peaches and pears) are put cut side down to allow more pieces of fruit to a jar.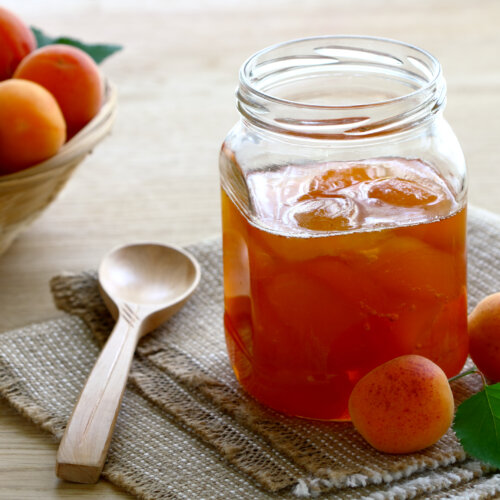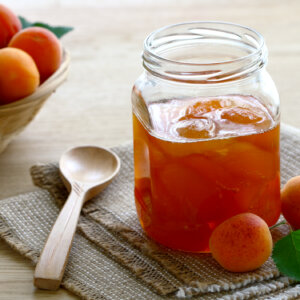 How to Can Apricots- Easy Canned Apricots Recipe
Ingredients
9

pounds

Apricots – rinsed and halved

approximately 2 and 1/4 pounds per quart jar

6

cups

Water

2

Cups

Sugar
Instructions
Prepare hot water bath canner by filling 1/2 way with warm water, placing rack inside, and setting on medium heat.

Have jars washed and rinsed in hot soapy water, wide mouth are the easiest to pack your apricots in.

In a large sauce pan bring 6 cups water and 2 cups sugar to a boil.(I cover and turn it off since Apricot canning goes so fast)

Place apricots in the jar, cut side down, and fill to a 1/2 inch headspace (not that how you pack them matters in the overall canning process, it just works best to fit more per jar).

Pour hot syrup over apricots to a 1/2 inch headspace.

Remove air bubble by taking a chopstick, knife, or ruler and running it between the outside of the fruit and the inside of the jar. Re-check headspace and add more syrup if needed.

Wipe down the rim of the jar, place lid and band on, and tighten to fingertip tight.

Place jars in hot water bath canner. Lower jars into water and make sure the water level comes 1 inch above the top of the jars. Add more boiling water if necessary.

Bring water to a boil and begin processing time only after water has reached a full boil, cover, and process pints for 25 minutes and quarts for 30 minutes. (If using hot pack method, pints are 20 minutes and quarts are 25 minutes).

Turn off burner and remove lid. Wait 5 minutes and using a jar lifter, remove jars from canner and place on a folded towel. Allow to cool for 12 to 24 hours undisturbed.

Check seals, remove bands, wipe down jars to remove any sticky residue, and store in your pantry!
Notes
To hot pack (it helps push extra air out of fruit and can reduce siphoning), place prepared apricots and syrup in a large saucepan and bring to a boil. Pack hot into jars and process in water bath or steam canner. 
There you have it my friends, how to can apricots.