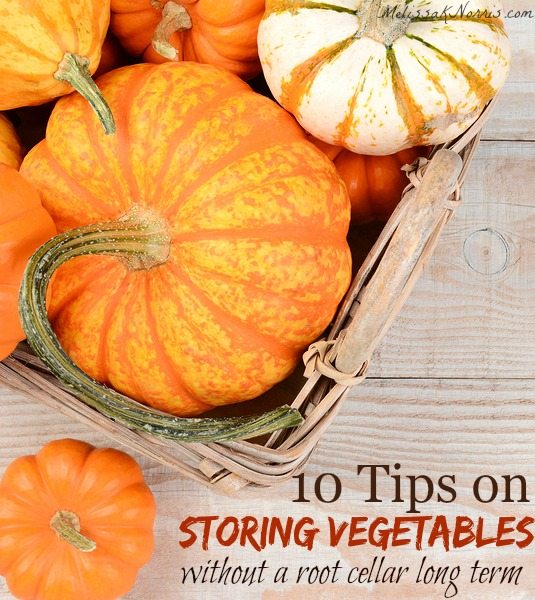 While I love canning, seriously Mason jars are my thing, root cellar or cold storage techniques might be my second favorite way of preserving food at home, because it requires so little work on my part. Plus, no fridge, no electricity, yeah, what's not to love.
And I love it when I can preserve food for my family without a ton of effort. (Little effort just sounds better than lazy, right?)
I post new episodes every Friday morning. You can subscribe via RSS and receive every episode for free.


Or subscribe via Itunes
Fall is when most root cellar and cold storage happenings go on. Don't have a root cellar or even a garage?

No worries, me neither. Those of you that do, I'll try my best not to get jealous over here because that's not good for us.

10 Tips on Storing Vegetables w/out a Root Cellar Long Term
Leave the stem on. It actually doesn't matter what kind of food you're storing, any food, including apples and berries, will store longer with the stem intact. It keeps disease from getting into the center of the food and breaking it down faster.
Ventilation. You have to have good ventilation and air flow around your food. This will help fungus from growing and greatly increase the shelf life. Not only do you need ventilation in the room or where you're storing your food, your containers shouldn't be air tight either.
5 storage containers for root cellar and cold storage
mesh bags (I save these if/when we run out of our own onions and purchase them from the store
burlap bags that are left open
cardboard boxes with a few holes in the sides
baskets or trays with large holes
laundry baskets work well with both handles and openings
Curing. This is the process of leaving the crop out in a higher temperature than you would store them, right at harvesting time. During curing, the skin of the food is hardened and excess moisture is drawn out, which helps extend the storage life.
Crops that need to be cured are potatoes, sweet potatoes, onions and garlic. Depending upon where you live (moisture and humidity level in the air) the curing process generally takes 2 to 4 weeks.
How to cure crops for root cellar storage
Spread crop out so there's even air flow. Don't cure in direct sunlight, especially onions and garlic, as you can sunburn the crop. We've used old screens or even wire, stretched out over a saw horse to cure our onions and garlic.
Don't wash crops before curing or storing, if there's a lot of dirt, brush it off, but as the food cures, the dirt will dry and is easier to remove. Washing introduces even more moisture to the food and pushes it through the skin down into the crop… not what you want for curing or long term storage.
For winter squash, you can wipe down the outside of the squash with vinegar before storing.
Curing temperatures– regular potatoes should be cured at 55 to 60 degrees Farenheit while everything else is best cured between 70 to 80 degrees Farenheit, with sweet potatoes (those heat loving darlings) are best cured at 85 degrees Farenheit.
Note: Even if you don't have perfect temperatures for curing, don't worry about it, just do your best. We rarely have a full two weeks of temps above 75 degrees and I still cure my garlic. Sometimes you just have to cure it for a few extra weeks.
Best storage conditions for root cellar crops
Dark. Any food will last longer if stored out of direct sunlight, even our home canned goodies. This is especially true for potatoes.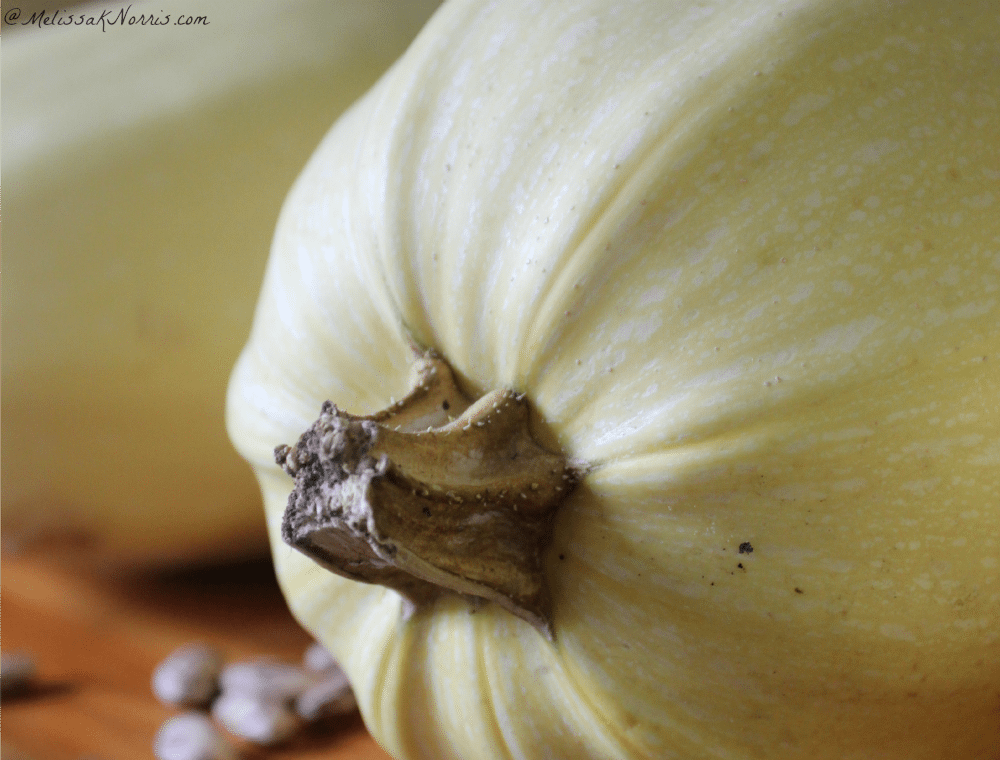 Warmer storage crops. These are the crops those of us without a real root cellar or garage can successfully store.While they'll store longer at the cooler end of the temp gauge, they still do quite well even if your conditions are towards the warmer end.
7 crops that can be stored at 45-60 degrees Farenheit
dry beans
garlic (check out my video on how to braid garlic)
onion
potato
sweet potato
pumpkin
winter squash
Dry beans will store the longest (talking years, but after two years, they usually won't cook tender anymore), our garlic will store for a full year, while the onions are more about six months. Potatoes will last about six to nine months. I store sweet potatoes for a full year in our pantry. The longest storing winter squash for us is butternut and spaghetti squash. Pumpkin usually only lasts about two to three months. 8 Ways to Preserve Pumpkin at Home
Resource Books for Root Cellaring
Root Cellaring: Natural Cold Storage of Fruits & Vegetables
More Articles on Home Food Preservation
Do you want to increase your self-sufficiency and live the simple life, but feel overwhelmed?
You don't have to live on huge acreage or quit your job in order to live the simple life, grow your own food, and become more self-sufficient. I've created a step by step guide to help you, click here–> Yes, I want simple and I want it now!
Did I mention there were bonuses? Yeah, I'm cool like that.