This low sugar blueberry jam recipe uses no store bought pectin and might just be the best jam I've ever inhaled tasted. I don't make this claim lightly. The hint of lime makes this sing on your taste buds, dare I call it, sublime. (Yea, I'm kind of dorky that way) But seriously a homemade blueberry jam without pectin and low sugar that sets!
You know how some people are wine connoisseurs, not my thing, but jam connoisseur, why yes, l'll offer up my palate any time of day… or night.
Blueberries are one of my favorite fruits. I'm not sure if it's from reading Blueberries for Sal as a child or because when they burst on your tongue it's like tasting summer. Or I may just have a thing for purple-colored foods.
I adore they don't have large seeds. Much as I enjoy jams and jellies from our summer harvests, one less step of having to push berries through a sieve to collect the seeds is a plus in this Mamma's busy days.
Blueberries are one of those berries that freeze beeeaautifully. The trick is to not rinse blueberries beforehand, just toss them in your freezing container. There's nothing better on a hot day than a handful of frozen blueberries to cool ya off. Then you can make this blueberry jam recipe with frozen blueberries, once the weather cools off or you have extra time, whatever comes first.
I don't know about you, but a homemade jam that contains more sugar or as much sugar as it does fruit just doesn't sit right with me. Not only is this low sugar blueberry jam recipe healthier, but it's also much more frugal without pectin from the store and loads of sugar. If you agree, you'll want to try my No Sugar Strawberry Jam Recipe too.
Plus, I'm all about recipes that don't rely on store-bought items. Anyone else feel they were born a century too late and should have been besties with Laura Ingall's Wilder in Little House on the Prairie? You, too! Good, grab your apron, your Mason jars, and let's get to jamming.
Lemon, lime and apples are both very high in natural pectin. My grandmother never used pectin and now you don't have to either.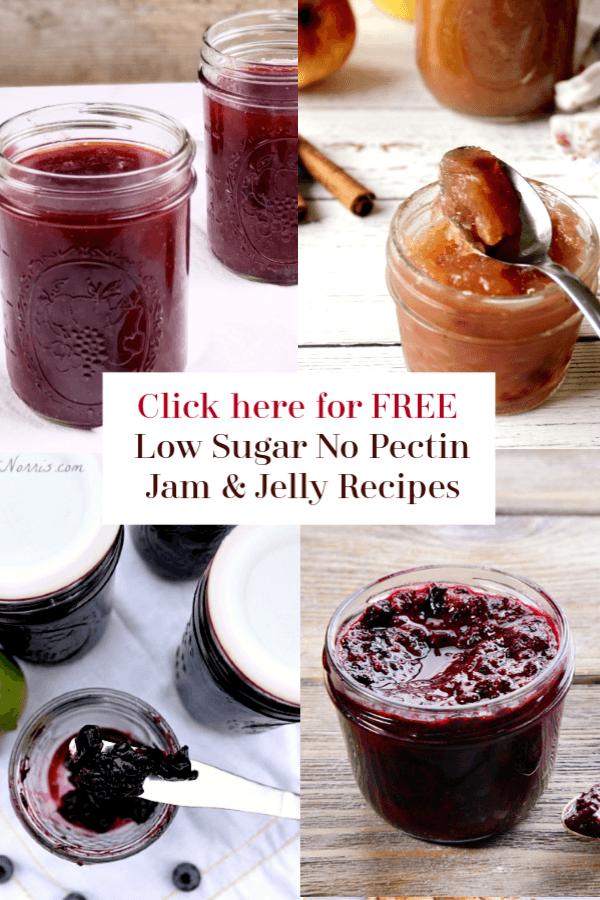 Resources for Low Sugar Blueberry Jam without Pectin
Our FREE Jam & Jelly Troubleshooting Guide– how to test if your jam has reached the setting or gelled point before putting in jars and processing, what 3 easy steps to take if it's not reaching the gel point, and how to salvage it if it didn't gel. Bonus, the fruit acidity and pectin level chart!
Classic Zester- this little beauty makes getting that pectin luscious lemon zest into your strawberry jam without the bitter pith so easy.
Stainless Steel Canner– (Safe for glass top stoves) this water bath canner won't rust like the granite wear runs and will be your trusty side kick in the kitchen for years to come.
6 Piece Canning Set- The jar lifter is worth five times the price of this. Best part, this 6 piece set is 79% off at time of posting. I use mine with every canning project and can't believe I ever canned without it. No more burnt fingers!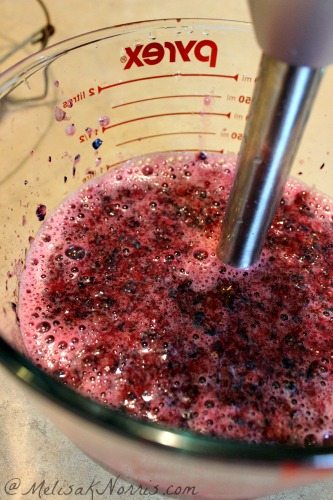 8 ounce jelly jars- These are the perfect size for jam and jelly making. I use these for pickled garlic as well. Can you ever have too many canning jars? In case you were wondering, the answer is no my friend.
How to make small batch blueberry jam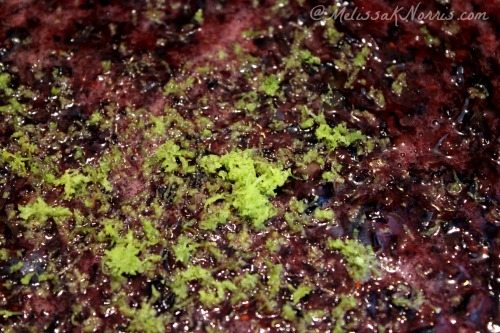 Smash or puree 5 and 1/2 cups of blueberries. You can use a potato smasher, food processor, blender, or immersion blender *affiliate link I have no idea how I went so many years in my kitchen without my immersion blender. I use it for re-fried beans, soups, and jam making, plus, it's kind of fun to wield. You'll end up with 4 cups of pureed fruit. You can leave chunks of fruit in or puree it smooth, totally up to you. I kind of like mine in the middle.
Pour sugar into berries and stir. Zest two limes into blueberry puree. Zest is a fancy way to say finely grate the peel of the lime into the blueberries. You don't want the pith or white part, just the pretty green. Seriously, this could inspire a new paint scheme somewhere…
Testing from Pomona's Pectin recommends using concentrated bottle lime juice with blueberries to ensure 4.6 pH level for canning safety.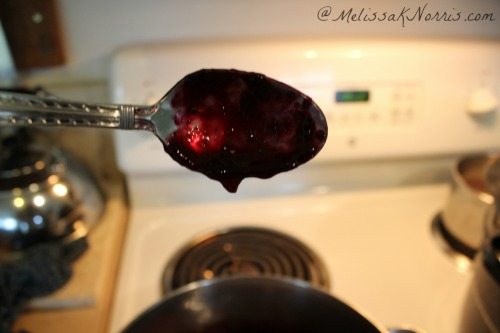 Stir in the lime juice and put the pot onto medium heat. Stir blueberry jam frequently. Remember, you don't want that sugar to scorch. Let it simmer for about 20 to 25 minutes.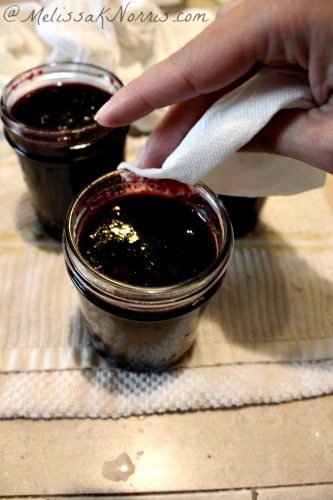 You can test the set of the jam by the sheeting test. Using a metal spoon, ladle out a spoonful of blueberry jam. Hold the spoon and watch the way the jam drips off of the spoon. If it's little individual drops, jam is not set, if it's big goops, it's almost there. If it comes off the spoon in a sheet or doesn't really drop off at all, then jam is set, yank that baby off the heat.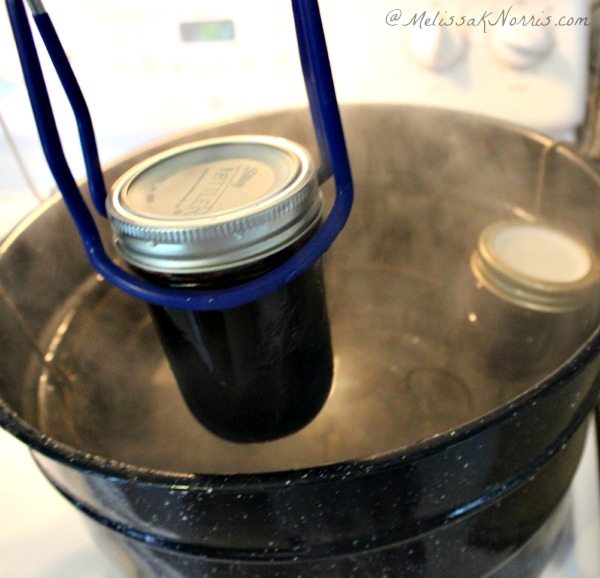 Pour blueberry jam into washed jars leaving a 1/4 inch headspace. Wipe clean the rim of the jar and put on lids and bands. Place jars into water bath canner, make sure water level covers jars by at least 1 to 2 inches, and process for 10 minutes. You start the processing time after water has begun to boil.
After 10 minutes, turn off heat and take off lid. Let jars sit for 5 minutes before removing from canner. Place on a towel folded in thirds in a draft free area.
Don't touch jars for 12 hours. Check seals and store blueberry jam in the pantry and out of direct light.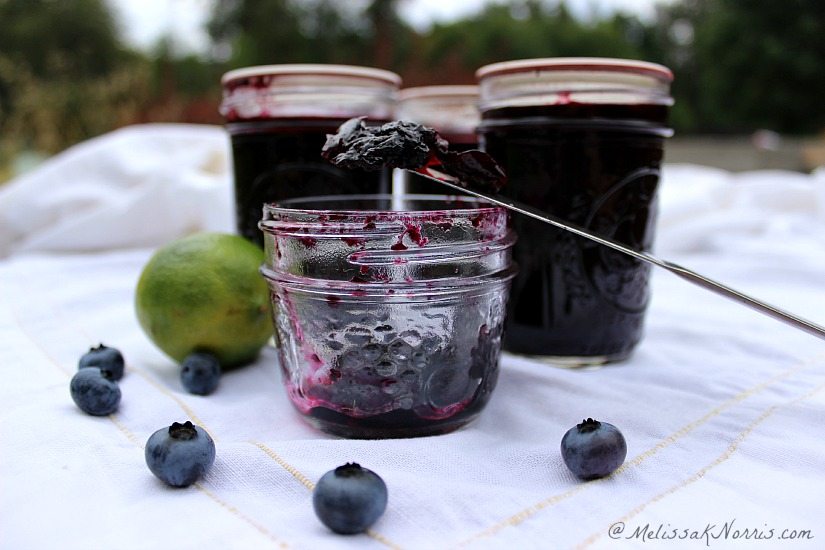 This recipe is shared from The Made-From-Scratch Life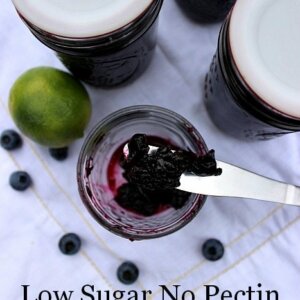 Low Sugar No Pectin Blueberry Lime Jam
Ingredients
4

cups

pureed blueberries

1 1/4

cups

sugar

I used organic dehydrated cane juice

zest of 2 limes

1/4

cup

bottled lime juice from concentrate
Instructions
Fill hot water bath canner with canning rack and water, heat to 180 degrees F (or just below a simmer).

Combine all ingredients in a large stock pot. Bring to a boil over medium heat, stirring frequently. Simmer for 20 to 25 minutes until jam has set.

Pour into just washed hot jars to a 1/4 inch headspace. Place into prepared hot water bath canner. Make sure jars are covered by 1 inch. Bring to a full boil and start processing time from a boil for 10 minutes.

After 10 minutes, turn off heat and remove canner lid. Wait 5 minutes before removing jars to a towel on the countertop. Leave untouched for 12 to 24 hours. ChecRemove bands, checkk seals and store on shelf.
Notes
You may use lemon instead of lime
You can freeze this instead of canning
I have to tell you I licked the spoon and may have eaten a few spoonfuls… or three or four, but not half the jar, definitely not half the jar. Seriously, this easy blueberry jam recipe without pectin and low sugar is one you absolutely must make. You have to taste test your food, right?
Did you grab your FREE jam & jelly troubleshooting guide with the bonus charts? Snag it here and never worry about a failed blueberry jam recipe again!