Some of the links below are affiliate links, which means I will earn a commission at no additional cost to you, if you click through and make a purchase. Regardless, I only link to products we use on our homestead or believe in.
Using herbs for homemade remedies has fascinated me forever. Is there anything more cool than going out into God's creation and picking a plant that can help you with an ailment?
Warning: Once you start learning about herbs you'll never venture out into the yard or go on a nature walk in quite the same way again. You'll be constantly looking at plants and identifying them and you'll most likely get your friends and family involved, too.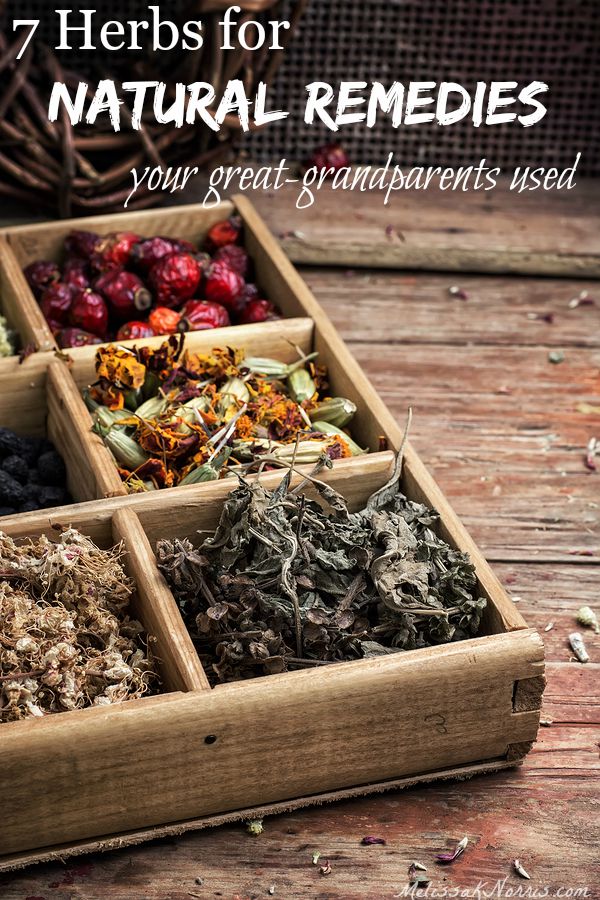 Listen in below to the full podcast, Episode #67 7 Herbs for Natural Remedies Your Grandparents Used, of the Pioneering Today Podcast, where we don't just inspire you, but give you the clear steps to create the homegrown garden, pantry, kitchen, and life you want for your family and homestead.
Let's talk for just a sec about using herbs. When I first got into more natural remedies I had this misconception that if it's natural, it's safe. Not all-natural remedies are safe for every person or every situation. You have to really understand the herb or essential oil, how it works, dangers, and side effects, because they do exist.
I don't say this to scare you or turn you off from natural medicine. Not in the least, but we have to be responsible when using herbs and nature as medicines.
I'm not a doctor. This post isn't meant as a diagnosis or a treatment plan for you, just so we're clear, it's for educational and entertainment purposes. I believe this to be true for modern and holistic/natural medicine, each person has to be responsible for what they use and does their own due diligence. I talk about treatment plans with my doctor, my naturopath, my pharmacist (who happens to also be my boss in my day job), and do further research online or in books. I recommend you do the same.
7 Herbs You Need In Your Natural Remedies
1. Calendula. I mispronounced this for a few months, just so you know. Calendula is a wonderful all-around herb for the skin, a work horse in the medicine cabinet. It has anti-inflammatory and antiseptic properties which makes it a great candidate for multiple skin issues and also for wound care. It smells wonderful (big plus for me) and also has a history as a dye due to its orange blossom.
Because calendula is considered a gentle herb, you'll find it in a lot of natural products for children and infants, as well. I infuse oil with calendula blossoms to make a homemade soothing salve, featured in my new book The Made-From-Scratch Life: Simple Ways to Create a Natural Home or this Herbal Wound Healing Salve Recipe – Easy DIY
Calendula is part of the Asteraceae family, so obviously, if you have allergies to marigolds or other members of this family, you'll be allergic to calendula, too. Calendula can also be used in tea and has been used to color butter and cheeses.
2. Lavender. Lavender is probably the most common and widespread known herbs for it's calming and soothing properties. I have to tell you, I used to hate the smell of lavender, like wrinkle and turn up my nose at the same time. But I think this was to synthetic lavender scented items because when I purchased my first essential oils kit, the lavender was one of my favorites. I put a few drops on my pillow every night when I got to bed.
I make lavender sachets for my husband's truck and keep dried bunches of it around the house.
Lavender works well to help soothe the skin and is often used in preparations for burn relief and pain. I also use lavender in this DIY Herbal Face Scrub and Mask.
3. Echinacea. This is one of the herbs I use every week once my kids start back to school and cough and cold season go into overdrive, especially because at my day job I'm in constant contact with sick folk, just part of the territory at the pharmacy. I specifically love this tea blend from Traditional Medicine, but I don't use it every day, though usually at least a few nights a week, especially if I feel cold symptoms moving in.
In fact, one of my co-workers asked how come I never seem to get sick and I shared a bag of tea with her. Echinacea is used in teas and you can also purchase it in capsule form.
Echinacea is used for its ability to help support the immune system. Like calendula, echinacea is also related to the Asteraceae family, so beware of allergies.
4. Peppermint. Peppermint is a wildly prolific plant, most well suited to a container, just trust me on this unless you want mint plants gone wild all over your homestead. It tastes great, I even bruise a few leaves and toss them in my water bottle for a flavor pick me up.
Peppermint is known for helping soothe an upset stomach and help support bowel function (oh the stuff we talk about here, right?). Though peppermint is known for its use with stomach issues, if you have GERD or acid reflux, peppermint can help relax the sphincter muscle, allowing acid from your stomach to climb up to the esophagus, making symptoms worse.
If you're feeling congested, just the scent of peppermint oil can help with congestion. Just make sure you don't get the peppermint oil on your skin as it will sting and burn.
Peppermint is one of my favorite things to pair with chocolate and often used in baking. Here's how to make your own peppermint extract at home!
5. Licorice root. I'll be the first to tell you I can't stand licorice candy, mainly because I don't like the flavor of anise, and a lot of licorice candy is flavored with anise according to WebMD, which I just learned. However, licorice root has its place in an herbal medicine cabinet. Licorice root is for a variety of ailments from digestive issues, cold symptoms, to helping support adrenal glands, and many other ailments.
However, licorice root should be used with caution and only for short term and never in large amounts. If you have blood pressure or potassium issues, liver or heart problems, you shouldn't use licorice root. Here's a link to the side effects and cautions of using licorice root.
6. Sage. This silvery green leaf herb is one of my favorites because it's easy to grow, lasts almost year long in my garden, and is just so tasty. I have to confess (this might be confession day for me or something) that I didn't realize all of its health benefits until I started digging into research this article.
Sage is used to support digestive problems (hello, always love it with my turkey on Thanksgiving), and supporting mind and mental performance. In fact, this article from WebMD shares sage may help with Alzheimer's Disease and menopause symptoms.
7. Chamomile. This little white flower plant is another common garden plant. Its been around for centuries and is used to support feelings of calmness and to aid nervous stomachs. Many people enjoy chamomile as a bedtime tea. Because of its calming nature, it has also been used on the skin.
I happen to think it's also charming in the wooden planters flanking our front porch.
For the do-it-yourselfers out there, learn how to prune herbs for maximum growth and how to dry fresh herbs at home.