Some of the links below are affiliate links, which means I will earn a commission at no additional cost to you, if you click through and make a purchase. Regardless, I only link to products we use on our homestead or believe in.
Red raspberry leaf tea benefits are many, and raspberry leaf tea is good for both male and female health. Learn how to make this delicious tea and start reaping the many benefits.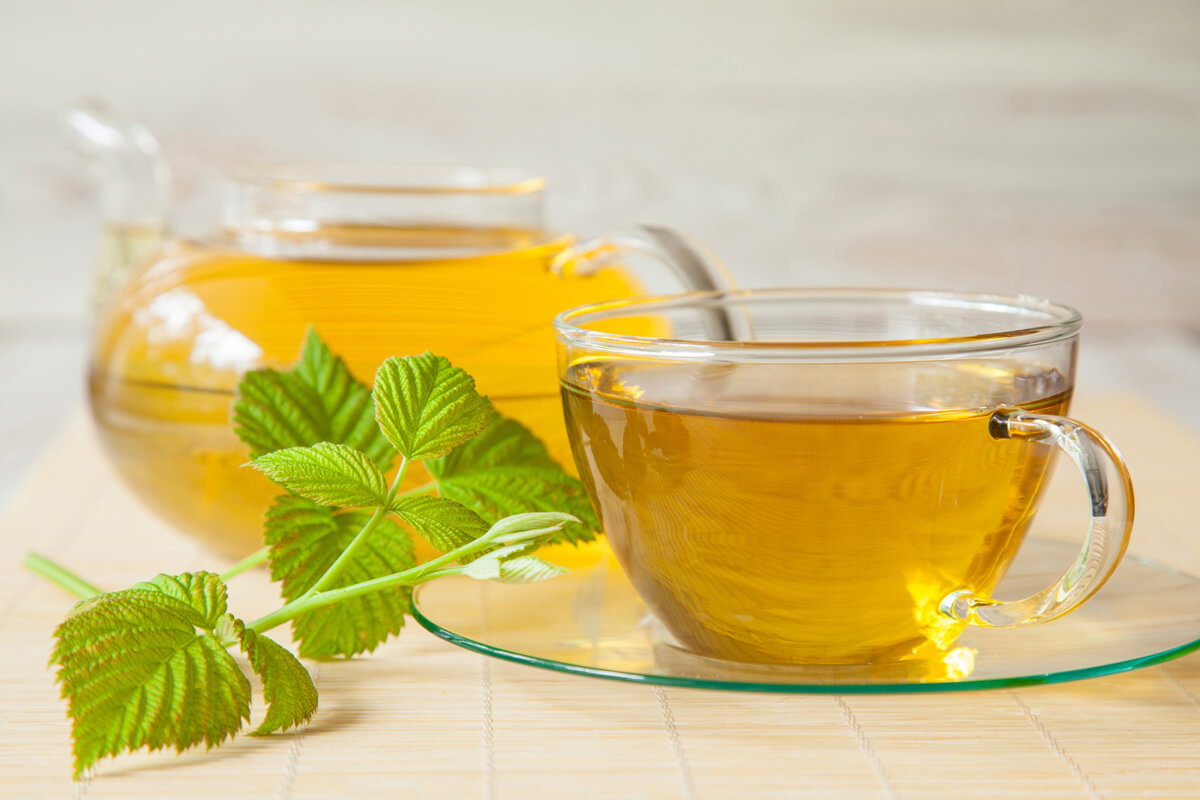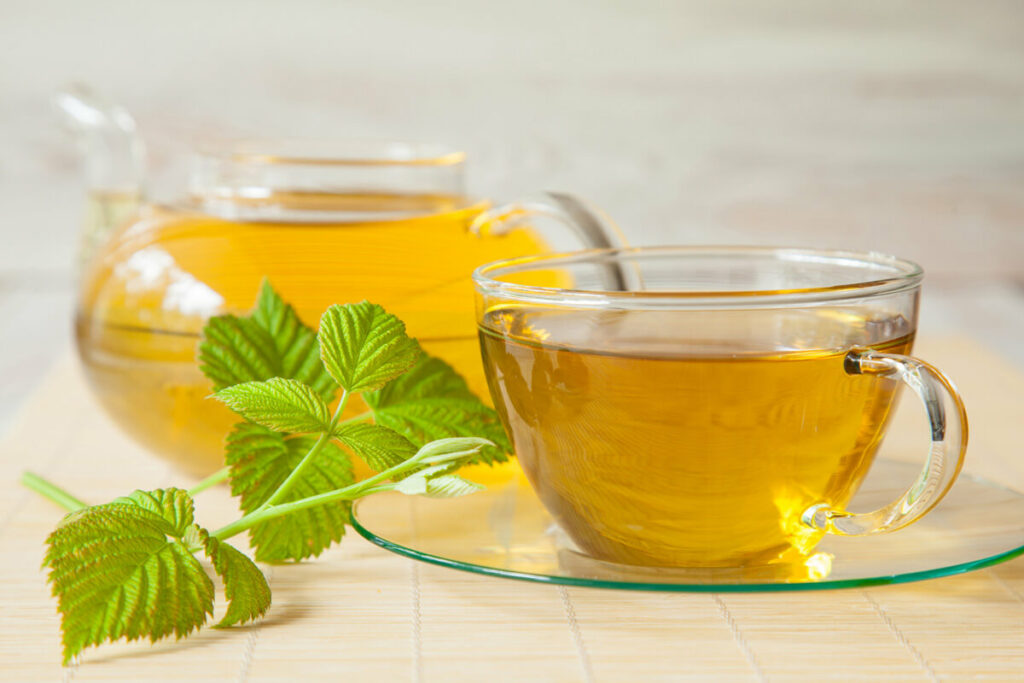 Disclaimer: I am not a medical professional and this is for informational purposes only, this is not diagnosis or treatment and always check with your medical professional of choice before using anything medicinally.
This drink has been known to help aid the immune system, skin, pregnancy, menstrual periods, and more.
If you have already learned how to plant raspberries, then I encourage you to make the most out of your crop. Read on to learn more about the benefits, how to harvest, preserve, and make your own organic raspberry leaf tea.
[adthrive-in-post-video-player video-id="V39xXJAG" upload-date="2022-06-15T18:48:25.000Z" name="Red Raspberry Leaf Tea – Grow Your Own Herbal Tea & Fruit.mp4″ description="null" player-type="default" override-embed="default"]
Why I Make Raspberry Leaf Tea
For those of you who have read my story on how to heal stomach acid naturally, you know that my health journey began when I found myself in my early twenties suffering from acid reflux. It was so bad I was on prescription medications up to six times a day.
Pursuing a natural lifestyle became my approach to regaining my health, and making my own herbal teas was a great place to start understanding medicinal herbs. (Read this post for how to plant your own tea garden.)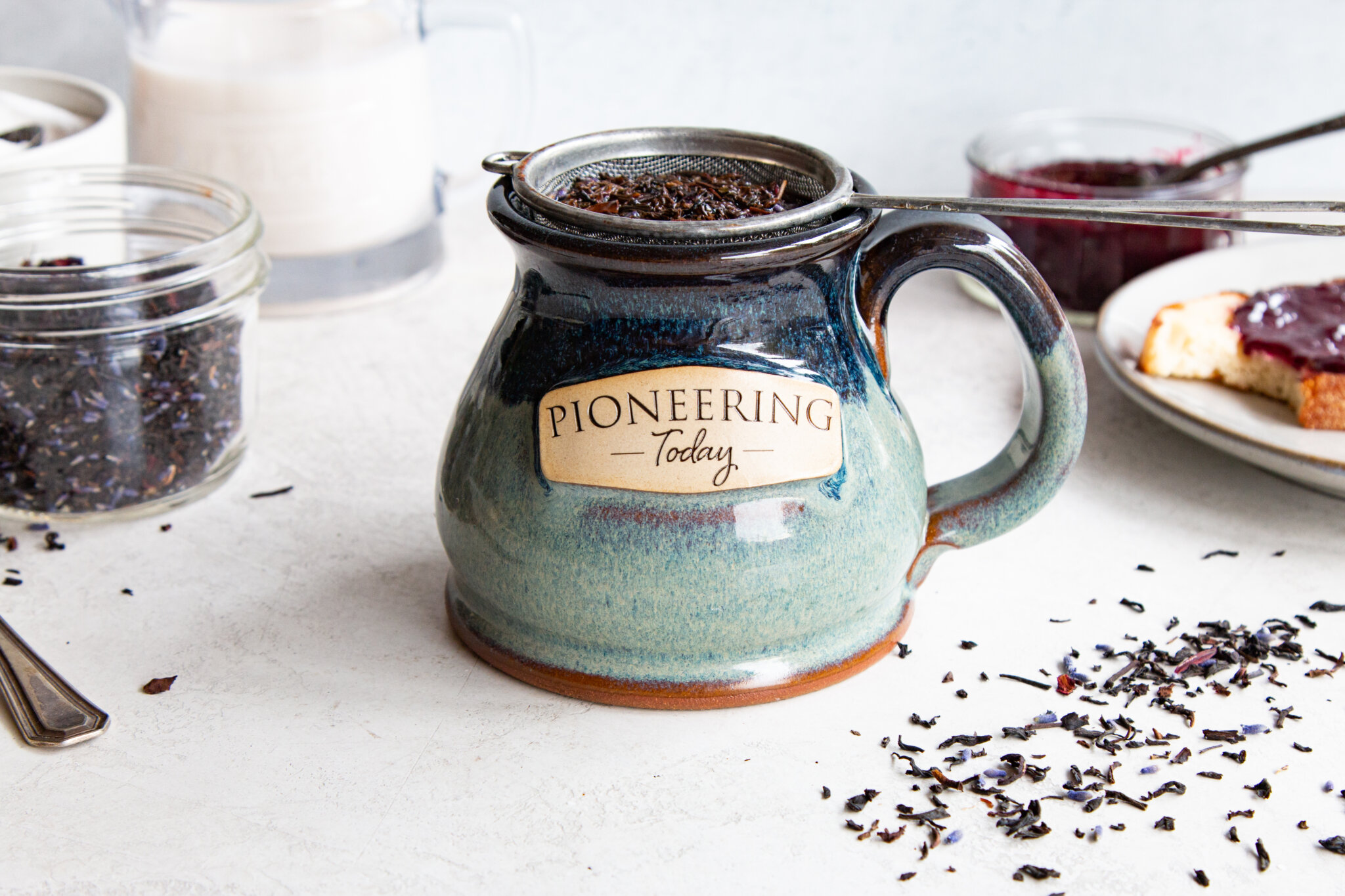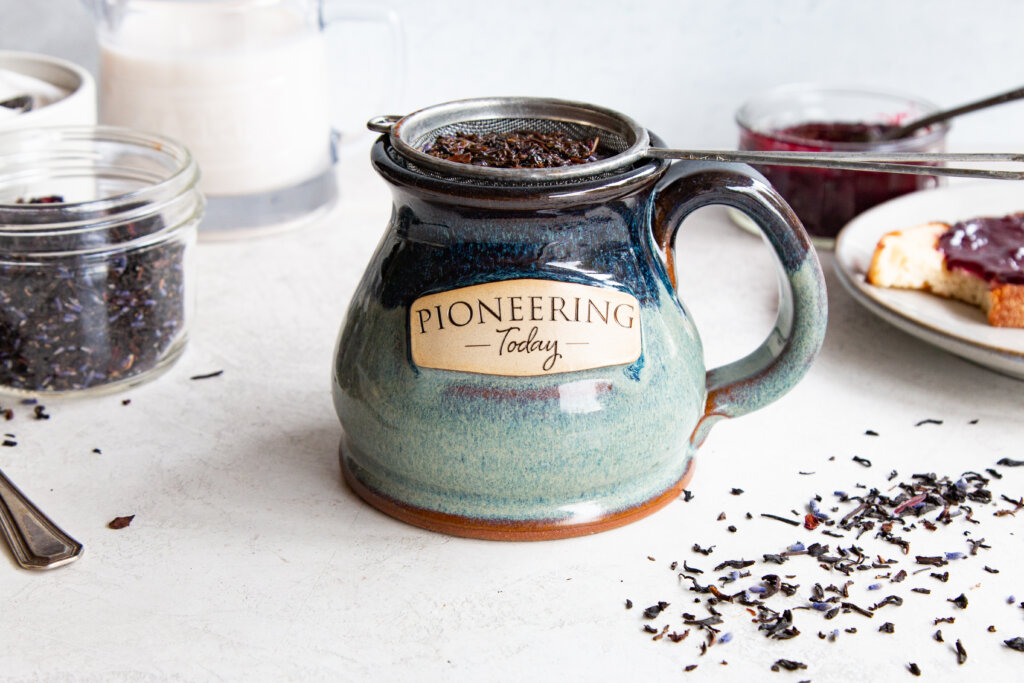 What is Raspberry Leaf Tea
A raspberry plant is great because they provide two crops. The berries make a delicious summertime treat. We eat them straight off the bush, freeze them, freeze dry some, make dehydrated raspberries, and make these raspberry cream cheese muffins.
My favorite hack for making jam is to freeze the raspberries to make low sugar jam during the winter months when I don't mind heating up my kitchen.
The second and lesser-known crop is the raspberry leaves. Harvested and dried, people have been drinking red raspberry leaf tea as an herbal remedy for hundreds of years.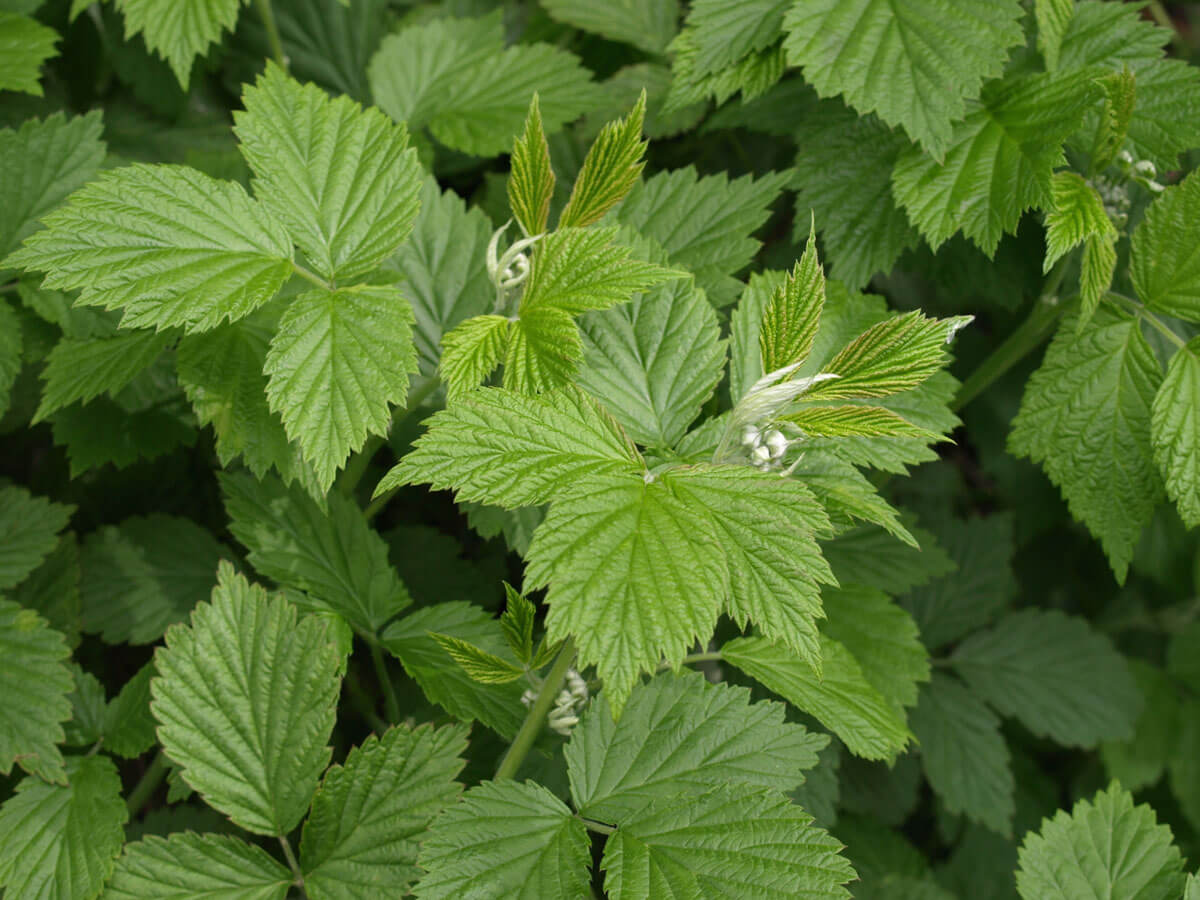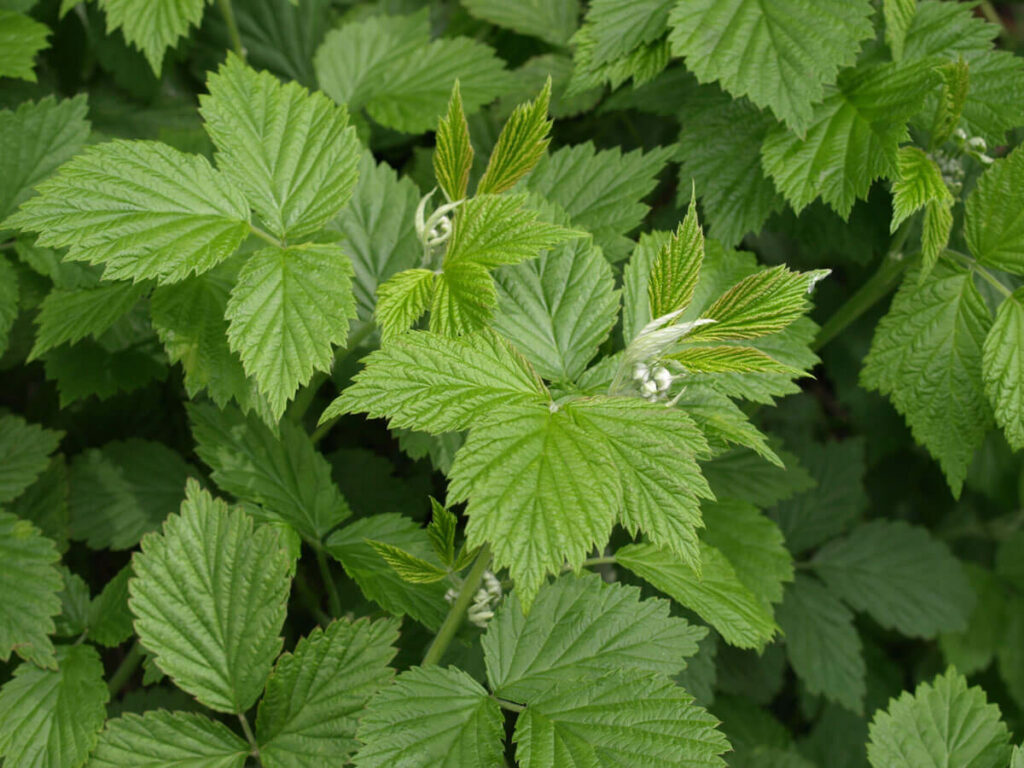 Raspberry Leaf Tea Benefits for Women
The raspberry leaf has been linked to helping women with balancing hormones, toning the uterus, menstrual cramping, easing heavy menstrual periods, labor and delivery support, morning sickness, and miscarriage prevention.
Raspberry Leaf Tea Benefits for Men
Raspberry leaf has been known as the "women's herb" but men can use it as well.
Reasons for men (and additional reasons for women) to use raspberry leaves are improving energy levels, increasing fat metabolism, helping with inflammation of the skin, improving respiratory disorders, and boosting the immune system.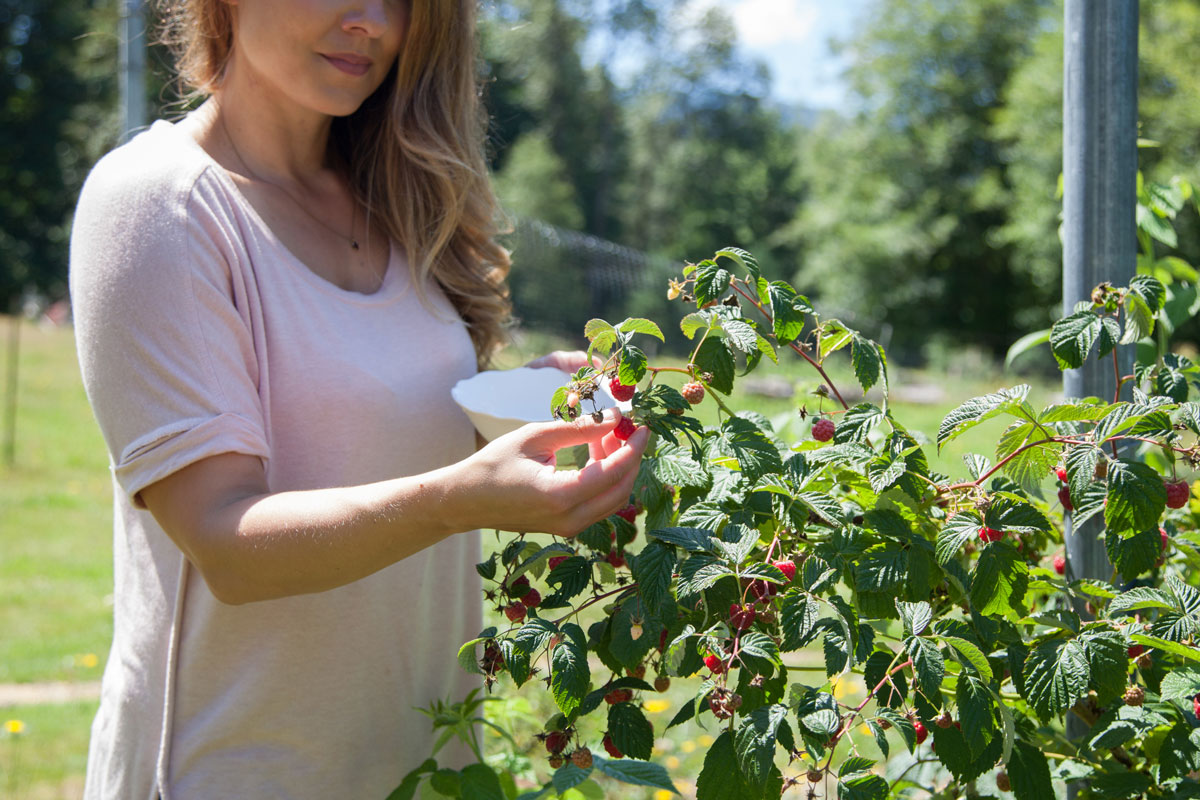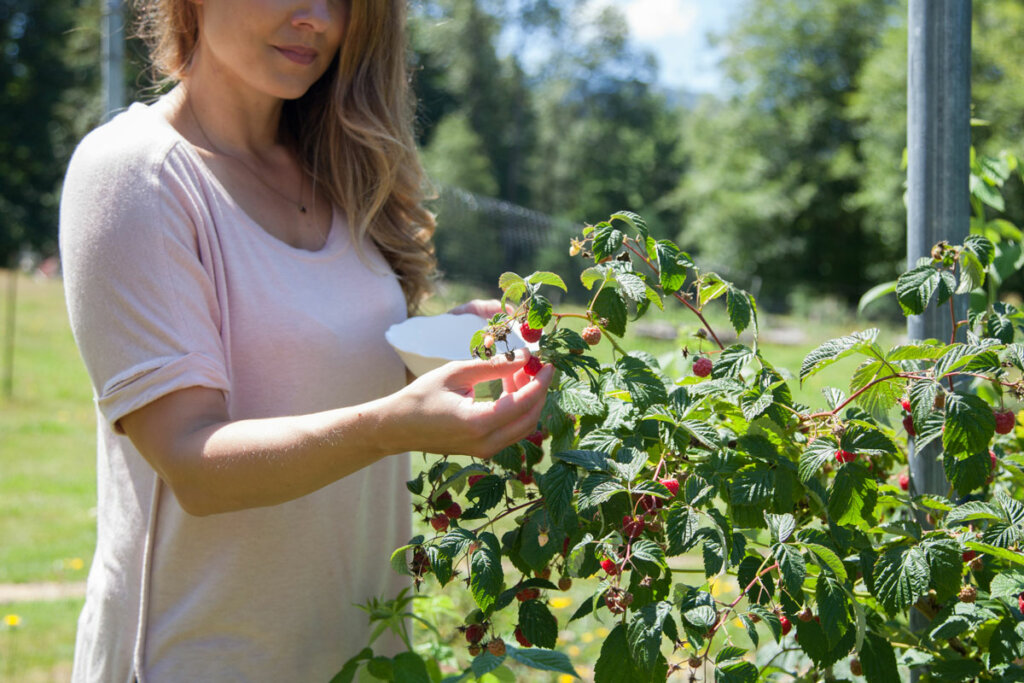 Nutrients in Red Raspberry Leaves
The raspberry leaf contains vitamins and minerals, as well as fragrine alkaloids.
Vitamin A – Increases bone health, builds the immune system, and can help reduce acne.
B Vitamins – Promotes cell health, brain function, energy levels, as well as boosting the immune system.
Vitamin C – Encourages a healthy immune system.
Vitamin E – Promotes vision, brain, skin, blood, and reproductive health.
Magnesium – Aids in muscle and nerve functions and regulation of blood pressure.
Potassium – A natural electrolyte that boosts cell and nerve function.
Calcium – Supports teeth and bone growth.
Red raspberry leaves also contain a few trace minerals such as chromium, iron, and zinc.
The antioxidants that fight free radicals are in the form of tannins and flavonoids. Tannins do a great job fighting inflammation, protect against heart disease, help with antibacterial effects, and may lower blood pressure. Flavonoids help decrease inflammation.
Fragrine alkaloid is known to tone the smooth muscles of our organs such as the uterine wall.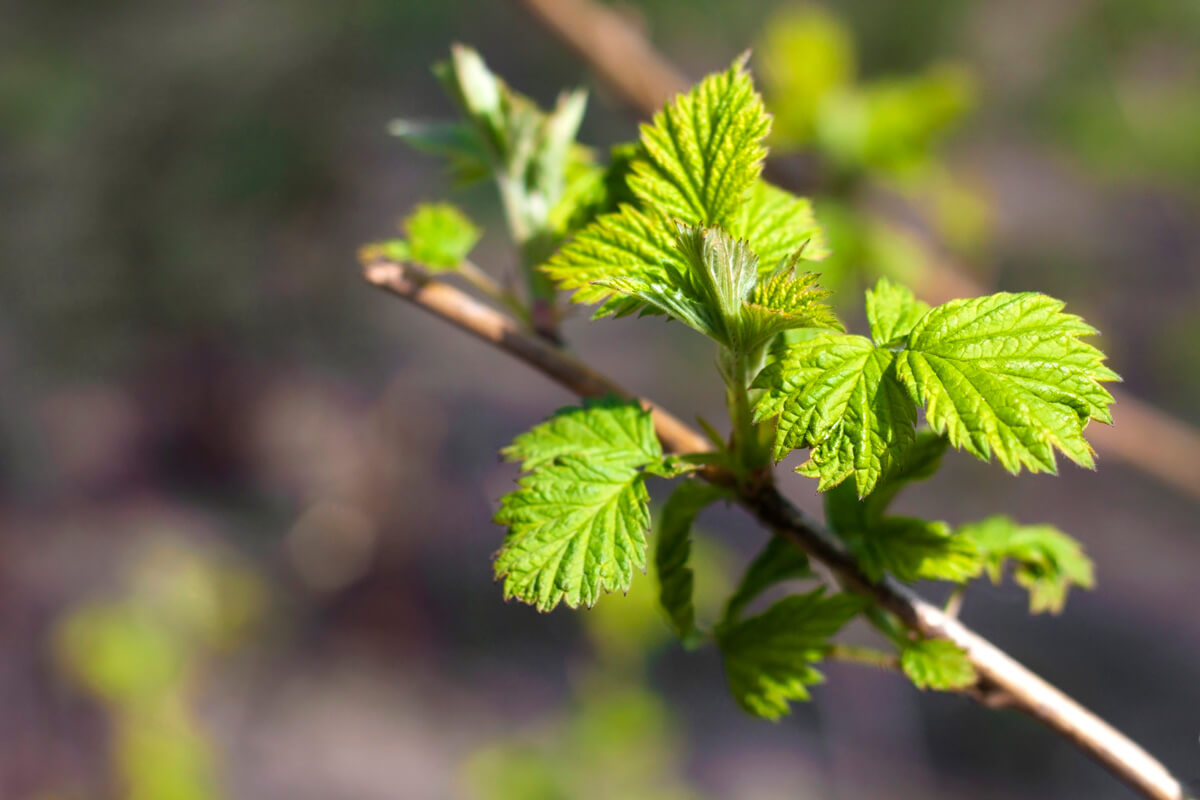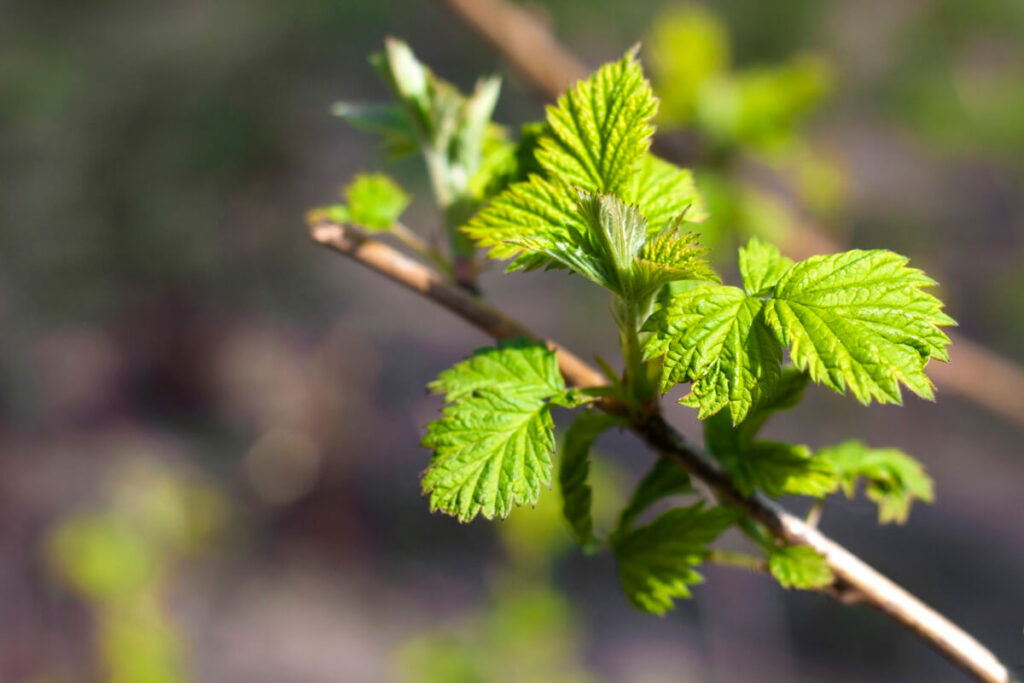 How to Harvest Raspberry Leaves
Now that we know the benefits of red raspberry leaf, let's get to harvesting!
Harvesting the leaf is simple. Come mid to late spring (or early summer for autumn-bearing varieties) before the raspberry flower buds come on, pick leaves that are lighter green in color. These are younger leaves and will be less bitter.
Pick leaves in the early part of the day after the dew is gone. This is when the leaves have the highest concentration of natural oils.
* It is possible to harvest leaves from the plants after the blossoms have bloomed or the fruit has set, but be sure to harvest only the tender young leaves. The medicinal purposes won't be as strong, but it's still better than missing your harvest!
Supplies Needed to Preserve
Raspberry Leaves – Come mid to late spring before the raspberry flower buds come on, pick young light green leaves. For best quality use organic raspberry plants.
Dehydrator – The only difference in dehydrators are size, fan size, heating element, and amount of space in the appliance. I have a Nesco dehydrator, but any dehydrator works just fine for this project.
Air Tight Container – Jars and lids are great for storage. I often use jars with reusable tattler jar lids. No tea bags needed!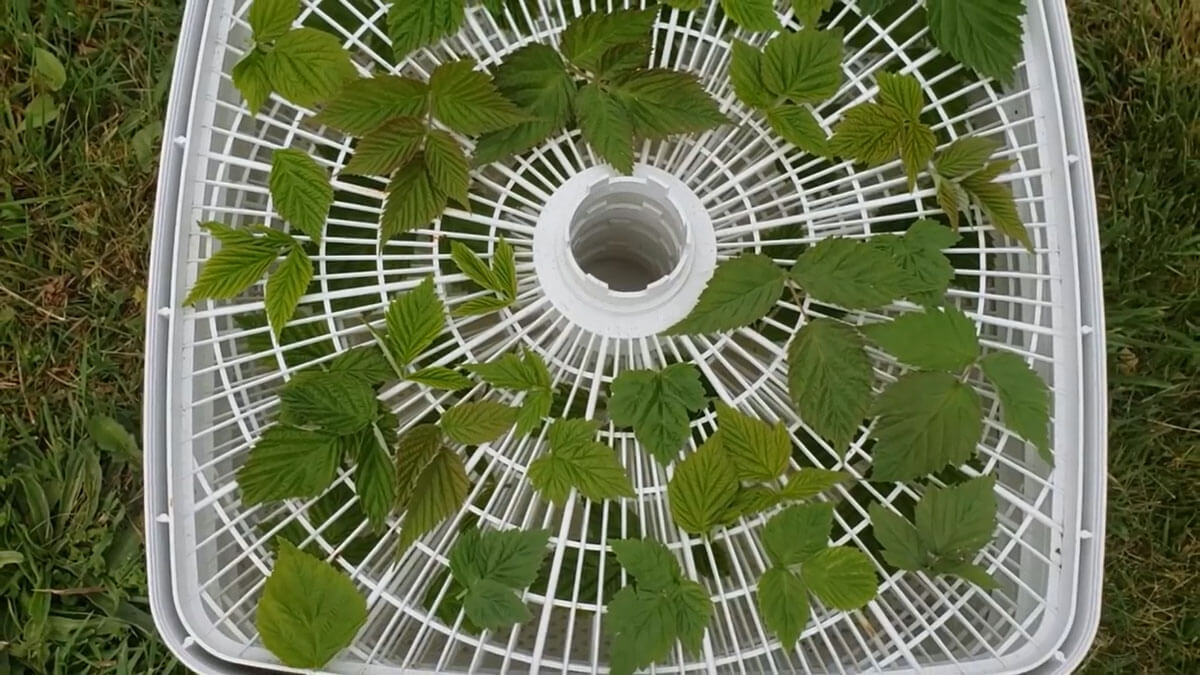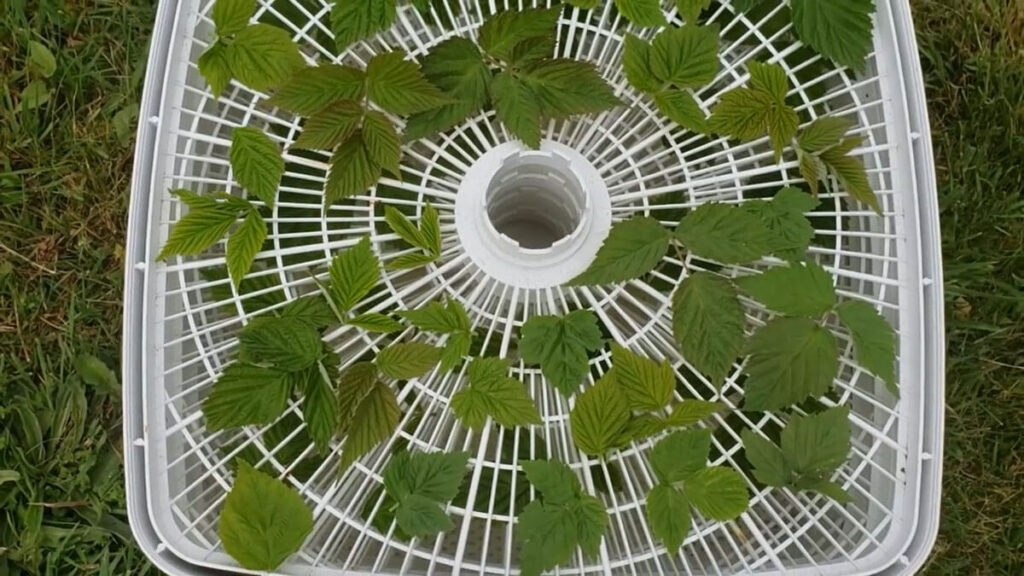 How to Preserve Raspberry Leaves
Rinse freshly harvested leaves under water, and pat to dry.
Arrange leaves in a single layer on dehydrator screens. Pro Tip: I bring the dehydrator trays out to the patch and place the leaf on the trays. This way I don't pick too many leaves.
Turn the dehydrator on the lowest setting, (mine is at 95 degrees Fahrenheit).
Dehydrate for about 8 hours depending on the moisture content. The leaves are done when they become shrunken, curled up and crumbly.
Remove the leaves from the trays and store them for up to a year in an airtight container. Try to harvest enough each season to last you the entire year.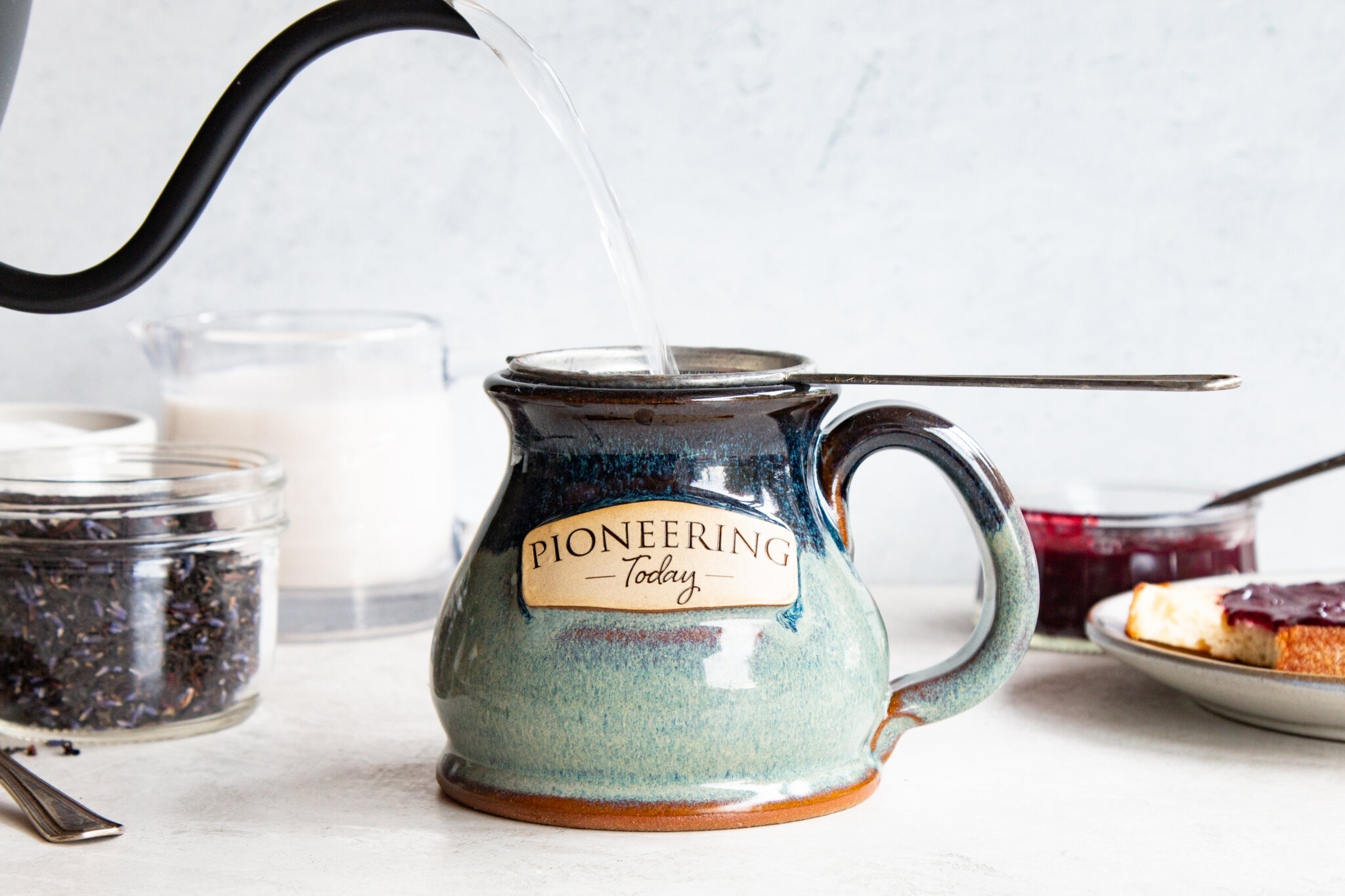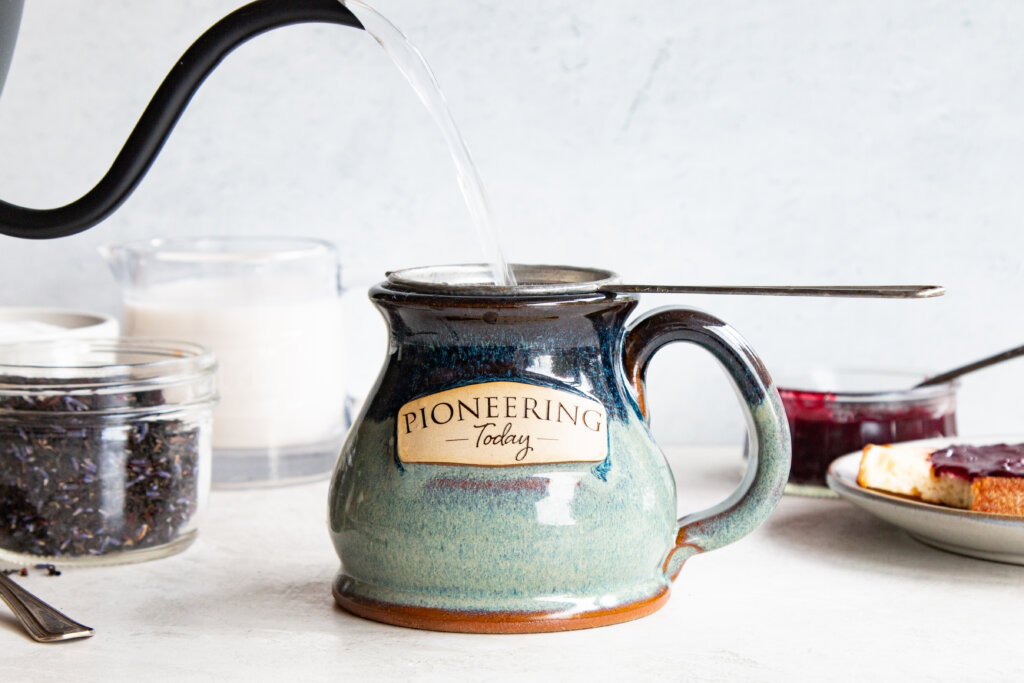 How to Use Raspberry Leaves for Their Benefits
Raspberry leaves make a delicious herbal tea. Some say the tea tastes like black tea, but I would describe it more like green tea. It's not as potent or bitter as black tea, and the leaves will not taste like raspberries.
To make a cup of red raspberry leaf tea, simply add 8 oz. of hot water to 1 tablespoon of dried and crushed raspberry leaves. Let steep for at least 5 minutes, strain and enjoy!
You can also drink raspberry leaf tea iced. Follow the same brewing method, chill, and serve over ice. For the flavor of fruit tea, you can add a couple of muddled raspberries.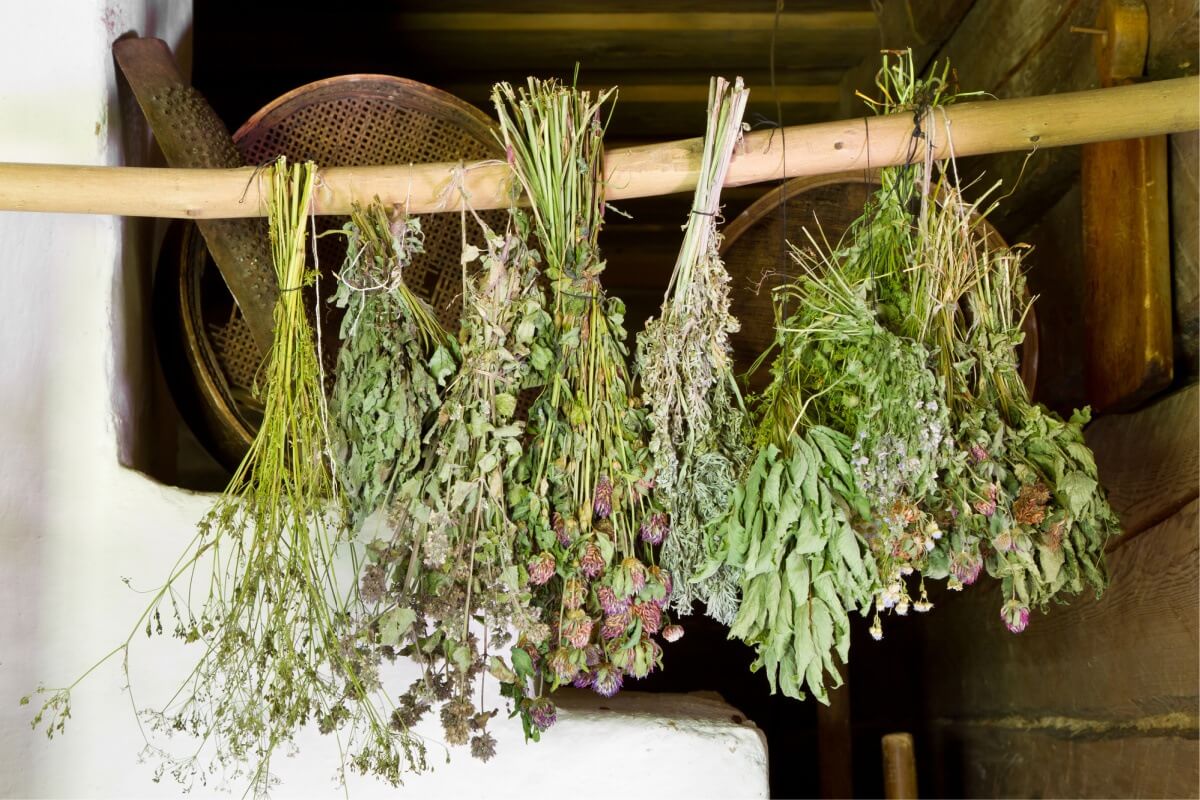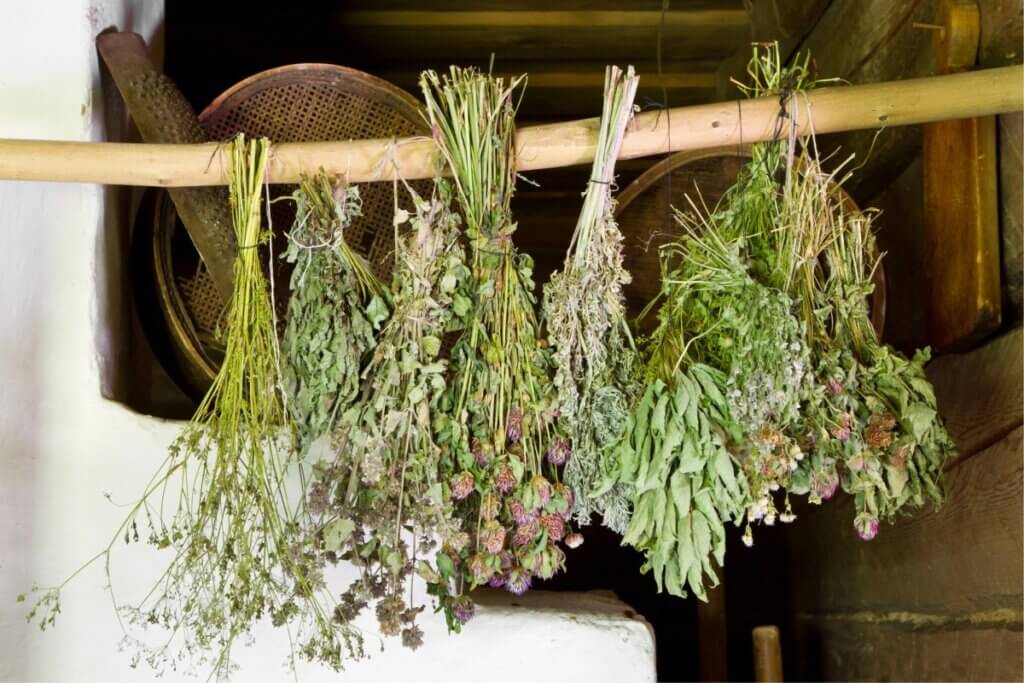 Want to Learn More?
If you're inspired to start using more medicinal herbs at home, then I encourage you to look into my herbal course in the Pioneering Today Academy where I teach you how to confidently and effectively use a variety of herbs at home.
More Articles You May Enjoy