Some of the links below are affiliate links, which means I will earn a commission at no additional cost to you, if you click through and make a purchase. Regardless, I only link to products we use on our homestead or believe in.
Let's talk home remedies for cold and cough. Last week I came down with a wicked case of layrngitis, I'm talking no voice and when it was squeaking out, I very closely resembled a 13-year-old male going through puberty and the voice change. I had a sore throat and over all felt extra tired.
In former years, I would have ran to the pharmacy (I happen to work at one so that makes it a tad easier) and purchased multiple over the counter medications. But after several years of struggling with stomach acid and ulcers, ovarian cysts, low thyroid and adrenal glands, I found that modern medicine and drugs weren't the route I wanted to try first. Not only were they not even treating the symptoms, but they were often triggering other problems.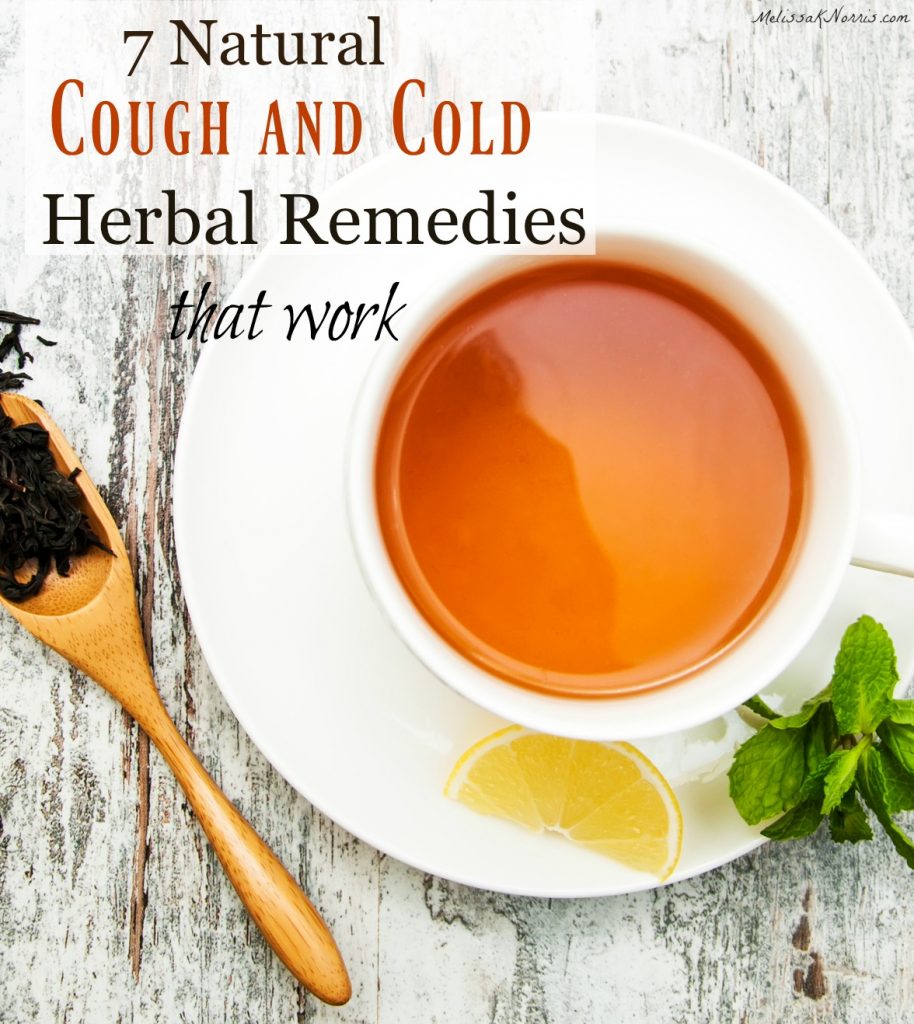 I started researching herbs and natural remedies for cough and cold symptoms. They worked. I found relief and healing.
Heads up, I'm not a certified medical professional. These statements have not been evaluated or approved by the FDA and are not a diagnosis or treatment, they're for education and informational purposes only. I'm simply an author, modern homesteader, and Mama who has done her own research and found herbs and natural remedies to offer awesome benefits to my health.
Listen in to the Pioneering Today Podcast, inspiring your faith and pioneer roots with old-fashioned skill sets and wisdom in a modern world. Learn about homemade herbal remedies to keep you and your family safe while embracing the natural items while you're mucking out the barn, working in the garden, cooking up supper, or driving in your car… or any task you're doing, we're happy to be there with you!
Before using any herbs or essential oils medicinally, you need to do research and due diligence. If you're on any medications or have any medical conditions make sure the herbs don't interact with the medications or your condition. Check with your doctor and pharmacist and more than one source.
Resources:
In my new book Hand Made: the Modern Guide to Made-from-Scratch Living discover how to use your herb and spice cabinet to create a natural medicine cabinet, with charts, herbal properties information and recipes to help you make it at home.
Get your custom labels, bonus videos, and more here–> Hand Made: the Modern Guide to Made-from-Scratch Living
My first 3 Steps at the Sign of a Cold
Immune system support. At the first onset of symptoms or signs of not feeling well, I immediately begin using an immune-boosting herb. I usually use Echinacea tea or Elderberry syrup. Having a hard time finding elderberry anything these days? Learn how to grow elderberries and make elderberry products yourself!
Sleep. Herbs and essential oils are part of my arsenal, but one of the most basic and often overlooked items is making sure I'm getting adequate sleep and rest. One of the best things we can do when we're feeling under the weather is to get extra sleep.
Hydrate. Water and liquids help my throat feel better and keep my system flushed.
Herbs are one of the great ways to help boost our immune system.
6 Favorite Immune Boosting Herbs
Basil
Echinacea
Elderberry
Garlic
Ginger (Ginger shouldn't be used by anyone with blood clotting disorders or on blood thinning medications)
Licorice Root (Licorice root shouldn't be used if you have low potassium levels, auto-immune disorders/disease, high blood pressure, heart disease, impaired kidney or liver function.)
Most coughs and colds are caused by a virus and in the case of a sore throat the presence of inflammation is on board. Below are some of my favorite herbs that have healing support for cough and cold viruses.
Anti-Viral Herbs
Echinacea, Elderberry, and Licorice Root
The above 3 herbs also have anti-inflammatory properties.
Marshmallow root (not the candy, but the plant) is one of my favorite herbs to use when I have a sore throat, cough, or congestion. Marshmallow root forms a protective layer on mucous membranes and helps with pain and inflammation. (1) Marshmallow root is one of my top favorite home remedies for dry cough
Antioxidant Herbs
Basil, Elderberry, Sage, and Tumeric
My favorite natural cough and cold remedies
There's a reason homemade chicken noodle soup is a great place to start with nourishing your body when you have a cold. I always make mine with basil, garlic, sage, rosemary and tumeric. Not only do these add to the flavor (along with homemade bone broth) but the herbs and spices have their own healing properties.
I make lots of teas and sip on them throughout the day. I'll choose an immune boosting herb, anti-inflammatory, and anti-viral for a nourishing healing cup of warmth.
Diffusing essential oils. For quick cold remedies I'll use essential oils. If I'm congested, my home remedies for blocked nose are diffusing or simply sniff a bottle of eucalyptus or peppermint essential oils (remember to never use eucalyptus or peppermint oil with/near infants or young children).
Topical application of essential oils. My new favorite Essential Oil Company is our affiliate Plant Therapy, all of their essential oils are listed if they're kid safe or not by Robert Tisserand and they have free shipping (and some of the best pricing I've seen for quality oils). Their Germ Fighter Blend of essential oils is a great mix of oils. I apply this type of blend to my neck and throat.
I tried several different tea blends with this last bout of laryngitis. One recommendation from several sites was a cup of water with 2 Tablespoons raw apple cider vinegar. This seemed to irritate my already inflamed throat and vocal cords. While I love raw apple cider vinegar and will mix it in to drinks occasionally, I didn't repeat it. I didn't feel any relief after drinking.
But this blend right here, this one was right on the money for me. I immediately felt relief and a difference. This is my go to home remedy for cold.
Imagine reaching into your cupboard and knowing exactly which herbs to grab to help you feel better as soon as you or a family member starts coming down with something.
Get the exact guide, herbal labels (place them right on your jars), and recipes we and thousands of other readers use, with your copy of my book Hand Made.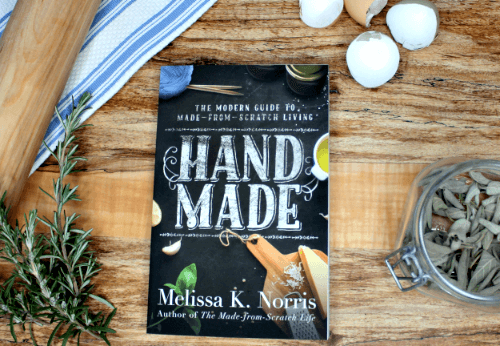 My Favorite Soothing Tea (shared from Hand Made: the Modern Guide to Made-from-Scratch Living)
1/2 teaspoon marsh mallow
2 fresh sage leaves (1/4 teaspoon dried)
1 teaspoon elderberry syrup
1/4 teaspoon dried lemon
Place ingredients in a tea ball and add to a cup of boiling water. Allow to steep for 5 to 10 minutes, strain, and enjoy.
Sweetener (optional)
Stevia to taste (I do about 3 drops of liquid stevia) or raw honey (I use Stevia as I'm keeping my sugars to a very low amount, but raw honey is another option)
What are your favorite cough and cold herbal remedies ?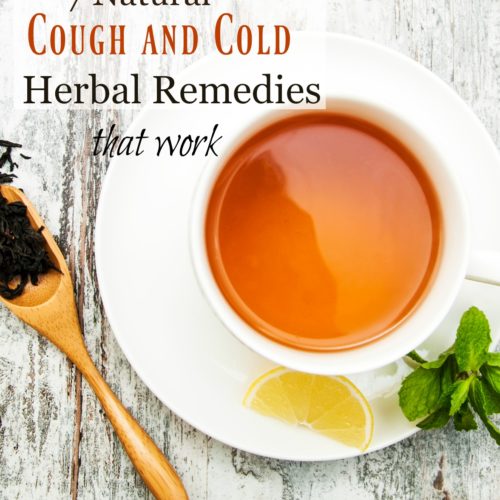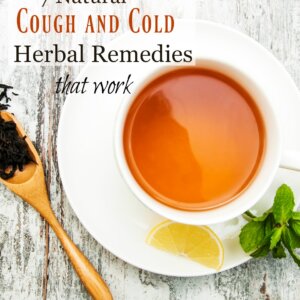 Soothing Tea
Ingredients
½

tsp

marsh mallow

2

fresh sage leaves

(1/4 teaspoon dried)

1

tsp

elderberry syrup

¼

tsp

dried lemon
Instructions
Place ingredients in a tea ball and add to a cup of boiling water. Allow to steep for 5 to 10 minutes, strain, and enjoy.

Sweetener (optional)

Stevia to taste (I do about 3 drops of liquid stevia) or raw honey (I use Stevia as I'm keeping my sugars to a very low amount, but raw honey is another option)
Other Herbal Posts You May Like