Some of the links below are affiliate links, which means I will earn a commission at no additional cost to you, if you click through and make a purchase. Regardless, I only link to products we use on our homestead or believe in.
Learn which medicinal herbs may grow wild near you, how to harvest them and what they can be used for. Join me for this podcast with Dr. Patrick Jones as we discuss all things wild medicinal herbs.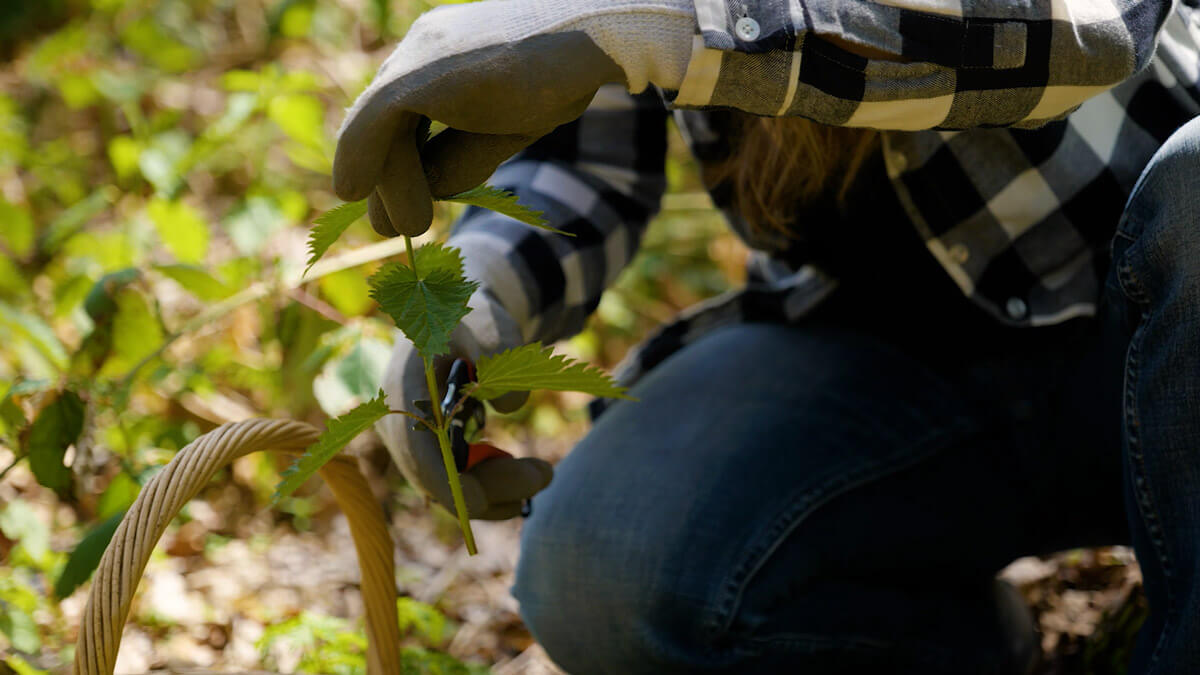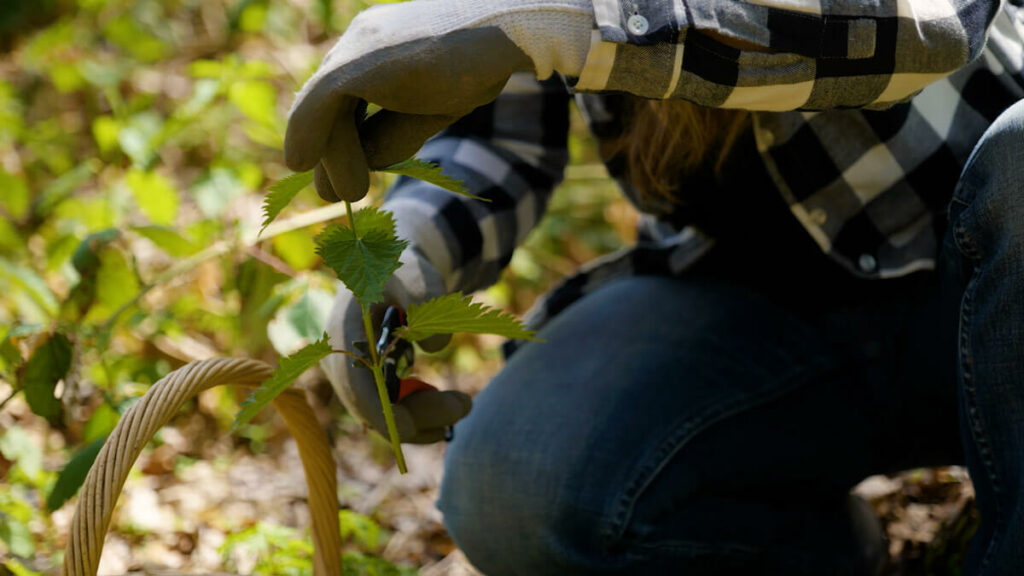 Homesteaders learn to look at things commonly seen as a problem and figure out a way to use them where we actually enjoy them or they're beneficial on the homestead. Weeds is one of those things.
This blog post includes two interviews, one with Dr. Patrick Jones of Homegrown Herbalist and one with Kathie Lapcevic from Homespun Seasonal Living.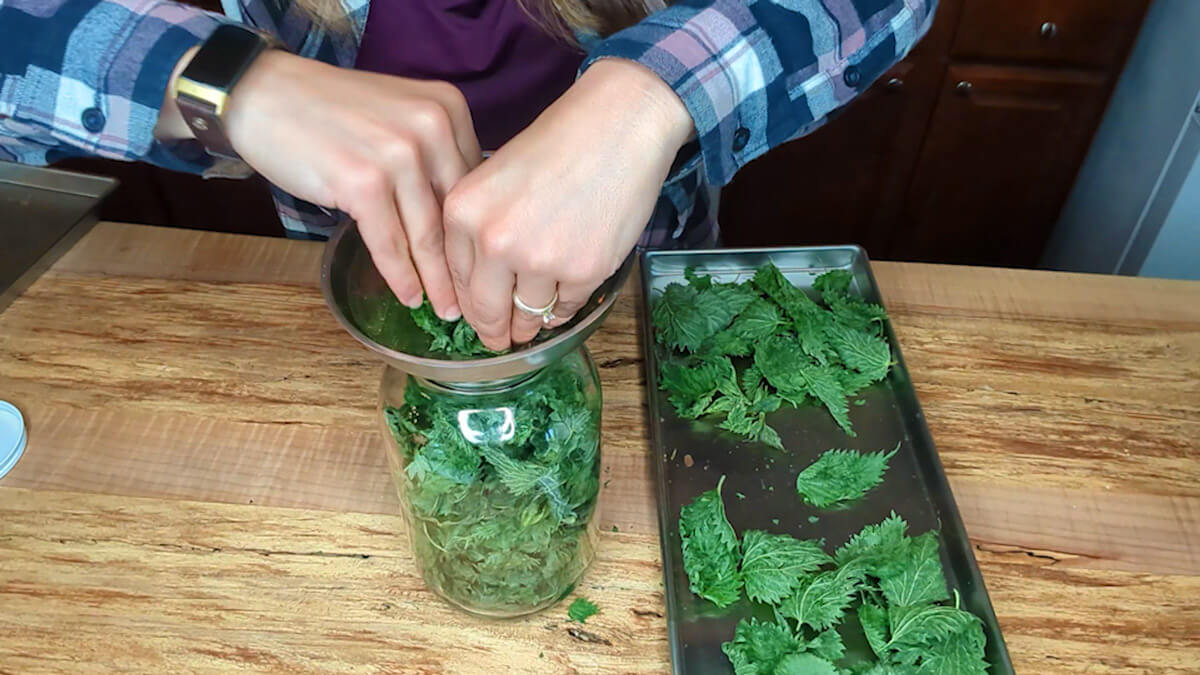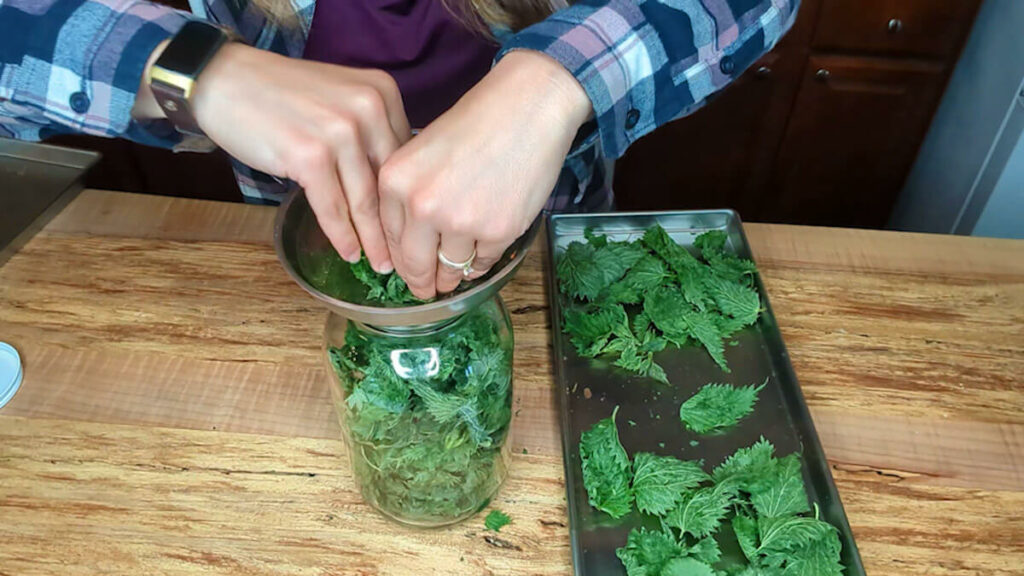 Why You Should Harvest & Preserve Your Own Herbs
Though there are still some herbs I purchase because I can't grow them or forage for them locally, Doc Jones shares that, in most cases, by the time herbs get to you, they're nearly one year old.
Since herbs have a shelf life of one to two years, you're really cutting down on the shelf-life of what you paid for.
Furthermore, Doc Jones says the quality and medicinal properties just aren't as strong as when you harvest something at the right time of day at the peak of the season for each herb.
Preserving Medicinal Herbs
There are many ways to preserve medicinal herbs. Some herbs have leaves, flowers and roots that can all be harvested and used for different purposes. It's important to understand how to maximize the medicinal benefits of each part of the plant.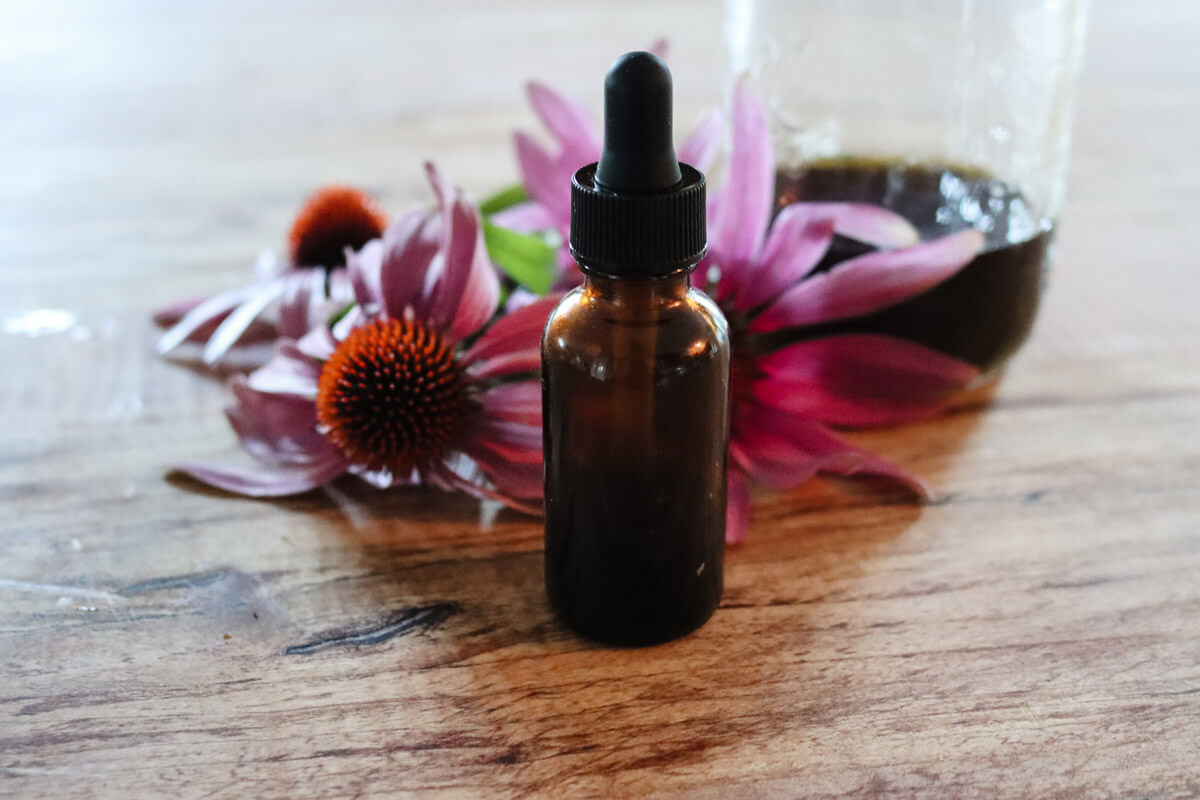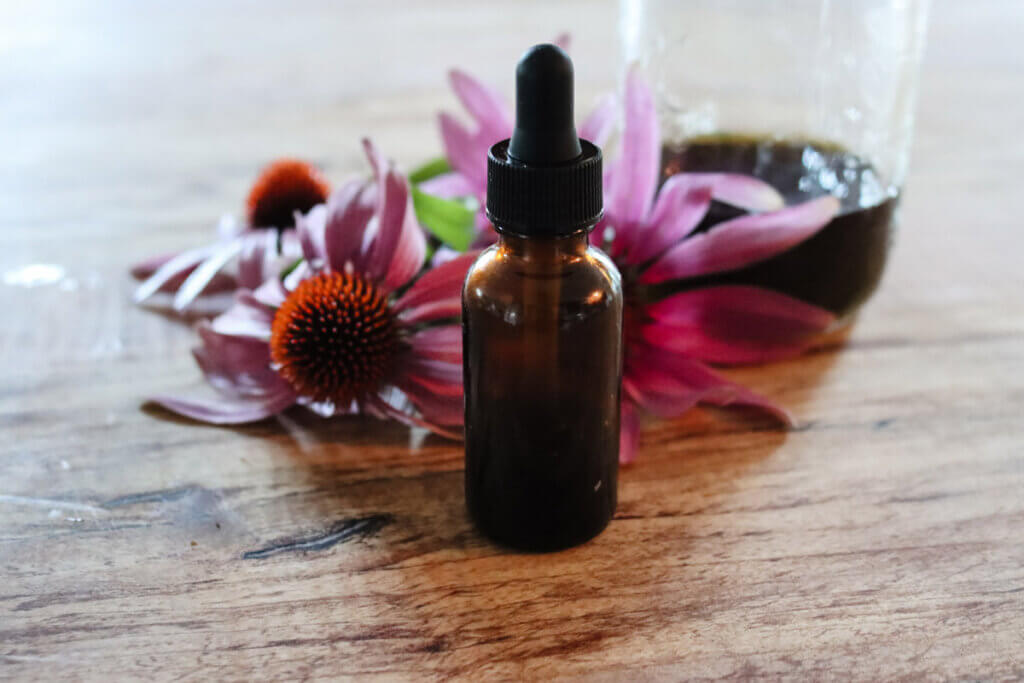 Preservation Methods of Herbs
Dehydrating/Drying – This is perhaps the most common form of preservation for herbs (and sometimes the first mandatory step for the other forms of preservation). We're most familiar with dried culinary herbs, and many of us have access to a dehydrator. Dried herbs can be powdered and encapsulated or used to make infusions, tinctures or teas.
Infusions – Once herbs are dry, they can be turned into oil infusions. I love making calendula oil, and this same method of infusing oil can be used with many different herbs and then turned into salves or butters (like this dandelion salve, this peppermint salve, or this wound healing salve).
Tincture – Turning herbs into a tincture is the best way to preserve them for long-term storage. Once herbs are tinctured, their shelf-life is indefinite. It's important to consider the water content of the herb when infusing to understand if you should dehydrate it first or use a stronger proof alcohol (such as Everclear) to make up for the water content of the herb.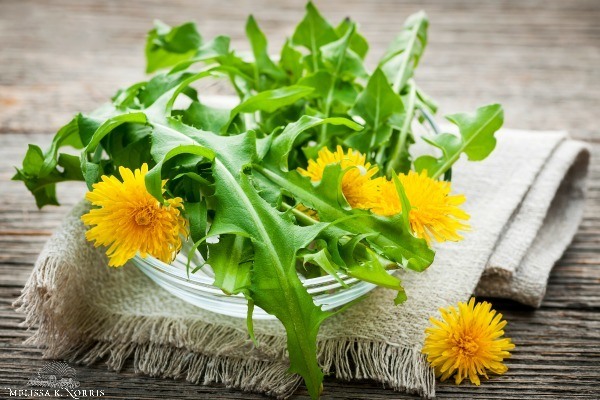 Wild Medicinal Herbs
There are countless medicinal herbs growing wild all around us. Sometimes we just need to tune our eyes into what it is we're looking for.
What may have been a weed to you all your life, could now line the shelves in your medicinal herb cabinet.
Dandelions – Dandelions are one of spring's first gifts to the pollinators. The greens, flowers and roots are all useful for various culinary and medicinal uses. Be sure to check out my dandelion salve recipe.
Chickweed – Chickweed is also great for both culinary and medicinal uses. All parts of the plant are edible.
Stinging Nettle – I have an entire blog post dedicated to foraging, preserving and using stinging nettles. This is one you'll want to learn how to identify to avoid those painful stings!
Violets – Though violets don't hold any medicinal purposes, they can be harvested and used for culinary purposes. This is our bonus "herb" because we discussed it in the podcast with Kathie.
Medicinal Benefits of Dandelion
Doc Jones has a dandelion webinar on his YouTube channel packed with more info. Be sure to check it out!
Dandelion Greens – Dandelion greens are great for the kidneys. They make a good diuretic (increases urine output) alternative to OTC remedies. The greens would be good to help with edema, bladder infections and clearing out the system. It's packed with vitamins A and C, as well as potassium.
Dandelion Roots – Dandelion roots are great for the liver. It's good for stimulating bile production and bile flow, improving digestion. It also soothes and protects the gut.
Dandelion Flowers – The flowers are edible and have some great medicinal properties as well.
Ways to Use Dandelion
Dandelion greens can be consumed raw like you would use lettuce or spinach. Toss them into your smoothies or add them to soups.
Dandelion greens are best harvested when they're young and tender before the plant begins to flower (and especially before the flowers go to seed). Early spring is ideal.
Dandelion blossoms have a very faint honey-like flavor. They can be added to many sweet dishes such as dandelion peanut butter cookies, rice puddings, compound honey butter, or even dandelion egg noodles.
Dandelion blossoms are best harvested just as they fully bloom (before they go to seed). You can also soak dandelion blossoms in olive oil (or any kind of oil) and rub it onto arthritic joints for pain relief.
Dandelion roots make a great coffee alternative. If you've ever heard of Dande Blend, then you know what the flavor is like as it's made with dandelion root. The roots are really helpful for flushing uric acid from the body. Those with gout may find dandelion helpful.
The roots of the plant are best harvested in the fall or early spring before the plant puts out new growth.
Medicinal Benefits of Chickweed
All portions of the chickweed plant are edible. It's a diuretic, can be great when used externally for itchy skin, helps fight cellulite, and also has a cooling effect which makes it great for hot summer days.
Ways to Use Chickweed
Chickweed is pretty bland in flavor. It can be added to a salad to give it some bulk (a great way to help stretch the grocery budget). You can add it to basil pesto, to smoothies, or even blended with water and used as the liquid to make egg noodles.
Chickweed is best harvested in spring through mid-summer. If you wait too long into the summer it might start to get a little bit bitter.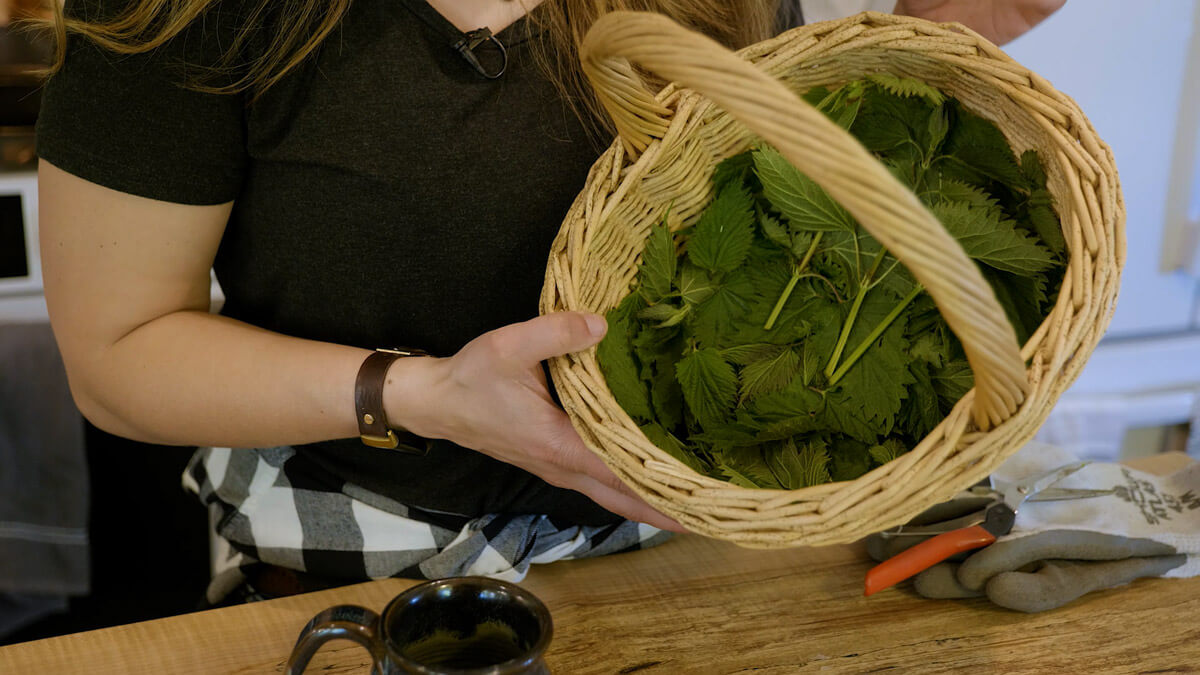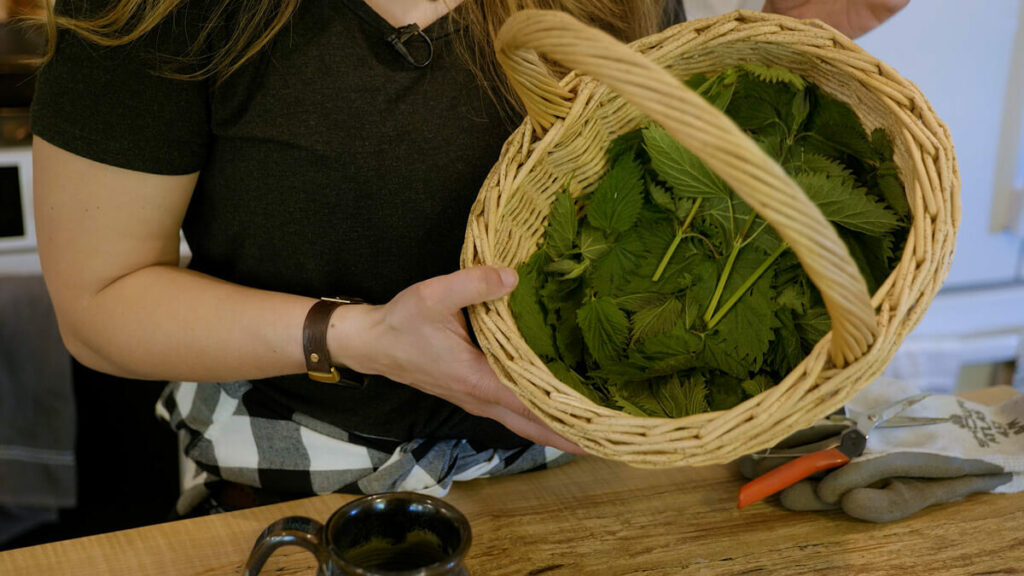 Medicinal Benefits of Stinging Nettle
As mentioned, I have an entire blog post on stinging nettle (harvesting, preserving and uses), so be sure to check that out.
Stinging nettles have many benefits:
Helps alleviate seasonal allergies.
Helps alleviate joint pain and arthritis.
Aids the immune system.
Use as a kidney tonic.
Use as a diuretic.
Supports the urinary system.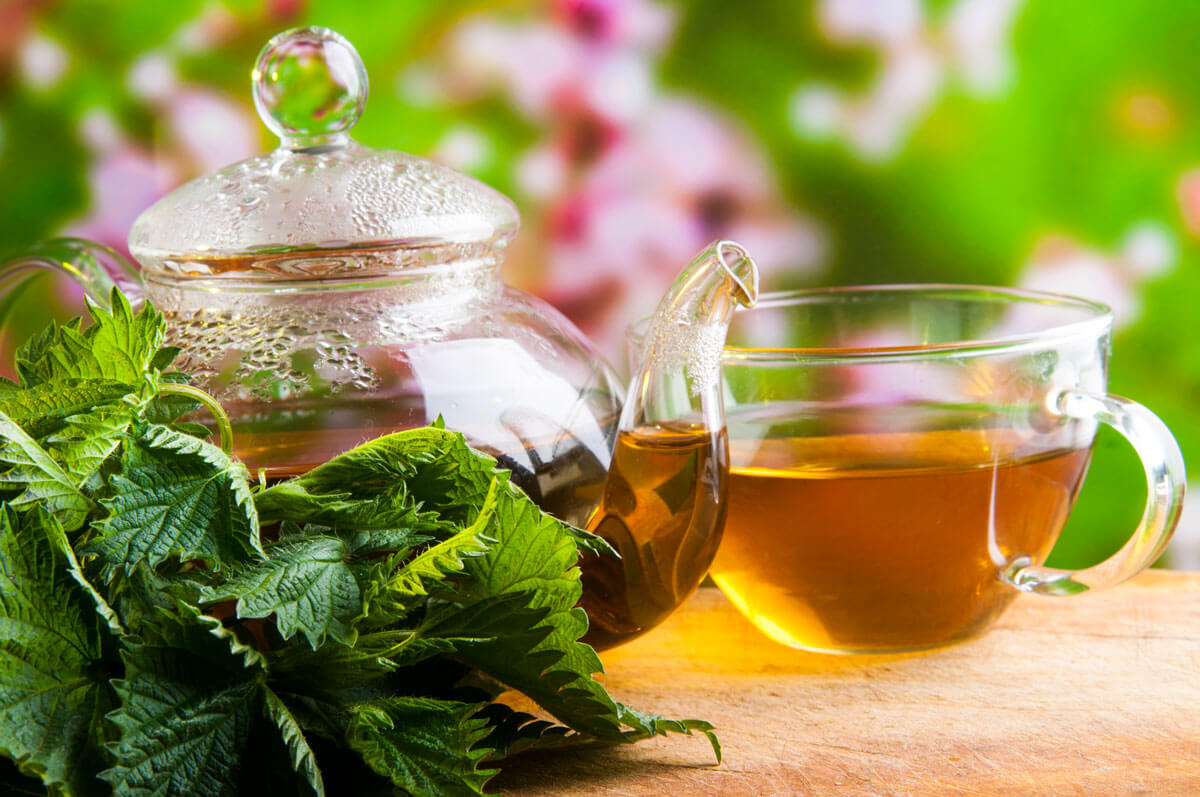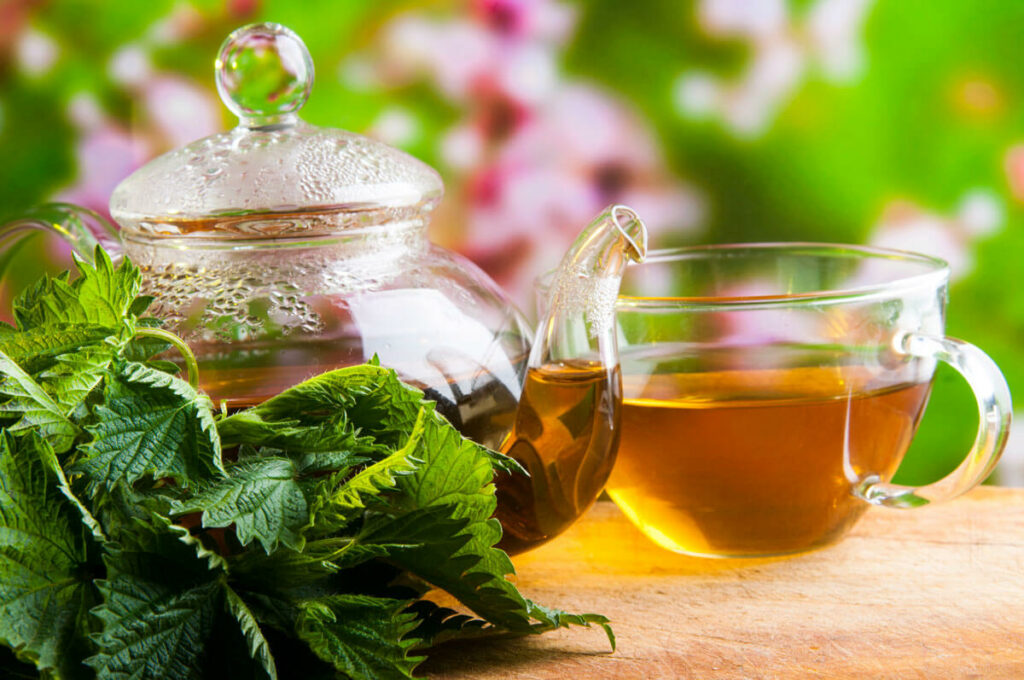 Ways to Use Stinging Nettle
One of my favorite ways to use fresh stinging nettles is to saute them in a pan with some garlic and butter and then top it with a fried egg.
Some other ways to eat stinging nettles are:
Added to soups or stews.
Sauteed and served as a side.
Added to stir fry.
Baked into a quiche.
Ways to Use Violets
Violets don't have any medicinal benefits, but you can turn them into all kinds of fun products. You can eat the leaves and flowers of violets but don't eat the seeds.
Violet Greens – Use the greens just as you would spinach. Add them to salads, scramble with eggs, add to smoothies, etc.
Violet Flowers – The flowers have kind of a sweet flavor. You can just eat them off the plant, or they make a charming touch on a salad.
Vinaigrette – Violet flowers can make a great addition to a homemade vinaigrette. It will add a touch of sweetness (but not so much that you'll want to omit sweetener altogether). What I love about this is the color in the petals will turn your vinaigrette a slight purple color.
Simple Syrup – Who doesn't love a purple simple syrup? Add violets to a pot and bring it to a boil. Let it steep until all the color is extracted. Strain out the violets and measure the liquid, then add equal parts sugar, bring to a simmer to dissolve the sugar then cool completely. You now have a lovely purplish-blue simple syrup to make Italian sodas or add to beverages for a fun pop of color.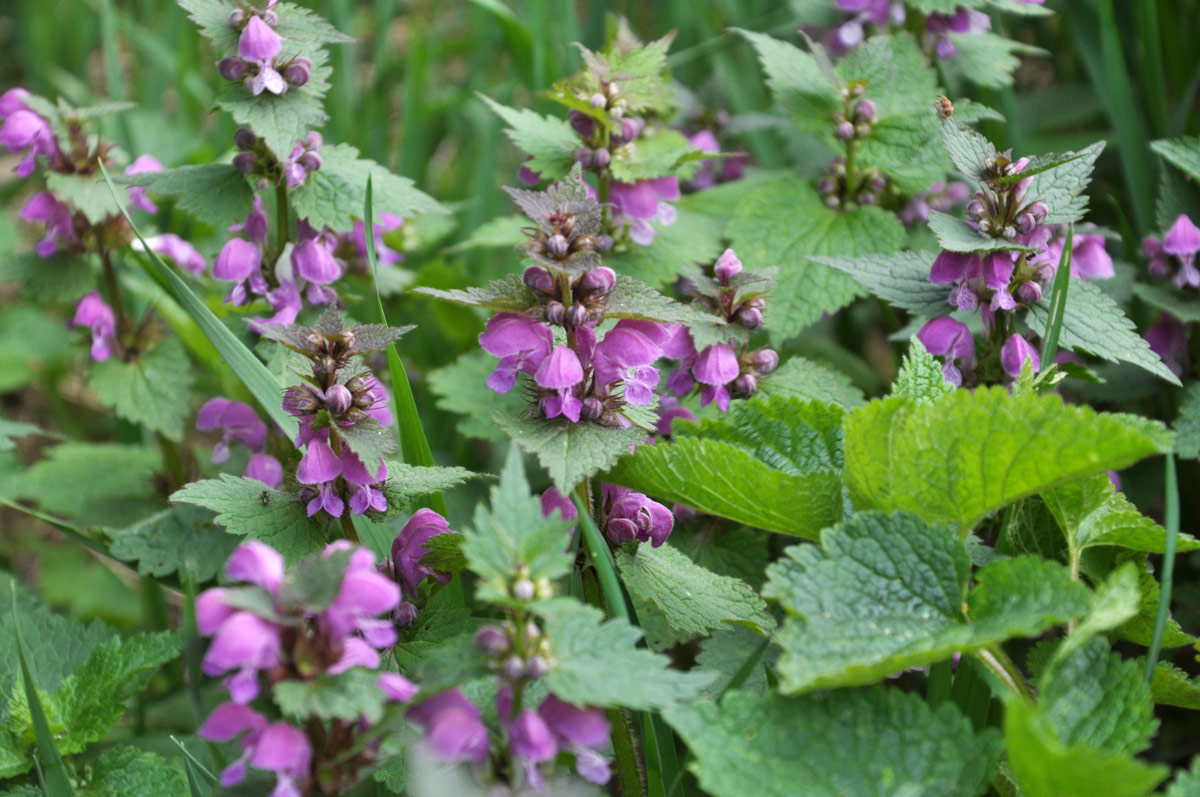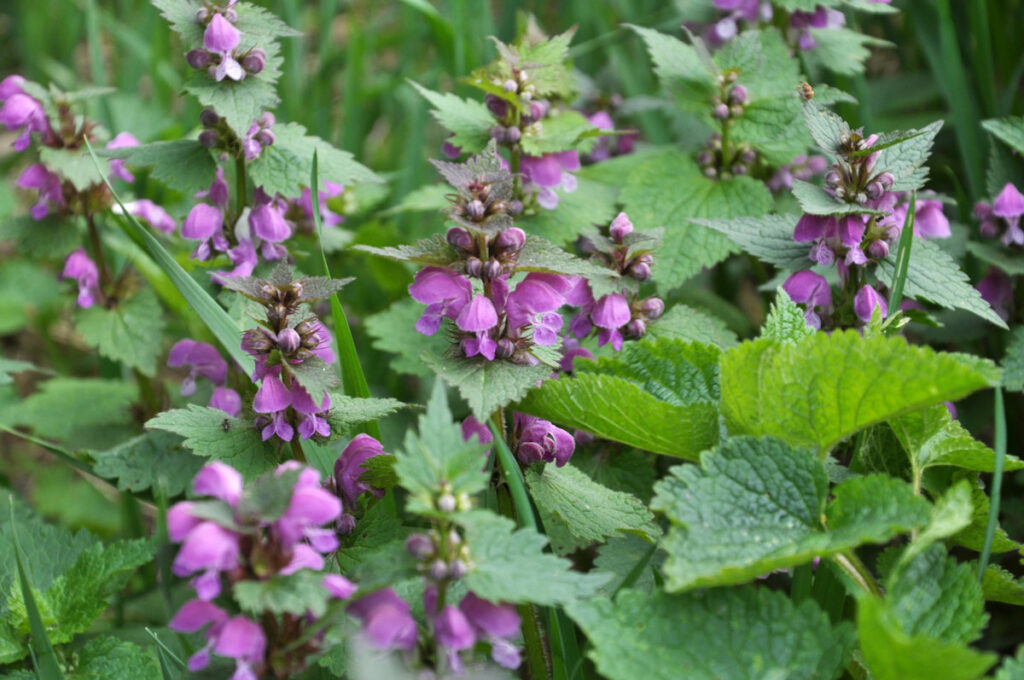 Resources
Whenever you're foraging for wild edibles or wild medicinal herbs, it's imperative to be 100% certain of what you're harvesting. There are some look-a-likes that can be poisonous. Furthermore, not all plants will look identical to the pictures in the books.
These are my five rules when foraging for wild edibles. And Doc Jones says, "Be humble with the umbles." For any plants that have those wide umbrella-like flowers, be absolutely certain of what you're harvesting.
The best way to stay safe is if you really want to harvest a plant that has a dangerous look-a-like, grow those in your medicinal herb garden.
Doc Jones recommends purchasing seeds from Strictly Medicinal Seeds or Companion Plants.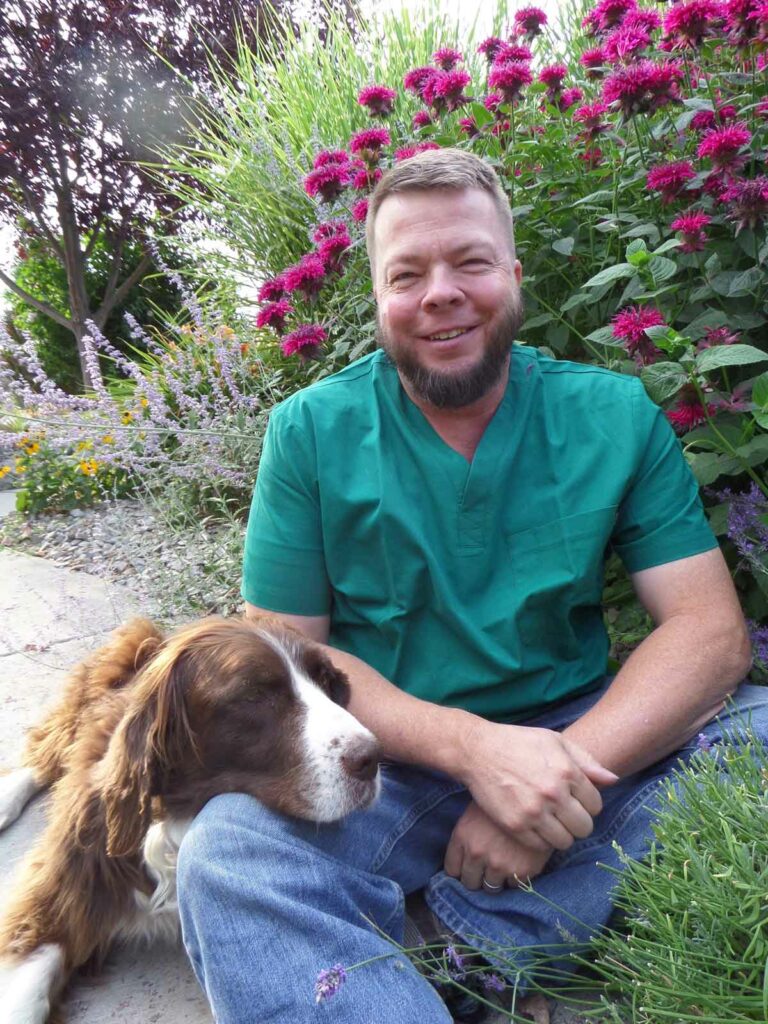 Where to Find Doc Jones
Doc Jones will actually be doing an in-person workshop here at Norris Farmstead (September 2023). If you'd like to join us for this, learn more and sign up here.
You can find Doc Jones online at the following places:
Modern Homesteading Conference
This post was also sponsored by the Modern Homesteading Conference. If you missed it in 2023, the second annual Modern Homesteading Conference tickets are on sale now!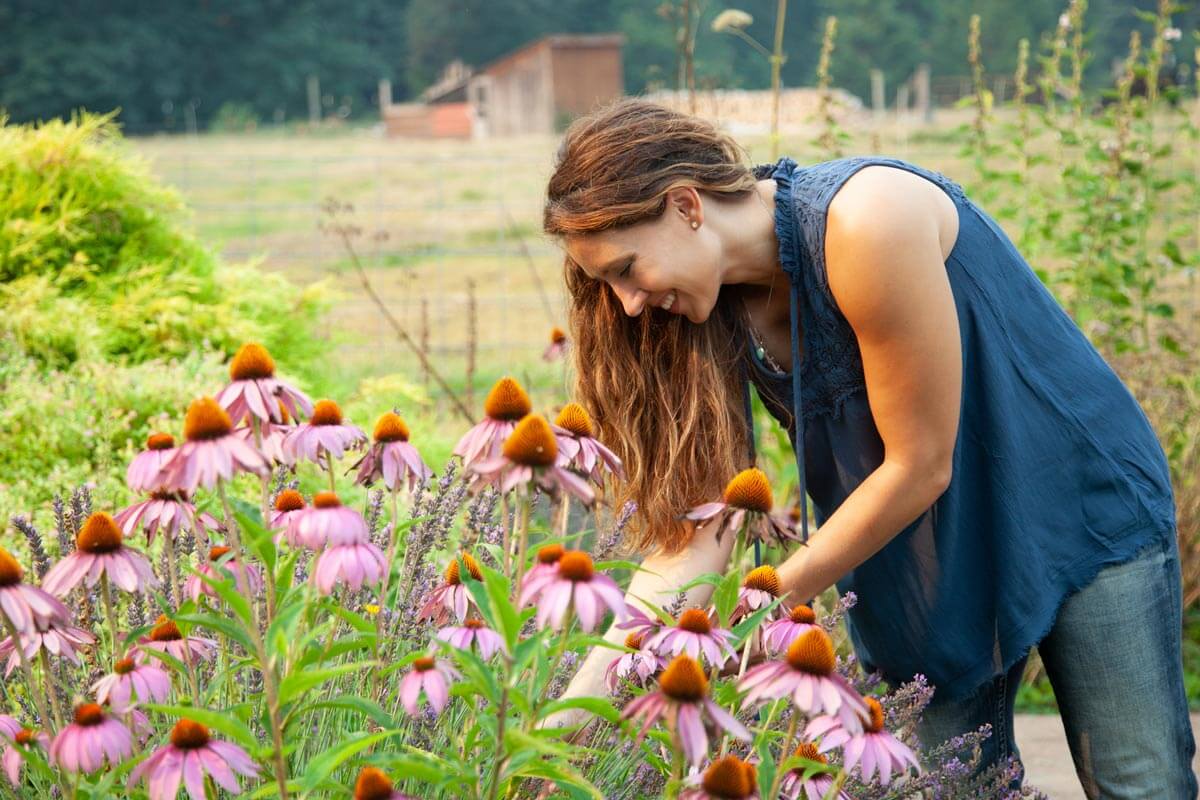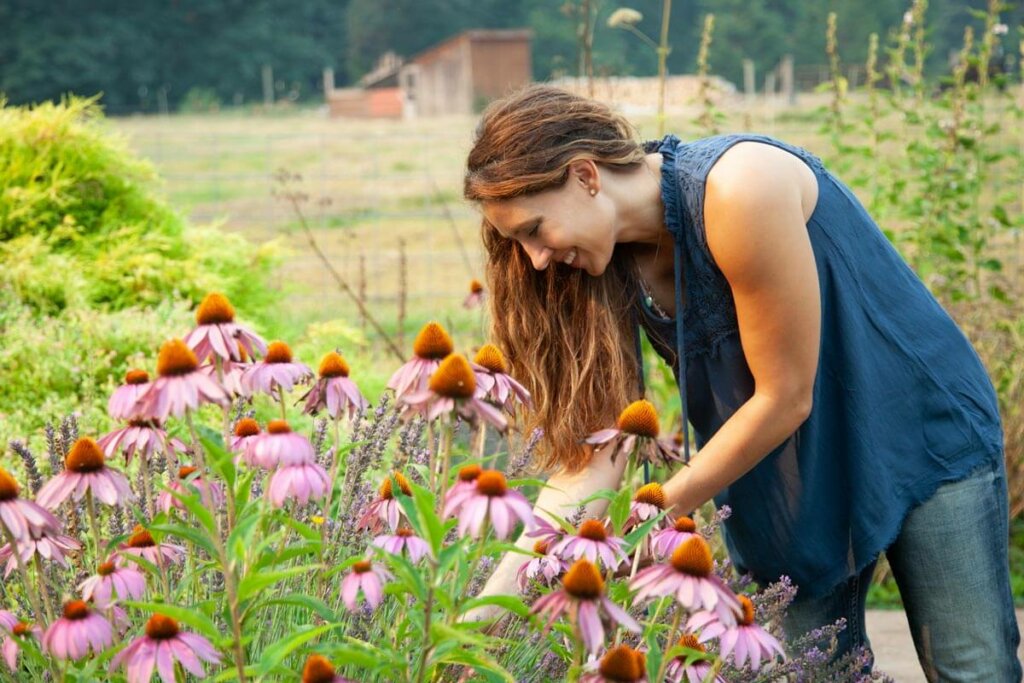 More Posts You May Enjoy
Melissa: Hey, Pioneers. Welcome to episode number 403. Today's episode is a special one. We are going to be talking about using herbs medicinally, but specifically with plants that are most likely growing outside your back door or in yards, outdoor areas near you. While I love my medicinal herb garden that we have very intentionally planted and brought in specific plants, there is something beautiful about being able to just go and harvest plants that nature and God has already provided while having the skillset to know how to do so safely as well as effectively. So I'm really excited to bring back on today's guest, and that is Dr. Patrick Jones. So Dr. Jones, if you have not had the pleasure of learning from him yet, well you are in for a treat, but if you were at the Modern Homesteading Conference in 2023, you probably took a class from him while you were there, and he's been on the podcast before where we were talking about using herbs for animals in our barnyard and with our livestock.
So we'll make sure and link beneath this episode. If you're watching this on YouTube, we'll put it in the video description so you can check out some of those previous episodes. Or if you're listening to this on your favorite podcast app, everything that we talk about today, you'll be able to find all of the links and resources and more at melissaknorris.com/403. And that's just the number 403 because this is episode number 403. So without a further ado, we are going to dive straight into this episode. And not only are we going to be talking about plants that you can harvest most likely wildly, they're already growing in your area, we're going to be talking about the specific times to harvest them so that you get the maximum medicinal benefits from those plants. And you'll be able to apply those even to some of your herbal plants that you have put in, I hope purposely or plan on putting in purposely, especially after you listen to today's episode.
Today's podcast is sponsored by the Modern Homesteading Conference. If you want to learn from your favorite experts and find some new ones, you do not want to miss this conference. It's going to be back at the Kootenai Fairgrounds in Idaho June 28th and 29th of 2024. Not only are we bringing back some of your favorites like Dr. Patrick Jones, but we will be having Temple Grandin as well as Jess from Roots & Refuge, Lisa from Farmhouse on Boone, Mary from Mary's Nest, as well as some of your favorites, including Josh and Carolyn Thomas from Homesteading family, Anne of All Trades, myself will be back there, and Joel and Daniel Salatin and a plethora of other homesteaders for you to learn in person. And the best part is we will be having even more live demonstrations than we did last year and we had a lot last year. So you want to make sure and grab your tickets now, especially if you're planning on attending VIP because they are over halfway sold out. Go to modernhomesteading.com, that's modernhomesteading.com and grab your tickets for 2024. Well, Dr. Jones, welcome back to the Pioneering Today podcast.
Doc Jones: Well, delighted to be here. It's always nice to visit with you.
Melissa: Yeah, same. And I am excited for today's episode, and I actually have a funny story. I was going over some of the stuff you had sent me beforehand, and burdock is something that used to grow a lot around here. When I was a kid, you'd have it all over your clothes. You'd go out to play, it'd get stuck in your hair. If you're a little girl and you had long hair, it'd get stuck in the end of your ponytail or braid or whatever. It just felt like it was very, very prolific. And I've lived in the same area my whole life on the same road actually. It's been a long time since I was a kid, I'm 42 now. And what's interesting is I don't have burdock nearly as much as we used to and so this past spring down at our farm state, there was some burdock in the yard and it was just a little tiny baby rose. It was just starting. It was its first year.
And so I was like, I'm going to transplant this into the medicinal herb garden, even though some people would probably die laughing at this. I'm saving this burdock. And lo and behold, I think I'm the first person in history who has ever managed to kill burdock. It didn't survive my transplant. Well, I did two. One survived and one didn't. So I was very thankful that the one did survive, but I feel like I may be something special in the gardening herbal department that I managed to [inaudible] plant.
Doc Jones: There you go. We all have our special gifts and talents.
Melissa: There we go.
Doc Jones: That's great.
Melissa: But what was interesting is I didn't actually realize, and so that's why I'm so glad that we're going to have this conversation today, that burdock is best root wise harvested actually before it produces all of its little [inaudible] that we call the little seed velcro-ey parts. And so I'm really happy to know that though, because I've got this young one that did make it so I'll be harvesting it at the appropriate time. So I thought it would be fun because I know a lot of people are really wanting to get into herbs and there's a lot that we can grow, but there's also a lot of plants that do grow wild or in most people's areas that doesn't require you having to cultivate it and buy seeds and seed starts necessarily. We can take advantage of what nature already has out there for us.
So I thought it would be fun to go through some of the more common wild or forageable that actually were cultivated at one time, but now we would consider them wild. And dandelion, I'm thinking of you. So I thought it can be fun to go through some of those top plants that people would probably have access to and then really talk about the appropriateness of harvesting them for medicinal properties.
Doc Jones: Yeah, you bet. Well, we really are completely surrounded by medicinals. I mean, everywhere you go, there's medicinals. In fact, I gave a little presentation at a college about a year ago and from the parking lot to the building I was walking to and it was right there, I counted 15 different species of plants and 13 of those medicinal, and that's landscape stuff. And if you go into the wild, it's even better. And so they really are everywhere, and being able to recognize and access those resources is just a huge blessing and a huge convenience and opportunity. And even if it wasn't cheaper and more fun than ordering herbs online, the quality of the medicine is remarkably better. From plants that you've either grown yourself in your garden or stuff that you've harvested in the wild, it's night and day different how much better they are.
Melissa: Well, I think I was reading actually in some of your material, and you have a lot out there, so I'm trying to remember exactly where I read it. And store-bought, if you purchase herbs online or from a store, et cetera, usually shelf life is about a year, but depending on, of course, if you've harvested and stored it right at home, up to two years. And I think you were saying it's usually at least almost twice as strong as medicinal properties usually compared to what you've gotten shipped in. Is that about accurate?
Doc Jones: Yeah, no, that's absolutely right. I mean, just as an example, if I open a jar of yarrow that we harvested and dried a year ago, it still fills the room. The smell and the fragrance of that plant still fills the room. But when you buy stuff, even from really good companies that are really trying to do a great job, you open it up and you smell it, and I guess that's yarrow. I mean, it's a completely different experience and there's several reasons for that. I mean, when I harvest yarrow, I harvest it the day it looks really fabulous when the flowers are really big and I harvest at the time of day that those flowers are really fabulous versus harvesting the day the combine can come and not just taking the flower, but taking everything the combine picks up and then processing it in commercial dryers and keeping it in a warehouse.
And I was talking to a professional or grower, and he said that a lot of his stuff that he's harvesting, drying and selling to the distributors who are then selling it to the next guy, he says, by the time it gets to the customer, it's almost a year old by the time they even get it.
Melissa: Wow.
Doc Jones: And so it's a very different process and a very different product when you're growing your own material or harvesting your own stuff, just really night and day difference.
Melissa: Well, I like to do a little bit of a spotlight on dandelion just because that seems to be so prolific, and I think most folks either have access to dandelion or have heard about using it, and particularly because dandelion is one where we really could harvest all parts, the leaf, blossom, flower and the root part. But could you walk me through one kind of the profile? Medicinally wise, what would you want to use dandelion for? And is that different, the blossom versus the leaves versus the root? Just basically do a little materia medica basically on dandelion.
Doc Jones: Absolutely. And we have about a two-hour lesson on my... In fact, I think it's on YouTube. I think there's a dandelion on my YouTube channel, HomeGrown. There's like a two-hour dandelion if you really want to learn about dandelions.
Melissa: We'll link to that. For those of you who are listening, we'll put it in the blog post that goes with this episode. And for those who are watching this on YouTube, we'll put it in the video description down below so you can go check that out in great detail.
Doc Jones: But that's a great example, dandelion, because a lot of plants have very different medicinal properties based on what part of the plant you're using and dandelion is a great example. The leaf is a really good diuretic, so it increases urine output. So that's good for edema, that's good for bladder infections, it's good for cleaning the system. It also has a lot of vitamin C, a lot of vitamin A, a lot of other vitamins, a lot of potassium, which was a really good idea because one of the concerns physicians have when they put you on a pharmaceutical diuretic is potassium depletion. You lose too much potassium. And so God, when He made His diuretic, He was smart and He put a little extra potassium in there. That was a good idea.
So the leaf is good. The root is also medicinal, and the root tends to favor the liver a little more. So the leaves favor the kidney a little bit, root favors the liver a little bit. They both have some action on both, but the root's quite good for stimulating bile production and bile flow, which is really the way that the liver detoxifies the body. It puts the toxins in the bile and kicks them out into the intestine so they can leave the body, but that also improves digestion. Bile is the surfactant that makes it so we can digest fats at all, and it soothes the gut and lubricates the gut so it's preventing indigestion and colic and all kinds of other nice things that bile does. And then the flowers are edible and delightful and really nutritious. They have some diuretic properties too. And dandelion has a lot of other properties too. Like I said, we could get into a lot, but harvesting a plant like dandelion or anybody else, the timing of harvesting is a really great thing to understand.
And the best way to do that is just think like a plant. Where's the plant putting his energy? When he wakes up in the morning today, what's he thinking about? And so leaves are often going to be best in the spring or early summer when he's thinking about leaves. That's the whole show. Dandelion leaves in the early spring are really delicious and tasty. As they get older and hotter weather later in the summer, they get pretty bitter and dry and coarse and not nearly as nice to put in your salad. But they're also less medicinal. Roots tend to be better to harvest in the fall or in the early spring before that plant's thinking about putting stuff above the ground when they're still thinking about resources below the ground, that's when your roots are going to be most potent. And with biennial plants like you've mentioned, the burdock that has a two-year cycle, it's really critical to get those roots either at the end of the fall of the first year or the spring of the second before that plant shoots up to flower seed and die.
'Cause once that happens, she's not thinking about roots anymore. She's going to blow everything up and all the good stuff's out of the roots. So yeah, timing's a really big deal.
Melissa: Okay. So I have a question actually on the burdock because I know some plants, like we were saying, the leaf with dandelion, is there really any medicinal properties in the burdock leaf or the seeds, or is it pretty much you're just really wanting to go for the root?
Doc Jones: There are, but the seeds can be used for cough suppressant things and the leaves have some diuretic properties and some other things too. But there's some respiratory stuff, but honestly, there's so many guys that do it as well or better.
Melissa: Go for it.
Doc Jones: I have lots easier ways to stop a cough than sorting out burdock seeds.
Melissa: Amen. Okay.
Doc Jones: And besides, my hair's so short, it's hard to collect them. It's harder.
Melissa: True. Okay, perfect. So if you miss the window, you've just pretty much missed it, go ahead and move on and catch it in the uglier stages. Okay.
Doc Jones: That's right, that's right.
Melissa: Okay, good. And then I wanted to chat a little bit about, especially with root, because I think more people are probably familiar with harvesting the leaf or a flower of a plant, dehydrating that at home. But when it comes to root preparation, one, harvesting it once it's fresh, then what are your best steps? Is it best to just go ahead and dry that? Should you chop it into smaller pieces to dry it? 'Cause I know my leaf matter and blossoms, I leave whole and dehydrate them, and then I make them small right before infusing them into something, but I don't store them powdered up, so walk me through. I haven't done much root harvesting myself, so I'd love to know best practices with those roots.
Doc Jones: And there's some things you can do to make your life a lot easier with roots, that's for sure.
Melissa: Okay, good. I need those.
Doc Jones: So when harvesting a root, it's really, really useful... And obviously you're going to wash the dirt off, that's a really good idea. But I always chop them, slice them like you're slicing carrots. And that does two things. First of all, it makes them dry much more quickly, which is good, but it also makes it so that when you want to powder them or grind them, that you can do that. If you dry an entire burdock root and then throw it in your blender after it's dry, you might be buying some new blender blades. They get really woody and hard. So yeah, I always slice it thin and then dry it. And what you said, Melissa, about leaving things whole until you're going to use them, that's really a good point too, because one of the primary things that degrades medicine is oxidation. And if you powder an herb, you're exposing every bit of it to the oxygen and it's going to not have as long a shelf life.
And we're not talking huge difference, but if you have the room to leave it whole, leave it whole. If it's just you and your family that have a pouch full of mint leaves or whatever plant, leave it whole till you use it, that'll extend the shelf life a little bit. Nothing hangs around here for three days and so I'm grinding everything into a powder 'cause making a tincture is much easier with a powder 'cause it's easier to get the alcohol to cover the powder than a big jar of intact leaves. But waiting until you're ready to grind is a really good idea.
Melissa: Okay. And then next question, you actually segued into it beautifully. When doing tinctures with root now, is it root specific or is it better to make your tincture when that root is fresh or better once it's dry as far as [inaudible] properties?
Doc Jones: It depends a little bit on the plant, fresh versus dry. The only concern I have about using fresh herbs is that some herbs have enough water content that it dilutes the alcohol enough that it's not a good preservative anymore. But some herbs are a little better if they're done fresh. Shepherd's purse, for example, is a little better if it's done fresh, but the bad news about shepherd's purse is it has a lot of water in it. And so I usually use a stronger concentration of alcohol when I'm doing a fresh high water content plant. I'll use a much higher proof of alcohol like Everclear or something. And when I say alcohol, just everybody knows, we're talking about liquor, I mean alcohol, people would drink. You don't ever use isopropyl alcohol or rubbing alcohol. That'll kill you, right?
Melissa: Right. Now we're talking about ingesting tinctures.
Doc Jones: Yeah, we're taking things internally. So almost everything I do I'm using vodka for, because vodka is usually 80 or 100 proof, which is perfect because that's half alcohol and half water. Proof is twice the percent so it's 50/50 basically. So all the water lovers are happy and all the boozer are happy and everybody's happy for the extraction, all the chemicals. But if it's a high water content, fresh, green juicy plant, I'm probably going to use Everclear.
Melissa: Right, which is 195 for almost-
Doc Jones: Yeah, excellent.
Melissa: Yeah, the proof is-
Doc Jones: It's almost all alcohol, yeah.
Melissa: 95%, but you just round it up to basically 100 for calculating like what I do. I take the easy route. I figured that 5%'s marginal, I'm going to be safe there.
Doc Jones: And I do very little math when I'm doing it. I just look at the bottle and if it says Everclear on it, that's good.
Melissa: Yeah, yeah. Okay, good. And then this always comes up so I think this is the perfect time to address this because there's a lot of people that don't use alcohol in their home as a beverage for many different reasons, but for tincturing making, one, because it's such a good preservative. And I know some herbs, especially more so roots, I feel like, than a lot of your leaf matter, really actually need the alcohol strength in order to pull out some of those medicinal properties. If they're not water-soluble, it's going to have a harder time pulling them out, and the alcohol actually helps with that. But for those, for whatever reason, who are like, I am just not going to use the alcohol, talk to me a little bit about making tinctures with both glycerin and vinegar. I mean, are they better than nothing? Are you really better off just doing something else, like doing an infusion or a decoction or something with those herbs if you're not going to use alcohol tincture? Could you walk us through that? I feel like that's where I see a lot of people have questions.
Doc Jones: So first of all, let's explore. I'm not going to tell anybody what to do, but let's explore the idea that... For example, I don't drink at all. I have some religious reasons that I don't drink, but I use tinctures all the time. And I think it might be a good question for a person to ask is if your religious beliefs allow your physician to give you Percocet or Demerol or morphine when you're in the hospital and you break your leg, it's probably okay to take 30 drops of of that [inaudible] tincture when you have a cold. Things are created and provided for us to serve a purpose and alcohol is a very useful thing. It's probably not ideal to use it in excess recreationally. That's not probably what it was for, but it has some benefits that are remarkable and really not matchable as a tincture medium. First of all, it's an astoundingly good solvent. Like you said, a lot of the chemistry in a lot of these plants is not water-soluble, and if you don't have alcohol, it's not going to extract.
And the second thing that we really like about alcohol is it's a phenomenal preservative and vinegar and glycerin and water don't have either of those properties. All three of those things can be good solvents for water-soluble material. And a little bit of the less soluble stuff will come too, but it's nothing like an alcohol extraction. So your potency is going to be lower depending on the plant, depending on what chemical you're trying to get. Your potency is going to be less and your preservatives power is going to be less. If you did a vinegar or a glyceride with fresh plant material, you're not going to have any preservative power 'cause they're already so weak. I mean, those will be stinky when you open them in two weeks. So dry material only on those. And with glycerin, I mean, glycerin will grow bacteria, and so don't put the bottle on your mouth and take a swig, pour it into a spoon, and be really careful with it 'cause if you contaminate that bottle, now that's an issue.
Glycerin has some nice properties. It's very soothing. It has some nice properties too. And vinegar's got some benefits too. If it's a real vinegar with the mother in it, that's a real probiotic thing, but I can get that on my salad. I don't have to use that as a justification for just using it for a tincture. Honestly, for me, I don't do anything in a glycerin, I don't do anything in a vinegar. If I'm not going to do an alcohol tincture, which I often don't, I mean, a lot of the herb usage I do doesn't have anything to do with taking a tincture. I'll just take a spoonful of dry herb and throw it in some juice and down the hatch. The plant's the medicine. And the fact is that that plant material is more medicinal than any of those other things because anytime we do anything to it, we're making some alterations. So I put it in some applesauce, put it in some juice. Depending on the nature of the plant and the flavor, you might be able to choke that down or make a tea.
And the teas are also very good. Hot water is a pretty good solvent. It's not a good preservative. And once you've made a tea, that shelf life is now three days in the fridge, so don't make a week's worth of tea, make three days worth of tea. But there's all kinds of different ways we can approach things. And if somebody really doesn't want to use the alcohol, I absolutely respect that. If somebody has feelings that they don't want to even engage that, that's fantastic, do that. I love you to death, but I wouldn't make a vinegar and think it's just as good. I would just take the herbs.
Melissa: Choose another route, yeah.
Doc Jones: I'll just take the herbs and then you know what you're getting and you know that the shelf life is...
Melissa: Yeah, okay.
Doc Jones: If you're going to do that much work, do it with something that'll last a long time.
Melissa: Yes.
Doc Jones: Right.
Melissa: Yeah, I agree. And I have to say, sometimes when I'm doing the tinctures myself, especially if I am going to be traveling, I can get such a small concentrated amount and they let me take it through the airport, that that's easier for me than trying to take all these bags of stuff that could get... I mean, I suppose the tincture bottle could also get broken, but I package it really well, and so I really like the ease of that. Or if I'm getting really sick, I've got some tinctures that are tincture format because that's very little energy for me to just put a dropper either right on the tongue. I'm usually not that good. My husband can straight shot tinctures. I put them in some water and just down it. But for me, if I'm really not feeling well, it's kind of more the ease. I don't even have to boil the water to let the tea seep to strain it out. So depending on what they are, I do like the tinctures for that.
Doc Jones: That's a really good point. You said two really important things there. First of all, compliance. I'm a practitioner, I'm a naturopath. I'm a veterinarian too, but I'm a naturopath with people and my compliance with people taking a quarter teaspoon or half teaspoon of a tincture is way higher than them making tea three times a day. So that's one thing. But the other thing is that tinctures enter the body much more quickly, and sometimes that doesn't matter, but for a crisis, if you're having an asthma attack, do you really want to spend a half an hour making a cup of tea? Let's have a tincture on hand. If you have yarrow for bleeding, cayenne for shock. There's some things that are, tinctures are a really good idea versus longer term delivery systems. So yeah, tinctures have some really significant advantages.
Melissa: I have to say the gardener in me, because some years we have certain crops that do phenomenally well based upon the weather, and then other years we may have very little harvest of it. So I look at my tinctures as like, okay, if next year's crop of this is not very good, at least I'm going to have this shelf stable amount of this for, I try to do a couple years worth figuring by the third year I'll probably have another good crop.
Doc Jones: And that's really wise because... And again, tinctures are really the only herb form that have a long-term shelf life, so that's really good.
Melissa: Yeah. Okay, great. Some of the other things too is when it comes to identifying plants, because there are some things that have poisonous lookalikes. So for example, where we live, there's yarrow and then there's Queen Anne's lace, and we do have poison hemlock. And if you're not experienced, those blossoms can oftentimes look very similar and I know you know this, but hemlock is very poisonous. It's one you don't want to mess with it. It wouldn't be one you would want a mistake. So what is your best advice or best resources for people when they're wanting to go out and do this to make sure they're doing appropriate due diligence and they don't have you to come and walk through their neighborhood with them?
Doc Jones: Well, everybody come to Melissa's house in September. We'll all go do that.
Melissa: Amen. That is on the docket, and I'm super excited because I know there's plants that I probably don't know that are here that have medicinal properties. So I've already signed myself up for the [inaudible].
Doc Jones: Anyway, you make a really good point, and one of the really, really good principles of wildcrafting is to not get dead. That's one of my favorites to focus on.
Melissa: It's a good one.
Doc Jones: Even I am very careful with anybody in the parsley family, and there's a lot of really fantastic herbs; parsley, Angelica and Osha and cow parsnips and Queen Anne's lace. There's all these nice lovely creatures, but they do have those cousins, poison hemlock and water hemlock that look a lot like them. And certainly you can learn, this really has to be this one because of leaf structure and flower structure. And you need to get pretty detailed and say, okay, one of the things, which is a bad idea, that they use to identify poison hemlock, it almost always has little purple spots on the stem.
Melissa: Yes, I've heard that.
Doc Jones: But every year, some edible plant guy falls over dead because he misidentified poison hemlock and thought it was cow parsnips or something because that plant didn't read the book and know she was supposed to have purple spots. Plant illiteracy is a serious problem in this country. We need to do something for those kids, but anyway, some of them don't read the book and they don't look like they should. Sometimes if the waters or soil quality is not what they need, they're not six feet tall like they ought to be this time of year, and they're only little guys and you think they're somebody else. So basically the saying among herbalists and botanists and edible plant guys is, "Be humble with the umbels." That white umbrella shaped flower is called an umbel and if you've got a white umbrella shaped flower, pick something else.
Melissa: Okay, I like this. And so this would lead me to my next question. So for me being like, okay, if I'm not really sure on these buying seeds to grow it yourself, so you would know this is what's been planted here. I know this is what it is, but then you have to be able to trust that the person who harvested the seeds knew they were harvesting them from the right plant.
Doc Jones: Sure, yeah. And that's what I do. I mean, I was out in the hills not long ago. I saw this beautiful Angelica plant, beautiful. Obviously Angelica, certainly Angelica, but I got Angelica growing at home. Why even take a minuscule risk? And so that really is good advice, and that's what I tell my students, is if it's something remotely questionable that has a cousin that'll kill you, plant it in your garden. And if you get it from a company, a real reputable company, they're going to have the seed that's the real thing. If you get it from your uncle who was hunting deer and thought he had the right thing, maybe be a little more leery of that one. But yeah, I think there's some things, particularly those plants in that partially family, it's better to just grow your own than to take a chance.
Melissa: So one of the places that I get my seeds from is Strictly Medicinal Seeds. They have some life plants starts too, but especially the seeds. Do you have any other resources of reputable medicinal seed companies? That's the one I know.
Doc Jones: I've bought stuff from Strictly Medicinal Seeds. I've been very happy with it. I've also bought stuff from companionplants.com, and they have plants and seeds and their stuff's great. My place, we just relocated here recently, but we had over 150 species growing on the first place. We're getting pretty good over here at the new place now, but a lot of those plants were stuff I ordered from companion plants or seed that I ordered from Strictly Medicinal Seeds and they did great. We didn't have any trouble with any of it. So one thing I will tell you is that sometimes weed seeds have very low germination rates, and so sometimes you don't get the germination that you would expect from your radishes sometimes. If you think about how many seeds a mullein plant's putting out, there's thousands and thousands and thousands of seeds from one plant, but there aren't that many mullein plants next year because they want to be stratified with bad weather for a while.
Sometimes they need a fire, some species. There's all kinds of different variables with seeds. But we've had good luck from both those companies getting good material, live plants or seeds.
Melissa: But to Dr. Jones's point, when you are seed starting, if you're used to just starting vegetables, I don't know of actually any vegetables that require cold seed stratification, but once you start moving into a lot of your flowers and herbs, et cetera, some do require that cold seed stratification in order to increase your germination rate. So if anybody's like, I'm not really sure what that is or wants to know, I've got a video on that as well as a blog post that lists out the most common medicinal flowering herbs that do require that. So we'll put that beneath this video too. You got lots of opportunities to go further with what we're talking about today, so we'll put that down below and you can check that one out too.
Well, I feel like I've just barely wedded the appetite. I'm so excited for our time in September and to continue learning from you. So I know you've got your YouTube channel, but aside from the other podcast episode you have done with us, which we'll link to that too, really good stuff in that one, where's the best place for people to find out more about you and to continue learning from you in their herbal journey?
Doc Jones: Well, so we have the YouTube channels just called HomeGrown Herbalist. My website is homegrownherbalist.com. And we have blog articles and videos and things there as well, plus herb supplements. And then I've written a couple of books, they're on the website too. And we have the school, I mean, we have the HomeGrown School of Botanical Medicine, which really is a remarkable resource. We've got students all over the world, I mean, really everywhere. You can do the whole thing online. But because I'm a veterinarian and a naturopath and sat in dark rooms learning long words for a lot of my life, I understand some things that a lot of herbalist don't understand. And because I was a veterinarian, I can do anything I want with herbs. So we don't just talk about tummy aches and insomnia, we talk about gangrene and gunshot wounds, and it's a very in-depth, real world kind of program. So if you want to learn more about that, homegrownherbalist.com has all that information too.
Melissa: Okay, perfect. Which actually brings me to my last question, surprise, bonus round, and that is, our flies here on our cows this summer in particular have been really bad. So I know giving them garlic, getting them to ingest garlic can help. Is there any other natural treatments or herbs, et cetera, applications you would recommend for keeping the flies down on the cows?
Doc Jones: The only thing's flies are pretty much scent driven. I was an entomologist before I was a veterinarian, so this is a good question too. They're pretty scent driven. We were having a movie night with the grandkids the other night and the mosquitoes came out and we're going to carry them off. And I went over and grabbed a bunch of lemon balm out of the garden and said, here, "Rub this all over yourself." And they rubbed lemon balm, and then they smelled like plants and not like tasty little kids, so the mosquitoes didn't know to bite them. So mint family things, you can put a little bit of a essential oil in a spray bottle and spray that. That'll make them not smell like a cow. You can feed them garlic. That makes them not smell like a cow. That'll have a big impact on... I don't know if they're beef cows or milk cows, but-
Melissa: Beef. Beef.
Doc Jones: Okay, so you're okay. If you feed a lot of garlic to your milk cow, you'll notice.
Melissa: Okay, good point actually. I'm very glad you brought that up. Yes, garlic milk is-
Doc Jones: Milk tastes better with garlic.
Melissa: Unless you're making an Alfredo sauce, then it would be great. But just in a nice glass, I don't know that I'd want the garlic flavor there.
Doc Jones: That's right.
Melissa: Okay. So the garlic ingestion wise, and then pretty much we're looking at topical applications for keeping the flies way?
Doc Jones: Yeah.
Melissa: Okay, great.
Doc Jones: And as long as you're giving them the garlic, that's a phenomenal antibiotic, antiviral, antifungal, immune stimulant. I mean, we could go on and on about the nice things that's doing for your cows too.
Melissa: Oh, perfect 'cause honestly, I hadn't even really thought of that. I was just going more for odor.
Doc Jones: It'll keep them from kissing each other too, but that's...
Melissa: Well, we may be waiting for next month is when the [inaudible] goes in. Okay, great. Well, thank you for that bonus question and super excited to keep learning from you. And thanks so much for sharing all of your wisdom with us.
Doc Jones: You bet. Anytime. It's great to be with you folks.
Melissa: Well, I hope that you enjoyed that episode as much as I did. And if you want to learn even more about herbs, you are going to want to jump on the free summer mini herb course that I'm doing. It goes through September, and don't worry, if you missed some of it, I will be giving it to you all at the end of the mini herb course. So even if you missed a couple of weeks and a couple of herbs, you won't be missing out. I'll make sure that you get it, but you definitely want to sign up for that now. And to do so, go to melissaknorris.com/miniherb, and I'm going to be sharing with you my top 10 favorite herbs, how to use those safely and effectively, and also how to grow and harvest them. So at the end of it, you are going to have a super strong foundation for your herbal medicinal cabinet and growing them on the homestead. So make sure that you snag your spot and get signed up for that.
Now it is time for our verse of the week, and we are in Psalms 103:2-5. "Bless the Lord oh my soul, and forget not all His benefits. Who forgives all your iniquity, who heals all your disease, who redeems your life from the pit, who crowns you with steadfast love and mercy who satisfies you with good so that your youth is renewed like eagle's." And the Psalms are always such a place of encouragement for me whenever I'm looking for guidance or maybe feeling a little bit down or just needing some encouragement. I always find that in the Psalms, they are really like a balm for the soul. And so I just wanted to share this one with you because what a beautiful thing that all of the benefits that we get from God, which every good and true thing floats from Him, but that we have forgiveness, healing of our disease. I know as we look to using herbal medicine, natural remedies and even homesteading itself with our food, a lot of us are turning to that because of some type of health issue.
And also knowing that our life is redeemed and steadfast love and mercy and renewed energy so that our youth is renewed like that of a eagle's. There are so many beautiful promises in this one verse and in just these sentences that I thought it was a really nice place to meditate and to bring all of that forefront and to remember that because sometimes when we're going through hard things, it can be a little hard to get out of that rutt in our thinking. And so if we can instead meditate on scripture and remember God's promises and His truth and all that He will bring to us, I find it especially helpful to break out of bad thought patterns, but also just to uplift and renew my spirit and my soul. So I leave that thought with you and those verses with you for now. And until next week, blessings and Mason jars, my friends.
Sign up to receive email updates
Enter your name and email address below and I'll send you periodic updates about the podcast.