Some of the links below are affiliate links, which means I will earn a commission at no additional cost to you, if you click through and make a purchase. Regardless, I only link to products we use on our homestead or believe in.
Have you ever been confused about the difference between water-bath canning and pressure canning? Huge thanks to one a reader who pointed out she didn't know all of the canning terms and equipment.
So for those of you new to canning or even seasoned-pros, I hope to share the basics and tips to make your canning adventures as easy and successful as possible.
Water-bath canning is processing your canned foods in boiling water for a specified amount of time. Acidic foods can safely be canned via the water-bath method. These are jellies, jams, preserves, marmalade, fruits,fruit spread, fruit sauces, tomatoes (with acid added via lemon juice or vinegar), pickles, relishes, and chutneys.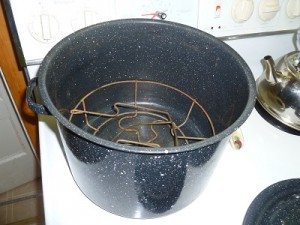 Pressure canning heats your canned food under steam pressure, allowing for much higher temperatures and faster cooking times. All low-acid foods must be canned using a pressure canner. Low acid foods include vegetables, meat, poultry, seafood, and combination recipes.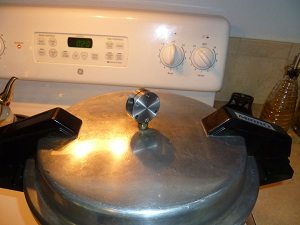 I know people used to can with just the water-bath and may have not experienced problems. But newer strains of tomatoes don't have the acid levels and unless you can check the ph level at home, I wouldn't risk it. Growing and preserving your food is rewarding but hard work, I'd rather know it's done safely and correctly using these guidelines.
Time-saving tip- I also use my pressure canner to can my applesauce, though you can use a water-bath because this is acidic food. One of the benefits to the pressure canner is you can raw pack all of your vegetables and fruits. It will cook fully while it's being canned.
Wash your jars, lids, and bands in hot soapy water and rinse well. You can keep your jars heated in hot water in your canner, but I keep mine in the hot wash water until I'm ready to fill them. New canning guidelines no longer require to pre-heat the lids, juts put them on cold. (If water-bath canning for less than 10 minutes processing, sterilize jars by boiling them for 10 minutes beforehand)
Pint-sized jars are two cups and quart jars hold four cups. Make sure your pressure canner holds both sizes so you only have to make one purchase. See 5 Tips for Choosing the Best Pressure Canner for You
Proper Headspace for Canning
Fill your jars with the prepared recipe. If raw packing your fruit and vegetables, pour your boiling water or syrup over raw fruit/vegetable. Leave 1/4 inch headspace for fruit juices, pickles, jams, and jellies(space between top of jar and your food) 1/2 inch for fruits and tomatoes, 1 inch for vegetables, meats, poultry, seafood, and combinations recipes.
Remove air bubbles by sliding a spatula between the side of the jar and your food. Run it around the outside of the jar and tap on the top of the food.
Wipe the rim and threads of the jar with a damp, clean cloth. Place lids on jars, screw band down until resistance is met. Don't over tighten.
Place jars in the canner. Be sure the rack is inside, this keeps the jars from sitting directly on the heat source or bottom of the pot. If jars aren't on the rack, they can become too hot and burst or crack. For water-bath make sure the water covers the top of your jars by at least 1 inch of water. Follow the amount of water your manual suggestions for your pressure canner, more is better. Mine calls for a quart and a half.
Start the timer for your recipe when the water is at a full boil for water-bath or when the pressure control starts to jiggle. For pressure canner, you'll need to lock your lid into place, but don't put the pressure control on yet. Allow steam to come through the vent for 10 minutes. This allows the pressure to build and the air to exhaust, very important so don't skip this step. Then select the correct pounds of pressure and put your controller in place. Once it begins to jiggle and hiss, at least 3 to 4 times per minute, start your timer.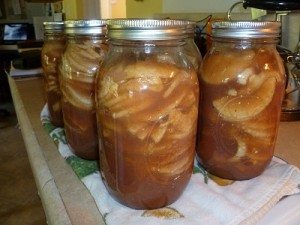 When time is up, allow canner to cool according to the manufactorer's guide. Carefully remove jars, with either a jar lifter (will save those fingers) or using an oven mitt. Set warm jars on a double folded towel. Allow to cool for 12 to 24 hours without moving.
After jars are cool, test the lids for a seal. Press the center of the lid with your finger. If it doesn't flex, jar is sealed. Remove band and store in a cool, dry, dark place like a pantry shelf. If it does flex, you may try and re-seal or place in the fridge to eat!
Do you have any canning tips? For information on other food preservation methods, check out 10 ways to preserve food at home.
More Canning Posts: