Some of the links below are affiliate links, which means I will earn a commission at no additional cost to you, if you click through and make a purchase. Regardless, I only link to products we use on our homestead or believe in.
Learn how to grow cut flowers for business or pleasure, plus why you'd want to! I'm chatting with Beth from Crowley House Flower Farm about how she earns a living doing what she loves.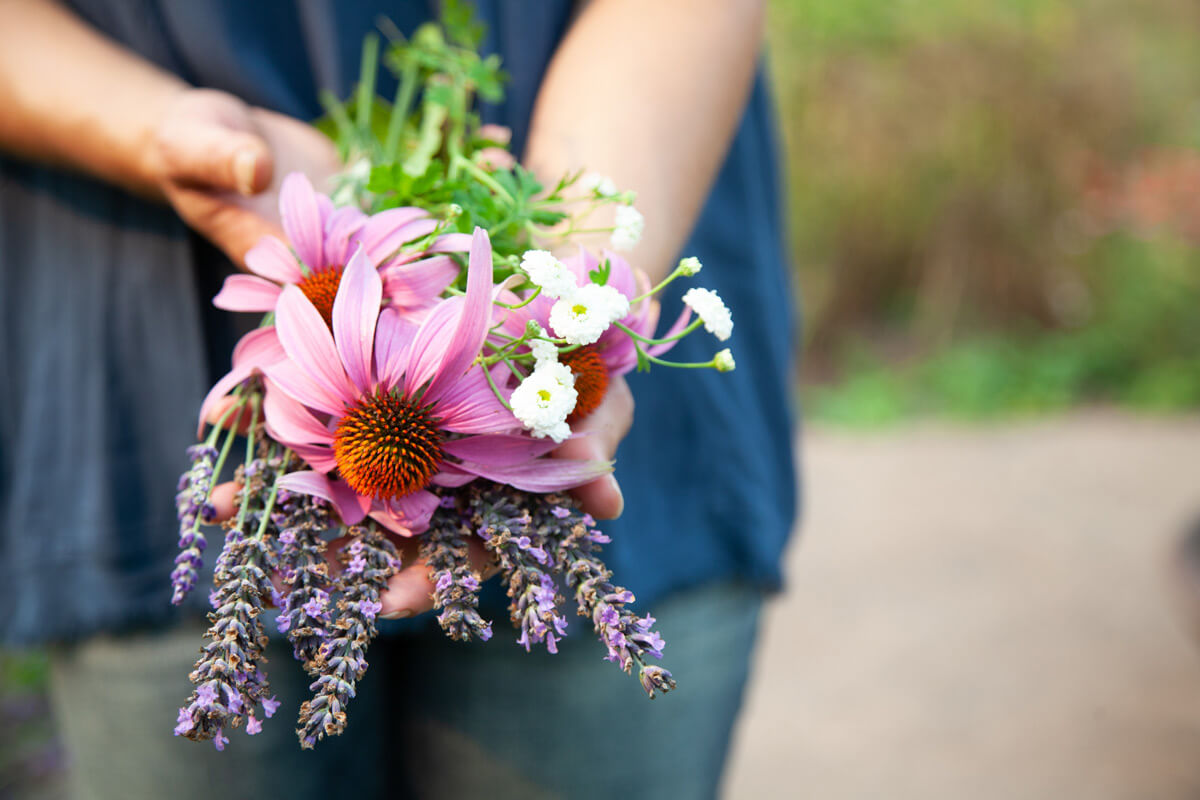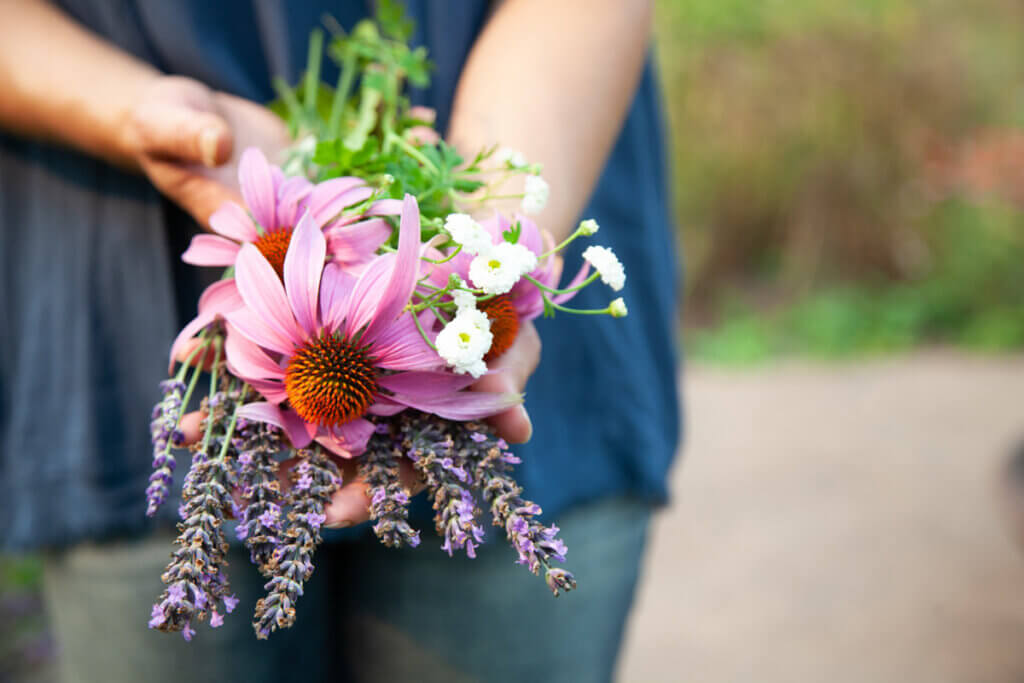 Today's episode of the Pioneering Today Podcast is all about growing cut flowers. You may be thinking, "I don't need to grow cut flowers," or maybe even, "I already grow flowers in my garden, so this episode isn't for me."
Stick with me because, for decades, I didn't put time or effort into growing flowers. Then I started studying herbalism and quickly realized how certain flowers (that double as medicine) can actually help my vegetable garden.
I love growing echinacea for tinctures, elderberries for an immune-boosting syrup, and other medicinal herbs in my medicinal herb garden.
Did you also know by growing cut flowers, you can help supplement the money coming from your homestead in a really big way? I'm willing to bet that this is something many of you have never considered and may be more interested in than you originally thought. Keep reading for more tips from Beth.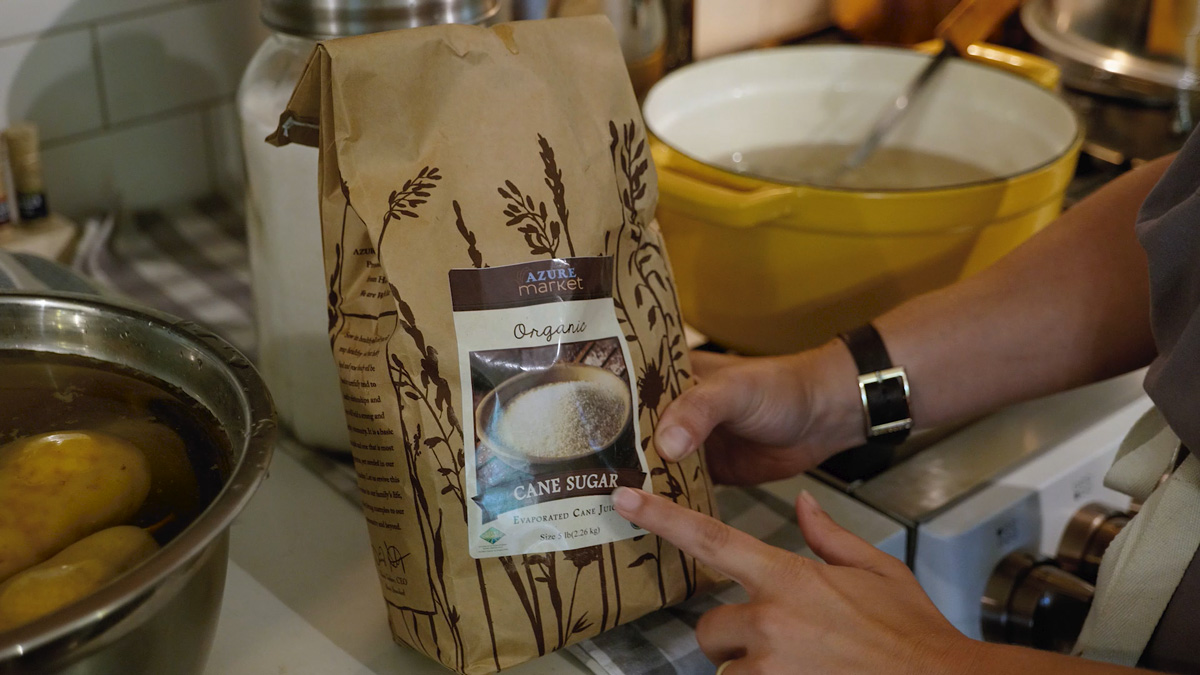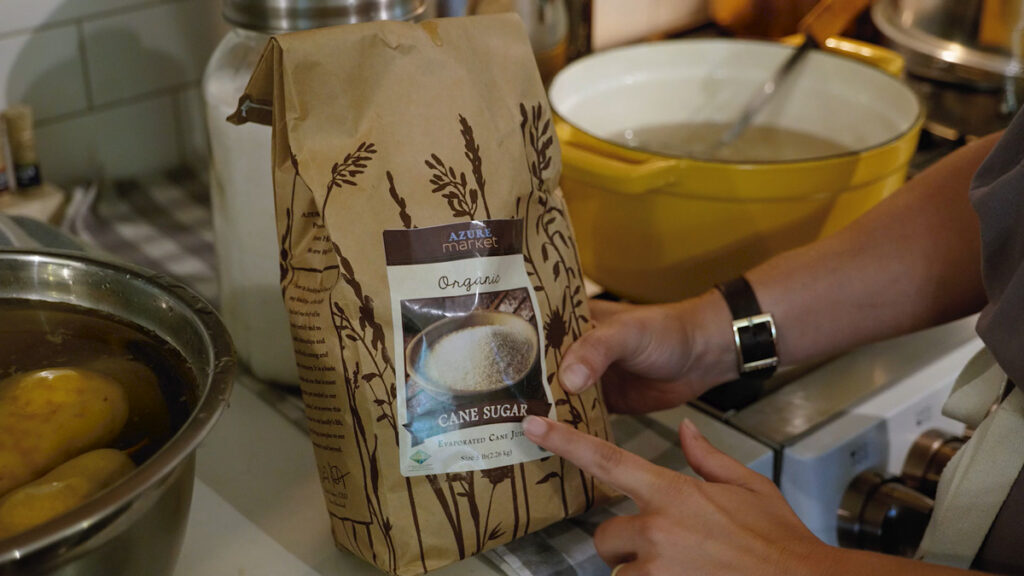 Azure Standard
This podcast is sponsored by Azure Standard. What I love about shopping from Azure is that they source their products from small farms, so I know I'm helping to support these smaller companies.
I can always be assured the products I'm buying will meet my standards and are usually items I can't find at my local grocery stores.
Another reason I love Azure is that I can purchase all of the items I can't source locally, or grow myself, such as spices. This is the time of year I always top off my supply of baking spices such as cinnamon sticks, ground Ceylon cinnamon (not Cassia like most grocery stores sell), nutmeg, and all the other delicious aromatics that season up my food throughout the year.
If you've never tried Azure Standard before, go place your first order and save 10% off your entire order ($50 minimum) with my coupon code "Pioneering10" at checkout (that code is good through February 28, 2023).
Now, back to this week's podcast!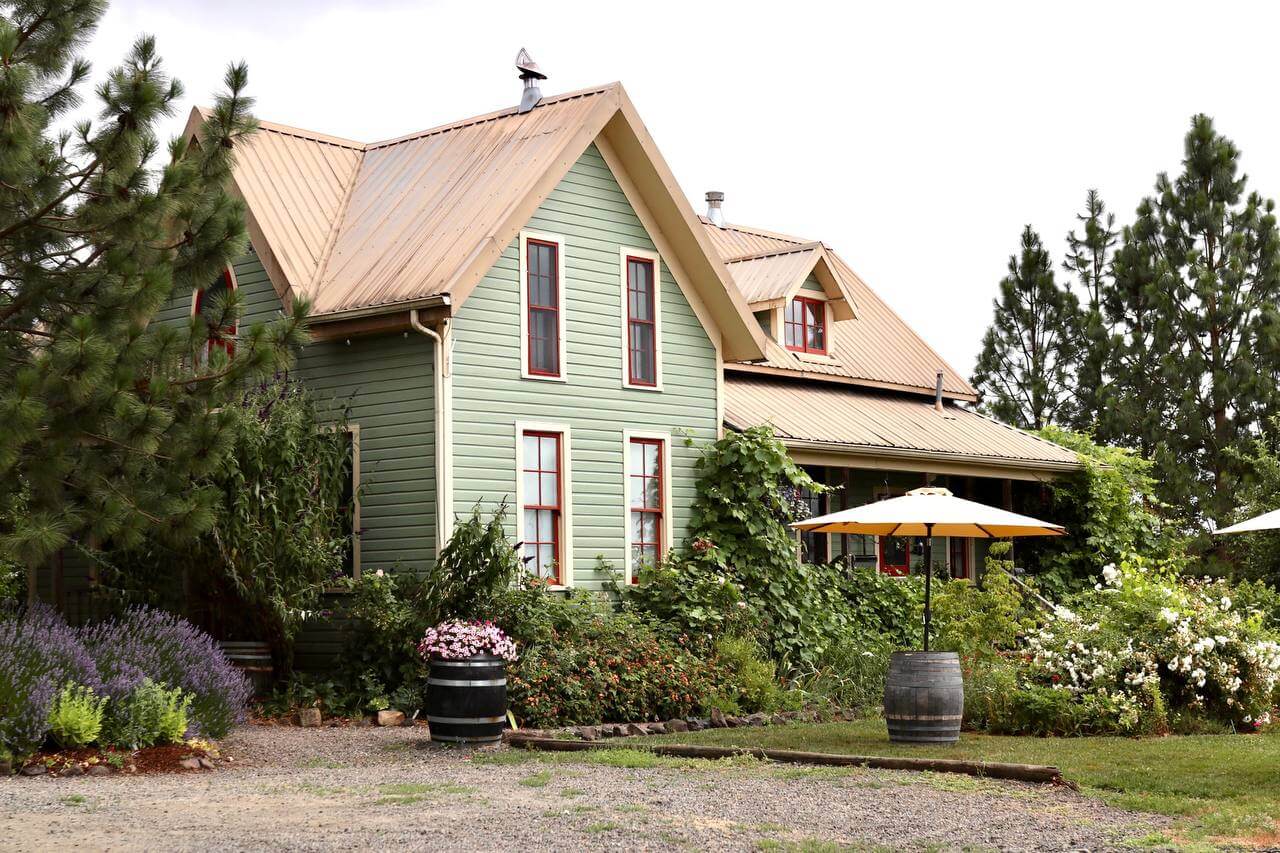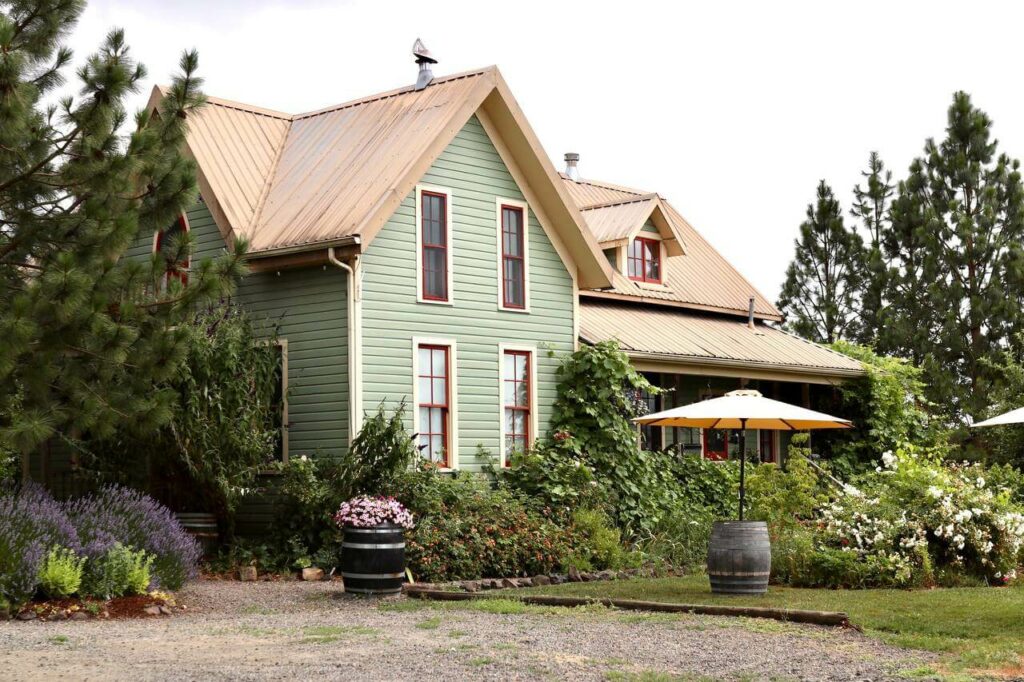 About Crowley House Flower Farm
I first met Beth a couple of years ago at the Homesteaders of America conference. Crowley House Flower Farm was a dream of Beth's that started about fifteen years ago.
She was raised among 12 kids and grew up growing, raising and eating food from their home. She had a strong desire to pass this way of living down to her own children, but they had been busy building multiple homes in the suburbs while Beth worked in the medical field.
After 18 years, Beth knew it was time for a change. She wanted to get back to the roots she was raised with and to be a stay-at-home mom.
This is how the Crowley House Flower Farm was born.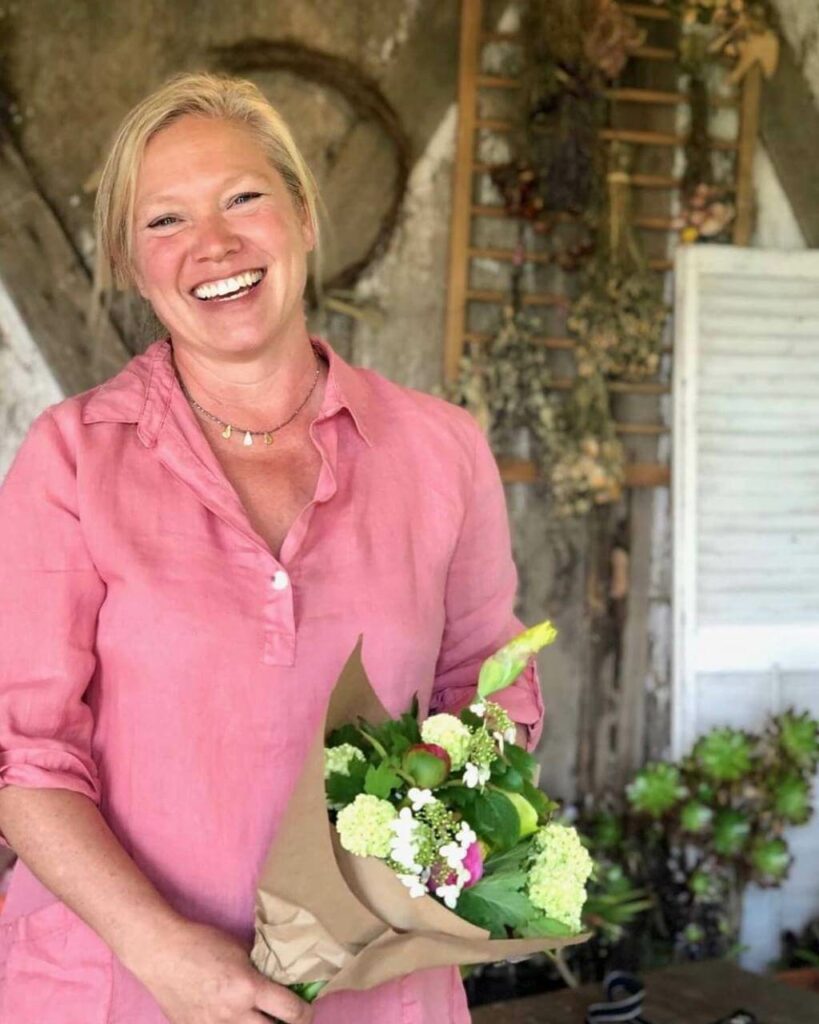 Beth and her family now sell flowers wholesale to Seattle, Portland and San Francisco markets as well as the local Ace Hardware. They also curate flower arrangements for large events and host a few select workshops throughout the year on their farm (more on this below!).
Beth likes to think of flowers kind of like the candy aisle at the grocery store. Just like a child sees a candy bar and wants to buy it, adults, when they walk past a beautiful bouquet in the market, want to toss it in their cart because it brings that immediate enjoyment.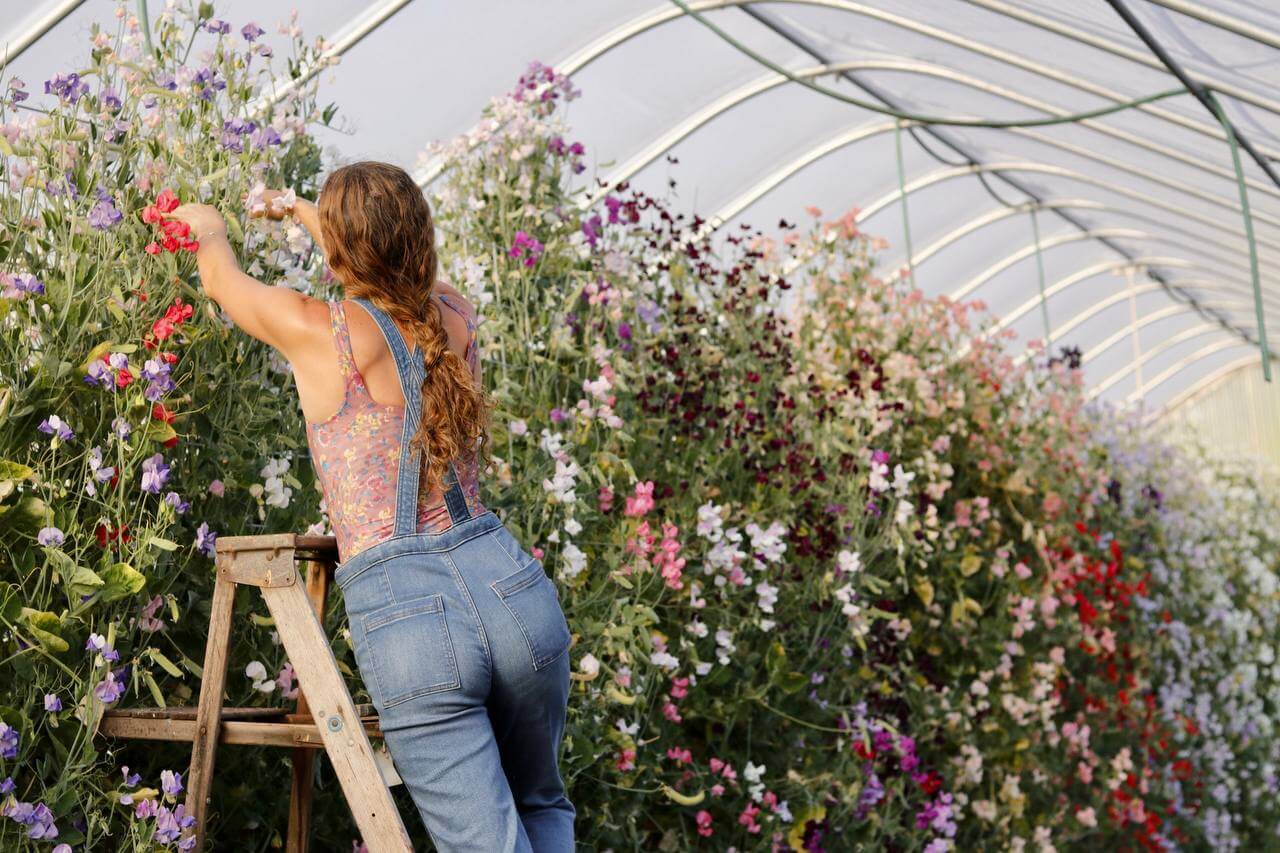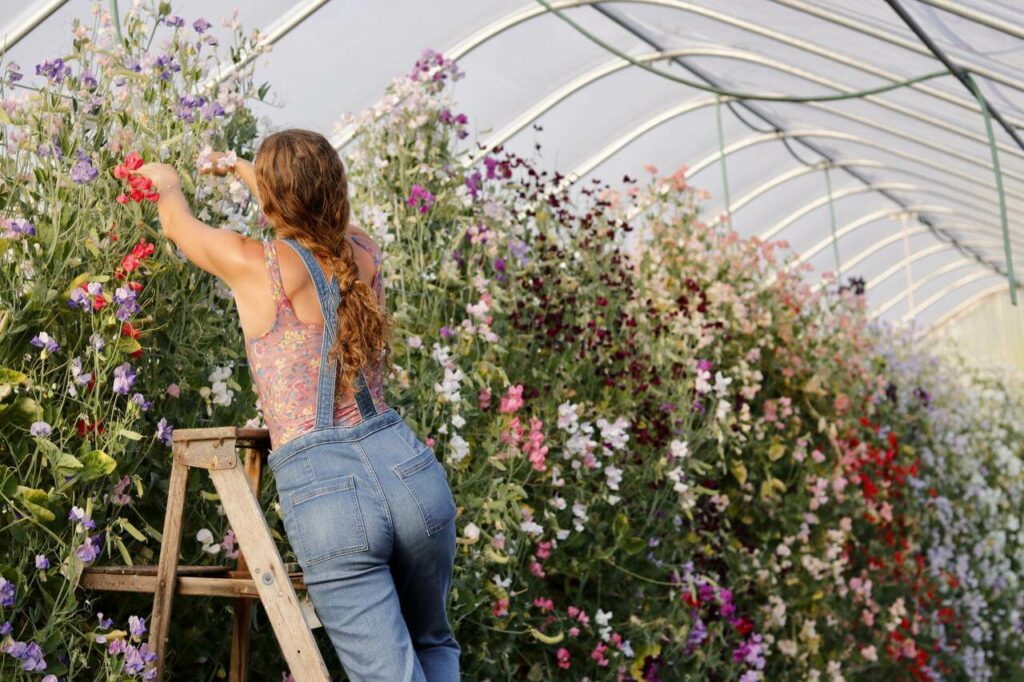 Why Grow Cut Flowers
You may be asking yourself why you should grow cut flowers. I was in the same boat for over a decade. Until as I mentioned before, I got into herbal medicine.
I was completely unaware of how much beauty is grown when growing herbs for medicine. Calendula, chamomile, echinacea, holy basil… there is so much beauty in those dual-purpose plants!
Not only that, but when you're growing these medicinal herbs, they're not the typical roses, tulips and daisies of many other flower farms. So the bouquets these flowers create are unique, wild and absolutely breathtaking.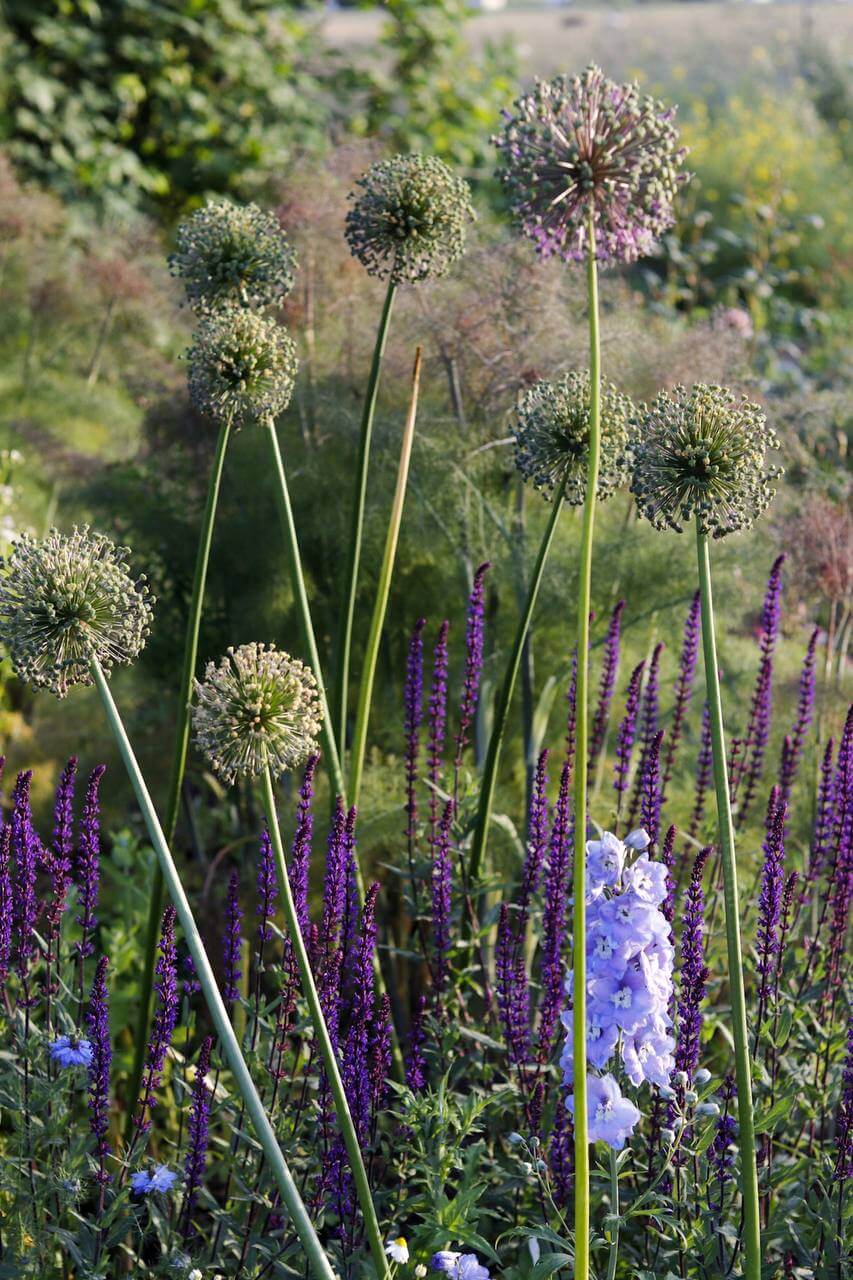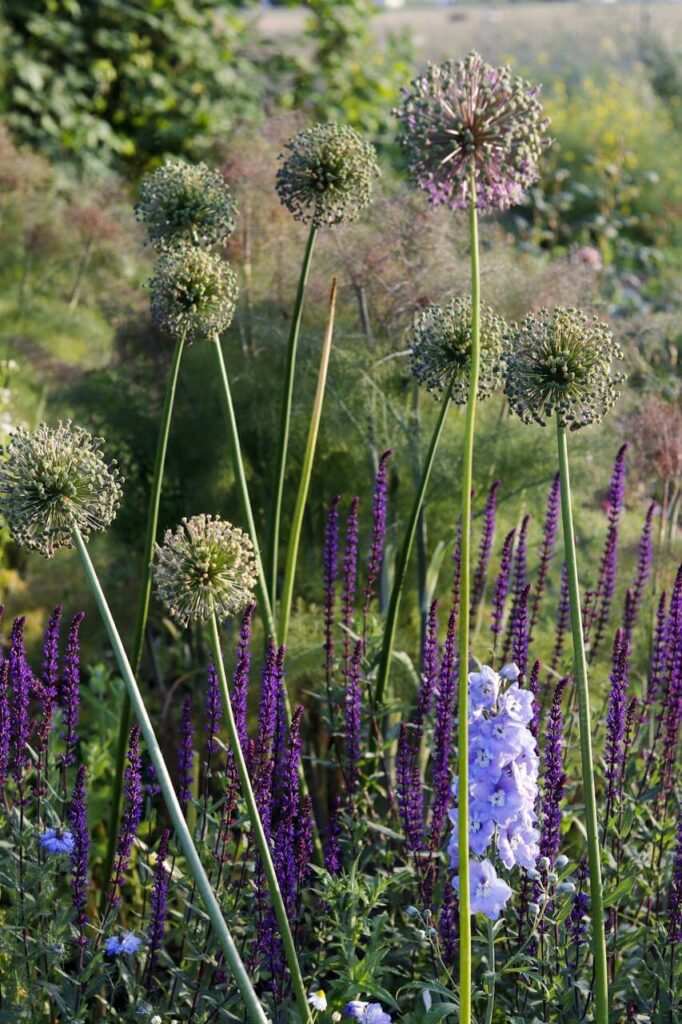 How to Get Started with Cut Flowers
If you're thinking about implementing some cut flowers into your gardens, you don't have to go from zero to 100 overnight (or in one growing season). Start by growing something that brings you the most enjoyment.
Or, if you're like me, start with something you want to be able to use in your medicine cabinet. For me, echinacea and roses were an easy starting place. I enjoy the beauty of both of these flowers and already had medicinal purposes in mind. Roses just keep on giving with their rosehips, too. (Learn about the medicinal benefits of rosehips here.)
Don't feel like you need a dedicated flower garden to get started. It's easy to add flowers into the nooks and crannies of your garden. You'll be amazed at how a few flowers can get tucked in here and there without taking up too much space.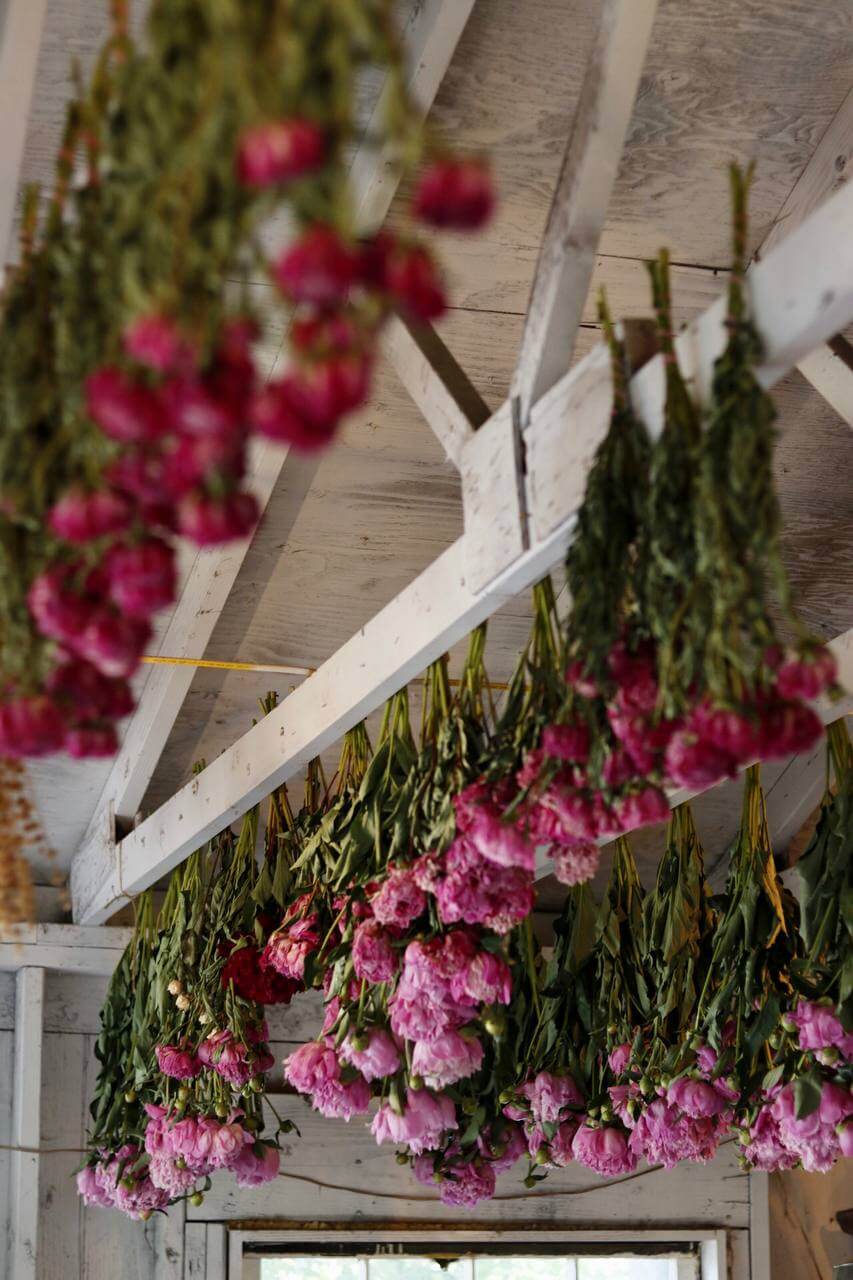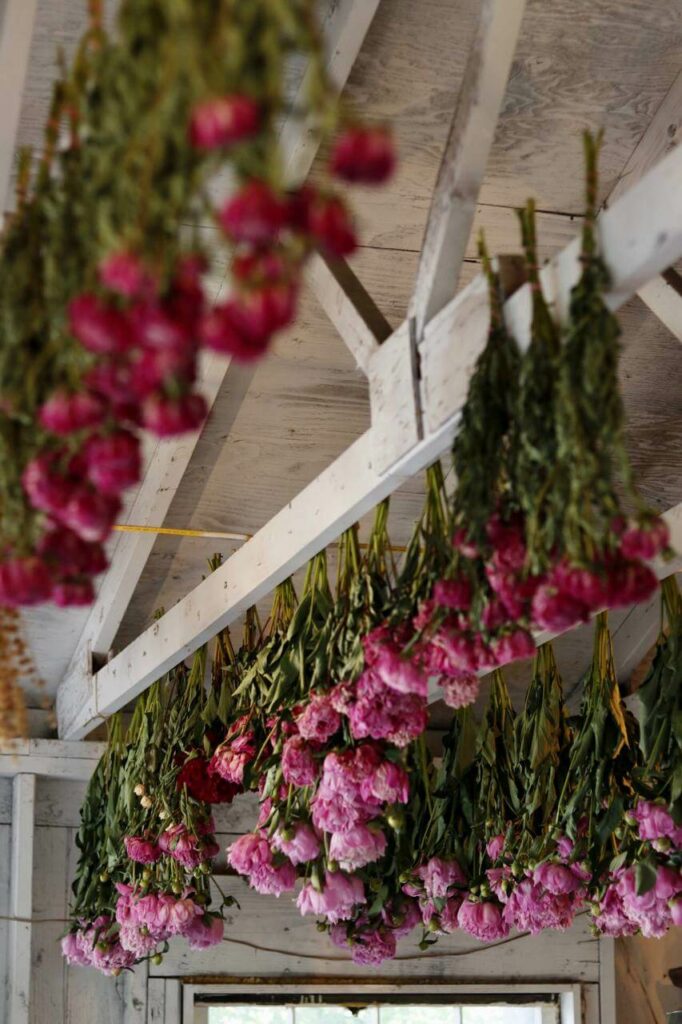 Plan Ahead
Beth gives some great advice when planning the flowers you want to grow. If you're looking to do this as a cut flower business, be sure to consider the seasons for when each variety will grow.
Choose a variety of cut flowers that will bloom throughout each of the seasons. There aren't many options in the dead of winter (unless you're utilizing a greenhouse) but you can get creative with native greenery as well.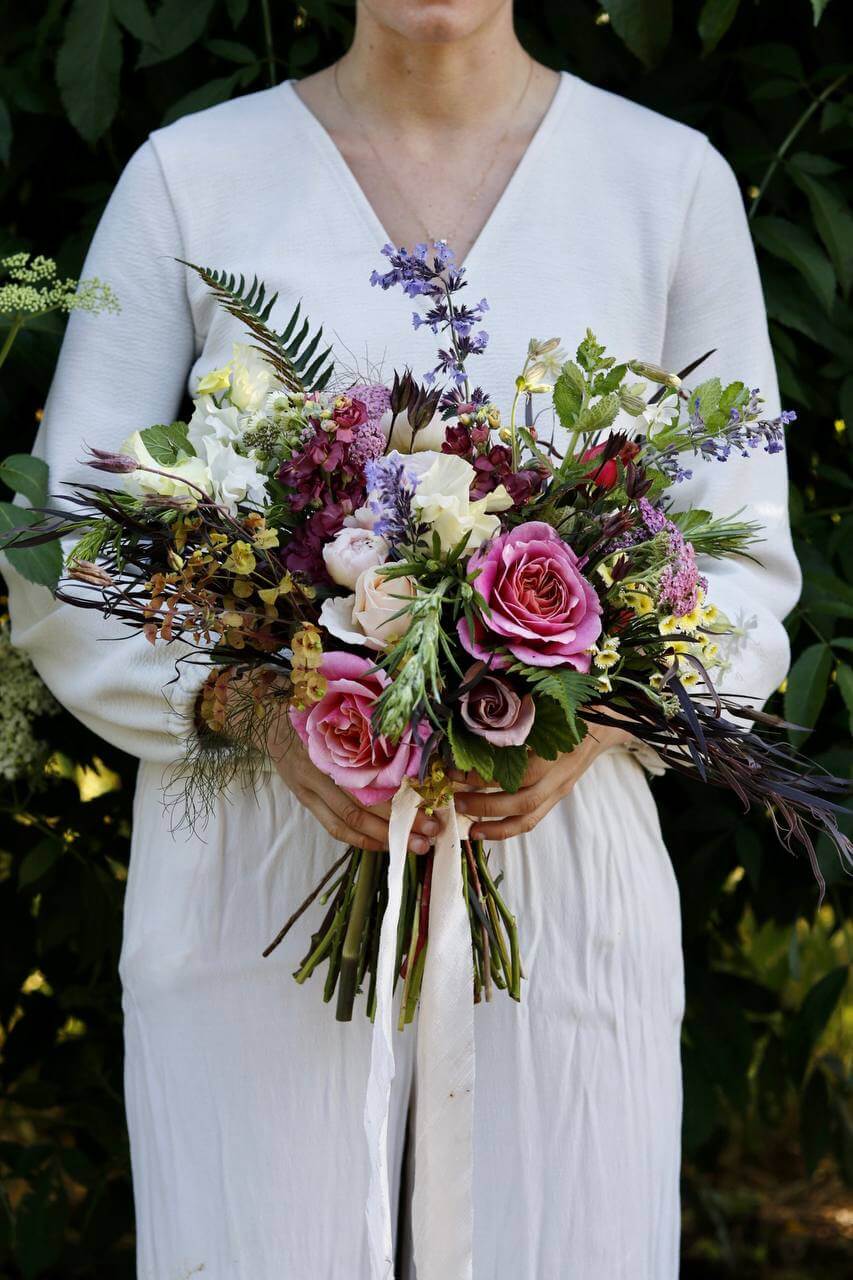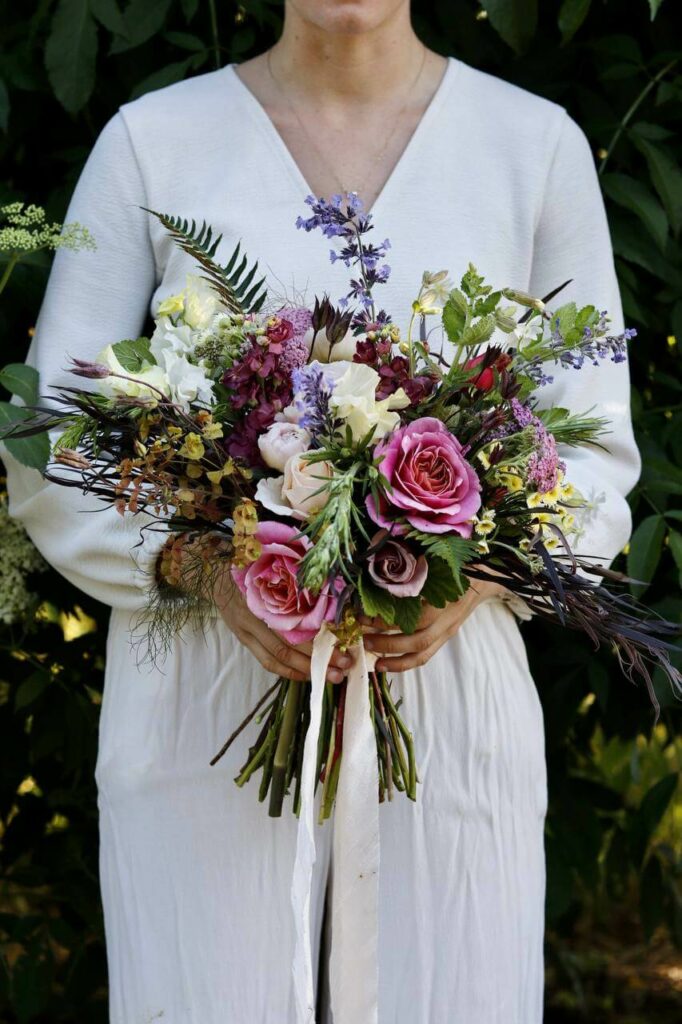 Think of the Bouquets
Consider the flowers that will complement each other, as well as which flowers will be in bloom at the same time. This will help you to plan out your planting season.
Beth does a lot of mixed bouquets (anywhere from 100-200 mixed bouquets a week, year-round!). It took her a while to figure out what to grow, when to plant, what flowers go well together and what types of flowers will last in a bouquet.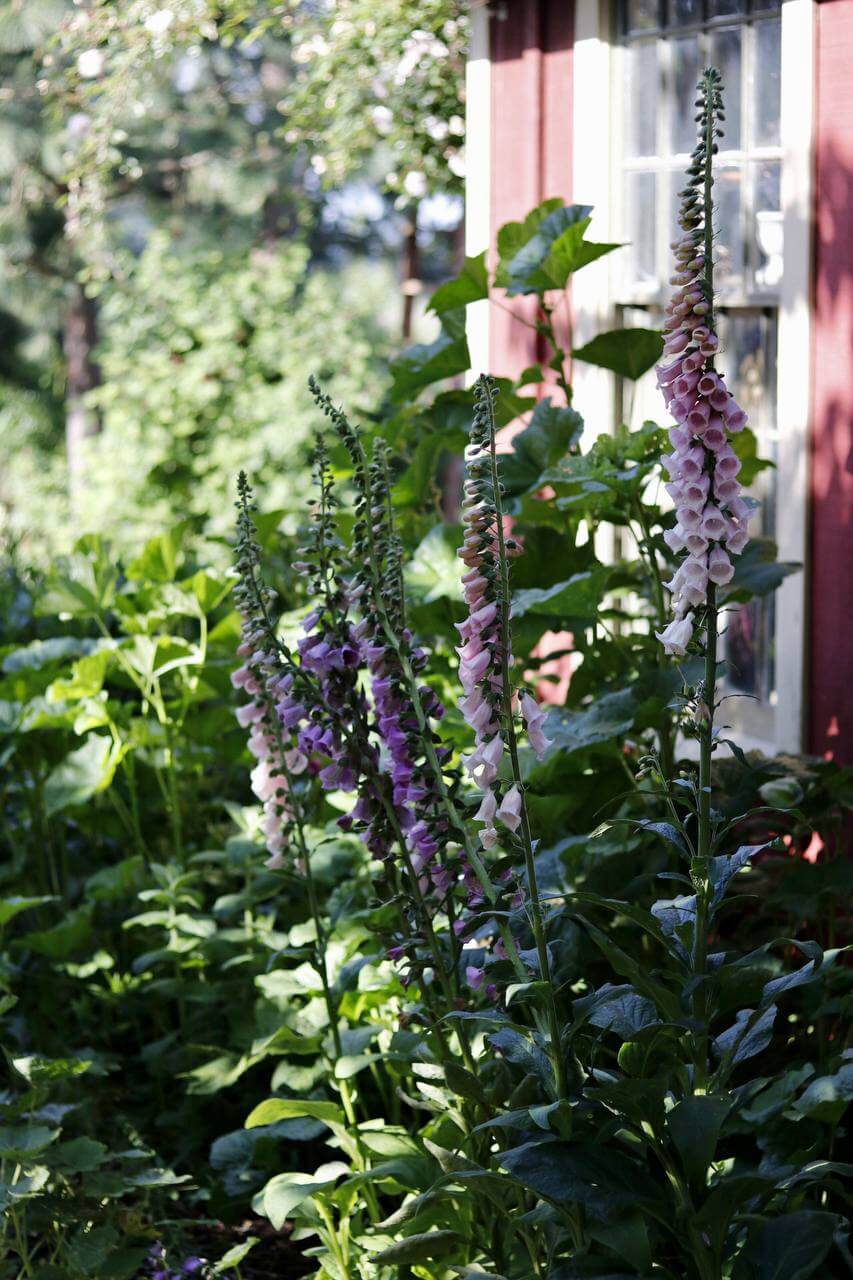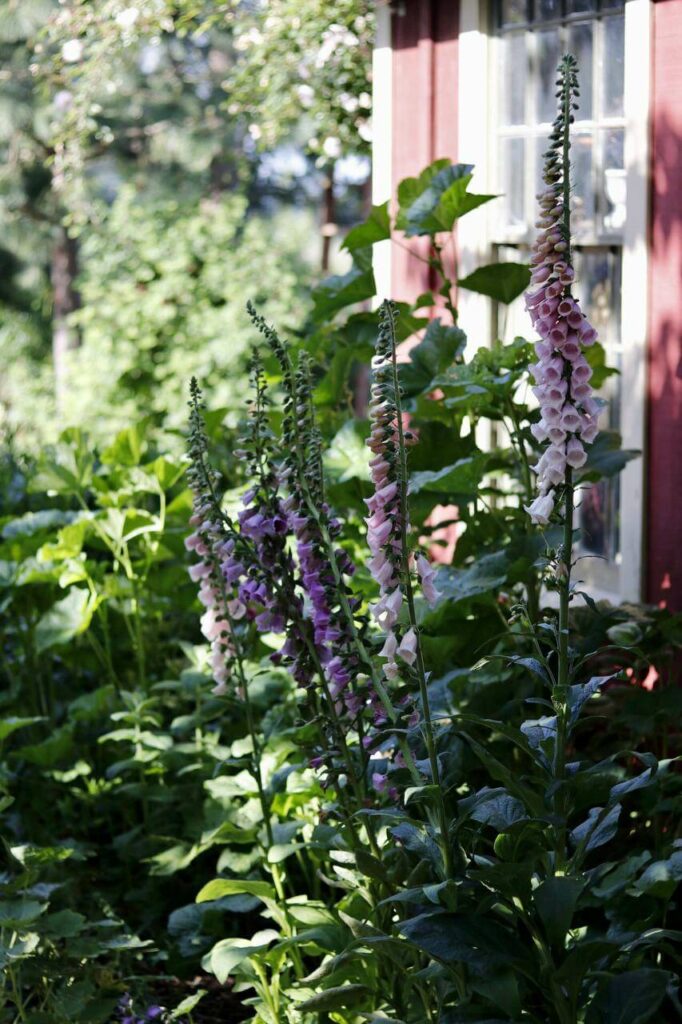 Cut-and-Come-Again Flowers
Get more rewards with less work by planting flowers that will regrow after being cut. Snapdragons, sweet peas, and marigolds are cut-and-come-again flowers, so they'll continue to give even after cutting.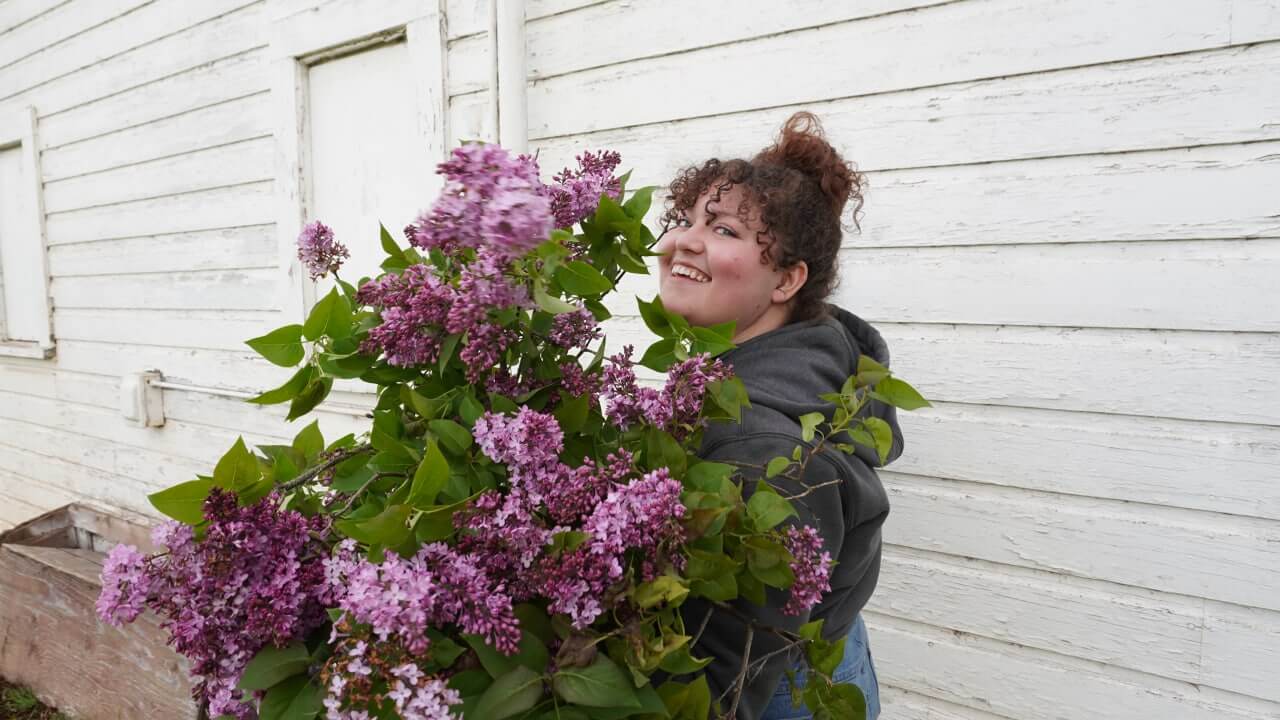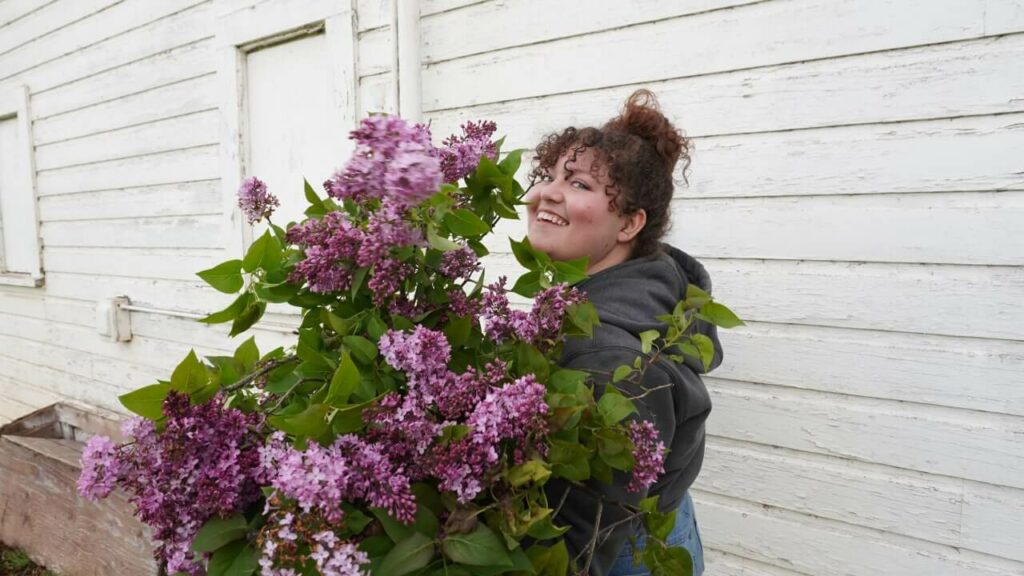 Plant Perennials
Growing some perennials that also work in a bouquet is a smart idea. Think outside the box! Beth grows thornless raspberries, blueberries and thornless blackberries to use as greenery in her bouquets. People love when they get a tiny cluster of berries on their bouquet as well.
You can also utilize apple whips (those suckers that grow off the bottom of your apple tree) and so many other creative items from around your home. They make a great filler in mixed bouquets.
Beth also utilizes herbs like mint, rosemary, calendula and bee balm to create very interesting bouquets that don't look like a traditional arrangements.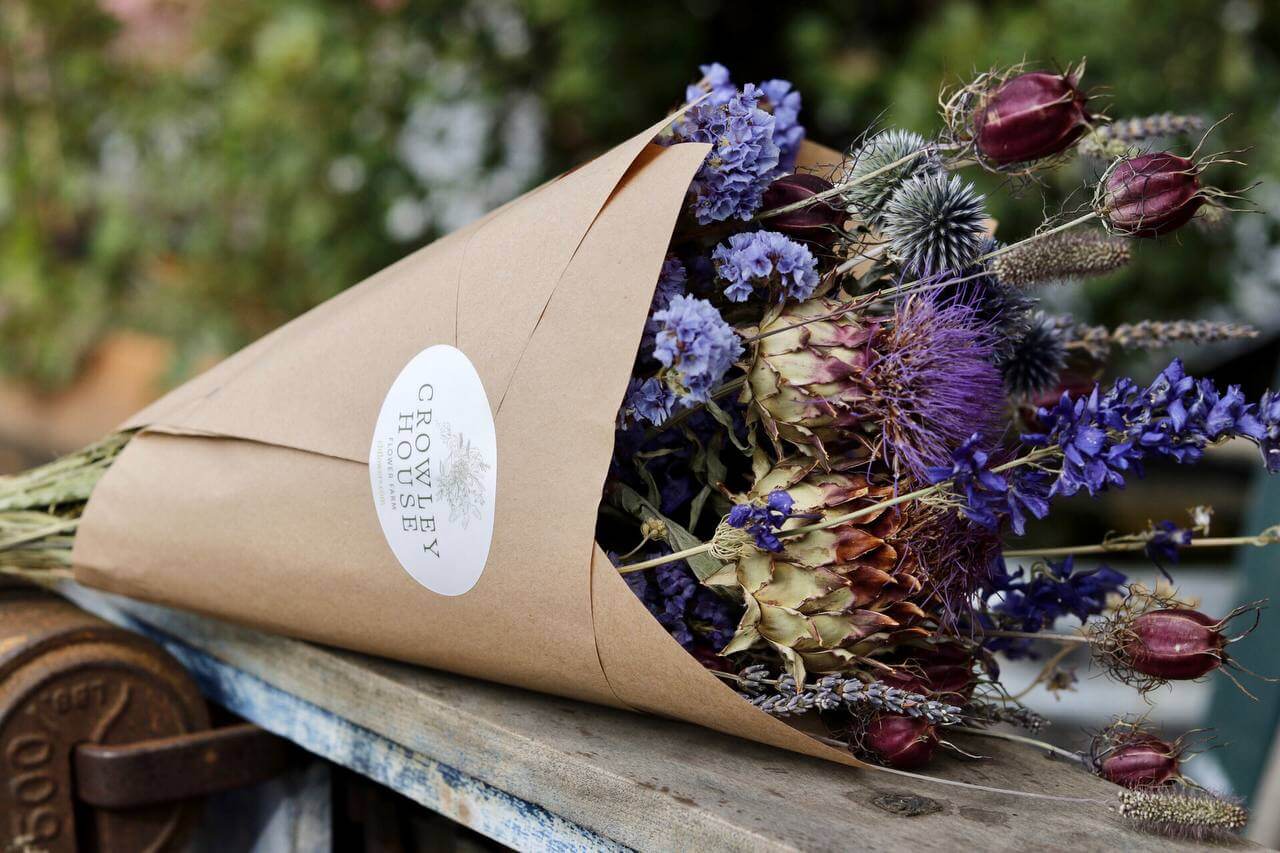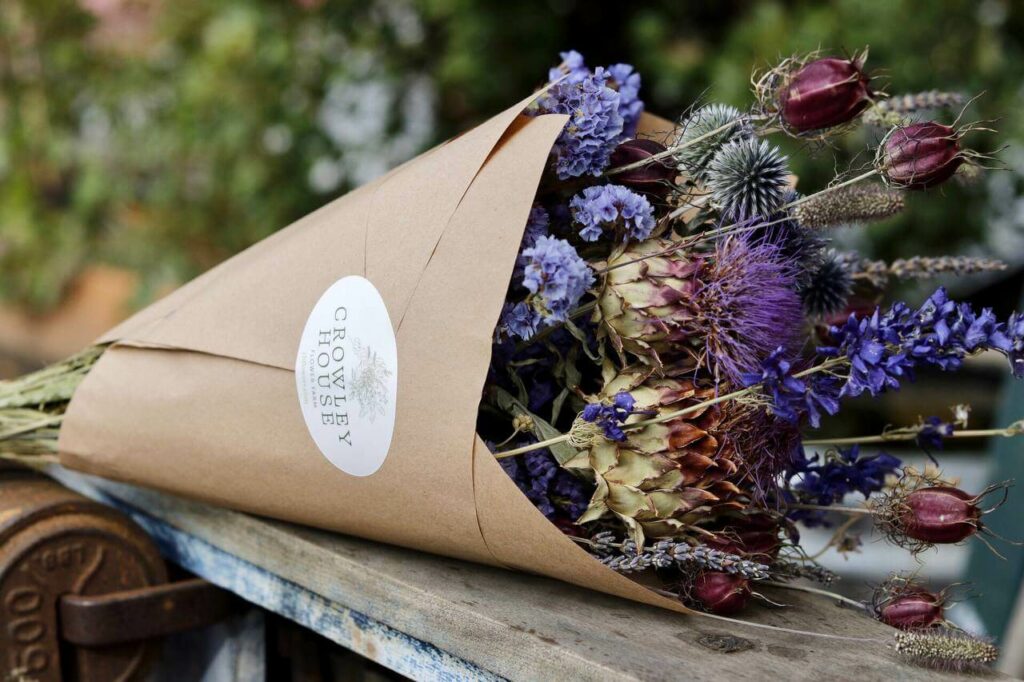 When to Cut Flowers for Bouquets
When you practice cutting, you'll quickly learn when to cut your flowers, when they're not open enough, when they're opened up too much, etc.
It's a lot like the produce at the grocery store. None of it was picked at pique ripeness, it has to be picked a little early in order to make it to you and not be over-ripe or rotten.
The same goes for cut flowers. If you cut them right on time, they'll be wilted by the time you get them to the store for resale. Too soon and they won't bloom and create a beautiful display.
This takes trial and error… and patience! Remember that note book? Take notes of everything!
Learn As You Grow
Beth's best advice is to plant a seed and watch to see what happens with it!
If you know anything about me, you know I'm huge on note-taking, so I'll be experimenting like this with our new cut flower garden.
Beth can't simply say, grow X, Y, and Z flowers because they may not grow well in your region. You have to do the research. But this is the fun part!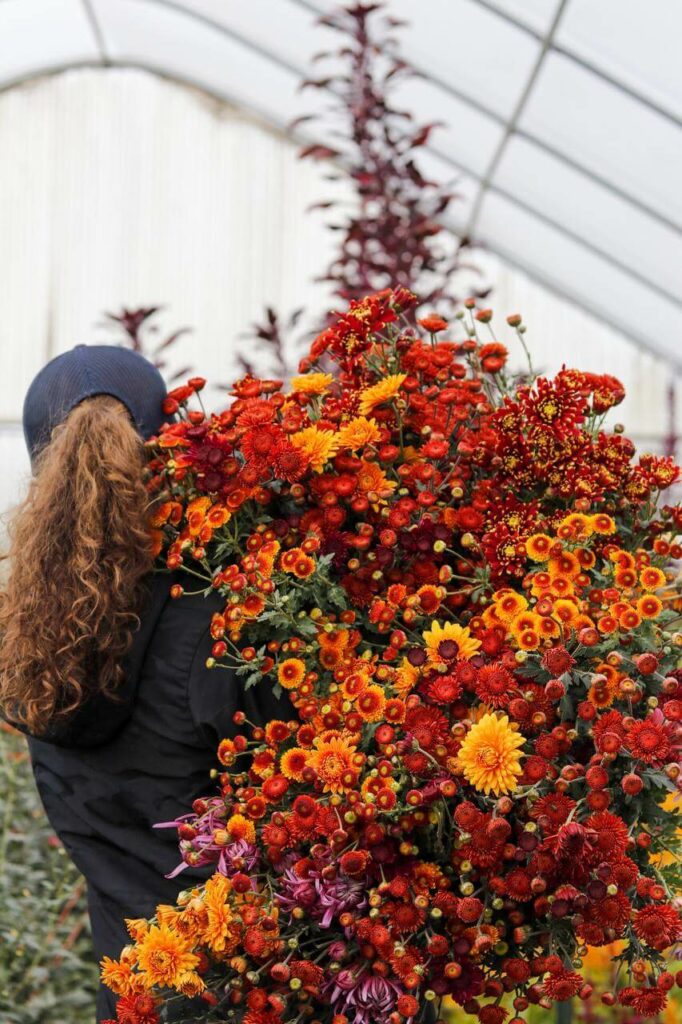 Growing Flowers Year-Round
I asked Beth how she's growing flowers year-round to be able to sell mixed bouquets all year long. Her answer surprised me! Though she does use a greenhouse that's 3000 square feet (double-walled and unheated), she also creates textured bouquets with very few flowers.
Beth uses things like holly, evergreen branches, woodland fern, mossy branches and will pair them with dried flowers if she doesn't have any fresh flowers growing.
There's no reason you can't be selling year-round, too.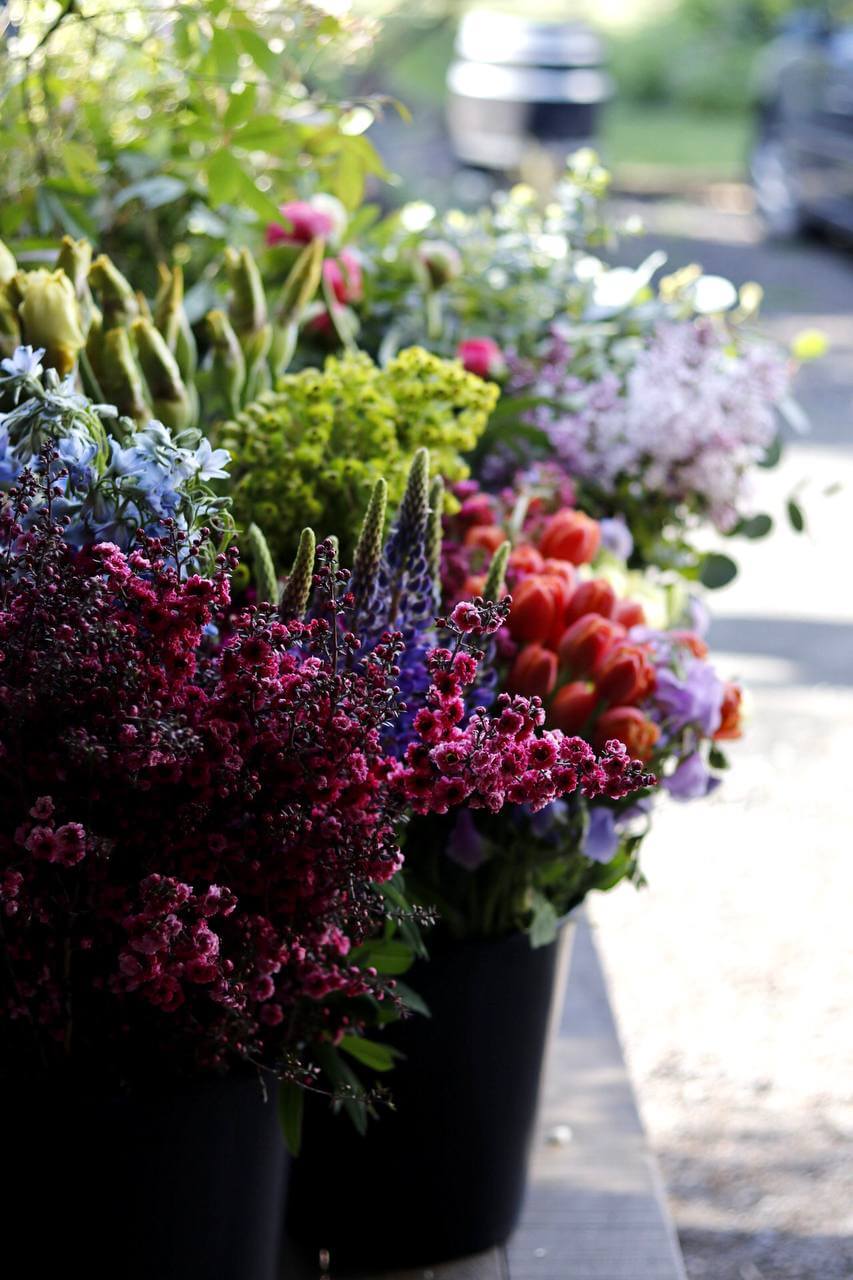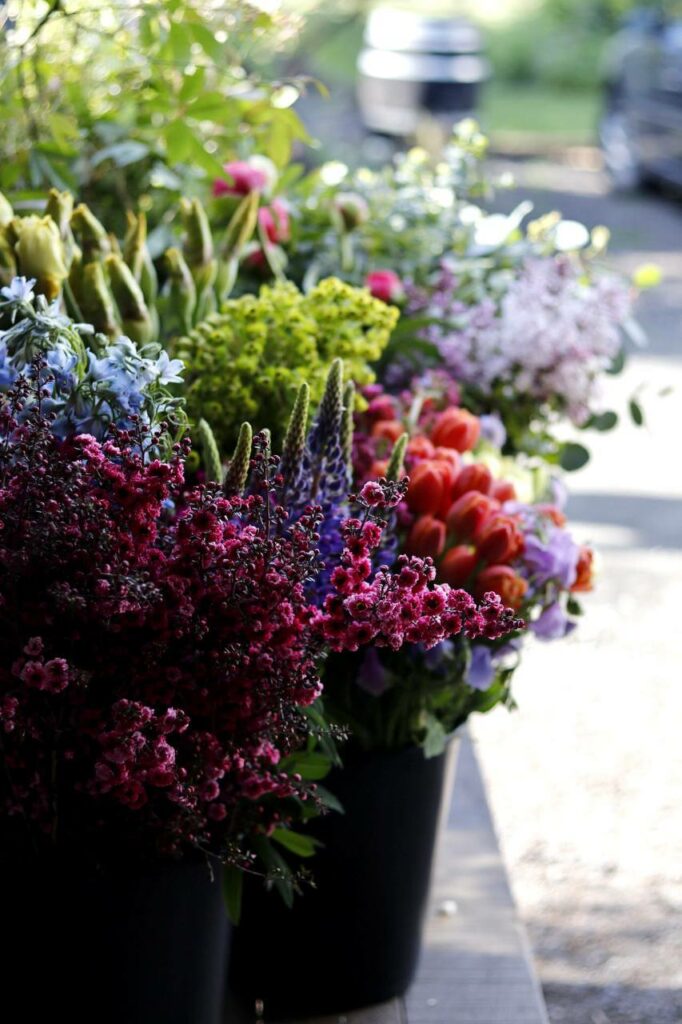 Selling Flowers to Stores
Depending on where you live, it may be more or less difficult to get your cut flower arrangements into stores. Beth has some great ideas when it comes to this.
How to Approach Stores to Sell Cut Flowers
When Beth first got started she talked to everyone. At the checkout line in the grocery store, if anyone asked what she did she would share with enthusiasm.
When she got together with friends, or went to a coffee shop, she'd share what she does, what her vision is, and what she could offer.
Oftentimes she would bring in a sample of her work to show the owner of the store, or leave with a clerk to give to the manager.
But you don't have to be selling to large markets to make a living. Is there a farmstand nearby? See if you can drop off a few bouquets each week and see how they sell.
After a while, you may find there are enough locals to help support your hobby farm.
The options are virtually endless.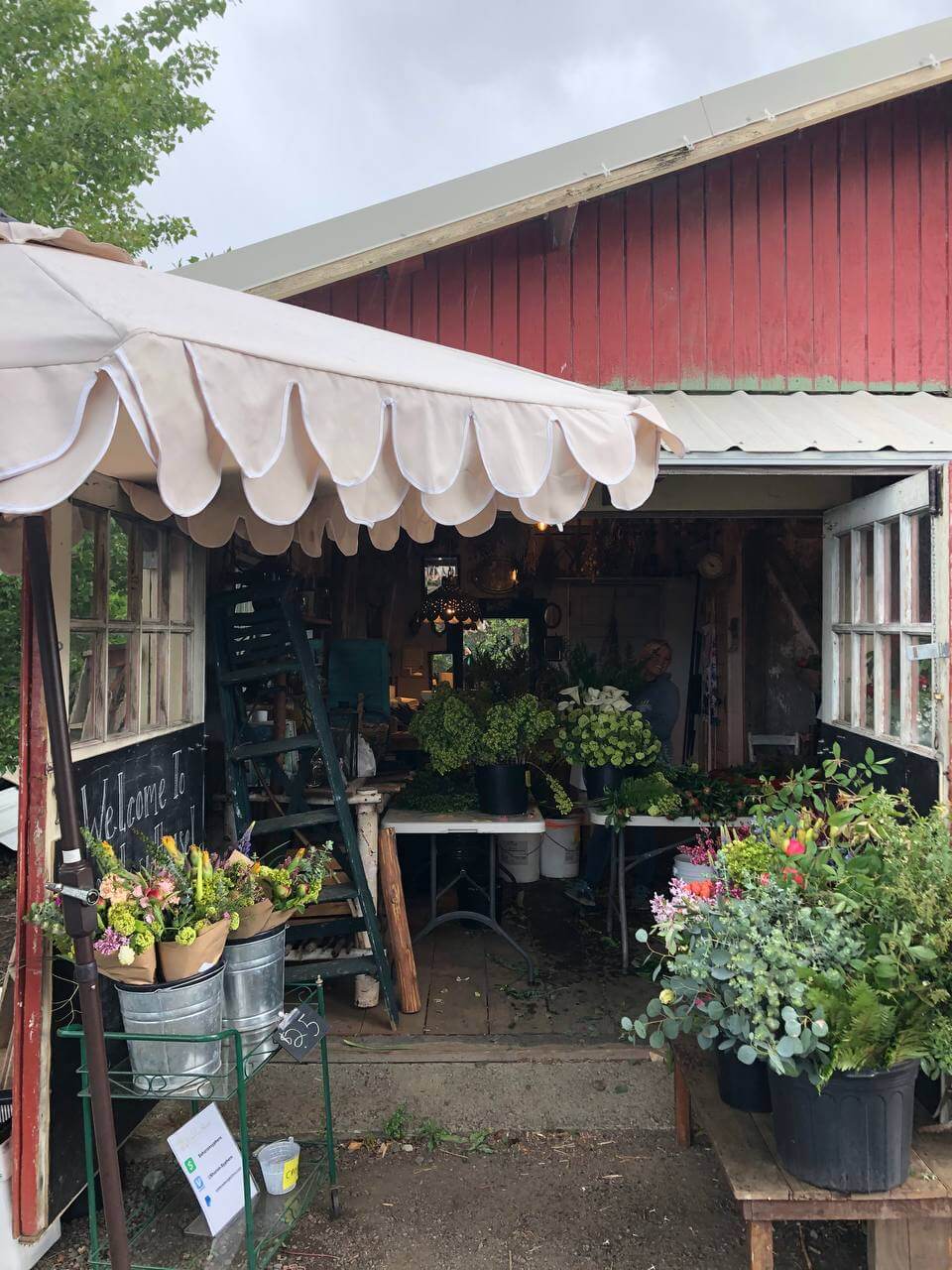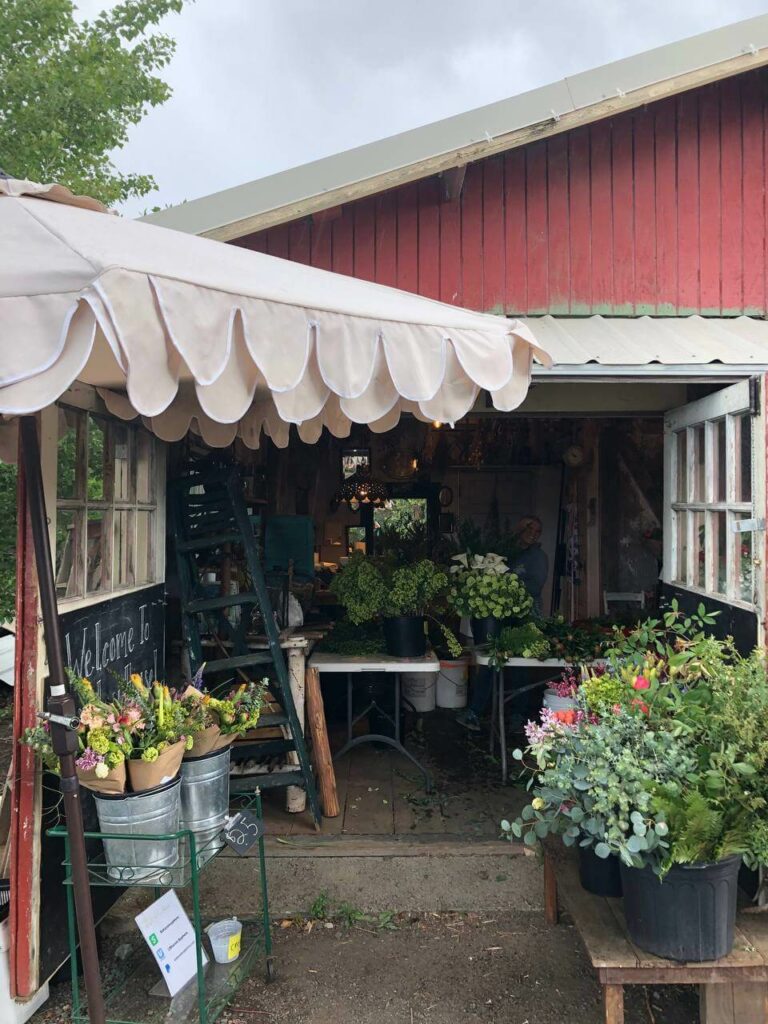 Pricing for Cut Flowers
When you see a traditional cut flower arrangement sold at a store for $20, they're usually selling at a 50% markup rate. This means if a store is going to sell your flower arrangements for $20, you'll be getting $10 for each bouquet.
If you're not sure, ask the retailer what they're looking for. It's good to know your audience before making a large investment in either time or resources.
Beth mentioned that the Ace Hardware she sells to has a price point between $15-25 dollars per bouquet. She knows she needs to create bouquets that cost her $7.50-12.50 to make.
If this is too steep for your area, you could also offer small bundles of about three flowers with a little greenery wrapped in cute paper to sell for $10 ($5 wholesale).
Think outside the box of what you typically see at a florist or in the grocery store.
Usually, if you're offering something unique, it will catch people's attention.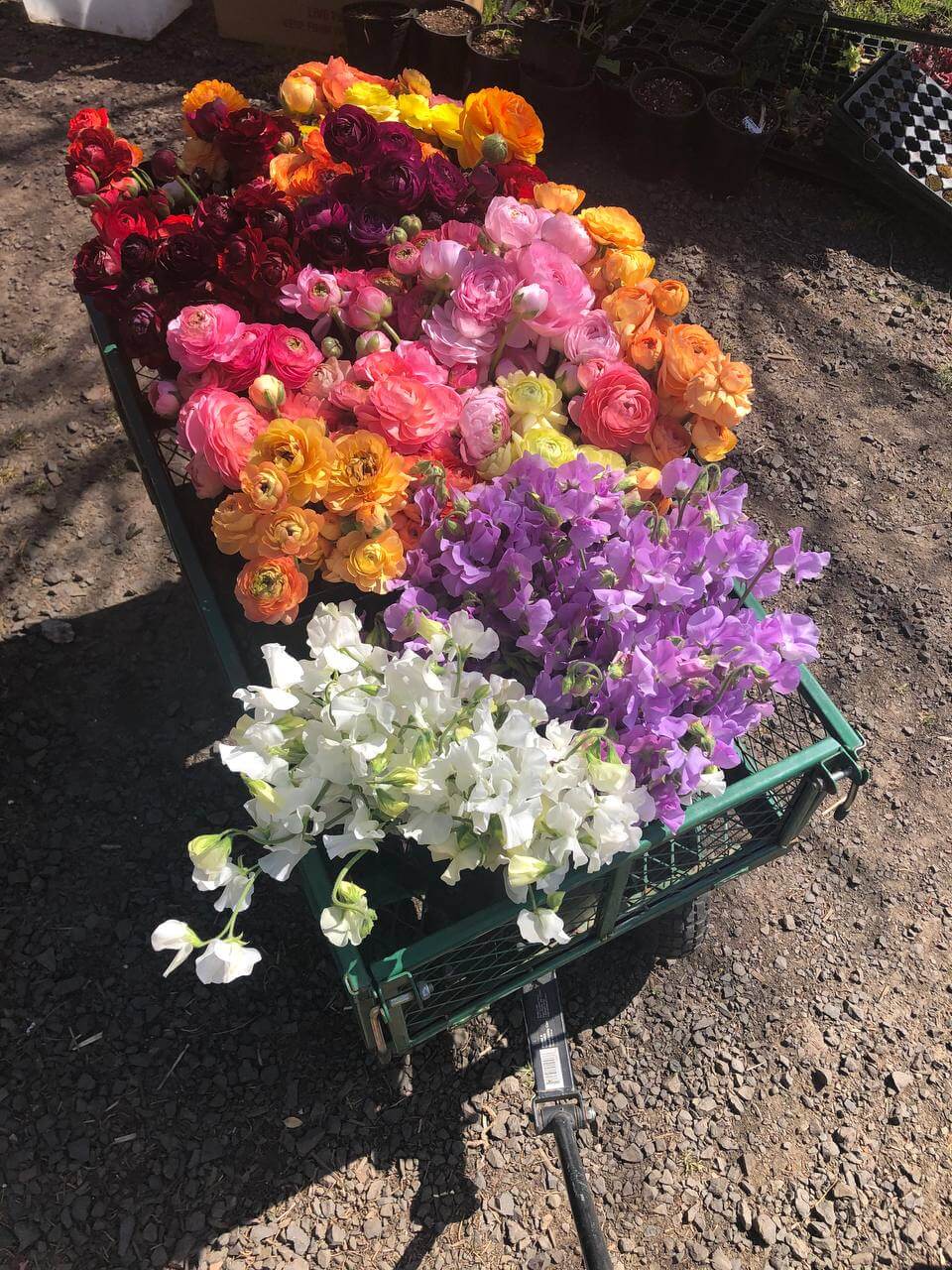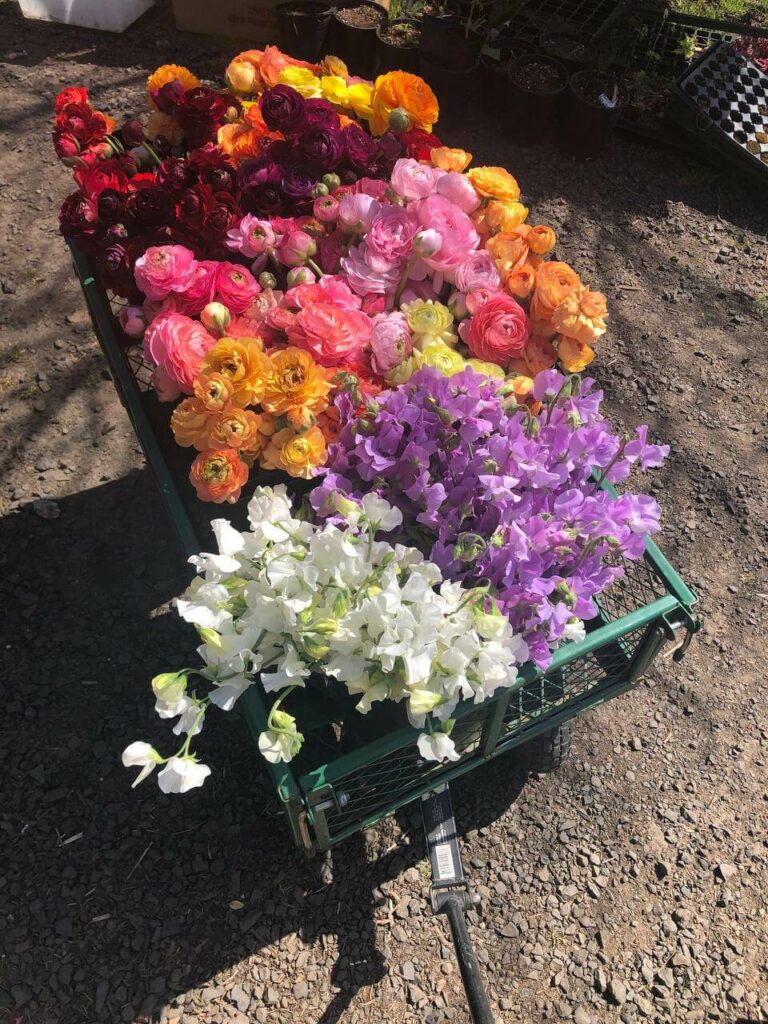 Know Your Volume
To make selling cut flowers a business, it's a volume game. A lot of time, these retailers will expect product each week and you need to be sure you can deliver.
Beth says don't over-commit yourself, but usually, if you can offer items in volume, this is where the real money will start to come in as a business.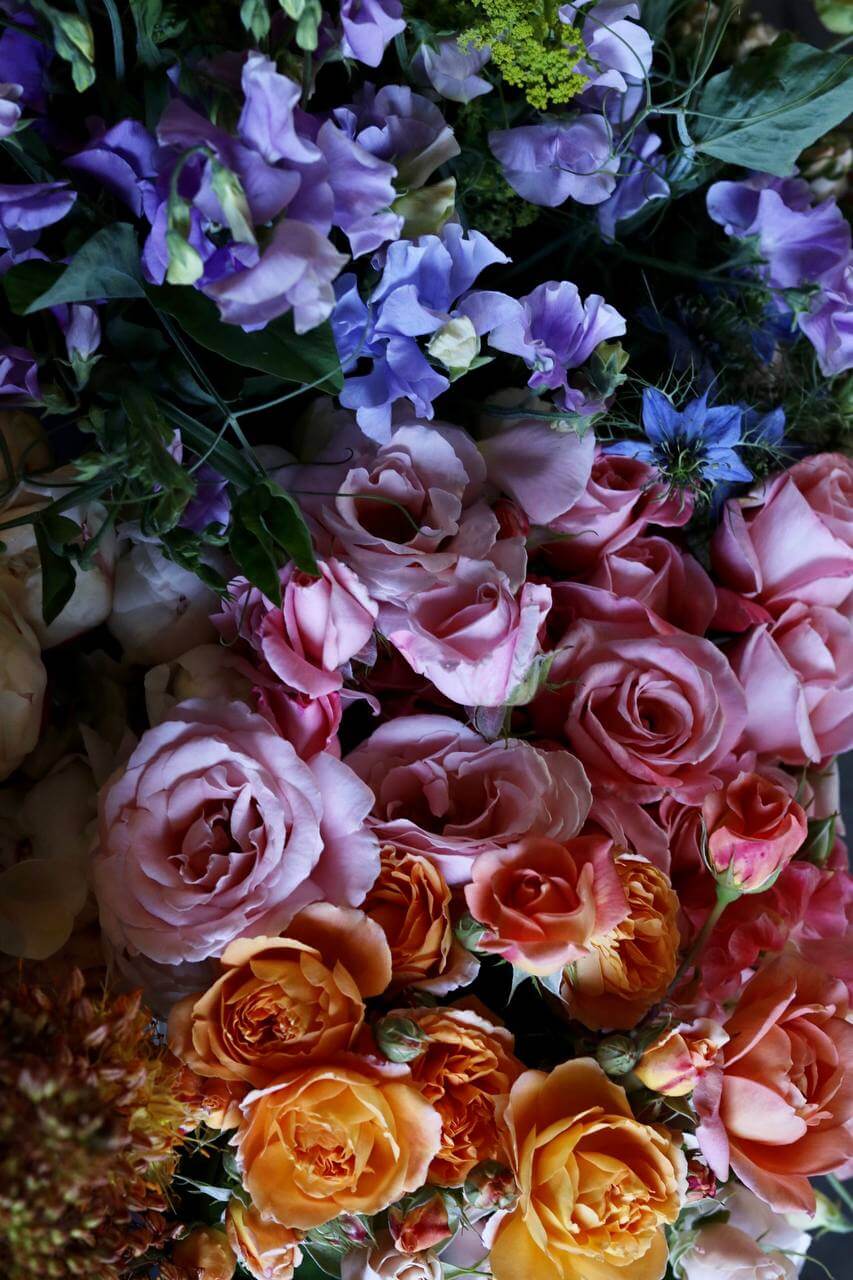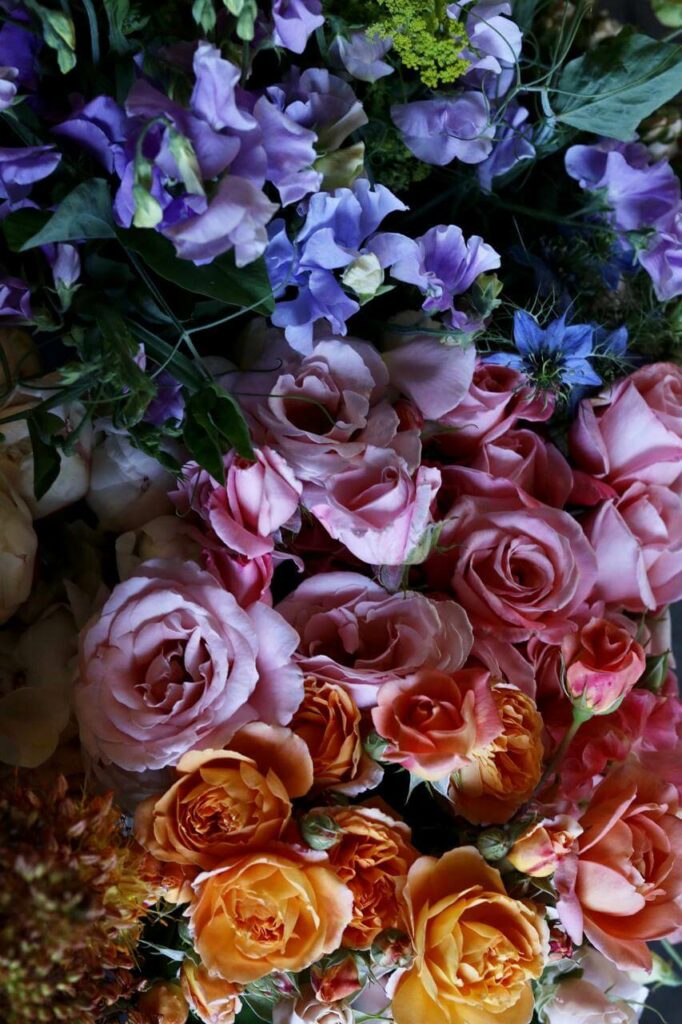 Utilize Social Media
People go crazy for photos of cut flower arrangements! Check out Crowley House on Instagram for some inspiration.
Then, start photographing your arrangements and get yourself an Instagram account!
That's just one great way to get the word out about your products.
I hope this podcast has inspired you as much as it has me to grow your own flowers. Whether for enjoyment or to earn a little extra income, I don't think any of us will regret growing flowers.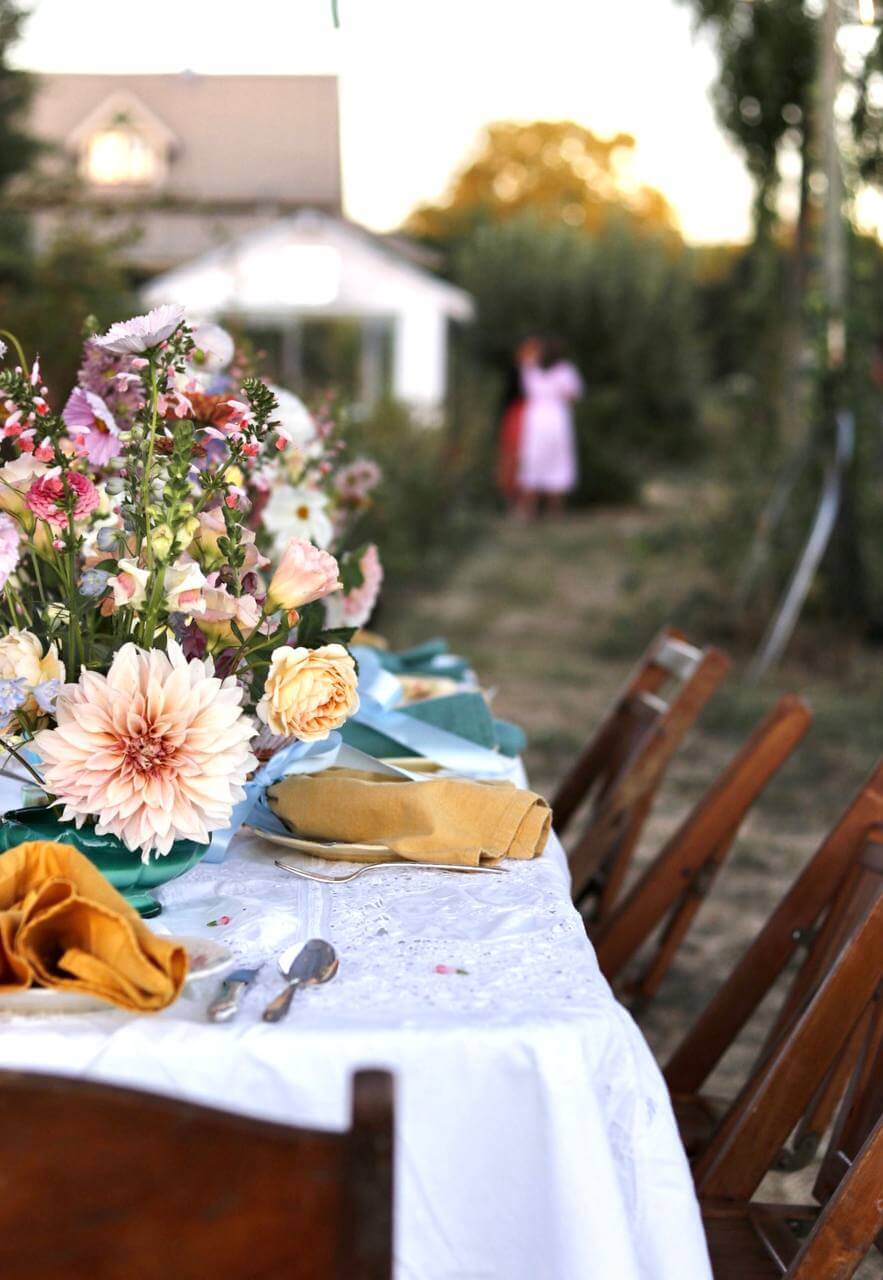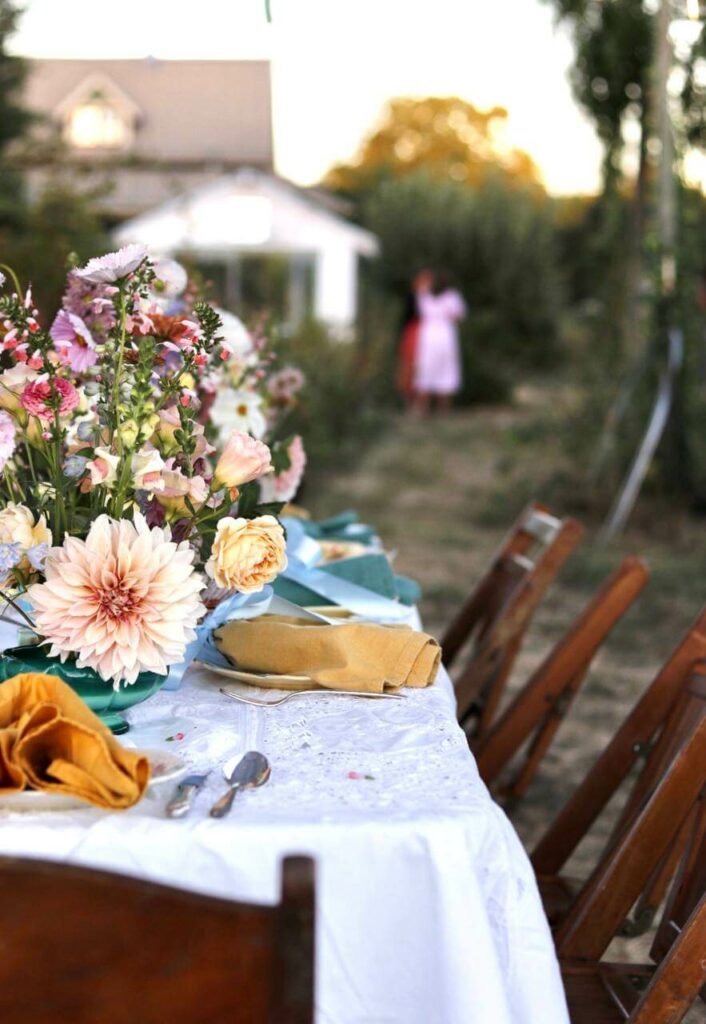 Where to Find Crowley House
If you'd like to connect with Beth or other members of the Crowley House Flower Farm, you can find them at the Crowley House Flower Farm website or listen to their podcast, "A Blooming Good Time Podcast." You can also find them on social media at A Blooming Good Time on Instagram or Crowley House Flower Farm & Studio on Facebook.
Verse of the Week: Luke 12:27
Melissa: Hey, pioneers. Welcome to episode number 365. Today's episode, we are going to be talking about the one thing you didn't know your homestead needed. Or to be fair, I should say you likely didn't know that your homestead needed. Specifically, we are going to be talking about cut flowers. Now, hold up because I know a lot of you might be thinking, "Well, I already grow some flowers on the homestead." And/or you might be thinking, "I don't really need cut flowers, Melissa. I am focusing on food production here." But stay with me because I for a number of years, decades honestly, did not bring flowers on the homestead. We had a few little beds of a couple odd and end rose bushes, hydrangea, but I didn't put a lot of time or effort into growing any flowers. It was just if it was some perennials and they came up and came back every year and flourished, great. If they didn't, they just ended up dying a slow death and then I would rip them out when they wouldn't grow anymore.
Then I started developing my study into herbalism and a lot of your medicinal herbs can be flowers or do flower, and that really started opening up my eyes to a lot more space that we had on the homestead and to looking at doing things beyond just the value of vegetables and how flowers could really enhance a lot of my vegetables when it came to companion planting. Then last year we ended up putting in the front section of our yard an entire new bed that was a combination of medicinal herbal flowers, but it also incorporated flowers merely for their beauty. Of course, they're going to be pollinator friendly anytime you're putting flowers in. And I have to say it has become one of my favorite spots and things on the homestead.
Now, beyond just the joy factor, which we're going to be getting into in this episode, however, is there is a way that you can actually supplement the money coming from your homestead in a really big way with cut flowers that I'm willing to bet the majority of you are not aware of or haven't considered. But it absolutely is that one thing that you didn't know that your homestead needed.
Today's episode, I actually brought in a guest because this is something that we are looking to enlarge and do more of on the new farmstead where we have the farm stay. I wanted to talk to somebody with a lot of experience and you guys, this episode ended up having so much information in it and I am so excited to share it with you.
Speaking of sharing good things with you, today's podcast episode is sponsored by Azure Standard. Azure Standard is a website that you go to and you place an order. Now, depending upon where you're at, you may be getting an order once a month or you may be getting it weekly depending upon whenever you wish to order. There is no hidden signup fee, it's not a club that you have to order stuff every so often. But the great thing about it is Azure Standard partners with a lot of other small farms. I can always be assured that any product I find there is something that meets my high standards and usually is products that I cannot find in our regular local grocery stores.
They also partner with small farms as well as have their own farm in Oregon and they are certified organic. But sometimes you can be certified organic and then you can take things to a level that I like to say is going better than or beyond or higher standards than even what you would have in typical organic certification. That is definitely something that Azure Farms looks at and implements on their farms.
One of the areas that I can't grow a lot of here in our climate, and probably a lot of you are in the same boat, is spices. Specifically things like cinnamon and nutmeg that as we move into the fall and holiday baking months, I happen to use a lot of them. Cinnamon, specifically Ceylon cinnamon. Now there's two kinds of cinnamons and usually if you're just going to the regular grocery store, you are going to be getting the cassia cinnamon. It's a lot stronger flavored, can be a little bit bitter, but if you've ever looked into baking or culinary type things, you probably have seen Ceylon cinnamon and you may have wondered, "Well, what is the difference besides the price?" because Ceylon cinnamon is usually more expensive than the cassia cinnamon.
However, Ceylon cinnamon is actually true cinnamon and it is a sweeter, higher quality, little bit more complex flavors. One of the big things, especially if you are using it therapeutically or medicinally, is you want to make sure that you are using Ceylon cinnamon. That is because the cassia cinnamon contains a compound called coumarin. It's a naturally occurring compound, however, in high doses it can be toxic to the liver. Now, most of us, I grew up, all we ever used was cassia cinnamon and that's what I bought probably for the first at least 10 years of when I was a newlywed and then a younger married person and cooking from home. I had no idea that there was anything other than that. I just thought all cinnamon was cinnamon. I'm saying that in case you have cassia cinnamon, do not panic if you're just using it to flavor your foods, you are probably just fine.
However, after learning the difference, I only stock Ceylon cinnamon now in our home. And you can get it in both sticks, which is what I like to use. I like to have the cinnamon sticks if I'm going to be simmering and making a spiced drink, or if I am making a chai, for example, or hot apple cider, different things like that. I really like to have the cinnamon sticks and around the holidays they're even cute and fun to make and put in little different arrangements or just to create a simmering pot where I will throw some pine in, one of the sticks in some water and put it on top of our wood stove to just naturally scent the air. But you can also get it in powdered form. I also have the powdered form and I use that of course in all of my baking, grandma's pumpkin roll, pumpkin cake, apple pie, all the delicious things. Cinnamon rolls of course, that we tend to make more around the holidays.
Good news, you can get 10% off as a new customer, your first $50 minimum order from Azure Standard using coupon code Pioneering 10, that's Pioneering 10. You can get more details, access links, copy that coupon code at the blog post that accompanies today's episode, which you will find at melissaknorris.com/365, melissaknorris.com/365, because this is episode number 365. And you are definitely going to want to check out that blog post because we've got a lot of links from our guest today talking about the cut flowers.
Today's guest is Beth Crowley. Beth is the owner and founder of Crowley House Flowers. Let's get straight to today's episode.
Well, I am thrilled to welcome to the podcast, Beth. Beth, welcome to Pioneering Today.
Beth: Well, thank you. I'm so glad to be here with you today and chatting.
Melissa: Same. Well, and I first met you at the Home Centers of America's conference, and I was thinking, actually that was almost two years ago now, I think.
Beth: Yeah, I believe so. If my husband was here, he'd tell me exactly the date, and that's not me. That's not my personality. I'd be like, "Yeah, I met you it feels like a couple years ago." But yeah, I was at the Homestead of America conference and we just came and said hi to you because we're neighbors.
Melissa: Yeah, we are sister states, is how I always reference Oregon being here in Washington. As I obviously got to know you better and see what you guys are doing, I was very intrigued. In fact, I will just put this out there, but do not contact Beth because I'm the first person in line and I don't want to inundate her, but we are at the new farmstead place where we're going to be doing the farm stays. We want to put in some really beautiful landscaping and gardens and I also want to do a cut flower garden area, which is one of the reasons I'm having Beth on. We're going to be diving into that in depth here in a minute. But I reached out to her because I'm like, "It is a farm business, so is there anywhere that I could go to get that you recommend good stock at wholesale for dahlia tubers?"
She's like, "Well actually, how many do you want? Because I'm going to be separating out, you can get some from me." I'm like, "Sold, I will wait for that." But I don't want anybody else to because I know you don't operate as a wholesale flower business. But anyways, so I am thrilled to be having some of the Crowley House Flowers at the Norris farmstead hopefully next year. Which is just a great segue into telling everybody if they're not familiar with you, a little bit about your guys' homestead, your flower business, your story, and then we're going to dive right into the nitty gritty.
Beth: Okay. Well, Crowley House Flower Farm was this random dream of mine that started probably 15 years ago. Then the business end of things didn't really start until probably I'd say 11 or 12 years ago. We had built two homes in a neighborhood. I was raised on a farm, I came from a huge family. There's actually 12 kids in our family and I was one of the oldest, so we always were raised in that homesteading mindset, even though that's not what it was called. I think my parents were more or less like a hippie. They always grew the majority of our food. We had a plethora of vegetables, fruit trees. They knew how to use the landscape to provide for the family.
I wanted to do that for my family here at Crowley House. When we found Crowley House, it's an old 1870s gothic farmhouse, it was close to a school that I wanted my kids to go to, which was a K through 12, small little country school. I was determined to make it happen and also determined to be a stay at home mom. I worked in the medical field for 18 years and I really wanted to be home with my kids, so that's how the farm started. There was a lot of grit involved and going from a brand new home to an 1870s, my husband looked at me like, "What is your vision here?" The land was covered in weeds and yeah, that's how it started.
Melissa: Okay. I guess give us a little bit of context as to how your flower farm is now. Is that your sole income? Is it part of the income? A little bit of the evolution of your actual flower business.
Beth: When I first came to the farm, my goal was to be a stay at home mom. I ended up working just a couple days a week for a doctor that was close by and then I'd run home on lunch and I'd water my seedlings and I would work late at night. I did that for about two years and then that doctor decided to retire, which just forced me to do full-time farming. I had run into some people, and I think this is where if anybody's thinking about doing the whole flower farming business, you just have to talk to people. I don't know, I stepped out on these very scary ledges and just reached out to people that inspired me and just dropped an email and that's how I've gotten to where I'm at now.
The first person I reached out to was Diane, I obviously get her name wrong, but Szukovathy, she owns Jello Mold Farms there in Skagit County. She reached out to me and she says, "Hey, come up. We've got this flower farming convention thing." I had figured out people sold flowers from a little tiny book called The 50 Mile Bouquet, written by Deborah Prinzing, and she also lives in Washington. I reached out to her and now we're still very good friends. In fact, she owns a publishing company now, so I'm doing a book with her. That's how I got my foot in the door of wholesaling flowers. Then also me doing event design was my original idea for the farm. I thought I got to make some money somehow and that was a good way to do it.
We had done that growing up my whole life basically because we were on the farm and there was 12 kids in the family and we all had to make our own school money. If we wanted new things, or a car, anything like that, we stepped into like, "Hey, we could do some weddings and events." We would just harvest what was on the farm and put it together. Back then it wasn't the thing it is now. We always had that beautiful wildflower, very curated design, and so we got a name for ourselves. Most of my sisters still, and brothers actually, dabble in some sort of gardening or event design or something like that.
Melissa: That is awesome. I love your story there because I don't honestly meet many people who I have that in common with. Because when I was growing up, it was the same thing. I was a cheerleader in high school, I'll just put that out there and if I wanted to go to cheer camp, I had to go and raise the money to do it. That wasn't anything that my parents could afford to help pay for. Even school clothes, my dad gave me $100 dollars a year and that was to buy everything clothing-wise that I needed. I mean, that's shoes, coats under garment, everything. Yes, this was back in the late '90s, so prices are more now, but not that much. One hundred dollars didn't really go that far, so I really learned how to shop from clearance racks and go to thrift stores and put things together.
A different curating skill we may say, but at the same time. I mean, and that even included my cheerleading shoes, that type of stuff. So same as you, I always worked and figured out ways to earn money, including buying my first car, gas, oil changes, all of those things I had to do myself.
I love that you and your family actually did an event business and then parts of that are still in most of your guys' lives. That's actually a really cool, I guess, testament to our parents, even though at the time sometimes I didn't appreciate it quite as much.
Beth: Right, right. We never do until we get older, really. I attribute it to it and even now us girls get together and if I have a big event that we're doing, I flew my sister in, she has a farm and an event design business out in Ontario, Canada. I flew her out last summer I think it was, I had three big events in a row and tickets were $400 bucks. I'm like, "Okay, come see me," and it was just really fun to have her and so she helped me out.
Even my sisters that are here, we'll all gather and do design work together and I attribute it to back in the old days, they'd gather around a quilt and they would make this quilt. And the conversations are so intense and deep and beautiful, that flowers can do that. Now I offer that with classes on the farm where we'll do private classes or something like that. You see that same kind of relationship develop with the people that are there, whether it's a family or friends that all know each other. But I just am the fly on the wall that gets to enjoy it and step back. It's just magical, I love it.
Melissa: That is really amazing. With the flower business, because obviously you guys are doing quite a few different things with it, you are selling the flowers wholesale. I'm assuming that's to maybe grocery stores or florists or that type of a thing. You guys are doing some events and also on hand workshops. Now, do you also sell some of the flowers retail, or are you strictly a wholesale provider?
Beth: During COVID we sold some things retail. We opened up our farm at that point, and our farm is open from time to time. I just feel like I didn't really want to have a farm stand. We live fairly remote, not really, but it's two miles down a gravel road and most city folks don't really want to take their brand new washed car down the gravel. And because we're so busy that sometimes it's just nice not to have people on our farm every single weekend, we didn't continue that portion of it. Most of our stuff is sold off wholesale. The reason I started with wholesale is mainly that first initial email that was sent out to Jello Mold Farm. She was starting the Seattle Wholesale Growers market at that point, it was only a couple years old. She said, "Hey, we need good growers."
They had come to my farm for some reason, I don't even know why, but I had this beautiful crop of mums, it was during the fall, that were going, and she's like, "Hey, do you want to sell wholesale to us?" I'm like, "Okay." At that point I was desperate to stay home and with my kids and be just there so I said yes to everything. But wholesale stuck for us. We do ship, we sell to basically the Seattle Wholesale Growers Market, we sell to the Portland Growers Market as well, which is one of the oldest markets in, I think the United States. Then we also sell down to San Francisco through a company called Mayesh.
I look at wholesale as more of the backbone, that's what carries me as far as I don't know if you can look at a business sense of it, there's something that weights it. We do homesteading as well, and that's more for the family. We do our own meat birds, lamb, we do eggs, vegetables, all those things. But that's more for the family. I look at it as two different, I guess, productions, even though they simultaneously go together. Originally when I started I did a very good farmer's market. But during 2020 we decided not to do that anymore.
Then occasionally we'll do some popups in town. We live in wine country and there's just some wineries that will have us out, event spaces that we'll do. We're doing a Christmas popup with evergreen wreathes. We work with a company called Shriner's Iris Gardens, if anybody knows anything about irises. But they're a huge iris grower here in Oregon. We do their online catalogs for their Christmas wreathes. We do some mixed bouquets that go out to Ace Hardware, which is a hardware store here. I think you guys have them up there too.
Melissa: We do, yeah.
Beth: Yeah, great place to sell mixed bouquets, by the way.
Melissa: Really?
Beth: Yes, fantastic. We have such great customer support from that. It's been amazing. Yeah, that's the majority of what we do. Then we do weddings and events. The events on the farm, we limit to just maybe one or two a month during the summertime. Basically, it goes from May until December is when we're having people on the farm. But yeah, I could make that a full-time business if I wanted to.
Melissa: Oh goodness, I'm sure. I find this really interesting because I have to say as someone who is not a flower farmer, I grow flowers for just our own enjoyment, but I am looking at the farmstead. I'm not looking to make the flower part the full main aspect of that business, but more as a supplemental option moving forward. I'm just finding it fascinating because immediately when I thought of it, I'm just like, "A roadside stand or maybe one of the little local grocery stores," that type of a thing. But the way that you guys are doing that is you're wholesale and you're shipping out to different areas. But it's through growing groups, which is really smart because then you're not having to establish all of those independent relationships and probably all of the logistics yourself.
Beth: Yeah, initially I've heard to get into the Seattle Wholesale Growers Market is really difficult. I don't know because I've been there for years. But I think for new growers, I don't think that should discourage them. When I first started, I would literally be at the grocery store checking out and the grocery attendant would say, "What are you doing today?" I'd be like, "Oh, I'm just out in my flowers. I grow flowers for a living." I would just tell everybody about what I did because that got me in the door to different avenues to sell. The other way that I did it was we did do a lot of donations. We still do a lot of donations to charities and that kind of thing. I do their flowers or what have you, but you got a lot of avenues to sell your flowers that way. Or if I had the farm stand, I'd be like, "Oh yeah, we have a farm stand. It's just down the road," and so people would come out just because of that. I think telling your story to people, it will naturally open up the door to sell your flowers.
I do think that with flowers and homesteading, how that goes hand in hand is you can start pretty small if you're looking to just supplement a little bit of income. I look at flowers almost as when you're at the grocery store and you're at the checkout and there's all that candy and junk food and it's an impulse buy. Vegetables and fruits and all that kind of nuts, those sustain the body as far as the food goes, but the flowers sustain the soul. If you can incorporate, just tuck a few flowers into one of your vegetable beds or scattered throughout your vegetable bed, even that in itself, walking out into your garden, it's just going to bring so much more joy.
Then being able to say, "Hey, I've got these beautiful zinnias," I'm throwing zinnias out there because they're super easy to grow. But I'm just going to tuck a few bouquets in my little roadside stand. Or I'm going to just take this down when I go deliver the eggs to the little grocery store that we're selling eggs to. Or I'm just going to add it on one bucket in my farmer's market. Then you're going to see that people want to buy the veg, but they're also going to be like, "Oh my gosh, your flowers are amazing." You give them that little added on joy that then they get to take home and enjoy for five days to a week or longer depending on what you're growing.
Melissa: I like that. Here's a question because this is one that I have just for my own house have been going through because a cut flower garden was not something that I had any experience in and I didn't really know anybody around me directly in my small vicinity that was doing that. If you're starting it with like, "Okay, I do want to be able to produce some extra bouquets," no matter if that's on smaller scale, obviously just as you were giving in that example, then perhaps scaling up as you develop a clientele or decide I really like this and have a market for it. But that is as we look at the season, I'm looking at spring, summer, and fall and making sure not only that I've got plants that are blooming throughout those times but are cut flower varieties and then one step further, I've got right now I still have dahlias that are blooming. They're coming to the end, but I still have dahlias that are blooming.
Because when you're crafting a bouquet, and I don't know that much about it at the expert level, but I found I need the complimentary flowers. The dahlias are the star, but then I need some filler pieces and picking a little bit of the white yarrow because the white yarrow that's smaller actually makes the colors of the dahlia pop more. Figuring out those different layers, I'm like, "Oh my gosh, you could spend a day minimum trying to list all of these out and make sure that all of these avenues are covered." Maybe I'm overthinking that, but I'm curious as far as actual crop goes, if you have a beginner's list or any advice to all of that I just laid out.
Beth: We do a lot of mixed bouquets. Majority of what goes up to Seattle is a mixed bouquet program, so we're selling to a lot of the higher end grocery stores up there. We do anywhere from 100 to 200 mixed bouquets a week and we do that year round. It did take me a long time to figure out what to grow and it made me venture out into doing some tests of foliage. Will it hold, will it not? There's a lot of science tests going on my kitchen table over the years.
Basically, start with something that's easy at first. For me, snapdragons are a cut and come again, that was a mouthful, along with zinnias, sweet peas, marigolds, that easier growing flower, I guess. To start with something simple like that, I find that going onto Johnny's Seed Company, which I'm sure you can put a link somewhere below on these show notes, but what I love about Johnny's Seed is that it does give you a lot of information on growing habits and when to plant and how often to plant. I think it even goes into succession planting and they do live videos and things like that. It's really a really great resource even for an experienced grower to freshen up. Sometimes I do that because we grow so many different flowers that when I was new I would just research exactly how do I plant this, when do I plant this, when will I have it?
But for the most part I find that just starting and planting a seed and watching a crop and seeing how it does for you, when does it start fading, is the best classroom. I mean, you don't need to spend a ton of money, there's a lot of online classes and books and that kind of thing. Some books are really great to get, but I think the best classroom is just getting out into the garden and starting.
As far as when you're putting together a mixed bouquet, we look at it more like you have your focal flower, which you're talking about a dahlia right now and then you might have a spike. You might do three dahlias, two snap dragons, two marigolds, maybe three zinnias. Then as far as foliage goes, this time of year, growing some perennials is really nice. Just a few that you can and be able to harvest off of.
Today, what did we use? We used blueberry, that's a fantastic filler. A thornless raspberry is great and you get to eat the fruit as well. We do a thornless blackberry, actually. I know, I hesitate to even say that, but we do grow it for the mixed bouquet program. Actually they put off these beautiful berry clusters that we actually will add into the bouquets. People love that, any type of fruit. You could do apple whips if you had some extra little suckers off the bottom. We've done that before. We've done a mum foliage, we've done rosoidea, which is weeds. I don't know, just all kinds of things that you can find. I mean, the more you play with it, the easier it becomes. We can grow eucalyptus here, I don't know if you can necessarily. You can probably grow a few varieties.
Melissa: What variety of eucalyptus are you guys having success with? I'm curious on that because I want to test it. I got one a year ago and it did not make it through the winter, but it was in a pot. There was a lot of reasons that it didn't work. I'm curious what you guys are growing because I want to test it and try it again.
Beth: I'm not super great with the varieties. I think it's the baby blue, it's called, is one of them and then the willow, we have that one as well.
Melissa: It's a willow eucalyptus?
Beth: It's called willow and it's got that shape of a willow leaf. I find that some of them do better than others. There are some that we even lost a crop and I forget which one it was. It was pretty small when we put it in and it just died. Oh gosh, what is it called? The one that's for medicinal, it's really sticky, it smells very-
Melissa: Eucalyptus globulus, I think.
Beth: Okay.
Melissa: I think.
Beth: Anyways, it's the one that traditionally you'll see in a grocery store or something like that.
Melissa: A coin shaped.
Beth: Yes.
Melissa: A little bit.
Beth: It goes all the way up the spike.
Melissa: Yes.
Beth: That one actually would probably do pretty good for you. It does really well everywhere and also you could use it medicinally. Today we were using rosemary as well in our bouquets. We use a lot of herbs, so mint, rosemary, we use lavender, lemon balm, chamomile, calendula, [inaudible 00:33:41]. I mean, the list goes on, we use all of it. That also makes for a very interesting bouquet, so it doesn't look like what you get at the grocery store. It has a little bit of inspiration and just imagination and people will often say, "Oh my goodness, I didn't realize you added rosemary and you added blueberries," or whatever it was. They just get super excited and it's just fun to do that.
Melissa: I like that, I'm now inspired. I've got dahlia's left, we haven't had our first frost yet. I know it's coming any day and so I'm like, "Oh, I need to go make a new bouquet and play with some of the things you just said." I have put rosemary in before and some oregano too at one point.
Beth: Yeah, totally.
Melissa: But I love the idea of playing with, especially because the blueberry leaves right now, the fall colors are really coming out on them. Okay, you've definitely inspired me there to go a little bit outside of what I was thinking of as more the traditional cut bouquet flowers, like the celosia and different things like that. I'm excited to go play with some of those suggestions.
I have to come back though because you said you're doing bouquets year round. Are you using dried flowers in winter bouquets or do you have a greenhouse? How are you accomplishing year round bouquets?
Beth: We do have a greenhouse and 3000 square feet is our big one. We have several other ones, but that one has the double wall that's non-heated. Here where we live in the Willamette Valley, we hardly ever freeze and that greenhouse just never freezes. For the most part, I have flowers growing year round in there. But a lot of times when I'm doing bouquets in the winter, we're doing textured bouquets. It might have some poly, it might have some woodland fern, it might have some [inaudible 00:35:41], which we can grow all that here. I'm assuming that you would probably have that close to where you're at since you're in a wooded area. We might have some mossy branches.
Our mum crop is our last real big crop that goes until the end of November. A lot of times I'm growing either some white mums. You get the red, white and green for Christmas. Then we start in with anemones and those generally are February. We have about two months, which I generally like to be off, but we'll do just texture bouquets because we harvest eucalyptus in the winter here. So it's a lot of the woodland foraged items that we're putting together, grasses maybe that are still texture-y. We do feed through some dried stuff through those. We also do anything that doesn't sell, say at our wholesaler. If it dries, we hang on the ceiling and dry it. We use it in a dried bouquet that we could either ship out or put in our little farm stand or sell at Ace Hardware or whatever.
Melissa: Yeah, I'm curious if you are going to approach on your own, so not through necessarily a marketplace that then has relationships. With Ace Hardware, do you just go into the store if they don't already have a flower display there and just say, "Can I talk to the manager," and pitch it? Or what would be I guess your grassroots course of action there?
Beth: Yeah, and that's going back to what I said about talking to the grocery checkout lane, is just talk to everybody about it. If you did want to go into a hardware store, you can even use me and say, "Hey, a friend of mine sells in an Ace in Salem, Oregon," or whatever, "is that something you'd be interested in? Just fresh bouquets brought in once a week." Generally I'll do it on a Thursday for the weekend customers. Then they might say yes, they might say no. I would honestly take a sample in with you or go around to a couple little places.
Coffee shops are another great source for that. People always ask me to like, "Hey, can we have some mixed bouquets dropped at the little checkout there." There's a lot of farm stands that actually don't carry flowers, that would love flowers and have somebody just deliver them. We do a farm stand as well. They just don't want to grow them. Yeah, those are all the things that I would definitely just go in and say something. Maybe have a printed piece of paper that says who you are, who your farm is, what you're able to do. And they might say, "Hey, are you able to do 20 bouquets a week in the summertime, high season?" or whatever. You just have to make that commitment before you go in to do that kind of thing.
Melissa: I have a question on pricing too, because when I used to work in retail, but I don't know the flower industry. When you see what's the going rate for a retail bouquet, for example, say a mixed bouquet is selling for $20, retail obviously. Then if you're offering that at wholesale, is it usually a 50% markup, so then you would be selling it to the store at $10? Is there a higher margin where it's like, "No, it's $15 wholesale, they sell it for $5.00? Or is that just something you work out with each individual contract?
Beth: It's basically exactly what you're saying. Anytime you're selling to wholesale, it should have that mindset that they need to mark it up 50%. We try and get at least a dollar per stem on average for everything that we do. Obviously, we grow peonies and roses and that kind of thing. There's certain flowers put in a mixed bouquet and certain flowers not to. There's also a huge learning curve of when to cut it and when not to cut it. When it's too far open, you want to actually cut your flower a little bit more closed for a mixed bouquet. There's just a learning curve with that and you'll learn over time, I did. Nobody told me, I just figured it out.
But as far as pricing goes, I have a vineyard that's just down the road from us and they have a cooler and they want flowers to do an add on sale for their bottles of wine. They said, "Hey, we want a $10 price point for bouquets, so what does that look like?" It might be something really simple, something like what we call a straight bunch of maybe three dahlias wrapped up in a cute paper, something like that. Something that's really small and simple.
You'll find that at the hardware store, their price point that people want to grab and go is anywhere between $15 and $25 dollars. So we'll have two different price points that we bring in a bouquet. For me, it's $7.50, you know what I mean? For some other places I get $10 or $8 for the bouquet. You just have to keep that in mind. But when you're doing wholesale like that, it has to be a commitment on the other end of they have to buy from you consistently and you're only making money when you're selling a lot. Does that make sense?
Melissa: It does make sense, it's a volume game. Yeah, I get that on that. For me, I look at chicken and cows. I need to sell a lot more meat chickens if I'm going to make any amount of profit. Selling one meat chicken is not making me any money. I can sell one cow as beef and make a ton of money, but that's because it's a much higher price point. Yeah, it does make sense that volume is the way you're going to actually move into profitability, especially if it is your sole commodity. Now, if I'm selling eggs myself at a farm stand and I'm already selling other stuff and then it's an add-on purchase with the flowers, then of course you're not going to have to do as large a volume because it's just an added profit.
Beth: Right, exactly.
Melissa: At the farm stand you're retailing it, so you're also getting the full thing.
Beth: I think too with that one is that flowers sometimes with the add on sale or it creates that whimsy or beauty or something that people remember. You can almost use it as advertising a little bit if you're trying to build your homestead or your farm or something. You can do beautiful photos on a website, but then you toss in a few flower pictures or something like that, people just go nuts for it, I don't know.
Melissa: Yeah, and when you were talking about the texture bouquets, I'm leapfrogging here a little bit, but we don't have holly, but at the farmstead we have Oregon grape that was let run rampant.
Beth: Oh wow, okay.
Melissa: I'm like, "Okay, Oregon grape is similar to a holly leaf. I wonder if that would work in texture bouquets."
Beth: We actually sell that sometimes because they have a beautiful berry on it. You know how it flowers yellow and then it will berry up actually into a steely blue color. We've sold that to our wholesalers. I mean, I'll sell anything.
Melissa: Really, oh.
Beth: Yeah.
Melissa: Okay.
Beth: Yeah, yeah, yeah.
Melissa: I'm intrigued. I'm excited that maybe Oregon grape's not so bad. Here's the thing, is it was planted against the side of the house and it actually had grown through some of the basement window frames.
Beth: Oh, my gosh!
Melissa: It's very prolific.
Beth: Yes, it is.
Melissa: And apparently it was a bit invasive, so I'm going to have to tame it if that's possible somehow. I love the idea if I could actually move it in some bouquets or something along those lines. That sounds great.
Beth: I'm always trying to create business year round with what we do. This winter, if you just went out and foraged on your woodlands or whatever you have around you of some really cool fern, some pine, some juniper, whatever you have, and then you tucked in some of that Oregon grape through a cute little paper, stamped it with your sticker, off it goes. People love that because what that does is a lot of people that live in town, they don't have all that plethora of beautiful foraged woodland greens to make a cute little centerpiece. Well, they can pick up, say some store bought roses or flowers at Safeway and then use your evergreens to make a centerpiece for dinner or something like that. We sell a lot of those.
Melissa: Okay, I've got another question for you because this is just the way my mind works. When you are creating these wholesale being sold somewhere else, and you were saying a sticker, can you actually put on there Crowley House Flowers with your website so that then people can come and seek you out on their own? Or does the retailer not want any of that, they want all their own branding?
Beth: Depends on the retailer, basically. The ones that we sell through the wholesaler house, we don't put anything on. But anything that I'm sending out, of course that is how I'm advertising. It's so important to put your name on it, anything that goes out, I think. If you're doing a farmer's market, pop-up shop, throwing your bouquets in, that's how you get the word out that you're selling flowers or that you've got a farm stand with vegetables and meat [inaudible 00:45:55], whatever.
Melissa: That's where I was going. It's like almost they're paying you, but it's a form of advertisement and income at the same time for the other things that you have as an offering.
All right, well goodness, Beth, you've got my head spinning with lots of different opportunities. I can see honey, we're going to need an official greenhouse for the flowers because I don't want to stop our production of the vegetables that I have in our greenhouse. I'm like, "Uh-oh, we may need another one."
Beth: Well, I mean, on average growing cut flowers is one of the most profitable crops that you can grow. That's why a lot of times you'll see at the farmer's market, there's a big farm stand that has lots of vegetables, but they also have flowers because they know they're going to bring in some money. I mean, on the average per acre in the United States, it's $25,000 to $30,000 on up depending on how you're-
Melissa: Per acre with flowers?
Beth: Per acre, yeah.
Melissa: Wow!
Beth: And the majority of the flowers are grown in the Netherlands, Ecuador, Columbia, and the majority of flowers are brought into the United States. There's so many people growing flowers. There is room for everybody to grow flowers and then some. I can't grow enough actually. I've had to limit it a little bit. But yeah, I mean it is a challenge to grow both flowers and keep your homestead going. That's the other thing, I do have help on the farm, so when you see that it's not just me.
Melissa: Okay. Well, I like that preface. I have to say we did put in new beds for flowers last spring, but a lot of what I had learned from the vegetable gardening, especially on weed suppression, layout, et cetera, really paid off because we used a weed blocker between rows because we just put it in the front of our yard. I mean, it was just lawn that we turned into and then some good large wood chip mulch. I was so excited that it worked as well as it did because I had very little weeding that had to be done.
But I know in years past I had tried flower gardens not having the knowledge that I have now from the vegetable gardening and weed suppression and it was just such an overrun mess because of the weeds that I couldn't keep up on it, that we ended up ripping it out and putting it back to lawn. This was oh goodness, 12 years ago. Now I'm like, "Okay, I'm ready to tackle this again with a lot more wisdom." Sounds funny to say, I was really quite pleased with myself, but I was.
Beth: Good for you, you should be.
Melissa: I was like, "It worked."
Beth: You should be proud of yourself.
Melissa: I have to say, I love my vegetables and my fruits, all the things we do on the farm. But I had the most fun, I had every Sunday I would go out Sunday evening the whole summer and make bouquets for just our house. I haven't been selling or anything like that, it was just for fun. It was one of my most looking forward to activities from just going and picking my bouquet in the yard and walking through the little flower garden. I'm like, "Man," so I see what you're saying about the joy part. It's funny because it does feed the soul. I was like, "Boy, I really wish that I had started this a long time ago."
Anyways, I thank you for coming and sharing today all of your wisdom. This was really good, I think to just open up people's eyes for different ways to earn income and it's incorporating some of what you may already be doing for food production. But like you said, being able to use those leaves and different things in arrangements. Lots of options for people to be able to help support their homestead and their families there.
Beth, for those who would like to see your guys' farm and learn more about flower farming, et cetera from you, where's the best place for listeners to connect?
Beth: Well, we're on Instagram, Facebook, and we have a podcast as well, which is a Blooming Good Time. And you can find us over on YouTube at Crowley House Flower Farm. Also, we have a book out which is in the link of our Instagram that's going to be coming out in April. We talk about flower farming and farming in general.
Melissa: What's the title?
Beth: Yeah, it's Furrow and Flower. You can find it on Amazon and I believe it's on Barnes and Noble as well.
Melissa: Okay, great. Of course, we'll have links to everything with the blog post that accompanies this episode and show notes. Beth, thank you so much for coming on today.
Beth: Oh, this was so fun. Much success in all you do and grow Melissa this next coming year.
Melissa: Aw, thank you. Same to you, friend.
Beth: Okay, we'll chat soon.
Melissa: Bye.
Beth: Bye.
Melissa: I hope you enjoyed that episode as much as I did and that you add some flowers to your homestead.
I thought it would be fitting if we wrapped up this episode with a verse of the week. I have to confess, I think it's been a little bit since I've had a verse of the week. We are going to be going with Luke chapter 12, verse 27. "Consider how the wild flowers grow. They do not labor or spin, yet I tell you, not even Solomon in all of his splendor was dressed like one of these." This is one of my favorite verses and often a well known verse that probably many of you have heard before. But I always love this because it reminds me that no matter how much effort I am putting into different things, that God's way is always better.
You might be like, "Well wow, how did you draw that from that verse?" Or maybe some of you are nodding your head and like, "Yes." But for me, oftentimes I can get wrapped up in the excitement of things and then putting a lot of effort into them, of course. But I stay very grounded when I'm actually out in my garden or when I am outdoors. I see no matter what I may try to build with my own hands, none of it is going to come close to the beauty of God's creation.
When I'm out with flowers and in the vegetable garden, any of those things where I'm outdoor in things that he created versus things that man created, I am just always reminded of the beauty that is there and to just be still. And to just be and appreciate the things that he has given us, has given me and blessed me with. I think all of us can agree that we could use more spaces in our lives to just sit, to be still and to appreciate the beautiful things that are all around us and a flower garden can definitely do that.
Well, thank you so much for joining me. I look forward to being back here with you next week.
Sign up to receive email updates
Enter your name and email address below and I'll send you periodic updates about the podcast.