Some of the links below are affiliate links, which means I will earn a commission at no additional cost to you, if you click through and make a purchase. Regardless, I only link to products we use on our homestead or believe in.
Today we're diving into a fun subject, medicinal herbs and their uses for growing an herbal tea garden, more specifically eight of my favorites!
I'm excited to help you plan a medicinal herb garden of your own so that you can grow enough herbs for a year. You ready?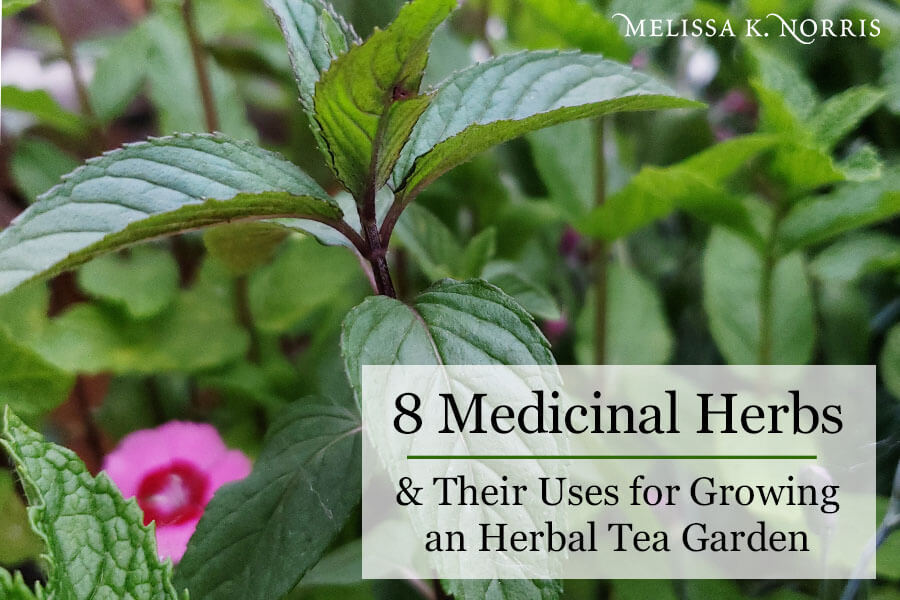 Growing an herbal tea garden is fun because it's really easy, and at the end you can dry your own herbs and mix your own tea blends and essentially what you're doing is growing and making your own medicine, because these herbal teas are full of potent medicinal properties.
Listen in below to the full podcast, Episode #182 8 Medicinal Herbs and Their Uses for Growing an Herbal Tea Garden, of the Pioneering Today Podcast, where we don't just inspire you, but give you the clear steps to create the homegrown garden, pantry, kitchen and life you want for your family and homestead.
Now, I was raised as a homesteader, so I'm a fifth generation homesteader and growing up we raised our own meat, had a big vegetable garden, did a lot of canning and cooked food from scratch. But we didn't use herbs or natural medicine.
We didn't have health insurance and we rarely went to the doctor. So thankfully I was pretty healthy growing up and rarely had to use any medications or go to the doctor.
But then in my twenties I started suffering from bad acid reflux and stomach ulcers and I was on prescription medications up to six times a day and they weren't doing anything. I even ended up having my upper stomach and esophagus biopsied for cancer.
I go into this in more detail How to Heal Stomach Acid Naturally – My Story Part 1 if you want to know more about that. But the reason that I share this is because I found such complete healing just by changing my diet to whole, organic, non-GMO foods. And so, I thought:
If I had that much of a drastic change just from changing the food that I eat, what would happen if I started to use herbs and natural remedies in our medicine cabinet instead of just reaching for an over-the-counter-product?
One of the very first things I did on my journey to using medicinal herbs was to start drinking herbal tea, which is why today I'm sharing some of my favourite herbal teas to grow at home.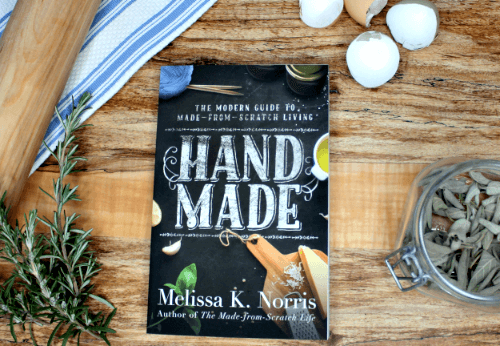 I have to preface this by letting you know that I am not a medical professional. I'm just sharing what has worked for me. But I always recommend checking with a medical professional of your choice before using anything medicinally, even if it's natural. Because even herbs can interact with medications or be dangerous if you're suffering from certain illnesses or even if you're pregnant. So always speak with your health care provider first.
Another thing, as we go over the more medicinal properties that a lot of the following herbal teas have, I'm referencing the herbal section of my book, Handmade: The Modern Guide to Made From Scratch Living. And that chart starts on page 138 if you have the book. And if not, I highly recommend that you go and check it out here!
That being said, let's dive in!
8 Medicinal Herbs and Their Uses for Growing an Herbal Tea Garden
The very first herbal tea I want to talk about is actually the first herbal tea that I started using as a natural remedy back when I got off birth control. Now, I wasn't actually on birth control in order to not get pregnant. Rather, I was on it because I had ovarian cysts, and birth control pills help to stop cysts from forming.
But the more I looked at synthetic hormones and synthetic drugs and decided that I really wanted to live as naturally as possible and not be reliant on pharmaceuticals, the more I started looking at using herbs. So I went off of birth control and the cysts became really painful, along with other hormonal issues of estrogen dominance, but I was really determined.
So I started doing research, especially about women and hormonal issues. One natural remedy in particular kept coming up, and that was red raspberry leaf tea.
I decided to try drinking some dried stinging nettle leaf and red raspberry leaf tea every day. I did a combination of those together and I would drink a cup every night. It took a few weeks, but I started to notice a real difference, so I kept at it. It was something that I just did every day for about two years straight and it helped immensely.
Red Raspberry Leaf
Red raspberry leaf is one of my top picks for an herbal tea garden, and it's not something that you typically think of when you think of an herbal tea garden or drinking herbal teas, but it's something that you should definitely consider trying, whether you're growing your own raspberries or not.
Of course if you're growing your own raspberries, then you've got the leaves right there, so if you're looking specifically for a hormonal aid for women, then the red raspberry leaf is generally considered the "women's herb." (But don't worry guys, there are lots of other benefits too so you can absolutely drink it and benefit from it!)
If you want more information on red raspberry leaves, including how and when to harvest them and all of the specific compounds, antioxidants, vitamins and minerals that are in red raspberry leaves, check out my Youtube video all about red raspberry leaf tea and how to grow it at home. Plus, I made this video for you here on how to grow medicinal and edible herbs in your garden.

Peppermint
Peppermint has a very distinct flavor. It's pretty easy to grow and, in fact, it's actually one of the more invasive herbs to grow because it loves to spread.
Personally, I keep my peppermint in a container, so if you don't want it to spread (because trust me, it will go crazy pants), then I highly recommend growing it in a container or in a garden area that's easily contained.
When it comes to medicinal properties, peppermint is really known for helping to soothe upset stomachs and helps to support bowel function. The scent of peppermint can also be really great for relieving congestion.
Chamomile
Chamomile is a cute little white flower and a great herb that can be used to support feelings of calmness, and also to aid nervous stomachs. Chamomile is one of the best teas to take for relaxation at bedtime, which is what it's best known for, as well as a bitter, nervine, and pain reducer.
Recent studies also show that chamomile can help improve cardiovascular conditions and help to support the immune system as well. This is really one of the best things about herbs: they have a lot of different properties and can almost always help with many different issues, not just one thing.
There are two types of chamomile: Roman Chamomile or German Chamomile. German chamomile usually is the one that people grow when they're growing it for medicinal purposes. It has a higher concentration of essential oils, so it's considered to be a little bit stronger and usually it will produce more than the Roman does, of you're trying to decide which one to grow.
Lemon Balm
Another popular herbal tea is lemon balm. So, first off, I just want to say that lemon balm's official name is Melissa officinalis, so needless to say, this plant holds a special place in my heart!
Lemon balm is a great herb to put in your tea garden. It has a subtle lemony flavor (big shocker, right?), so it tastes great. Medicinally it helps to ease stress, anxiety, insomnia and indigestion. It's part of the mint family, and like peppermint, the leaves dry really well and it still packs a great flavor punch even when using dried leaves.
Fennel
Fennel has a very similar taste to black licorice, so if you like licorice then you'll love fennel tea. But even if you're not a big black licorice fan, I encourage you to try some fennel tea because it is a lot milder and, of course, it has a lot of medicinal properties as well.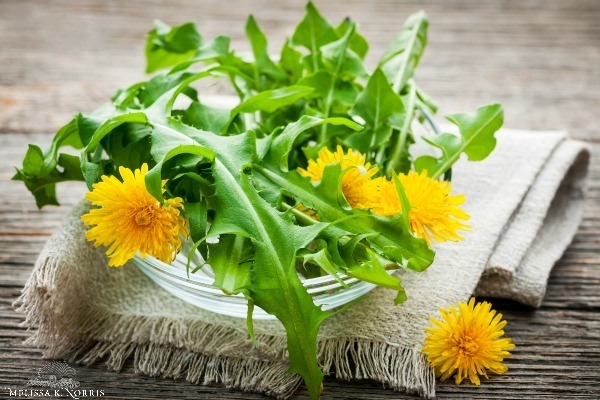 Fennel can help soothe upset stomachs, boost metabolism and it can also help to encourage or increase milk production for nursing mothers.
Dandelion
Next up on our list is an herb that's actually considered more of a weed by most people, and that is dandelion. The great thing about dandelion is you can actually use every part of the plant, so you can use the lovely little yellow blossoms, you can harvest that and make a dandelion salve or you can even fry those bad boys up and eat them that way.
The leaves are also used as you would use any type of greens, so in salad or you can sauté them up just like you would spinach or kale. But with the greens, you really want to get them early in the season because as they start to get older and more mature, they can get really bitter.
The other part of the dandelion is the root, and this is usually what is used for tea. You can harvest the dandelion roots, then rinse off the dirt and dehydrate them and store them that way.
Some people prefer to roast the dandelion root and make an herbal coffee substitute out of it. But whether you roast it or not, just chop it up into small bits and use that to make your tea.
Dandelion root is said to help aid with digestion and traditionally it has really been used for liver issues and as a diuretic. It's also anti-inflammatory and helps with wound healing, which is why dandelion salves are effective. Just make sure when harvesting dandelions that they haven't sprayed it with any herbicides or anything as that can negate the point of using herbal medicine in the first place.
Echinacea
Most of us have heard about echinacea being a powerhouse herb when it comes to immune support, but it's also really pretty! That purple coneflowers start blooming in late spring, early summer and go all the way through pretty much into the fall.
You can use all parts of the echinacea plant for making tinctures and teas, including the petals, leaves and roots. It's a great herb to take as a tea if you feel a cold coming on or just as a preventative measure to help boost immunity and ward off illness.
Elderberry/Elderflower
Another great herb for supporting immune health is the elderberry. It's not something we typically think of when we think of an herbal tea garden, but some people will use the elderflowers and a lot of people like to use the berries for tea too. They make a great flavored and colorful herbal tea at home as well as help to strengthen the immune system.
Learn how to grow elderberries and make my elderberry syrup here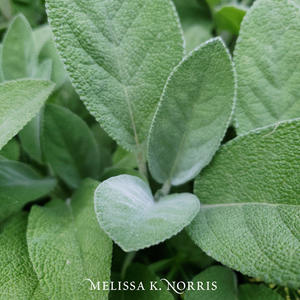 Sage
I love sage for so many reasons. I happen to love the flavor of sage. It's one of my favorite things to add into any meat dish, into soups and stews and even some casseroles.
I also like to use it in landscaping because it's got that really pretty almost velvety touch to the leaves and it's a silver green so it can add some great visual interest wherever it's planted. It is a bit invasive though, so I do keep mine in a container. You want to make sure that where ever you plant it, you don't mind that it spreads.
Medicinally, sage is best known for helping to aid digestion problems and supporting mind and mental performance. Sage can also help decrease secretions and extra mucous, and it's often used to help aid sore mouths and throats and swollen nasal passages.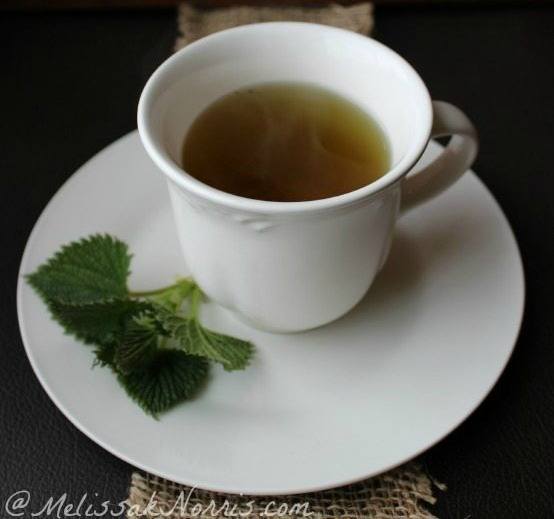 One thing to note is that it can decrease milk when nursing. So if you're trying to wean a child, that can be a great thing, but if you're not trying to ween, you want to stay away from sage tea.
Stinging Nettle
The next one on our list is another plant that is more commonly thought of as a weed, and that's stinging nettle.
Now, again, this is not necessarily an herb you're going to want to plant in your garden because it is a weed in that it will spread and, of course, it can sting you too. But stinging nettle has some pretty amazing medicinal properties that make it worth harvesting and drying to use as tea if you have a patch already growing on your property or know of one nearby that is safe and hadn't been sprayed with anything.
One big thing to remember is that you always need to wear gloves while harvesting because it'll get ya if you don't. It doesn't have the word "stinging" in its name for no reason!
The good news is though, when it's cooked and then when it's dried and made into a tea, it won't sting you. So once it's dried you don't need to worry about touching it or drinking it.
You're also going to want to harvest the leaves in the early spring when the leaves are young, before they start to blossom and bloom out. You can then add the leaves to soups and stews. I'll even just sauté them up with some butter and garlic and put them on a plate after they're fully cooked and then cook an egg over easy and drop that on top. That's of one of my favorite breakfast!
Medicinally, stinging nettles are thought to help with decreasing inflammation and urine output. They are also thought to help with seasonal allergies, so they're a really great thing to keep on hand if you suffer from allergies in the spring and fall.
Wanna learn more?
Resources for Medicinal Herbs & Their Uses
That's it for this episode, but if you are interested in learning more about growing and making your own herbal teas and blends at home, then one of my guest contributors, Anna, has written all about how to grow an herbal tea garden at home, as well as she has some amazing homegrown herbal tea blend recipes to try that highlight quite a few of the herbs that we went over here in this episode, plus others. So if you're really wanting to dive into using herbal teas, you're going to want to check it out!
You can grab all of those, along with information on planting, growing, pruning, harvesting, drying, and making teas in these articles as well.
My book with a complete section and chart on growing herbs and using them in your natural medicine cabinet, with labels, making tinctures, making salves, teas, and more! Click here to check out Handmade: The Modern Guide to Made From Scratch Living If you don't have a copy of Handmade yet, then I highly recommend that you get yourself one because the herbs series alone that I was referencing earlier on has got lots of different recipes, including some of my favorite recipes for herbs, as well as all that other great homesteady stuff like cooking from scratch and sourdough and fermenting….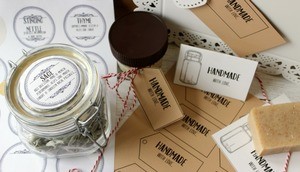 So go and get yourself a copy and check out all of the amazing bonuses that come with it!
Click here to check out Handmade: The Modern Guide to Made From Scratch Living
That's all for now. Until next week!