Anyone else notice the price of groceries just keep creeping up? I swear they go up by the time I make it through an aisle in the store sometimes…..
Are you looking for ways to save money? Trying to live frugally? Wondering how to make meals for less?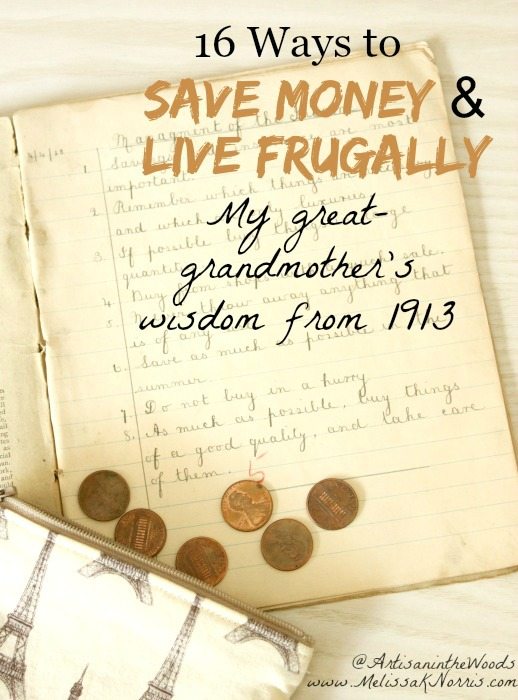 Amen! You are not alone! In fact, even in 1913 people were looking for ways to live more frugally (and thankfully, taking notes)
My great-grandmother grew up in England at a time before television, telephone, internet, credit cards, and shopping malls. She owned few clothes by today's standards and it was not a fashion faux pas to wear the same thing more than one day in a row. When her family purchased food, a whole family meal could be made for 8 pennies.
Her lifestyle more than 100 years ago seems quite far removed from our modern lives in 2016.
And yet, it seems some wisdom never goes out of fashion.
Tucked among her recipe books, letters, and scraps of notes, I discovered one of her school exercise books.
I know what you're thinking, these tips might have worked in 1913, but we live in a different age. I don't have time to make everything from scratch and spend hours running here and there to save a buck.
There's something to be said about those who went before us. They lived through tough times most of us haven't seen and learned how to more with less, lessons you and I both need in order to save money. This much-needed wisdom lives on for all of us in these pages from 1913.
I totally understand that which is why I've rounded up 4 of our favorite EASY and FRUGAL recipes from the 1900s to get you started.
If you try to make everything from scratch when you're not used to it, you're going to pull your hair out. I'm going to show you:
how to make 5 pantry staples at home in less than 15 minutes!
quick recipes that cost HALF the price of store-bought (awesome sauce, right?)
allergy-friendly, cuz let's face it, we need that these days
It was in this book, written in 1913, I found some economic wisdom that still applies to us today.
16 Ways to Save Money and Live Frugally
In 1913 learning to manage money and be a good steward of what you had was something passed on and taught to children.
In those days, frugality was important enough that it was taught in school. And although there are no great revelations in these words, most of this advice has stood the test of time, and will probably continue to be stated as components of good money management for another century to come.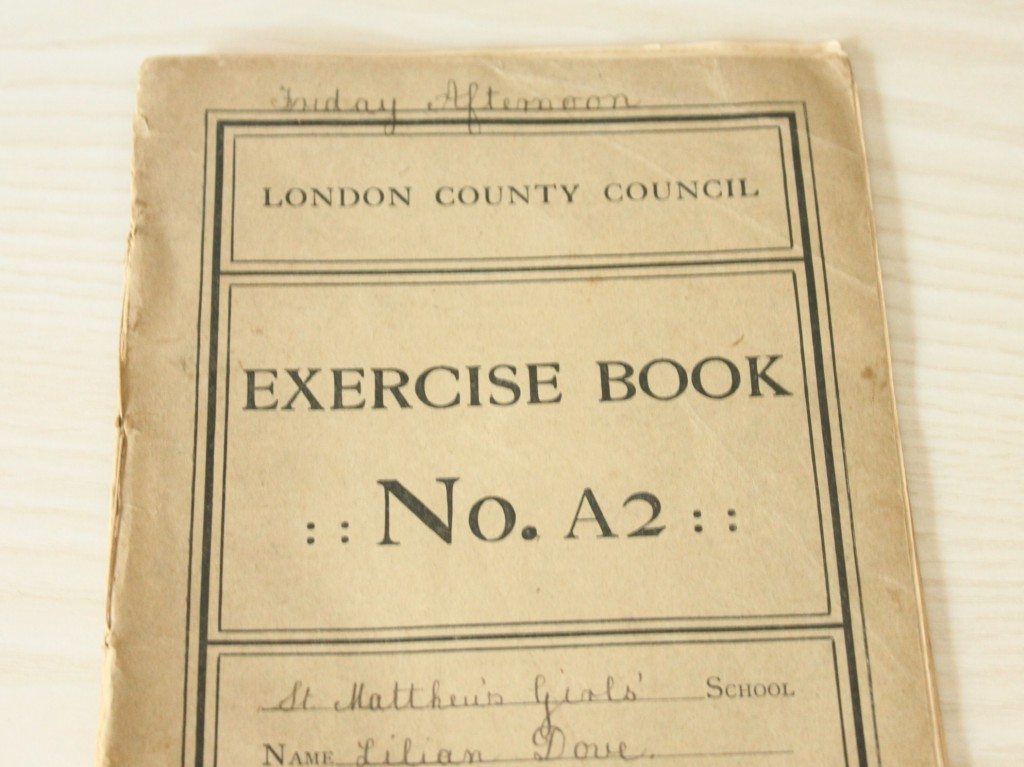 Here it is, in her own hand:
8 ways to save money and stick to a budget
Hello, is it just me or does anyone else struggle to stick to a budget…
(My own comments are written in parentheses)
Management of the Income
Savings and insurance are most important (Make it a priority to build your emergency fund. Most experts suggest 3 months of savings tucked away.) Need help? Here's 7 Tips to Spending Less
Remember which things are necessary and which are only luxuries.
If possible, buy things in large quantities. (But make sure what you buy will store well.)
Buy things from shops with a quick sale. (Don't spend good money on stale food!)
Never throw away anything that is of any use. (In 1913 not as many items came into the home, which made this a practical way to live. In our modern world, the better advice is to save if it's useful and you have the space to store it.)
Save as much as possible in the summer. (Even if you don't have a garden, in most places food is cheaper in the summer when it is grown in abundance locally. Freeze, dry, and can everything you can!) Learn how to can with my free video series here
Do not buy in a hurry (This one is just as important today as it was 100 years ago. Don't give in to impulse buying. Step away. Think about it, especially in light of #2)
As much as possible, buy things of good quality, and take care of them. (Frugality does not have to mean purchasing the cheapest item. Cheap items are often made of cheap materials that fall apart quickly. Buying a higher quality item and taking care of it can stretch your dollars further in the long run.)
A few pages later, she has also written advice specific to saving money on food. Many of these made me smile due to the references to foods from a very different country and era! (Although British readers might be more familiar with them.)
I don't know about you, but the one place I know I can save money (and often times blow it) is on our food bill. It's so important to remember:
ultimately, we are responsible for how much we spend at the store
we can save money
good food doesn't have to be fancy
sometimes the simple tips are the ones most often overlooked
8 Ways to Practice Kitchen Economy
Economy means "no waste."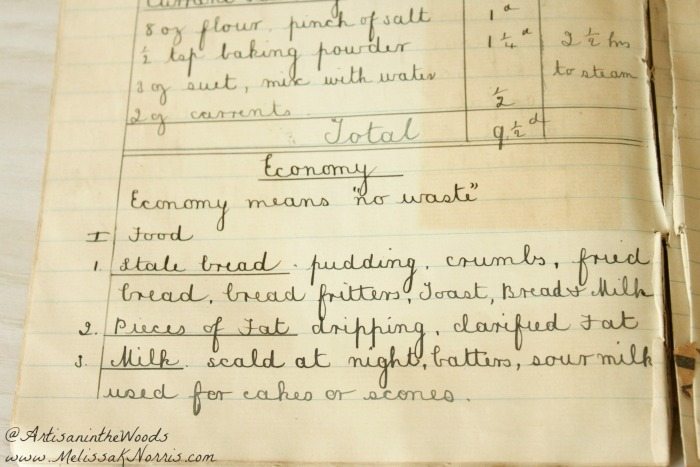 Stale Bread: use for pudding, crumbs, fried bread, bread fritters, toast, bread & milk. (This is an excellent homemade bread recipe)
Pieces of Fat: use for dripping (often added to recipes for flavor), clarified fat (which can be used for cooking later.)
Milk: scald at night, batters, sour milk can be used for cakes and scones
Puddings: leftovers can be cut in slices and fried (although few of us make old-fashioned English puddings, leftover quick-breads can be given the same treatment – soaked in milk and egg first they make great French Toast!)
Cold Greens and Potatoes: bubble and squeak (Add a little fat to a pan and fry them up! Add leftover meat for a full meal or serve as a side dish.)
Meat: toad in the hole, pie, pudding, meat pie, shepherds pie, mince
Cold fish: fish cakes, fish pie (Make this Fish Chowder Recipe- Great-Grandma's from 1931 )
Bones and pieces of meat: stock (I save vegetable ends for this too!) Here's how to make and preserve your own bone broth/stock
What it all boils down to is making sure you use every bit of what you have.
More Old-Timey Wisdom Resources:
17 Self-Sufficiency Tips from the 1940's & Great Depression Live Interview
Easy 2 Ingredient Sourdough Starter
6 Things Our Great-Grandparents Did Better Than Us
Grab these easy recipes from the 1900s to get you on your way to living frugally with our great-grandmother's and grandmother's frugal recipes!
What are your favorite ways to save money and eat economically? Do you have any financial wisdom from other generations?