Learn how to make real buttermilk from scratch with this simple method. I'm talking true cultured buttermilk, not the buttermilk substitute you make with vinegar or lemon juice. This is the real deal and is the best to use in baking as it results in much lighter and fluffier baked goods like these flaky homemade buttermilk biscuits!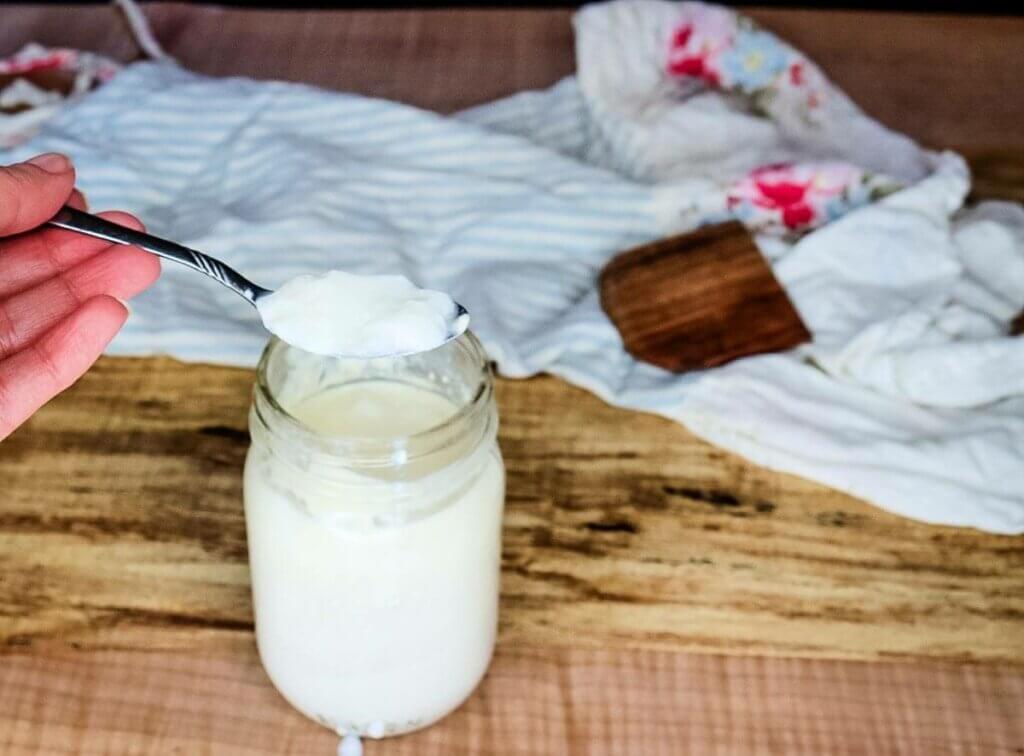 So why should you learn how to make old-fashioned cultured buttermilk when we all know that you can use the hack of taking regular milk, plus an acidic medium like apple cider vinegar or lemon juice to make a suitable buttermilk substitute?
That's a great question, and the reasons are as follows…
Table of Contents

[Hide]

[Show]
Why Make Cultured Buttermilk NOT a Buttermilk Substitute?
It's so easy! As in, pour, stir, then let it do its thing!
You can take your cultured buttermilk and make more homemade items like homemade cheeses (saving you money on cheese starts).
Cultured buttermilk helps preserve your milk so it will last longer.
Cultured buttermilk is considered a fermented food and can help improve your gut health.
Real cultured buttermilk improves the texture of your baked goods that call for buttermilk (if you're a skeptic, check out my homemade flaky buttermilk biscuits using REAL buttermilk and you'll understand why!)
Why Use Buttermilk in Recipes?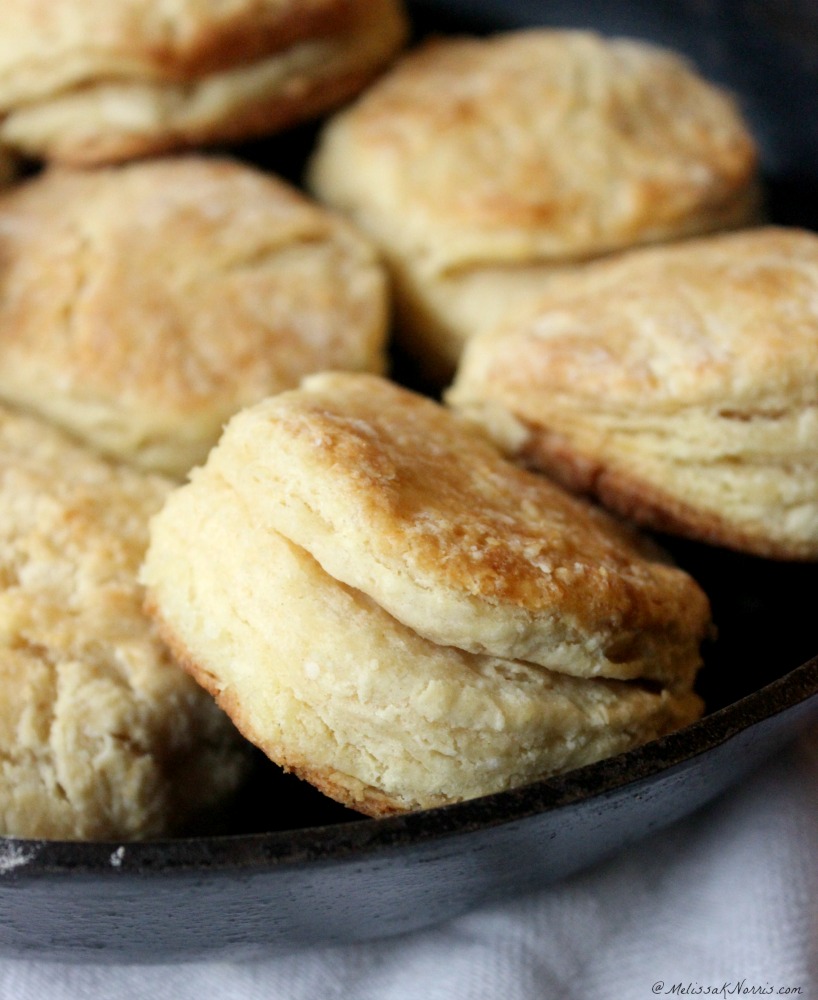 Buttermilk is acidic, meaning it helps activate leavening agents giving your baked goods a light and fluffy, almost airy texture. Do you see all those flaky layers in those biscuits and the golden-brown tops? Buttermilk!
Buttermilk actually helps extend the shelf-life of your baked goods because it contains natural emulsifiers. It also gives your baked goods a beautiful golden-brown color.
Buttermilk can actually be used in baking recipes that don't call for it specifically, but those that call for yogurt or sour cream.
Ingredients
You just need two simple ingredients to make your own homemade buttermilk:
Milk – you can use store bought whole milk, skim milk, or anything in between for this recipe. Personally, I prefer fresh whole milk from our dairy cow because it makes it extra creamy and thick!
Buttermilk – yes, it seems odd that you need buttermilk to make buttermilk, but you have to have a culture to inoculate your first batch. Once you have buttermilk going, you can use your existing buttermilk to keep on making it for batches on end. When buying buttermilk from the store, just be sure the container says "live cultures" or else this recipe won't work. Alternatively, you can use dehydrated buttermilk cultures.
How to Make Real Buttermilk
Remember, we're not talking buttermilk substitutes here, although the method is similar, this is the real deal, true cultured buttermilk made from milk and live cultures.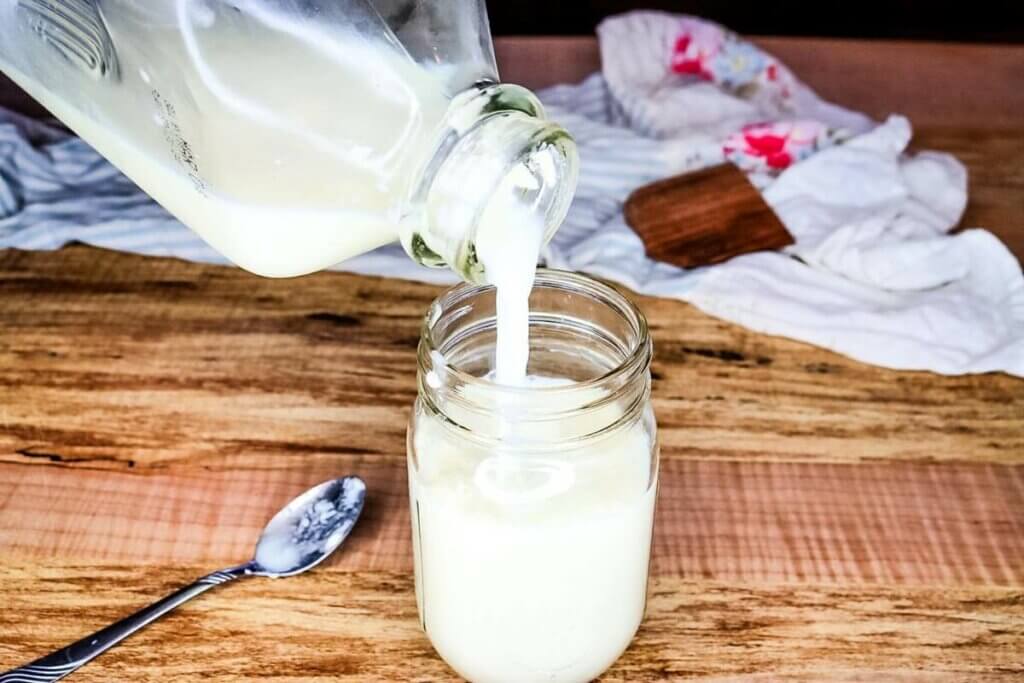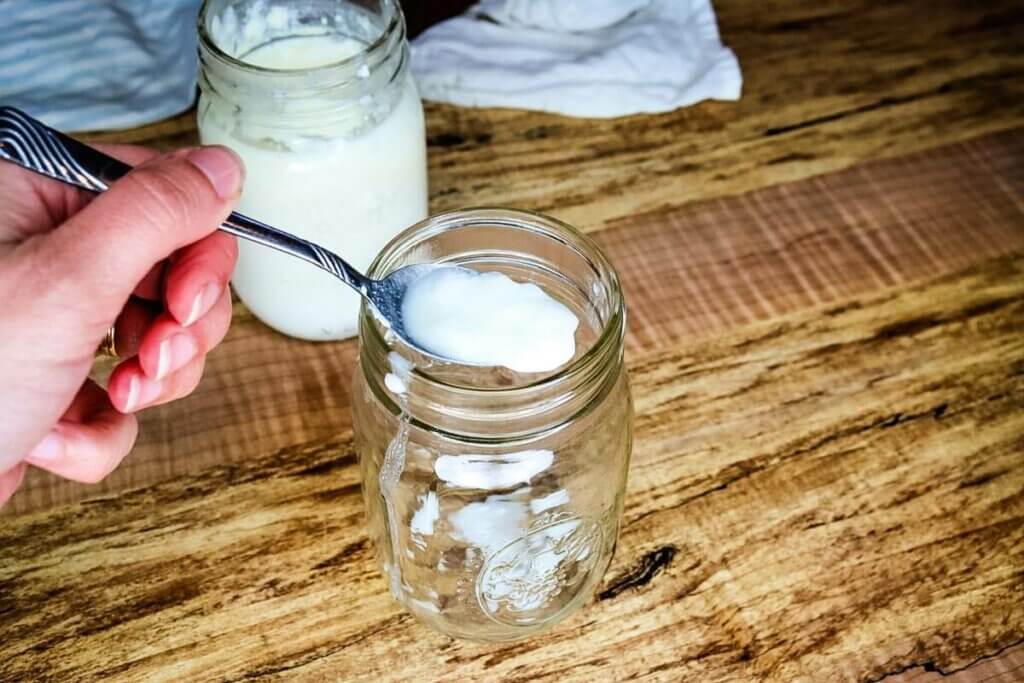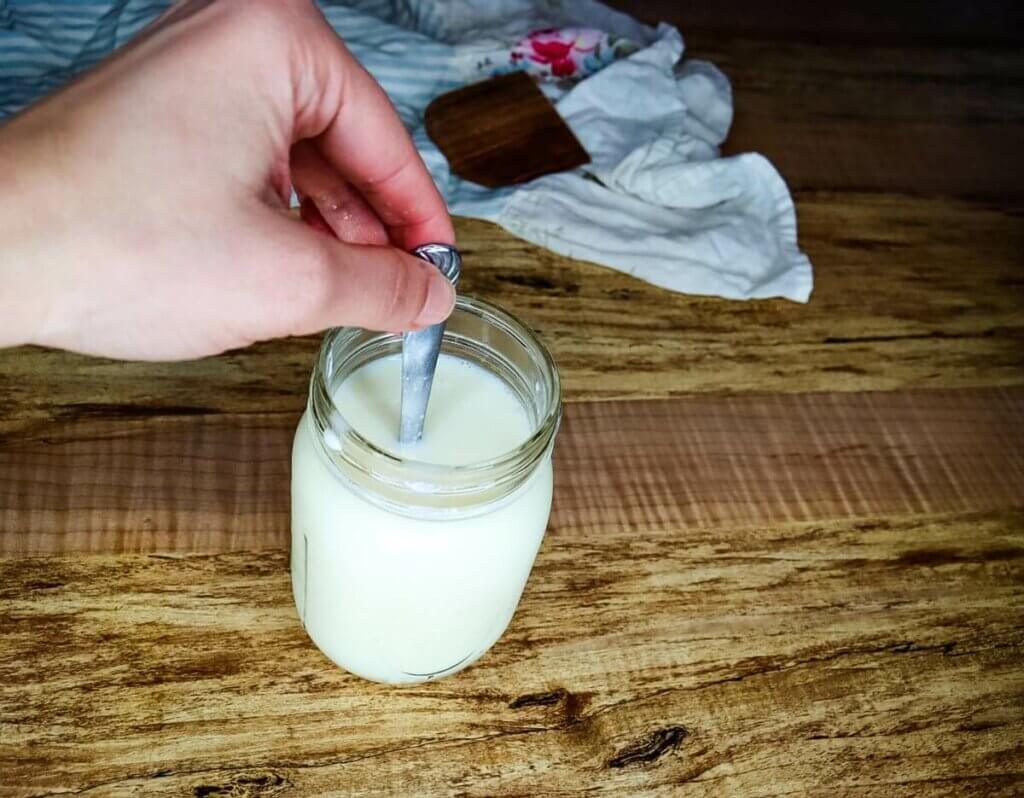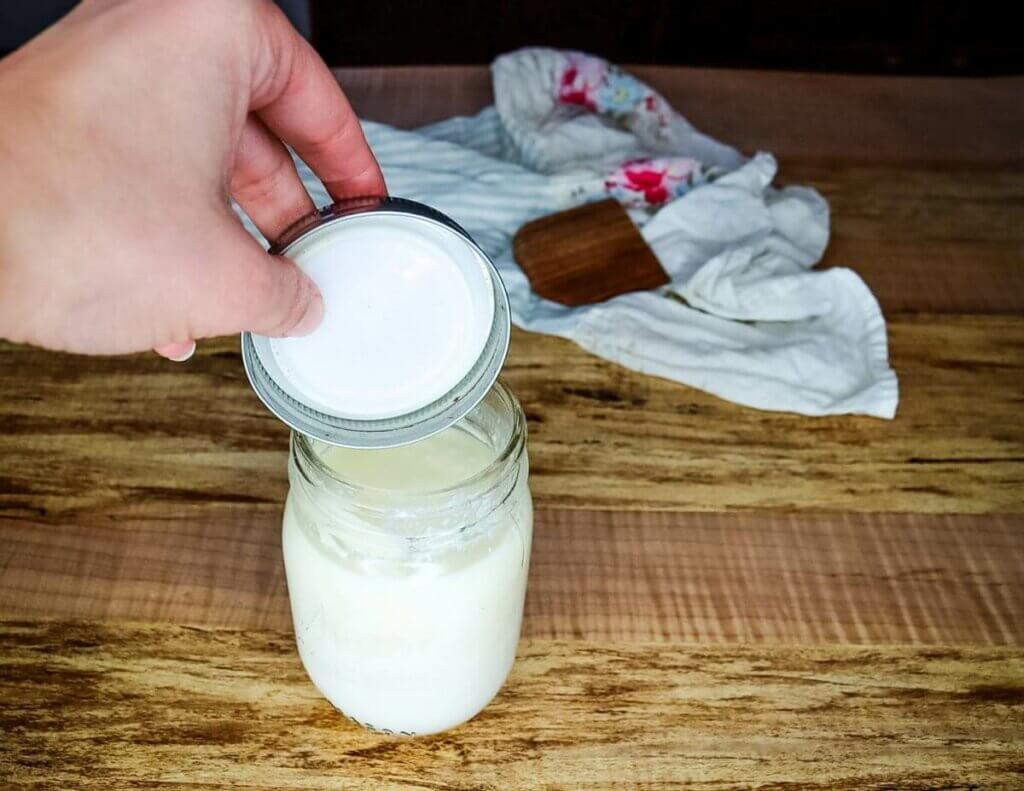 Take just under two cups of milk and pour it into a clean pint-size jar.
Add 2 tablespoons of cultured buttermilk (use 1 tbsp per cup of milk).
Stir well to combine.
Place a lid onto the jar and only screw it down one turn so it's not air-tight, but enough to keep any bugs out.
Leave at room temperature for 8-12 hours. You should begin to see bubbles on the sides of the jar and it will thicken up. If you like it tangier, leave it out until the desired taste is achieved.
Transfer buttermilk to the refrigerator for 6 hours.
It's now ready to use!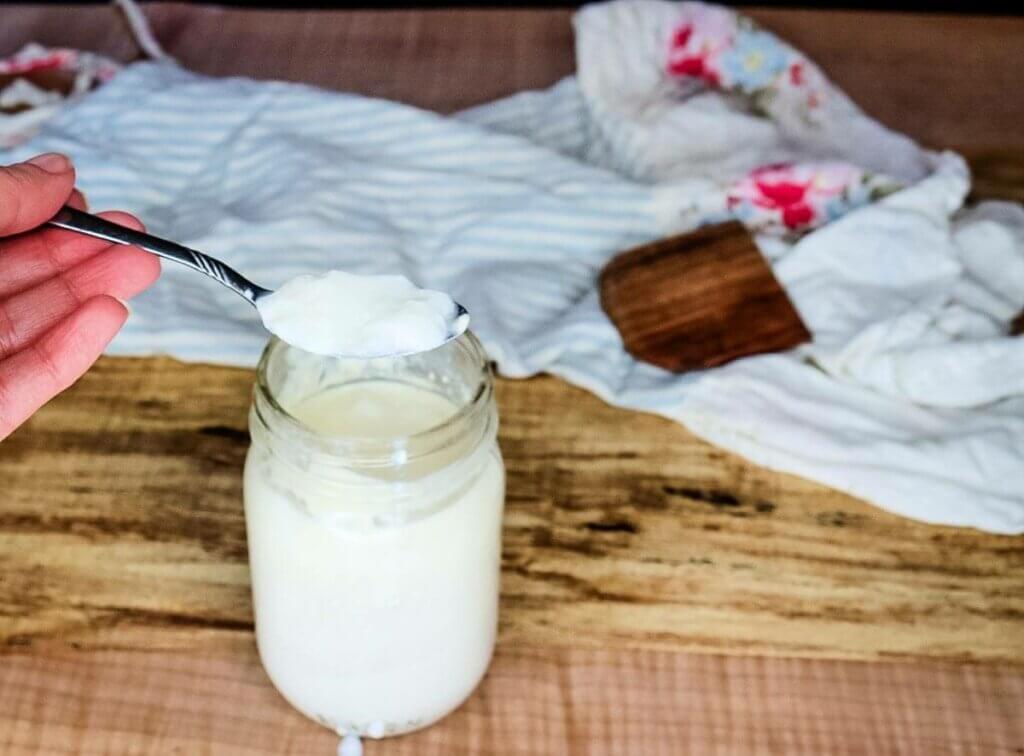 How Long Does Buttermilk Last?
As I mentioned in my video, the great thing about buttermilk is that it preserves your milk so it will last much, much longer than fresh milk.
I typically use my buttermilk up in about two weeks, but it's always just as fresh. The thing about buttermilk is that it will continue to get tangier the longer it sits. So it may be more tart than you prefer well before it truly goes "bad".
If you prefer a nice mild flavor, I'd plan on making a fresh batch every two weeks to keep you in supply of this delicious product.
Tips and Tricks
When making cultured or fermented foods, you want to be sure to keep them about 6 feet away from other cultured or fermented foods. This is to avoid cross-contamination between cultures.
Because buttermilk is a mesophilic culture, I want to be careful to keep it away from things like my sourdough, kombucha, milk kefir, and yogurt. You can, however, keep multiple batches of buttermilk next to each other.
How to Use Buttermilk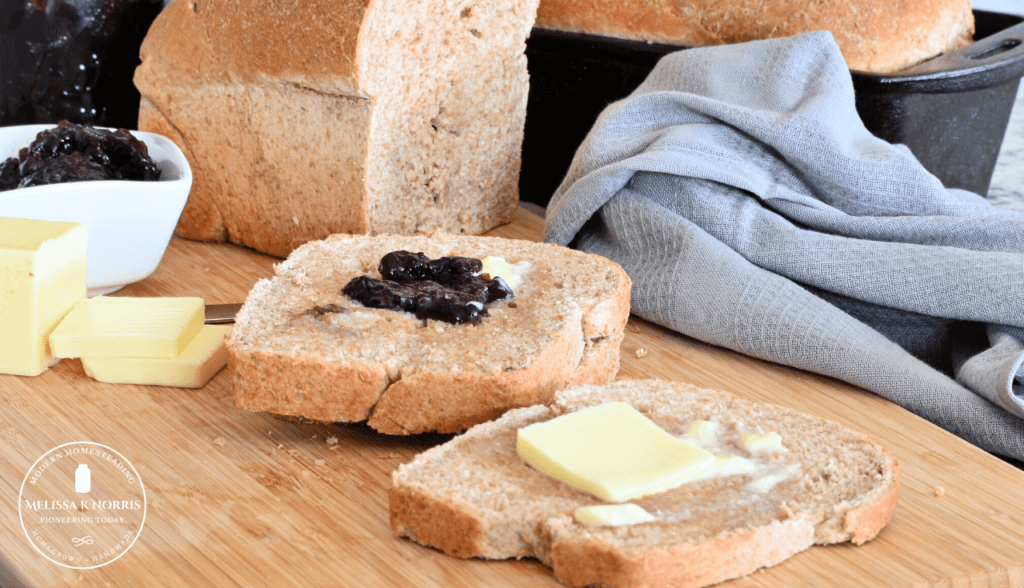 One of my favorite ways to use buttermilk is for my flaky buttermilk biscuits or my favorite honey whole wheat buttermilk sandwich bread. These two recipes call for having buttermilk on hand 365 days a year!
But I'm also excited that you can use buttermilk for cheese making, which is a course I'm creating for all the members of the Pioneering Today Academy. If you're not yet a member, we'd love to have you come join us! Or, if enrollment isn't currently open, you can sign up to get on the waitlist and we'll email you when enrollment is open.
Some other recipes to use up your precious cultured buttermilk are these delicious buttermilk fried chicken strips, homemade buttermilk ranch dressing, diy pantry mixes, 1950's vintage dinner rolls, or these peach buttermilk muffins! When buttermilk is involved, how can you go wrong?
Did you make this recipe? If so, I'd love for you to rate this recipe on the recipe card below. Also, I'd love to see how you're using your buttermilk, so tag me on social media @melissaknorris.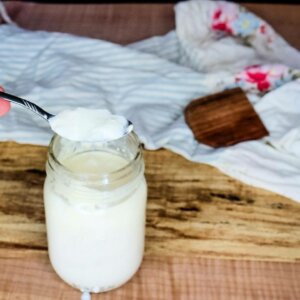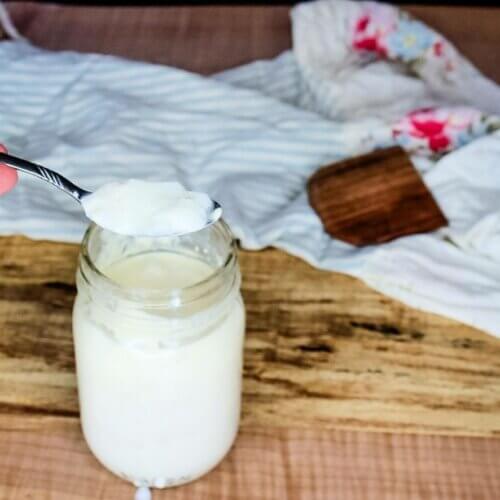 Cultured Buttermilk
Learn to make real buttermilk and skip all those buttermilk substitutes! Cultured buttermilk gives baked goods a light and fluffy texture and helps make them perfectly golden brown every time.
Ingredients
2

cups

milk

raw, whole, etc.

2

tbsp

buttermilk

previously cultured, dehydrated cultures, or store-bought.
Instructions
Pour just under 2 cups of milk into a clean pint-size mason jar.

Add 2 tablespoons cultured buttermilk (be sure it says "live cultures" if it's store-bought) or read the instructions that came with your dehydrated cultures for the amount.

Place lid lightly on jar, allowing it to breathe, set it a warm area of your home away from other cultures or ferments.

Once it's as thick as you'd like, move it to the refrigerator and let it sit for 6-8 more hours. Your buttermilk is now ready to drink or use in recipes!
Video
Notes
If using buttermilk from the store to culture your homemade buttermilk, be sure it says "live cultures" on the carton.
Keep your buttermilk about 6 feet away from other ferments or cultures you might have going in your kitchen.
Nutrition
Serving:
1
cup
Calories:
158
kcal
Carbohydrates:
12
g
Protein:
8
g
Fat:
8
g
Saturated Fat:
5
g
Cholesterol:
26
mg
Sodium:
121
mg
Potassium:
342
mg
Sugar:
13
g
Vitamin A:
420
IU
Calcium:
293
mg
Iron:
1
mg
More Posts You May Enjoy: