When trying to live a healthier, from scratch lifestyle, there are certain ingredients that just aren't great for our health. The good news is, you have options! Here are the 13 items I've swapped out for healthier options that have changed my life.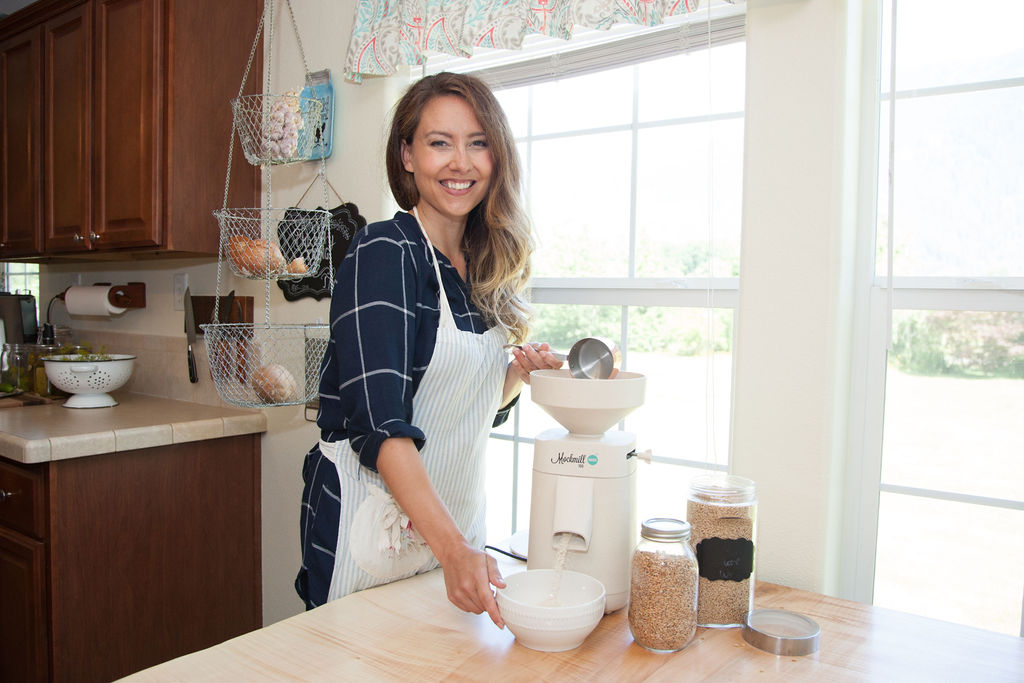 Making healthy ingredients swaps isn't always the easiest thing to do, especially if you don't necessarily know what foods are healthy and what foods aren't.
My journey to healing my stomach acid naturally, plus knowing how to find my trigger foods has been going on for well over a decade now, and I've learned a few short cuts when it comes to getting healthy ingredients in the home without any overwhelm, or even breaking the bank.
It's amazing what happens to your body when you eat healthily, but sometimes healthy alternatives just aren't readily available in the grocery stores and we need a "from scratch" method.
Below I'm listing the ingredient swaps I've made in my life that have had the biggest impact on my health (here's my health update). In fact, I'm willing to say these swaps, along with other homesteading practices, have saved my life.
Table of Contents

[Hide]

[Show]
Fats & Oils
The first thing I wanted to do when changing my food was to eliminate any highly genetically modified crops (GMO), so my first stop was to look at the oils I use in cooking.
This meant cutting out any products that used soybean oil, canola oil, or other hydrogenated oils like Crisco shortening. Instead, I swapped these out with healthier options.
My beloved Crisco was swapped out with unrefined organic coconut oil. It works just the same as Crisco would in any recipe, but it's much healthier. The organic unrefined coconut oil that I buy does have a slight coconut flavor, if you don't like the flavor of coconut, you can buy a refined coconut oil instead as it has no coconut flavor but is a bit more processed.
I also love using real butter. Yes, slathered on homemade bread and used in my baked goods, real butter is delicious! I only buy organic butter from grass-fed cows because, if it's not filled with good quality vitamins, then I'm not spending my money on it.
My other fat of choice is lard, which you can easily render and make homemade lard. In fact, lard and butter when used together make the very best flaky pie crust recipe ever.
When it comes to cakes, muffins, and quick bread, I love using melted butter, but if I don't want to use butter, I love using avocado oil. Avocado oil has a high smoke point (500 degrees) so it also works well for roasting vegetables.
However, for my vegetables, I actually love the delicious flavor that organic extra virgin olive oil adds. This is also a great oil to use in homemade salad dressings. (Or try making this homemade buttermilk ranch dressing.)
By stocking these high-quality healthy fats and oils and using them anytime I'm cooking or baking, I have eliminated a lot of genetically modified ingredients from my daily life.
Pantry Staples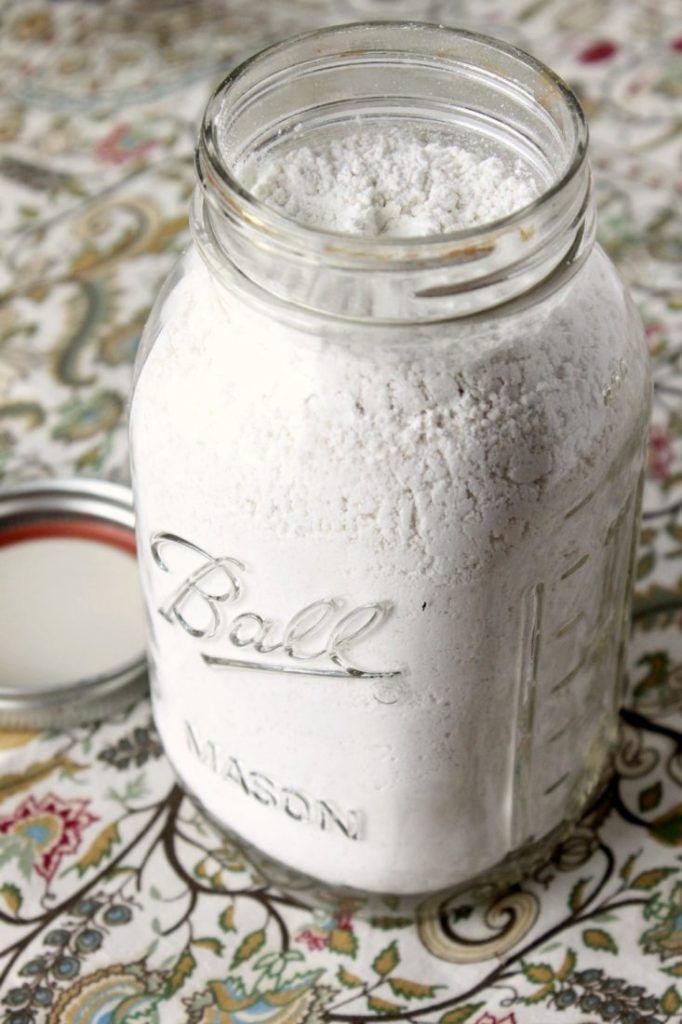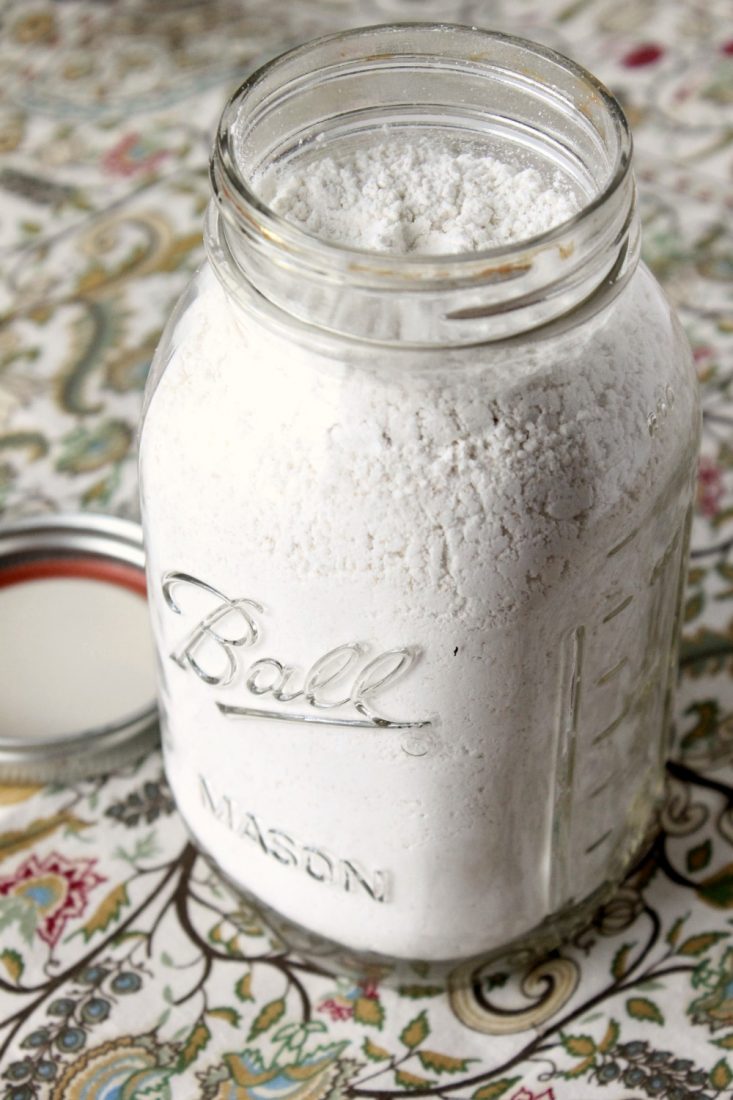 I used to use a lot of boxed mixes in my home, and because I was adding ingredients like oil, water, and an egg, I felt like I was baking from scratch. I now realize that's not actually what our grandparents used to do when they would bake from scratch.
Unfortunately, many boxed mixes are made with very unhealthy ingredients, and by just keeping a few basic pantry staples, I'm able to make all those items I used to make with a boxed mix from scratch.
Check out these homemade boxed mixes you can actually make from scratch and keep in your pantry for quick and easy convenience foods. (They also happen to make great gifts!)
I don't buy everything organic, but I do prioritize what I buy organic based on the Environmental Working Group's Dirty Dozen list. The Dirty Dozen is a list of fruits and vegetables that have tested highest for pesticide residue. (Also great is EWG's "Clean 15" list of fruits and veggies that test lowest for pesticide residue. These items I tend not to buy organic to save money.)
Flour
Wheat, which is where flour comes from, is a highly sprayed pesticide crop so I want to be sure to lower that load in my everyday life. An easy switch for flour is to buy an organic, unbleached all-purpose flour.
Buying organic, unbleached flour is an easy 1 to 1 swap out that you can use whenever a recipe calls for white flour.
Sugar
Sugar is usually made from sugar beets which are almost always genetically modified. White sugar was another simple swap I was able to make for organic evaporated cane juice. This is an organic sugar that comes from sugar cane instead of sugar beets.
It goes without saying, but too much sugar in your diet just isn't healthy. So it's always a smart decision to watch your sugar consumption.
Home-Milled Flour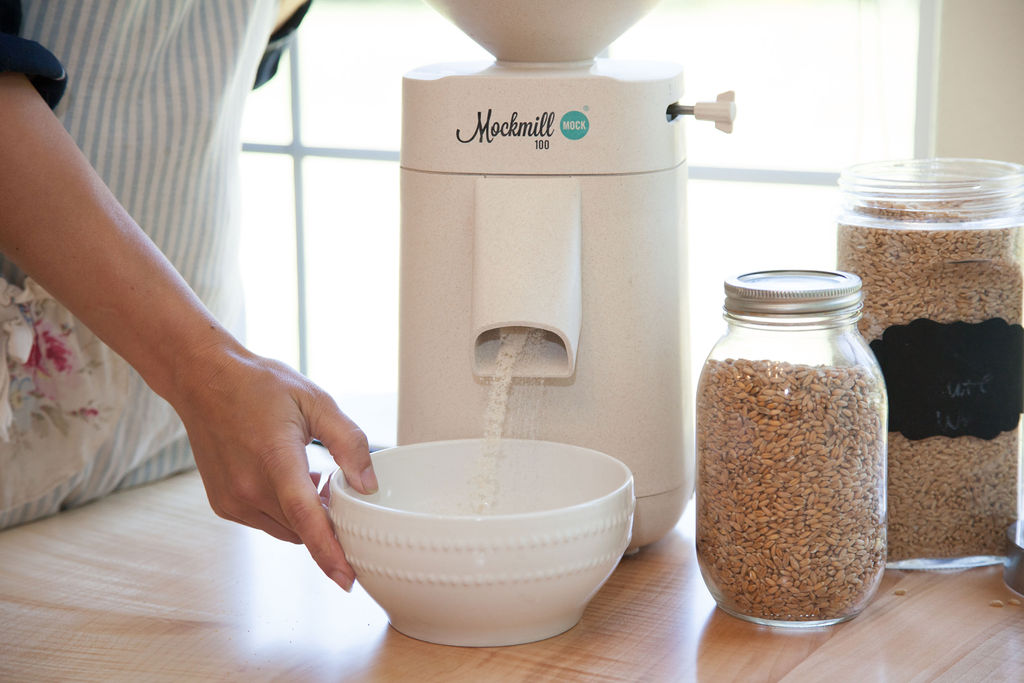 The further I went down the healthy food rabbit hole, the more I realized I wanted to grind my own fresh flour for use in baked goods.
There is a bit of a learning curve when grinding your own flour, everything from what wheat to use when grinding your own flour depending on what you're baking, how much to grind for your recipes, what mill is best for grinding flour, and even how to use your grain mill for the correct settings based on your baking needs.
Store-Bought Bread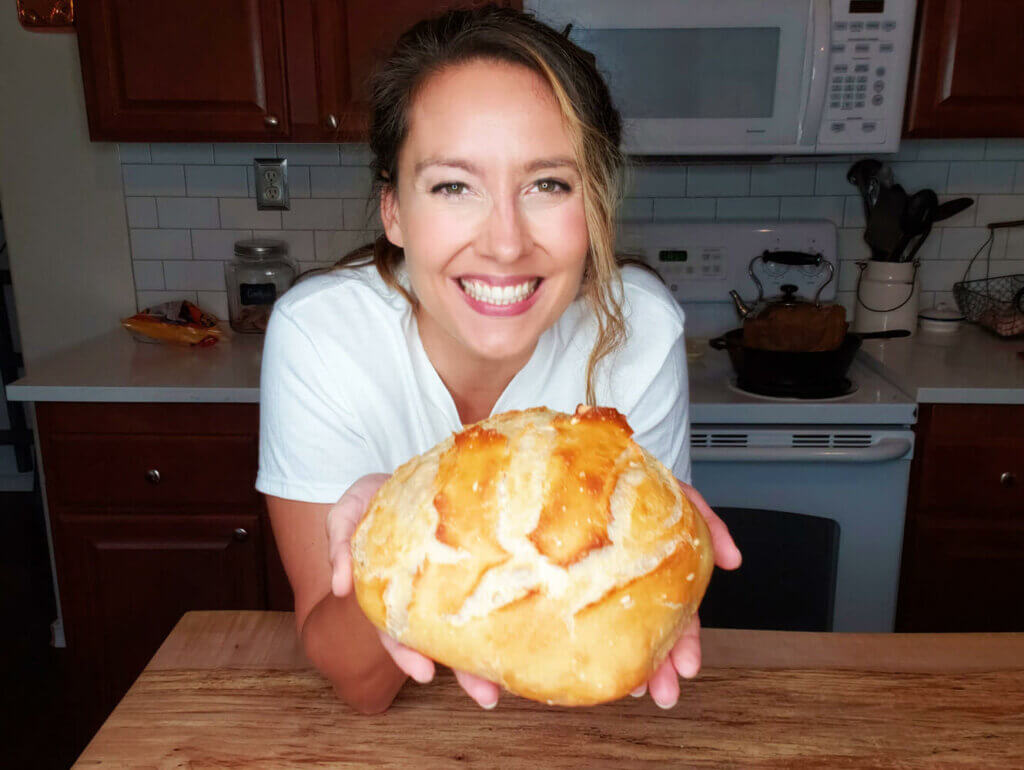 Once I started baking more of my own food from scratch, it naturally led me to bake my own bread. To find a loaf of bread that met my standards at the grocery store (no caramel coloring or food dye, no high fructose corn syrup or hydrogenated oils, etc.) and that was also organic, made buying bread cost-prohibitive.
Since then I have learned to make a sourdough starter, how to reconstitute a dehydrated starter, and how to bake the best beginner homemade sourdough sandwich bread, plus other sourdough goodies like chocolate sourdough quick bread.
I also love making this 5-minute no knead homemade artisan bread (pictured above), because you whip up the dough one day, then let it sit in the refrigerator until you're ready to bake. With just five minutes of hands-on time, you'll have a beautiful and delicious loaf of bread.
Beverages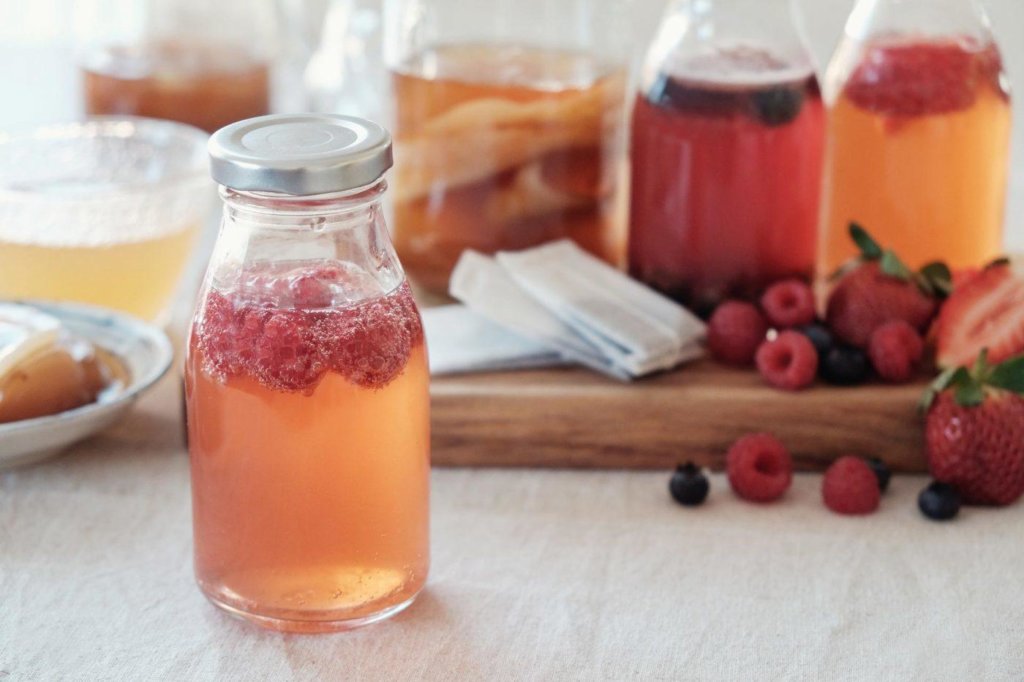 I used to be a huge diet coke girl and, sadly, drank way too much each day with very little water consumption. The carbonation of diet coke, as well as the aspartame, was really damaging to my health. So I cut it out cold turkey and switched to just water.
But sometimes plain old water gets a little boring, so I started making homemade kombucha.
This was a great alternative because it's filled with good bacteria for gut health. You can also flavor it up in so many different ways (my favorites are blueberry, raspberry, or cherry-lime!).
If you don't want to make your own kombucha, most grocery stores are now selling bottled kombucha. Just do take a look at the sugar content as it shouldn't have very much at all (and certainly not as much as a soda!).
Coffee & Coffee Creamer
When I was dealing with my stomach issues I actually cut coffee out for six months. But I missed it terribly, so I started researching to figure out what coffee might work well for me. I discovered that even organic coffee still irritated my stomach, but a shade-grown organic coffee I could tolerate.
Not only did I used to drink Folgers coffee, but I also used to dump in a boatload of store-bought creamer. The peppermint mocha coffee creamer that was in stores during the holidays was my absolute favorite. Instead, I now use a collagen-based chocolate protein powder.
Soups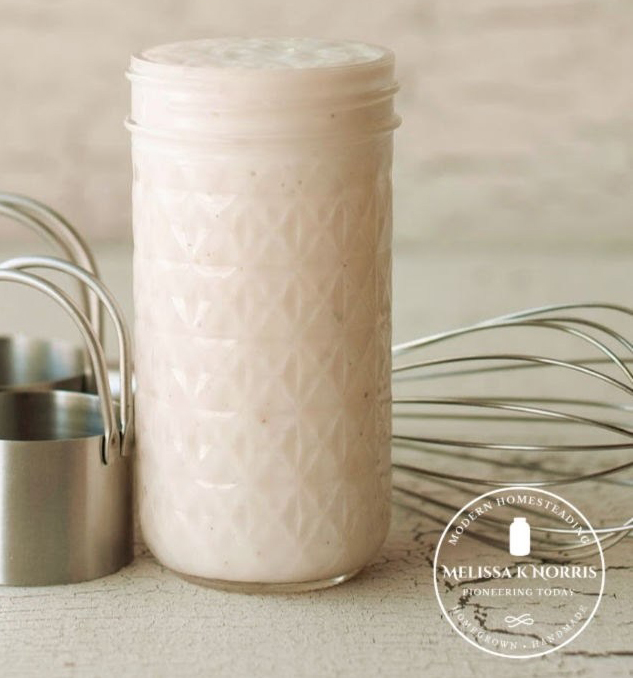 I cut out all cans of cream of condensed soups because I realized I can make it from scratch in under four minutes of time. I've tested this recipe using it in the instant pot, slow cooker, stovetop, and oven and it holds up perfectly.
I also grow and preserve all my own tomato products. I preserve a base sauce that can be turned into tomato soup, tomato sauce, marinara, pizza sauce, etc.
I also started making my own bone broth at home because it's so easy and inexpensive. When compared to the high-quality bone broth from the store, this saves so much money. You can also can your own homemade bone broth easily (or make it, cool it, and freeze it).
These are all the basic pantry staples I ever need for making homemade soups (and so many other recipes).
Mayonnaise
I'm going to keep it real with you on mayonnaise. I actually keep Best Foods Mayo in our home because one thing you'll realize when making swaps to healthier food items is that it's possible not all members of your household will be on board changing their favorite ingredients.

In our home, this is my husband with his Best Foods mayo. I prefer not to use it because it's made from soybean oil and I've read studies that say it can possibly mess with estrogen oils. So instead, I like to use the Chosen Foods brand of avocado oil mayonnaise.

If you have my book Hand Made, I have a recipe for making quick and easy homemade mayonnaise in about ten minutes.
Convenience Meals
I love a good homemade macaroni and cheese, made with smoked gouda and extra sharp cheddar cheese, but I do still like to buy some convenience foods that my kids can make on their own without my help. There are just some smarter options such as Annie's Organic Macaroni & Cheese.
Eating choices may not always be easy to change, but just know there are options. Sometimes it's just about making one small step forward in our broken food system, even if there are better choices out there, making one step for the better is a step in the right direction.
I'm curious, what are some ingredients you've swapped out for healthier options? Let me know in the comments below!
More Posts You May Enjoy